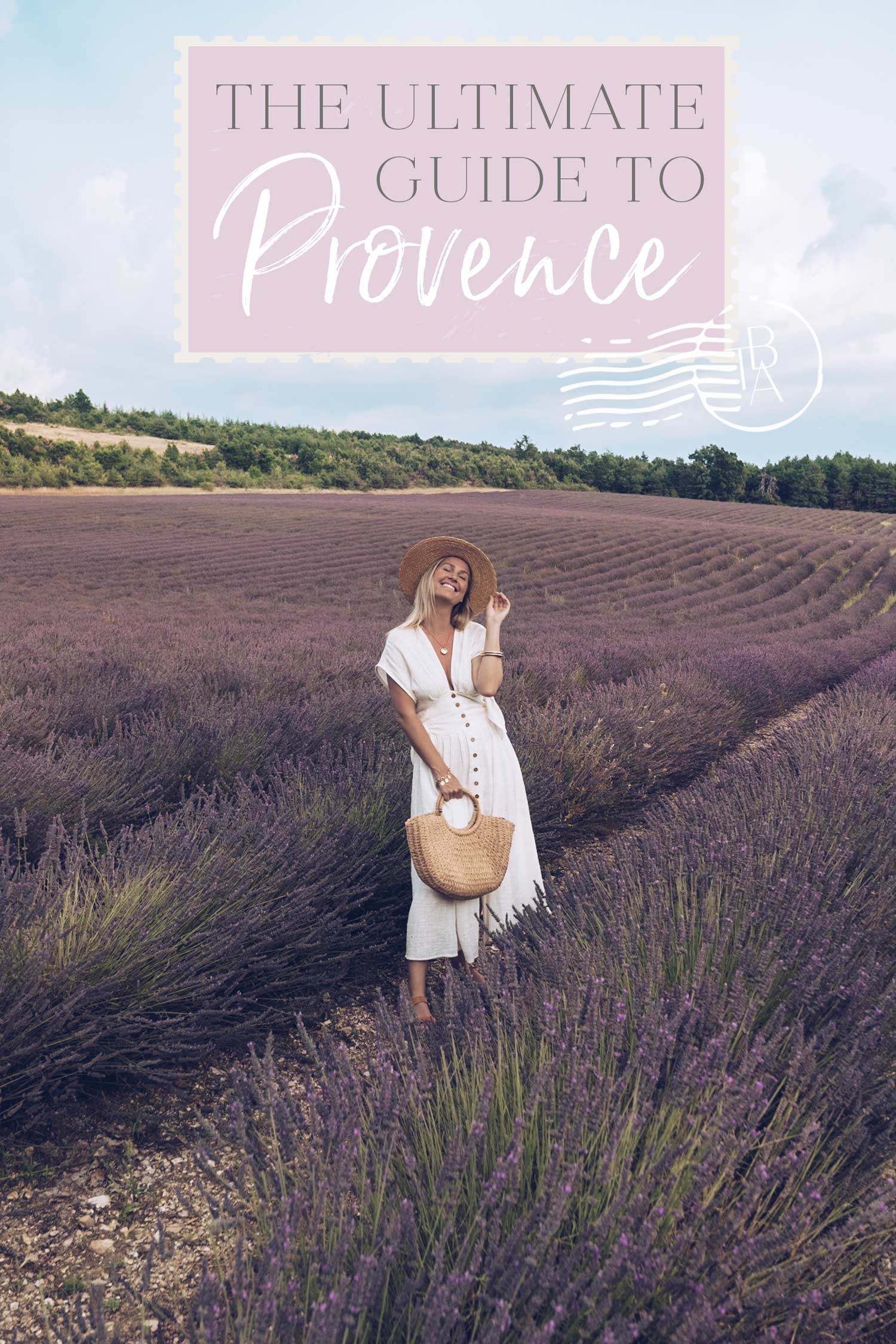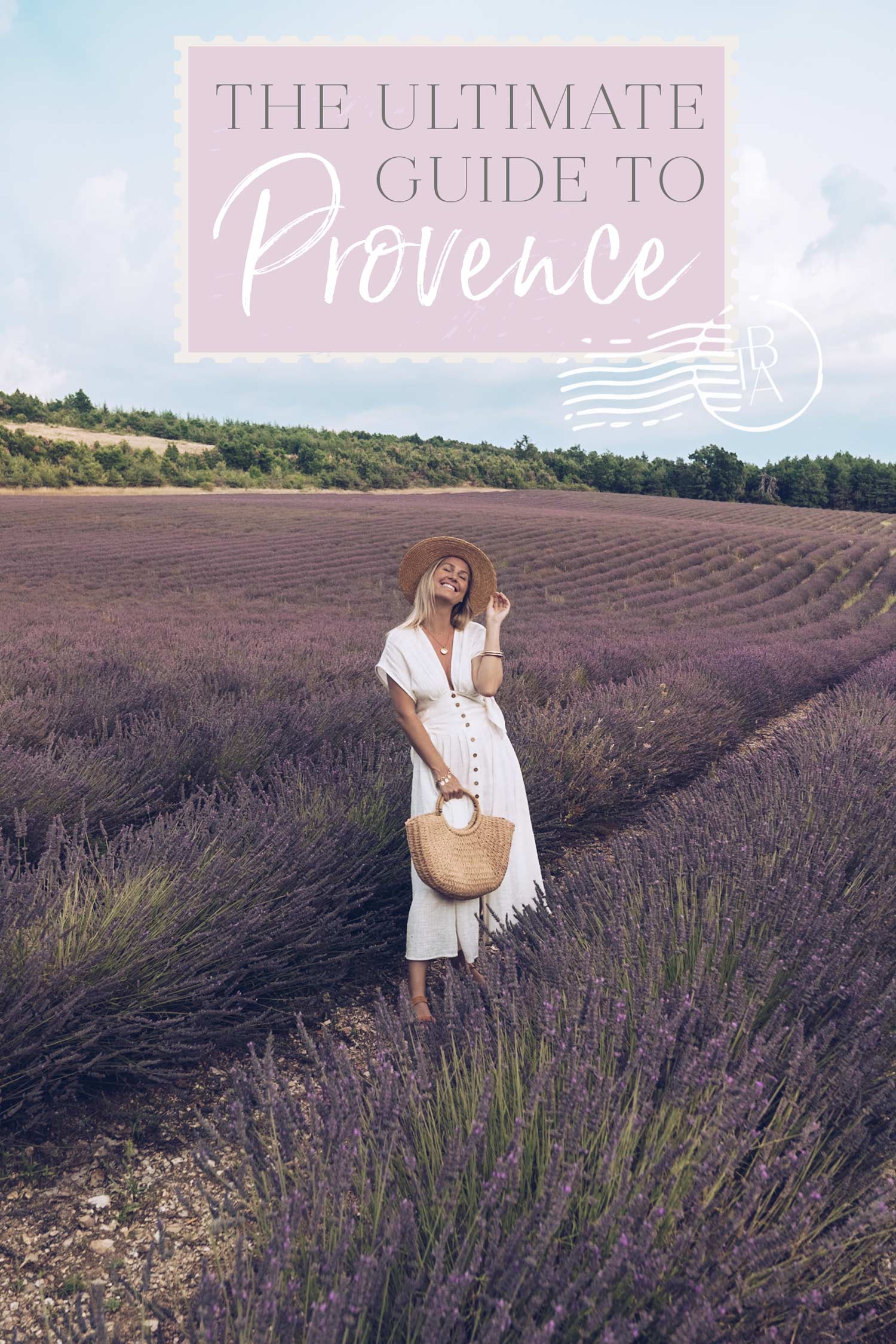 Provence, France, known for its diverse landscapes, miles of vineyards, lavender fields, and crystal blue waters, is indeed a traveler's dream. I recently got to visit, and it was everything that I hoped for and more.
If you have the opportunity to spend 3-5 days exploring Provence I highly recommend doing so. I chose to stay in Avignon and spent a few days wandering around.
To make your itinerary planning a little easier, I've put together my ultimate guide to Provence with all the can't miss spots!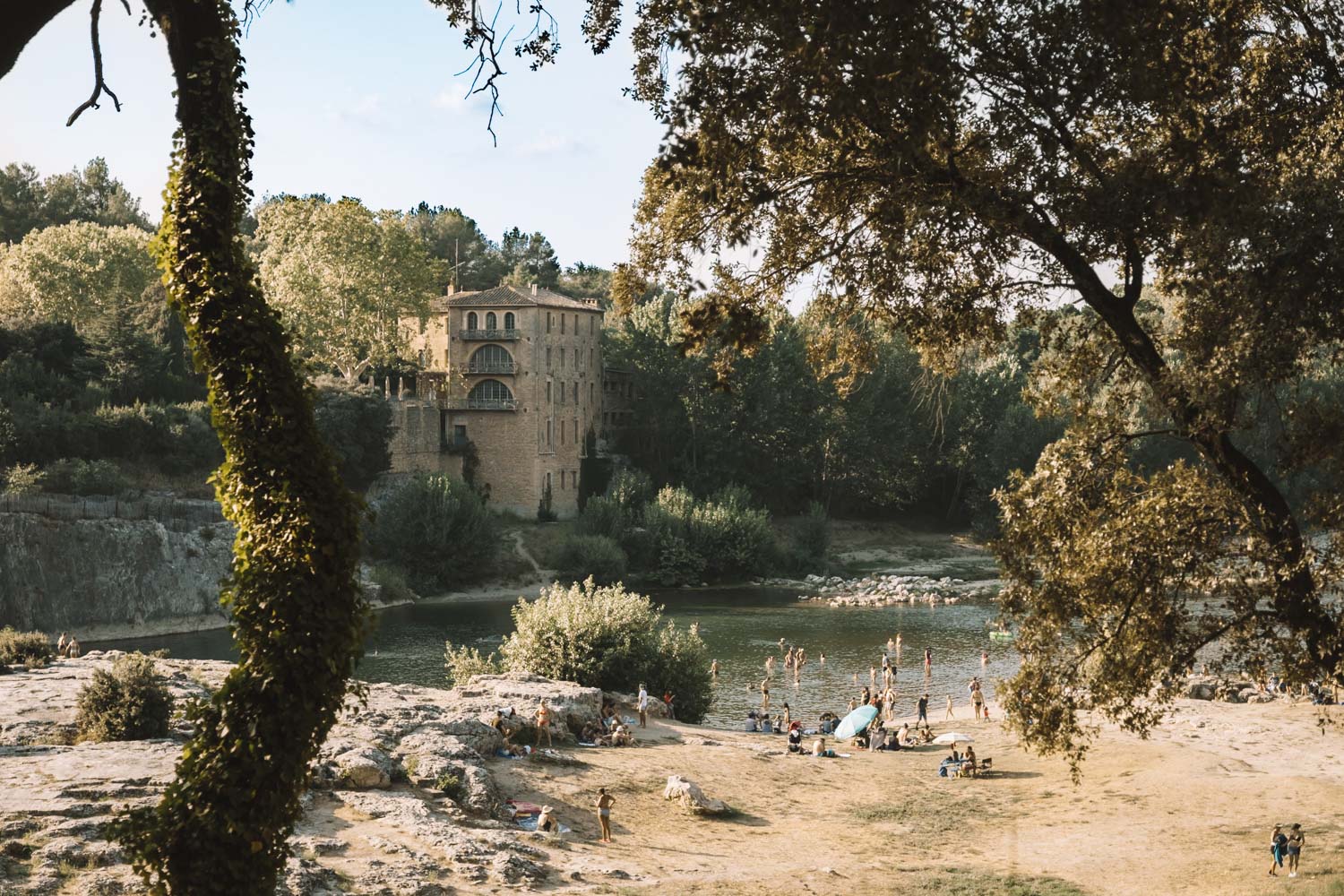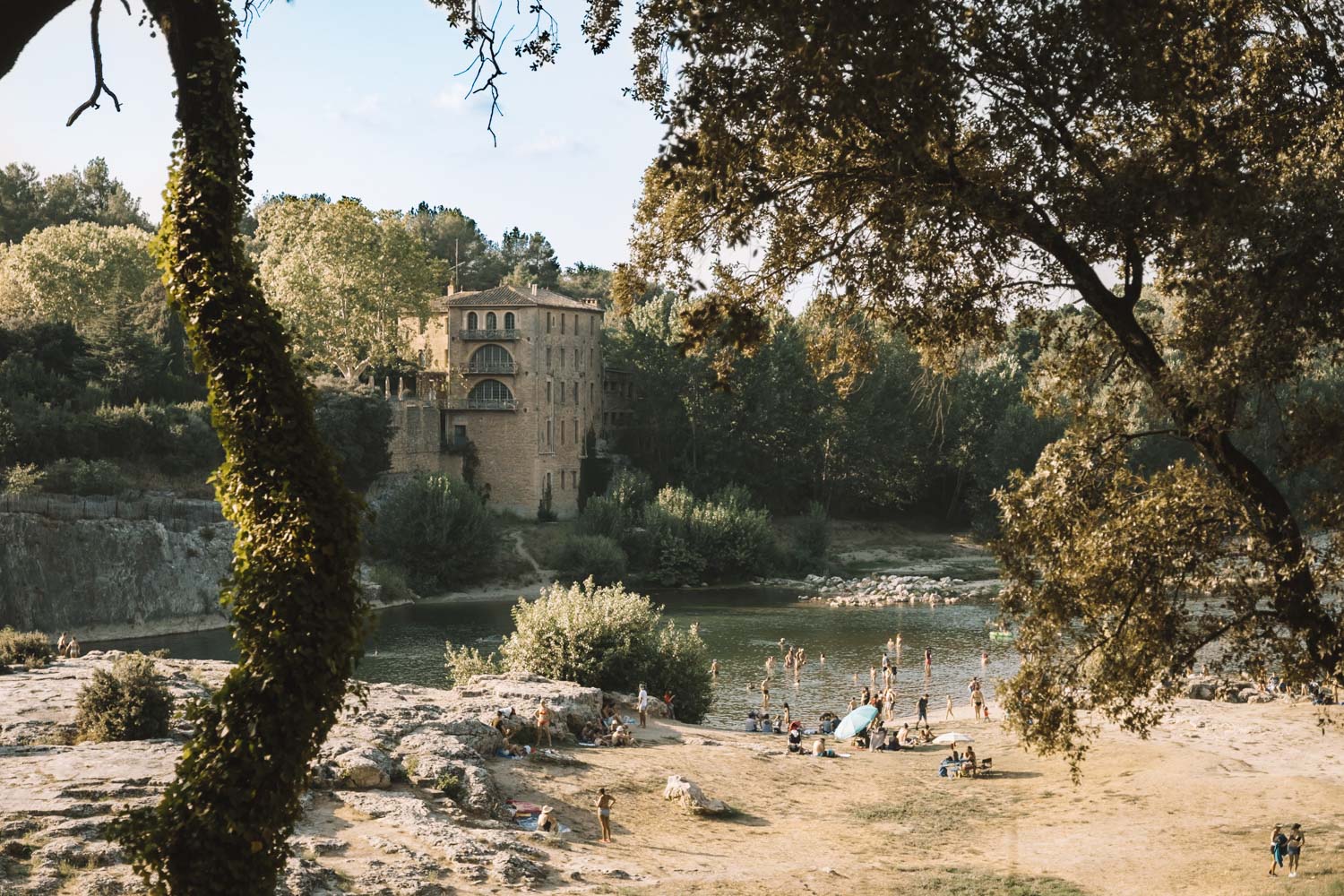 Day 1 – Arrival
Whenever I arrive at a destination, I like to spend my first afternoon relaxing and getting settled in, and this was no different in Provence.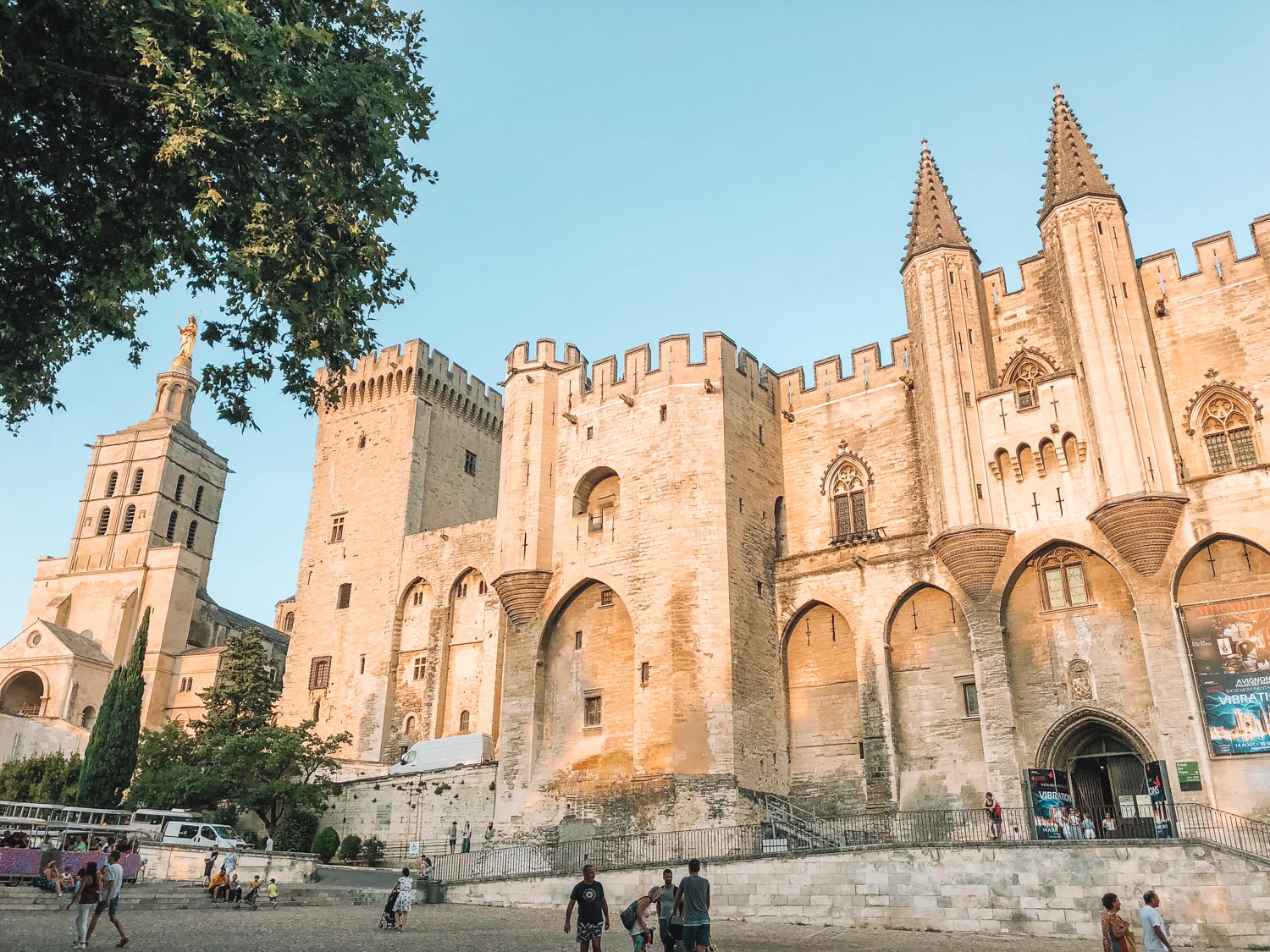 Avignon: As I mentioned, I chose Avignon as my home base to explore Provence from. It's a beautiful medieval city with an old town that's been named a UNESCO world heritage site. Check into your hotel and explore the town on foot.
Visit Palais des Papes: I stayed in the center of it all, near the Palais des Papes, one of the most significant and important medieval Gothic buildings in Europe.
Helpful Tip: Parking in Avignon is impossible, so head straight to the parking structure in Palais des Papes. The entrance is right outside of the city walls (you'll see an electronic parking sign). It's not only cheap but also conveniently located.
Keep in mind that it will be hot in the summer and there's no ventilation in the parking structure. On your way into the city, remember to bring your parking ticket with you as many of the hotels will validate it for you.
Whether you love grand architecture or you're fascinated with history, be sure to take a tour of the palace. It's the biggest gothic fortress in the world. Tickets start at about €16.50, and you can find several different tours.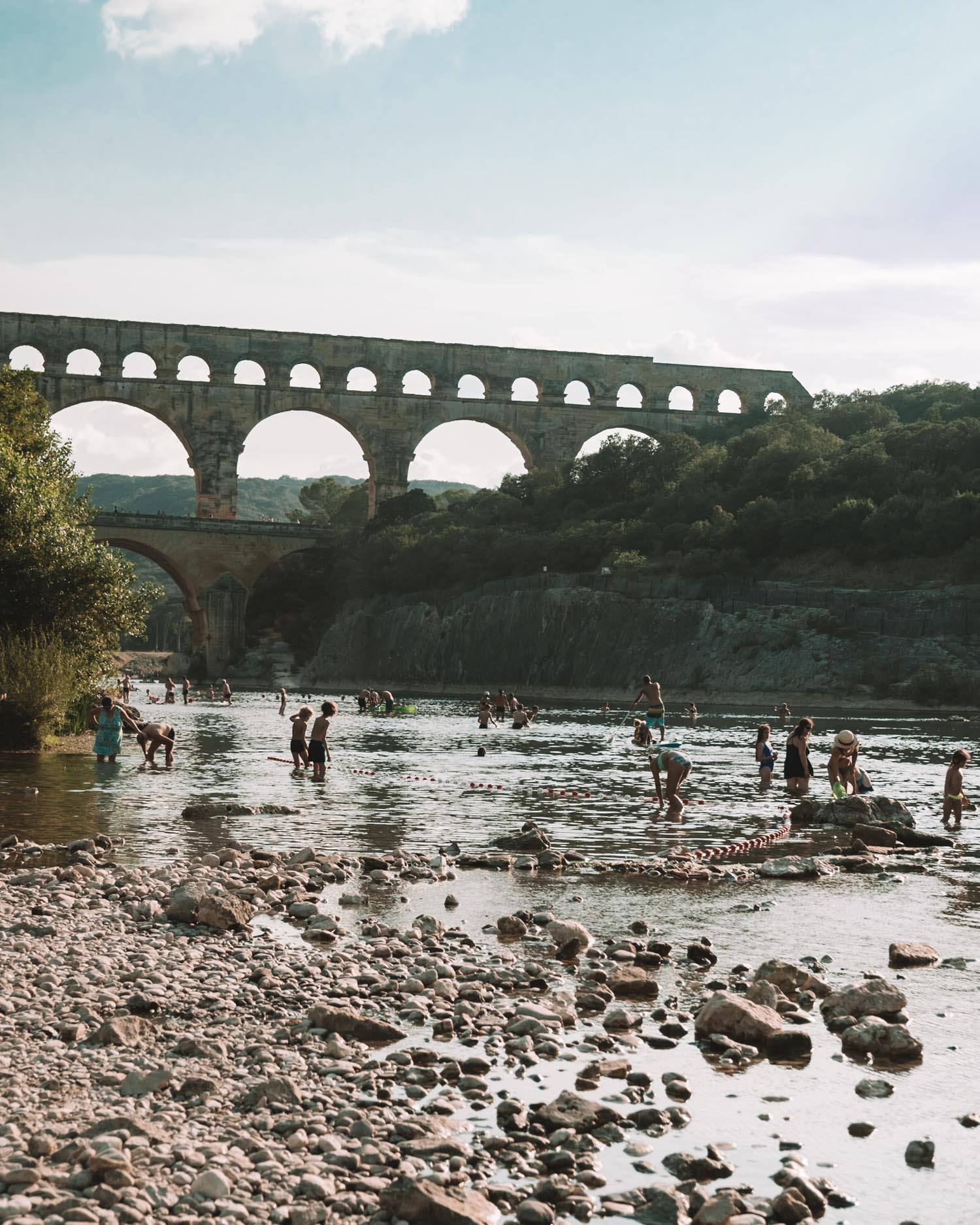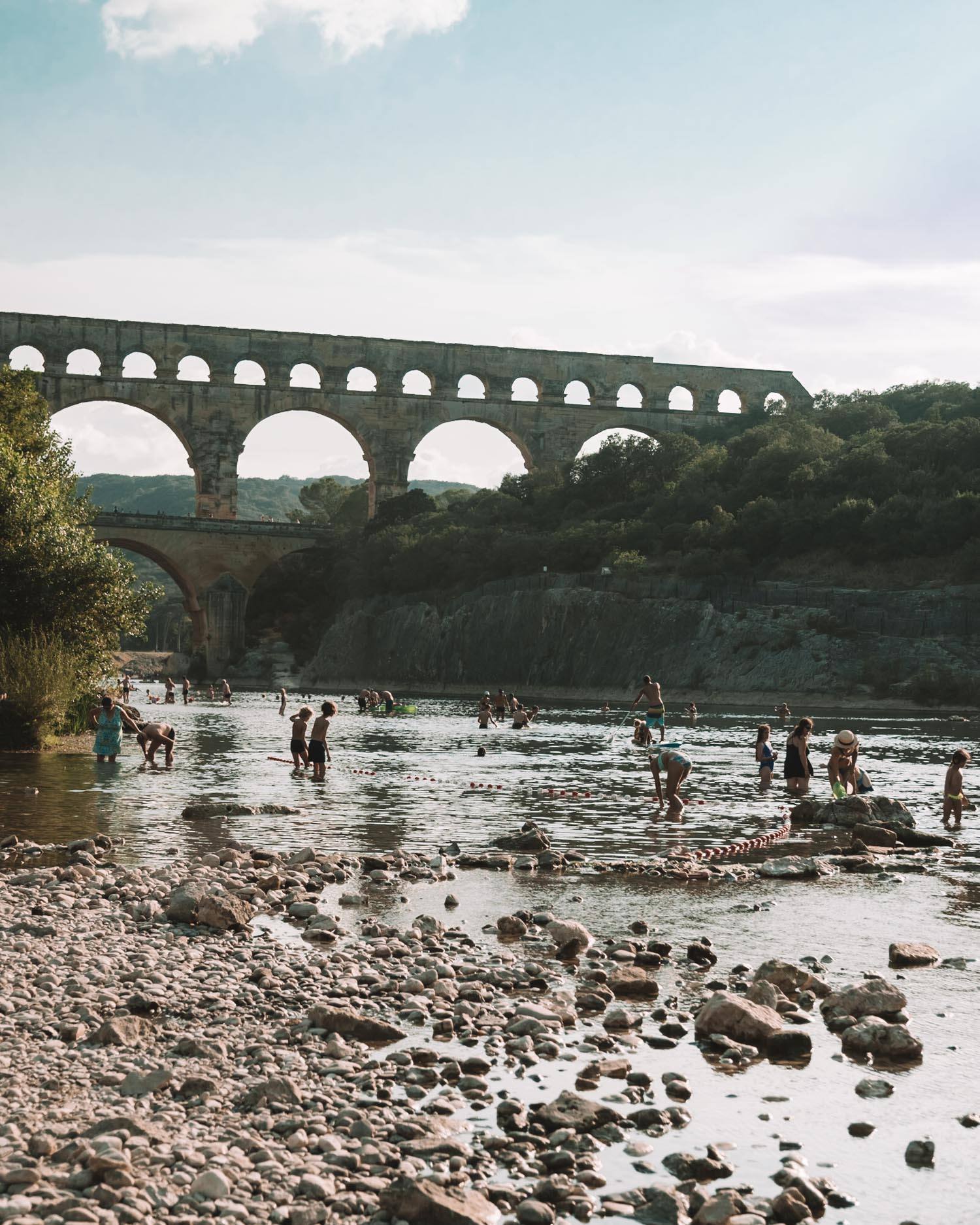 Visit the Pont Du Gard Aqueduct: 30 Minute Drive from Avignon. Built in the 1st century AD, the Pont de Gard is one of the best preserved Roman constructions on earth. It's also a UNESCO world heritage site.
Pack a swimsuit, pick up a few groceries for a picnic dinner, and drive out to the Pont Du Gard aqueduct for sunset. Fun Fact: It's the most visited ancient monument in France. Plus, it's only €8.50 per adult to visit and includes parking.
After crossing the 48-meter high bridge, find a spot to set up your picnic. Enjoy a glass of wine and a swim as the sun sets over Avignon. It's truly a unique sight that you can't find anywhere else.
Drive Back to Avignon: 30 Minute Drive Back to Avignon. On your way back into the city, pull over just outside of the city walls and catch a glimpse of the fortified city at night. The Palais de Papes is also something to marvel at after dark.
If you're up for it, grab a glass of wine, and people watch near the palace. There's usually something always going on in the center of town that you won't want to miss.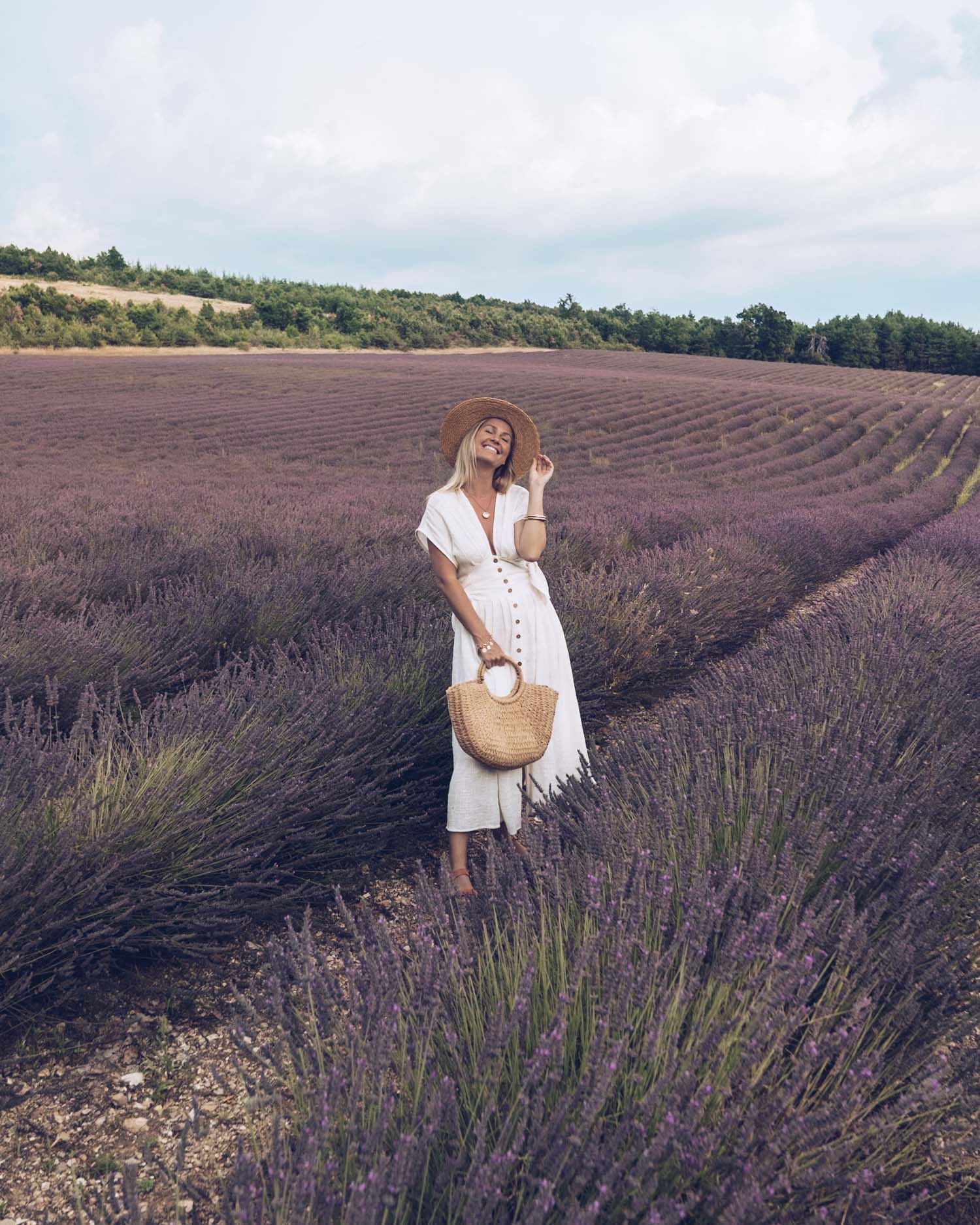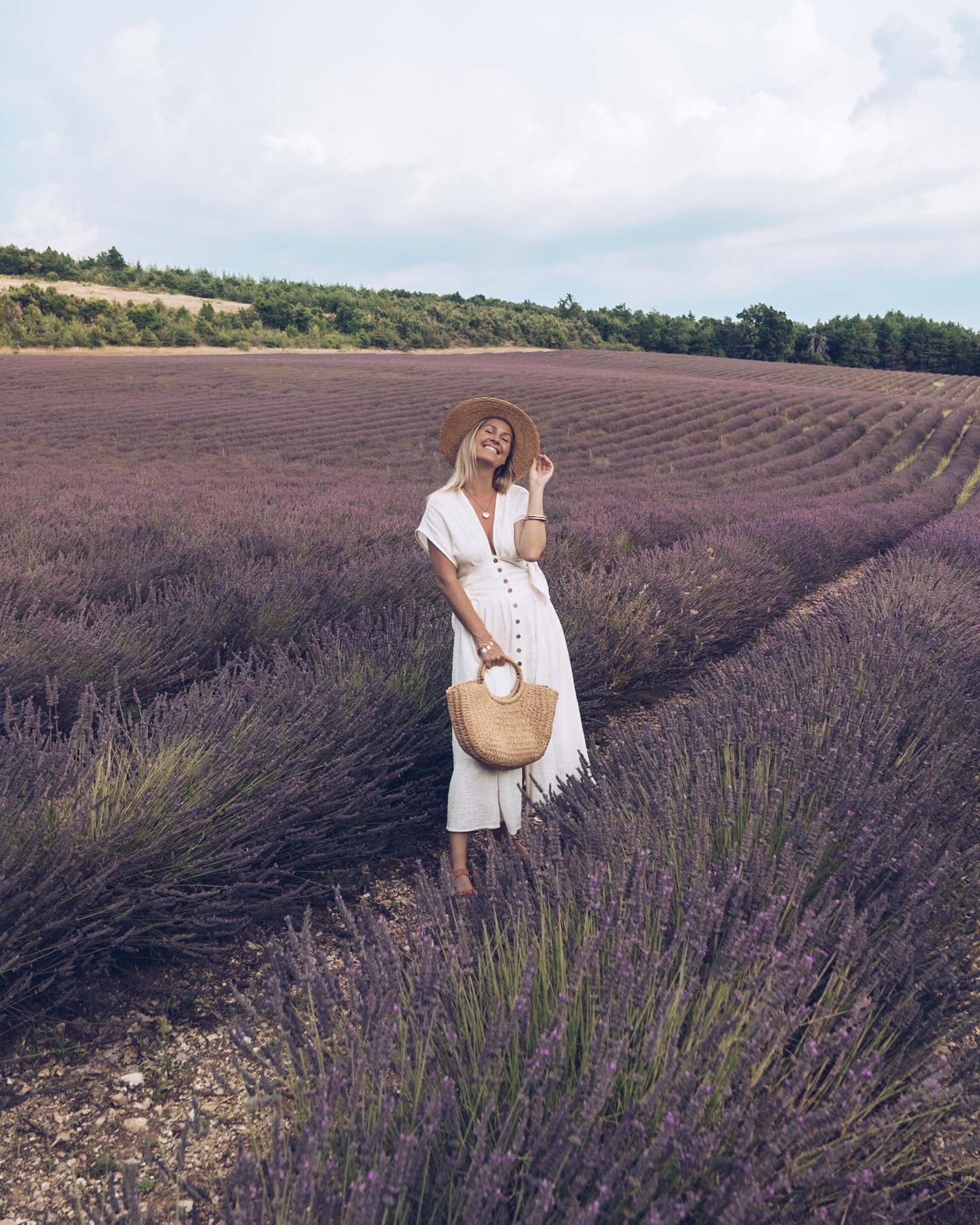 Day 2 – Lavender Fields
Here is where the fun begins!
First thing in the morning, pack your car up for a full day. I'm talking swimsuits, more picnic supplies (bread, cheese, snacks, etc.), beach towels and mats, a change of clothes, water, and even toilet paper.
Visit the Lavender Fields: 1 hour 40 Minute Drive from Avignon. Provence is known for its lavender and sunflower fields. Depending on the time of year that you visit, you will be able to catch them. I was in Provence August 5th-8th which is very late to see the lavender fields.
The best time to see the fields is in June or July. If you have a trip planned after those months, you can alter your itinerary as necessary since the lavender is usually gone by August.
I, however, was fortunate. I headed out to Valensole and just before reaching the famous Plateau de Valensole, I found one last field remaining!
There is also a cute little souvenir shop nearby that has lavender gifts where I got some lavender oil. Valensole is also the ideal spot to stop for lunch if you're getting a bit hungry.
Alternative Destinations: If you do plan a trip for during a time where the lavender will be gone, you can skip Valensole completely and head to another destination. I have a list of some tops spots listed at the end of this post.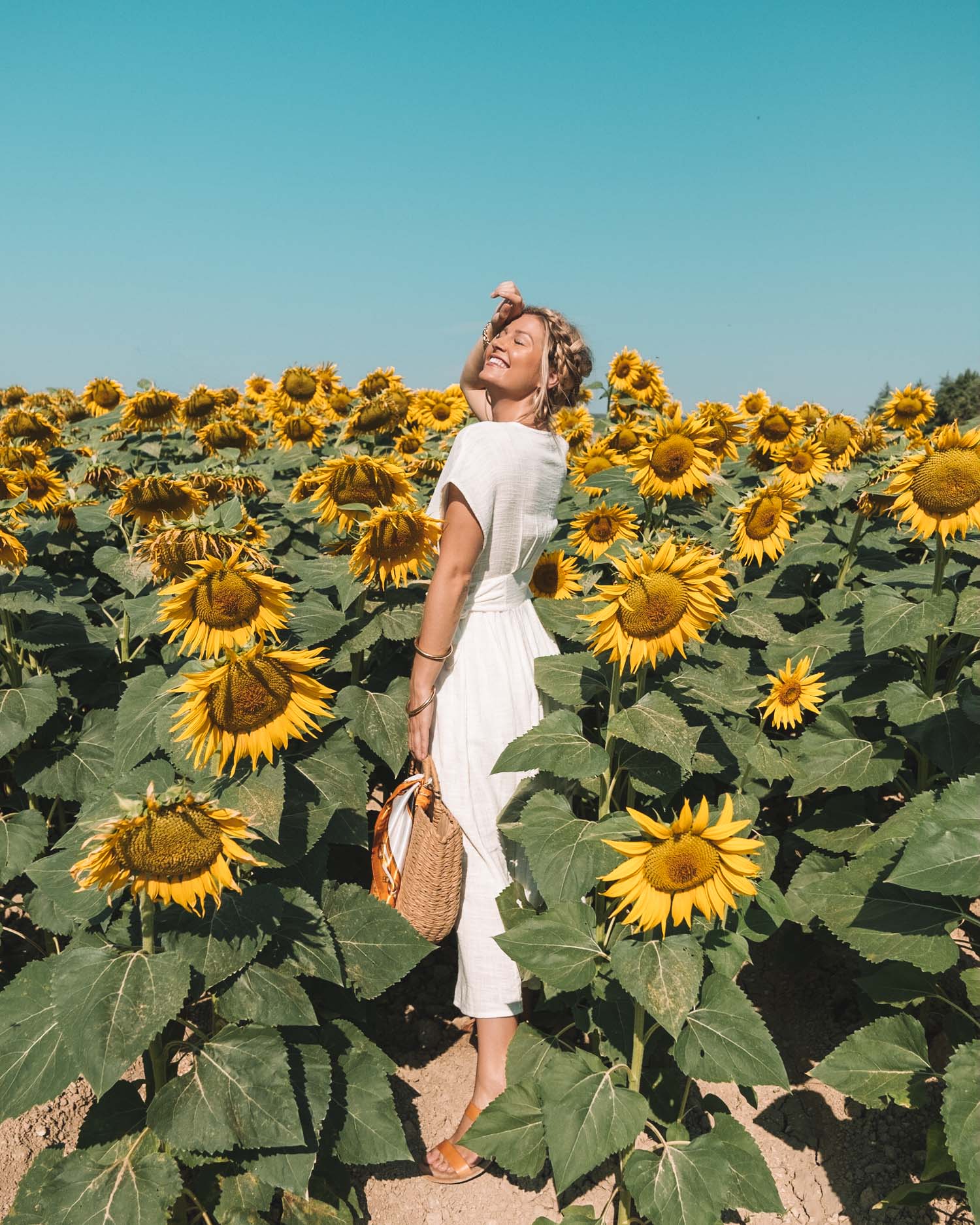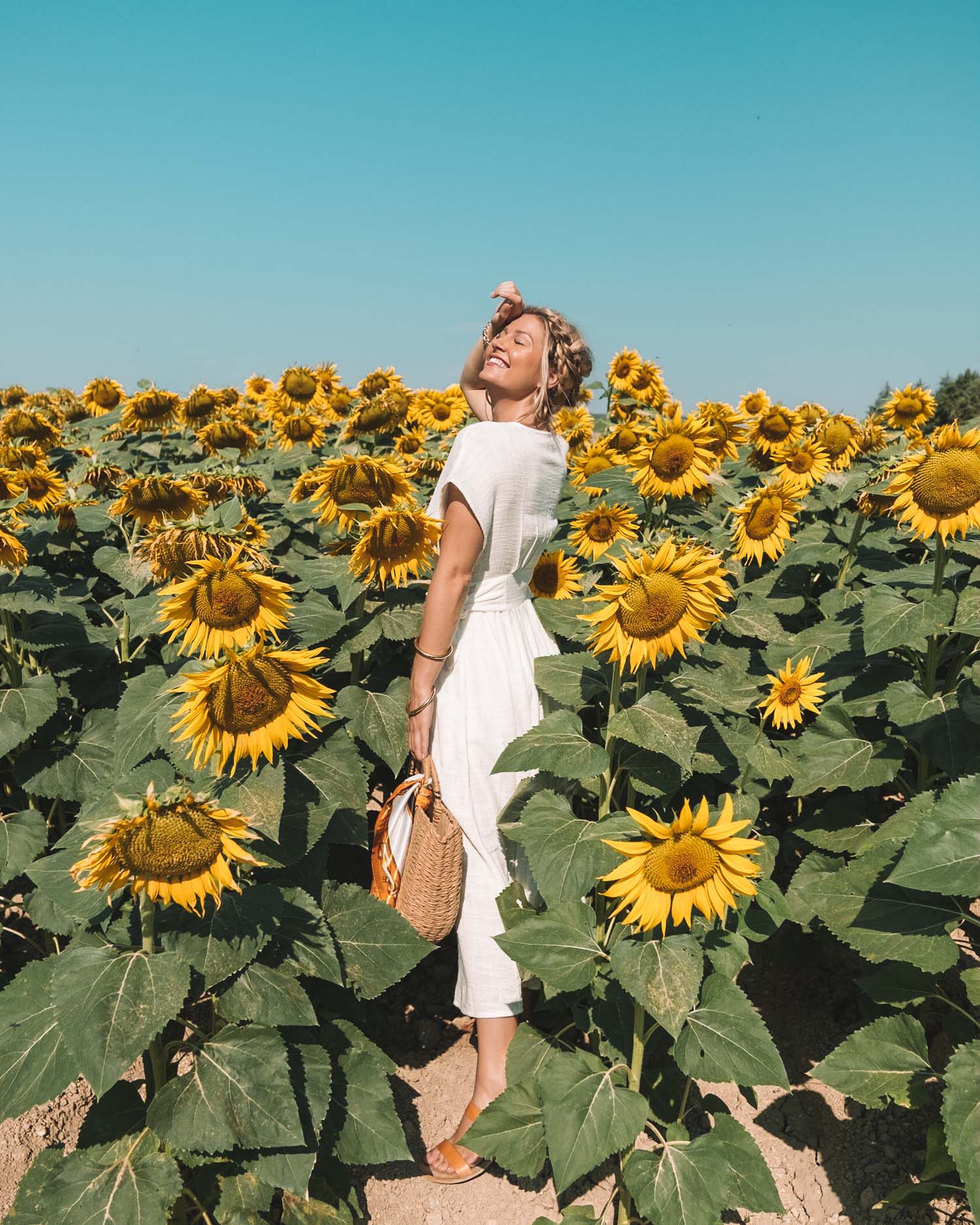 Stop at Sunflower Fields: Regardless of where you end up, you will most likely pass vast sunflower fields throughout the Provence region.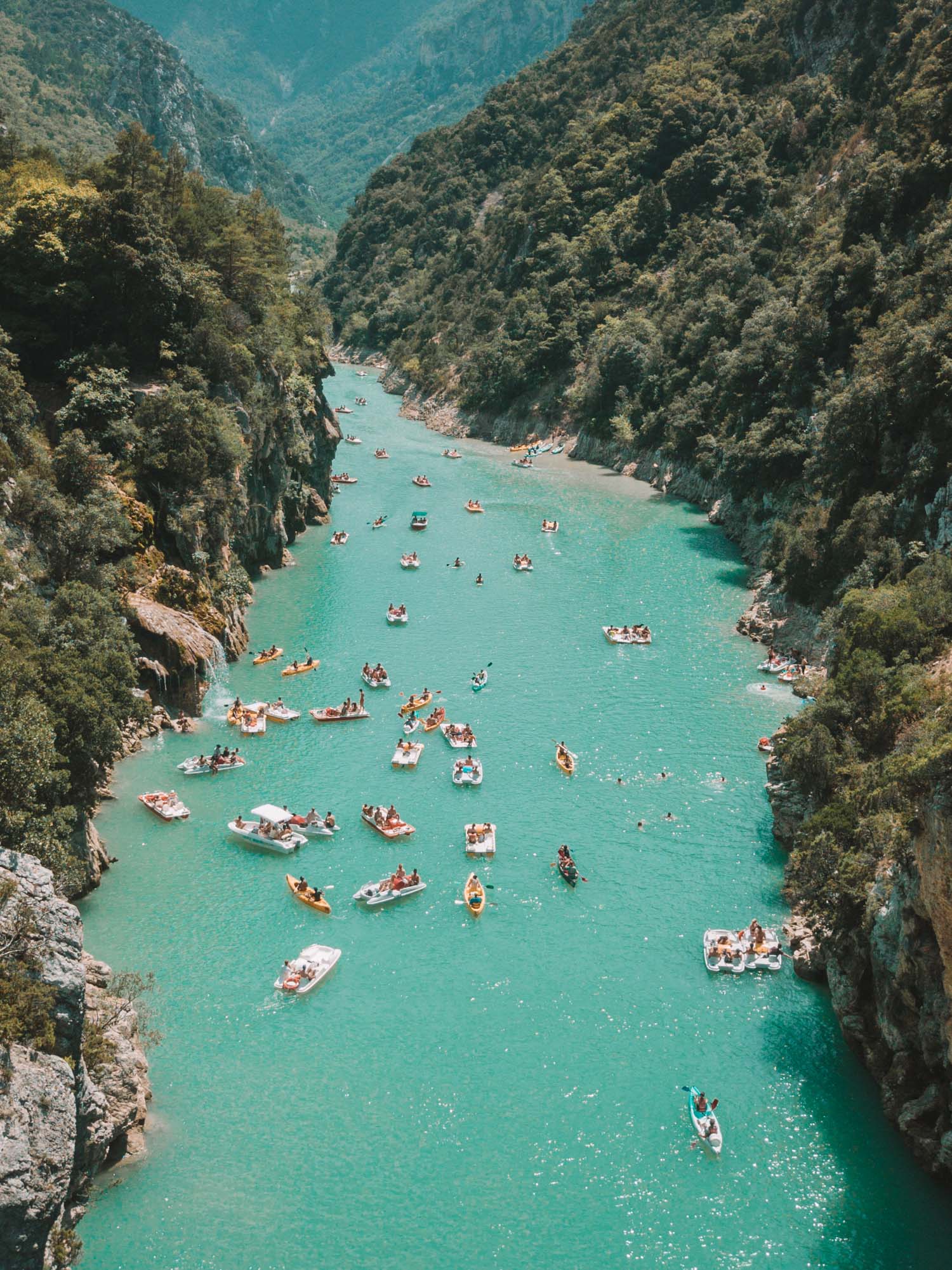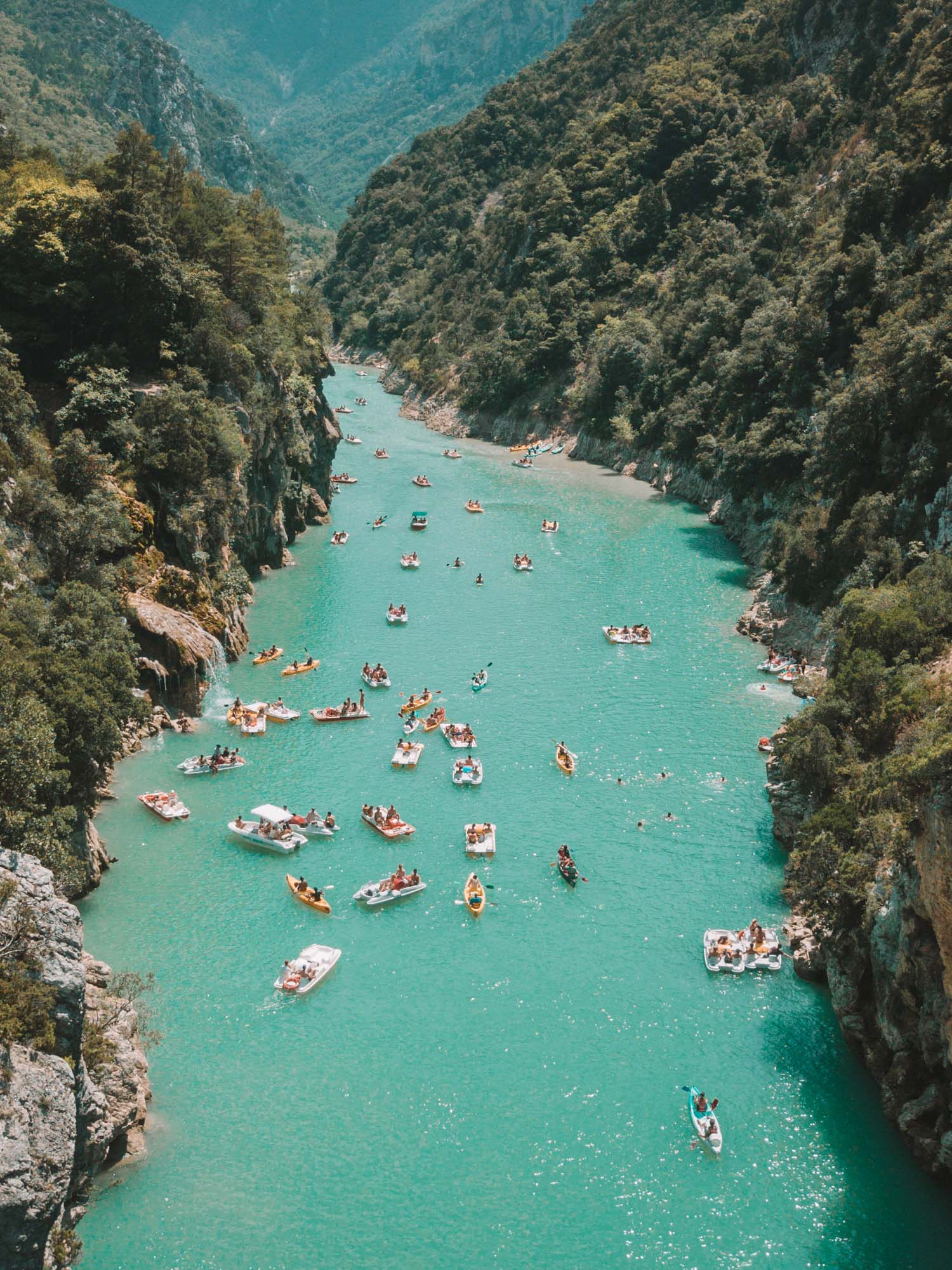 Visit Gorges du Verdon: 1 hour 20 Minute Drive from Valensole. I was a little hesitant about driving all the way to Gorges du Verdon (which is about an hour and 15 minutes away from Valensole), but I'm so glad I did! Verdon Gorge is known for its turquoise green river water, white water rafting, and hiking.
Before settling down on the beach, drive along the canyon for views down onto the river. You're going to want to stop every few minutes to take pictures. It's absolutely breathtaking.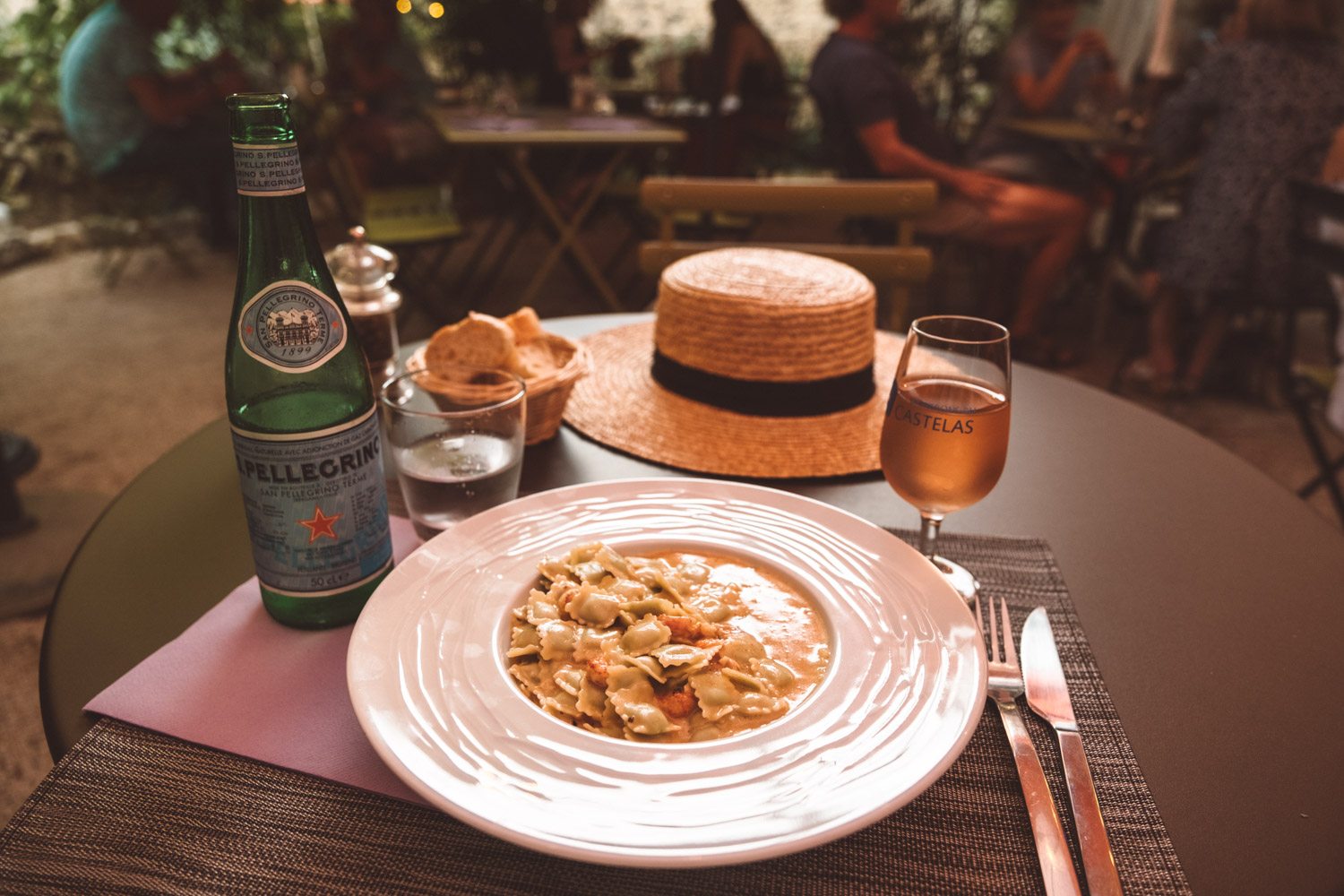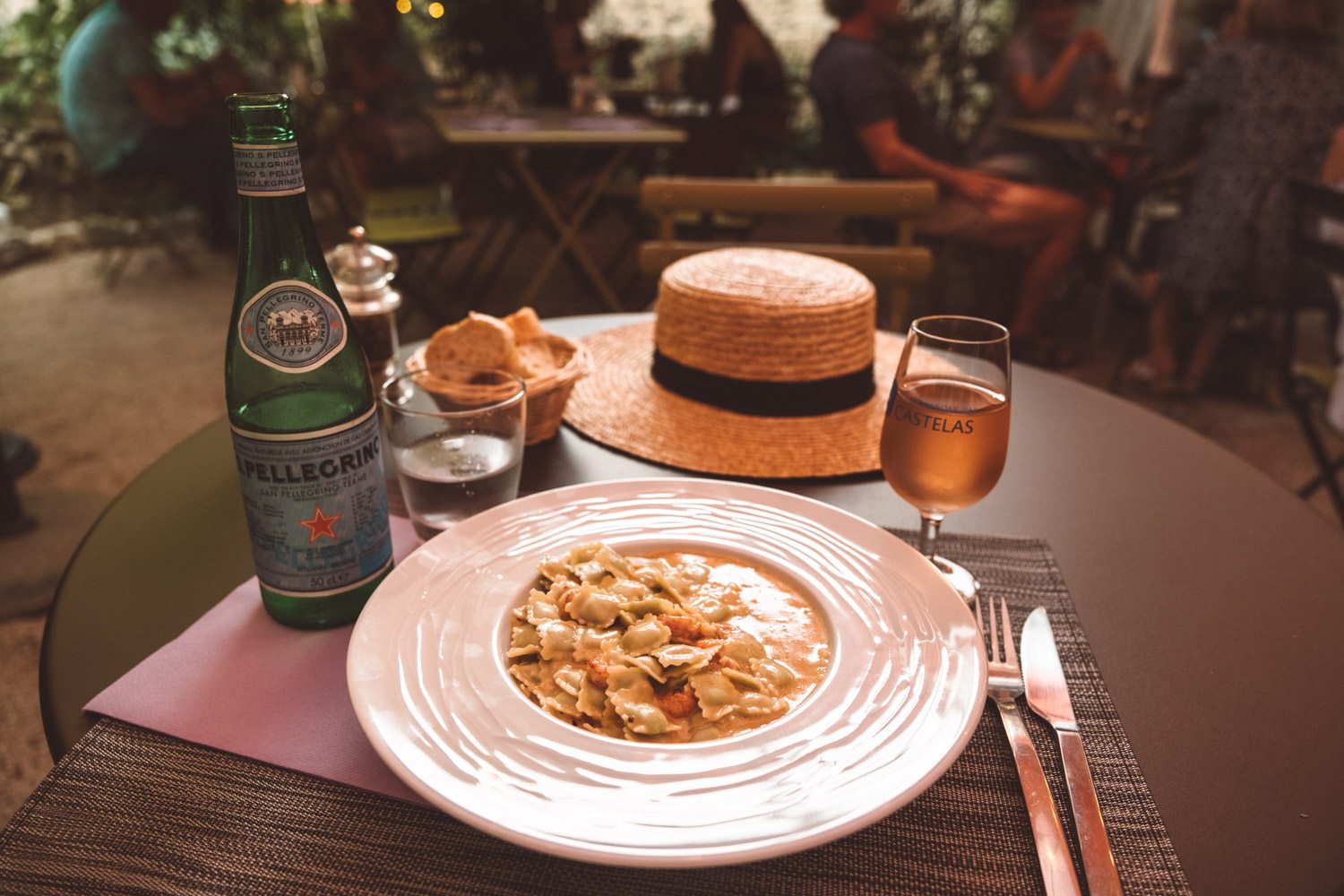 Catch Sunset in Sault: 2 Hour 30 Minute Drive from Verdon Gorge. Prepare for a long drive back to Sault (but it's worth the trek). Sault was one of the most insane little towns to drive through in all of Provence, so be prepared to squeeze through narrow roads and navigate sharp turns. I made it to Sault just before sunset and grabbed a romantic little dinner for one at Le Petit Jardin. (It was one of the best pasta dishes I've ever had!)
Helpful Tip: I drove back to my hotel in Avignon after dark and realized just how dark it is on roads in the countryside. Most roads have no street lights, so be careful if you're driving anywhere at night!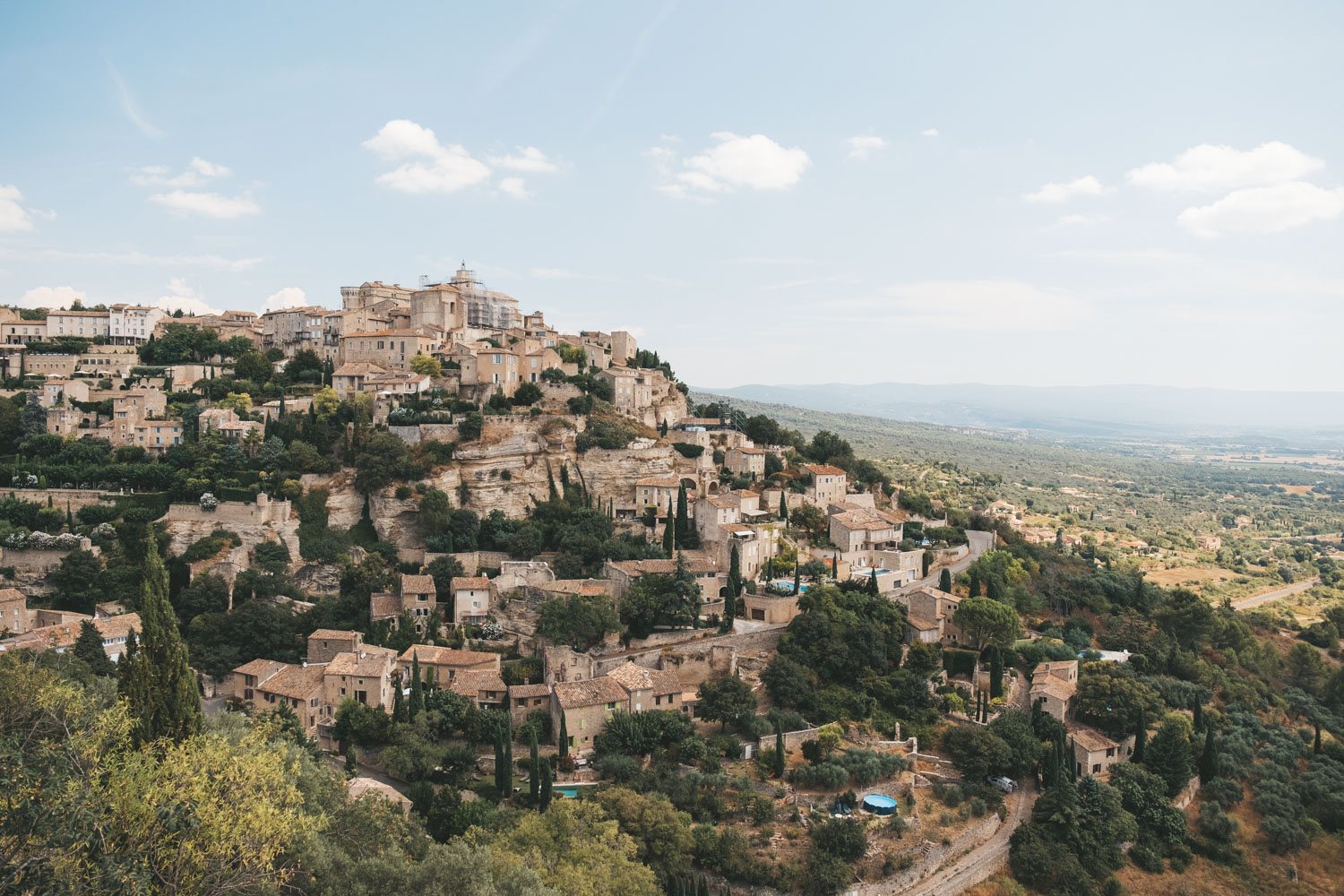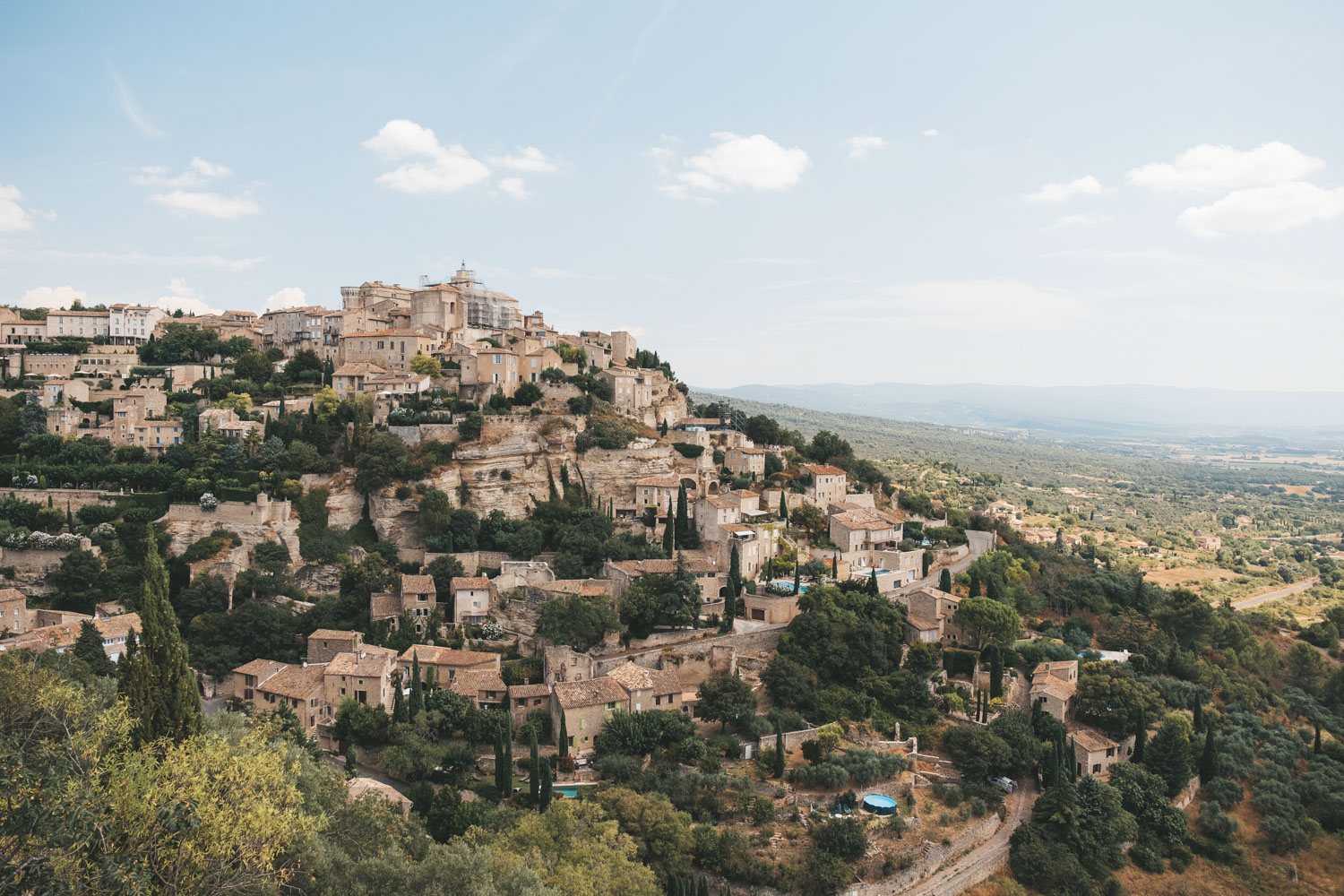 Day 3 – The Luberon
Helpful Tip: Service is spotty throughout Provence but especially in the Luberon region. Download an offline google map of your driving route from Gordes to Senanque Abbey to Roussilon so you know where you're going.
Visit Gordes: 1 hour Drive from Avignon. When I was planning my trip to Provence, I knew that I had to visit Gordes, one of the most well-known hilltop villages in the region. I wanted to go to the farmer's market that happens every Tuesday morning and consists of stalls set up all around the foot of the castle.
Here you'll find fabrics, linens, soaps, lavender, clothes, and an abundance of food and wine. I chose to (and recommend) getting there early to help beat some of the crowds.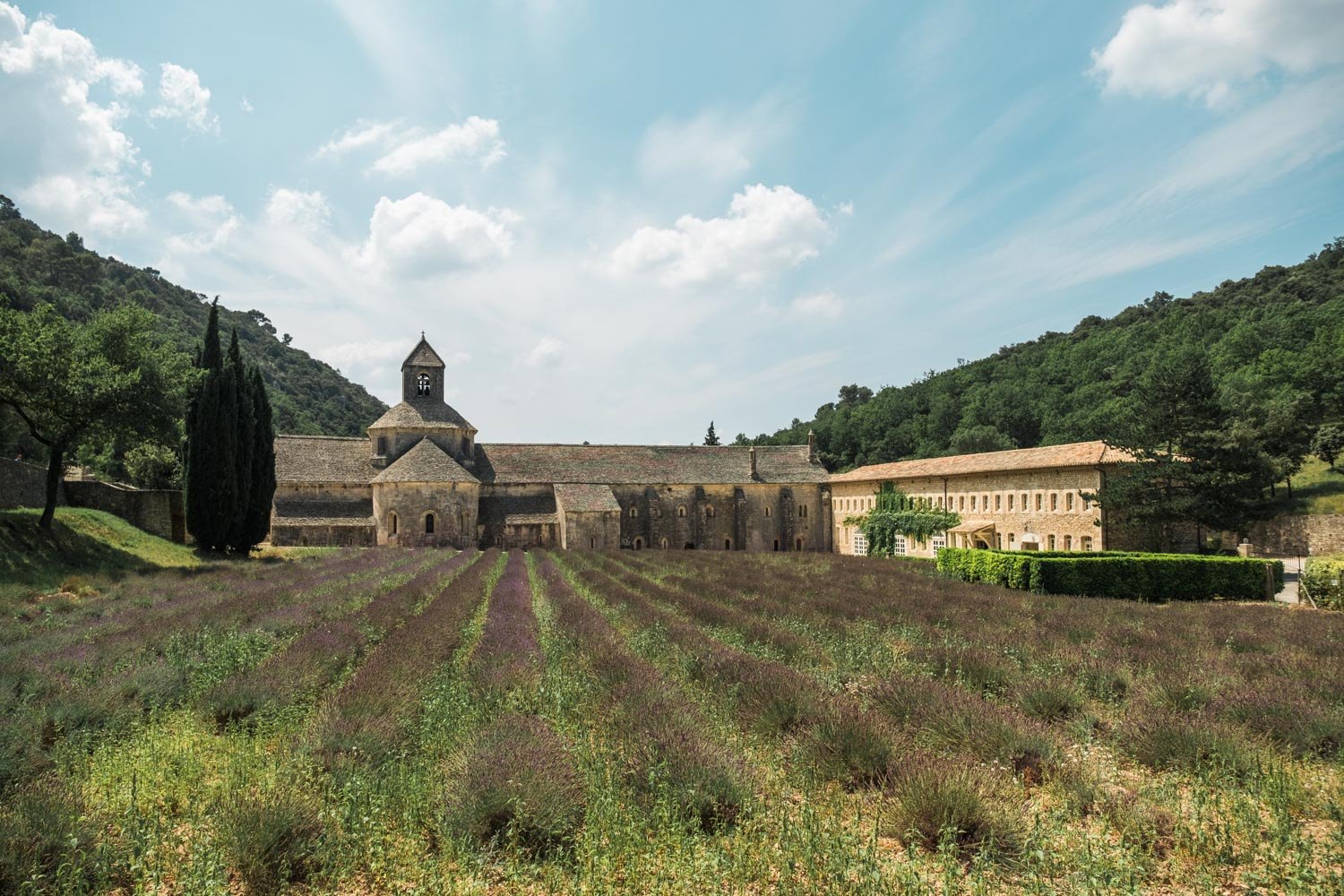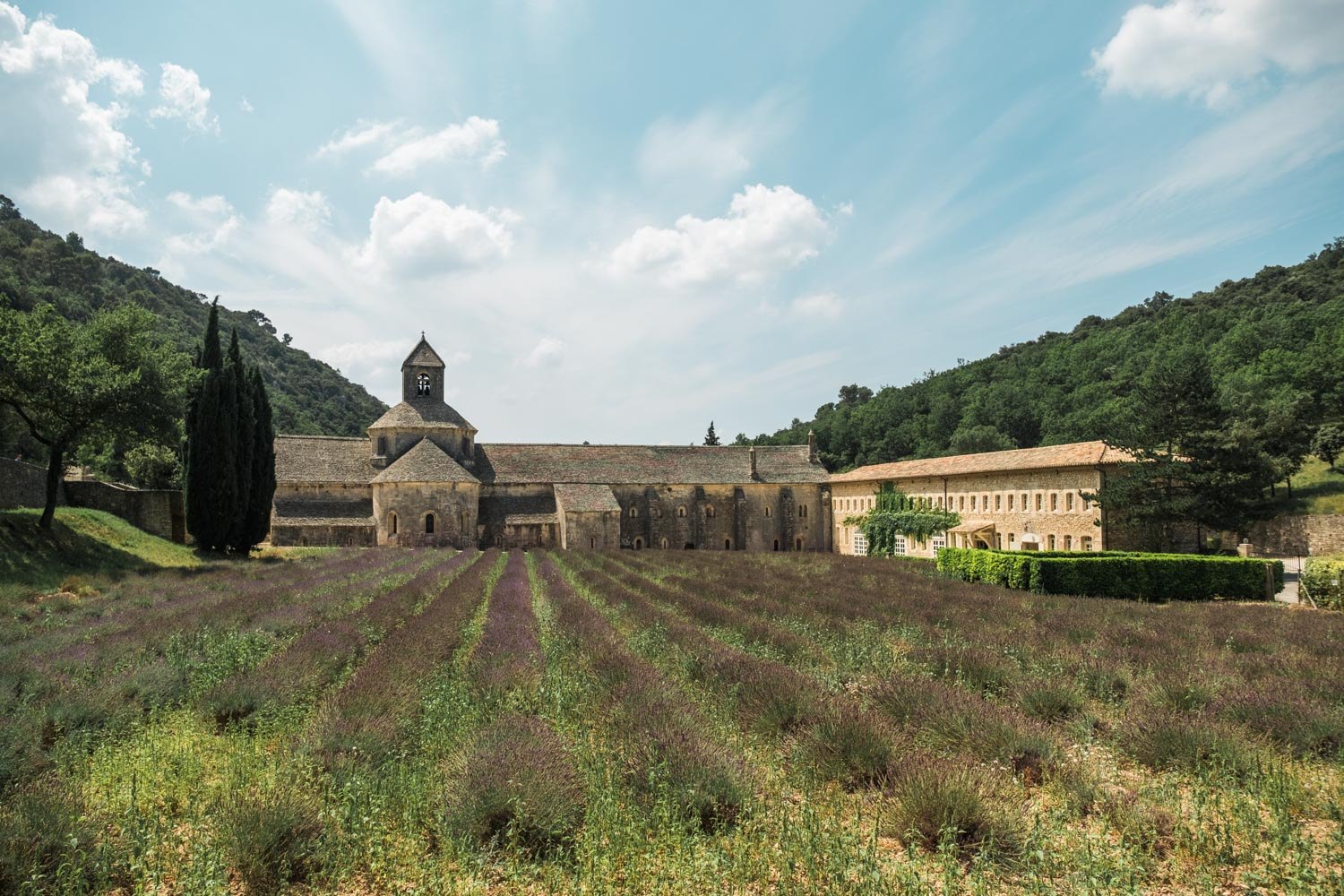 Tour the Senanque Abbey: 10 Minute Drive from Gordes. Once you're shopped out, just down the hill, you will find the Senanque Abbey, a fully functioning monastery that was founded in the 12th century. They have guided tours that start every hour, and it's one of the best ways to soak in all of the information that comes with the gorgeous abbey.
This is also another trendy spot to see some lavender fields if it's the right season.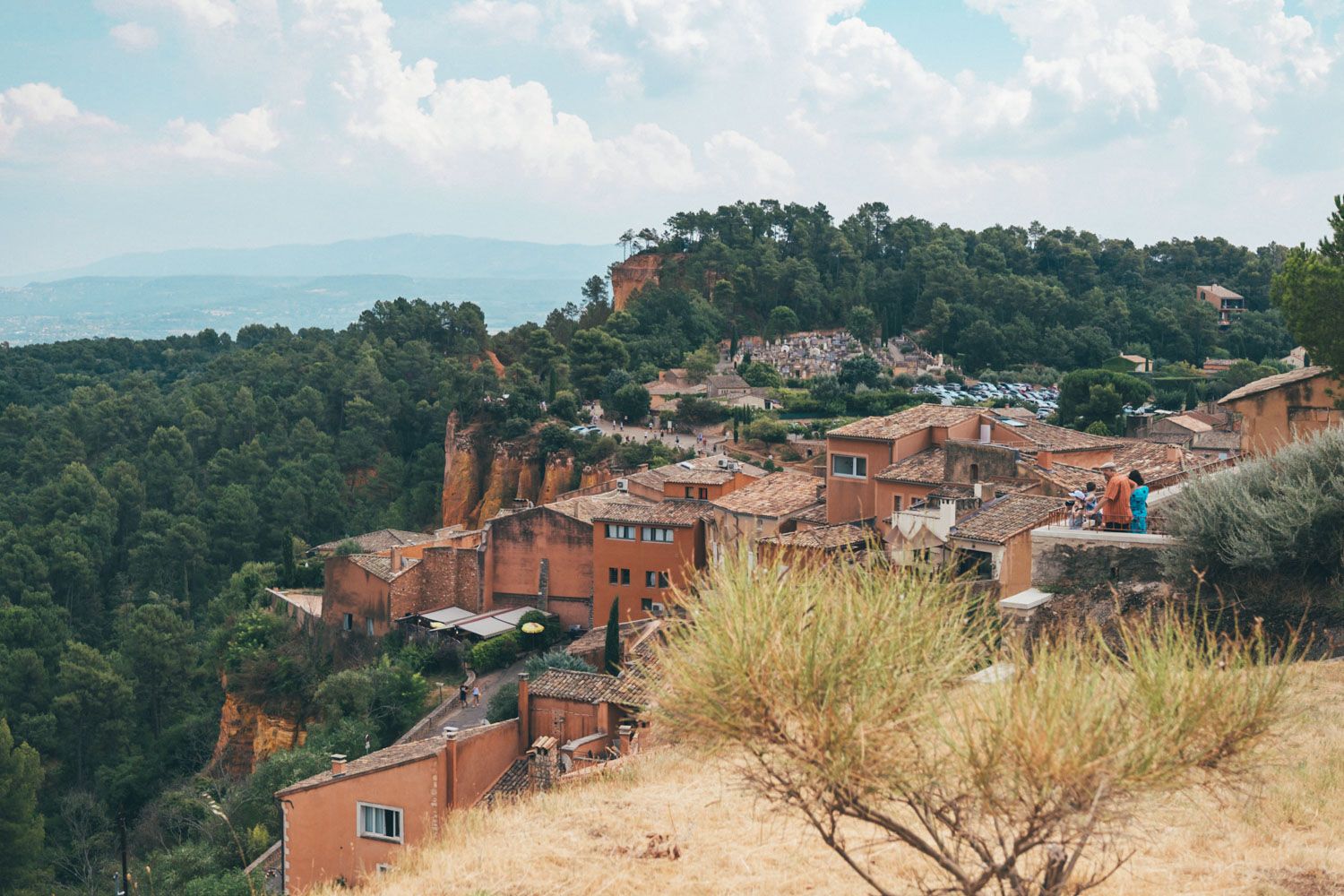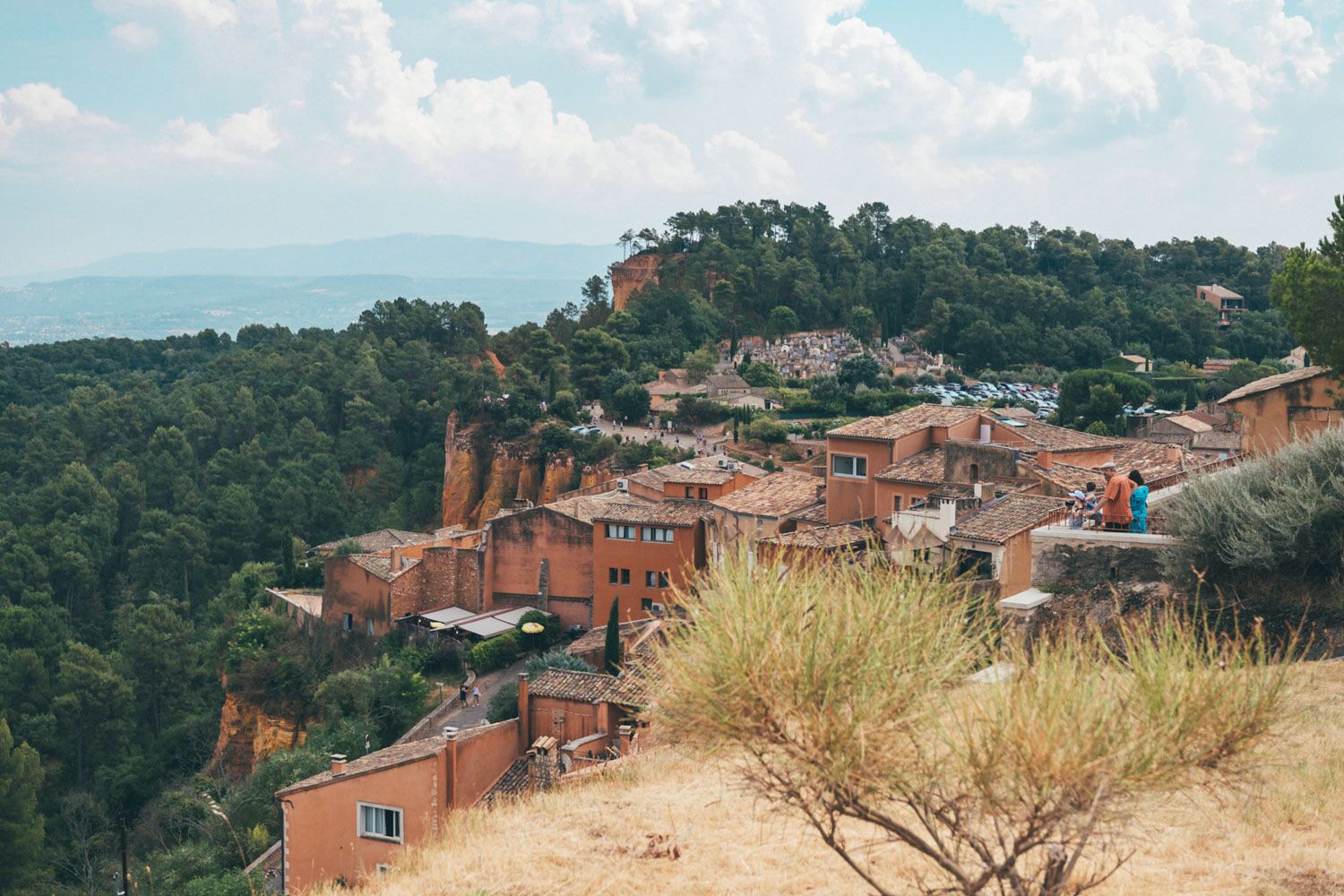 Explore Roussillon: 30 Minute Drive from Senanque Abbey. Finish up your day by making the quick drive over to Roussillon, one of my favorite towns. Plan to spend a few hours here to explore the town and walk the ochre trail. The town is full of old red buildings with colorful doors and the ochre trail is a beautiful nature trail through natural red quarries and cliffs.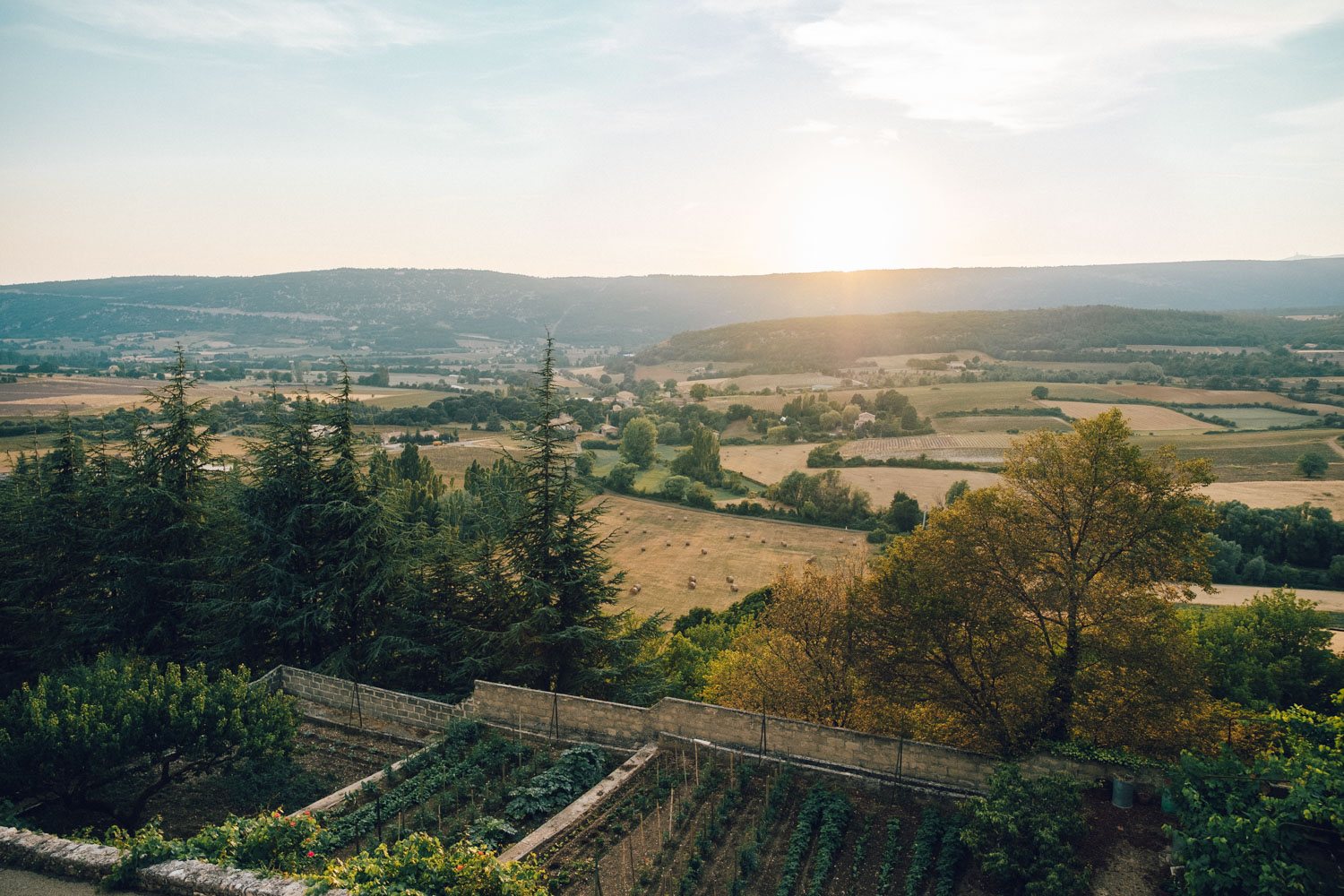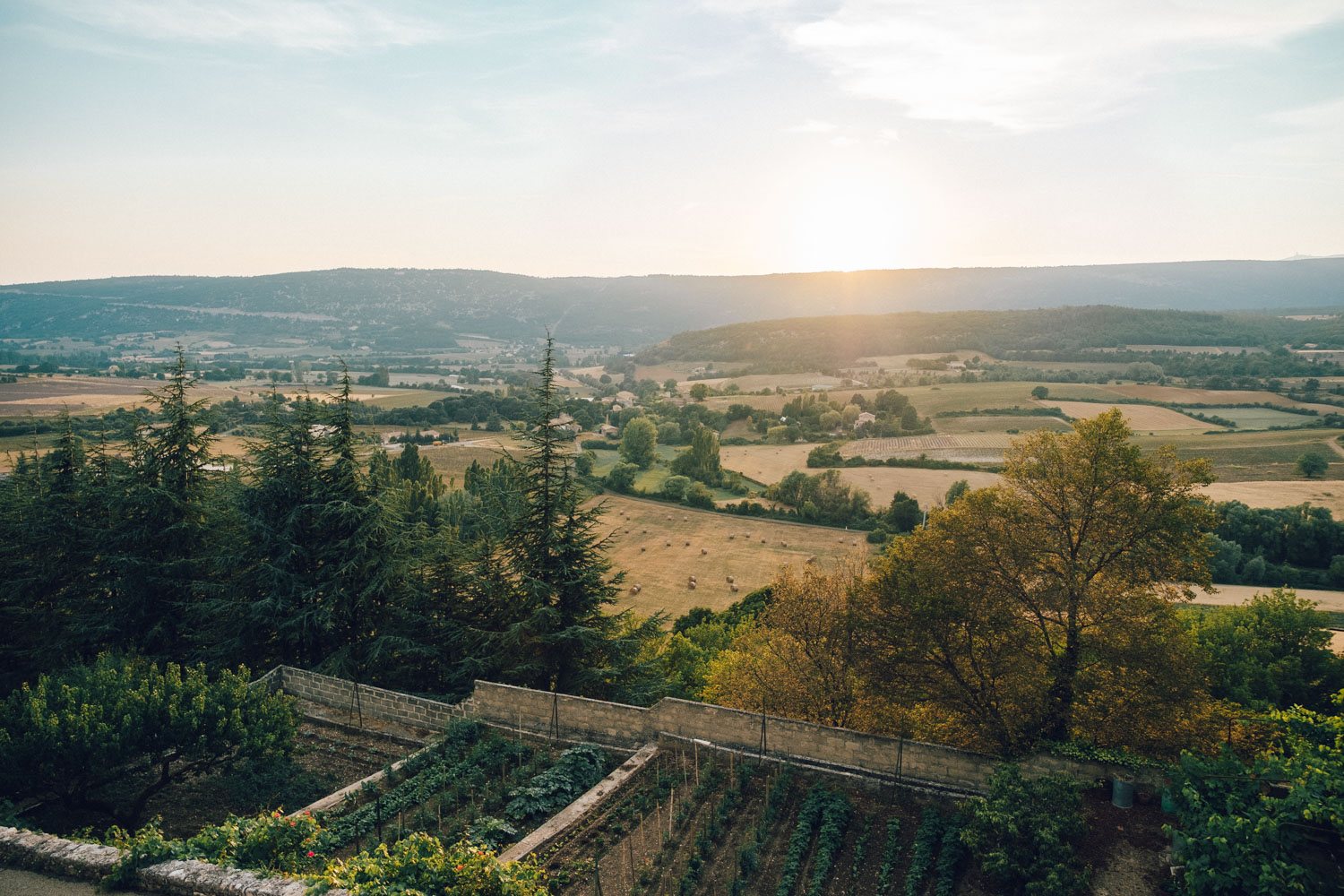 Other Destinations to Visit in Provence
This was my 3-day itinerary for Provence but if you have more time or you're looking for different destinations than the ones I mentioned, here are a few others that are worth visiting!
Aix En Provence: 1 Hour Drive from Avignon. Known as the "brainiest" city in France, it's known for bringing in artists, lawyers, and nobles. There are reportedly 1,000 fountains you can visit, thermal hot springs, bookstores, markets, boutiques, and open-air restaurants where you can wine and dine.
Saint Remy de Provence: 30 Minute Drive from Avignon. Saint Remy de Provence means enjoying the incredible landscapes of the Massif des Alpilles, with the town resting right at its foot.
They receive over 300 days a year of sunshine, so it's no wonder people flock to enjoy the weather, the museums, the private mansions from the Renaissance, the chapels, and the art galleries.
If you get the chance to go to Saint Remy de Provence, visit the Monastery of Saint-Paul de Mausolé, the spot known to have taken in and inspired Vincent Van Gogh. It's where he painted 150 of his most well-known works.
Les Baux de Provence: 40 Minute Drive from Avignon. Les Baux de Provence is a medieval village at a fortified rocky site in between Arles and Saint Remy de Provence. This one is best to be treated as a day trip as there is so much to see within the town.
Some of its highlights include the village itself, Chateau-Fortress de Bau, Eglise St-Vincent, and Musee des Santons.
Orange – Château Neuf du Pape: 30 Minute Drive from Avignon. One of the best ways to visit these spots is to take a guided tour. During this tour, you will pop in between charming little villages, Roman ruins, and taste wine in old cellars.
It's one of the most popular tours in Provence, so I highly recommend checking it out!
Côte d'Azur: 2 Hour 30 Minute Drive from Avignon. The French Riviera is famous for its old glamour and beautiful coastline. Famous seaside towns like Antibes, Nice, Cannes, and St Tropez are some of the most popular destinations. Head to the French Riviera for sun-soaked days by the sea!

Provence is an unforgettable destination that offers not only history but views that will have you in awe. There's so much to do, so stay organized with an itinerary and ensure you see all that you'd like!
PIN ME!