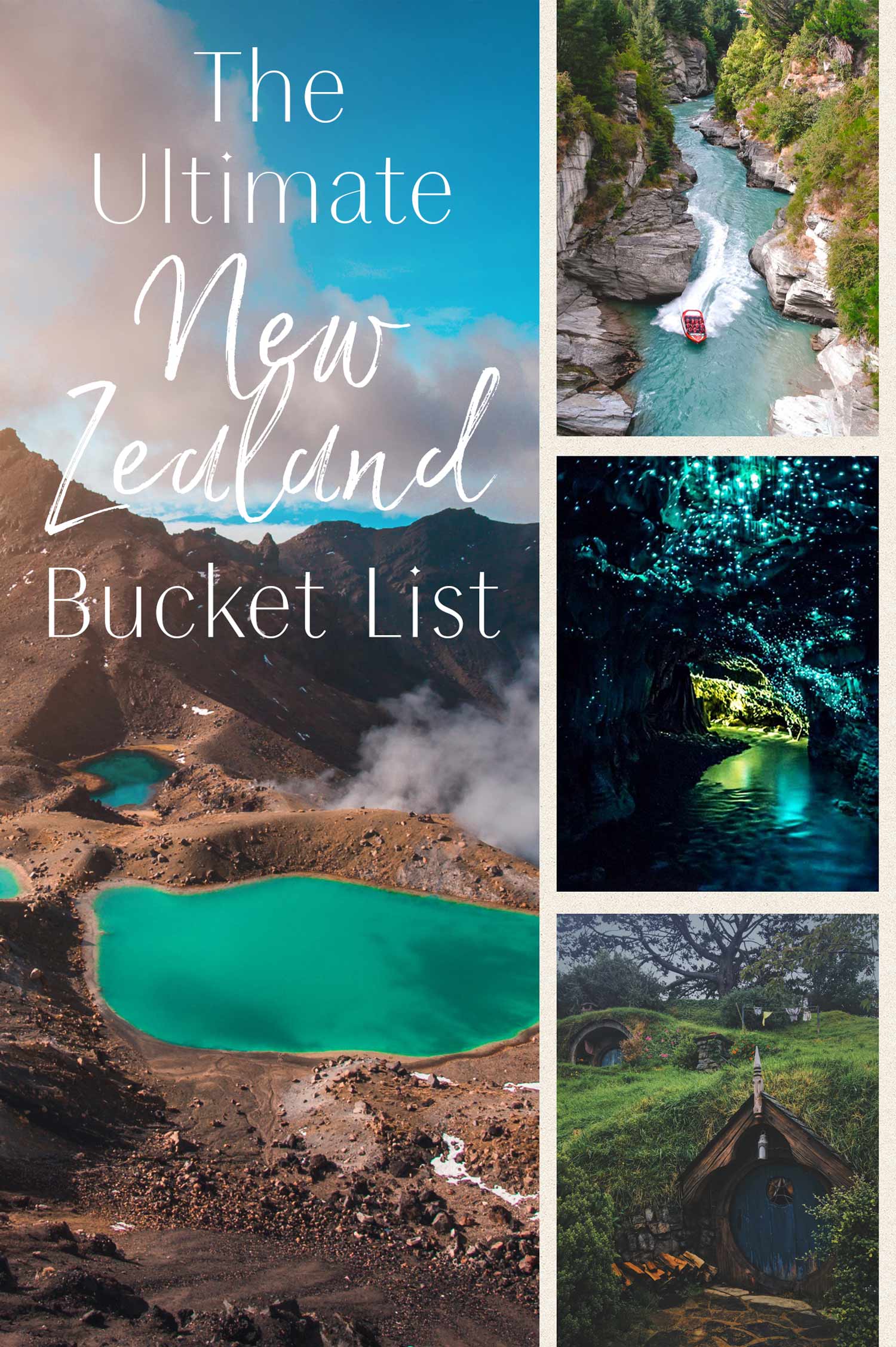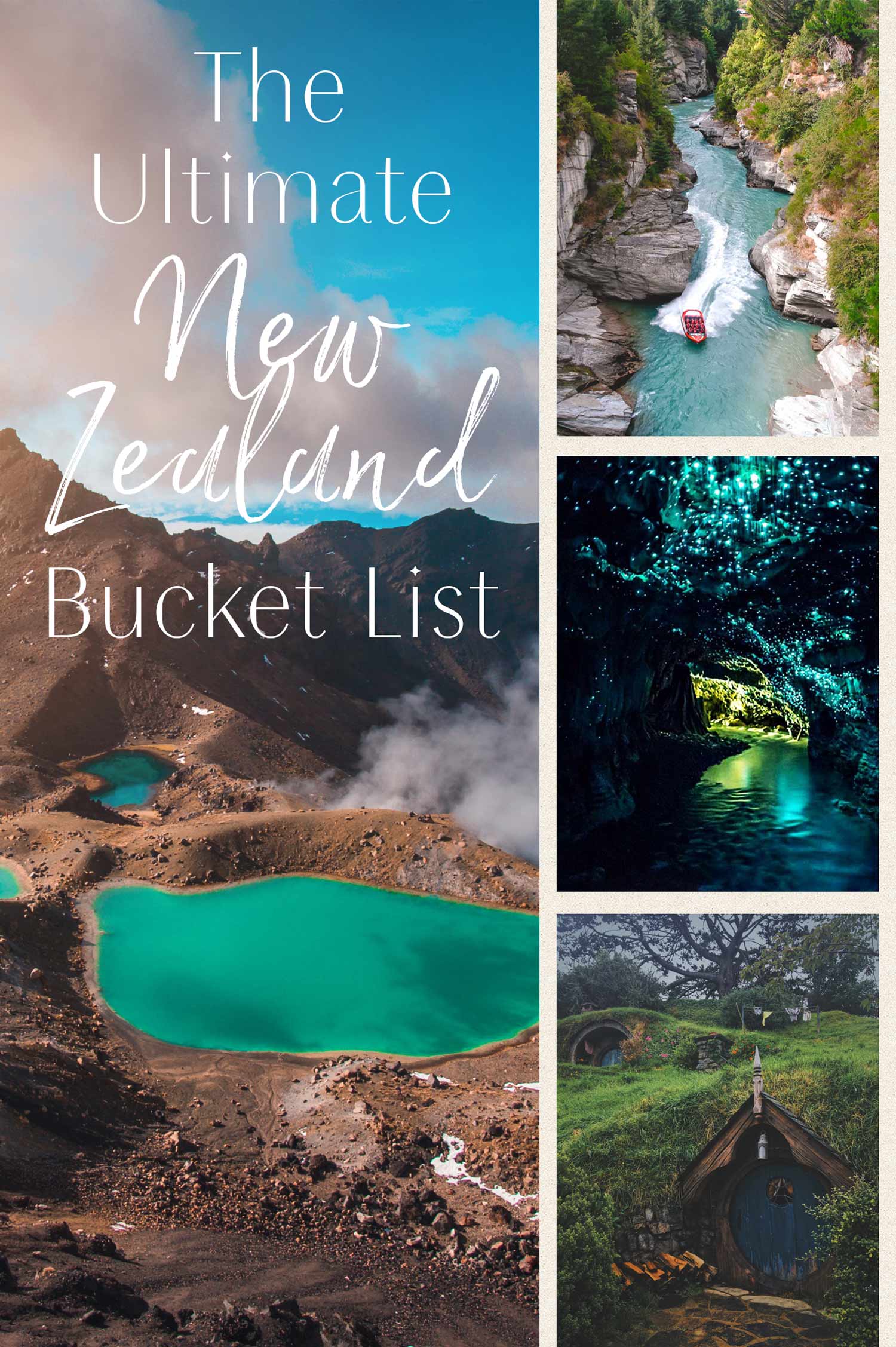 It's no secret that New Zealand is arguably one of the most beautiful places on Earth. It combines beauty and adventure along with a relaxed laid back attitude, making it an ideal travel destination for everyone.
To help inspire you to book those tickets and get on a plane, I've narrowed down some of the best things to do in New Zealand.
Here is my ultimate New Zealand travel bucket list!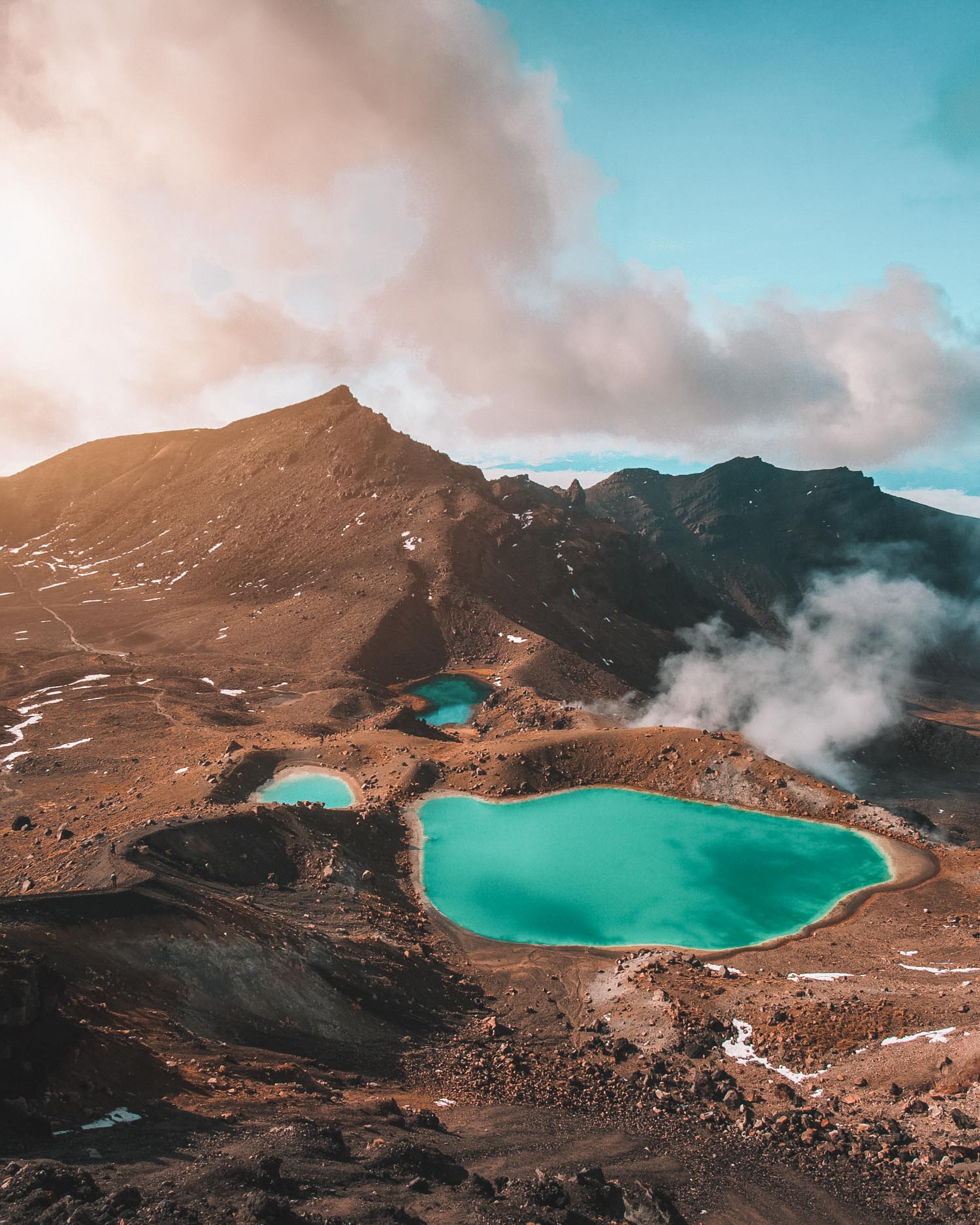 Tongariro Crossing
Hike the Tongariro Crossing
New Zealand is a hiker's paradise! There are countless epic walks that will take you past the country's top natural wonders.
One of the most popular hikes is the Tongariro Crossing. It's a 12-mile day hike that will lead you past volcanic landscapes and colorful cater lakes.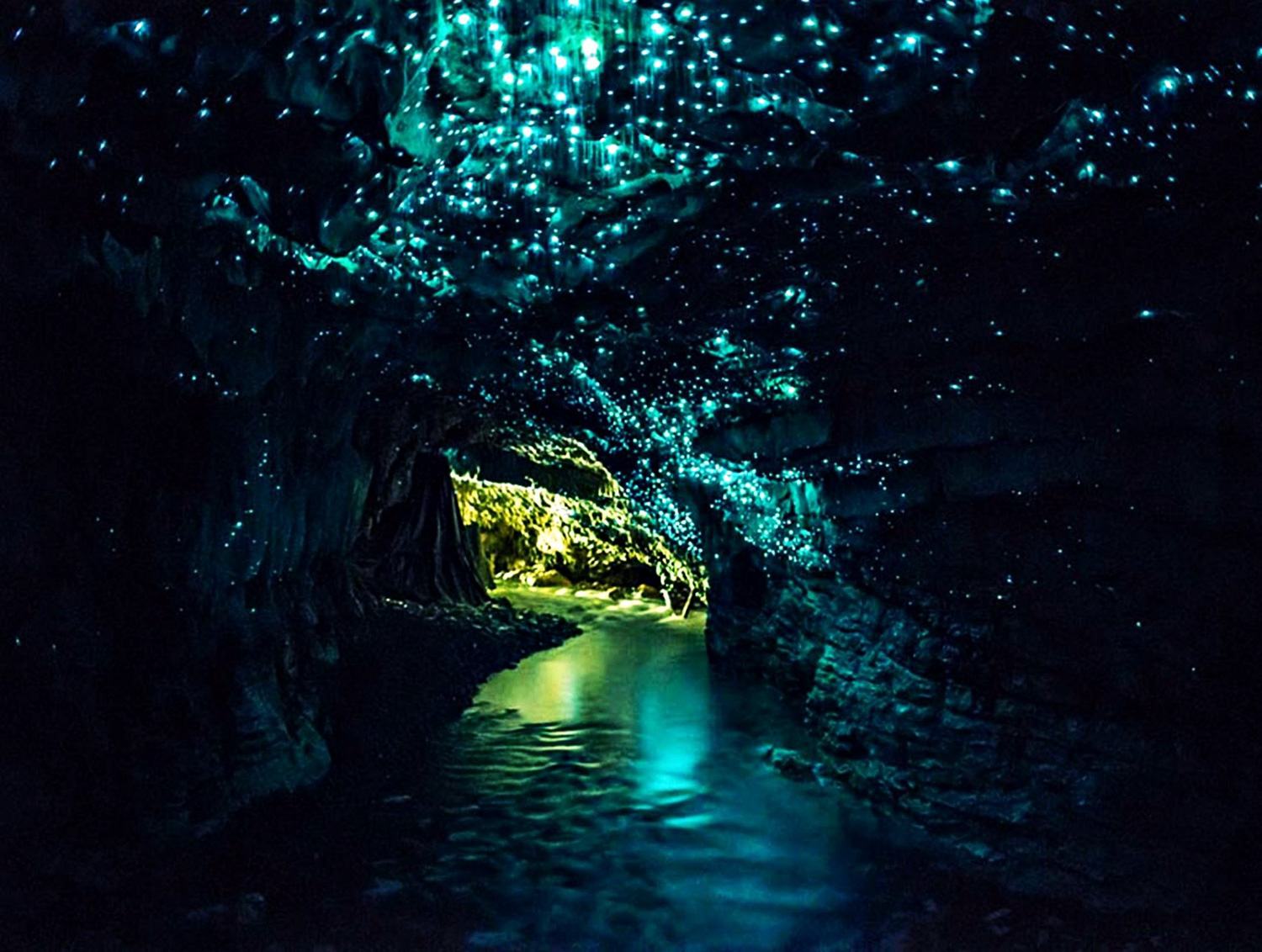 Waitomo Caves
Glow Worm Waitomo Caves
The Waitomo Caves are a series of fascinating natural wonders that are home to thousands of glow worms. It's by far one of the most popular attractions and with good reason!
If you can, splurge on a river rafting trip through the caves!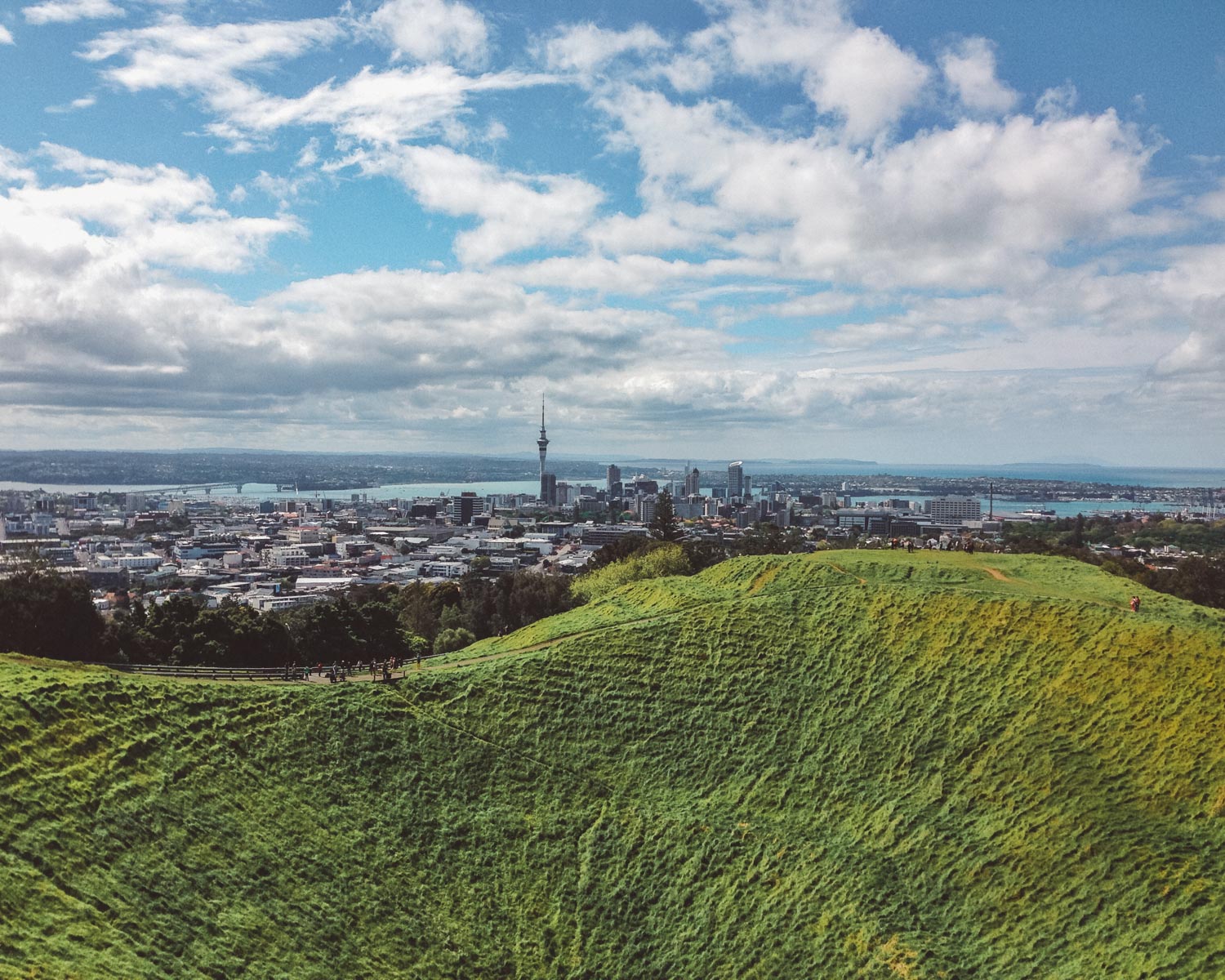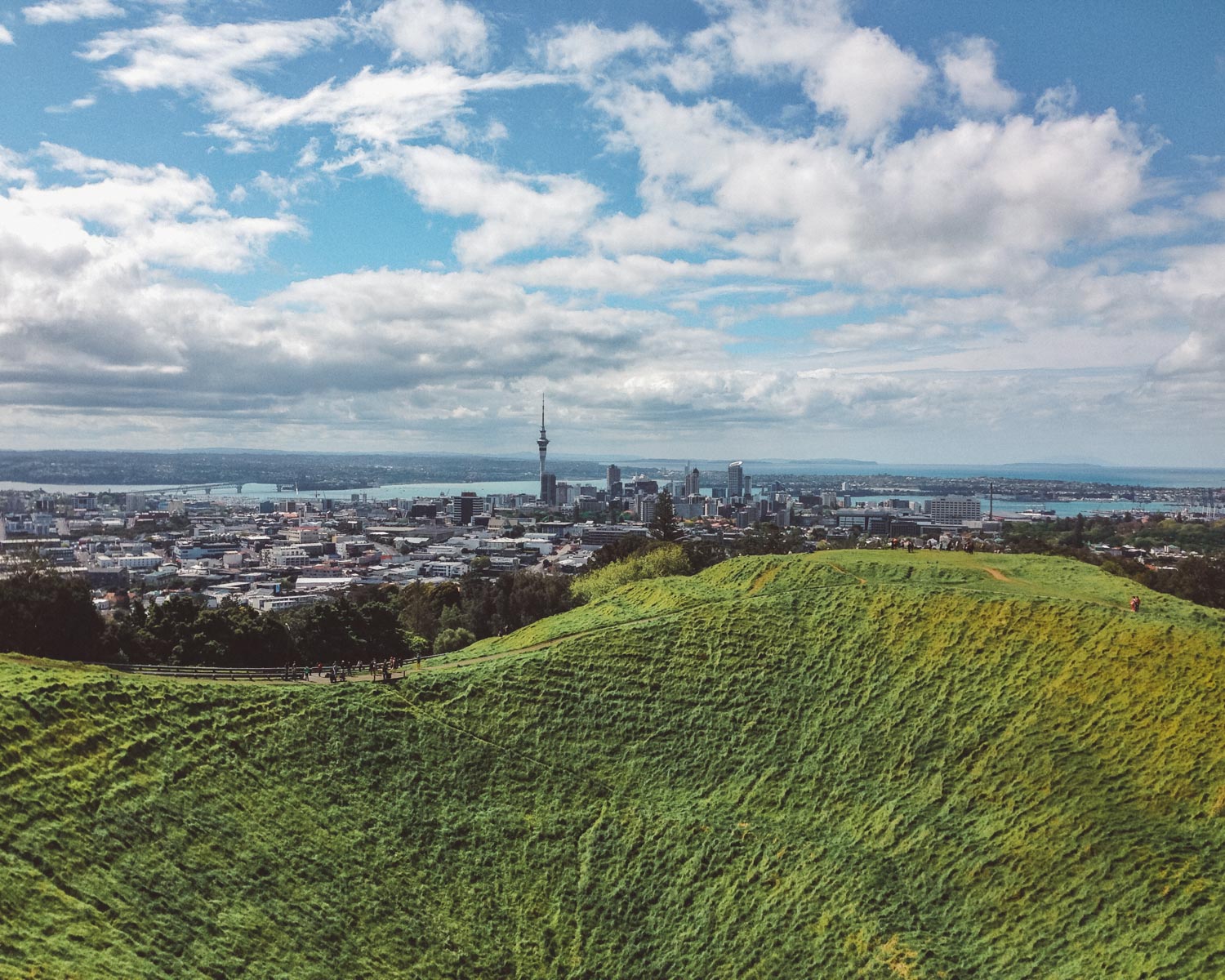 Visit Auckland
Auckland is a gorgeous harbor city located in the subtropical north of New Zealand. It's the largest city in NZ and its built on over 40 volcanoes!
The city is home to black and white sand beaches, museums, rugged mountains, farmland, and coastal villages. While most travelers tend to fly in and out of the city, carve out a day or two and spend some times exploring Auckland its surrounds.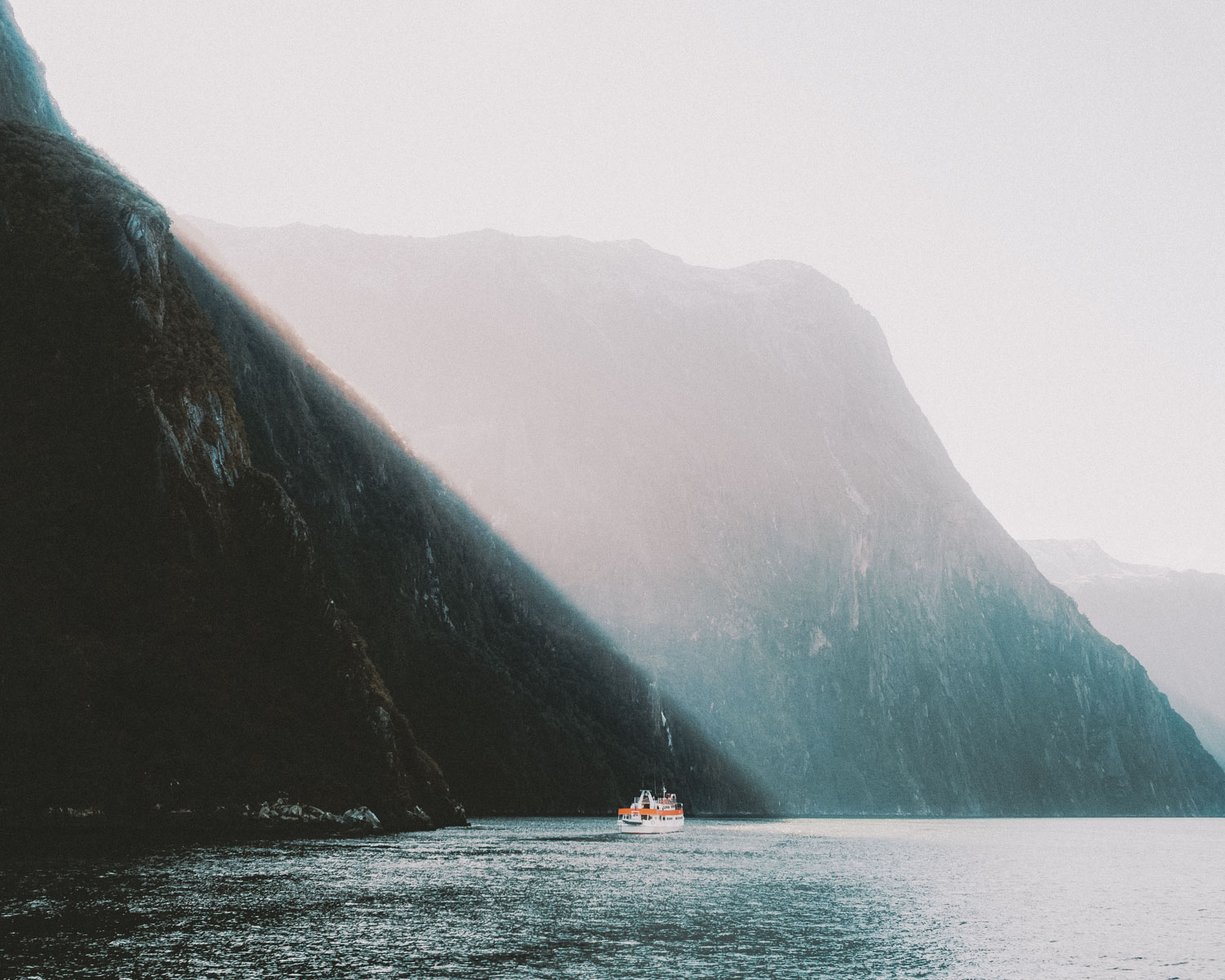 Milford Sound
Go on a Milford Sound Cruise
The Fiordland National Park is one of the most breathtaking parts of New Zealand and one of the best ways to see it is by boat. The designated World Heritage area is home to waterfalls, tall mountains that are covered in a blanket of snow or flowers, and crystal clear still water.

Book a Day Trip to Hobbiton
No trip to New Zealand would be complete without a trip to Hobbiton – the movie set where The Hobbit and The Lord of The Rings Trilogy were filmed. Located just outside of Matamata, you can explore Bag End, go inside the Hobbit homes used for the movies and have a pint of beer at the Green Dragon Pub.

Have an Adventure in Queenstown
Queenstown is the adventure capital of New Zealand. It's home to the world's first ever commercialized bungy jump and is the place to go for extreme sports and adrenaline-inducing adventure!
Work up the courage to go skydiving, jump off a bridge on a BMX bike, dive with sharks at Osprey Reef or tackle the rapids at Tully River. The options are endless!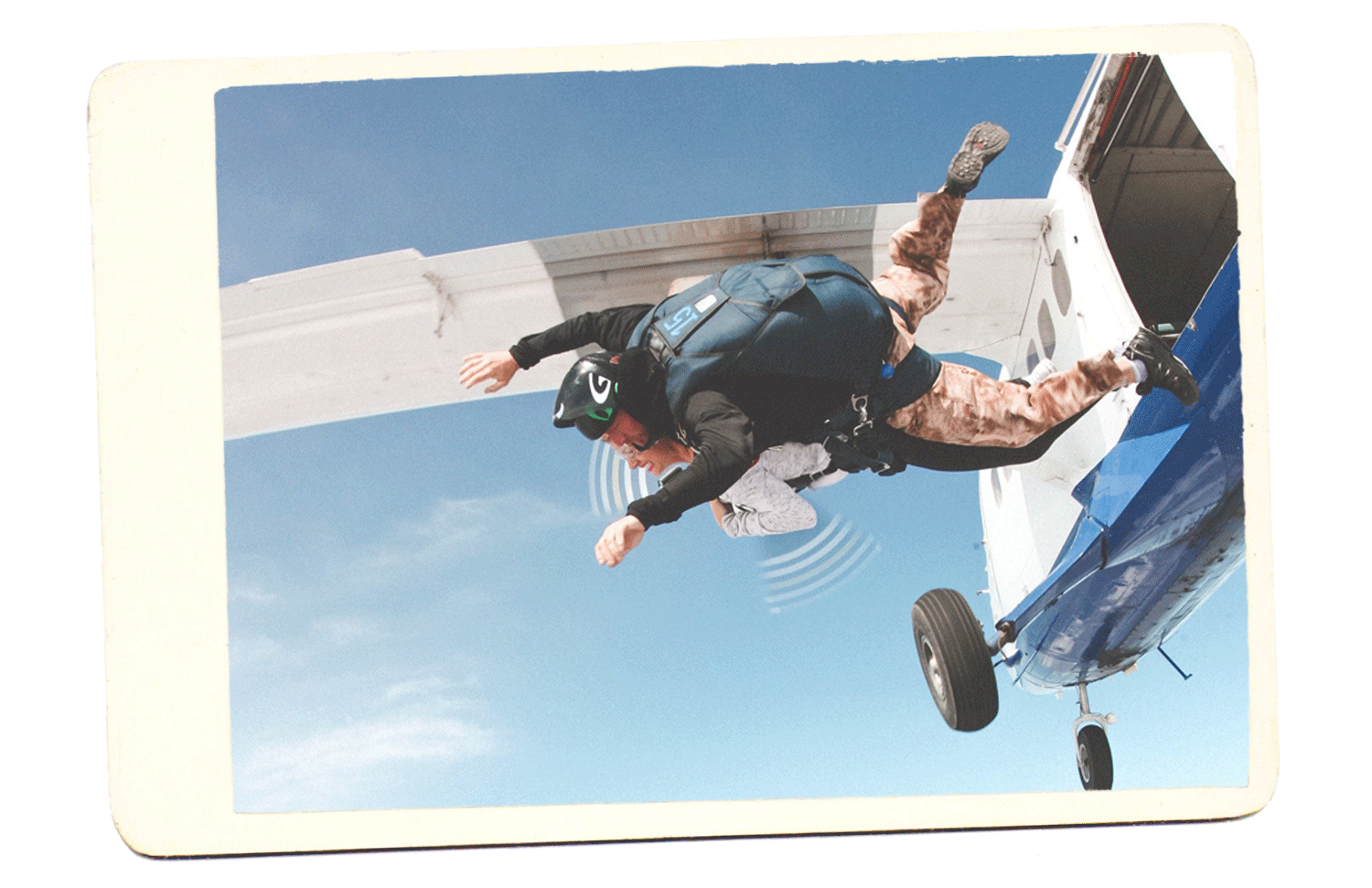 Skydive the Bay of Islands
If you want to get over your fear of heights, there's no place better or more beautiful than the Bay of Islands. You can choose from four different skydive heights – 9,000 ft, 12,000 ft, 16,000 ft, and 20,000 ft.
The views alone make putting your nerves to the test absolutely worth it.

Explore Rotorua
If you ask a local what word comes to mind when they think of Rotorua, they'll probably say "smelly". But the smell of sulfur is a small price to pay to experience one of New Zealand's most unique destinations.
You can spend your vacation exploring the geothermal parks, learning about Maori history and relaxing in the beautiful mineral pools.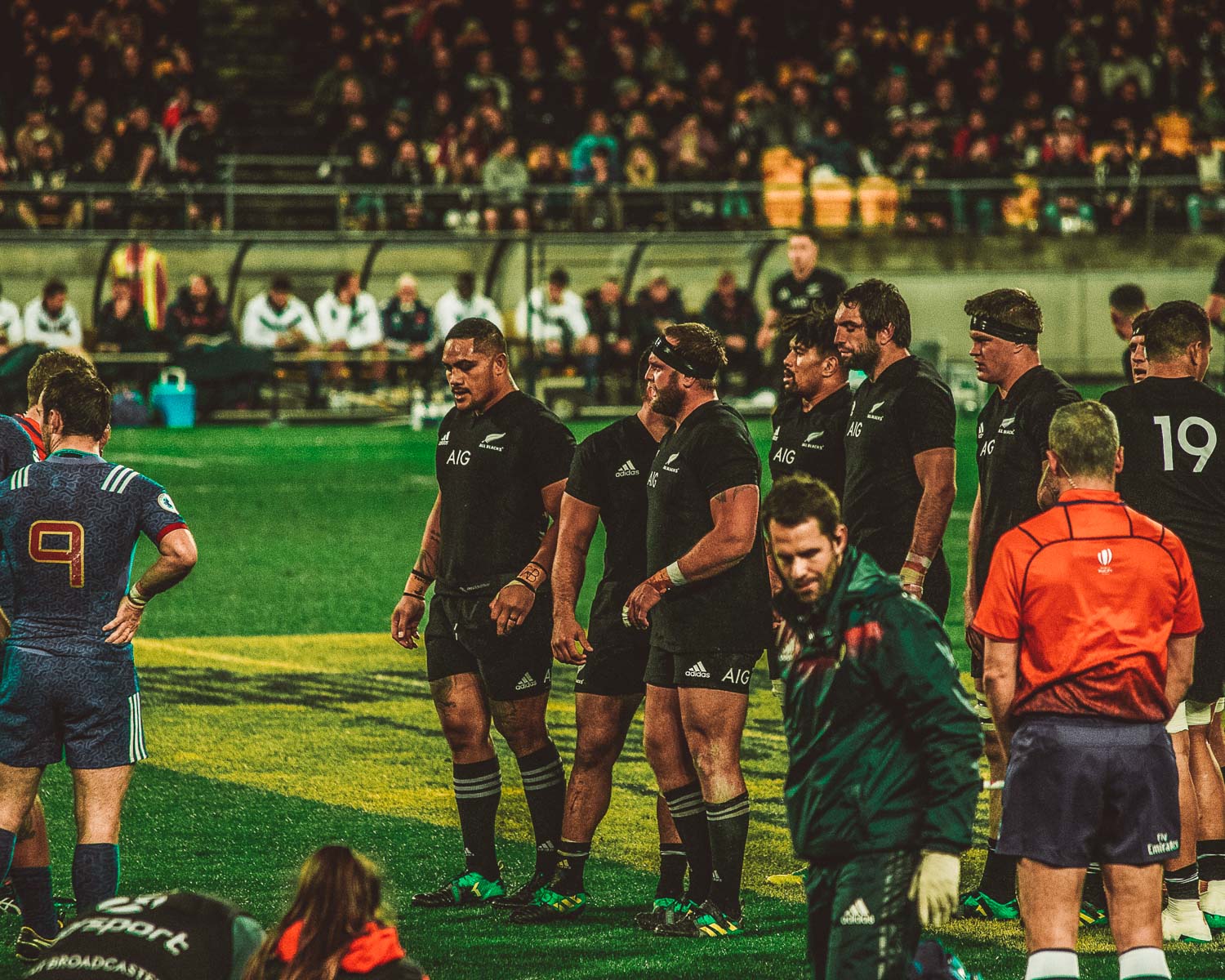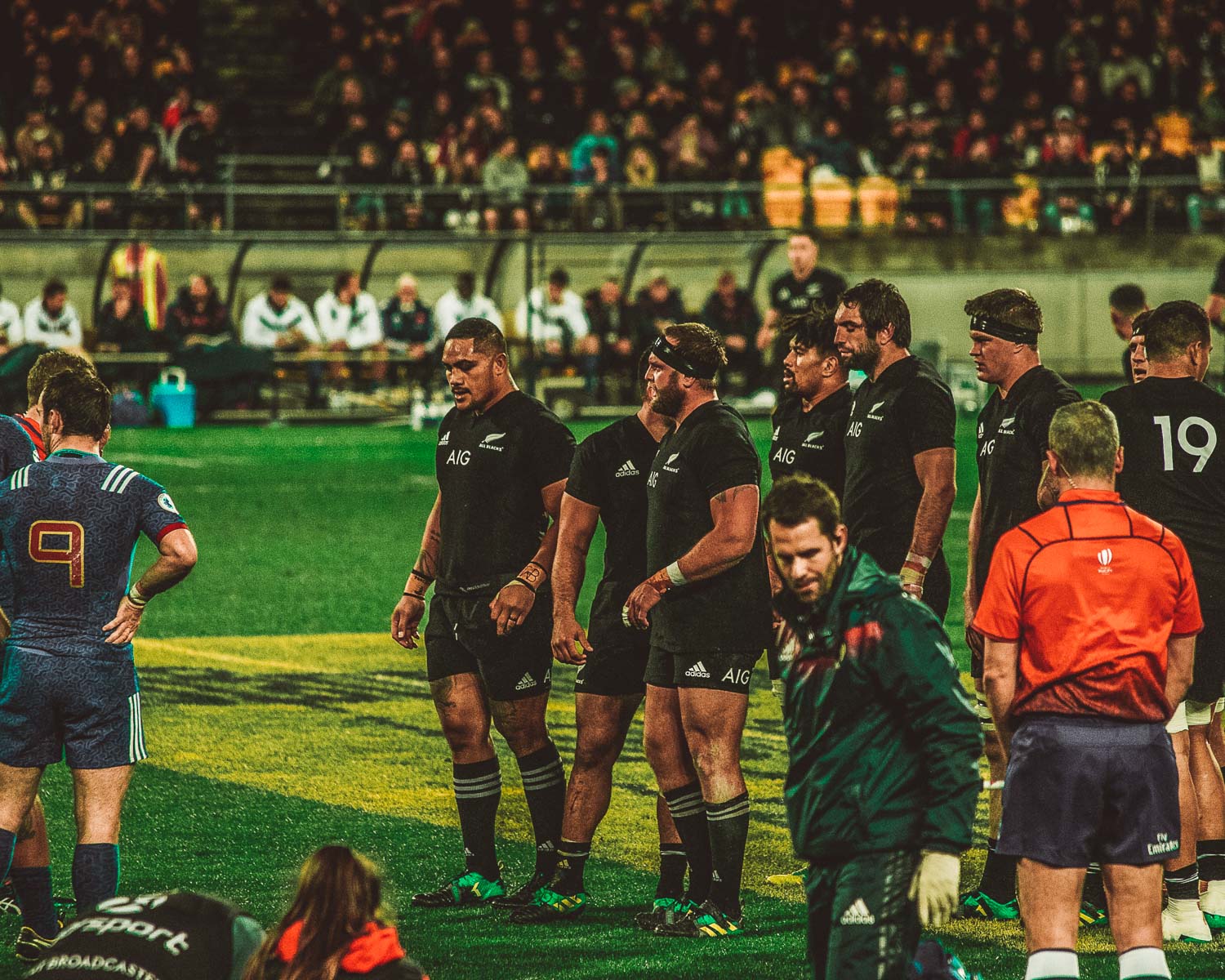 Watch an All Blacks Game
New Zealanders take their rugby extremely seriously. The All Blacks are the national team of New Zealand and catching one of their games in person is an incredible experience – even if you aren't a big sports fan.
There's something special about seeing the Haka performed in person!

Go Whale Watching in Kaikoura
Kaikoura sits near a deep underwater trench which helps draw a wide variety of sea life. It's best known for its whale watching though you can also swim with dolphins and fur seals.
You'll also have the dramatic background of the Pacific and Southern Alps as you sail across the ocean in search of the large pods of whales that frequent New Zealand's coastline during their annual migration.


Book a Wine Tasting Tour
The island of Waiheke, a short ferry ride away from Auckland, is the perfect day trip from the city and is well-known for its wineries. You can go on your own or book a tour which will take you multiple wineries in the region.
Regardless of what you decide, be sure to stop by Cable Bay, a winery with award-winning wine!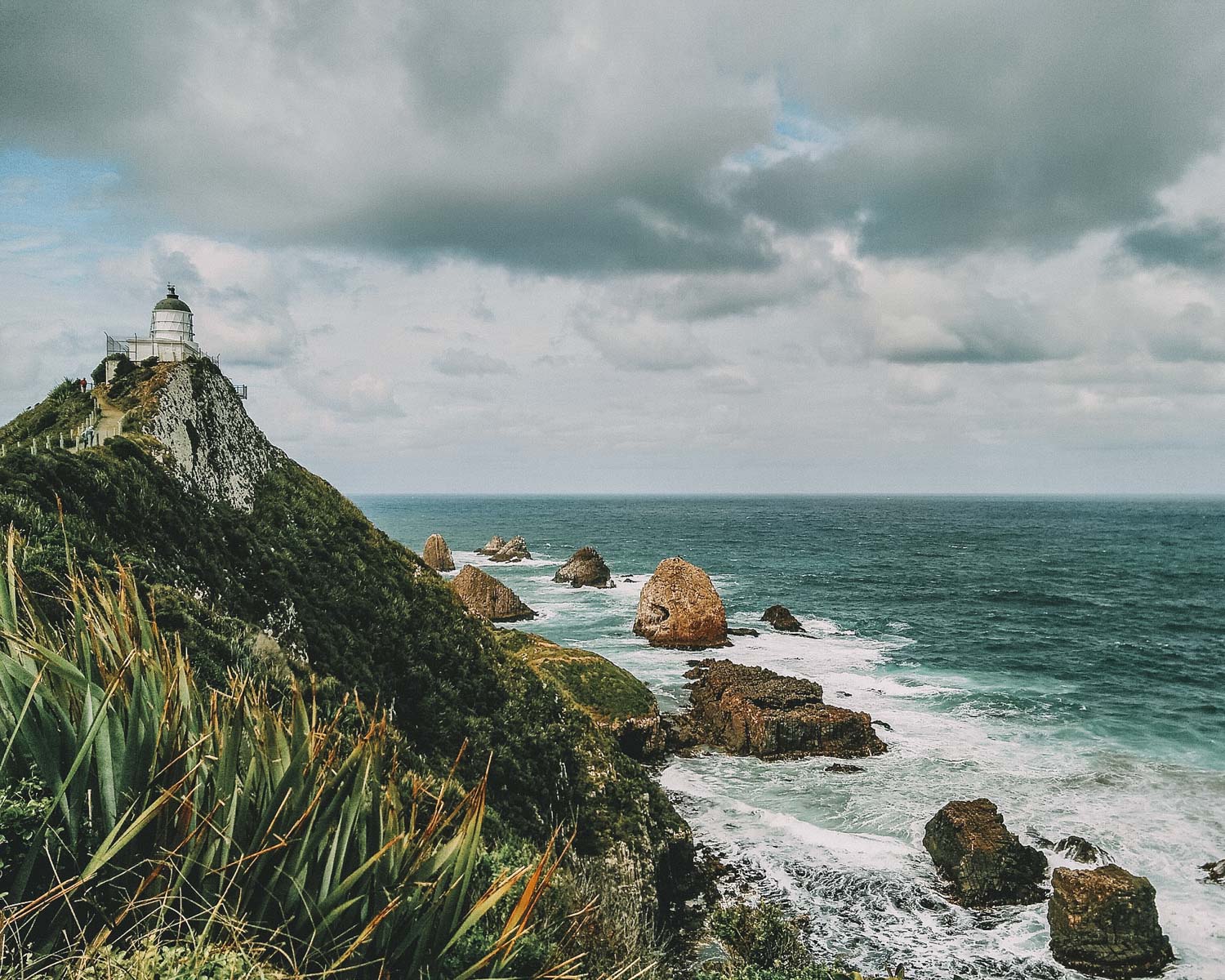 Nugget Point
Drive the Southern Scenic Route Through the Catlins
Every inch of New Zealand is absolutely Instagram-worthy, especially the Catlins. On the Southern Scenic Route, you'll ride up the rugged coastline and stop by Roaring Bay – home to the rare yellow-eyed penguins.
Along Curio Bay, you'll find the world's most extensive and least disturbed examples of Jurassic fossilized forest.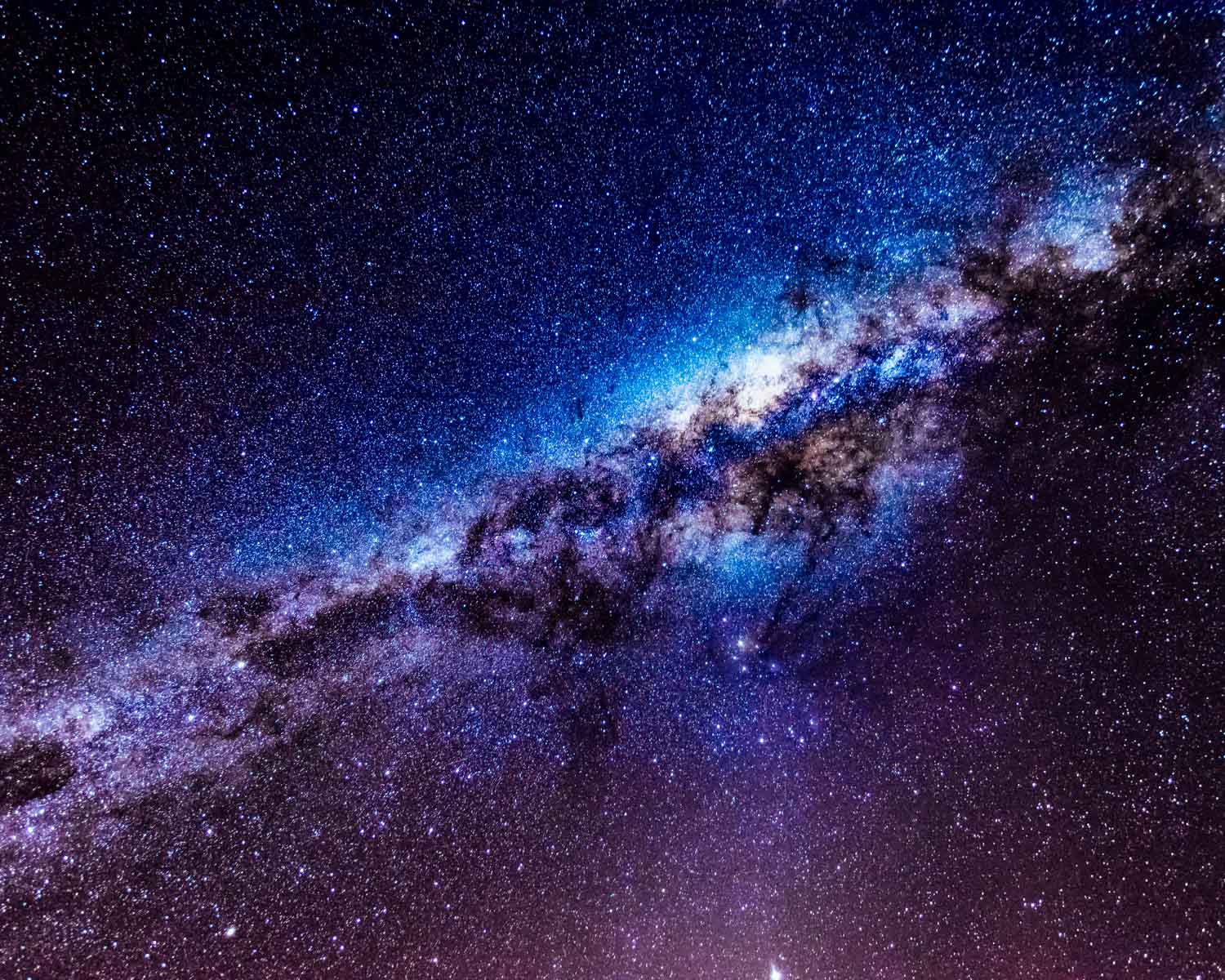 Lake Tekapo
Stargaze at Lake Tekapo
The skies over Lake Tekapo are some of the clearest in New Zealand, if not the world. In fact, the Aoraki Mackenzie International Dark Sky Reserve is 1 of 11 worldwide and the largest in the Southern Hemisphere.
If you want to amp up your experience, take a guided tour where you can learn all about mythology and astrology and then take a dip in a hot pool underneath the stars. Be sure to bring along your DSLR and a sturdy tripod if you want to capture astrophotography of the milky way!

See Mount Cook
At 12,218 feet, Mount Cook is New Zealand's tallest mountain. While you can see the mountain (on a clear day) as far as Lake Pukaki, it's worth driving up to Aoraki to see it up close.
Make it a day trip and spend a few hours exploring the hiking trails that wind their way around the mountain.

Hike One of the Great Walks
If you're planning a multi-day hiking vacation in New Zealand – you're spoilt for choice. The country has 9 treks to choose from that go past some of the country's most stunning scenery.
Some of the most popular treks are the Milford Track, the Kepler Track, and the Routeburn Track. These walks aren't too be taken too lightly so you'll want to be prepared before you go.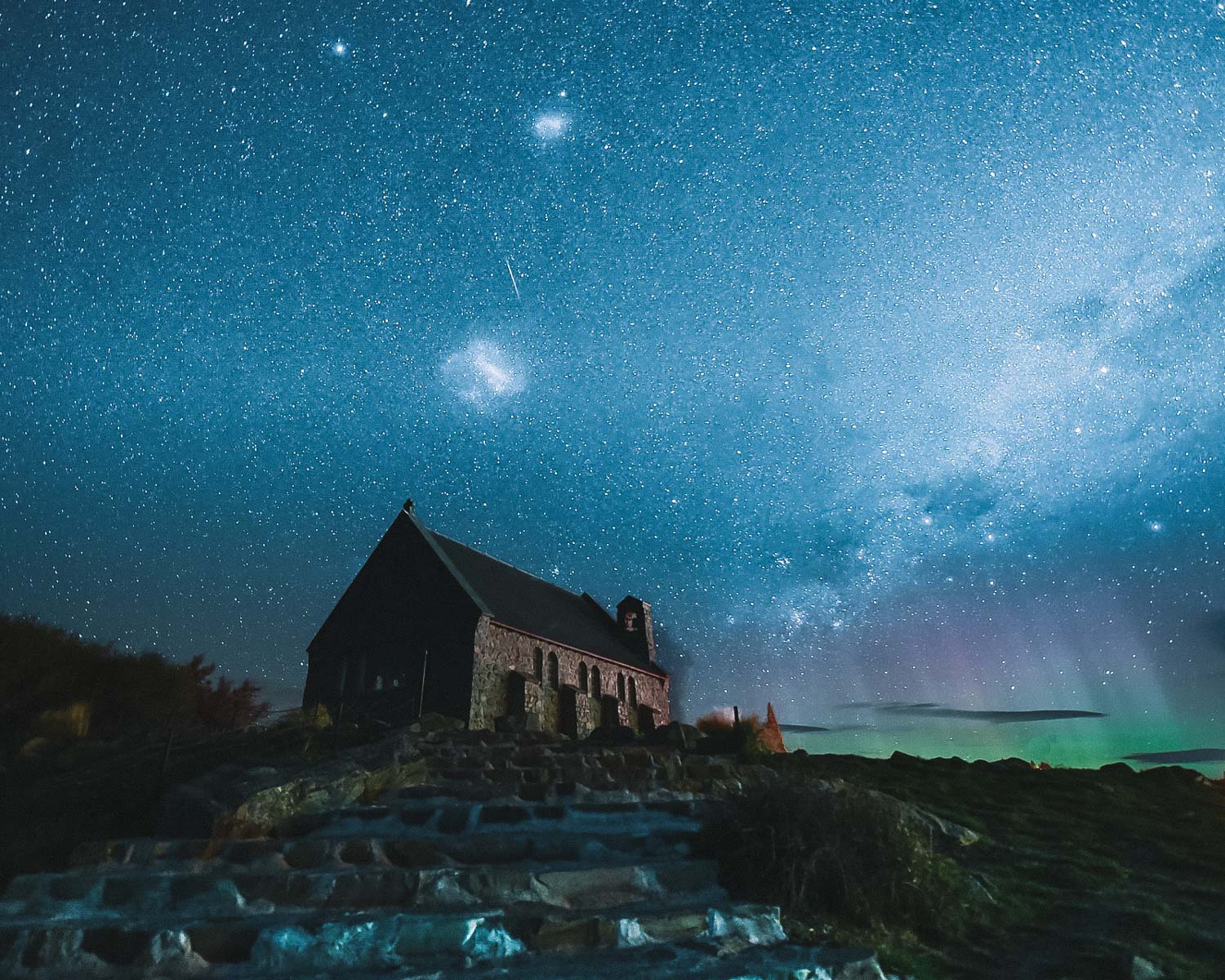 Witness the Southern Lights
I'm sure you've heard of the Northern Lights but have you heard of the Southern Lights? The Aurora Australis are just as impressive as the Northen Lights but don't get as much attention.
Although the lights occur year round, the best time to see them is in the winter (March through September) when the sky is clear and dark.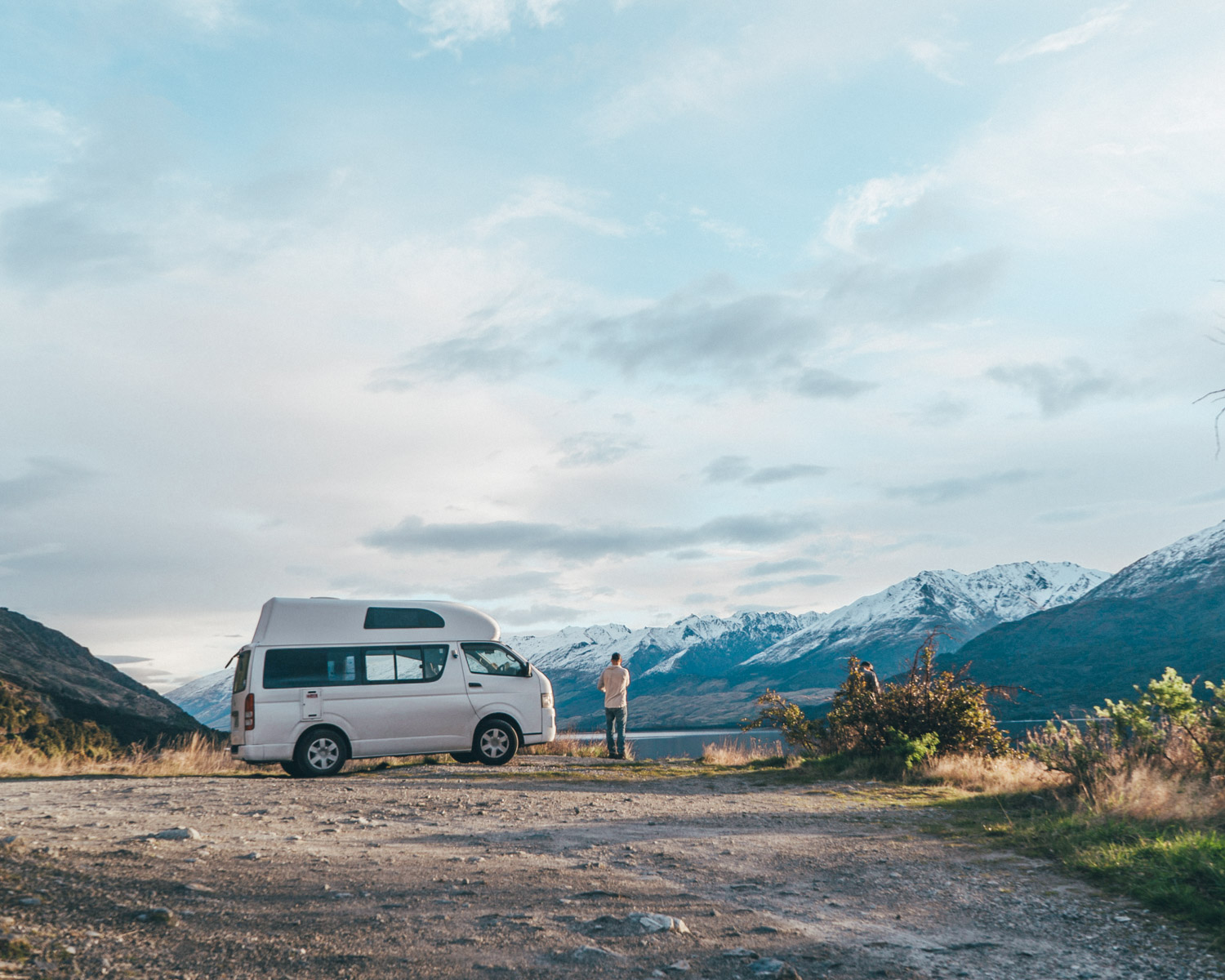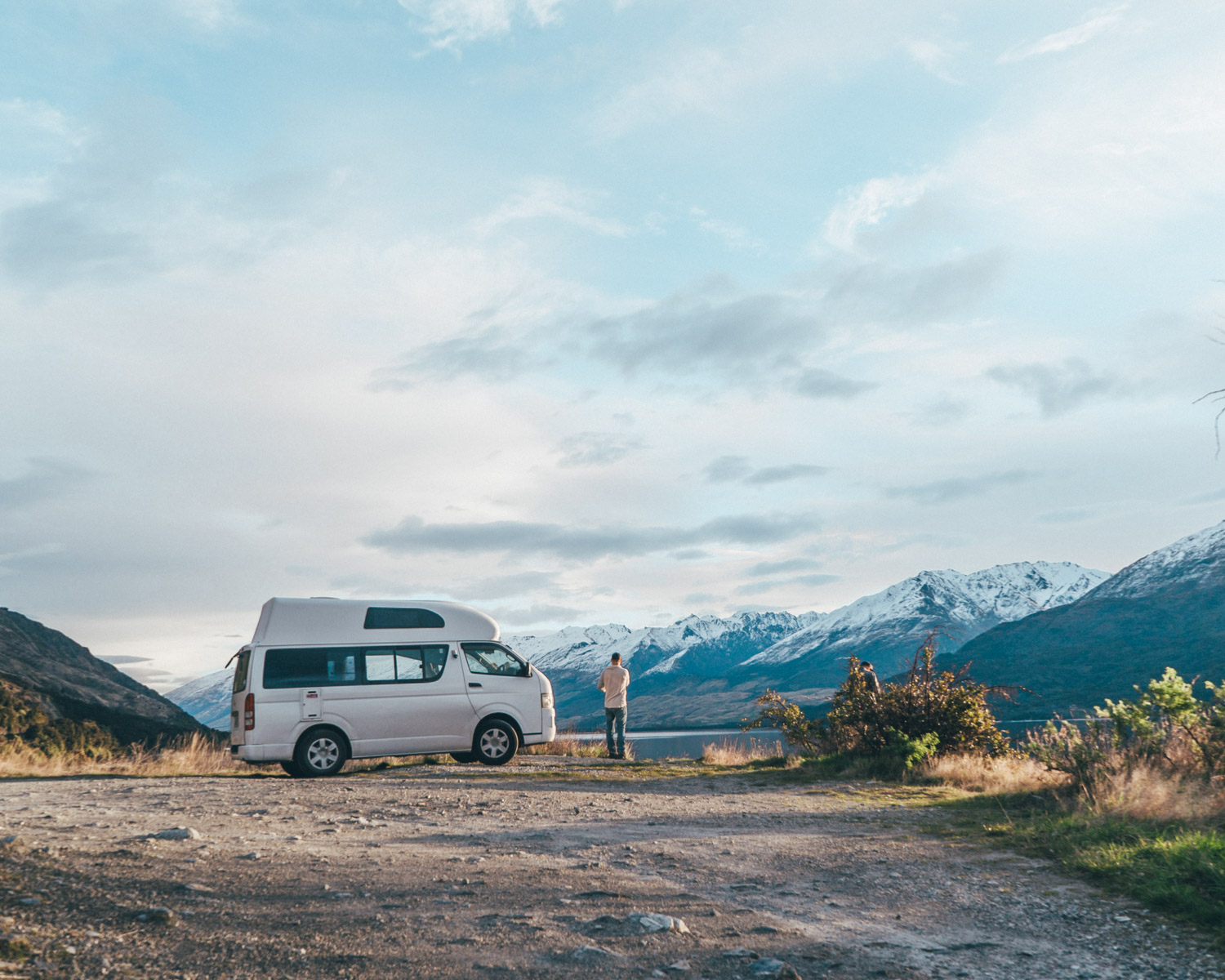 Explore New Zealand by Campervan
One of the best ways to explore New Zealand is with a camper van. You can rent a campervan that's the size of a minivan or one as big as an RV, all depending on how many people you're traveling with.
The best part is that there are campsites almost everywhere you turn in New Zealand so finding a place to park the car for the night is easy and affordable!

Overall
New Zealand is a bucket list destination for many, and with good reason. For the adventure seekers, there's plenty of hiking, bungy jumping, and skydiving, and for those looking for a more lowkey vacation, there are plenty of coastal towns where you can relax and explore the country's Winelands.

Did I miss any "must-dos" on my New Zealand travel bucket list? Let me know in the comments!