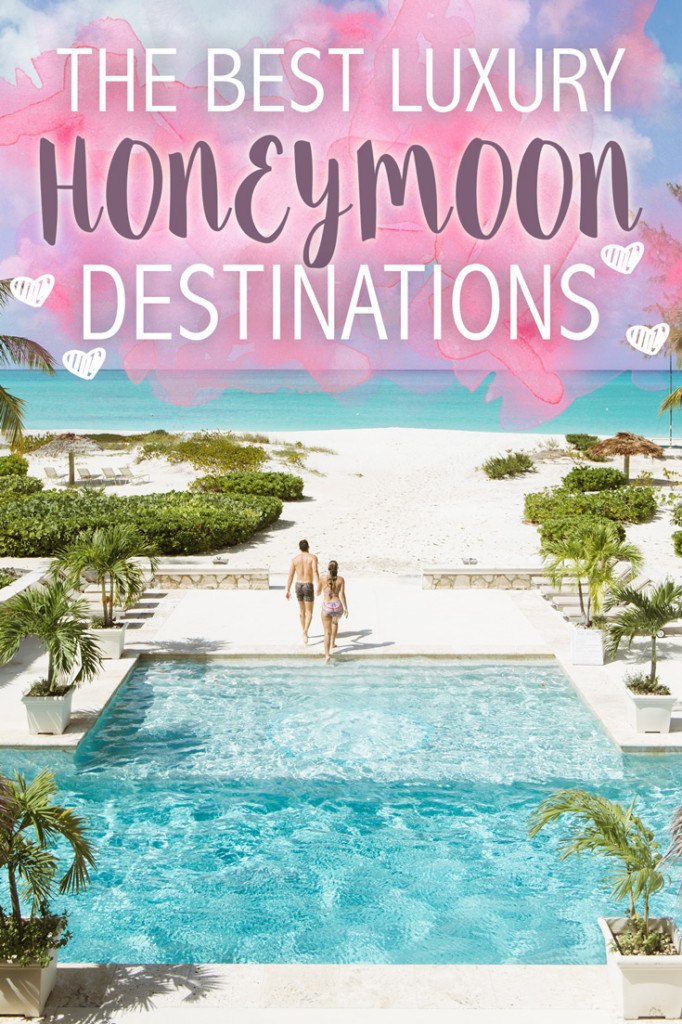 This post was written by Ryan and Samantha of Our Travel Passport!
As much fun as the wedding planning and wedding dance party are, the best part about the wedding is once it's all over and you get to soak it all in with the love of your life on the most romantic trip of your life.
Whether you're planning your future life together or laughing about your drunk uncle's dance moves from the night before, there is nothing better than lying on the beach sipping on fresh coconut water and staring at each other with heart eyes because you can finally call your love "husband" or "wife."
And if you're like us, your honeymoon will spark your shared feeling of wanderlust and begin a lifetime of travel together.
Here are some of the best luxury honeymoon destinations, because let's be real, you deserve to start your life together luxuriously!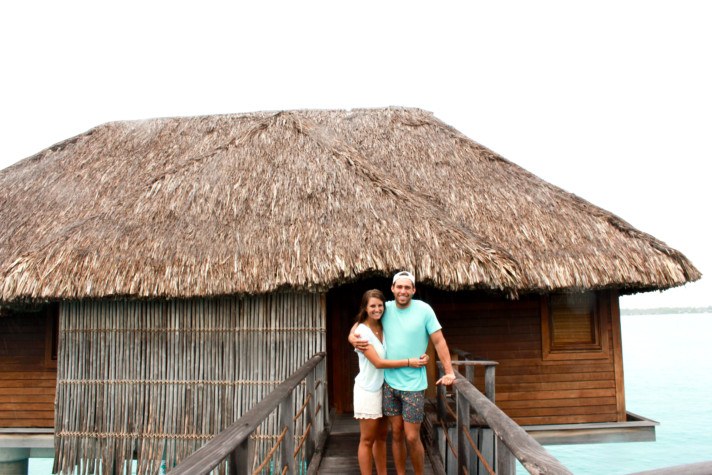 Bora Bora, French Polynesia
We're pretty sure Bora Bora is the number one honeymoon destination in the universe. But maybe that's because we are biased. Well, we're definitely biased, because this is where we spent our honeymoon.
We still refer to our overwater bungalow, number 224, at the Four Seasons as our first home. The Four Seasons Bora Bora treats you like kings and queens. You won't be expected to lift a finger, and if you want to leave your bungalow, they'll pick you up in a golf cart and drop you off anywhere on the resort.
In your overwater bungalow, you can enjoy a bath while looking out over the perfectly turquoise water or jump off your deck to swim with the fish. Make sure to go on an adventure and dive with the sharks and kiss some stingrays. Or just stare at the magnificent island and the crystal clear water.
We're pretty sure Bora Bora is actually heaven.

Zighy Bay, Oman
We first stumbled across Zighy Bay when we were looking for potential destinations for our own honeymoon. Unique doesn't even begin to describe this location. There is only one hotel in Zighy Bay, Six Senses, but there are several ways to get there.
You and your new spouse can choose to arrive either by a 4×4, scenic speed boat ride, or paraglide to the hotel. Talk about a grand entry!
Apart from the amazing honeymoon villas with private pools, you're surrounded by the ocean on one side and the gorgeous mountains on the other. To top this Middle Eastern honeymoon destination off, the food is to die for!
Helpful  Tip
Just make sure you don't plan your honeymoon in the middle of summer when the sun is scorching.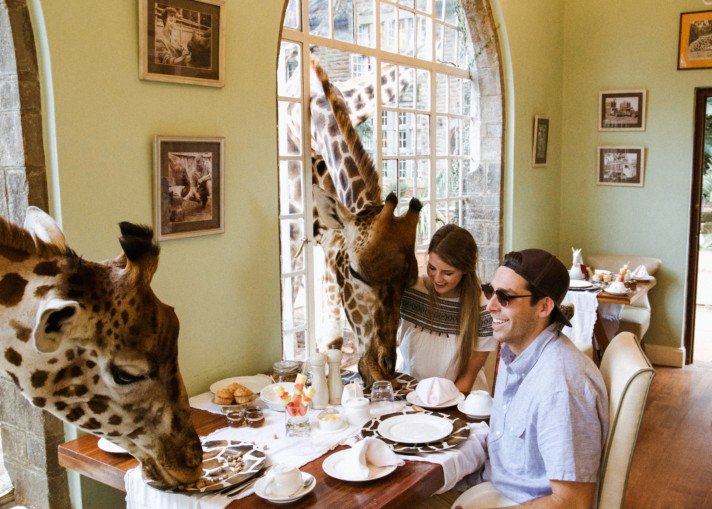 Nairobi, Kenya
No, that picture above is not photoshopped. Yes, your honeymoon can be interrupted by giraffe kisses. But we guarantee staying at Giraffe Manor in the upscale Karen neighborhood of Nairobi will be one of the best experiences of your life.
The manor has a classic old-English style and will give you both time to have private romantic dinners and less peaceful breakfasts accompanied by a giraffe or two or three. Kenya has much more to it than Giraffe Manor though.
So spend the majority of your honeymoon on a safari outside of Nairobi in the Maasai Mara or to the North in Laikipia, because is there anything more romantic than watching the sunset behind some of the most unique animals in the world?

Santorini, Greece
One of the many greek isles formed by a massive volcanic eruption a few thousand years ago, Santorini is one of the most beautiful honeymoon destinations. From the stunning views to the whitewashed roofs and top tier wineries, you will never want to leave.
Wake up early and enjoy the sunrise or go on a sailing adventure with your love, and we promise you won't be able to wipe the smile off your face. If you're interested in island hopping…
you have the stunning island of Mykonos and Crete near by where the water is equally as blue!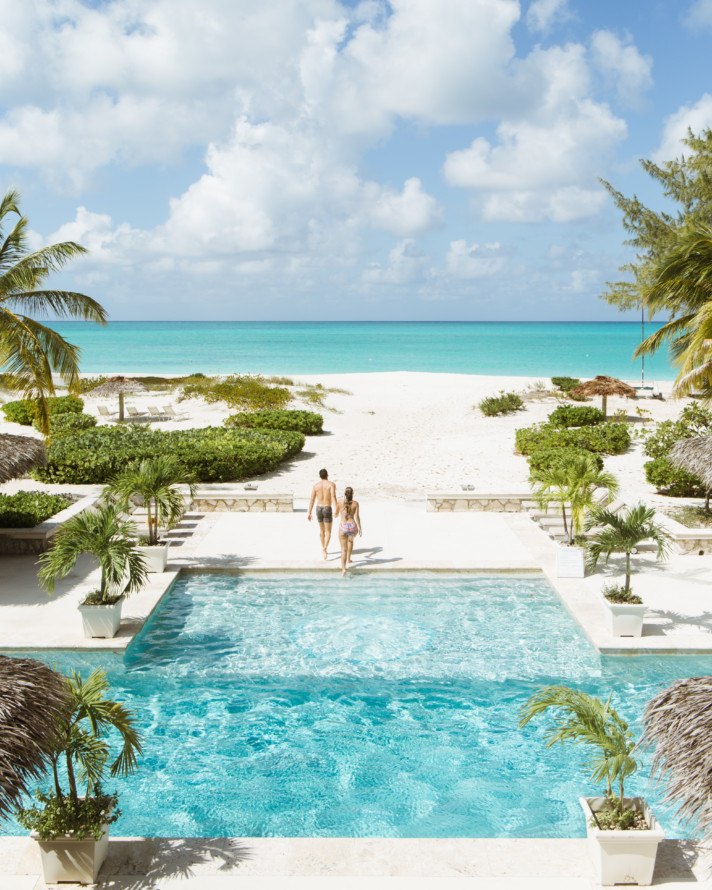 Pine Cay, Turks and Caicos
The water in Turks in Caicos is almost as perfectly blue as the water in Bora Bora. And the 800-acre private island of Pine Cay has the most beautiful two-mile white sand beach.
The island only has one hotel, the Meridian Club, which is the perfect combination of remote, peaceful, and relaxing. Be sure to request the Sand Dollar Cottage for your honeymoon, because it provides both seclusion and romance and sits right on the beach.
The Meridian Club prides itself on being "barefoot luxury," so you don't even have to worry about wearing shoes to dinner! Consider getting scuba certified before you go as Turks and Caicos sits on the third largest barrier reef in the world right behind Australia and Belize.

Fernando de Noronha, Brazil
For the couples wanting to support an economy that seriously takes care of its environment, Fernando de Noronha is the honeymoon destination for you. Think the Kauai of the Southern Hemisphere.
Out of the 21 islands that make up the archipelago, seventy-percent has been set apart as a National Park.
In fact it is so remote that the luxury hotel, Pousada Maravilha, is the only one of its kind in the region and the government limits the number of visitors that can go to the island, so you won't have to worry about it being too crowded or cliché.
This paradise island isn't going anywhere anytime soon.

The world is full of beautiful honeymoon destinations that absolutely blow our minds, and obviously wherever you go on your honeymoon will be your new favorite location in the world. No matter where you decide to go on your honeymoon, make sure it is a place where you can do what you love to do and spend some quality uninterrupted time together.