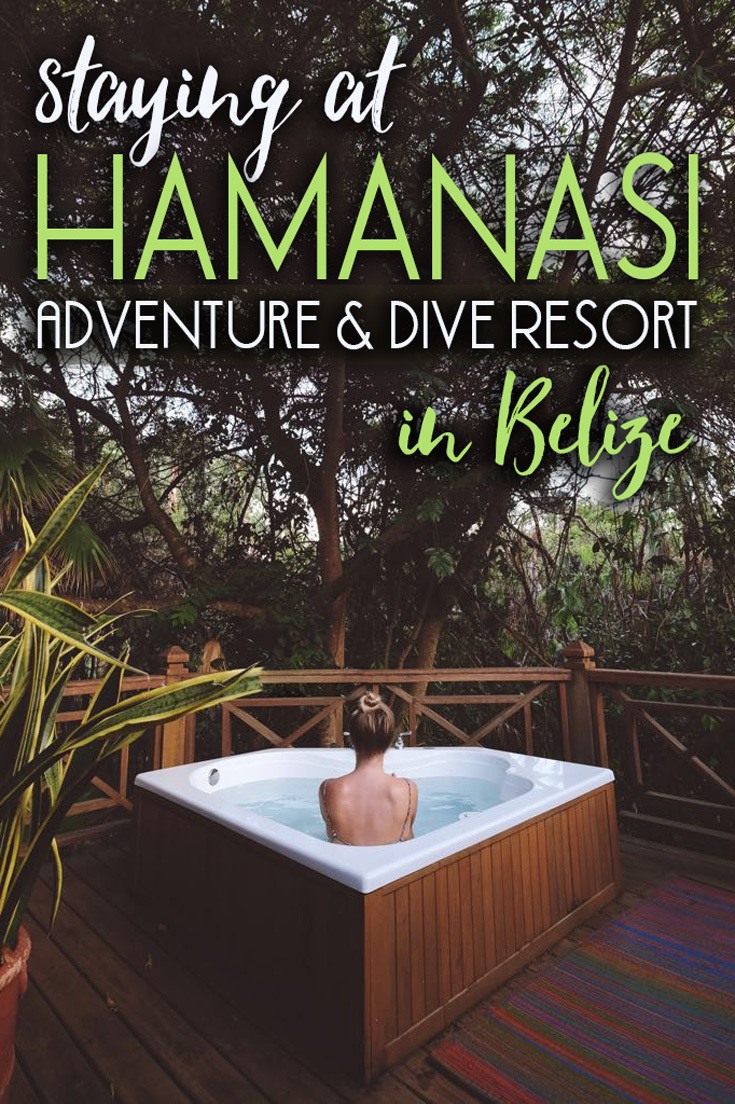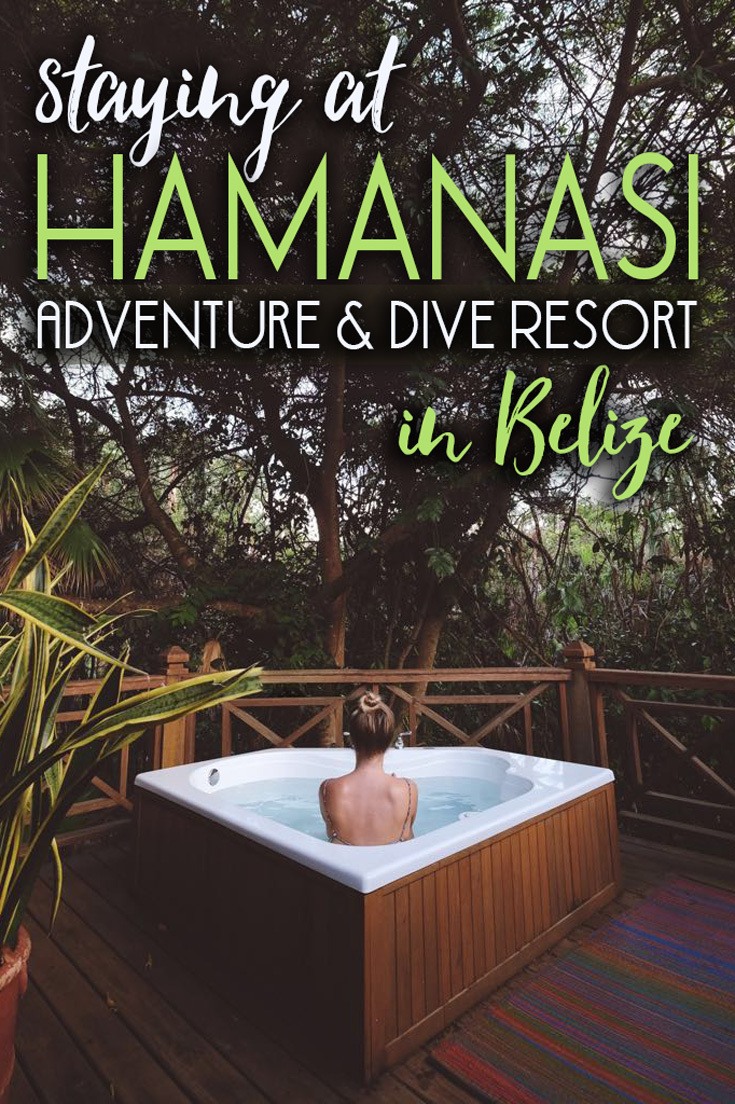 Loving the beach as much as I do, I'm always on the hunt for the ultimate coastal resort. When I read that Hamanasi Adventure & Dive Resort was a PADI 5-Star Resort, I knew this was a place I had to check out.
The award-winning eco resort on Belize's coast definitely didn't disappoint.
With a flawless beach, world-class diving, and customer service that exceeds your expectations at every turn, Hamanasi is the perfect place for a tropical getaway.
Here's my experience staying at the Hamanasi Adventure & Dive Resort in Belize!

– The Resort –
With all-inclusive packages that'll leave you feeling pampered, this is the place to come when you want to forget about the world.
Rather than flying into Belize City, it's much easier to get to Hamanasi from the Dangriga airport, which is located just forty miles south of Belize's largest city.
Once you arrive, it's just a quick drive down to the resort.
Hamanasi Adventure & Dive Resort is spread out over thirty beachside acres. With four different eco zones, there are so many different places to explore. Wander the Savannah, the Littoral Forest, the beachfront, and the pond to take in the amazing natural beauty of Belize.
Situated between the Maya Mountains and the Caribbean Sea, Hamanasi is a slice of heaven and they know it.
The resort is dedicated to sustainability and taking care of the local environment. Rather than plowing down the ecosystem, it created a resort that works with the local environment. Built green and dedicated to conservation, Hamanasi is a breath of fresh air!
Located just outside of Belize's Garifuna cultural center, the town of Hopkins is the prime place to learn about local culture. Go out and explore the area then come back to the resort to listen to Garifuna singing and drumming.
You'll even get a chance to learn some of the traditional dance moves during their performances!

– The Rooms –
Casually elegant and distraction free, Hamanasi Adventure & Dive Resort in Belize is the ideal place to get away from it all. Go for a treehouse room or beachfront room for a totally blissed-out experience.
I stayed in a deluxe treehouse and never wanted to leave.
With a massive dining space, an oversized living room, and an ultra-luxe bathroom, the treehouse feels like a home away from home. But the best part is really outside of the room! Surrounded by tropical birds and an orchid garden, the wrap-around veranda is the perfect place to chill and jacuzzi.

– The Scuba Diving –
As one of the world's greatest dive destinations, Belize is the ultimate destination for water lovers. Hamanasi is a PADI 5-Star Resort and is in an ideal location to hit all the top diving sites in Belize, including the stunning Southern Barrier Reef, and three of the Caribbean's four atolls.
Dive the Blue Hole, Glover's Reef Atoll, Turneffe Islands Atoll, the Elbow, Lighthouse Reef Atoll, Half Moon Caye, and so many other pristine spots. Whether you are a pro diver or a total beginner, Hamanasi has diving classes for you. And don't worry if your travel mates aren't divers…
Belize is also a gorgeous place for snorkeling!
Hamanasi Adventure & Dive Resort also invites guests, like yours truly, to dive in and try their hand at spearing Lionfish. While beautiful, Lionfish have negatively impacted Belize's oceans.
These fish are a non-native, invasive species that have no natural predators. Plus, their population is growing like crazy! One female Lionfish can lay two million eggs, which threatens the sustainability of coral reefs and fisheries throughout the Caribbean.

– Food & Drink –
The Singanga Restaurant at Hamanasi has an incredibly fresh fusion of Belizean and international cuisine. Catering to vegan, vegetarian, gluten-free, and every other diet out there, this is a one-stop shop for mouth-watering food with a Caribbean twist.

– Adventures –
It's impossible to be bored here. This place is a mecca for outdoor lovers. Pick from jungle adventures, visiting the jaguar preserve, and canoeing and hiking. Although I didn't get to experience it, I had a ton of people recommend the Cave & Jungle Adventure!
You also have options for Marine Adventures, like diving and snorkeling. What else could you ask for?
If you've never tried it, you've absolutely got to go waterfall rappelling. I tried for my first time, and I have to say it really gets your heart racing. I had such a fun time rappelling down Antelope Falls in Bocawina National Park!


More Information
Hotel: Hamanasi Adventure & Dive Resort
Location: Hopkins, Belize
Accommodation: Luxury, Dive Resort
Price Range: $$$

Thank you to Hamanasi Resort for hosting me during my stay. As always, opinions expressed her are entirely my own.