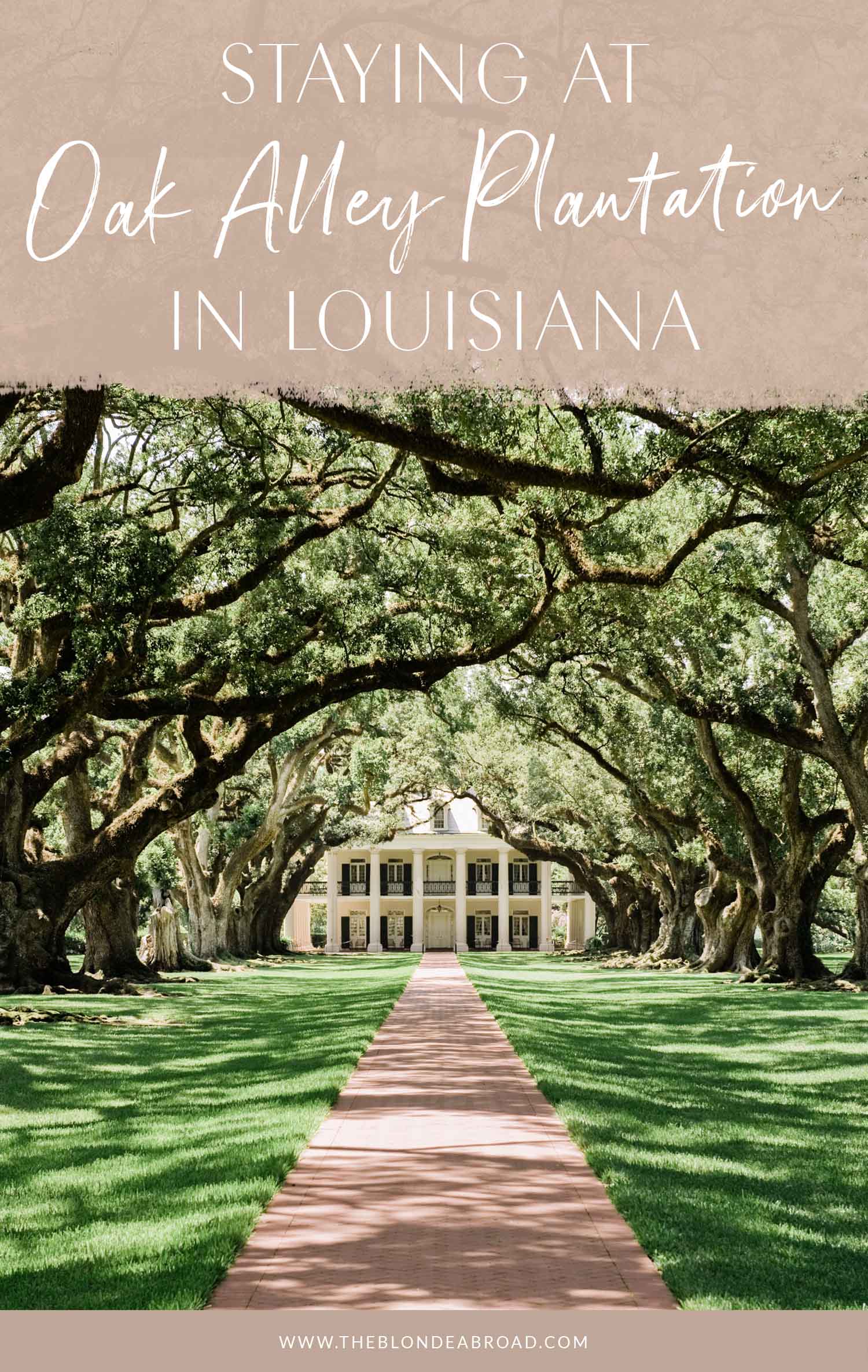 Updated: March 2021
On my first-ever road trip through the Southern USA with my friend, Matt, of Nomadic Matt, I was able to see and do so many incredible things. Some of my favorite experiences were Mardi Gras in New Orleans, chowing down on BBQ in Memphis, and watching the sunset over the Mississippi River in Mississippi!
In Louisiana, I was completely awestruck by the Live Oaks at the entrance to Oak Alley Plantation. I'd seen plenty of photos of Oak Alley, but it was even grander in person.
The plantation has been featured in many movies and music videos including Interview with The Vampire, Django Unchained, and Beyoncé's "Déjà Vu" music video!
While Oak Alley is beautiful, it's incredibly important to understand what the plantation means in a historical context and today.
For an in-depth look and to reflect on the atrocities of slavery and its lasting impact, I'd highly recommend making a trip to Whitney Plantation, where they delve into more of the details.
As a note, when I visited, my intention was not to glorify the past but to learn about everything that went on there. While much of the history is difficult to stomach — these were people's lives — and I believe it's important to educate ourselves — so we understand what went on and never repeat those actions.
If you're interested in learning more about Oak Alley Plantation in Louisiana, keep reading on.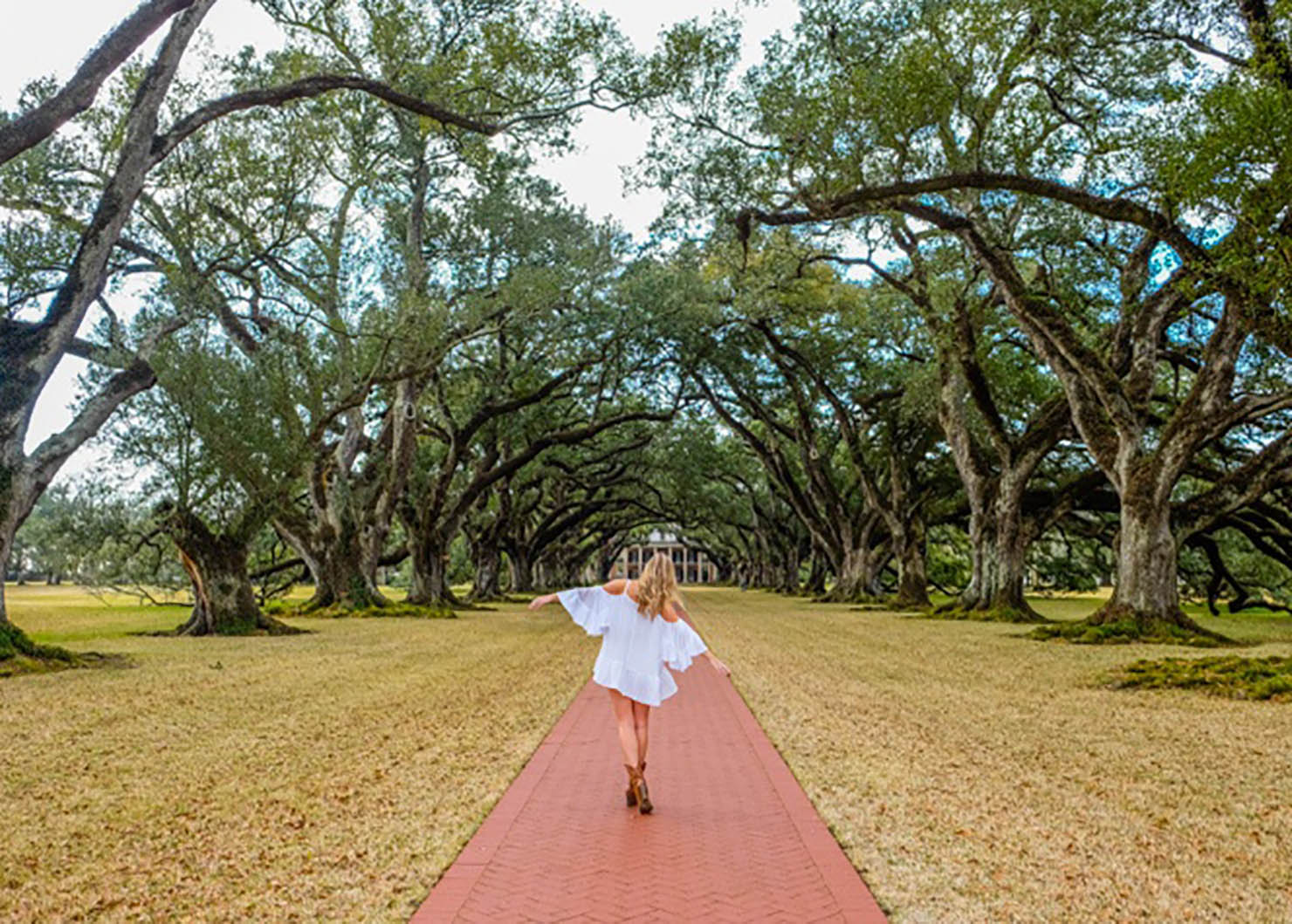 About Oak Alley Plantation
Built in 1839, Oak Alley is named after its distinguishing feature: an alley or canopied path created by a double row of live oak trees about 800 feet long. The row of oaks was actually planted in the early 18th century — long before the present house was built.
From the early 1800s through emancipation, nearly 200 enslaved people were forced to work on the plantation. It's incredibly sobering to visit and again, a reminder of what we must never repeat.
On the property, you'll find displays and installations to learn more about sugarcane production, see the slaves' quarters, and visit the museum and get an in-depth view of what life was like.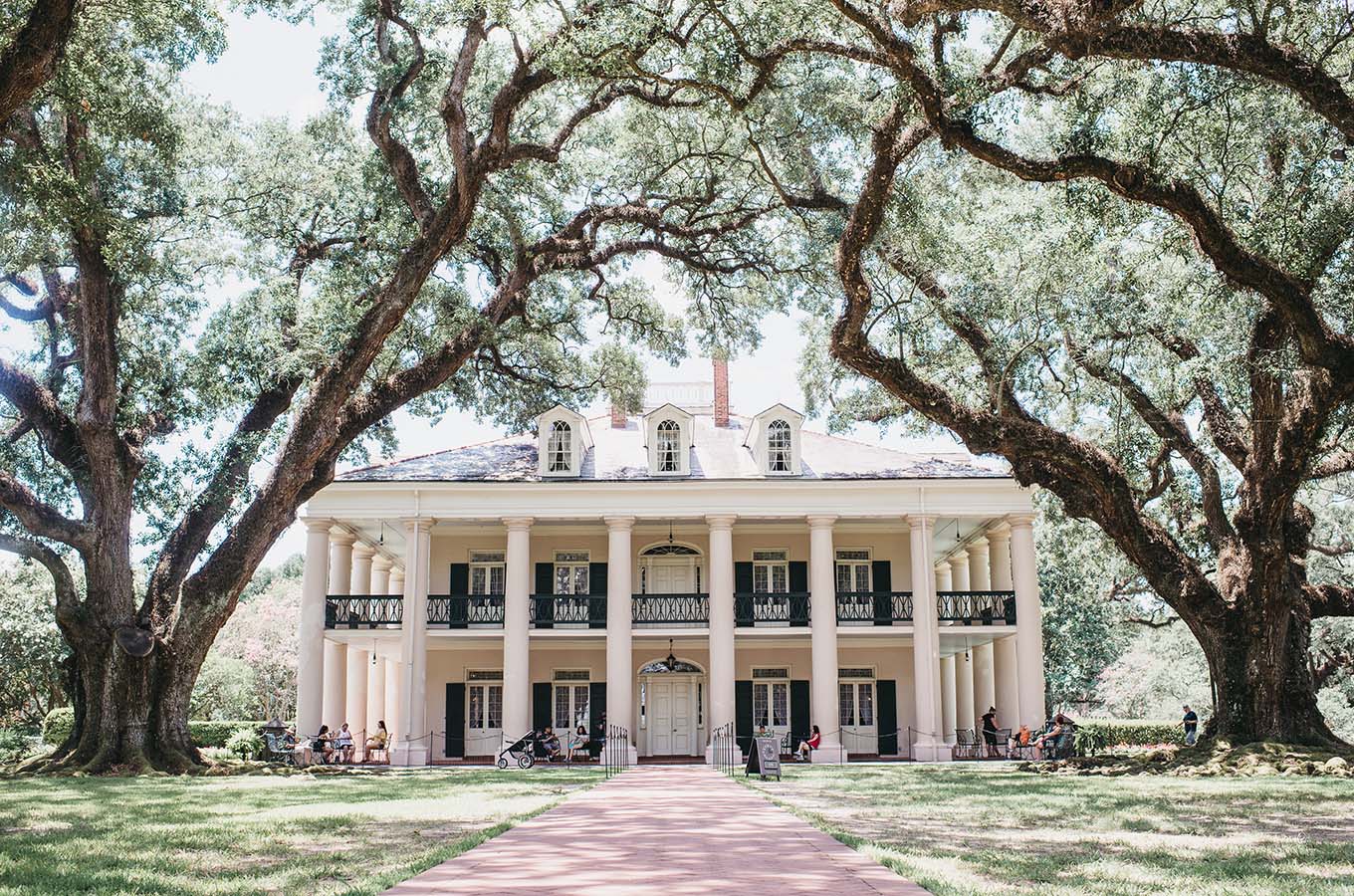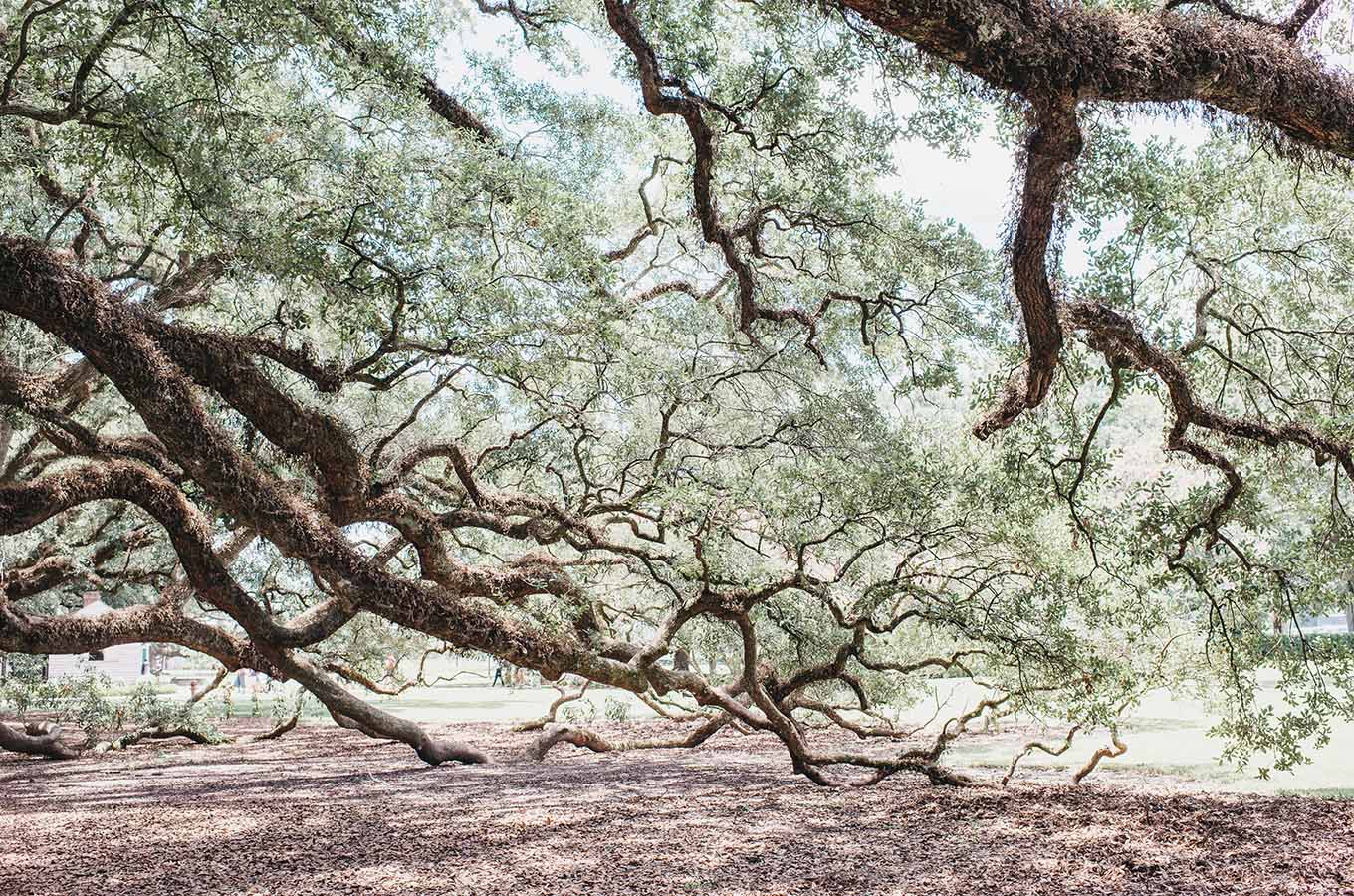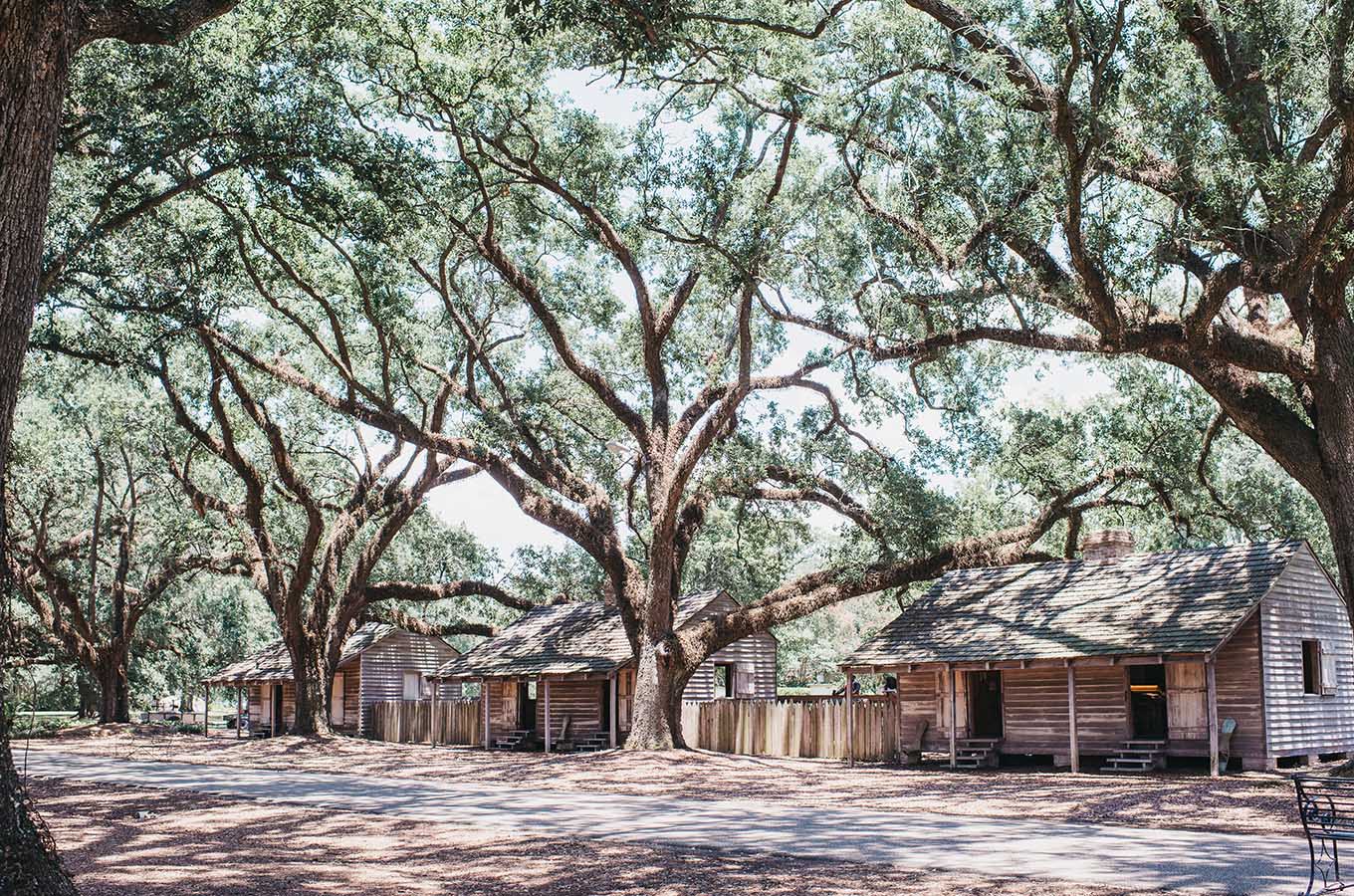 The Mansion and Grounds of Oak Alley Plantation
Upon arriving, I was completely awestruck by the fantasy-like setting the oaks created at the entrance of the property. We took a tour of the Big House and learned about the history of the plantation as well as the people who once lived here.
While slavery is always a dark piece of American history to discuss, Oak Alley features one of the best exhibitions on plantation slavery of any historical Antebellum home I visited in the South.
If you're interested in architecture, the mansion is a beautiful example of Greek Revival. The grounds include a garden, a sugarcane theater to learn more about its production and cultivation, a blacksmith shop, slaves' quarters, and a graveyard.
While the owners of the plantation died long ago from tuberculosis and other diseases of the time, the oaks are still very much alive and stand strong.

Staying at Oak Alley Plantation
While you can't stay inside the mansion, there are multiple guest houses on the property.
Upon arriving, we were greeted with an ice-cold glass of fresh-squeezed lemonade (LOVE that Southern hospitality!) and shown to our guest house. The little house was within walking distance of the mansion and featured a cozy living area, kitchen, two bathrooms, and two rooms complete with extremely cozy mattresses.
One of the biggest bonuses of getting to stay as a guest at Oak Alley is that you are allowed to walk around the property before and after public visiting hours.
So, for photograph-obsessed travelers (like yours truly), it means you get the whole place to yourself.
Helpful Tip:
Even if you aren't staying overnight at Oak Alley, I highly suggest arriving before the property opens to the public so you can be the first one through the gate to great photos. The tours are packed so, by midday, all of your photos will be crowded with other visitors.

I explored the property at sunset after all other visitors were long gone and got up early the following morning to catch the sunrise and get some shots of the mansion and oaks with beautiful lighting. It was a dream come true!

Heads up, Big House tours are not included in your stay and are sold separately. Dining at Oak Alley Plantation
While you might not expect world-class dining at a national historic landmark, Oak Alley features a full restaurant, cafe, and even a small bar where you can get a Mint Julep.
Yes, please!
Before checking into our room, we enjoyed lunch at the restaurant where I ordered crawfish étouffée with fried catfish. It was my first time trying crawfish étouffée and I was blown away.
SO YUMMY!
Breakfast was included in our stay where I ordered a crawfish étouffée omelet that was exceptionally delicious. While I didn't save space for dessert after either meal, I did hear that their praline cheesecake is to die for!

In My Opinion
Whether you stop by for a Mint Julep and a tour of the property along with the Big House, or you plan to stay overnight at Oak Alley, it will be an experience you won't soon forget.
Staying at Oak Alley Plantation was a highlight on my trip through the South, and I learned so much. While the property itself is beautiful, it serves as a haunting and sobering reminder of inequality.
I would highly recommend visiting Oak Alley Plantation to your itinerary if you are traveling through the region!


More Information
Hotel: Oak Alley Plantation
Location: Vacherie, Louisiana
Accommodation: Historic, Boutique
Price Range: $$
Big House Tour: $20 for adults (19 years old+)

Special thanks to Oak Alley Plantation for hosting me as their guest. As always, the content & opinions expressed here are entirely my own.