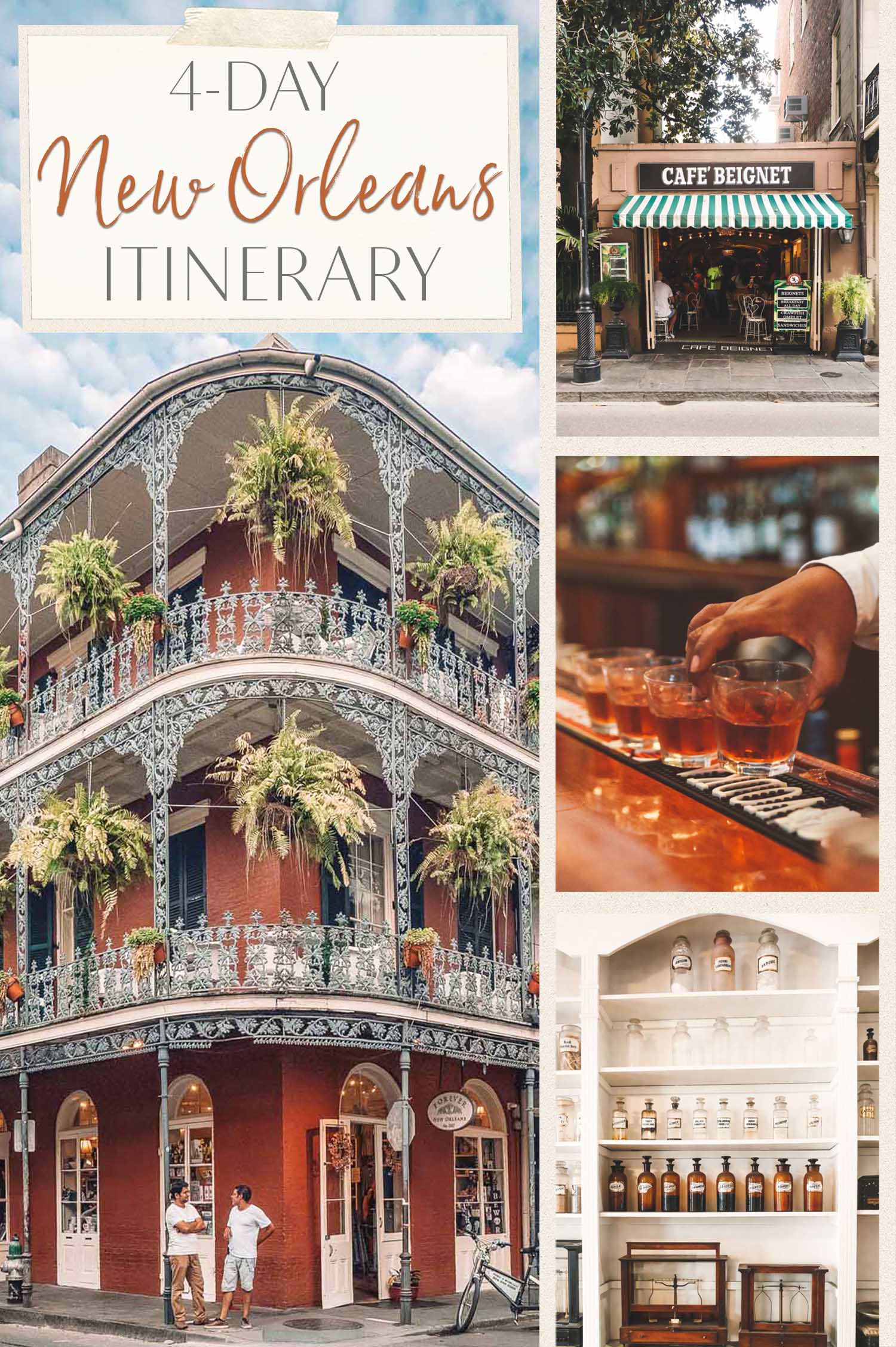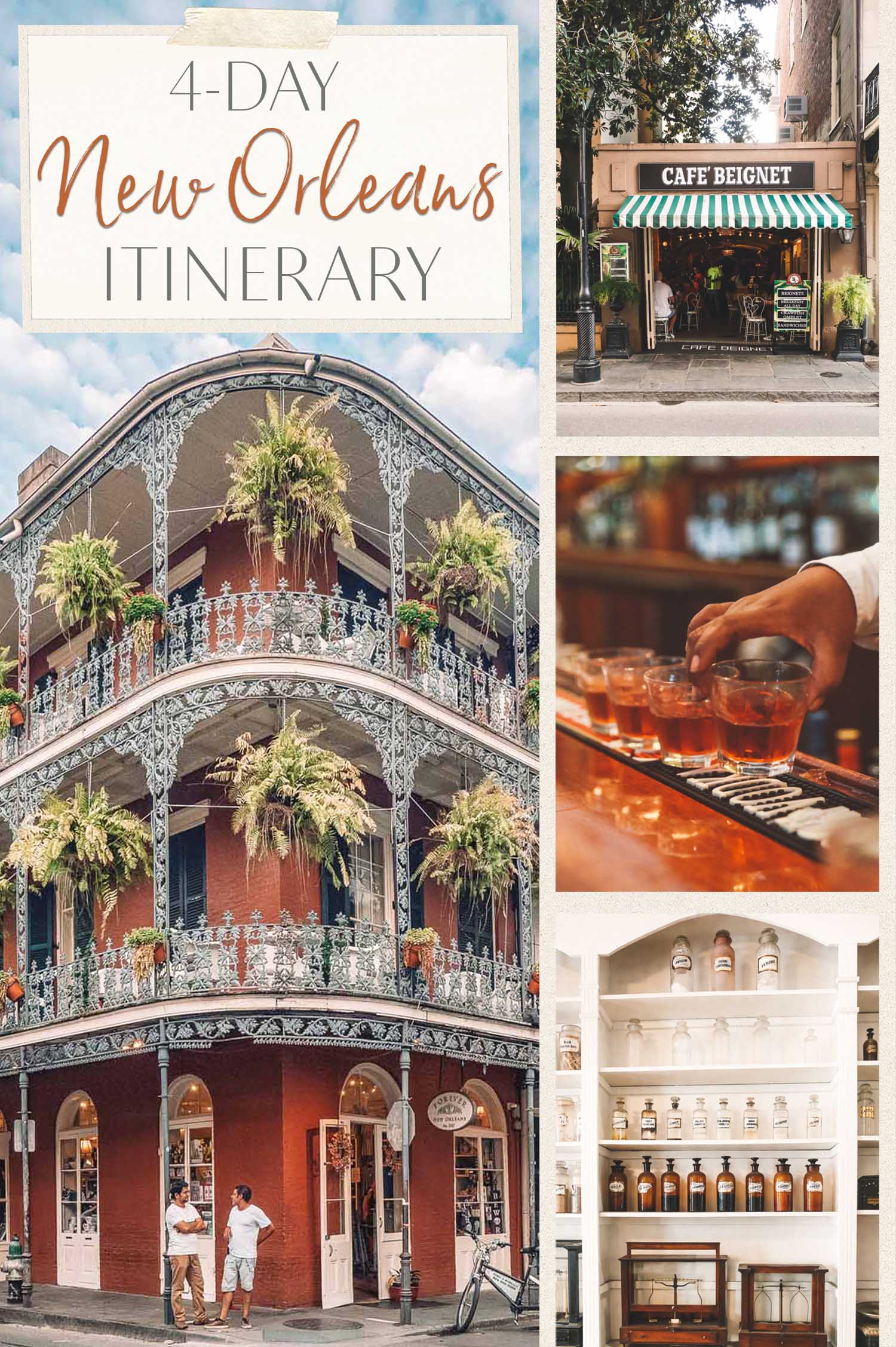 Updated: March 2021
This post was written by Chelsea Loren — a branding & product photographer based in Southern California.
Looking for the ultimate 4-day New Orleans itinerary?
New Orleans is unlike anywhere else in the United States. It has such a dynamic blend of cultural influences. While going to New Orleans for Mardi Gras is a bucket list experience for every partier, you won't scratch the surface of all the city has to offer then.
I encourage you to go beyond Bourbon Street—learn about the iconic New Orleans foods, what Vodou really is (the religion and culture, not the "voodoo" you hear about in movies), and learn about all of the city's dynamic history.
This New Orleans itinerary features some of the best things to do in New Orleans, and a little of the unexpected.
Ready for an authentic taste of the Crescent City? Here is my four-day cultural itinerary for New Orleans.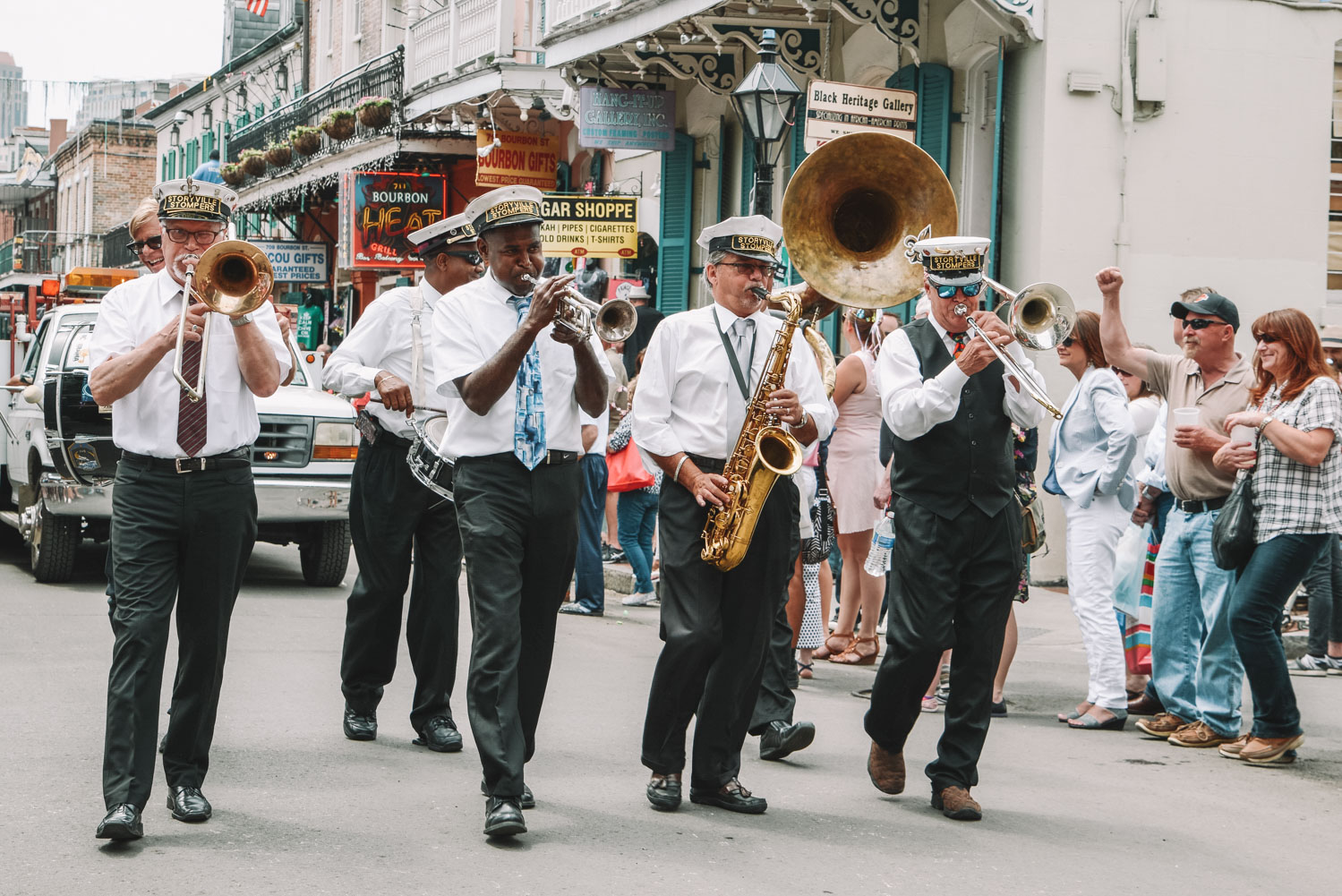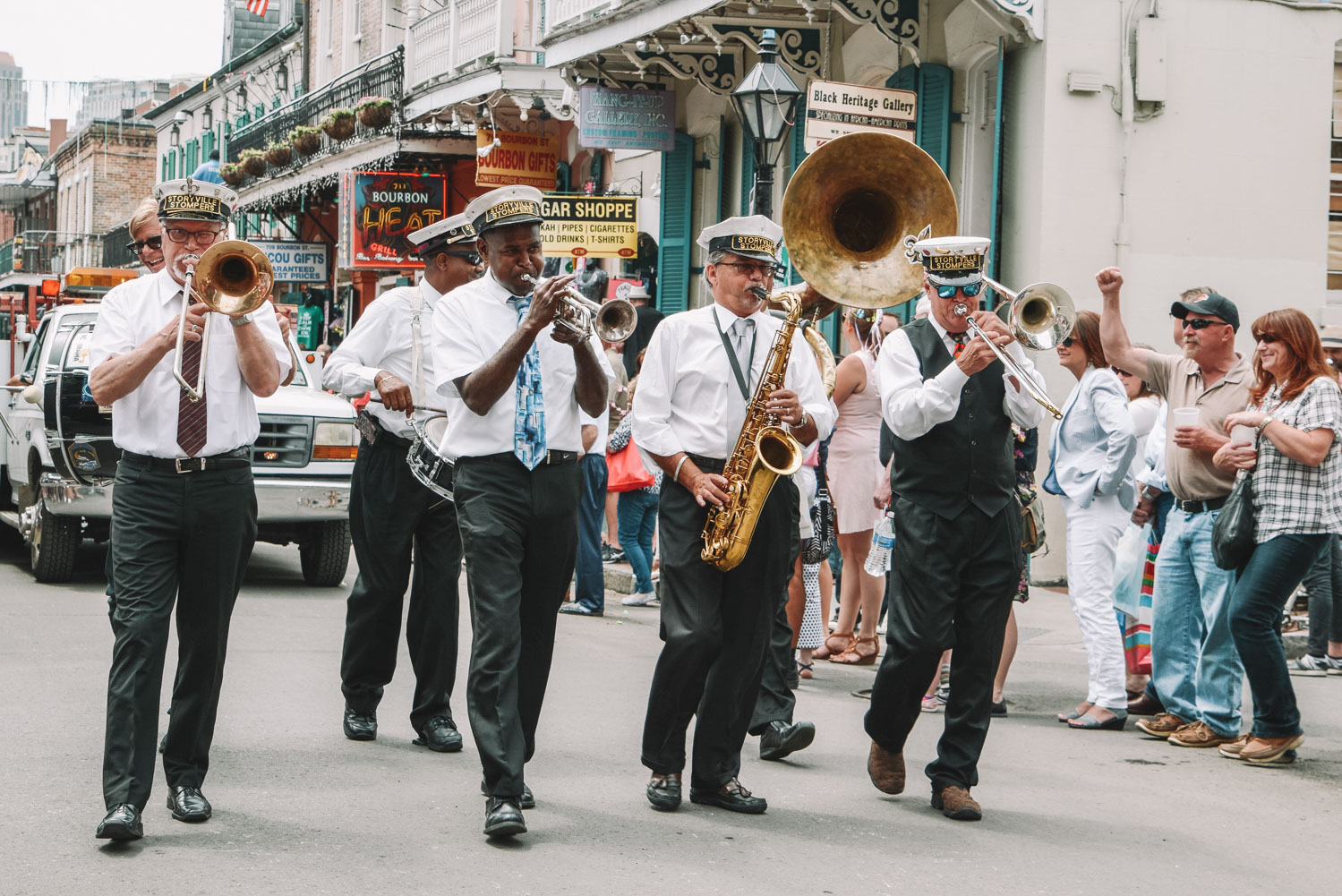 Before You Go
Timing is everything in New Orleans. Going at the right time is crucial.
First of all, the weather is a huge factor. If you can, I'd highly recommend avoiding June to August. Summer is seriously sultry. It is doable though. Almost everywhere has air-con and you'll find tasty treats like snowballs, snowcones, and frozen alcoholic slushies.
Beyond Mardi Gras, there are a ton of other festivals in the city. Be sure to check the calendar ahead of time as places can get fully booked rather quickly. To really dig into the Big Easy, the Beyond Bourbon Street podcast will guide you through the rich layers of history and culture of the city.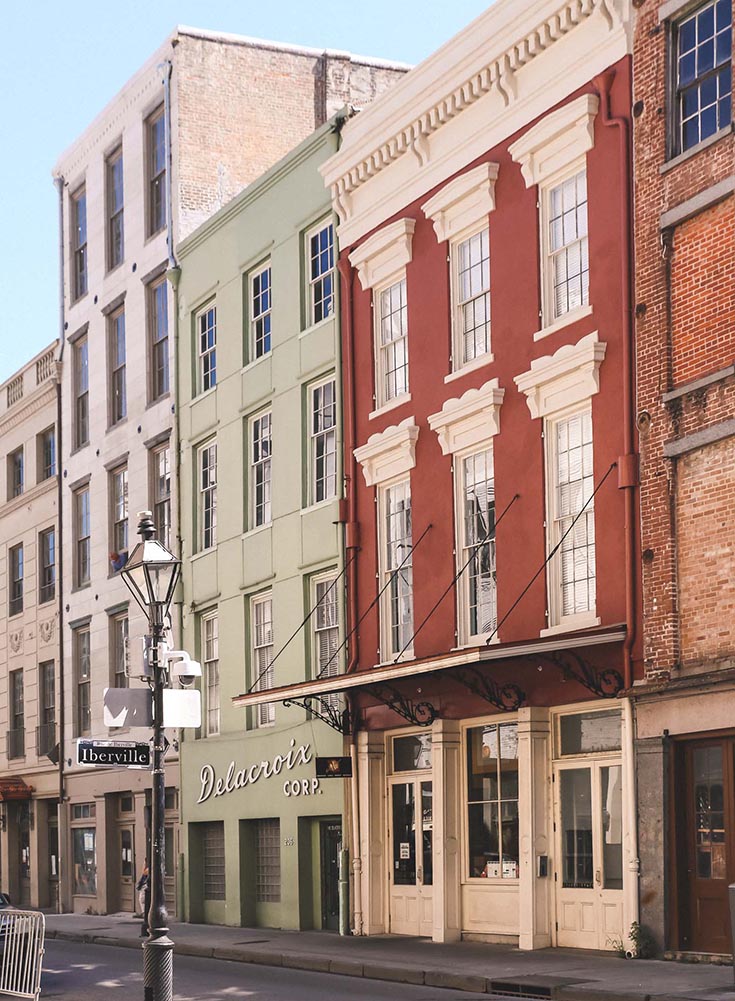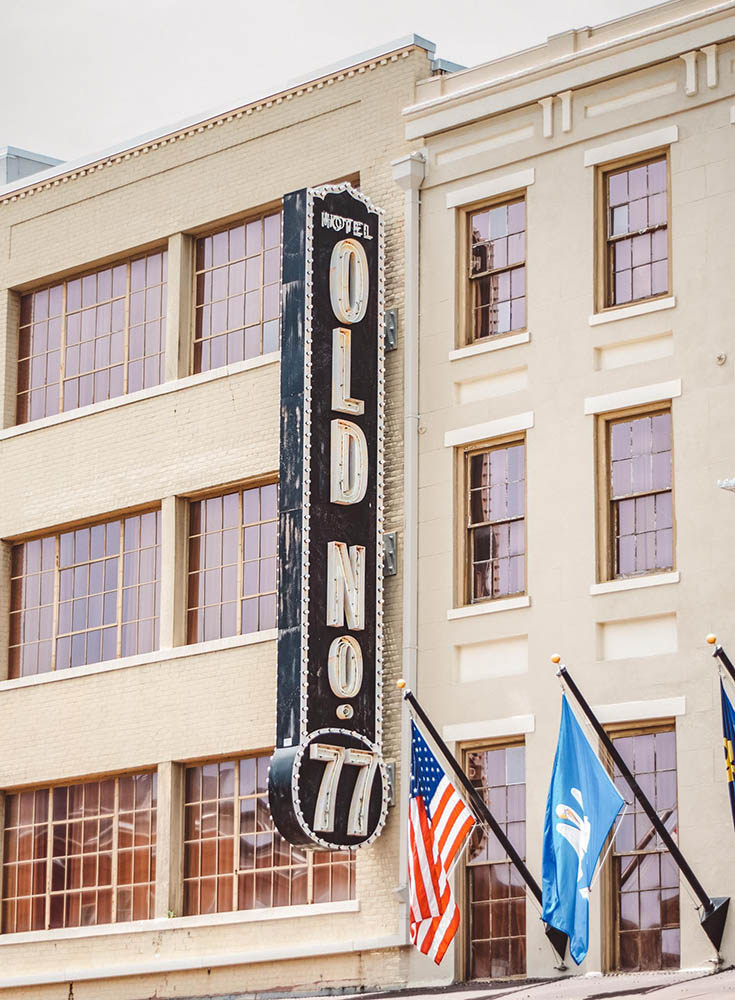 Where to Stay
The Warehouse District is one of the best areas to stay in.
While the French Quarter tends to get all of the attention, it is better to get just slightly outside of it (if you want a good night of sleep). The Warehouse District is only a few minutes away by foot but a world away from the noise and madness that you'll have outside of your window if you stay in the French Quarter.
The Warehouse District is a destination in and of itself as well. It's famous for its cool cafes and amazing restaurants.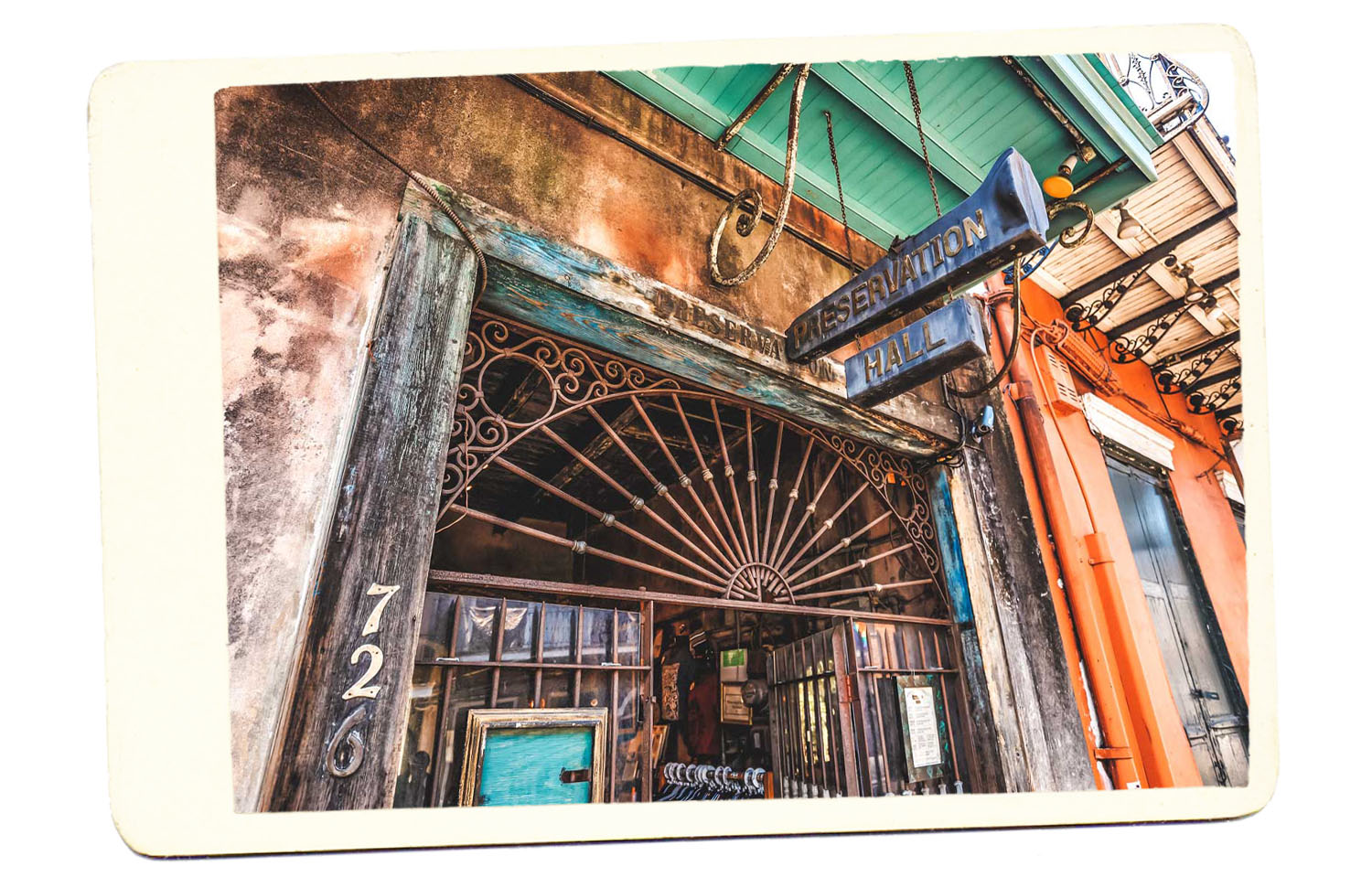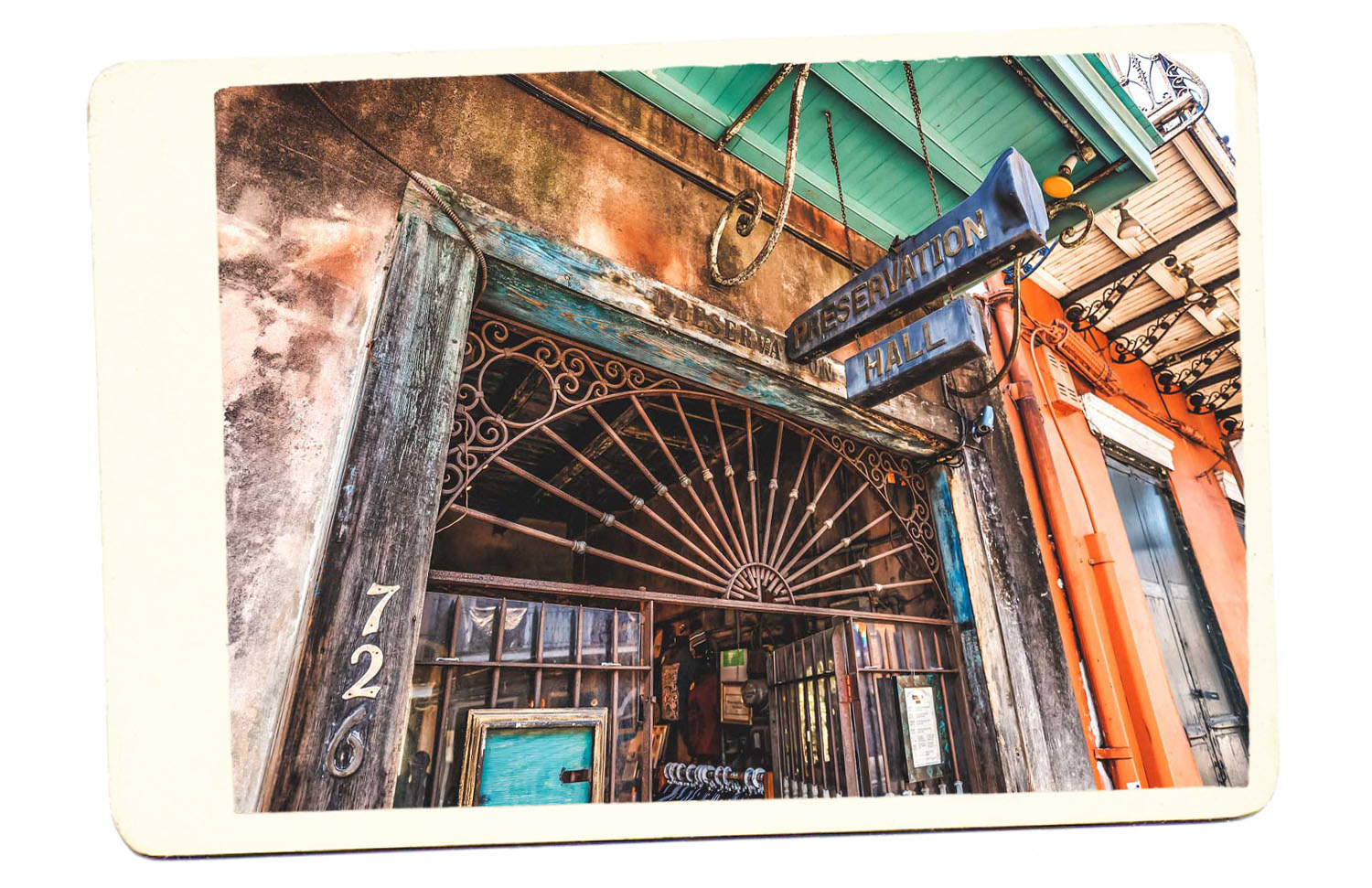 Your First Night
I'd recommend booking tickets for Preservation Hall for your first night in New Orleans!
After you get your bearings, get ready to get a taste of the French Quarter. This is a fantastic place to get a sampling of classic New Orleans jazz. It's a tiny little space with a cool vibe that's a great introduction to the NOLA vibes.
Need to kill some time before the show starts at Preservation Hall? If you've booked online ahead of time, check-in and then go take in the dueling pianos at Pat O'Brien's before the jazz show—which is located right next door.
You'll see the notorious "hurricane" drinks, which is a definite must for any New Orleans trip. Get one while you enjoy the dueling pianos and then get a second before you head out. Note: Preservation Hall does not serve food or drinks but you are allowed to BYOB!
Helpful Tip:
While you can get tickets at the door for Preservation Hall, it's often a long line and they can end up selling out rather quickly. You can book online ahead of time to save the hassle.


Day 1: Explore French Quarter + Food Tour
Explore Early
It's best to start your first day in New Orleans with the sun rising…or as early as you can muster!
It's best to get an early start on day one so you can beat the crowds. Start exploring the French Quarter between 7 and 9 am. For the most part, the streets of New Orleans are relatively quiet during this time. You'll get to see locals going about their morning and take snap some shots of the darling houses in the neighborhood.
Enjoy the quiet because it'll get crazy soon!
If you're up early enough, you can get into Café du Monde for some beignets and chicory coffee before it gets too busy. Just keep in mind that it is cash only, so come prepared.
Tip: In my opinion, Café Beignet is actually much more picturesque than Café du Monde. Make a point to walk by in the morning so you can snap a photo! (It's about a 5-minute walk from Café du Monde.)
As you are exploring, keep your eyes peeled for PJ's Coffee. This local coffee chain has some of the best brew around.
Afternoon Food Tour
What better way to experience New Orleans than to get a taste of the local culture? Check out my list of the top ten must-try foods in New Orleans, then get ready to sample them all.
Rather than going to each and every place and grabbing a big portion, a food tour is the perfect way to sample a bit of everything. Great food tours will also provide a quick background on the food so you can see why it's significant in a cultural and historical context.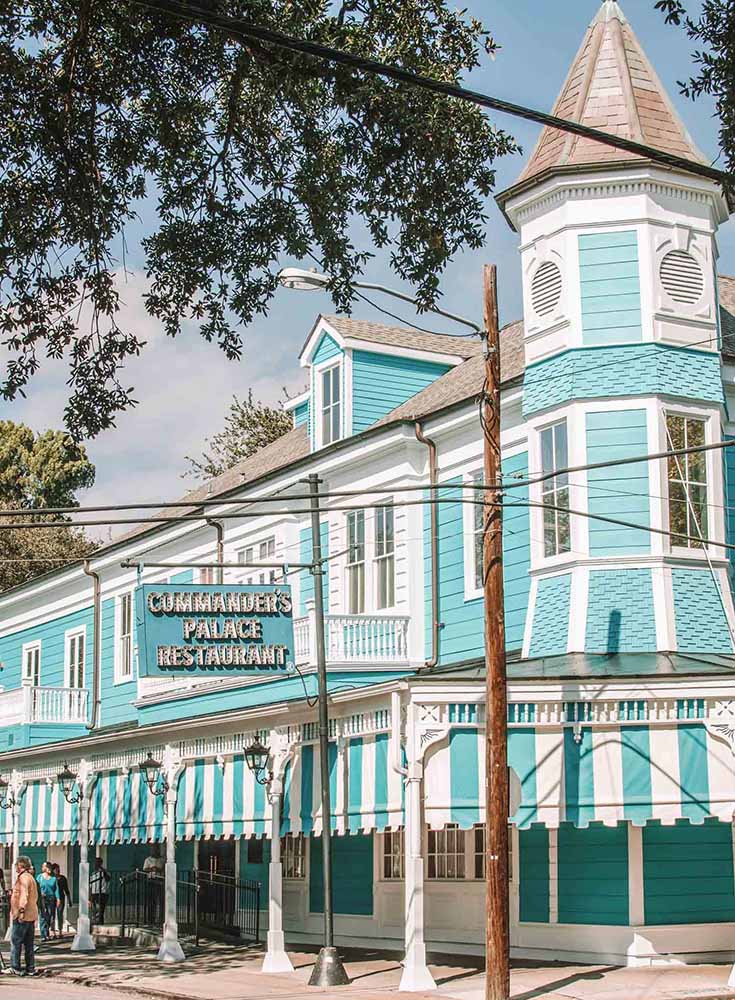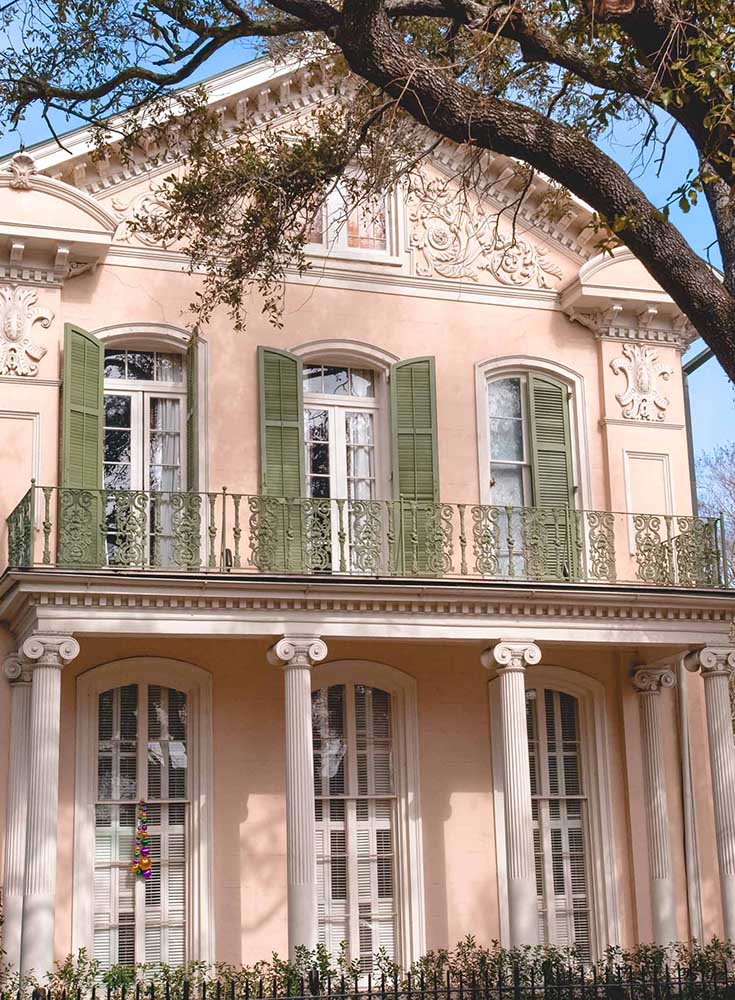 Day 2: Garden District
Day 2 of the perfect New Orleans itinerary is all about a jazzy breakfast and exploring the gorgeous old mansions of the Garden District!
Jazz Breakfast
If you're lucky enough to be in the Big Easy over a weekend, there are countless venues that offer an unforgettable jazz breakfast. Commander's Palace is a top pick and one that you will definitely want to book ahead of time.
The Court of Two Sisters is a beautiful spot that offers a jazz brunch from 9 am until about 3 pm every day of the week, in case you aren't there for a weekend. It's especially gorgeous in the spring when the courtyard is covered in purple wisteria!
Tour of the Garden District
To get the lay of the land, I'd recommend going on a tour of the Garden District. Sure, you can walk around on your own and take in all the beauty—but you'll get SO much more with a guide who can share with you all the things that influenced the architecture and what was going on at the time. Oh, and most tours will point out John Goodman's house!
Fun Fact: Did you know that the Haunted Mansion at Disneyland was partly inspired by one of the houses in the Garden District?
Dinner at Josephine Estelle (Ace Hotel)
For a meal that you will not soon forget, reserve a table at Josephine Estelle for mouth-watering seasonal fare. Like all the best spots in New Orleans, booking ahead of time is essential. Located in a historic building that is now home to the Ace Hotel, the restaurant also has a seriously cool aesthetic.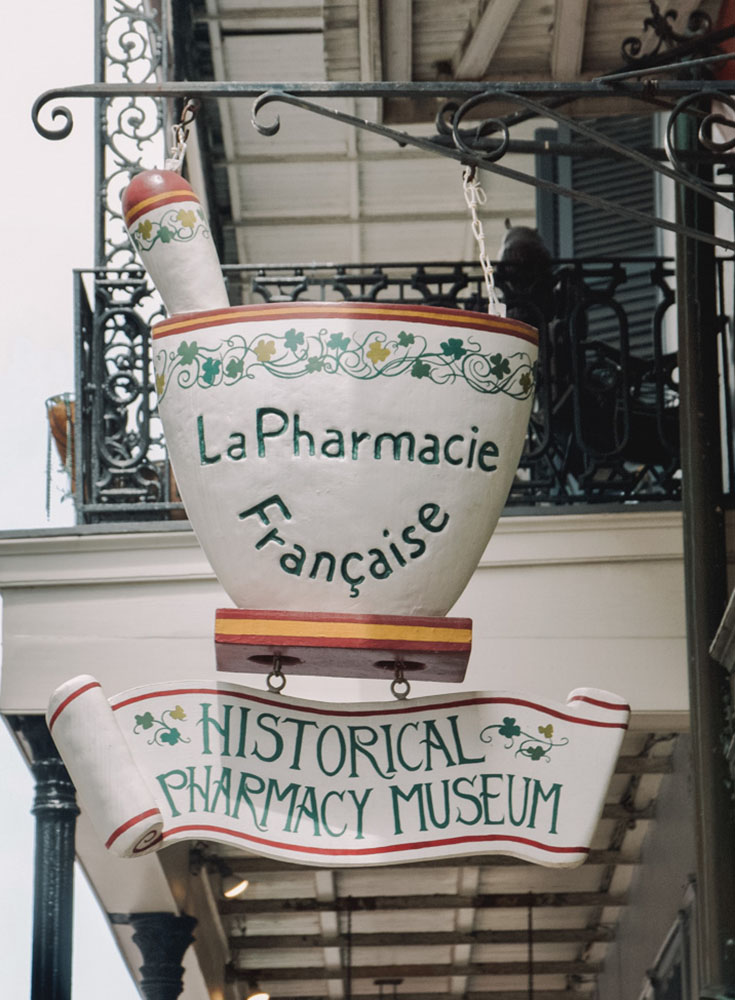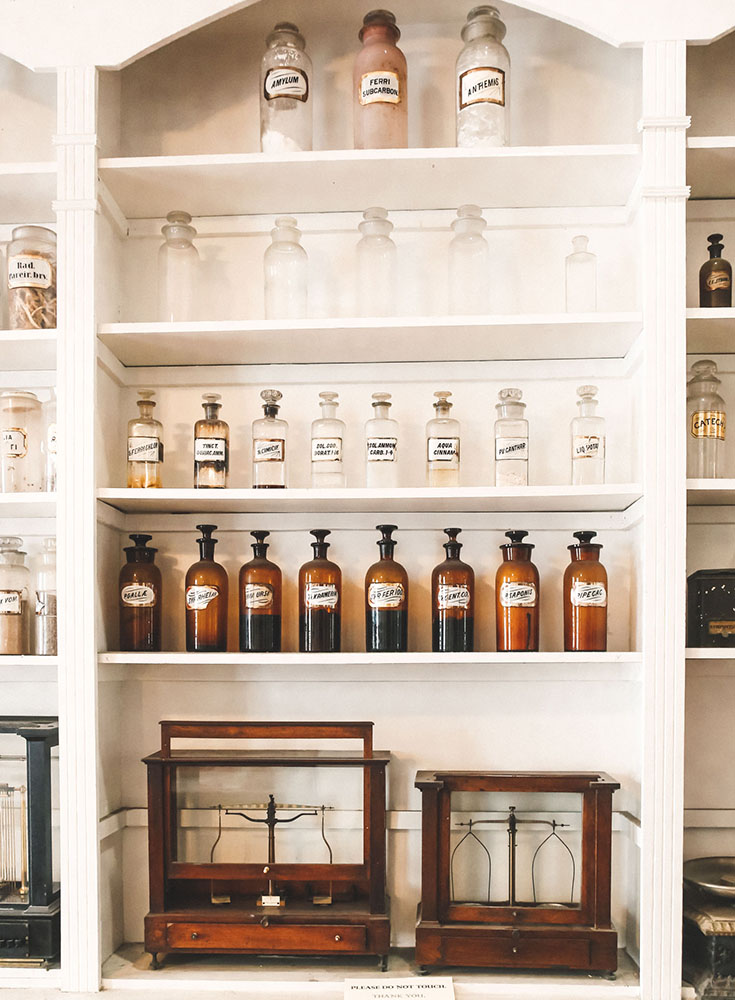 Day 3: Pharmacies + Cocktails
For one of the coolest things to do in New Orleans, you've got to walk a bit on the wild…er, dark side of things. Stepping into the Pharmacy Museum and finishing the day up with a cocktail tour is just what you need for the ultimate New Orleans itinerary.
Pharmacy Museum
Did you know that the very first licensed pharmacy in the United States is located in New Orleans?
Take a step back into the past at the quirky Pharmacy Museum to see all of the crazy fixes of yesteryear like opium meds and lead needles. The tour is given Tuesday to Friday at 1 pm for $5. They don't pre-sell tickets so make sure to arrive early.
Cocktail Tour
Love a good cocktail (or three)? Learn about the history of New Orleans through its cocktails and mixed drinks. The Sazerac (while it's necessarily the tastiest thing) ties into the history of pharmacies in NOLA—as Peychaud's Bitters, which was invented to make medicine taste better, ended up being one of the signature ingredients.
As drinking on the streets is legal in New Orleans (so long as it's not a glass container), you can grab a "go-cup" from many places and drink it as you walk.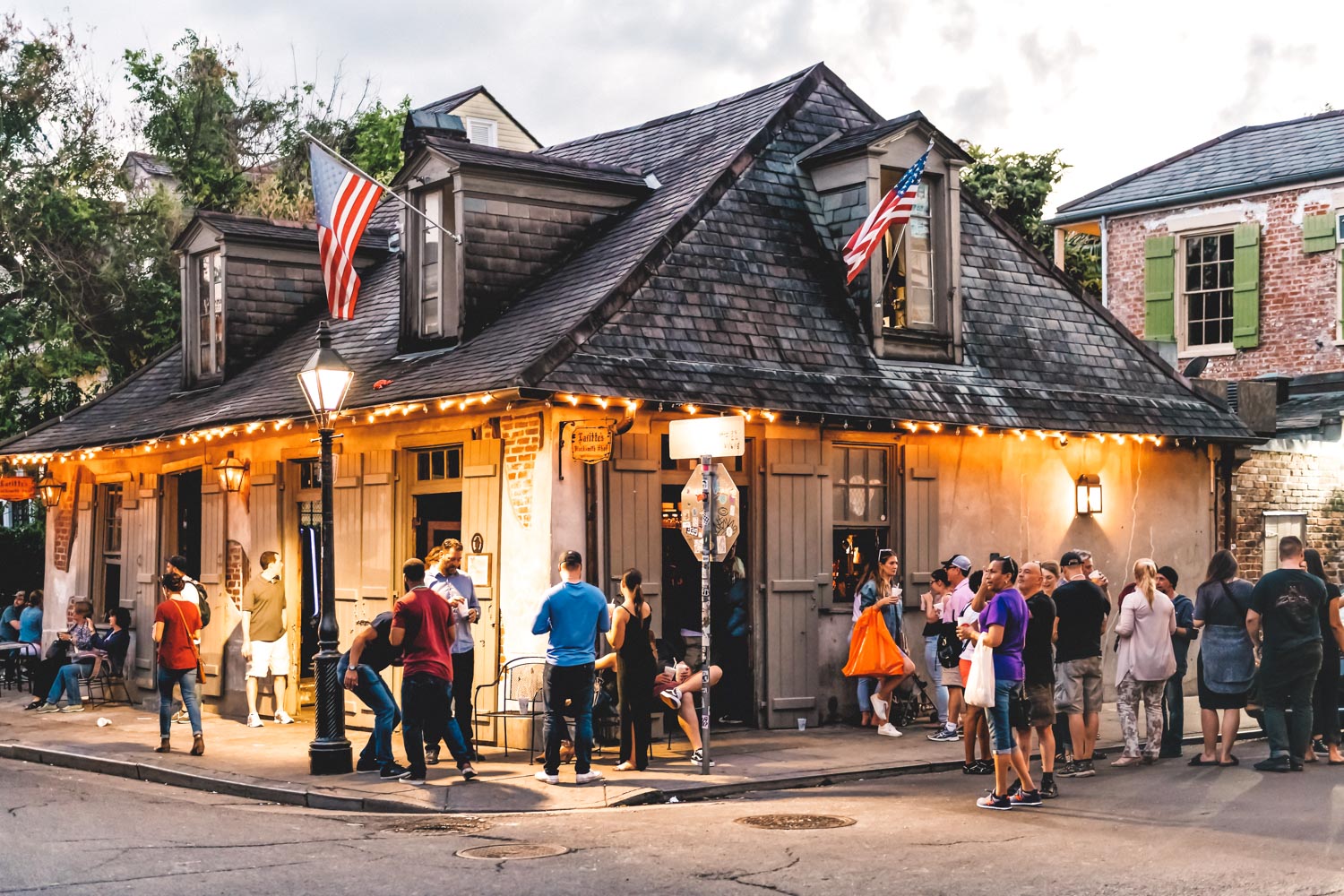 Lafitte's Blacksmith Shop
Serving drinks since the 18th century, this place is a local institution. It was a home back in the Spanish colonial period then lead a sordid existence as a criminal hangout and later a bohemian hotspot.
Today, it's the place to go for a purple drink—AKA a Frozen VooDoo Daiquiri. Make sure to drink water and have some food beforehand…the purple stuff sneaks up on you quickly!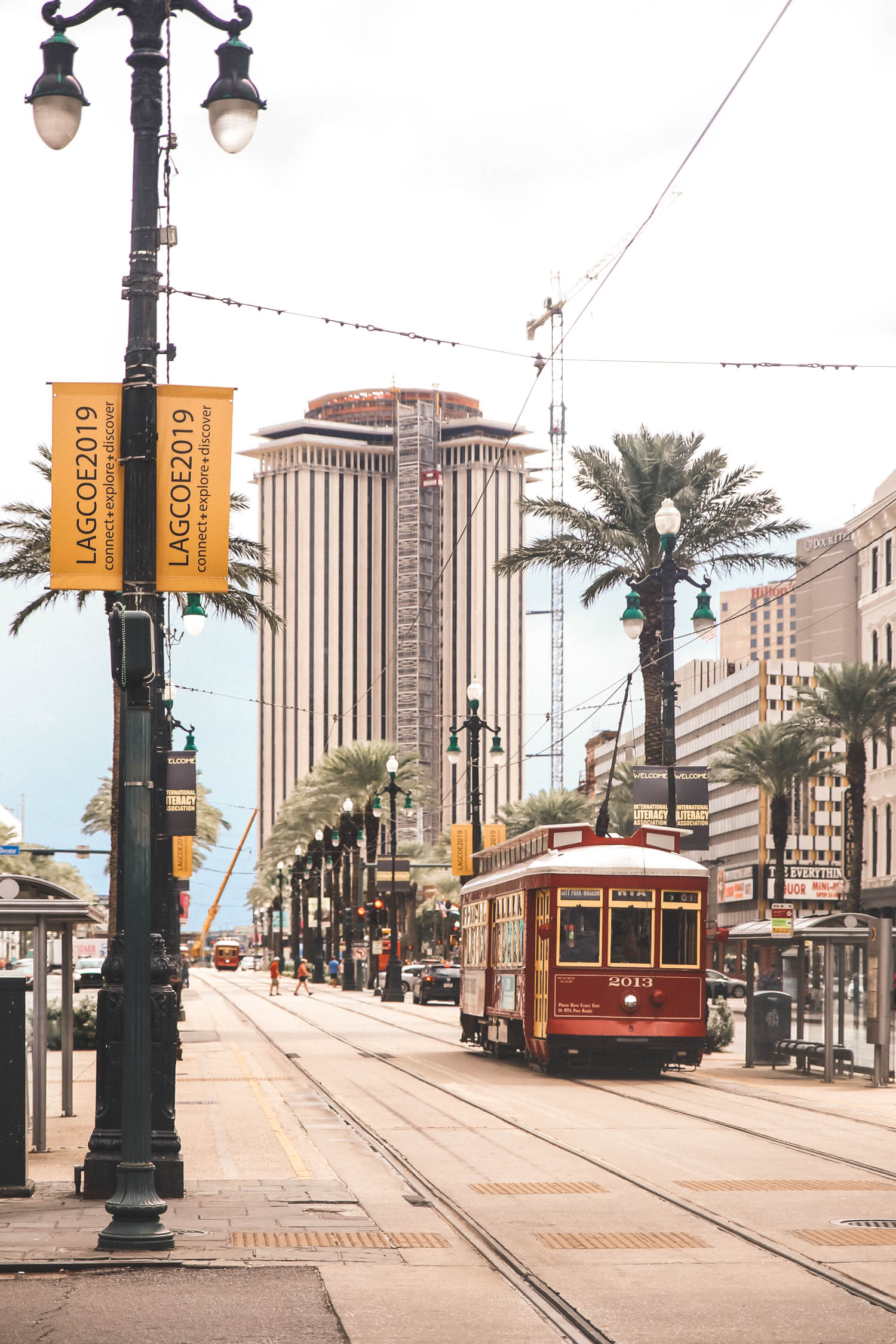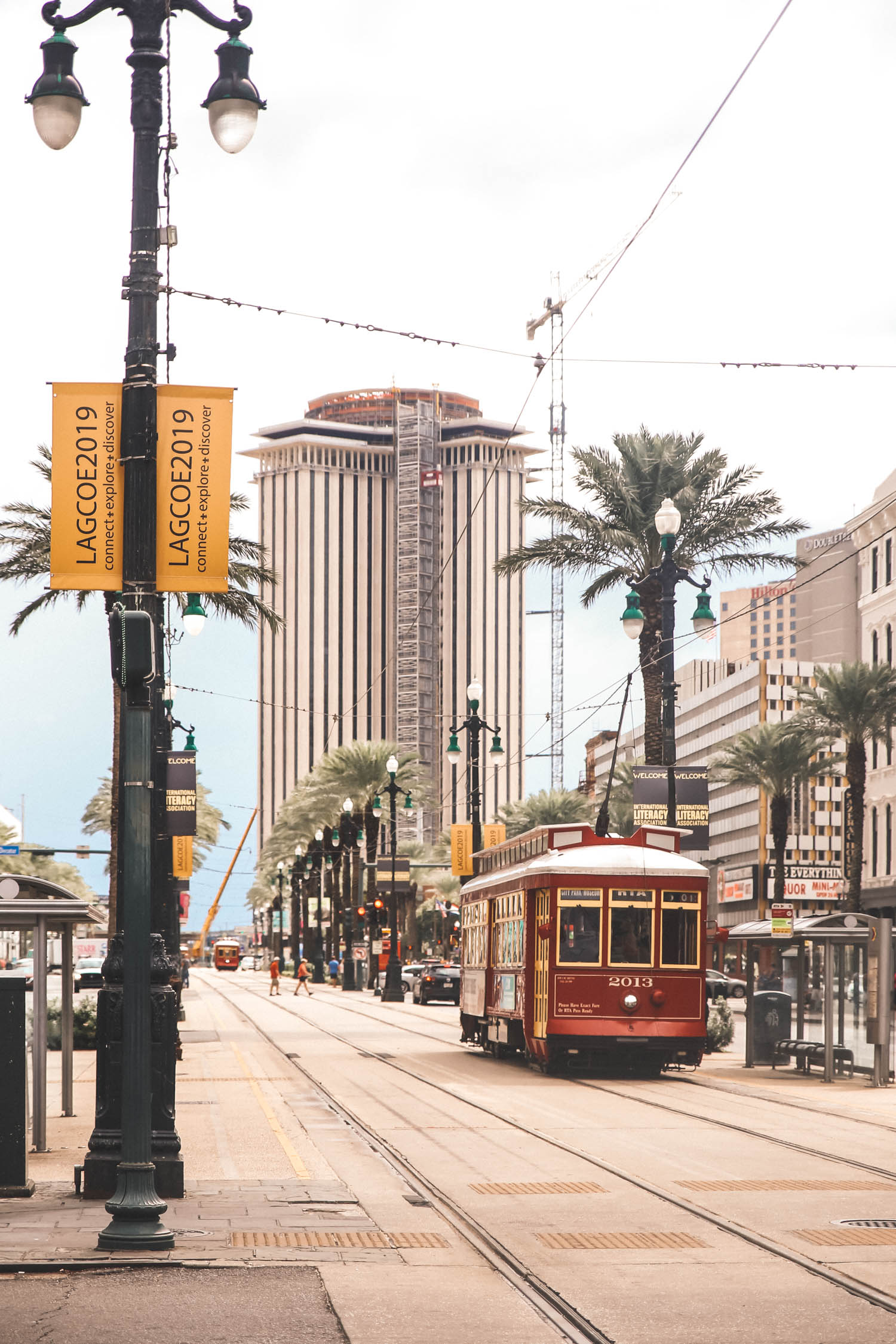 Day 4: A Walk on the Wild Side
Vodou Tour
The New Orleans "Voodoo Tour" offered by Free Tours by Foot is a free tour where you pay what you think the tour is worth.
Vodou is completely different from what you may have seen in Hollywood movies, and it plays a significant role in the history of New Orleans. Book a tour to understand more about it and to dispel the misconceptions that have come through due to pop culture.
I'd highly recommend emailing to see if you can get Robi as your guide—he's super fun, informative, and brings the whole experience to life during this unique walking tour.
Note: Ask your guide about the different spellings of Vodou, Vodun, and Voodoo—they'll be able to explain more. 🙂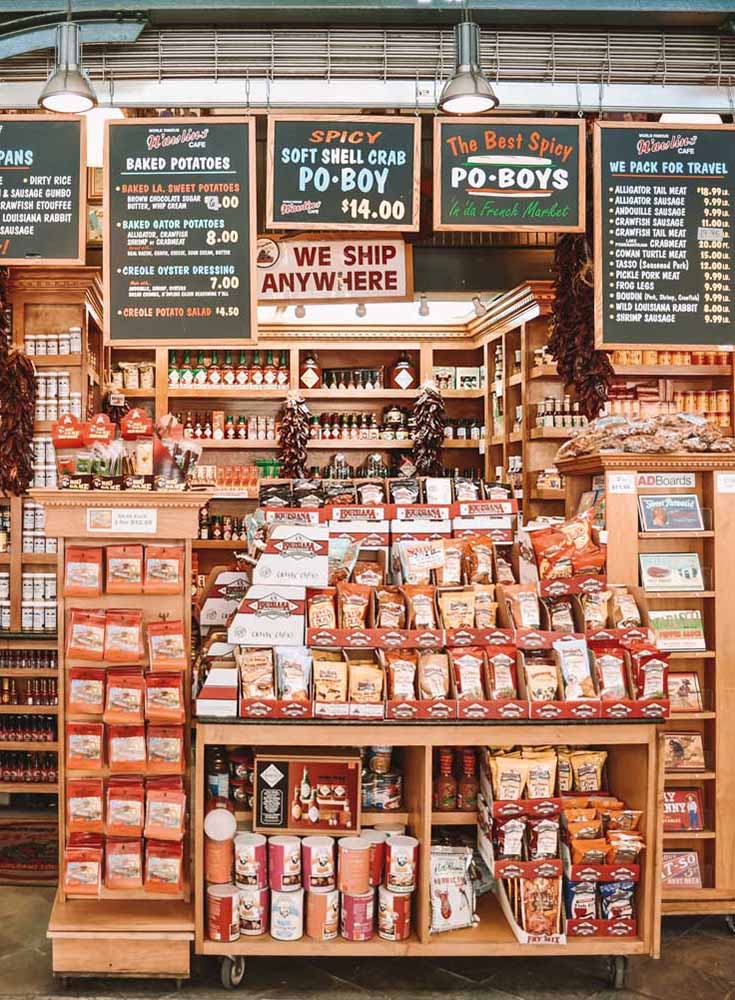 French Market for Lunch
From po'boys to oysters, you can find it all at Central Grocery & Deli right near the French Market. The original muffuletta sandwich was made right here so there's no better place to grab a slice! Looking for some more grub and a good place to walk around? Go explore the French Market and all of its delicacies!
Take the St. Charles Streetcar
Hop on for a ride from the French Quarter to the Garden District. The streetcars are an iconic part of New Orleans and you should definitely make a point of taking it at least once!
Prostitution was legal from 1897 to 1917 in Storyville, the red-light district of New Orleans. While it might be a bit controversial—remember that this was a time when ladies didn't have a ton of opportunities or other ways to make money for themselves.
Two Chicks Walking Tours does a walking tour of this area, bringing new light to the ladies and really gives you an understanding of everything that was going on.

Bonus
If you have time, pay a visit to the Carousel Bar in the French Quarter. This whimsical spot inside of the historic Hotel Monteleone is a magical place for a drink and photoshoot.
Want to visit one of the cemeteries of New Orleans? Heads up, for the iconic ones (like Saint Louis Cemetery #1 and #2), you'll need a licensed tour guide.

Have you been to NOLA before? What would you include on a 4-day New Orleans itinerary? There are so many other things to see and do—so you might just need to plan another trip! 😉