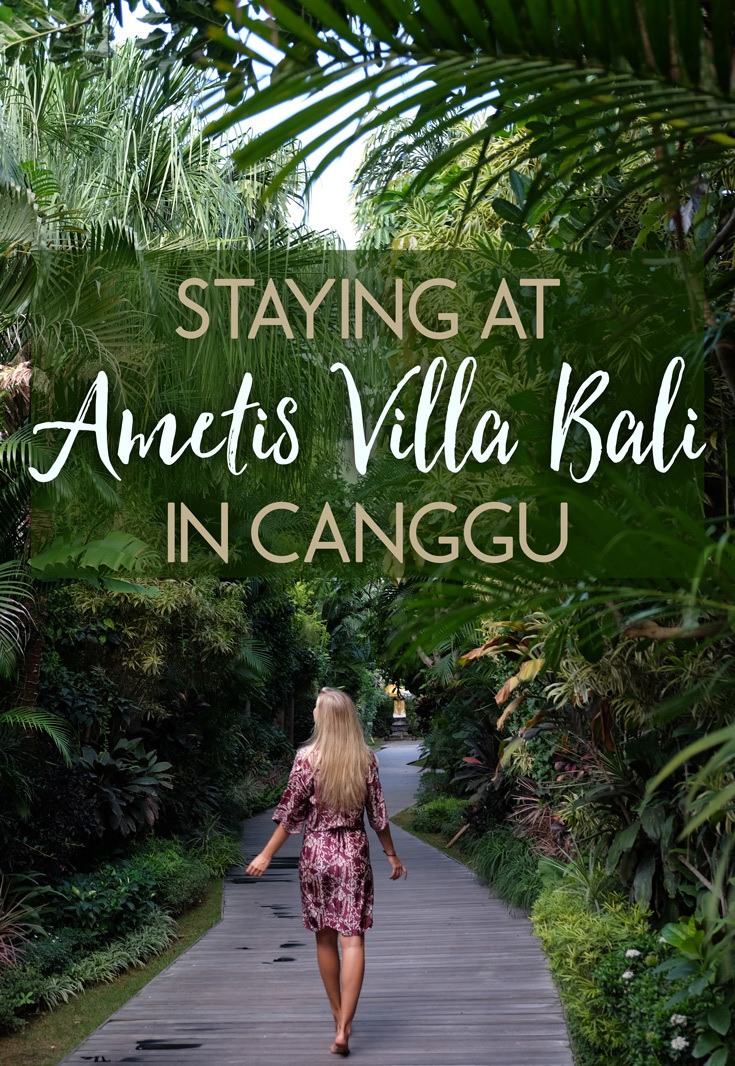 As you guys already know, I absolutely adore Bali—so much so that it's my second visit this year. This colorful, blissful island is unlike anywhere else I've been in the world.
The architecture, the people, and that unique Balinese vibe have stolen my heart.
I'd heard about the ultra-luxe oasis that is Ametis Villa Bali in Canggu and decided that it is exactly the kind of place that can take a Bali getaway to the next level. The ultimate in indulgent villas, this place is second to none.
Here's my experience staying at Ametis Villa Bali in Canggu!

The Hotel
Arriving at an Ametis five-star luxury lifestyle villa is like coming home—only better! The amazing people at Ametis Villa Bali make every guest feel like a VIP.
You get your own personal assistant who lets you bypass the standard old check-in process and whisks you right to your room for a free welcome massage and cocktail. And the world-class service doesn't stop there.
There are thoughtful little freebies and treats all day long, including personalized menus, shuttle services, and free bike rentals. Having a personal assistant makes you feel like a celebrity in paradise!

The Villas
Ametis Villa has three accommodation types, and each is more stunning than the last. You can go for a one-bedroom premier or imperial villa, a two-bedroom inter-connecting villa, or a three-bedroom grand villa.
Each villa features a private pool and gourmet kitchen space. The smallest villa is 3,767 square feet so you definitely won't feel crowded in these incredible villas.
Of course, your villa comes with all of the extra little perks like plush bathrobes and cozy slippers that remind you that you're in a first-class villa. The spa-inspired en suite bathroom will make you never want to leave your home away from home.

Food & Drink
For laidback tropical dining, there's no better pick than the Eternal at Ametis. With all of the ingredients locally sourced by the best chefs in Bali, the Eternal is as fresh as it gets.
Serving veggies from the cool hills outside the villa and fresh seafood brought in every morning from Jimbaran Bay, you can taste the difference here.
But, of course, you don't have to leave your villa for 24/7 world-class dining. Ask your personal assistant to make you a custom menu of the best food from around the island and across the globe.
If you're a foodie, be sure to ask about the private cooking lessons so you can go home and make mouthwatering Balinese food! When you're ready to go out for a drink, be sure to check out Ametis Lounge for a tasty tropical cocktail.

The Spa
As amazing as the villas are, my favorite part of Ametis Villa Bali was the Ruby Spa. With customized programs of Zen healing and wellness practices, the spa uses modern expertise to nurture the body, mind, and spirit.
The impressive therapists at Ruby Spa have been trained in therapeutic healing by a Reiki master. For the ultimate blissed-out experience, go for a traditional Balinese massage, a green tea treatment, or a fruit bath.

Activities Around Canggu
Ametis Villa Bali is in Canggu, Bali, about 35 minutes outside of Kuta. Unlike chaotic Kuta (which I avoid like the plague), Canggu is an area known for its relaxed vibe. While it is slowly becoming one of the most popular hangouts in Bali, it still holds its charm.
Canggu is also home to a thriving community of ex-pats and surfers who want a home away from the concrete jungle of Seminyak. Ametis Villas is located on Canggu's main road, Jalan Pantai Batu Bolong, and is just a few minute's walk to the beach.


More Information
Hotel: Ametis Villa
Location: Canggu, Bali
Accommodation: Luxury
Price Range: $$$

Special thanks to Ametis Villa Bali for hosting me during this stay. As always, opinions expressed are entirely my own.