For such a small island, Bali is one of the most incredible places we have ever had the pleasure of visiting. Everything from the beaches, to the food, to the people, and especially the resorts are nothing short of world class.
If you think choosing the right region to spend your time in Bali is tough, we expect finding the right resort might be even more challenging.
We have visited just about the entire island of Bali and have put together a list of 4 resorts which we believe are the best resorts in Bali for couples. So instead of scouring TripAdvisor and cross referencing your results against reviews, look no further!
Here is our list of the best resorts in Bali for Couples!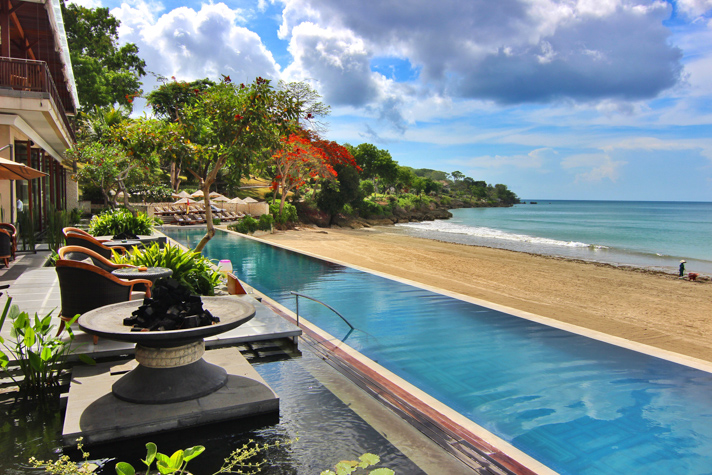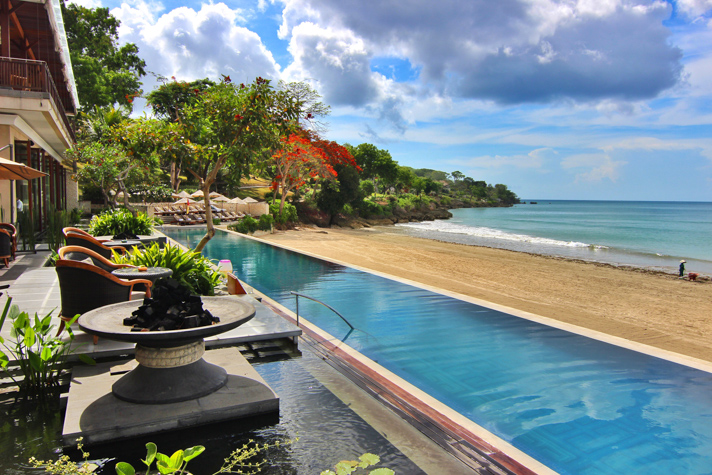 Four Seasons Jimbaran
Summarizing the experience of our stay with the Four Seasons at Jimbaran in less than 1000 words of praise and adoration is going to be quite a challenge. The property has been perfectly constructed to provide a panoramic view of Jimbaran Bay regardless of where you find yourself on the property.
The magic of Bali and Jimbaran itself are both reflected through each and every aspect of the resort as well as the staff who are some of the most hospitable and kind people you'll ever meet.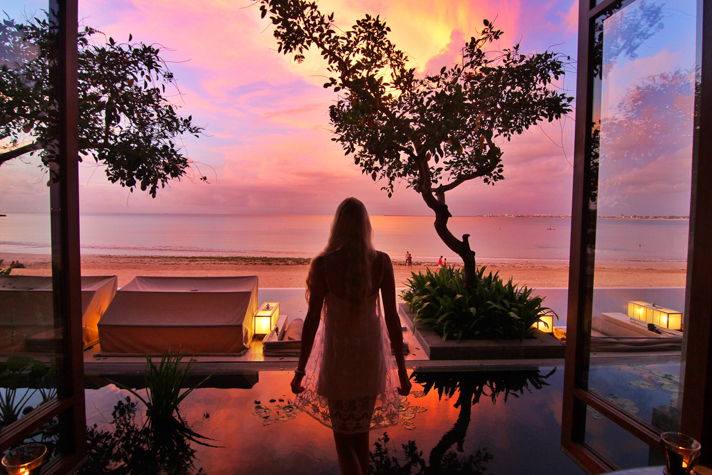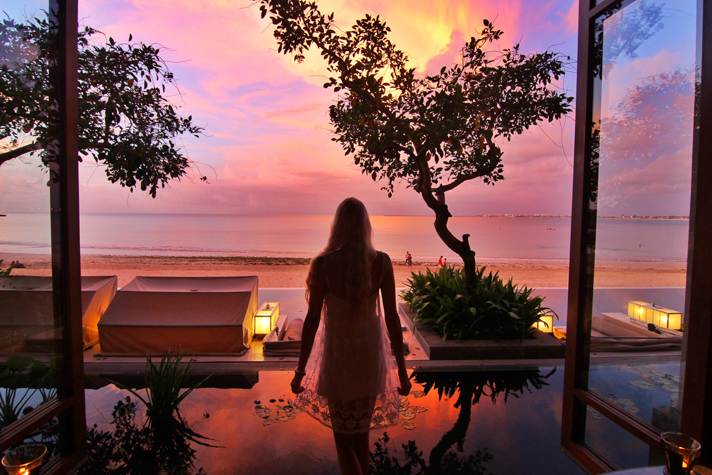 We honestly had multiple conversations about how overjoyed we would be if we could move into our villa and never leave the property. Our villa sat just about 100 meters from the ocean, so our view was obviously to die for.
Top that off with a private pool, outdoor shower, and every amenity one could wish for.
If you need more swimming room than your villa's private pool offers, you can make your way to one of two beautiful infinity pools the resort boasts.
For a quiet, romantic, experience choose the "quiet pool" where you'll find one of the most breathtaking views overlooking all of Jimbaran, and for a beach/restaurant experience where kids are welcome, head to the Sundara pool that also happens to be the longest pool in all of Bali.
Even if you're not a guest of the hotel, you're welcome to rent a day bed here and enjoy some incredible cocktails. Sundara has their own signature drinks that are the perfect combination of top alcohol and the best fruits Bali has to offer.
The beach in front of the hotel is perfectly suited for surfing if that is something you or your significant other is interested in! Tropicsurf is a wonderful option for couples as well because they offer stand up paddle, surfing, and more, during your stay.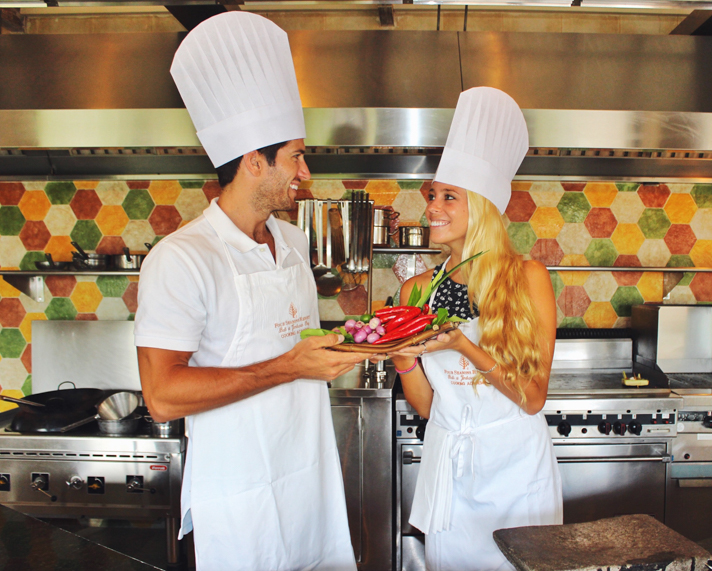 Regardless of where you choose to swim you'll likely work up an appetite. Four Seasons Jimbaran offers a number of dining selections but our preference is the aforementioned, Sundara, which has the best Asian-inspired cuisine, and the most unique dining experience we had during our stay in Bali.
If all of that wasn't enough, we capped our stay with a 2.5 hour heart chakra balancing spa treatment from Heaven. This was an absolutely euphoric experience that is all too perfect for couples!
Five stars does a disservice to the Four Seasons Jimbaran who place themselves well beyond most five star resorts!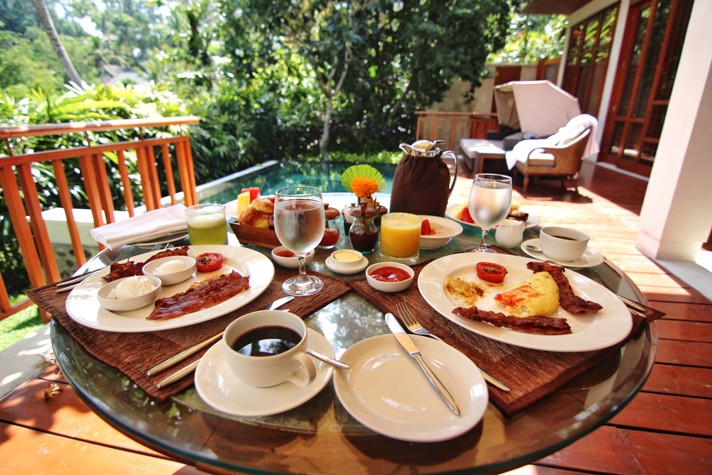 Four Seasons Sayan, Ubud
Walking into the Four Seasons (FS) Sayan is an experience in and of itself. A bridge separates the real world from a gorgeous lotus pond and a resort that is simply magical. The entire property was constructed so that each piece of the resort is enveloped by the jungle of Sayan (just outside of Ubud).
The inspiration for the property comes from local traditional Ubud culture and history and is richly visible through the architecture, staff, food, and vibe of the resort.

The aforementioned lotus pond made for the most romantic dinner on our lives! The FS Sayan staff set up a private table surrounded by rose pedals, flowers, and glowing candles to create an absolutely unforgettable dining experience. This is an imperative for couples visiting FS at Sayan.
For those of you wishing to embrace another rich aspect of Balinese culture, head to the open air yoga studio which is made of bamboo and situated in the middle of beautiful rice fields that approach the Ayung River that flows behind the property.
If you travel up the river just a bit you'll come to the pool which has to be one of the most beautiful and unique swimming pools we have ever seen. Rather than trying to describe it, just check it out for yourself!
We didn't get a chance to have a spa treatment in Sayan but we did tour the spa facility. Wow! Just wow. The spa is essentially an island in the middle of a lotus pond. The aura of the spa is so peaceful and serene. Definitely plan a couples' massage when you visit!
Similar to our Jimbaran villa, we had an outdoor shower, a private pool with a huge deck/backyard, and a couch, minibar, etc. You can literally walk around naked outside and no one at the resort can see you. It was truly so private and romantic and so in tune with nature.
Again, 5 stars does a disservice to the team at FS. When you plan your trip to Bali, make sure to include both FS Jimbaran and FS Sayan on your itinerary.

Kamandalu
Kamandalu truly embraces the nature aspect of Ubud with sprawling rice paddy fields and a stream running through the property. Two pools are offered and fit different tastes.
The larger of the two is at the middle of the property and even has a bar, lounge chairs in ankle deep water, and much more. The lower pool is a beautiful infinity pool that is secluded enough to feel as if you're in the middle of the Ubud jungle.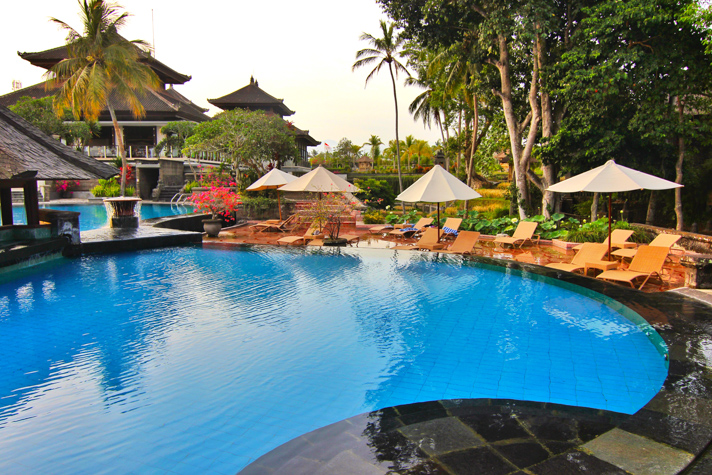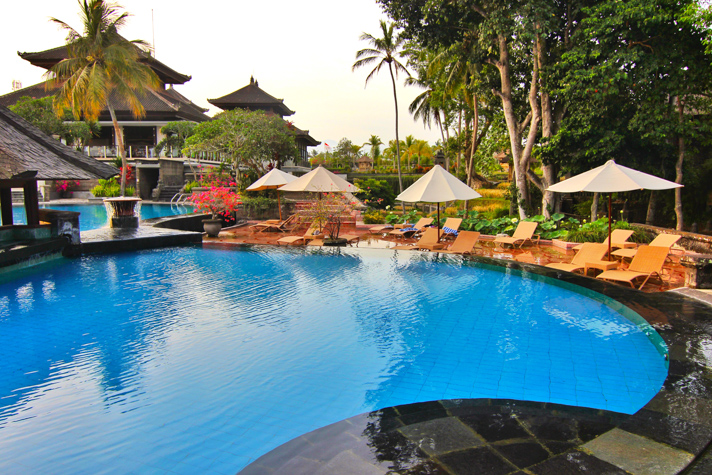 If you're considering a wedding in Ubud, the Kamandalu ought to be one of your first choices. The presumed venue is a gorgeous amphitheater that has a similar view of the jungle to the aforementioned infinity pool. The essence of love can be felt simply from the venue itself.
There seems to be a theme here… our favorite resorts in Bali all have incredible villas. Seriously though, our villa at Kamandalu was wonderful!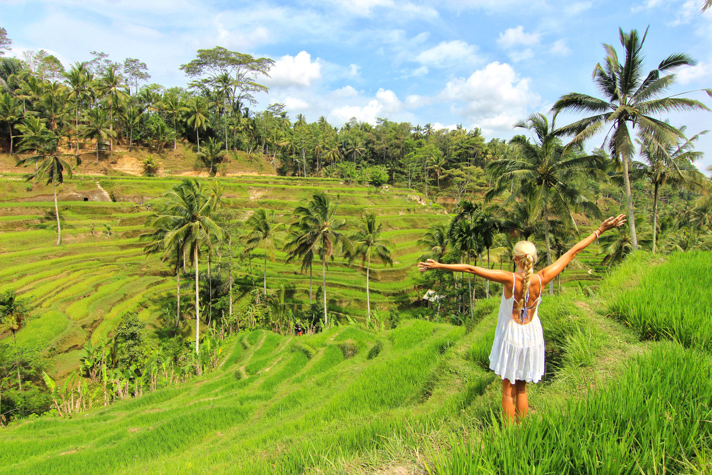 The backyard had a daybed that faced the jungle of Ubud and the bed…. oh dear lord, the bed…. honestly we aren't sure what to call the bed. It was far too large to be a king…maybe a XXL King? We laid on opposite sides of the bed and laughed as we could hardly reach each other. Seriously perfect for couples that like to sprawl out while they sleep.
The bathroom has an in-floor bathtub, his and hers sinks, and the shower is outdoor which was especially nice on the night we stayed as we were able to see a beautiful sky full of stars.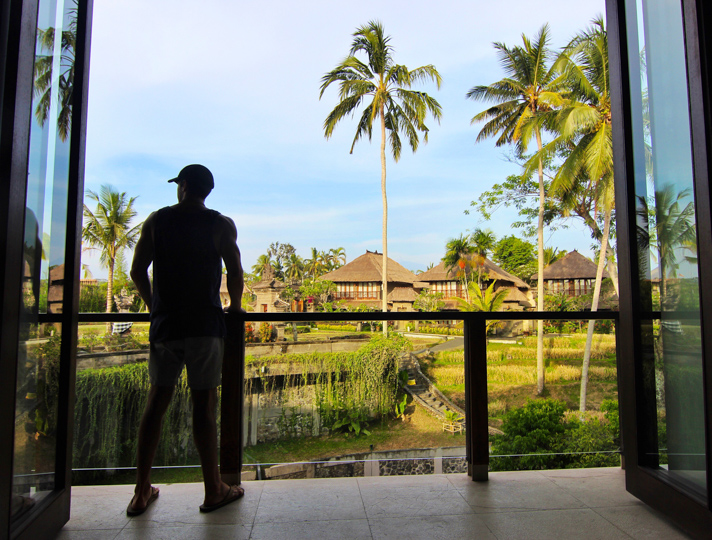 Kamandalu is an experience, and a wonderful one. The property, staff, and overall experience were one we hope to enjoy again in the near future. There is no doubt about it that Kamandalu earns 5 stars in our book.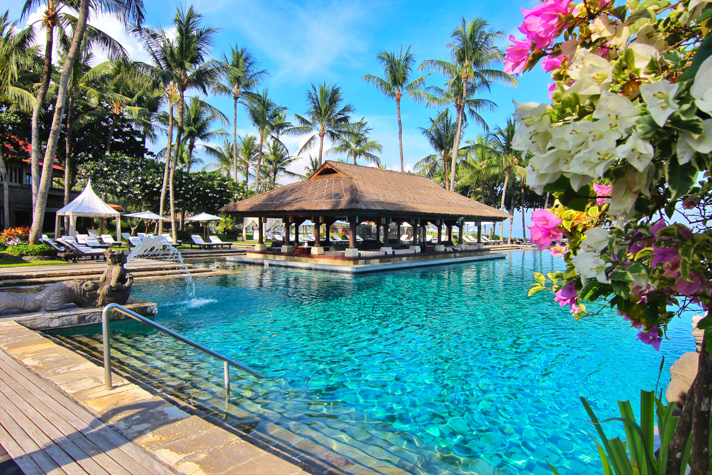 Intercontinental Resort Bali, Jimbaran
For planning purposes you can likely see a trend that ought to be followed. Ubud and Jimbaran are musts on your trip to Bali. The Intercontinental Resort Bali sits just in the middle of Jimbaran Bay, about equidistant between the two sets of local seafood restaurants found on the beach.
After having spent a month researching and visiting what we believed would be the best resorts for couples in Bali, we can confidently say that the Intercontinental is the best resort we found for couples with children.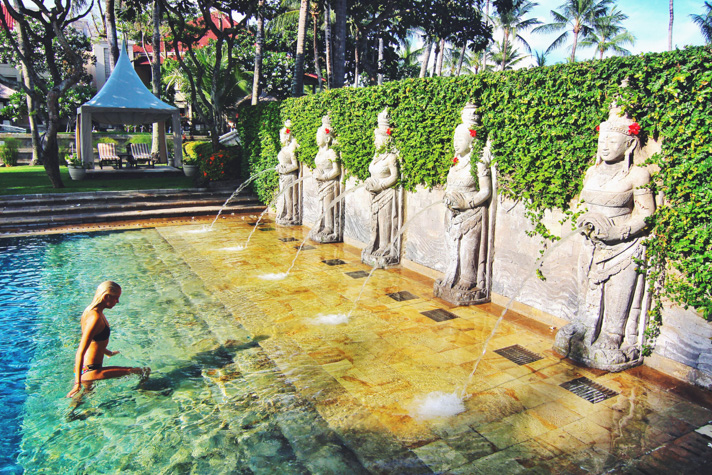 With multiple restaurants, a number of bars (including a swim-up bar at the main pool), and a no children high tea room, there are plenty of escapes for couples without children. However, for couples with children, the family aspect of the water park (for lack of a better term), playground, and a surf school that's located nearby are absolutely perfect.
Adults and children alike will love the number of hammocks that are scattered around the property, each hanging between two palm trees; defining relaxation and paradise.
The most important thing to highlight in this piece was that during our stay with Intercontinental we stayed in the Club Intercontinental.
Club Intercontinental has many amenities not accessible to other guests including larger suite style rooms, a private pool, a complimentary cocktail reception at one of a number of locations around the property, complimentary breakfast, and a 24 hour butler service.

In conclusion…
Realistically, you're going to have an amazing trip regardless of where you spend your time in Bali. Balinese culture is easily the most humble, friendly, and hospitable culture we have encountered.
However, if you would really like to take your trip to the next level, any of these four resorts will be sure to elevate your time in Bali to surpass any and all expectations you might have.
If you need more details about any of the properties or have specific questions, feel free to connect with us in the comment section below.
We will do our best to respond to each of you!

Special thanks to Four Seasons Jimbaran, Four Seasons Sayan, Kamandalu, and Intercontinental Resort Bali for hosting us as their guests. As always, the content & opinions expressed here are entirely our own.