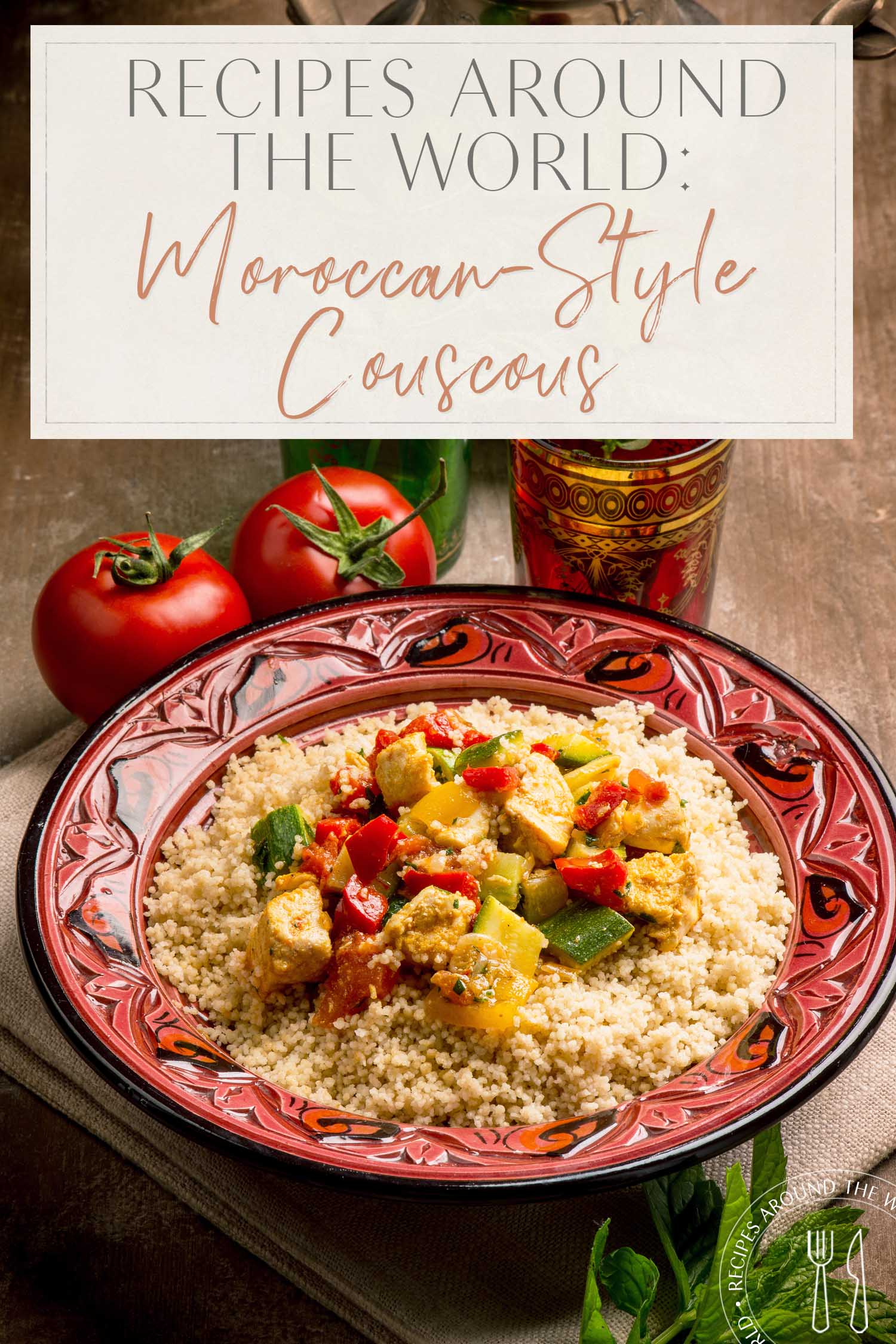 Sam Elimelech of Sincerely, Sam is bringing a tasty Moroccan dish to the 'Recipes Around the World' series!
This dish is a flavorful blend of root vegetables, potatoes, chickpeas, and raisins, all on top of a bed of couscous, and drizzled with the savory broth created from the concoction. The two main spices in the dish, both Mediterranean, are paprika and turmeric to give a little extra color and bite.
When I asked my dad for the name of the recipe, he called it "Grandma's Moroccan-Style Couscous." My grandma was born in Morocco but lived in Israel, and the flavor profile has influences from both places.
Here's how to make a Moroccan-Style Veggie Couscous dish!


Cultural Context
Our family sees this dish as a form of comfort food and we make it whenever we are craving it since it's so easy. It's the perfect combination of hearty and comforting, and I am brought back to Israel whenever I indulge in this delicious dish.
Though you can pair this with a side dish of your choosing, a decent helping is definitely a full meal, and every plate is always clean whenever it's served. This is my grandmother in Israel's recipe that she would make for her family up until she was 98 years old.
It's never the exact same because she always said "a pinch of this" and "a little bit of that," but it comes out amazing every time. It's the whole family's favorite! My dad added his own flair to it, and finally passed it down to the next generation (me!), and I'm so excited to be able to share it with the world.


Ingredients
1 cup couscous
7 cups chicken or vegetable broth
Optional: 1 cup pre-cooked chicken or lamb
2 medium carrots (cut into large pieces) or baby carrots
2 cups cubed pumpkin (remove skin) or butternut squash (cut into 1" pieces)
1 large potato (cut into 1" pieces)
1 large sweet potato (cut into 1" pieces)
1 large red pepper (cut into 1" pieces)
1 medium onion (thinly sliced)
2 cups white cabbage (cut into 1" pieces)
2 zucchinis (sliced approx. 0.5" wide)
1-2 cinnamon sticks
1/2 cup raisins
2 bay leaves
1 cup chickpeas (freshly cooked or canned)
1/2 teaspoon ground ginger
1 tablespoon ground turmeric
1 teaspoon paprika
1 teaspoon coriander
1 teaspoon chopped garlic
1/4 teaspoon cayenne pepper (or to taste)
1 teaspoon black pepper
2 teaspoons salt (to taste)
1/3 cup olive oil



Recipe + Preparation
Place the carrots into a pot with the broth, bring to boil, then add the rest of the vegetables and ingredients (except the raisins) to the broth. Bring to boil, then turn down the temperature to medium-low and let simmer for about 25-30 minutes with the pot partially covered.
After about 15 minutes of simmering, add the raisins.
While the broth is simmering, prepare couscous separately according to its packaging instructions (should take about 5-10 minutes).
To serve, arrange couscous on a plate then top with the cooked vegetables and some broth.
Enjoy!

Tips and Tricks
Add more or less of spices to taste
Watch the vegetables and check on them every few minutes to prevent overcooking them
If desired, you can chill the stock beforehand and scoop out any excess fat for a healthier broth

Want to find other delicious foods from around the world to make? Check out these recipes!