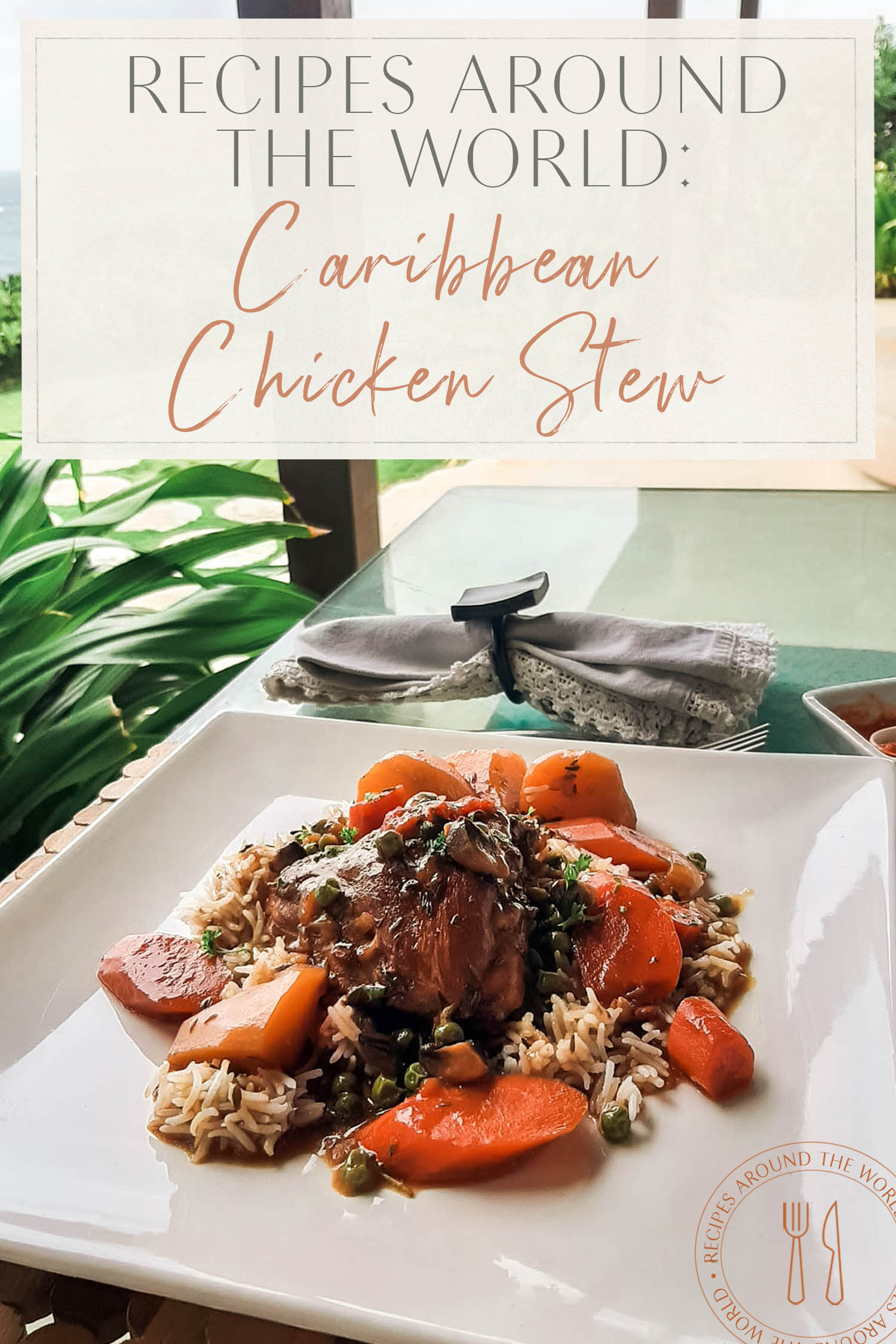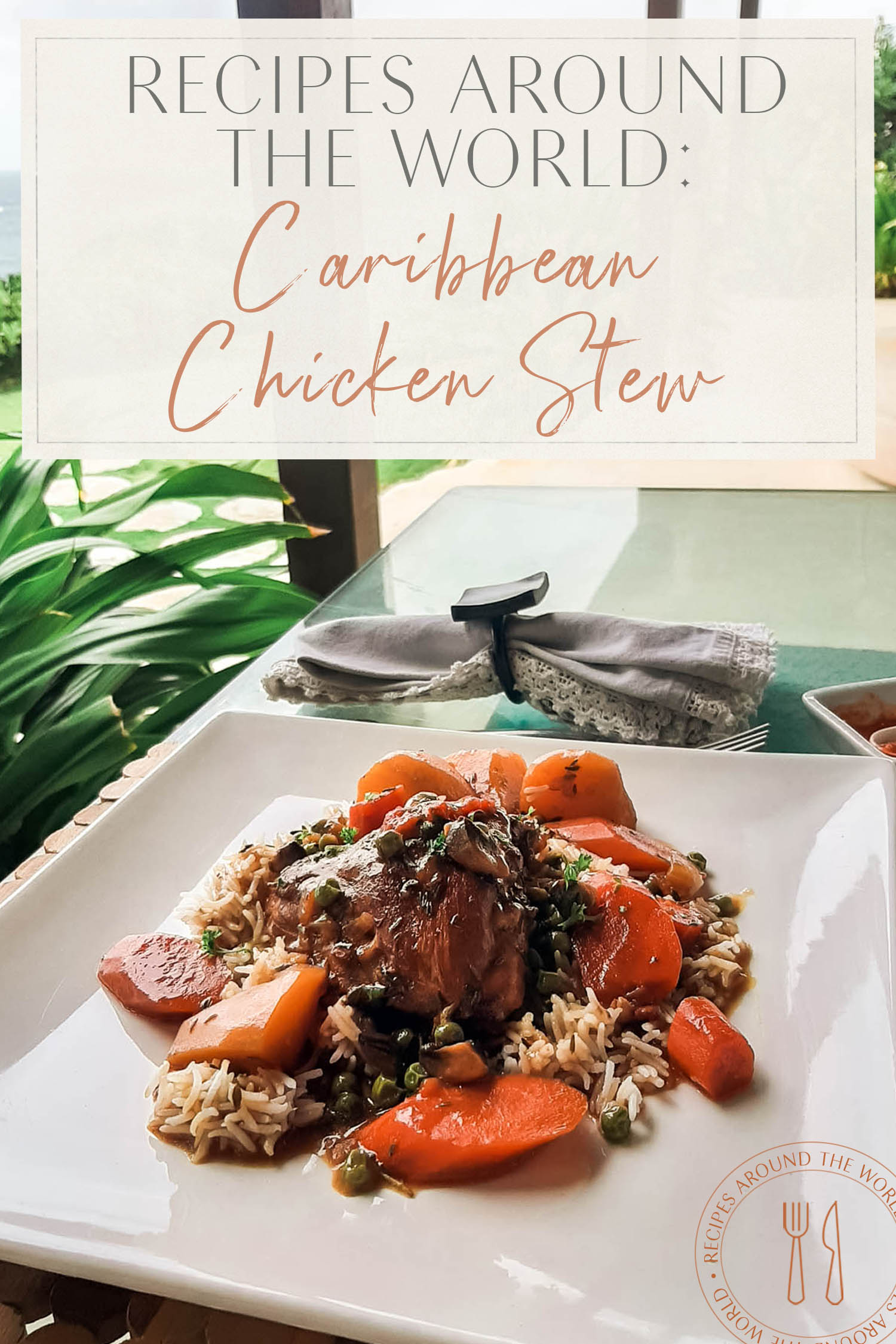 Olivia Davis is here today bringing a hearty dish from Barbados to the 'Recipes Around the World' series!
The aroma of a hearty, delicious Chicken Stew filled my household growing up in Barbados, and still does today. My mother and aunt learned how to make this Caribbean meal from my grandfather and now I have finally perfected how to make it as well!
If you ask my husband what his favorite meal is that I cook, he will say Chicken Stew. It is also my favorite meal to make because I cook it with such ease and it is super tasty and filling. I love that it makes leftovers every time, and the flavors actually intensify when it sits in the fridge overnight.
Here's the recipe for how to make Caribbean Chicken Stew from Barbados at home!

Cultural Context
This dish cooked throughout the Caribbean sure is tasty if you are in the mood for good comfort food. Chicken Stew can be found in Barbados at local food trucks or deli's, however, the best way to have it, in my opinion, is at home sweet home, made with love.
Traditionally, it is paired with a starch, such as rice or mashed potatoes. I always enjoy mine with basmati rice.


Ingredients
Serving size: 4 people
4 skinless, bone-in chicken thighs seasoned (The bone helps to keep the meat tender when cooking)
1 medium-size onion, chopped
2 cloves of garlic, chopped
A bunch of thyme sprigs
3 carrots, sliced
4 small mushrooms, chopped
3 English potatoes, chopped
½ cup frozen peas
2 ½ cups of chicken stock (I used unsalted)
2 tablespoons of canola oil
2 heaped tablespoons of brown sugar
½ teaspoon of browning (optional)
1 teaspoon of Worchester sauce
4 level tablespoons of flour
¼ cup of water
Salt and pepper to taste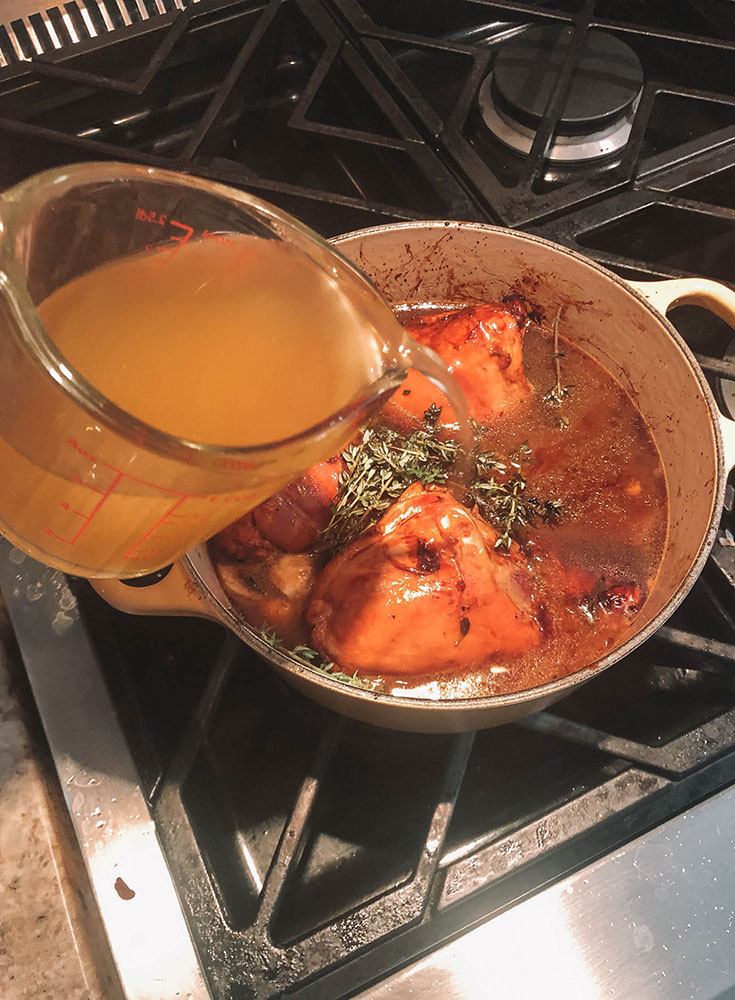 Recipe + Preparation
Season the chicken with thyme, Worchester sauce, salt & pepper. Refrigerate for an hour or even overnight to allow the chicken to marinate and soak up the flavors of the herbs and sauce.
In a medium-size pot, on a high flame, heat the oil for 5 minutes, or until very hot. Add the brown sugar, and wait a few minutes until it looks bubbly and dark brown. Once the sugar is bubbling, and almost looking burnt, add your chicken and flip so each side gets coated. The chicken will turn a nice brown color, caramelized by the sugar. If you would like, at this point you can also add the browning which will add some additional extra brown color if you want the stew to be darker. This is optional!
Add the chopped onions, garlic, mushrooms and carrots and give a stir. Add the thyme, salt and pepper. Once mixed, add the chicken stock. Then, add the chopped potatoes. Let bubble for a few minutes on a high heat, stir and then cover with a lid. Turn the heat down to low for 20 minutes.
Add the frozen peas to the pot.
Uncover and turn the heat to high so the stew is bubbling again. Add flour to a measuring cup, then pour in the water and mix with a spoon. It should make a thick, smooth paste, with no chunks (kind of like pancake batter consistency). Pour slowly into the pot, and stir until it thickens. If the stew thickens before all the paste is used, stop adding.
Turn the heat off, and remove the sticks leftover from the thyme. You can then make your rice or other starchy goodness to pair it with!
Once plated, I like to add a little hot sauce on top of my stew, for an extra kick. Eat up, and enjoy! Tips and Tricks From My Grandfather
Make sure the sugar is bubbling, as this helps to add a caramelized flavor for the chicken and the stew. The trick is to have the oil very hot so that the sugar can caramelize quickly. The goal is to avoid using the additional browning.
Adding the flour paste at the end is very important, so that the gravy in the stew thickens. When you are eating it with your rice or mash potato it soaks it all up when it is nice and thick! If it is too liquidy it won't be as enjoyable!
Random cooking tip from Olivia: When cooking with mushrooms, I like to peel the mushrooms and discard the skin and the stem, before I chop them! That way they are much cleaner.

Want to find other delicious foods from around the world to make? Check out these recipes!