Zhanna, the founder of Roads and Destinations, is bringing traditional Belarusian Draniki to the Recipes Around the World series.
If there is one thing that defines Belarusian cuisine, it's certainly an abundance of traditional potato dishes. But what else would you expect from the country with the highest consumption of potatoes per capita in the world?
Staying true to their roots, the Belarusians eat different variations of potatoes from morning until evening. You can find them enjoying potato soup followed by mash potatoes with some meat and vegetables for lunch. Babka or kalduny usually appear on the table in the evening.
For breakfast, though, there is no better dish than draniki or Belarusian potato pancakes.
I grew up with a typical Belarusian mom who, if not for my dad, would feed us with all sorts of potato dishes all the time. Roughly 70 percent of our diet already consisted of—you guessed it!—potatoes.
Although I was tired of most of the other potato dishes, I could never say no to draniki. Usually served hot or warm, they are so good in the morning, especially when it rains or snows outside.
Here's the recipe for how to make Belarusian Draniki at home!

Mir Castle
Cultural Context
Draniki became popular in Belarus in the 19th century. It's believed the potato pancakes were originated in Germany. Eventually, they were introduced to Belarusian cuisine. The name "draniki", though, came from the Old Belarusian language and can be translated as rubbing.
Draniki are usually served with sour cream, fried lard, and eggs, or machanka, a dish prepared from finely chopped scraps of lard or various trimmings. Kids like to have sweet draniki — served with a fair amount of butter and sugar on top. You don't add the onion in this version of the recipe.
While the ingredients for draniki are quite simple: potatoes, onion, and salt — their preparation can be quite is time-consuming.
As a kid needed to hand grate the potatoes (a task I dreaded), but since then I've adopted using a food processor or powerful blender to grate the potatoes. My friend was even "juicing" her potatoes, discarding the "juice" and using the pulp for her draniki.
As one of the staples of Belarusian cuisine, this dish has many variations. Almost every household adds its secret ingredient to improve the taste or make the mixture thicker. Often draniki are stuffed with meat or mushrooms.
From time to time, I also opt for a fancier version of this dish, but the original recipe still remains my favorite.


Ingredients
Serves 5-6 people
• 10 large potatoes
• 1 onion
• 1 teaspoon of salt (you can add more salt if needed)
• Coconut oil for frying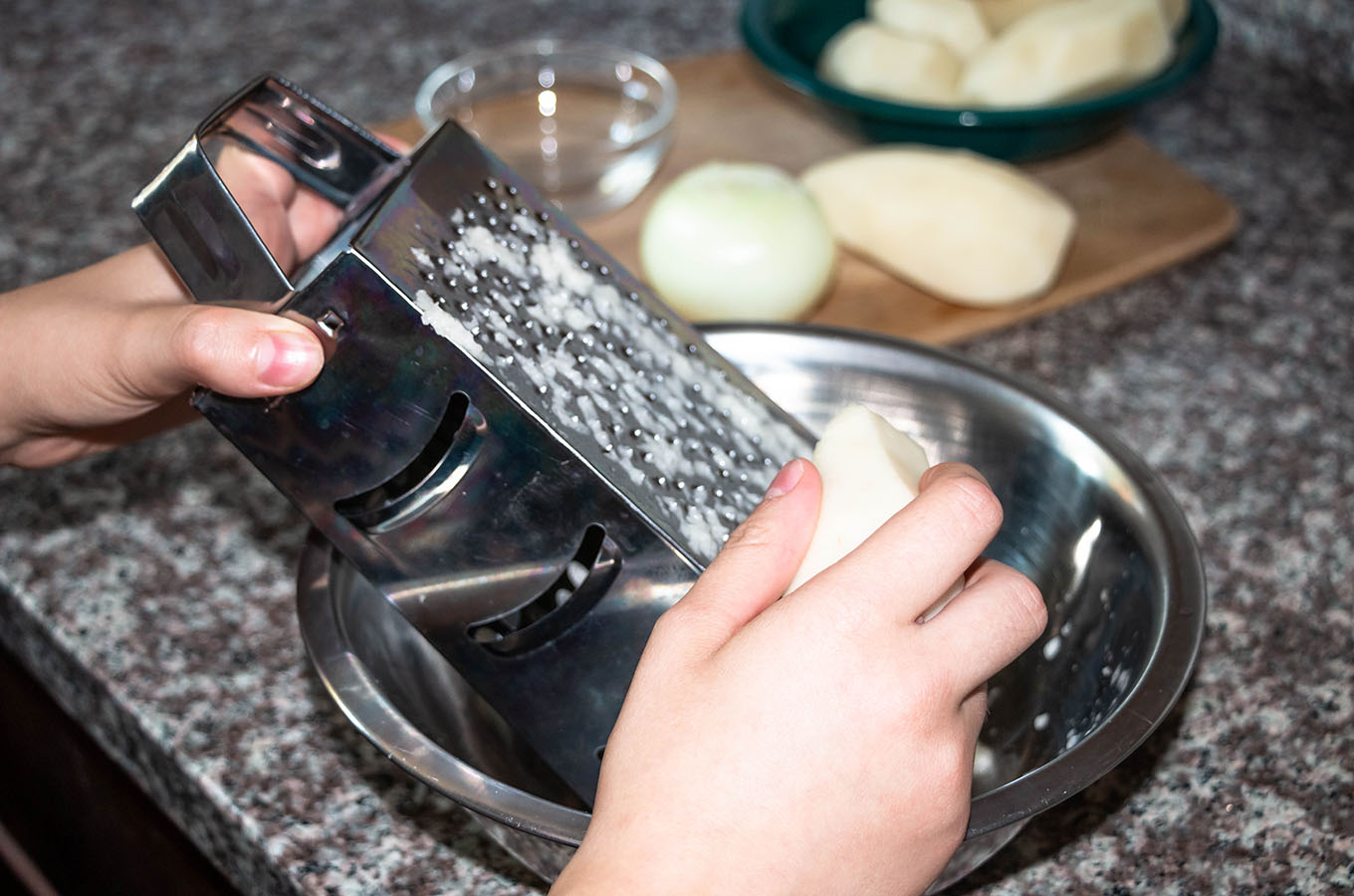 Recipe + Preparation
Peel the potatoes and onion, then grate them on a fine grater.
Drain almost all the juice, but keep some starch, which sank to the bottom of the bowl. The mixture shouldn't have any excess liquid.
Add the salt and mix well.
Pour coconut oil onto a hot pan. Spread one tablespoon of the mixture on the pan to form a small pancake. Fry over medium heat for 2 to 3 minutes. Once it has browned, flip over and continue frying on the other side until crisp and golden brown. Repeat the same with the remaining of the mixture, pouring more oil into the pan if needed.
Serve immediately.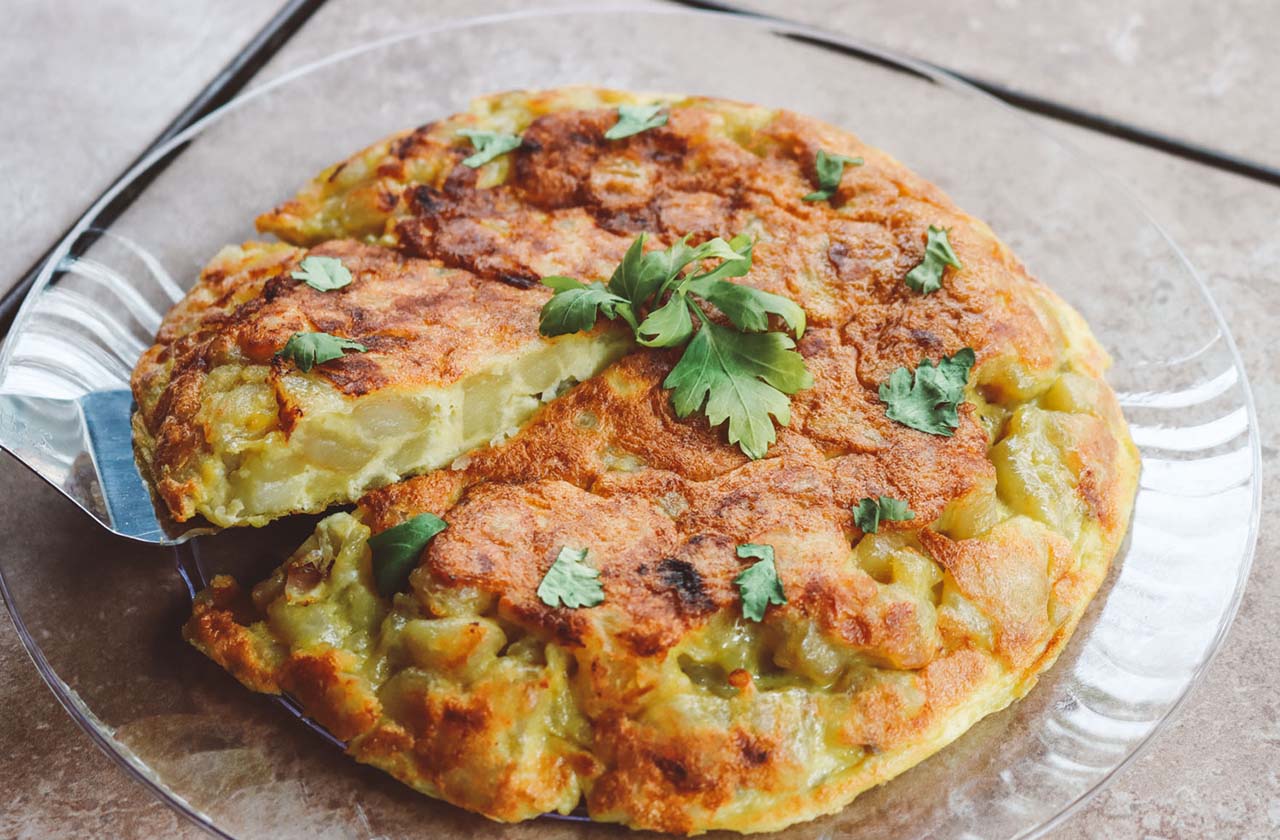 Draniki taste better when served immediately after cooking.
Tips and Tricks
Grate the onion together with the potatoes. It will help keep the grated potatoes from turning brown.
Use coconut oil for frying as it is highly resistant to oxidation at high heat.
When reheated, they lose their aroma and taste qualities. So I would recommend eating them right after cooking.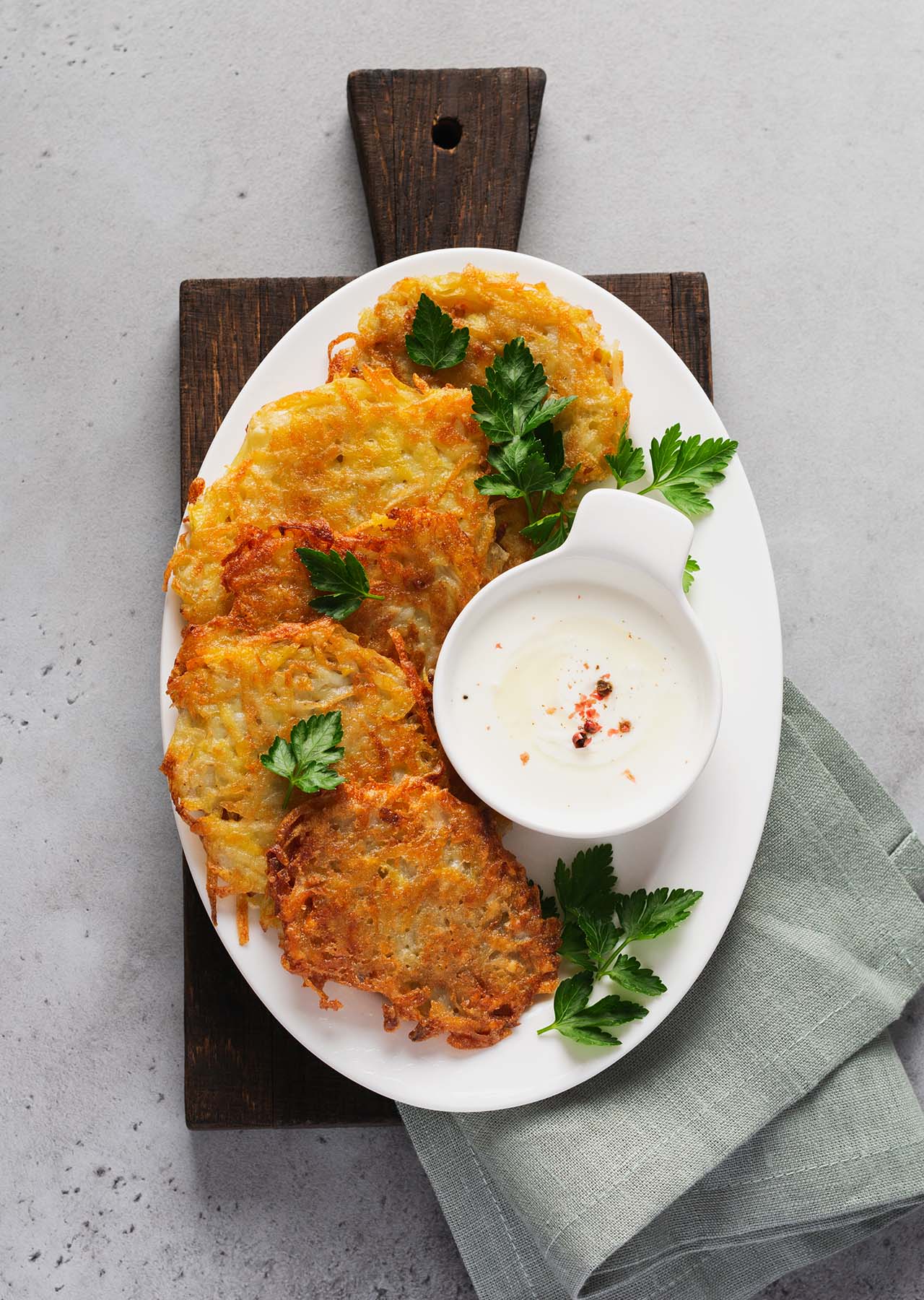 Want to find other delicious foods from around the world to make? Check out these recipes!