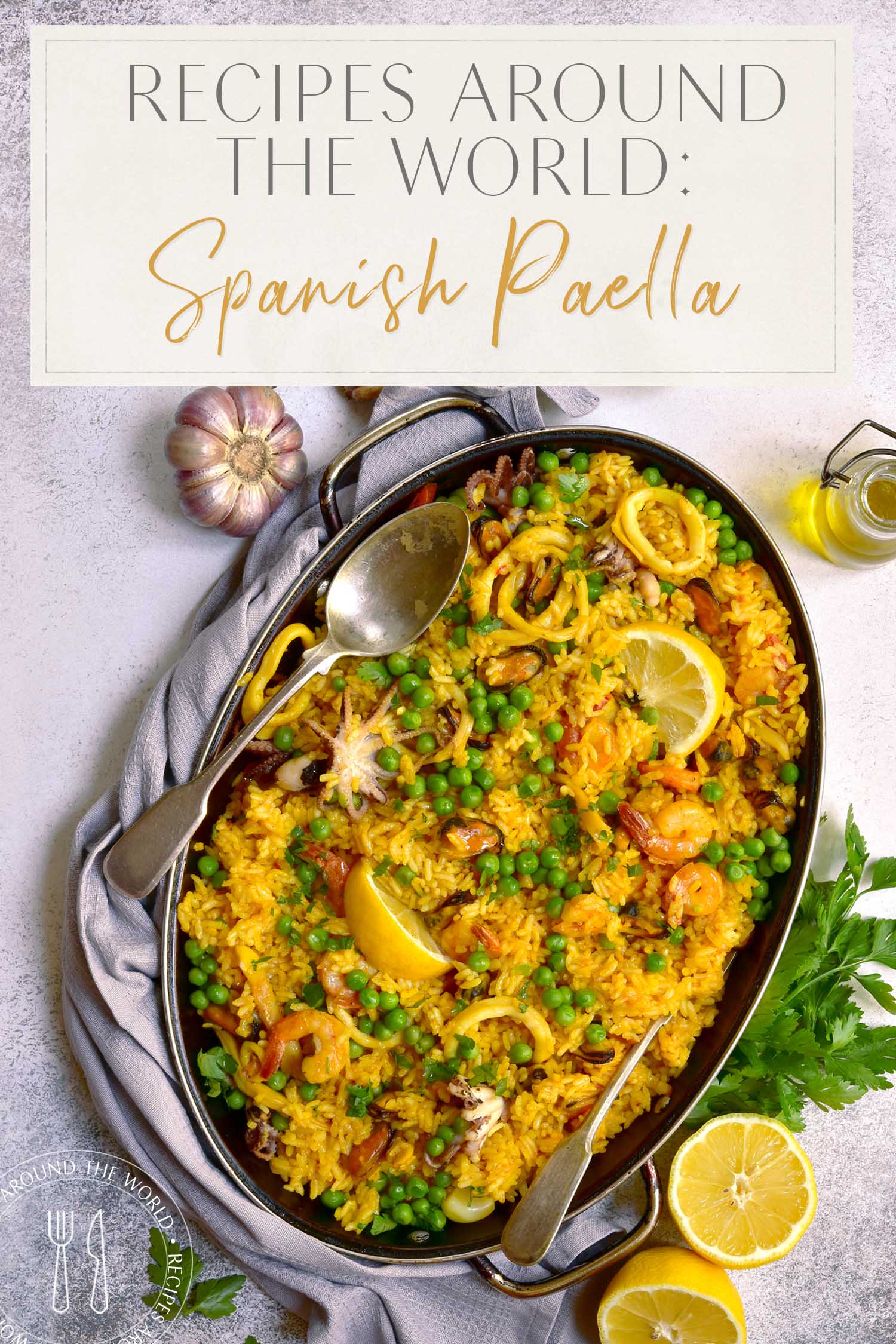 Shalyn of Sightseeing Senorita is bringing an iconic Spanish dish to the 'Recipes Around the World' series!
Every time I think of paella, I think of home. No, not Pittsburgh. I think of my second home: Spain. I spent a semester studying abroad in Seville, Spain and it was the best four months of my life.
Paella became part of my normal routine. I lived with a host family, and it was something we ate fairly regularly. It quickly became my favorite meal! I learned how to make it from taking a semester-long Spanish cooking class.
Throughout the semester we made a bunch of Spanish staples like gazpacho, bull's tail, torrijas, and Tortilla Española. Naturally, we saved the best for last and cooked paella on our last day of class as a farewell meal.
Here's the recipe for how to make Spanish Paella at home!


Cultural Context
I had to go to Madrid to fly home, but I had an extra day before my flight. My last meal in Spain after a whirlwind four months was none other than my beloved paella with a big glass of sangria.
I was lucky enough to travel to Barcelona and Valencia for a weekend, so I got to try my favorite meal in the birthplace of paella. How cool is that?
While paella is typically viewed as a quintessential Spanish cuisine, it's origins are rooted in the Valencia region. The word 'paella' refers to the frying pan the dish is cooked in—in Valencian, the regional language of Valencia.
There are many stories about how the dish came to be, but many talk about how the dish is a melding of cultures: Roman, Arab, and Valencian.
For Paella Valenciana, the dish was originally made around lunchtime for farmers. Those working around the rice fields would grab whatever was available: tomatoes, onions, snails, sometimes rabbit or duck. And all of it was cooked in a giant pan.

Ingredients
*Serves 8
3 plum tomatoes
32 oz chicken stock
3 cups Bomba rice
20 threads saffron
2 sprigs rosemary
3 tsp salt
1 tsp paprika
2 tablespoons of olive oil
6 boneless chicken thighs
1 red bell pepper
1 handful of snow peas or green beans



Recipe + Preparation
Pour olive oil into the pan and cook on medium heat.
Once olive oil simmers, add chicken. Salt and pepper the chicken.
Cook chicken until golden brown on both sides. While chicken cooks, dice tomatoes (or if you don't like big tomato chunks like me, puree them!).
Warm chicken stock in kettle or 4-quart saucepan on medium heat.
Combine rice, saffron, paprika, rosemary, and 1 tsp salt in mixing bowl. Dice red pepper, chop snow peas, and mince garlic.
When the chicken is cooked, move it to the outer edges of the pan.
Add the snow peas, red pepper, and garlic to the center and cook until they begin to soften and darken in color.
Add tomatoes and cook until liquid dissipates.
Add rice mixture to the center of the pan, stirring constantly for 1 minute.
Adjust the chicken on top of the rice, and add the chicken stock 1 cup at a time, making sure the rice is completely submerged in liquid.
Don't add a new cup until the liquid is absorbed.
Squeeze fresh lemon juice on top, and enjoy!



Tips and Tricks
The great thing about paella is that it's completely customizable.
I prefer to eat mine with chicken, but seafood paella is really popular as well. In Spain, I had it with a rabbit and snails! You can also get creative with the vegetables. I like to use snow peas, but green beans work well with this dish, too. Like I said, it's your dish!
Make sure you scrape the bottom of the pan when stirring.
I use an actual 15-inch paella pan, but this meal is totally doable with a regular skillet. I also like to chop my chicken into little pieces, which can be done before or after you cook it.
I wanted my paella to be super traditional, so I bought some Spanish Bomba rice. It's insanely absorbent, but no worries, you can use any rice you want, and it'll still taste really good!
If you can't make it to Spain, this dish is the next best thing. Enjoy!

Want to find other delicious foods from around the world to make? Check out these recipes!