My husband, Meyer, and I celebrated our little one and our last few months of being just "us" with a babymoon in Cabo at Esperanza, Auberge Resorts Collection! We were able to take advantage of their "Hola Bebé" babymoon package, and it exceeded our expectations.
We'd spend the whole day here doing a whole lotta nothing—and I'd do it the exact same way all over again!
We came back feeling relaxed and sunkissed…and ready to figure out our baby's nursery!
For babymoons, most ladies find the second trimester to be the best time to travel because the morning sickness is (typically) behind you but it's still easy enough to get around.
And that's what we chose to do! I am due in mid-June and we took our babymoon in mid-March when I was in the second trimester. Being located in San Diego, I particularly liked this location as it was only about a 2-hour flight down to Cabo, Mexico.
While this post is focused on their "Hola Bebé" babymoon package, I'll divulge all about the property.
Here's what it's like staying at Esperanza, Auberge Resorts Collection in Cabo!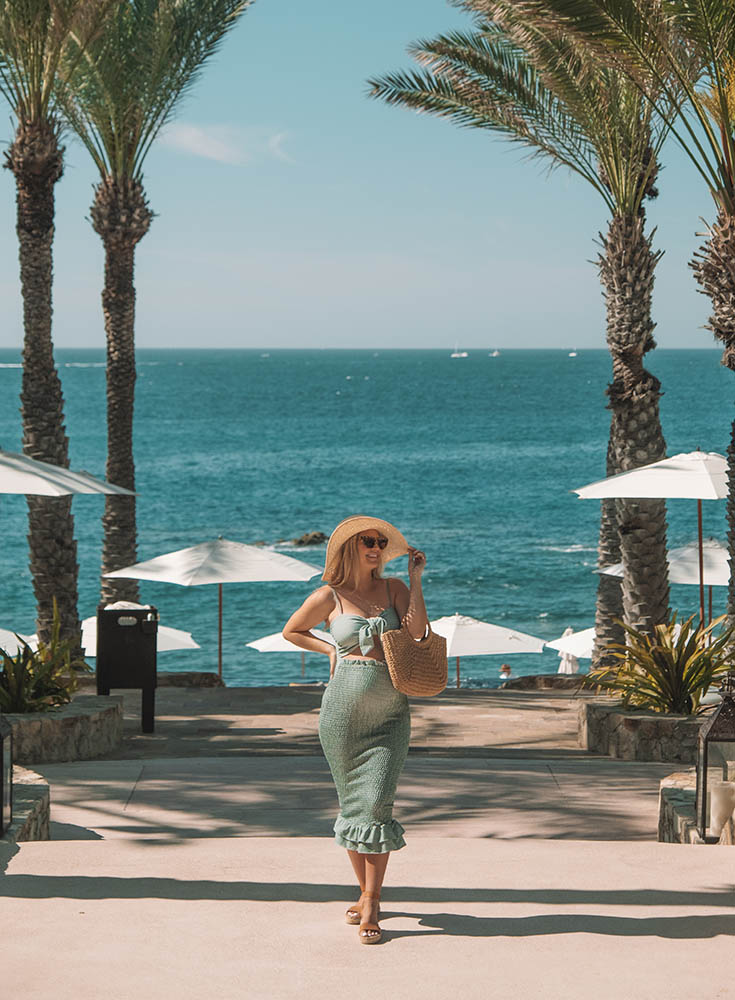 Hola Bebe Package
The babymoon package at Esperanza includes personalized amenities and experiences that allow time to pause for a moment to soak up the time before the baby arrives.
Here's what the package includes:
4-night stay in a Casita
Welcome Amenity
Special resort memory gift for the baby as a reminder of the babymoon
Parents-to-be pampering with spa treatments (prenatal for pregnant partners, Auberge Attunement massage for partners)
Night to Remember Dinner (private dinner for two with mocktails and cocktails)
Maternity/Paternity photoshoot 24/7 cravings menu for the expecting parents
Return to Esperanza as you evolve into a family with a complimentary night of babysitting (3 hours) when you book a stay in a villa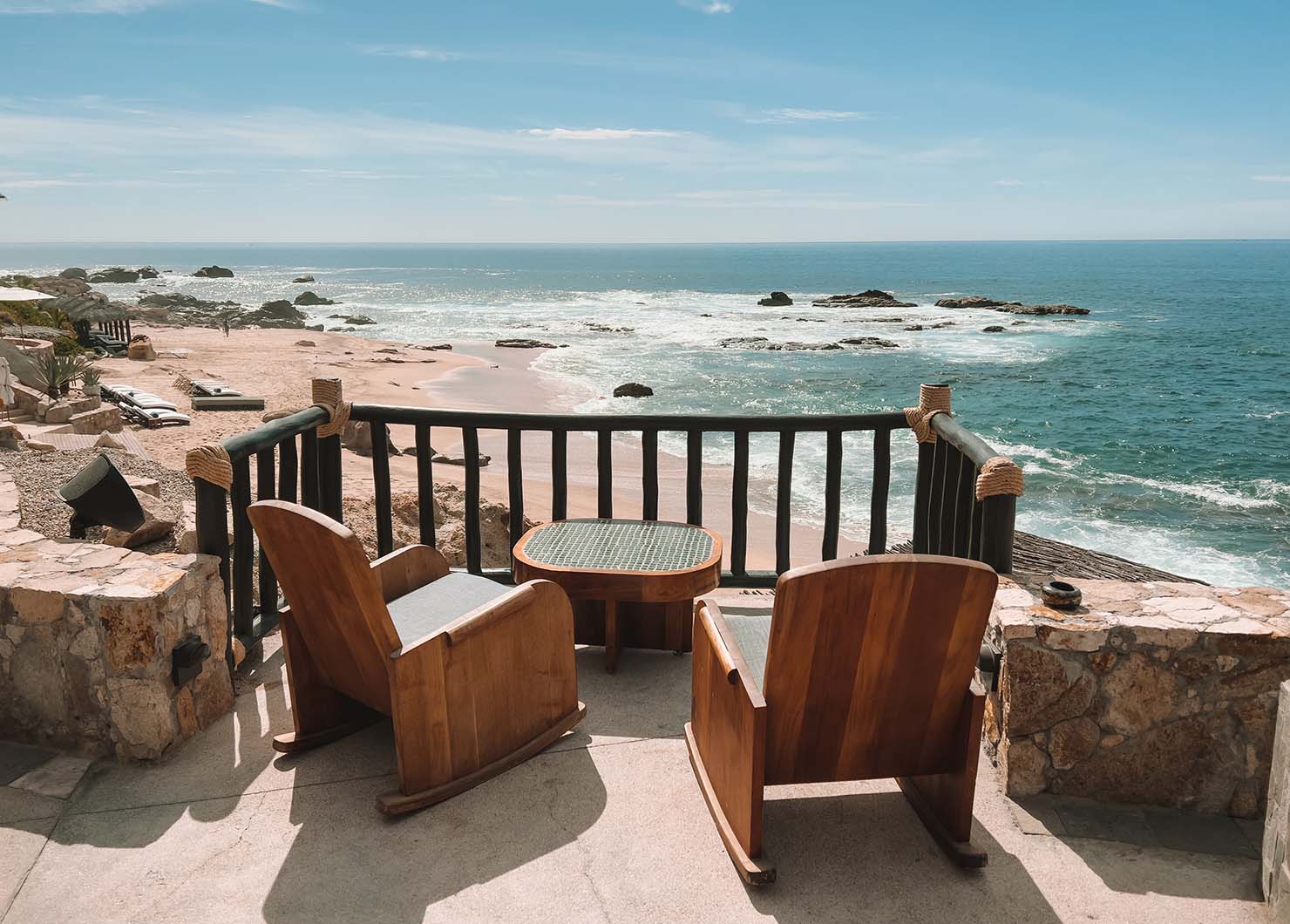 Getting There
Esperanza is conveniently located in Cabo, just about a 10-minute drive to the town, which is really nice if you're planning to do any sort of sailing excursions!
Esperanza does have transfers available to and from the airport that cost $160 each way.
Another route you could choose to do is book the Cabo Airport Shuttle, which is $120 round-trip, but it does require booking in advance!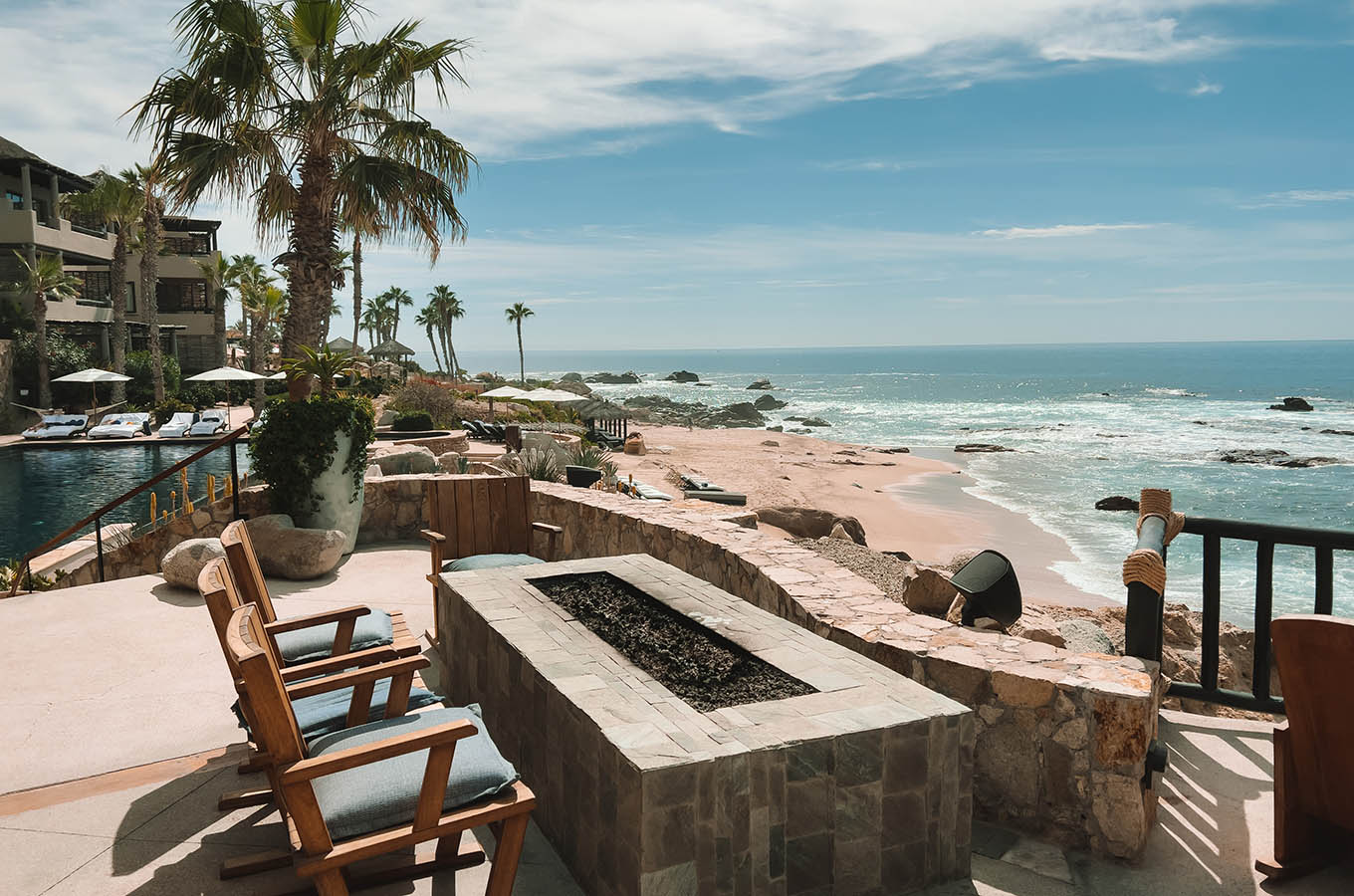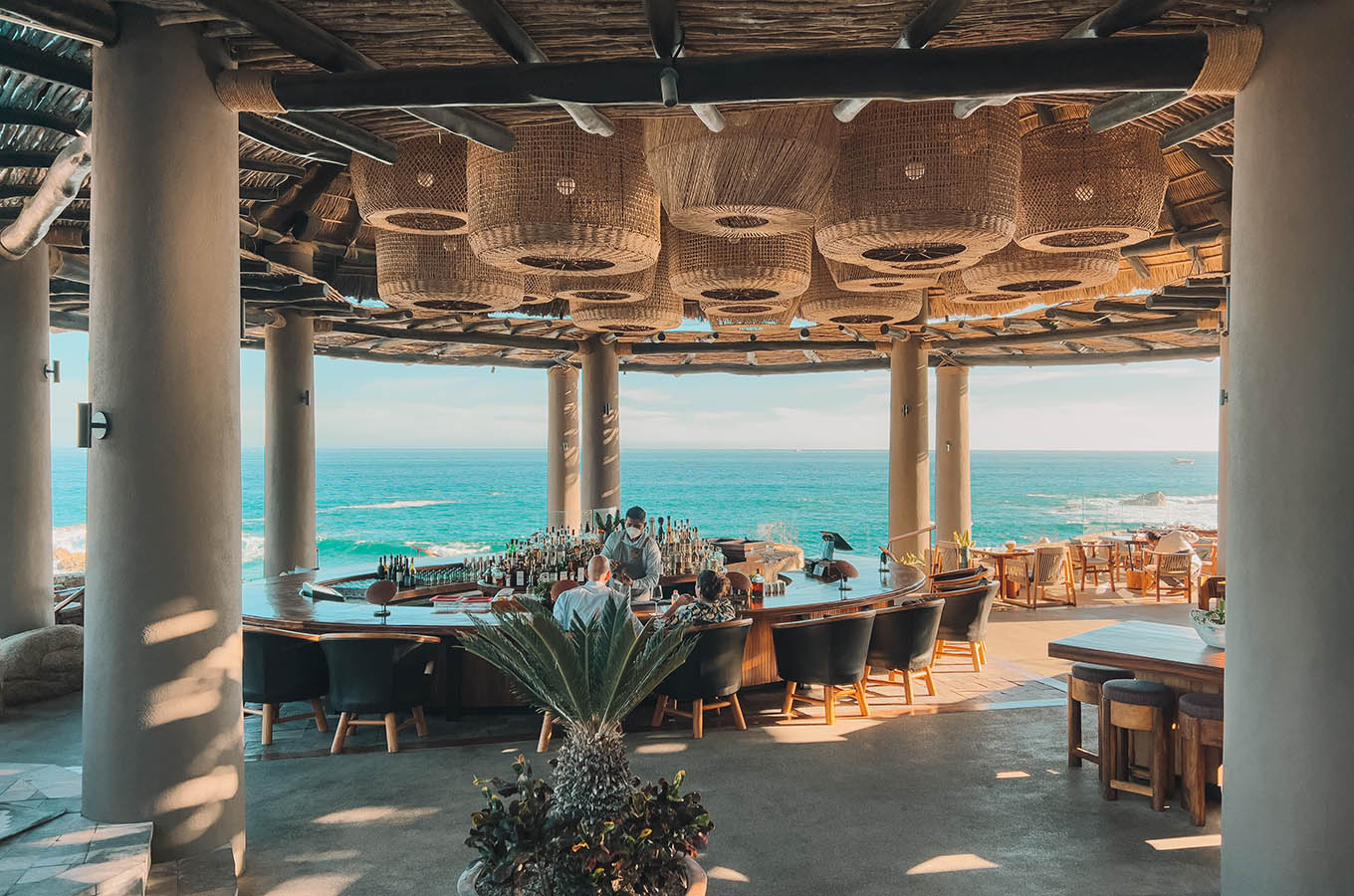 About the Property
If you're into candlelit lanterns, swaying palms, gorgeous cabanas, and wooden swing sets by the beach — Esperanza may just be the place for you.
The already luxe property was fully renovated just a few years ago and upped the modern amenities — like heated infinity pools (yes, please!). It's no surprise that Forbes Magazine named it one of the top 5-star resorts.
While the layout of the property is nice and vast, it doesn't feel like a huge resort; the architecture and layout are really beautiful. I also love that they have an adults-only pool and a family-friendly pool, which is really lovely depending on what kind of trip you're after.
Because half the property is guestrooms (around 50 or so), and the other half are accommodations for long-term residents, Esperanza's staff is able to provide top-notch service and incredible attention to detail.
The location is truly stunning — there are cliff views everywhere. And because of giant rock formations, there's a private beach only accessible from the property.
Oh, and, as an added bonus on arrival, they had a margarita, mocktail, fresh fruit, AND chips and salsa with guacamole waiting for us!
As a note, the property is dog-friendly – in case you'd like to bring your pup along!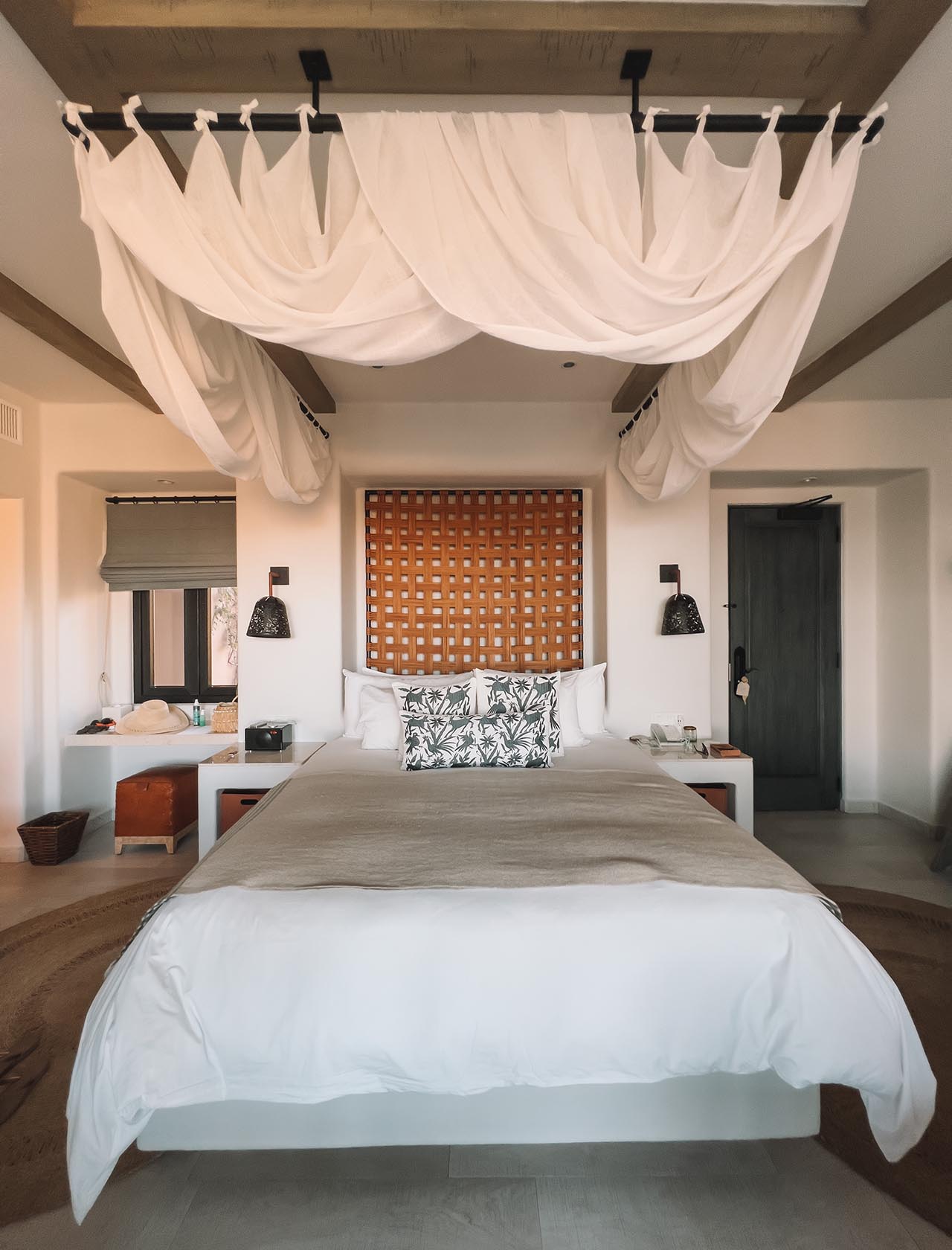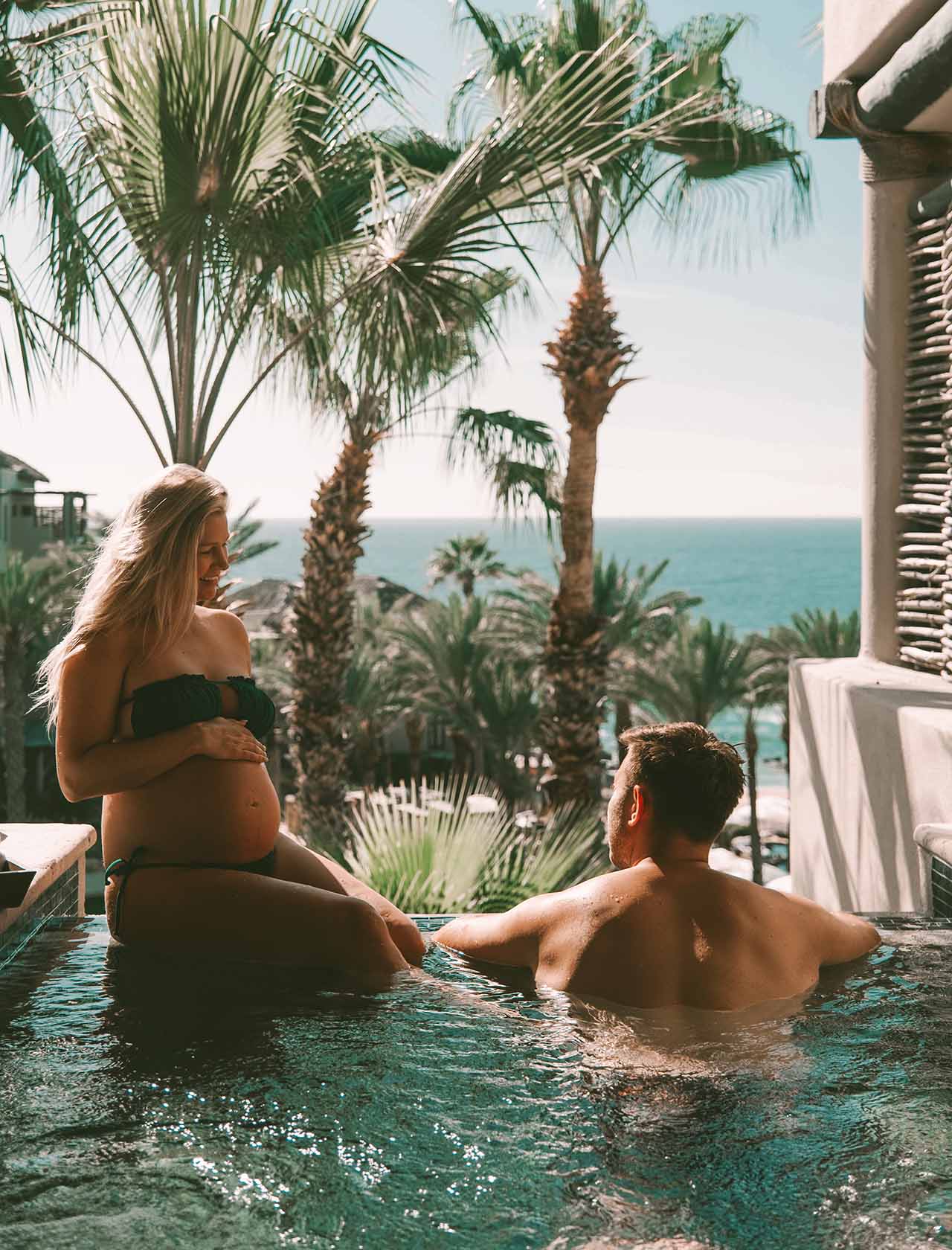 The Rooms
For our babymoon, we asked to be upgraded to a Spa Casita (one with a jacuzzi). You can call to inquire about availability for this and I would highly recommend doing so.
The room was AWESOME.
 I was really impressed with the size — we had more of a lawn view but could see the ocean.
But back to the jacuzzi! This upgrade was well worth it, in my opinion. Even on days that we spent nearly all day in the sun lounging by the pool, we'd come back to our villa and chill out in the jacuzzi, or on a couple of the nights we chose to hang out in it after dinner…or hop in it first thing in the morning.
I'm telling you, we got really good use out of the jacuzzi! We were in and out of it nearly the whole trip.
One really nice thing (especially being pregnant) is that as a guest, you can control the temperature of the spa. This isn't a readily available feature at most places, so I really appreciated that.
We were able to set the temperature to a safe temperature and kept ours around 92 degrees. For us, this was perfect as it was pretty warm out already.
What was really special about the babymoon package were the surprises left each night during turndown service — from delicious goodies to the bed covered in rose petals.
It was really lovely to be treated to a gift or treat each night and they kept the room super tidy!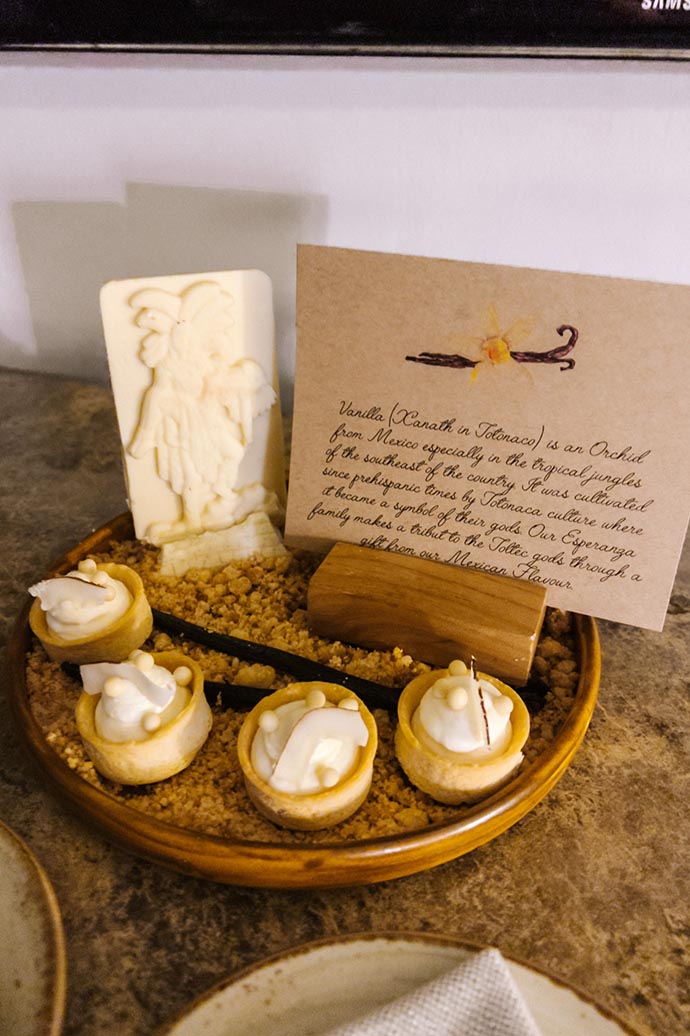 Back to the room — it was so beautiful and bright! There was a nicely-sized closet, dual vanity, and dual head shower. Plenty spacious for us.
I appreciate that they minimize the use of single-use plastic and all around the bathtub and shower were refillable shampoo and conditioner bottles, along with bath salts and different amenities.
I loved the aromatherapy candle with available essential oils, too! There was a menu where you could pick which scent you'd like (from relaxation to aphrodisiac)  and every day you could replace oil or swap it out. Loved this little feature!
Oh, and before I forget…the beds. Oh, the beds!
The beds were extremely comfortable AND they provided a body pillow.
Being near my 3rd trimester, I absolutely appreciate that as I can never sleep with enough pillows and they accommodate for that. I've never had another hotel do this.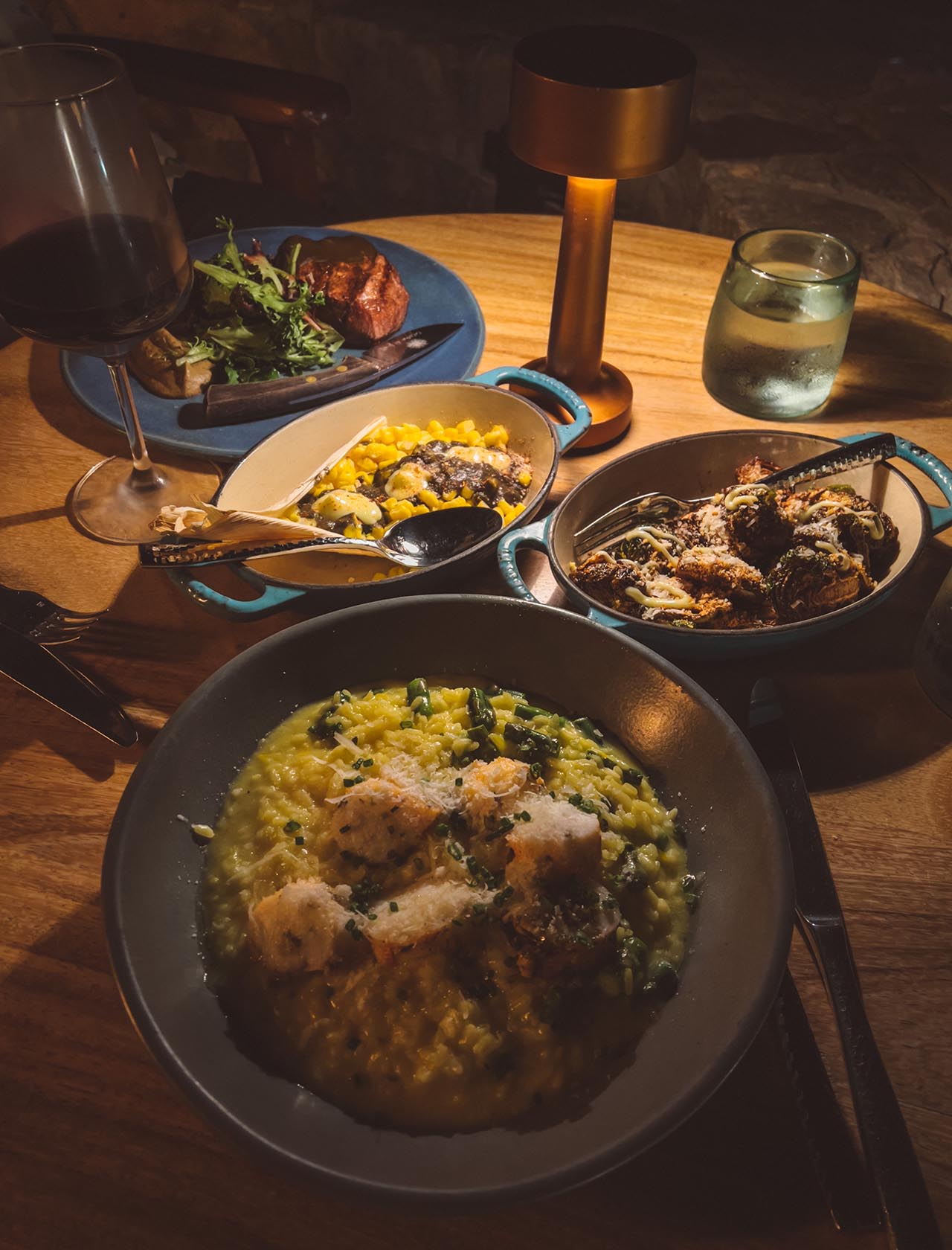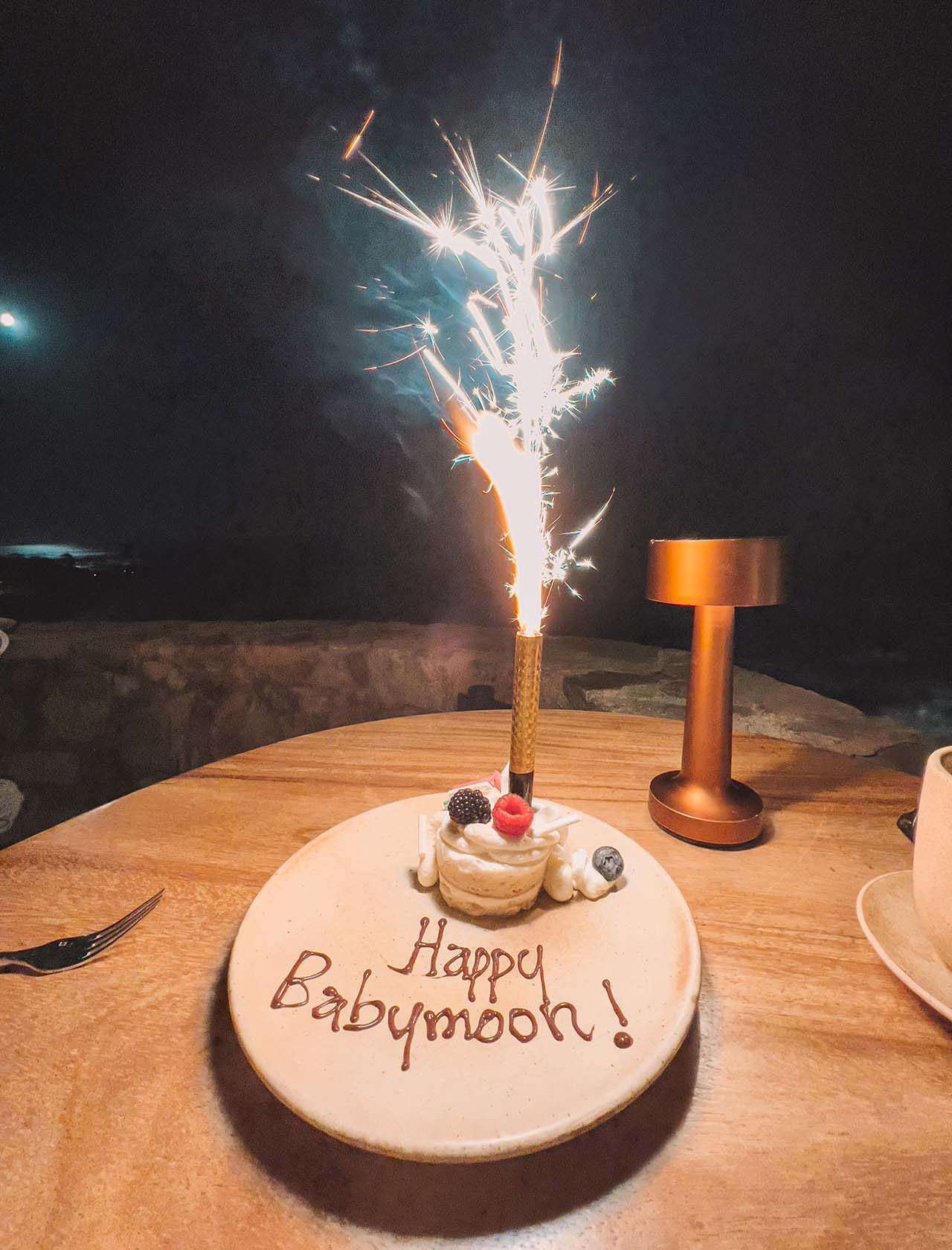 Dining
As for dining (always my favorite part), there are several amazing places to choose from around the resort.
Cucina del Mar
This place is super famous (and for good reason!), people from all over come to dine here. If you're going to do dinner here, make sure to book a reservation in advance.
Cucina del Mar shines for its food — it's all really delicious and features fresh ingredients.
They have a whole mocktail menu for mama-to-be! I got to choose from around 8 mocktail options, which isn't always found on normal menus, and I love that they treated it like a special experience.
We did breakfast there every morning and their breakfast buffet is insane — lots of fresh fruit along with a DIY chilaquiles, which is one of the best things I've ever experienced as someone who loves Mexican food for breakfast.
They also have an omelet station with all the usual fixings, along with pastries and fresh juice.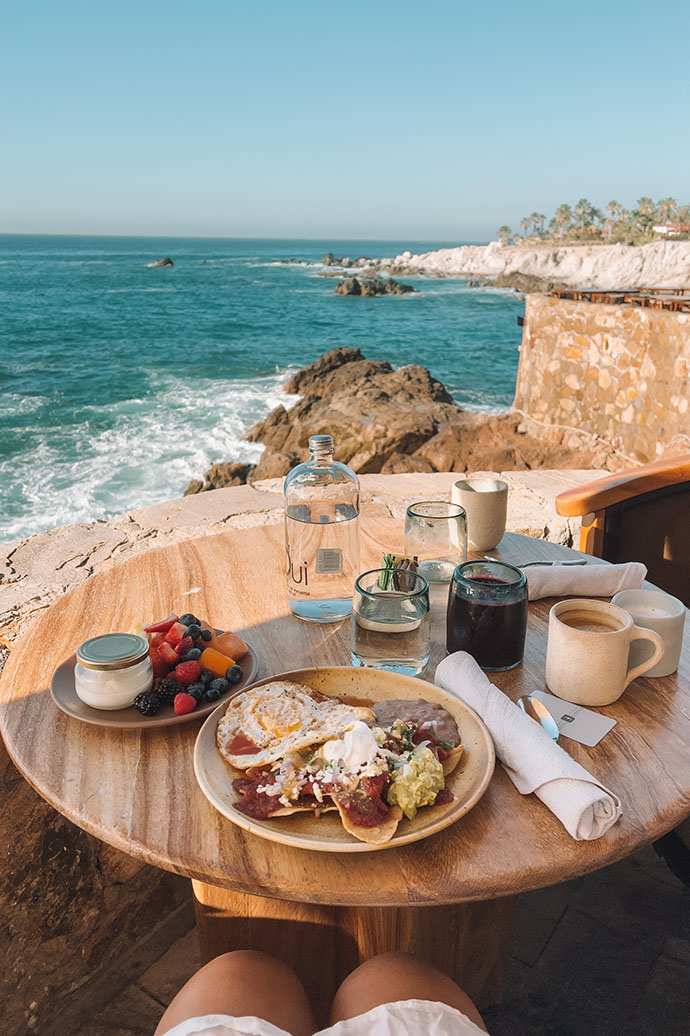 On the night that we had dinner at Cucina del Mar, we saw the most gorgeous display of fireworks.
We learned that they usually set fireworks off from the beach about 3x per week (as a heads up, it's not a guarantee). We happened to be there on a night when there was a wedding so as we were sitting at dinner they were setting the fireworks off and it was gorgeous.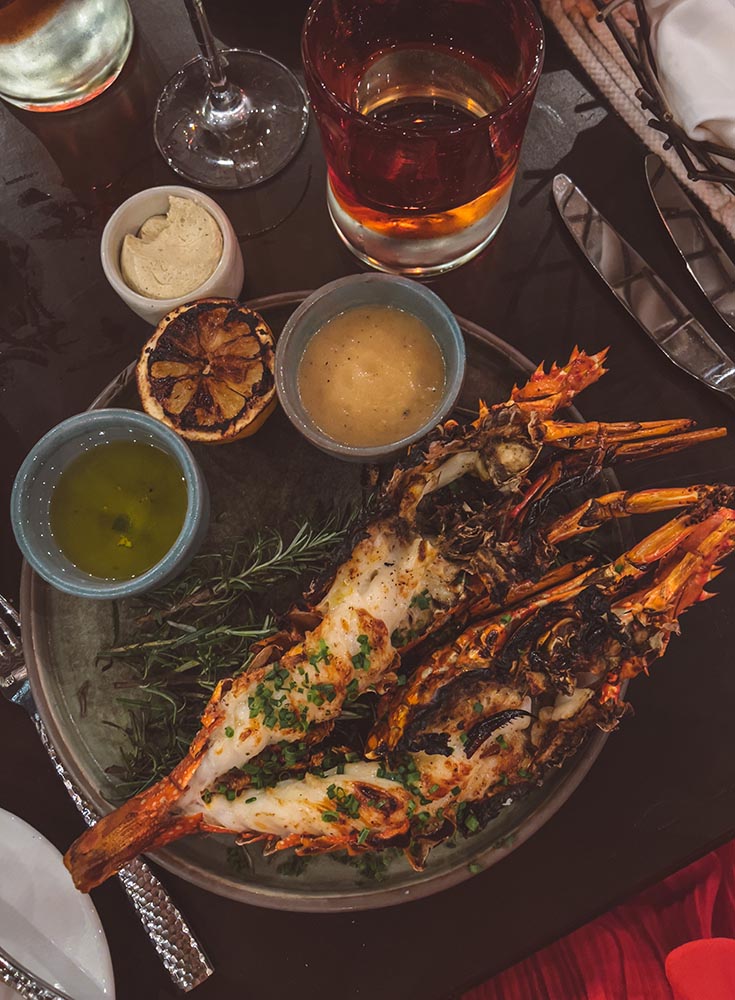 Night to Remember Dinner
As part of the Hola Bebé package, the Night to Remember Dinner is really special! They set up a completely private beachfront table and firepit for you, with a 3-course dinner, complete with mocktails. Really cool!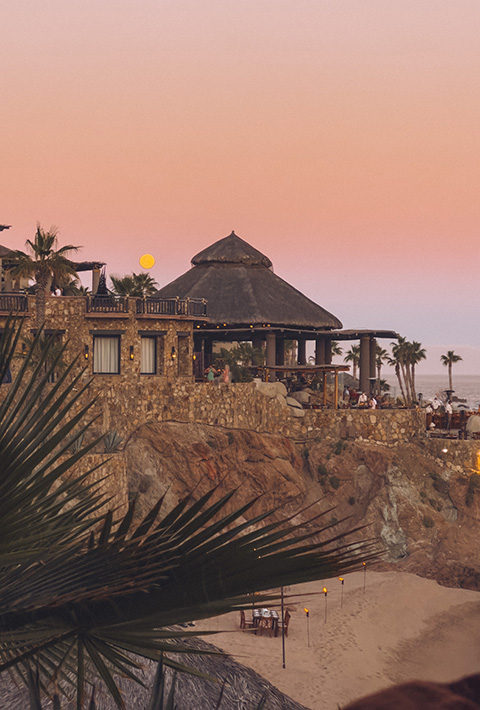 La Palapa Deck
This restaurant is located on the family pool side. We did dinner there our first night and it's a bit more casual Mexican cuisine. Still really good and the views are just as beautiful as Cucina del Mar.
It's less necessary to have reservations here, so this is a great option for lunch or dinner.
Las Estrellas
We didn't dine here, but it looked lovely and they do live music and have woodfired pizzas! It seems like a great option if you're traveling with a family or with a little one.

In-Room Dining
My husband and I LOVE a cozy night in (whether we're at home or traveling), so it was really lovely to spend a night in bed with the balcony doors open and let the fresh air blow in while watching a movie. And, of course, get room service.
I was torn between the grilled cheese and tacos, but when in Mexico go for the tacos… Oh, and they had churros for dessert!
So delish!
As a note, they also offer a 24/7 Cravings Menu tailored to all the "cravings" a pregnant woman might want (i.e. pickles, peanut butter, ice cream) for those late-night cravings.
Unfortunately, this Cravings Menu missed our room — but it should normally be included in the Hola Bebé package. If for whatever reason you don't see it in your room, make sure to ask for it. 🙂

The Main Adults-Only Pool
The Pools & Spa
The Pools
We spent most of our days down at the Adult Pool which is exactly what we wanted to do! There are two levels with beach access, and though it's not a swimmable beach, it's really lovely to be on the water.
Most days we ordered lunch at the pool — it's a limited menu but still good – tacos, salads, and that sort of thing.
As a bonus, they keep the pool heated to 90 degrees which, in my opinion, is the perfect pool temperature!
All of the staff around the pool are great, they will place towels out for you and there's an SPF Station in case you forgot sunscreen! They are very accommodating to moving umbrellas to sun or shade and will help you there.
They also bring you a YETI Cooler with ice water, which is a really lovely touch! So you've always got cold water bottles at your seat.
Throughout the day they offer fresh fruit and chamoy (which is a chili sauce), and little nibbles that are complimentary.
Helpful Tips for the Pools
The pools tend to fill up if you go later in the day and they don't allow for seat reservations. My advice would be to go to the pool before breakfast, pick your chair and get things set up.
So long as you take less than 45 minutes at breakfast, they don't have a problem with this. That way you can go straight from breakfast to lounge by the pool.
The Spa
Included in the Hola Bebé package are spa treatments for both you and your partner (woohoo!).
I've had multiple prenatal massages and most of them have been pretty disappointing… However, the woman who did my massage had magic hands, and pregnant or not…
This was probably the best massage I've ever had.
Meyer came out of his saying the same thing, and in speaking to other people they all had the same feedback. Anyway, the massages here are out of this world.
But wait, there's more!
Before you start the massage, you're given a menu and they take your drink order. After your treatment, you go to a relaxation area where they deliver your drink of choice. We both happened to choose coconut water and it came served in a chilled coconut along with fresh fruit.

This was such a nice touch and different than the typical water or tea service. It was a lovely treat.
Helpful Tip
Here's a quick tip and something I always plan for when going on a beach vacation. I book my massage for the first day — just in case of a sunburn, it's very unpleasant at that point.
While I always wear SPF and generally avoid trying to get sunburnt, it does happen sometimes. Definitely book your massage in advance and consider doing it at the start of your trip.

Activities
The Gym & Sports
Meyer took advantage of the gym on the property and went every day. I did a yoga class, and there are complimentary fitness things going on throughout the day — things like beach yoga, reformer pilates, that sort of thing. Just check the schedule to find what you'd like to do.
They also have tennis courts and pickleball courts — we didn't go even though we love it, but the pool sounded more appealing. They also do beginner clinics, so check out the schedule and amenities as there's a lot to do on the property!
 Maternity Paternity Photoshoot
As part of the Babymoon package, you can do a Maternity/Paternity photoshoot to document your time, which is super sweet.
One thing to note here is that I felt like this was a little misleading — while the photoshoot is part of the package, the actual photos are not included. So you can do the photoshoot, which is included, but if you want to purchase any of the photos, packages start around $400.
It's not an unreasonable amount for a maternity photoshoot and to document a special memory, but I wish it was more clear because I was under the impression that the photos were included. So just be mindful that you have to pay extra for that.
Other Activities
As for other activities, they've got a number of paid things you can sign up for.  You can sign up for a cooking class, tequila tasting class, and even go horseback riding. There's also cornhole available — a personal fave. 😉
We booked an off-site sailing cruise and desperately needed to pick up Dramamine for Meyer.
Fortunately, there's an El Mercado on the property — a little coffee shop and marketplace to get medicine, snacks, and things like that.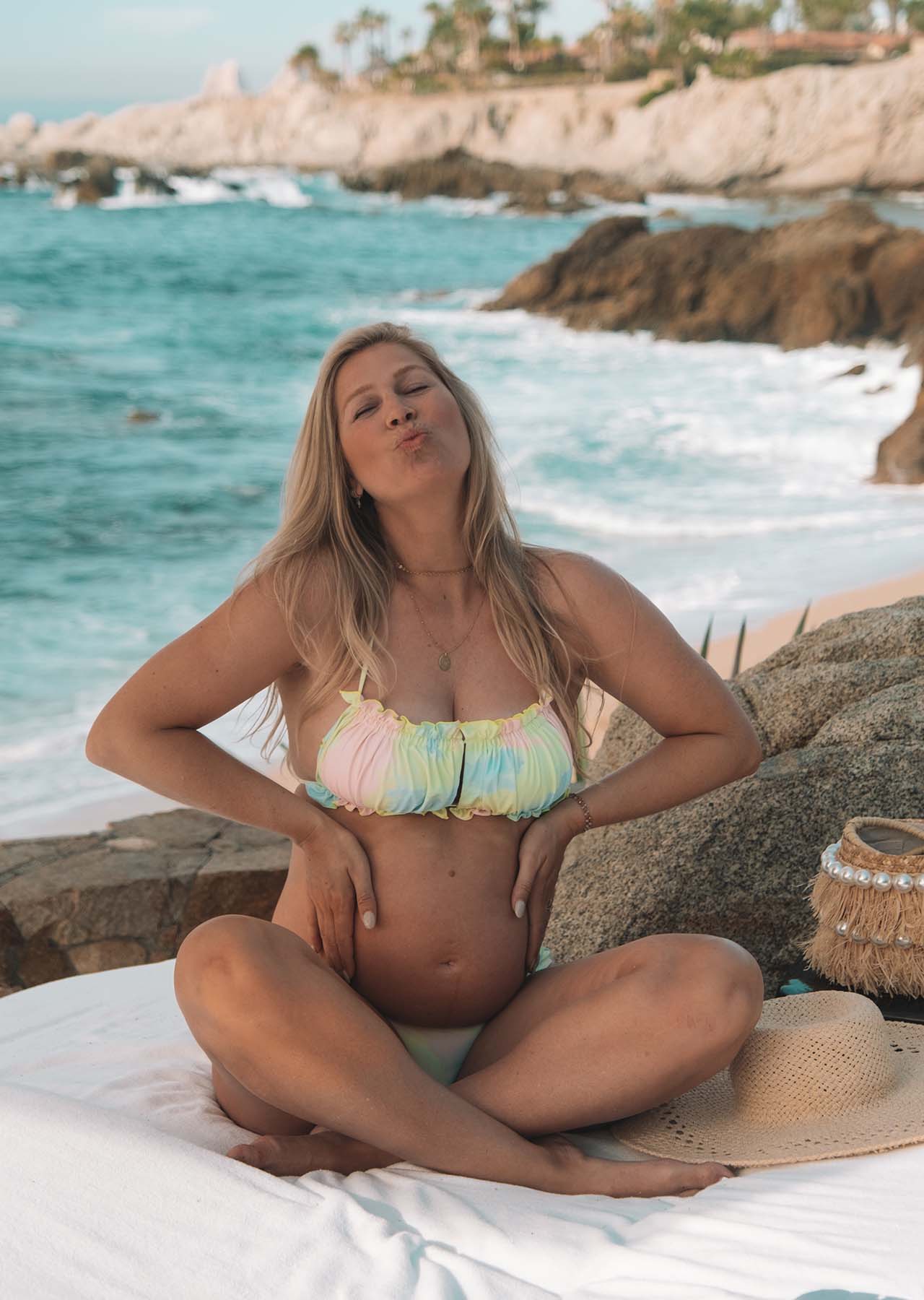 In My Opinion
Overall, our stay was incredible and the ideal spot for a babymoon!
The staff is amazing, as were all of our servers. Everyone was friendly and so accomodating and made the experience very lovely.
As a note regarding Covid safety, traveling to Mexico has been one of the easiest things with places to navigate as there are minimal restrictions for entering but plenty of safety measures being taken. All the staff was masked and hand sanitizer was available throughout the property.
On departure, you have the option to book a Rapid Test through the hotel $50 per person, and it only takes 30 minutes. They walk you through it and make the process super seamless.
Additionally, they left a PPE kit for us which had latex gloves, masks, and alcohol wipes for our flight, which was very thoughtful.
One last thing that's super sweet is if you return to Esperanza in the future as a family, they offer one complimentary night of babysitting for your stay (3 hours). We'll definitely use that to our advantage in the future!
Click this link to book and find more information about dates and pricing. The package starts at $1125 per night, but may fluctuate depending on the season and nights chosen.

More Information
Hotel: Esperanza, Auberge Resorts Collection
Location: Cabo San Lucas, Mexico
Accommodation: Luxury Resort
Price Range: $$$

Thank you to Esperanza, Auberge Resorts Collection for hosting me during my stay. As always, the thoughts and opinions expressed here are entirely my own.