Many people think New Zealand is an expensive country to visit and travel. And although this is true to some extent, it is also very possible to travel New Zealand on a budget. In fact, with the right tips and planning, you can easily explore New Zealand without breaking the bank!
The best way to travel New Zealand on a budget is on a road trip. This way, you can get around to the best free things to do in New Zealand easily and cheaply, camp often to save money on accommodation, and also have the freedom to explore with your own wheels.
I actually spent more than three months traveling around New Zealand in a campervan.
On a trip this long, of course, I had a tight budget. But I managed to see and experience pretty much all of the top attractions while being on a backpacker budget. I'm going to tell you how exactly I managed to do this and how you can also travel around New Zealand for cheap!
Here's how to travel New Zealand on a budget!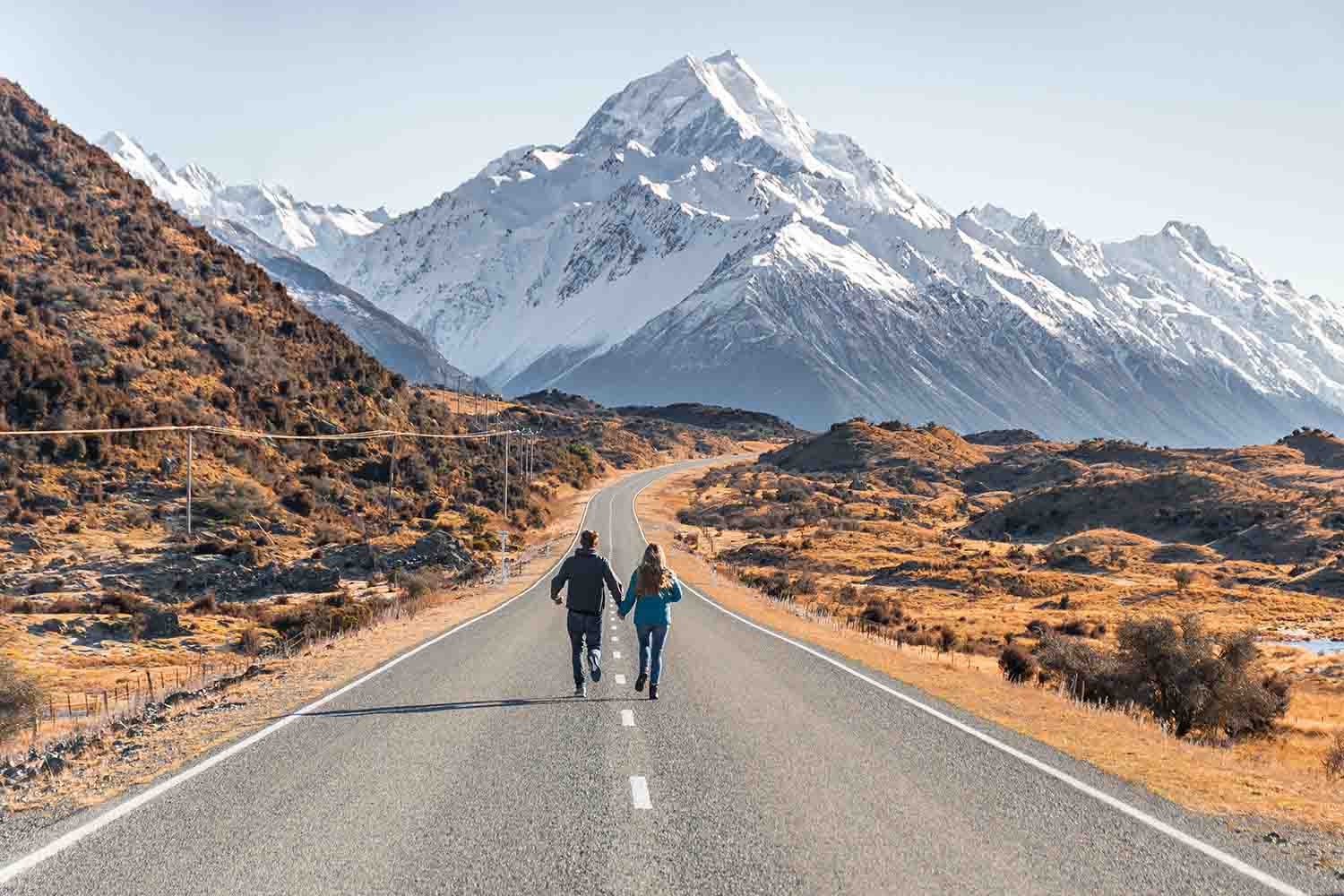 The iconic road to Mount Cook
The Best  Time to Visit New Zealand
New Zealand is one of those countries that is amazing all year round, but different seasons offer different experiences—and price tags!
The most expensive time to visit New Zealand is in summer which runs from the beginning of December to the end of February. This is the busiest time of year for tourists and as such, prices for attractions, car and campervan rentals, and hostels are inflated.
Winter is also a busy time to visit New Zealand simply for skiing and snowboarding. In all honesty, winter makes going on a budget road trip a little tricky with below zero temperatures, road closures, limited campsites, as well as limited free activities such as hikes.
To save some money, consider visiting New Zealand in the shoulder seasons instead.
October and November are spring and although it isn't as warm as the summer months, there won't be snow on the ground making hiking and road-tripping easy! The autumn months of March and April are also a great alternative to the busy summer months. Plus, the beautiful autumn trees are something really special!

The first step to traveling New Zealand on a budget is to get yourself a self-contained campervan!
About Getting a Self-Contained Campervan
What is a self-contained campervan exactly?
Well, it is a van that has been turned into a tiny home for camping consisting of a bed (generally for two people), a kitchen complete with gas cookers and a sink, storage for clothing, and even a toilet! These vans come with a certificate that means they meet certain requirements to be considered liveable, or as they call it, "self-contained."
Renting a self-contained campervan for your road trip means that you can freedom camp around New Zealand. Freedom camping is a term Kiwis use for "camping for free" either on the side of the road wherever you choose, or in designated freedom camping sites.
Being able to sleep in your campervan will save you tons of money during your New Zealand road trip! Not to mention, it gives you a whole other level of freedom! But there are lots of things you need to know before renting a campervan in New Zealand.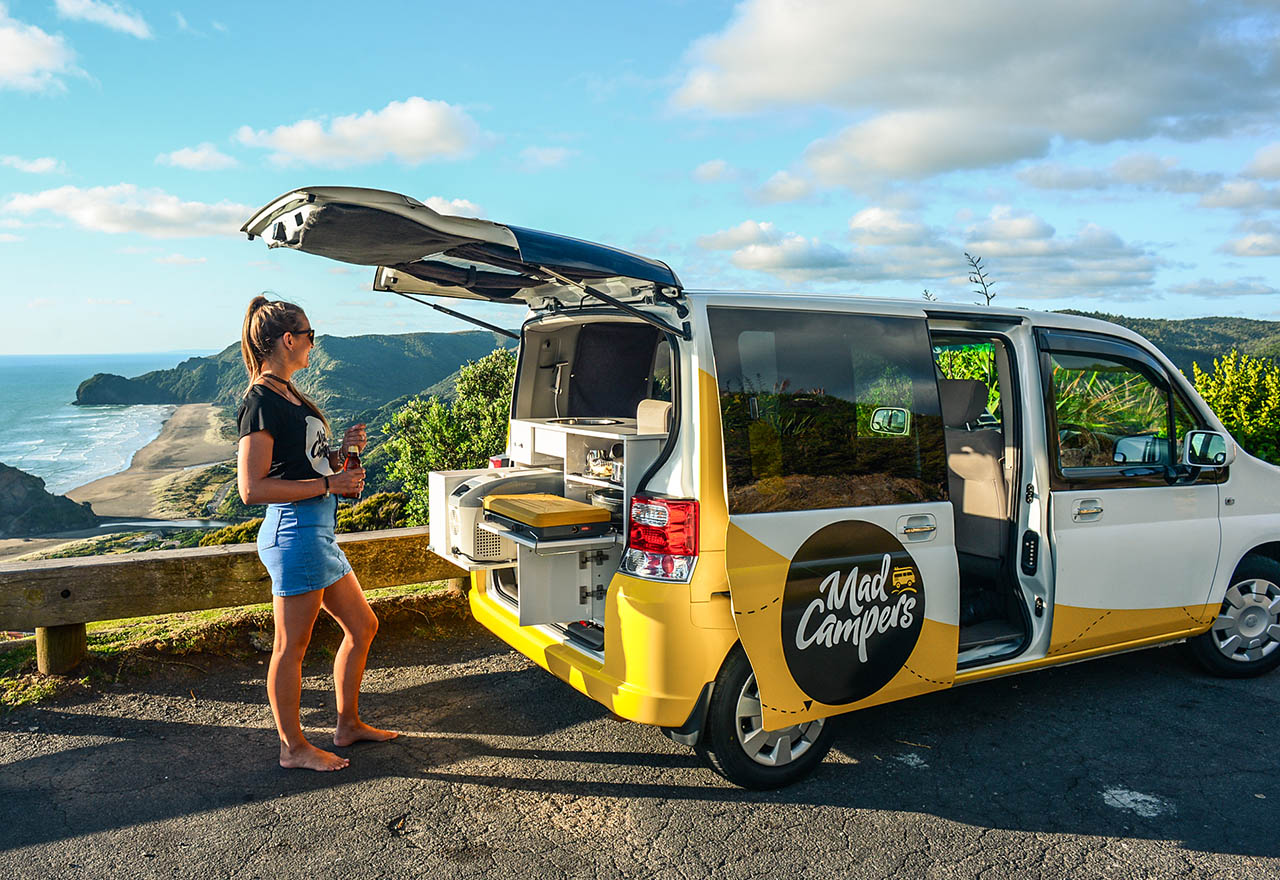 Tips for Renting a Campervan
First of all, it isn't super cheap, but it is possible to get a decent deal especially if you choose a budget-oriented rental company such as Jucy, Mad Campers, Pod Rentals, or Happy Campers.
Second, be sure to pick up and drop off your campervan in the same location.
By doing this, you will be able to skip the very expensive relocation fee campervan rental companies charge. You can choose from lots of different New Zealand road trip itineraries that do a "loop" and will end in the same place you started your road trip to solve this problem.
Also, be sure to get travel insurance that will cover your campervan rental excess (also known as a deductible) in case you do have an accident. Campervan rentals often come with a basic insurance cover, but the excess is very high, and reducing it lower is also very costly.
Good travel insurance will cover the excess for you and save you lots of money in case there is a problem!
And last but not least, be sure to book your campervan as far in advance as possible! The best deals always sell out first! The website Motorhome Republic is a great place to compare campervans available, the different prices, and book in advance.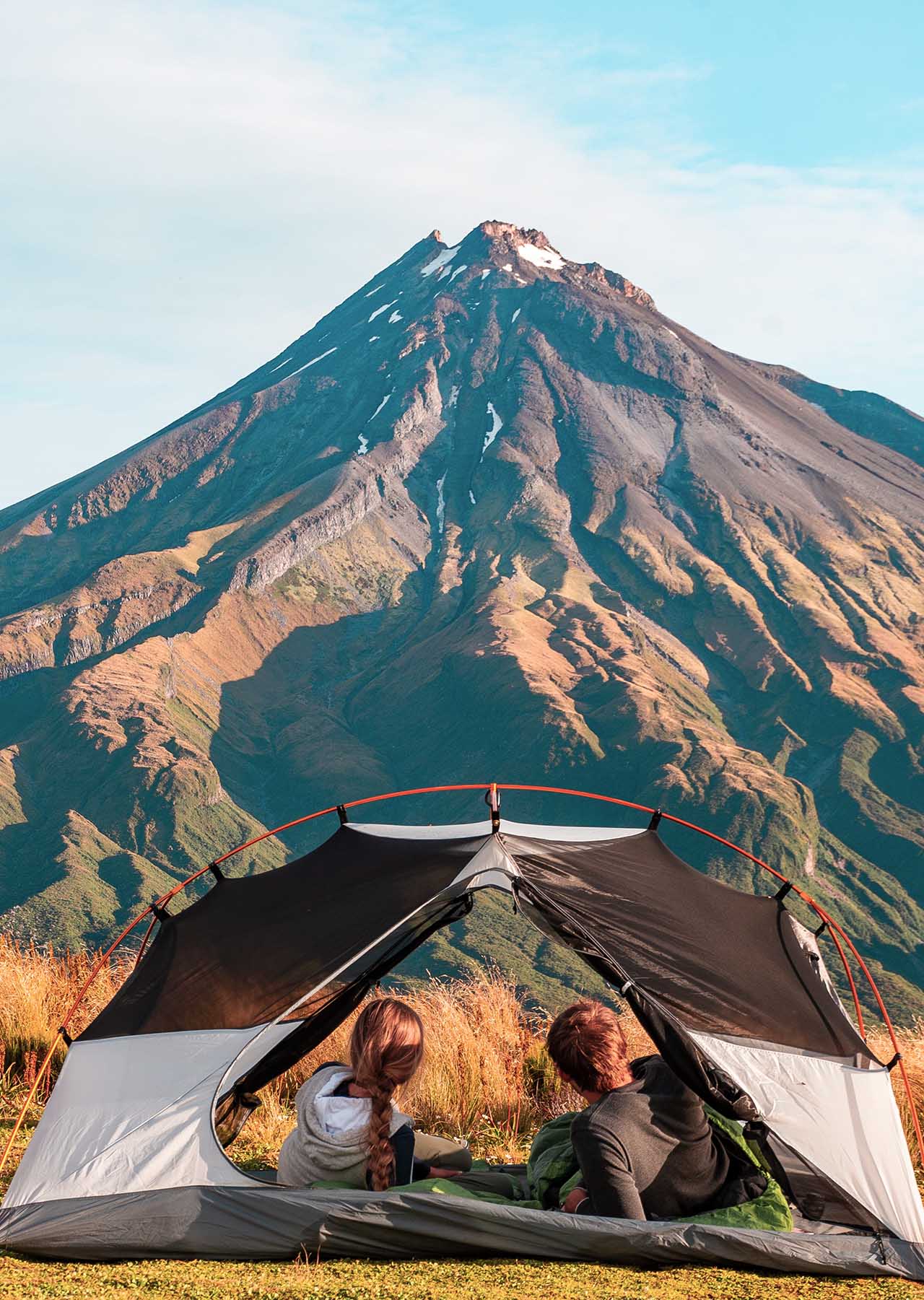 Where to Stay
Once you've got your wheels and a way to get around New Zealand, it's time to figure out where you're going to sleep each night! For someone traveling New Zealand on a budget, you have two options, either camp or stay in hostels.
For those without a campervan or who dislike camping, hostels are your best budget option for accommodation in New Zealand.
In all towns and cities around New Zealand, you will find budget hostels for backpackers. A dorm bed in a hostel ranges in prices from about $25 to $40 NZD depending on how many beds are in the room and the facilities offered by the hostel.
You can find hostels to book easily on both Hostelworld and Booking.com.
Personally, I recommend camping in New Zealand. There are some pretty stunning campsites spread over the country and camping is also cheaper than hostels! There are three different styles of camping in New Zealand:
Freedom Camping
This is where you just park your campervan (where allowed by local councils) and camp for free.
It is completely free but you must be sleeping in a self-contained certified campervan. You can find designated freedom camping sites on the app Campermate, but in some areas of New Zealand, you can also just park wherever and in some cases, just sleep on the side of the road.
The benefit of staying in designated freedom camping sites is that they often have basic bathroom facilities available and sometimes even coin-operated showers. Freedom camping sites do have limited spaces and are first come first serve.
Department of Conservation (DOC) Operated Campsites
These are low budget campsites located all around New Zealand.
They are owned and operated by the Department of Conservation and are typically pretty cheap at around $12-15 NZD per person per night.
The facilities are usually very basic with pit toilets (outhouses) and access to some running water. You are allowed to set up a tent at these campsites and you don't need your vehicle to be self-contained. They are typically a first-come-first-serve basis but aren't often full.
Paid Holiday Parks
These are privately owned campgrounds and although pricier, they are a lot nicer in terms of facilities.
You'll often get a powered campsite, access to a full communal kitchen, laundry facilities, and hot showers. Some holiday parks also have pools or communal games and TV rooms.
At a holiday park, you can set up a tent if you'd like and it is not required that your campervan is self-contained. Expect to pay between $20-60 NZD per night per campsite. During the peak summer season, you should book holiday parks in advance.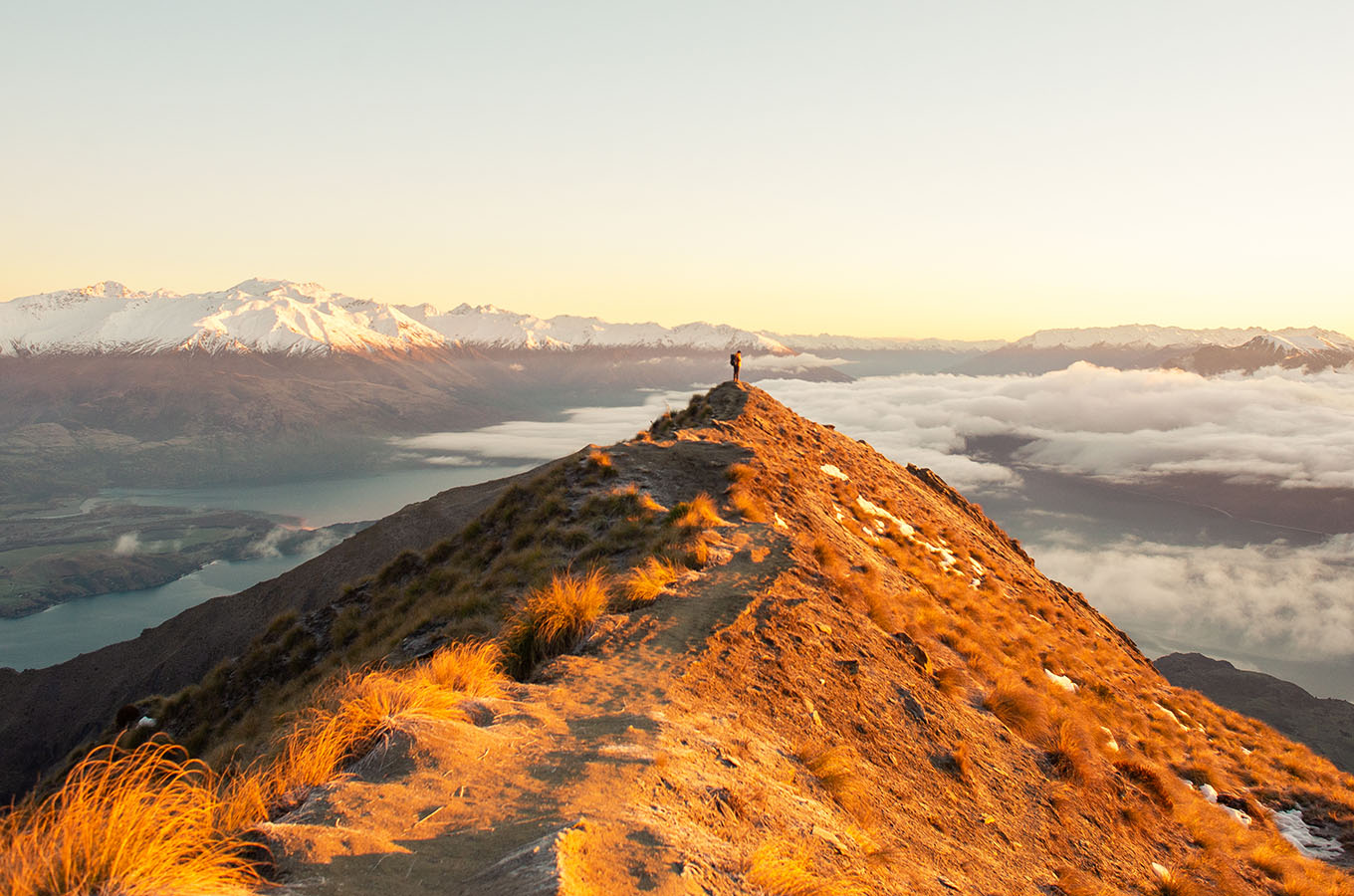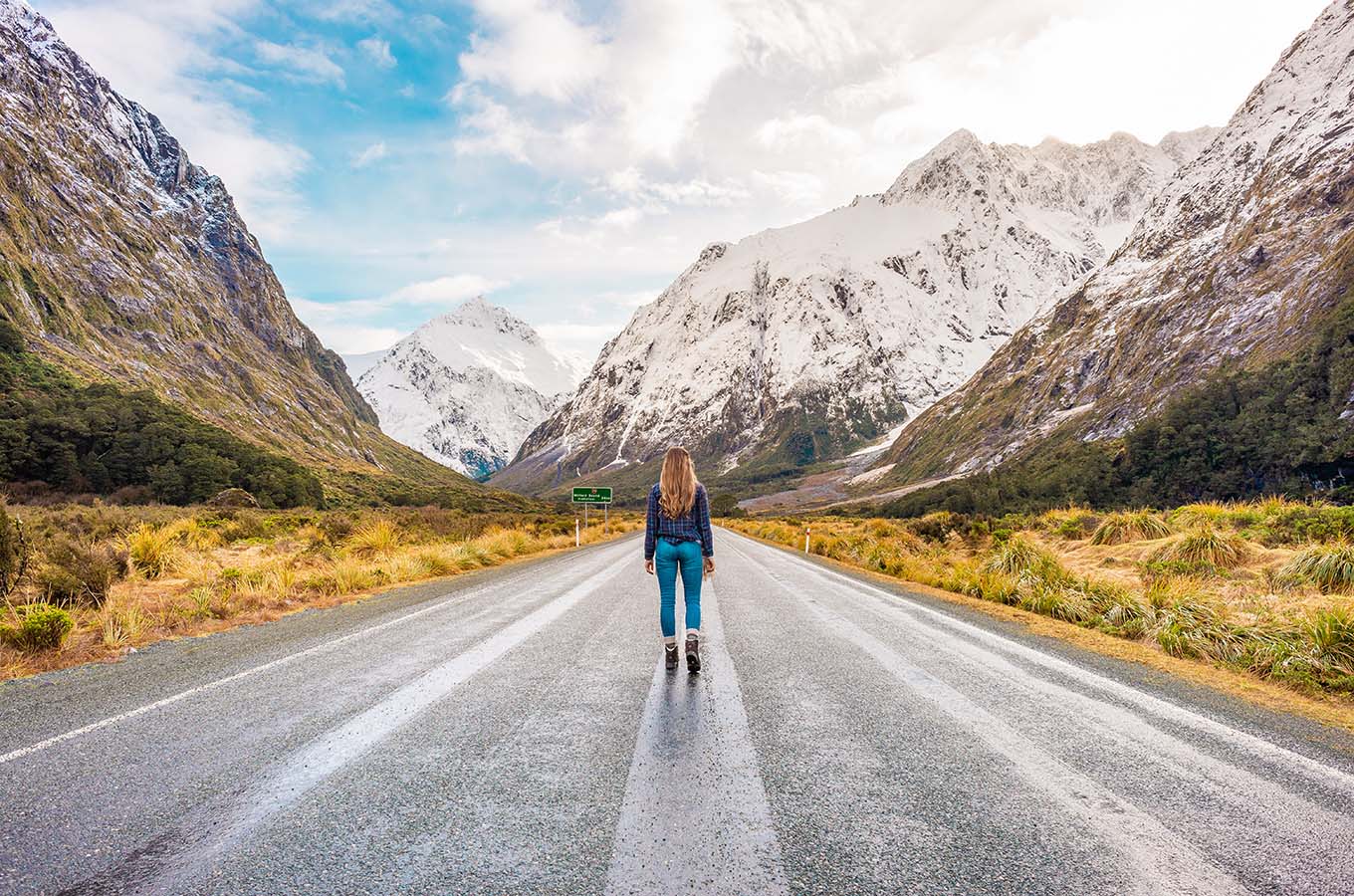 Tips for Saving Money
There are a few other handy budget-saving tips that I want to share with you before you visit New Zealand. These are tips I learned along the way and would've been helpful to know from the start:
Use Deal Websites
You can save a lot of money by using websites that offer special promotions and deals. In New Zealand, the website Bookme.co.nz is great for finding discounted activities and tours, whereas the website Firsttable.co.nz will save you 50% at selected restaurants.
Freedom Camp
As I mentioned above, camping for free is the biggest budget saver in New Zealand. There are strict rules around where you can and can't freedom camp, though using the app Campermate will help you know where freedom camping is and isn't allowed.
Gas Points + Rewards Wards
On a New Zealand road trip, you'll go through a lot of gas. Sign up to rewards or discount cards at popular fuel stations around the country whenever you can. Most fuel stations offer regular discounts of 4 cents per liter immediately just for signing up!
Plan for Free Activities
There are a lot of free things to do in New Zealand that will help keep you on budget. Below I've listed some of my favorite free things to do in New Zealand so you can add them to your bucket list!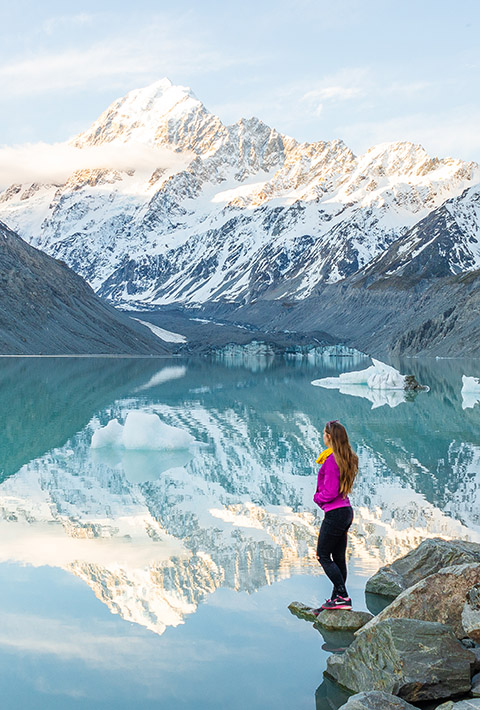 Free Things to Do
Traveling New Zealand is all about enjoying nature, and as such, lots of the best things to do in New Zealand are 100% free! Here are some of the top free activities you can check out:
Hiking: Hiking is very popular in New Zealand and there are countless hikes visitors can tackle. Some of my personal favorite day hikes include Tongariro Crossing, Cathedral Cove, Roy's Peak, Ben Lomond, Lake Marian, and the Pinnacles.
Waipu Glow Worm Caves: Most glow worm caves in New Zealand are expensive to visit, except for the Waipu Caves that are completely free! These caves are located about a 3-hour drive north of Auckland and it is also a designated freedom camping site!
Self-Driven Lord of the Rings Tour: One of the absolute best free things to do in Queenstown is to go on a self-driven Lord of the Rings tour. Sure, you can pay $100 to go on a guided tour, but why not save the money and go yourself?
In and around Queenstown there are several Lord of the Rings film locations that you can visit on your own. New Zealand's DOC website has all of the spots marked out for you including descriptions and GPS coordinates so you can plan your "tour."

Explore Milford Sound: Milford Sound is one of the most beautiful places in New Zealand! You can drive all the way to Milford Sound yourself and enjoy one of New Zealand's most scenic roads along the way. Then, once at Milford, it is possible to walk the foreshore and enjoy a magical sunset.
Going on a boat cruise in Milford Sound is a very popular activity and although not free, they can often be as cheap as $40 NZD per person (an expense totally worth it in my opinion!)
Visit Waterfalls: There are tons of waterfalls to enjoy in New Zealand. At the very south of the South Island, there is a region called the Catlins with dozens of waterfalls such as Mclean Falls and Purakaunui Falls and Koropuku Falls. Otherwise, Thunder Creek Falls on the West Coast is well worth a visit as is Bridal Veil Falls just on the outskirts of Raglan.
Enjoy the Beach: The beaches in New Zealand are stunning and they are all free to visit! Not far from Auckland you'll find Piha Beach, Bethells Beach, and Muriwai Beach which are all volcanic black sand beaches and really beautiful.
If you head north, the Bay of Islands has some of the most stunning beaches in the entire country! And for something a little different, make your way to Hot Water Beach where you can dig your very own hot water pool in the sand!

Sunrise at the Pouakai Tarn (Mount Taranaki)
Overall
New Zealand is an epic country to travel and what makes it even better is that everyone can enjoy it—even on a tight budget! Going on a road trip, sleeping in a campervan, hiking, and exploring nature are truly the best things to do in New Zealand!