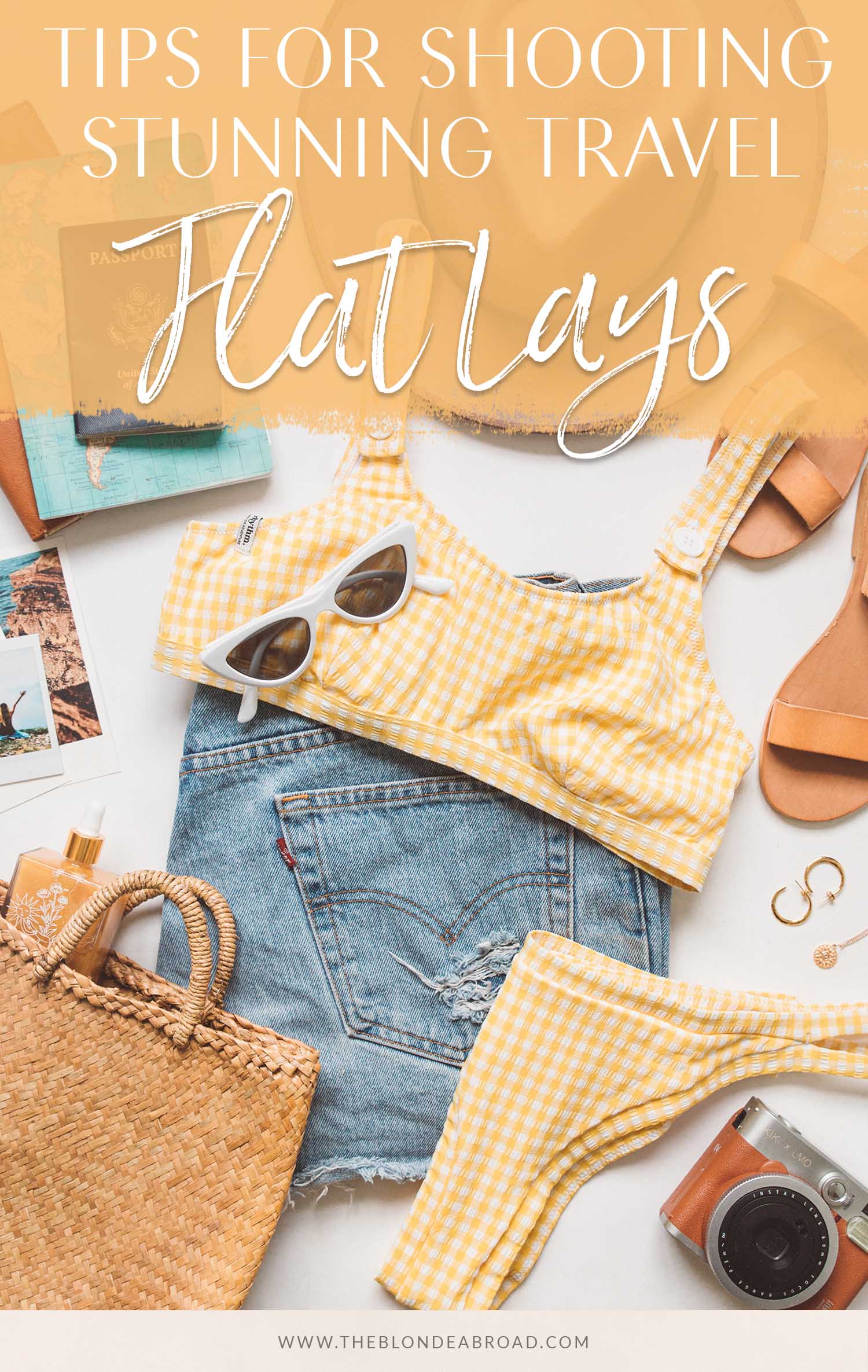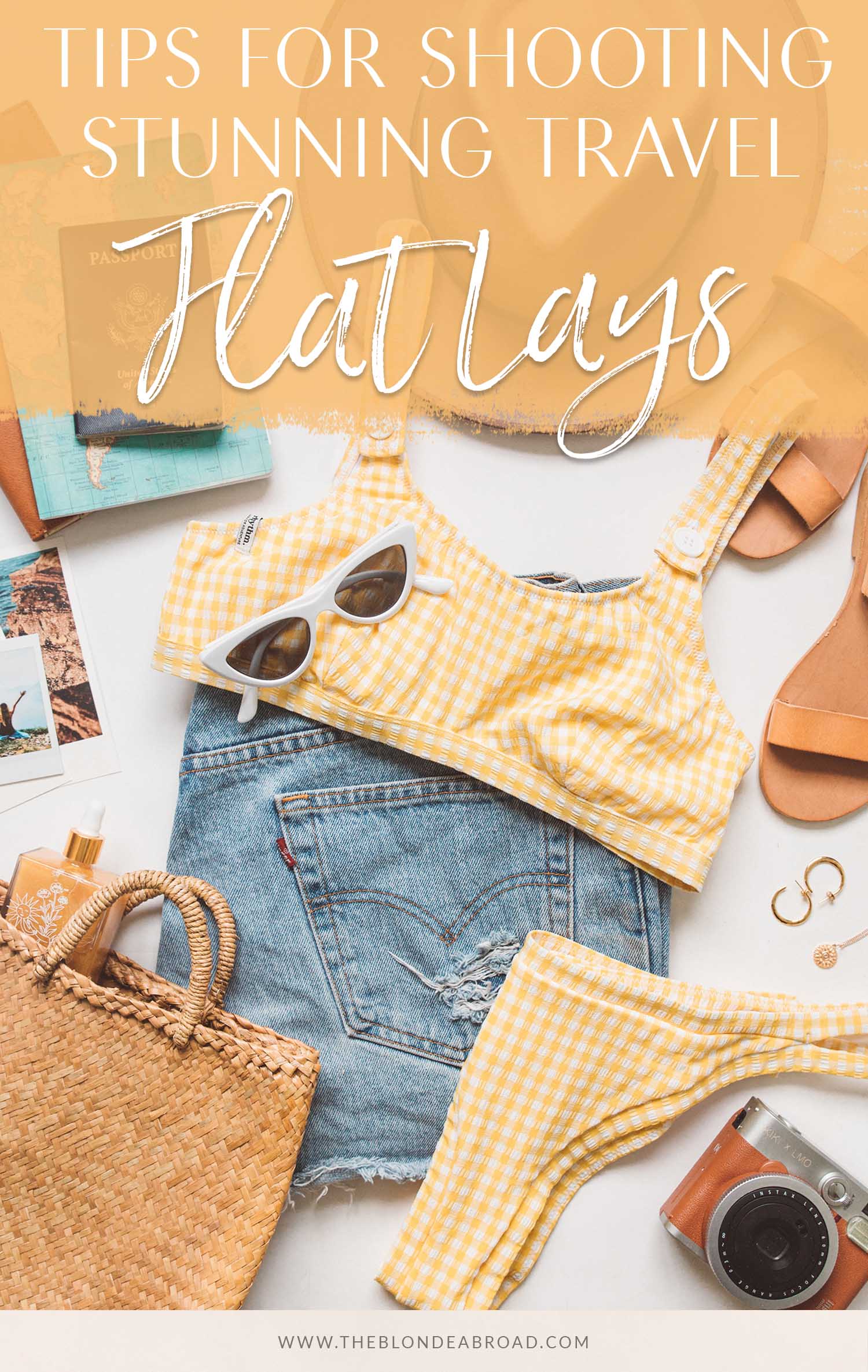 This post was written by Chelsea Loren — a Branding & Product Photographer who helps small businesses and entrepreneurs level up with fresh and meaningful imagery that drives profit.
We see so many pretty images all the time—from Instagram to Pinterest to curated fashion brands—that it's almost become second nature to us. We know when we like an image…but if we were to go and recreate something similar, it might not be as easy. Have you ever experienced that?
A lot of thought goes into those expertly designed photos!
Those that are skilled in the art of flat lay photography know a thing or two about composition, who their audience is, lighting, and little details that make all the difference. When it comes to travel flat lay photography and styling, a whole new element is introduced: the feeling of a place.
Wondering how to shoot a flat lay or how to style a cute flat lay for Instagram?
For all my blogging babes out there that are wanting to up their flat lay game, I've got all the tips and tricks on how to perfect a gorgeous travel flat lay.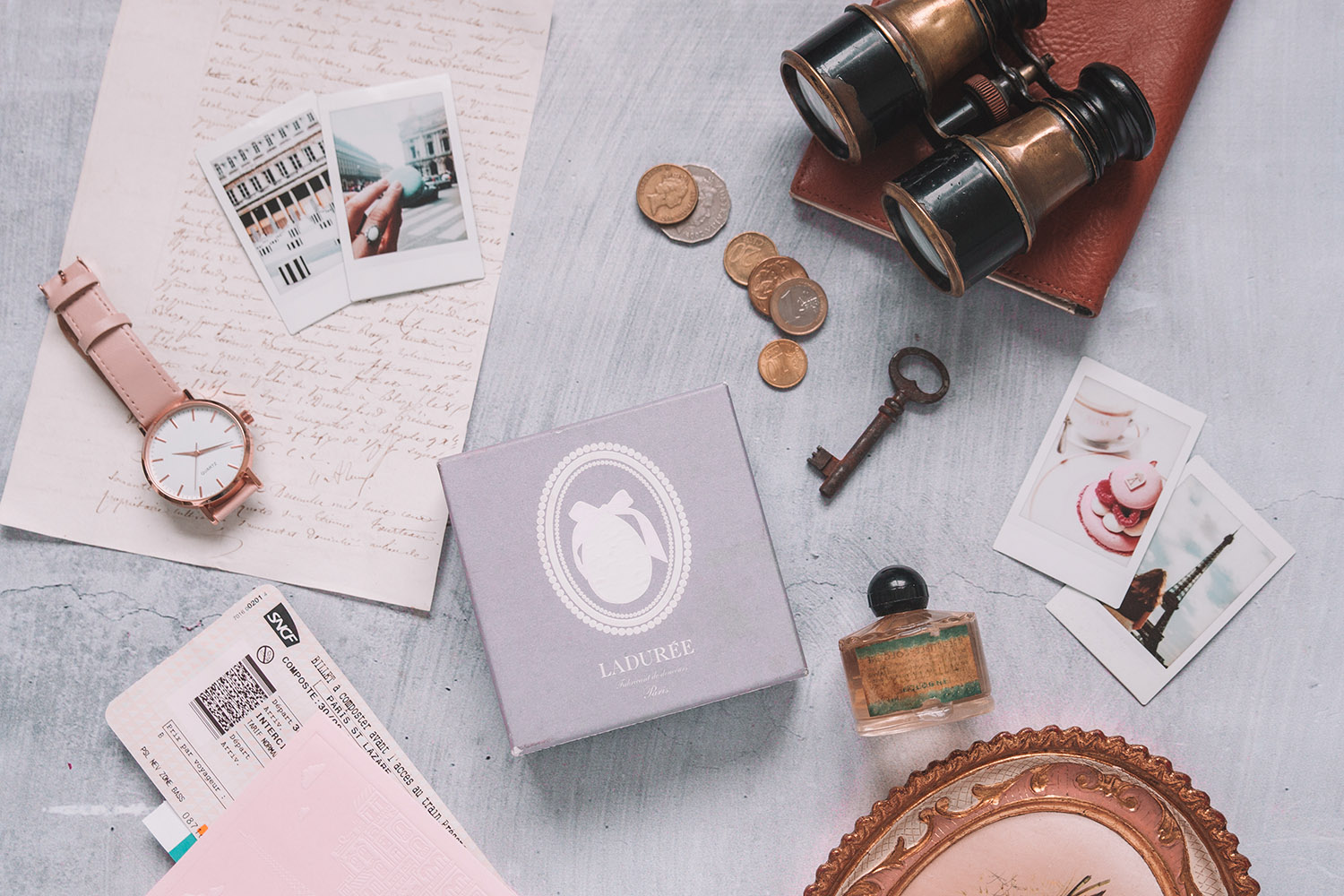 Consider Where You're Going
Are there any colors or feelings brought to mind by the place? Imagine the warm hues of buildings in Italy or the bright and bold colors of Tokyo. Just the colors alone can capture the essence of a place!
Imagine what a swatch palette of a location would look like.
Are there certain feelings you want to evoke? Perhaps you want to channel a more vintage and whimsical feeling if you're traveling around Paris. Or maybe you want to go ultra modern and minimal with a cozy twist for a Scandinavian country.
Keep the destination in mind and let it inform the mood and feeling of the image.

Who Is Your Target Audience?
Are you a blogger yourself and trying to appeal to a certain audience? If you're just trying to create a pretty flat lay for yourself, this isn't super applicable. But for those wanting to attain a certain vibe or feel more branded, start taking notes!
Who are you trying to reach?
This is where a little brand research comes in. For the sake of this post, I'm going to use the example of female travelers in their 20s-30s.
Where does she shop? What does her style look like? What Instagram accounts is she following? Who are her fashion icons? What is her favorite travel destination? What magazines does she read? What does she do during her downtime?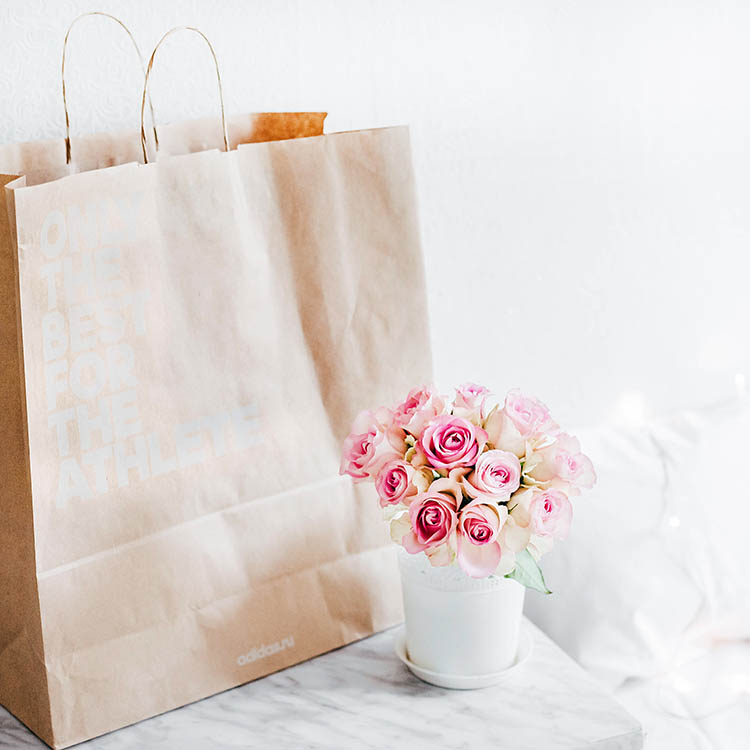 If you're really trying to hone in on your aesthetic and brand, it would be helpful to create a "target profile," and answer as many of those questions as you can.
Example: A 20s-30 gal who shops at Free People and Anthropologie. Take a look at those sites and what color palettes they're playing with. Are the sites minimal and refined or more wild and bohemian?
Use that information to inform your target profile and the style you're after!


What Are You Packing?
What are you going to be wearing in the location you're traveling to?
Is it somewhere tropical or are you going somewhere where you'll need to bundle up? Include details of what you're wearing there—perhaps a hat or sandals for somewhere sunny, or a scarf and beanie for a cooler destination.

What's the Backdrop?
I have quite a few backdrops I like to use; my go-to backdrops are wood, concrete, marble, and plain white.
However, if you're traveling, you most likely won't be packing backdrops. So, look around the place you're staying for tables with cool surfaces, interesting tile, and what kind of flooring the space has.
Helpful Tip:
Even a sheet from the bed will do the trick—though it won't be as clean and crisp as a flat surface. Sometimes maps work really well, though they can be kind of busy…it truly depends on how detailed the map is.

Source Inspiration
I like to create mood boards/inspiration boards on Pinterest to get the creativity flowing.
Here's a tip: create a new board and start pinning things you like and are inspired by for a few minutes. Then, as you're viewing your inspiration board you might start to notice patterns about the things you like: color, the way things are displayed, the lighting.
Figure out what those things are that you like and channel that inspiration!

Play with Small Details
Collect transportation stubs (metro), admission tickets, airline tickets, and even receipts from your travels.
While these things might seem trivial, receipts from other countries can oftentimes be fascinating to foreigners! Documents look different and they can help tell the story of where you were—think of these as like little scrapbook momentos. 
Other details that are fun to incorporate...
keys, lockets, your passport, sunglasses, wallet, perfume, bandana or scarf, hair clips, jewelry, little candies or dessert goods (think macarons), or foods specific to the area.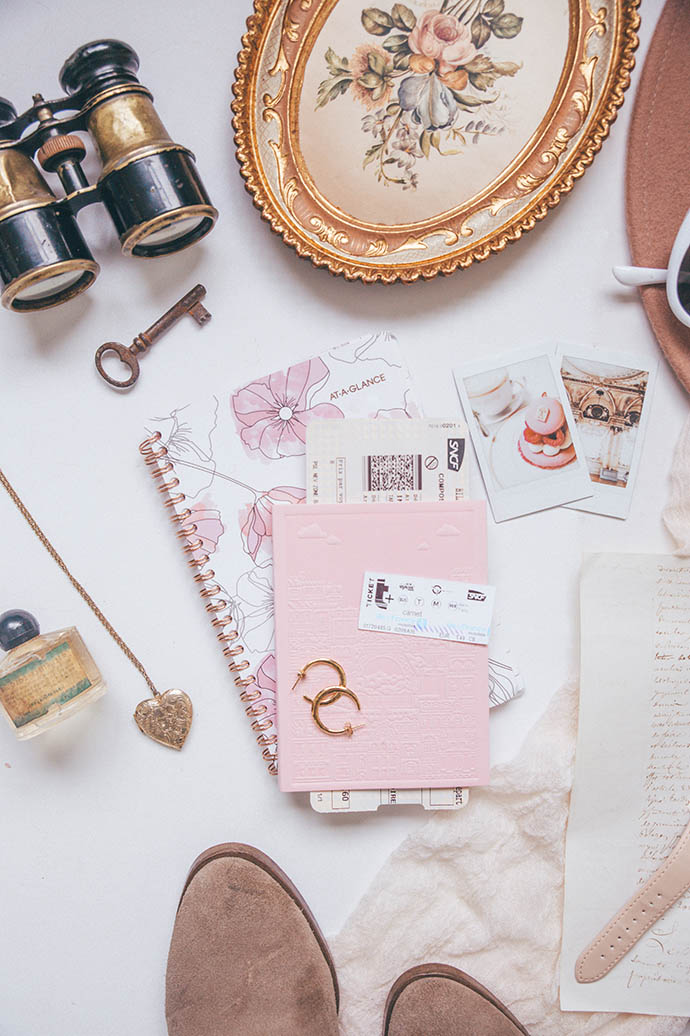 Texture adds so much dimension!
This is another "little detail" you can add to create interest in your photo—things like a piece of fabric, ribbons, or a knit sweater!
I like perusing flea markets and vintage shops for unique little trinkets to use as props.

Color Palette + Complementary Hues
Are you going for a neutral palette, keeping it completely tonal, or picking hues to offset or complement one another? Figure out what the right balance is—some of this will just take practice and seeing it visually as you work

Figure Out Your Lighting
This is key with ANY kind of photography and another thing that comes with practice. I mostly like to shoot with natural light streaming in through the windows.
Watch for your shadow when shooting overhead and try to get even light (unless you're after a dark and moody look). I'll oftentimes use foam boards to serve as reflectors and bounce light into the shadows to create more even lighting.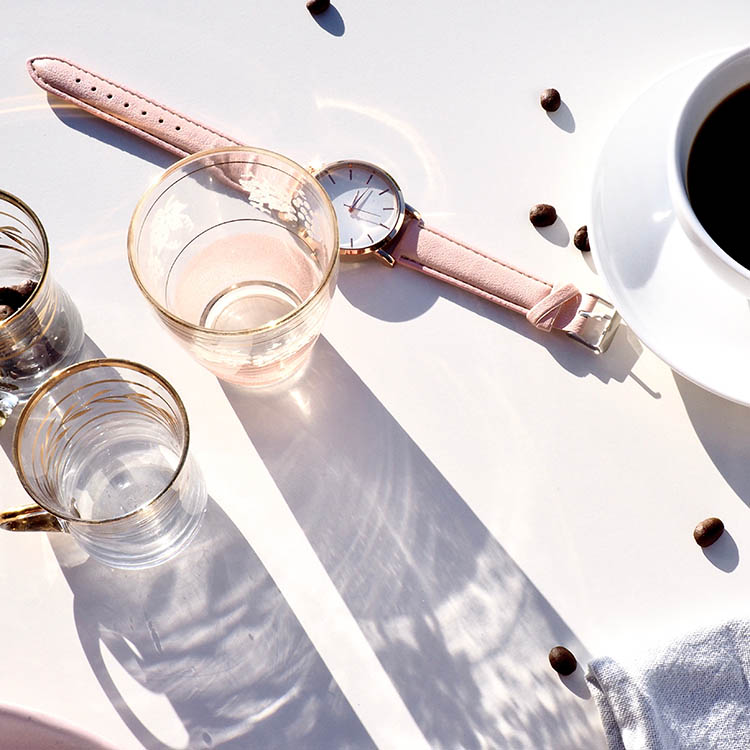 Composition + Negative Space
Is there a certain product you're highlighting? Or is it more the overall feeling you want to capture? Are you wanting something bursting with components or a lot of negative space? This is purely personal preference.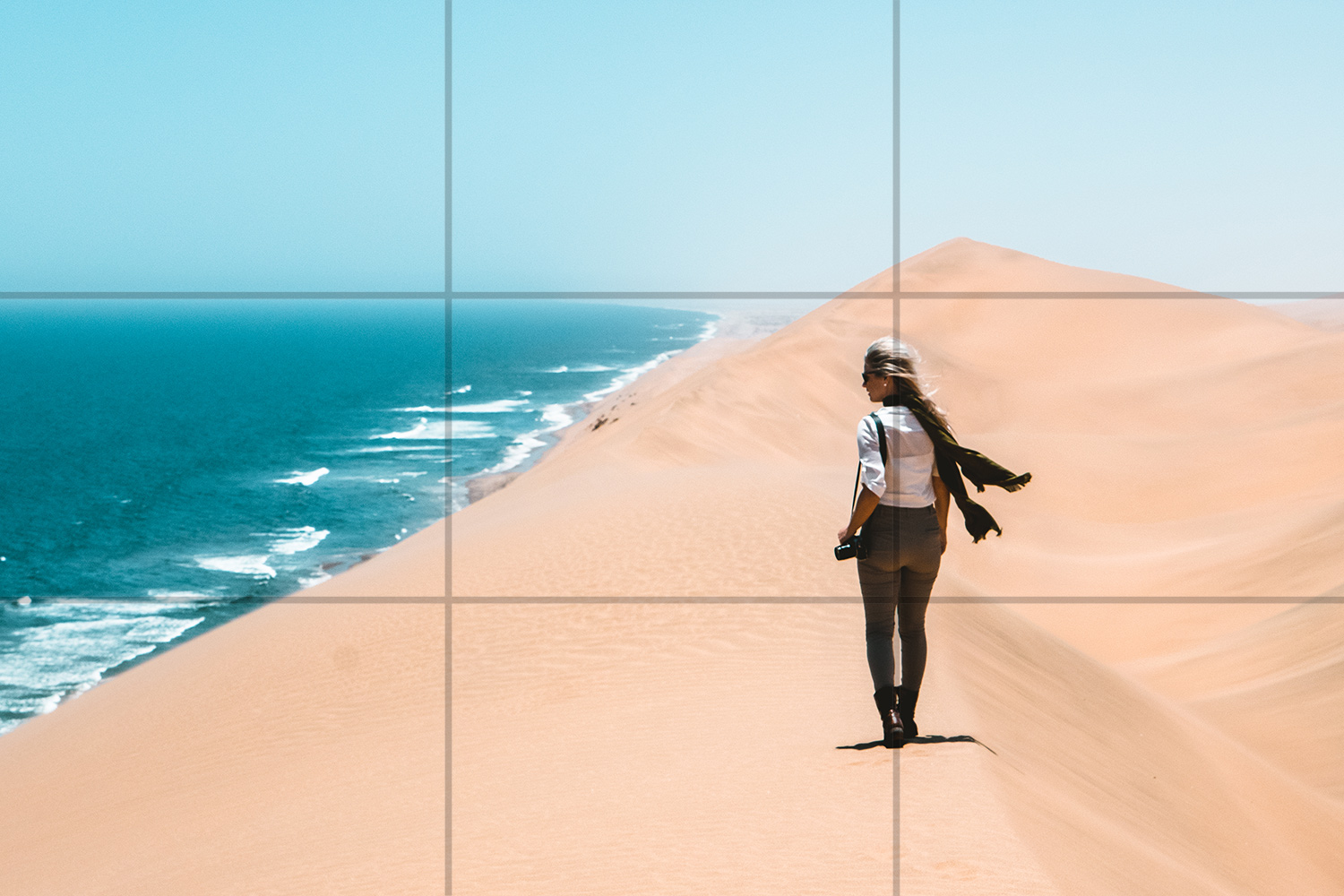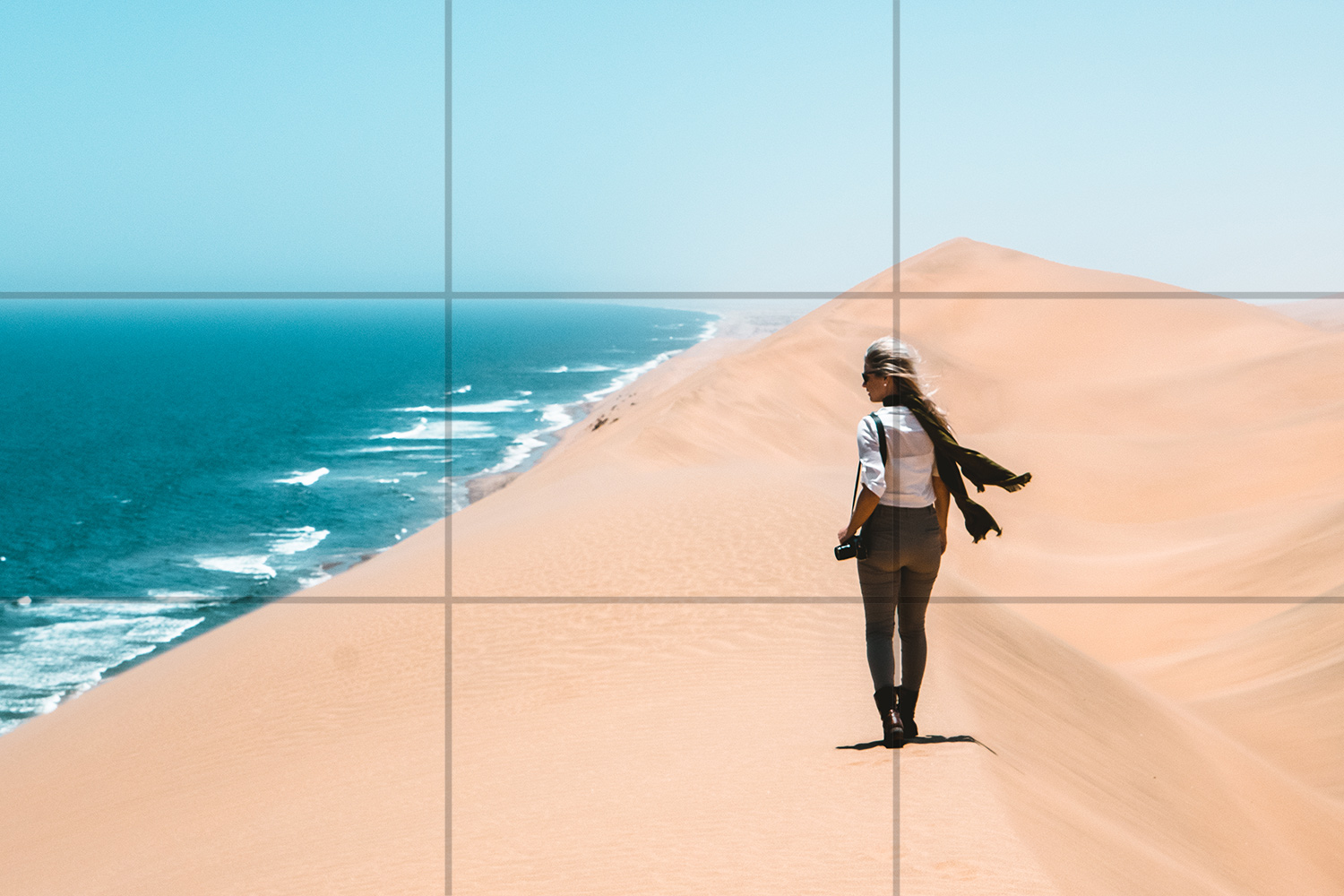 If you're a photography and styling newbie, I'd suggest reading up on the Rule of Thirds and once you've practiced that—feel free to break that rule!
When styling, 'S curves' tend to be more feminine, while streamlined orderly things tend to evoke a more masculine feeling.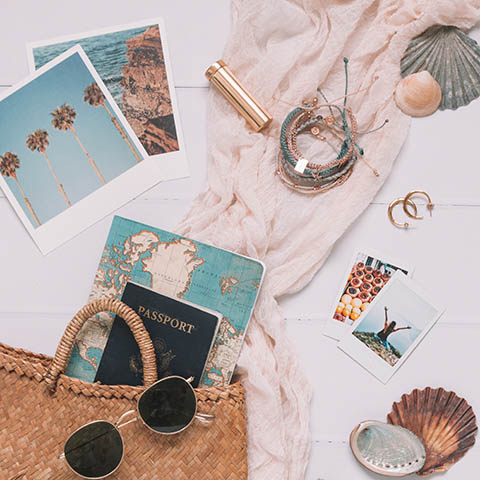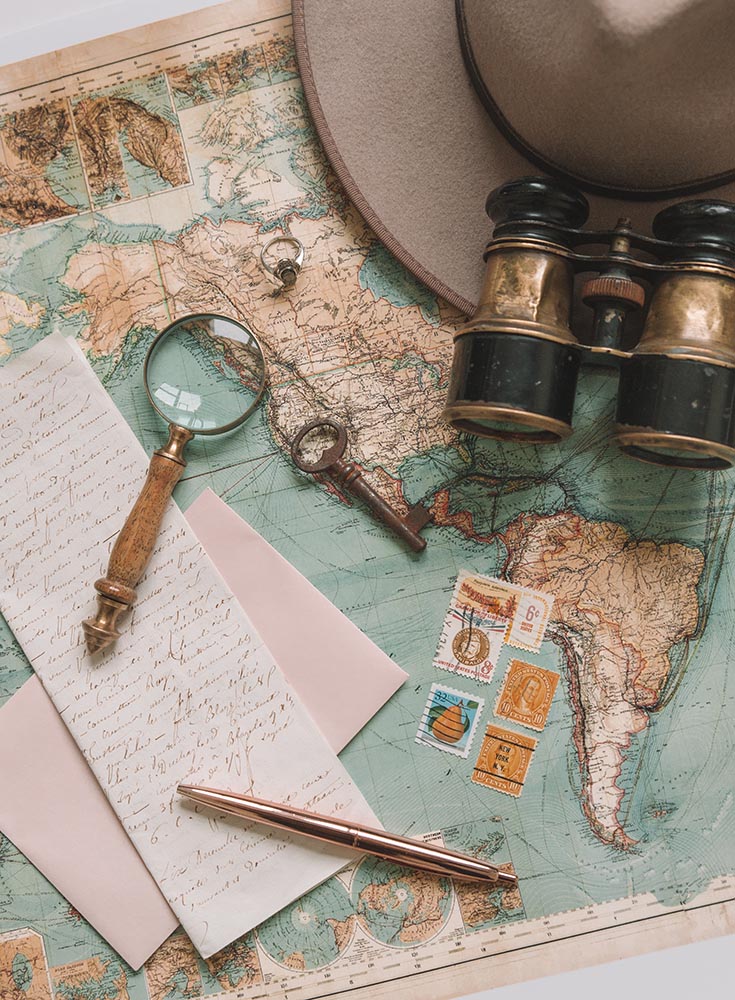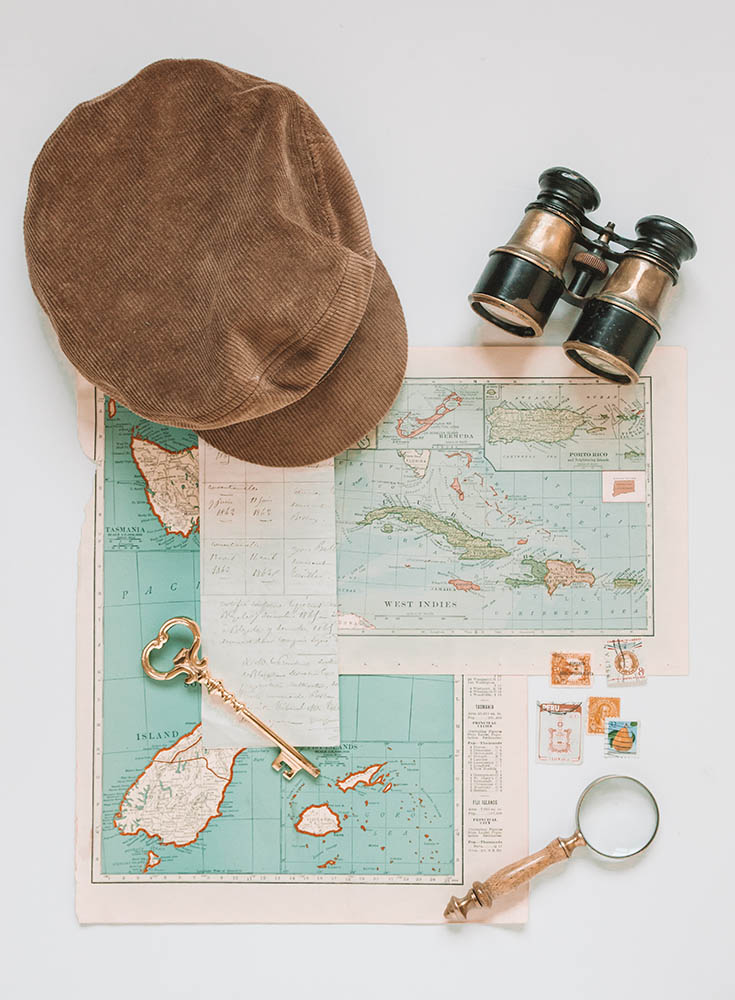 Size + Frame
Is this for Instagram, your website or another social media platform? Think about how you'll be cropping the image—will it be square, 4×5, or a long horizontal image?
Keep in mind that you'll be cropping edges, so figure out if you want things spilling out from the frame or to be contained within the space.

Editing
Lastly, editing is what brings all the magic together!
Again, use your target profile to inform the editing style. Should it be dark and moody, light and airy, or somewhere in between?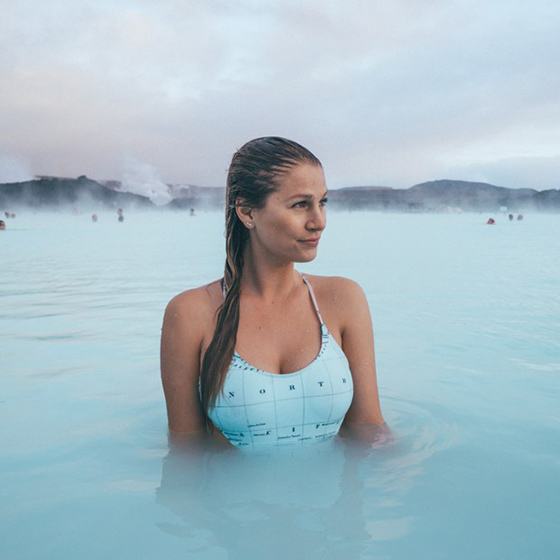 Whether you're just starting out with photography or have been shooting for years, these easy-to-use presets will instantly add a beautiful aesthetic to all of your images!
Shop Now

TBA Takeaways
Consider Where You're Going and What You're Packing
Figure Out Your Target Audience
What Backdrops Do You Have Available?
Find Inspiration and Create a Mood Board
Play with Small Details
Figure Out the Color Palette + Complementary Hues
Find Your Light Source
Play with Composition and Negative Space
Know What Platform You're Posting on for Cropping Size
Editing Brings the Photos Together
Helpful Tip:
This should go without saying if you're sharing your photos on the internet, but make sure your address or personal identification numbers are not visible on your passport or any frequent flier cards!

Need help with your flat lays and want your products to shine?