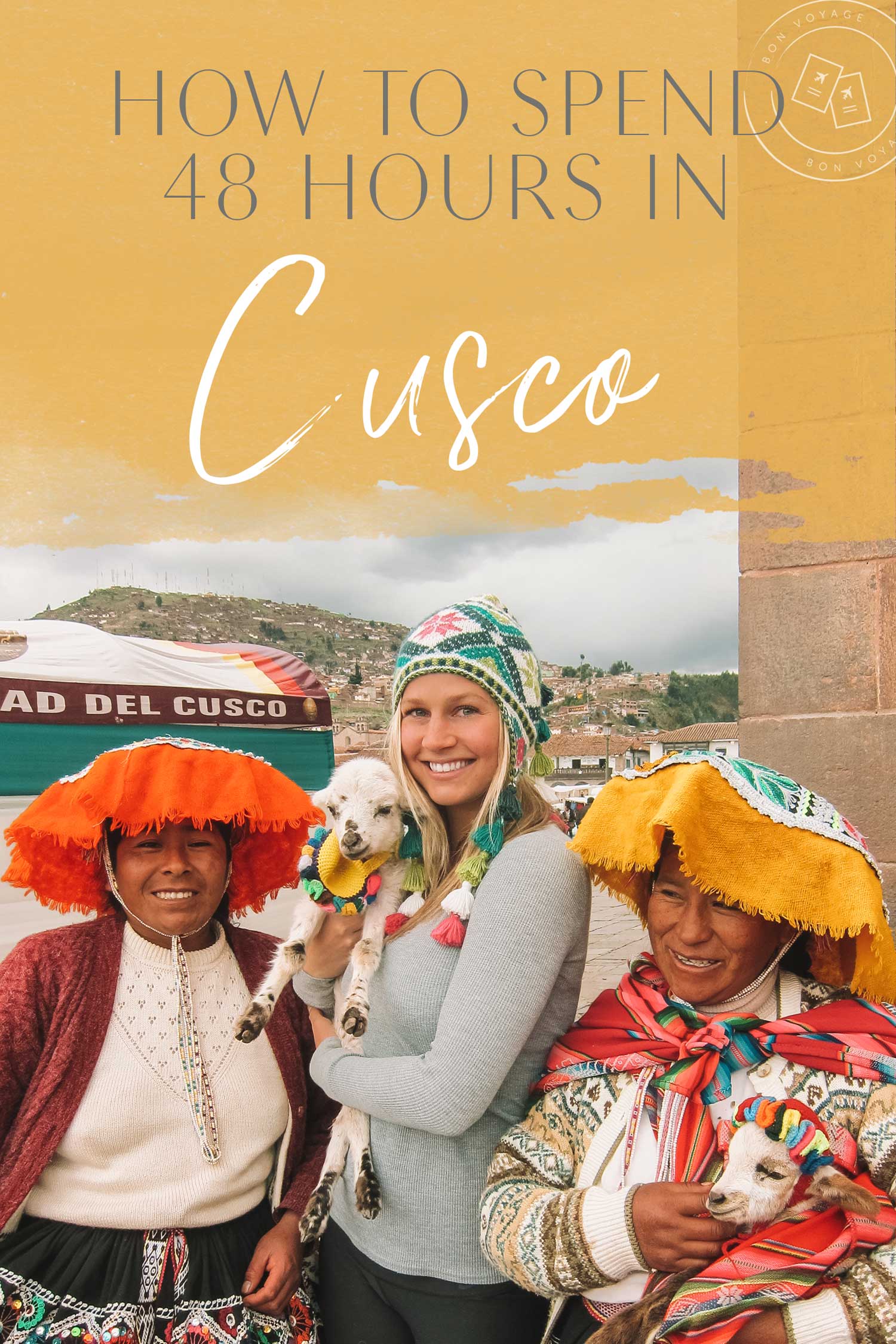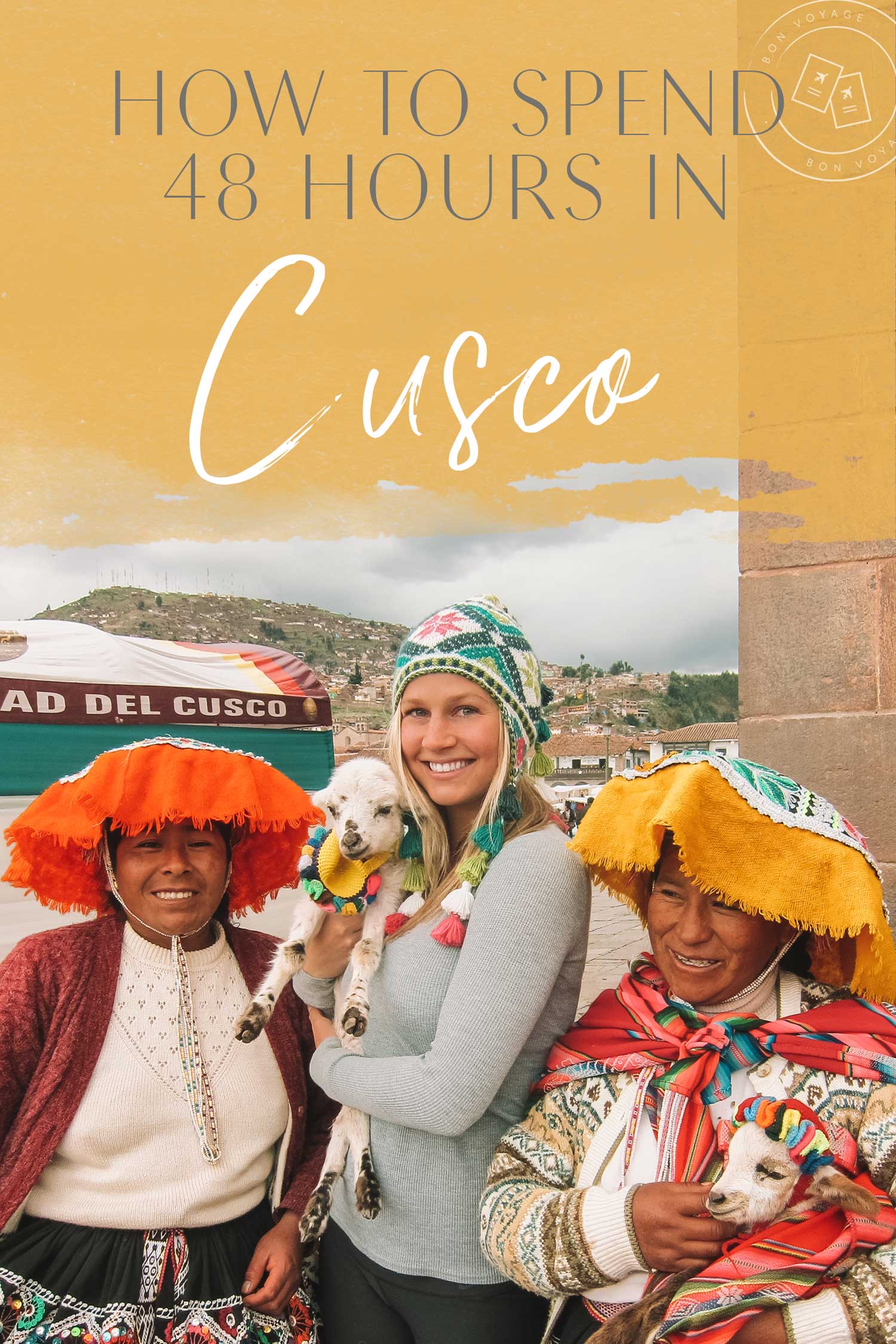 Cusco is one of my favorite cities in South America! It's home to delicious food, a fascinating history, herds of adorable alpacas and a whole lot of adventure.
I first traveled to Cusco in 2013 as part of my volunteering trip with Peruvian Hearts. We raised over $5,500 for the charity, and all our fundraising efforts went towards the education of 13 young girls.
In between exploring the city, we hiked the Inca Trail, I spent Christmas with a local family and got to see Cusco through the eyes of the locals.
Here's how to spend 48 hours in Cusco!

Getting to Cusco
You can get to Cusco by bus, train or plane. The Alejandro Velasco Astete International Airport is a small airport that only receives international flights from La Paz, Bolivia.
If you're flying in, it's best to land in Lima and take a connecting domestic flight to the city.
But if you have the time and want to save money, take the local bus or train. The bus routes run all over the country and are a great way to travel like a local if you don't mind sitting for long periods.
For something more luxurious, take the first-class train ride into Cusco from Puno. The service only runs a couple of days a week, and the journey takes around 10 hours.

Where to Stay in Cusco
Belmond Hotels
If you're looking for a super luxury stay in Cusco, check into the Belmond Monasterio or the Belmond Palacio. Both properties are five-star hotels and are excellent options if you're looking for some pampering while in Peru. Besides their uber-luxe accommodation, Belmond also operates a luxury train to take guests from Cusco to Aguas Calientes to visit Machu Picchu.  If you're planning on staying in the area for a night or two, check out their hotel Belmond Sanctuary Lodge.
Samana Inn & Spa
If you're looking for an upscale and romantic experience in Cusco, the Samana Inn and Spa is truly magical. With floor to ceiling windows in the bedrooms, you'll have a stunning view of the mountains in the distance.;
Hotel Cusi Wasi
With rooms starting at $50 a night, Hotel Cusi Wasi is an affordable option for travelers that are looking for an excellent mid-range option. Included in your nightly rate is a private room with hot water, a delicious breakfast, free pickup from the airport and as much coca tea as you want.

Market in Cusco
Day 1
Have Breakfast at San Pedro Market
 Shopping at the San Pedro Market is an excellent place to try authentic Peruvian food. Located only 10-minutes from the Plaza de Armas (the city's main square), you can spend an hour or two wandering around and sampling all the delicious meals for sale.
Don't forget to pick up some quinoa, Camu Camu (a cherry-like fruit), and maca (a pungent root). Whatever you do, make sure you try to haggle! Prices are always negotiable.
Book a Tour at the Choco Museum
Peru ranks in the top 10 largest cacao producers in the world. If you're a chocolate addict like me, you don't want to miss out on a tour of the Choco Museum!
You can book a mini chocolate workshop and learn how to turn a bean into a bar of chocolate. Other options include attending a cooking class, going on a plantation tour or a chocolate, coffee, Pisco and beer tasting.
Grab Lunch at Plaza de Armas
 Plaza de Armas is the main square of Cusco and is the top tourist attraction in the city. It's an excellent spot for foodies who want to enjoy a traditional Peruvian meal.
Grab something to eat on the go and wander past the city's ancient Cusco Cathedral and the Church La Compañía de Jesús.
Go to the Ccohahuasi Animal Sanctuary
 If you love animals as much as me, you'll want to make your way to the Ccohahuasi Animal Sanctuary! It's situated 30-minutes outside of the city and is a privately-owned organization in Sacred Valley that rescues exotic animals that have been injured or used for cruel entertainment purposes.
The best way to get to the sanctuary is to take a private taxi from Cusco. However, if you're on a budget, you can hop on board a shared bus from the city.
Just be sure to tell the driver where you're going, and they'll let you know when to get off!
Head Back to the Hotel
Though time is limited, with the altitude and the time difference, there's a good chance that you won't be feeling up to a hectic day. After watching the sunset, head back to your hotel to relax.
You'll want to get up early to soak up the last of your time in Cusco.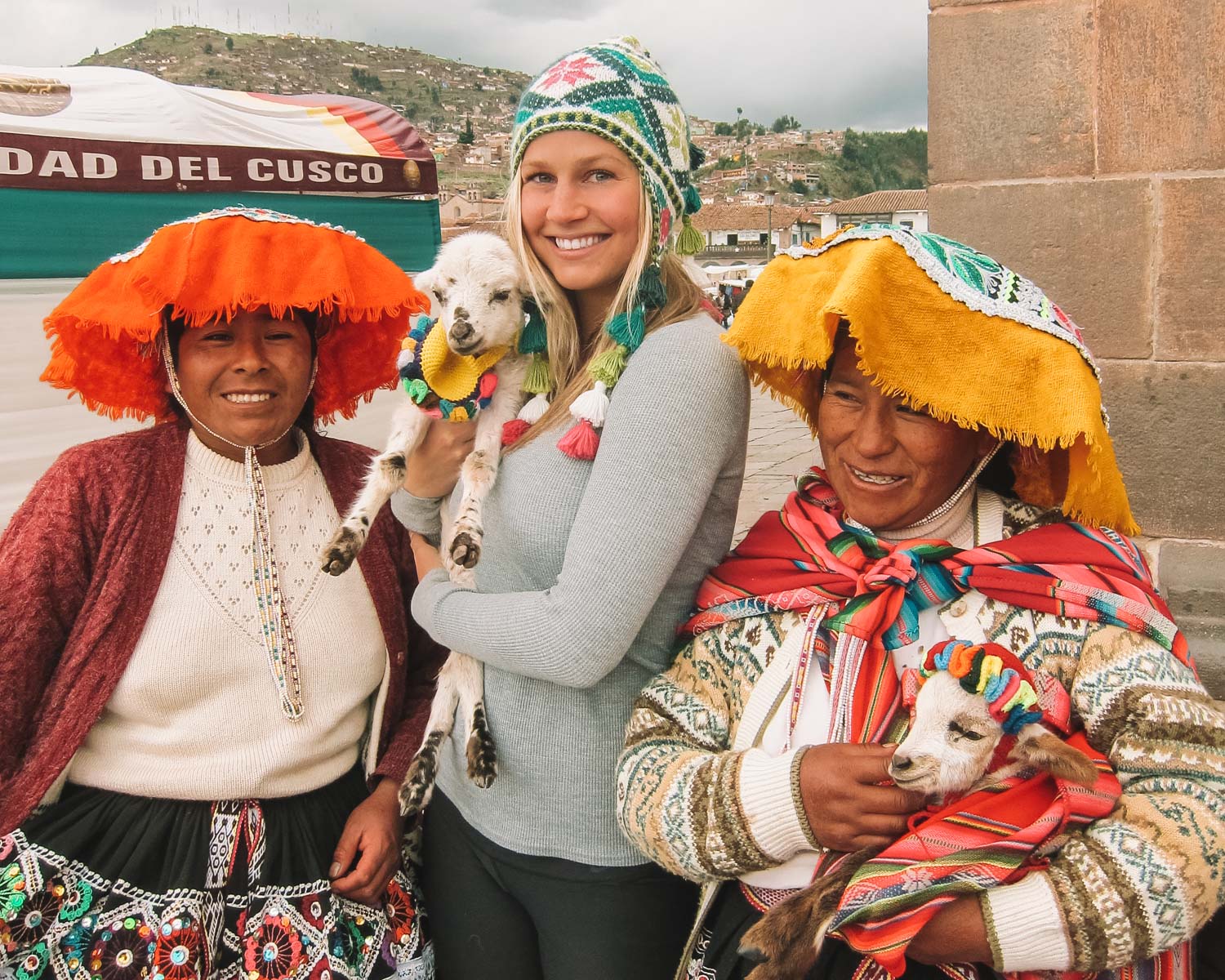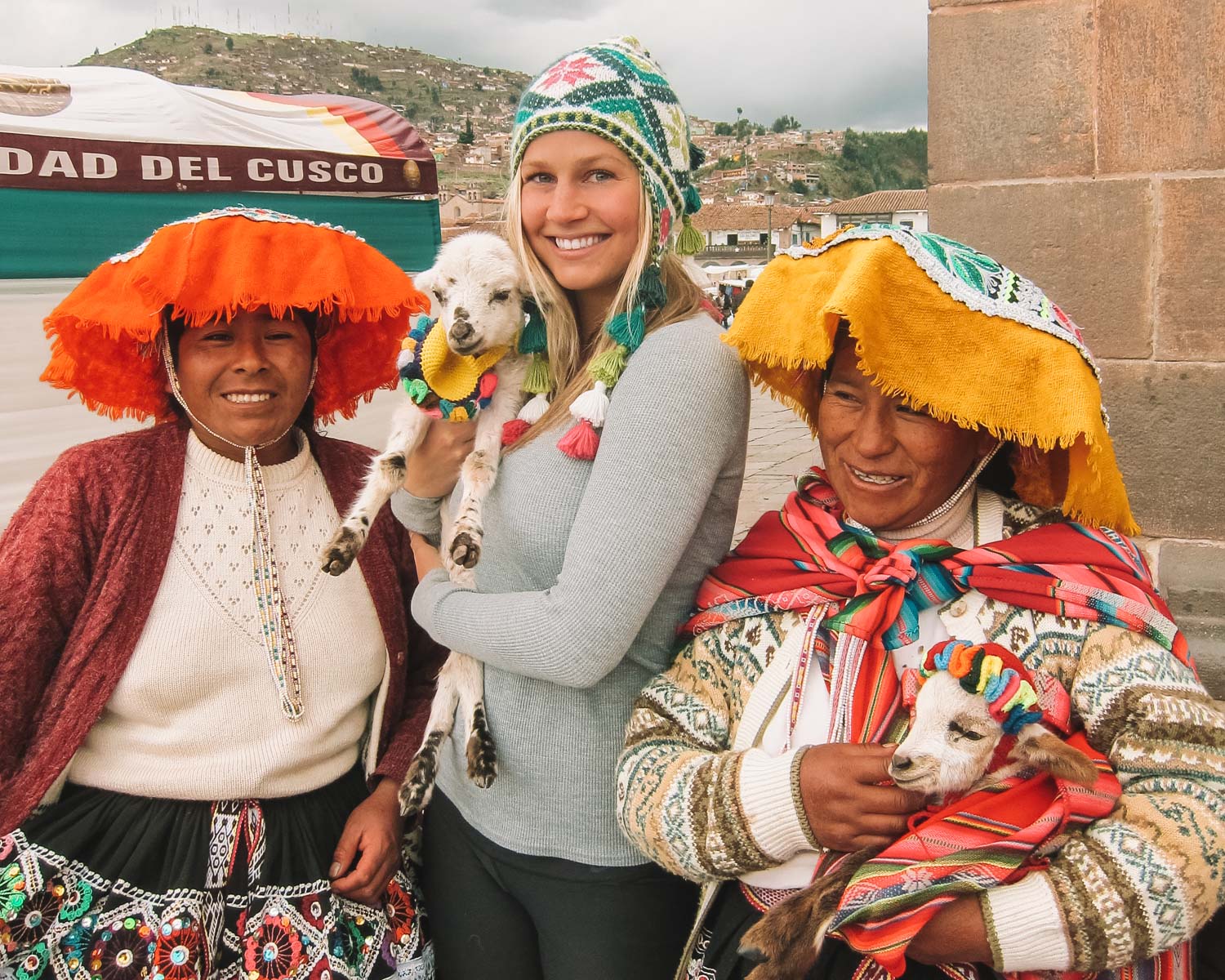 Day 2
Grab a Light Breakfast at La Valeriana
La Valeriana is famous for its coffee and pastries. If you like sweets, try their tiramisu coffee cake or try their delicious empanadas!
Explore San Blas
Located northeast of Plaza de Armas, this bohemian and artistic neighborhood is much quieter than the city center. The district is made up of museums, eateries, and artisans.
It's a great spot to pick up some souvenirs and grab a bite to eat!
Dinner at Mr. Soup
It may sound silly, but this soup restaurant is one of the most famous in Cusco. They have a wide variety of soups, from traditional Peruvian broths to Italian to Thai.
If you're looking for something a bit more formal to enjoy before the big send-off, Inkazuela is another tasty option.

Day Trips from Cusco
Sacsayhuaman
Sacsayhuaman is an ancient Incan complex that's a short 15-minute drive from Cusco. The walls of the ruins fit together so well that you can't fit a single piece of paper between some of them.
Humantay Lake
If you're an avid hiker, don't miss out on a day trip to Humantay Lake. It's a four-drive from Cusco, and there's a beautiful Salkantay hiking trail that will take you past the lakes impressive turquoise water.
Rainbow Mountain
Rainbow Mountain is one of the most popular day trips from Cusco. Located three hours away from Cusco, you can sign up for a tour or hire a car and drive yourself. The hiking trail winds past the colorful mountain, and if you have more time, you can attempt the six-day Ausangate Trek.
Machu Picchu
Believe it or not, but you can visit Machu Picchu as a day trip from Cusco. How? You can sign up for a tour, or you can take the train from Cusco to the Aguas Calientes station. From there, you can catch a bus to the UNESCO World Heritage Site of Machu Picchu.
I'd highly recommend planning in advance and hiking the Inca Trail, or at the very least, spend the night in Aguas Calientes so you can take your time at the ruins.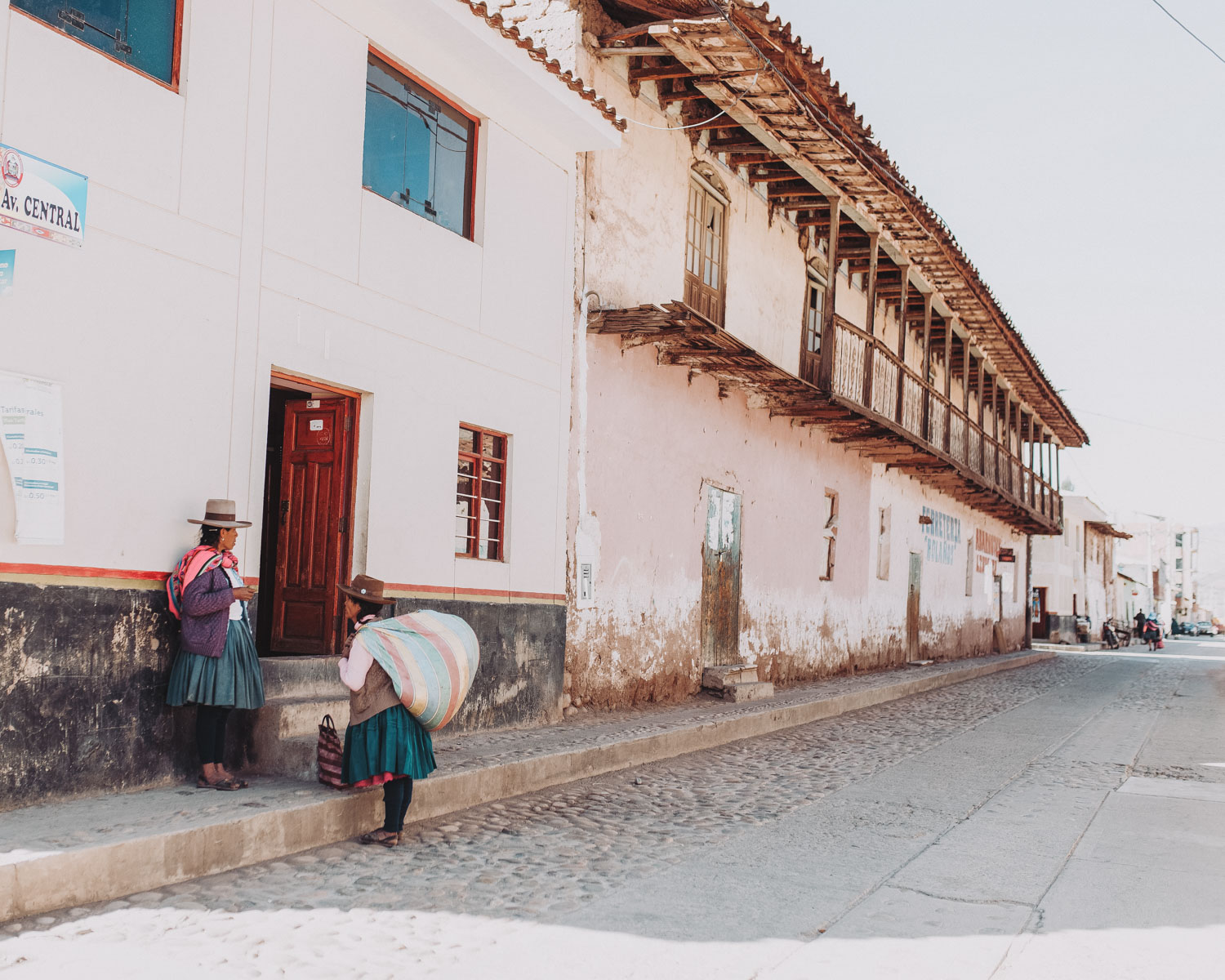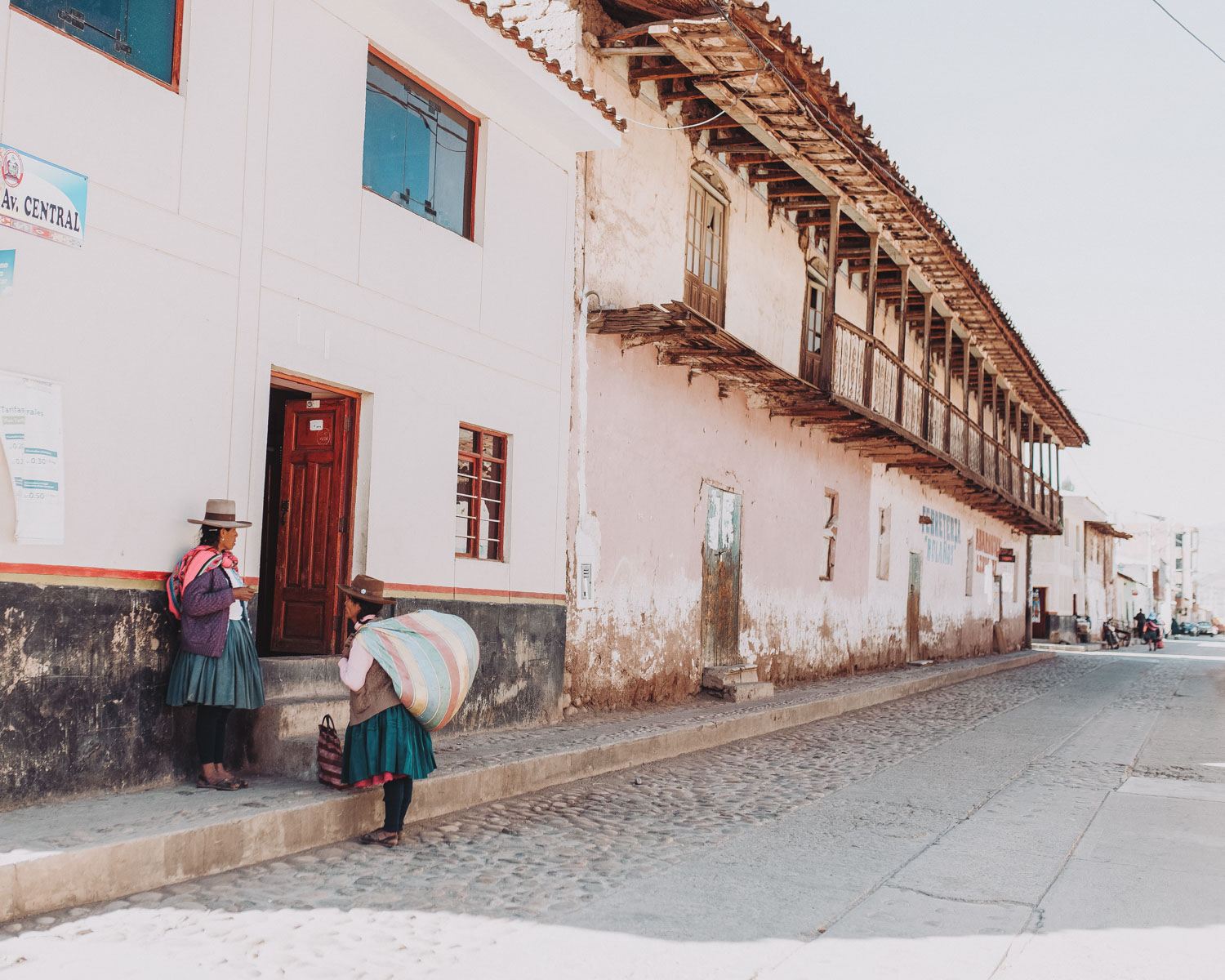 Overall
Cusco is worth spending a couple of days exploring and shouldn't be overshadowed by Machu Picchu or Rainbow Mountain. If you have the time in your itinerary, I highly recommend taking the time to explore the markets, see the animals, and eat as much chocolate as possible!

Do you have any tips for visiting Cusco? Let me know in the comments below!