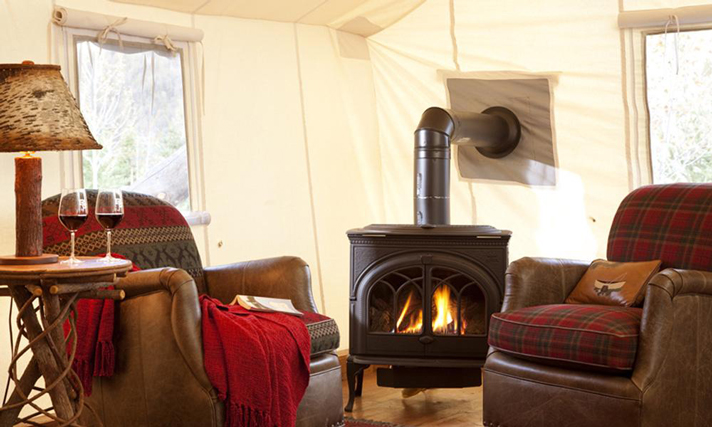 As you most likely already know, I'm a HUGE fan of glamping. A little bit of luxury in the middle of a beautiful natural setting can't be beat!
Whether it's cozy-chic camping in Big Sur or a tent lodge in Bocas del Toro, I'm always on the lookout for somewhere I can get my "glamp" on.
I recently discovered The Ranch at Rock Creek on Pinterest and, well, see for yourself!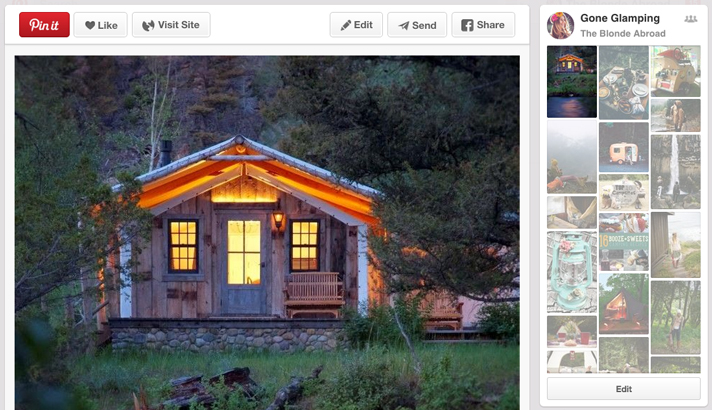 Tent cabins? Sign me up!
I did a little bit more research on this gorgeous glamping spot in Montana and, turns out, not only was The Ranch at Rock Creek one of the first ever luxury glamping accommodations but, it also just received the Forbes 5-star Travel Guide award.
Staying at this paradise provides a luxurious getaway that simultaneously allows you to fulfill that childhood dream (for some of us anyway) of living on a ranch like "Hey Dude."
Here's some more info I discovered on this luxury glamping getaway:

Accommodation
The resort provides several different accommodation types. You can choose to stay in a guest room in The Lodge, which is designed with inspiration from the Old West, much like what the old railway hotel rooms would have looked like at the turn of the century.
There are also several private log homes that each have their own unique design and amenities. These homes are much more spacious and would be ideal for families or multiple couples traveling together.
Or, you can spend your time glamping (my personal fav) in one of their dreamy canvas cabins or tents. This option allows you to be close to nature without being stripped of the luxury that The Ranch at Rock Creek was founded on.
Yes, that's a clawfoot tub inside a tent! Ooo la la!
The accommodations alone are reason enough to visit The Ranch at Rock Creek but, as if we needed another reason, let's discuss my findings in the dining and activities department.
Dining & Activities
The Dining Room and The Blue Canteen are your two options for dining on the ranch. Both restaurants' menus are seasonally inspired and offer locally sourced meat, vegetables and dairy products. YUM!
And no need to worry about the price of this amazing cuisine because breakfast, lunch, dinner and wine is ALL included in the total price.
Eat and drink your heart out!
When booking your stay at The Ranch at Rock Creek, you can spend some real time here. The activities they offer can keep you busy for days if not weeks. You can choose to spend your days fly-fishing, horseback riding, mountain biking, sporting clays, hiking, rope courses and the list goes on.
There is certainly something for everyone here. If you are traveling with children, let them go explore the outdoors in Little Grizzlies Kids Club while you enjoy some time to yourself.
Whatever you decide to do, there's the denying beauty of Montana alone is enough to visit.
After all this activity, end your day in the Granite Spa, which offers a wide selection of spa treatments. They even offer private yoga lessons where you can head up hill and practice while overlooking tranquil scenery.
The Ranch at Rock Creek is not only amazing for a quiet get away but is also an amazing destination for events. Whether it's a corporate event, a family reunion or a wedding, this resort is perfect for hosting your next big bash.
Even actress Kate Bosworth celebrated her celebrity wedding here!
You can check out more of the wedding pics here. So beautiful!

While we are entering into the winter season, there are plenty more reasons to book your visit. The Ranch at Rock Creek not only has an array or winter activities but they also have pre-organized events celebrating Thanksgiving, The Holiday's and New Years.
All details and booking information is on their website, The Ranch at Rock Creek.

I hope you enjoyed this glamping inspiration written in partnership with The Ranch at Rock Creek. As always, opinions expressed here are entirely my own.