Updated: August 2020
It's Christmas Eve and my friend Lindsay and I decided to get fancy and stay in a hostel in town for the night. We found the coolest hostel I've ever been to called Pariwana.
It's like the love child of Hogwarts and a hostel!
There is a courtyard full of beanbags, a study with a ceiling that is lit up with the constellations of the night sky, a mess hall full of people from all walks of life enjoying great food and making new friends, and even a bar turned nightclub!
People from all over are visiting Cusco for the holidays and we met some sweet English girls and a fellow American travel blogger, Gareth, who we shared breakfast with this morning.
We have been staying with a host family on the outskirts of town so, while we love staying there, we are spoiling ourselves by staying close to the main plaza.
Hot water and WiFi! Yay!
We got all of our last minute trinket shopping out of the way and spent the day browsing the Christmas markets in Plaza de las Armas. Little shops line the plaza selling everything from Christmas treats to Alpaca fur hats.
They also cater to the shark and Santa balloon enthusiasts.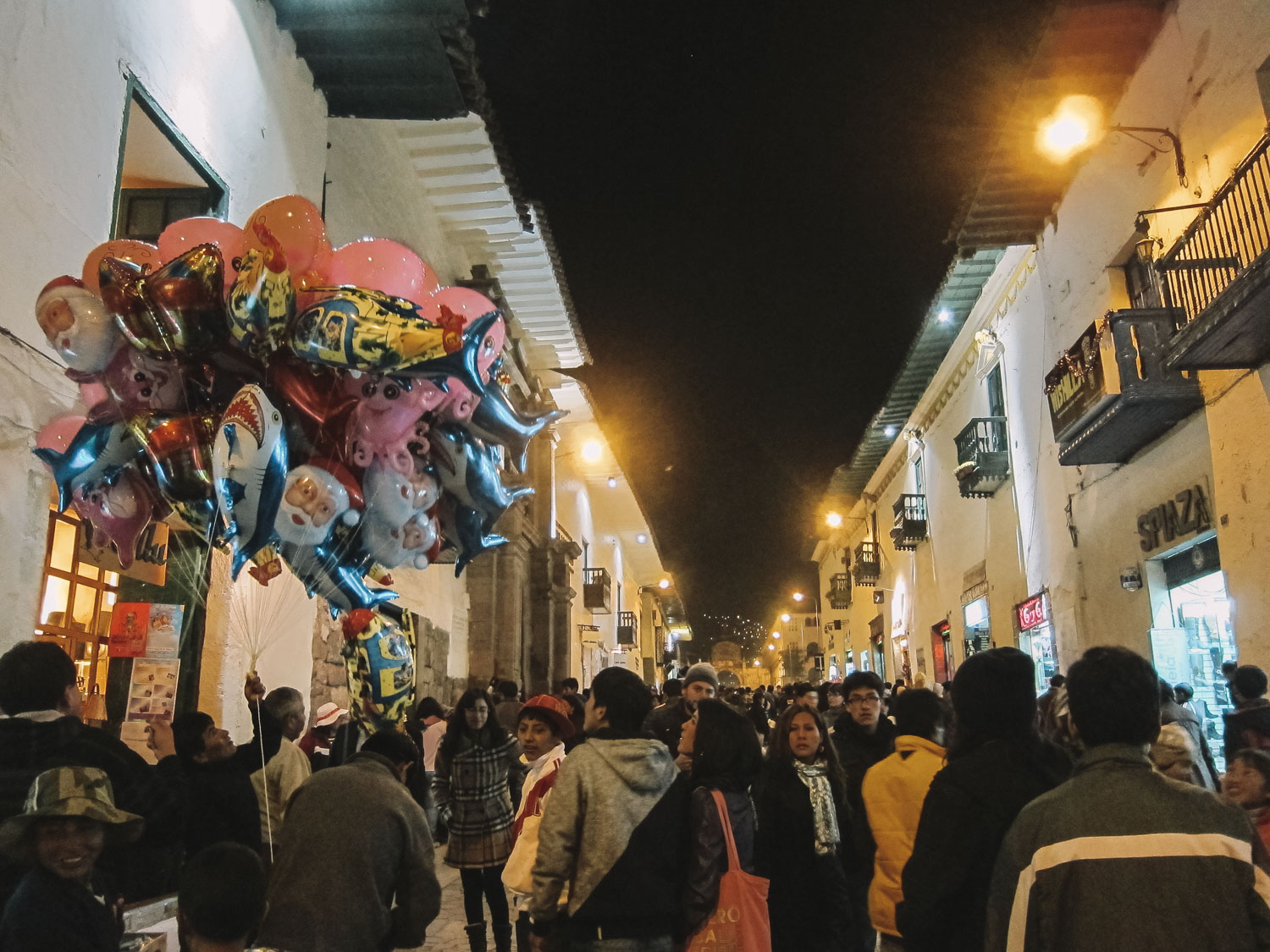 We also decided to get a bit of pampering in. We returned from four days of hiking the Inca Trail yesterday and decided to get massages.
Best. Idea. Ever.
After our massages, we picked up a couple of Panetóns (traditional sweet Christmas bread) and went back to the main plaza. We browsed the night market which was bustling with last-minute shoppers and children enjoying sweets and treats. I even picked up a little fluffy deliciousness myself.
Our next stop was at the Cusco Casino to test our luck.
Yes. There's a casino in Cusco.
We spent about 5 minutes gambling at the slots before our luck ran dry. Better luck next time!
Traditionally, Cusconians serve chicken soup at 11 pm and wait for Papa Noel who comes at midnight. We went back to our host family's home for the traditional meal of soup and midnight fireworks to celebrate. We brought our gift of Panetón for the family and shared the fruit-filled bread for dessert.
A very Cusconian Christmas Eve indeed!
At midnight, we made our way to the rooftop of the house and lit sparklers and set off firecrackers as we watched the entire city explode in lights and celebration. It was unlike anything I've ever seen. The whole city was bursting with fireworks and you could hear the celebration below stretch for miles. I'll never forget the feeling. The true spirit of Christmas is all around me!
¡Feliz Navidad!