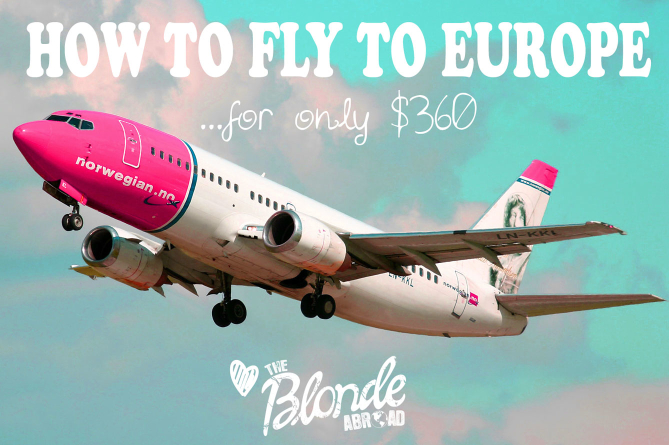 Perhaps the most frequent question I get is, "How do you afford to travel?" While I've given plenty of tips on how to afford a life of travel, it still doesn't change the fact that flights can be crazy expensive.
Flights are often the biggest budget breaker of a trip.
Well, would you believe that I just booked a direct flight from Los Angeles to Stockholm for $360? Did I mention that it is inclusive of fees and taxes? And that I didn't use miles to book the flight at this price?
Let me explain…
Enter: Norwegian Air
Norwegian Air specializes in low-cost flights within Europe and is now servicing popular destinations like Thailand and New York. On March 1 of this year, Norwegian Air will service its first ever flight from Los Angeles to Stockholm. According to the Norwegian Air website, fares from Los Angeles to Scandinavia start as low as $245 each way.
Pssst! This is where I come in!
Part of my "25 at 25" bucketlist was to play a little game of travel roulette. My dates for this summer were flexible and I was open to any destination in Europe.
My mission: book the cheapest flight to anywhere. My tool: Skyscanner.com.
Skyscanner offers an amazing flight search tool where you can search for the cheapest flights anywhere in the world based on your departure airport. I entered June 6th (the week of my 26th birthday), Los Angeles-LAX (my home airport hub) and selected one-way flights (something I've never done before).
You couldn't have prepared me for what happened next.
Skyscanner organized my search results by country, starting with the least expensive flights.
Canada -$135 … hmm maybe.
Mexico -$162 … was just there.
Various Central and South American countries – $230-350 … would love to go back.
And then it happened.
Sweden – $363 …
did I just blackout?!?!?!
Never have I ever seen a direct flight to Europe from Los Angeles at that price. Typically, a good deal for a roundtrip flight from LA to Europe is around $1,200. During summer, you're looking at around $1,500.
Panic ensued as I rapidly tested the booking process on Norwegian Air's website. I tried to prove that it was too good to be true but, no matter how I sliced it, the flight from LAX direct to Stockholm was only $360.
So, I booked.

Turns out, I wasn't the only one to get lucky.  Giddy with excitement, I immediately called one of my friends as I stared at the booking confirmation fresh in my inbox.
"Tara, you're not gonna believe this. I just booked a direct flight to Stockholm on June 6th!"
"Congrats! That's awesome! I'm gonna start looking into travel plans for the summer soon too."
"Tara, my flight cost $360."
Enter: Silent pause for processing
Enter: Deafening scream
"Tara?"
"Sorry. I literally just fell out of my chair. Are you serious?! Tell me how! I'm booking now!"

On June 6th, I'll depart on my first ever one-way flight direct to Stockholm, Sweden with my friend Tara. That weekend, I will celebrate my birthday… and a new beginning.
The rest of my summer? Well, we'll just have to wait and see where the wind blows me.
Only time will tell where this adventure may lead.

I wanted to share how I found a way to fly to Europe for only $360 so that you too might be able to take that trip you've always dreamed of. See if you can find an awesome travel deal using Skyscanner or on Norwegian Air!