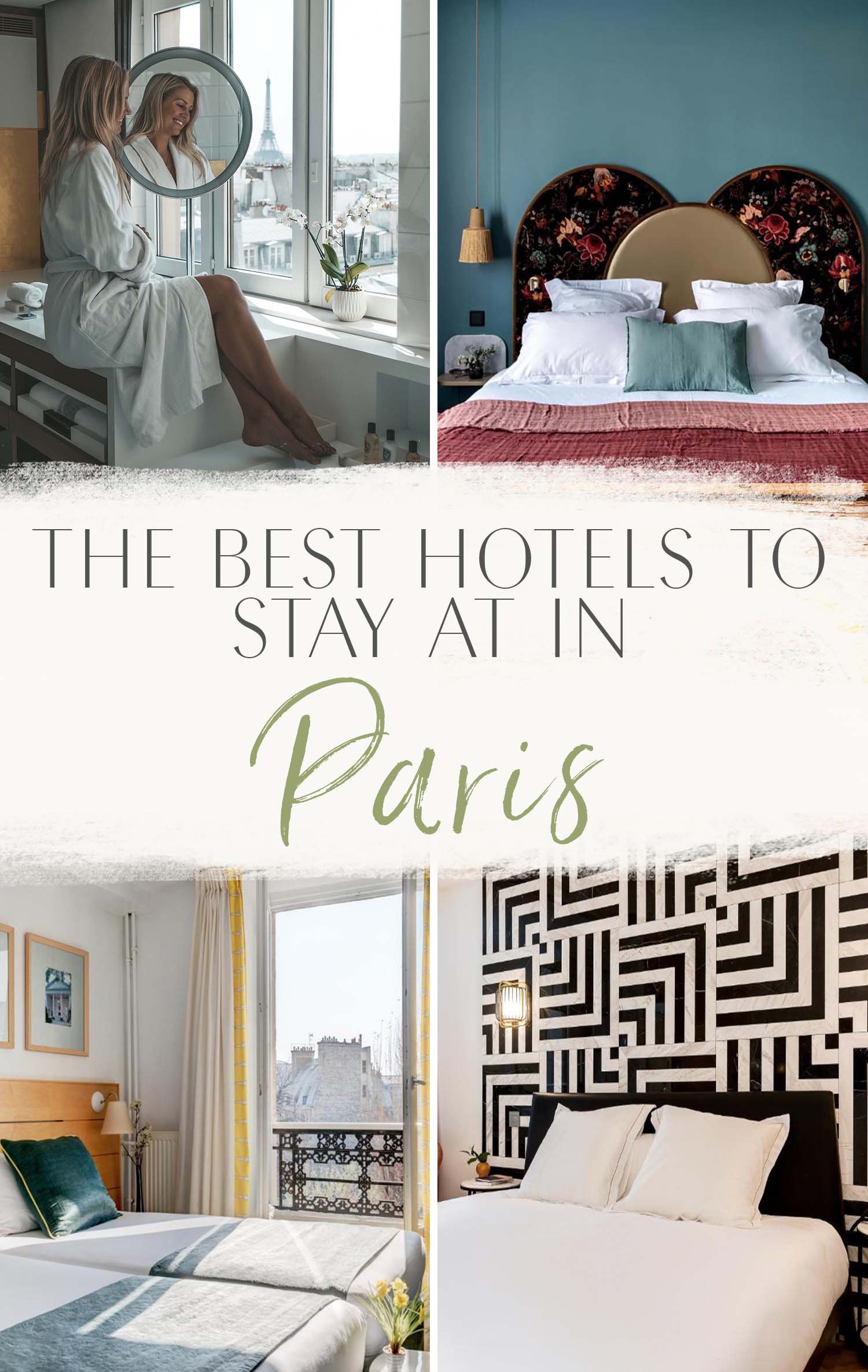 Paris is the City of Love. Whether you are traveling as a couple, a solo female traveler, or a family, I have no doubts that you will fall in love with Paris, France.
When thinking about where to stay in Paris, I generally recommend staying around arrondissements (or districts) 1 through 9, as they are a bit more central to some of the best places to visit in Paris.
However, there are some great AirBnBs in Paris and other hotels in arrondissements a bit farther out but may require a metro ride to all the cool things to do in Paris.
If you are anything like me and want to spend more time in the heart of the city, I suggest trying to stick to districts 1 through 9.
If this is your first time in Paris, make sure to check out the ultimate Paris Travel Guide, Where to Find the Best Food in Paris, and tips for traveling Paris on a Budget.
Here are the best hotels to stay at in Paris!

Luxury Hotels in Paris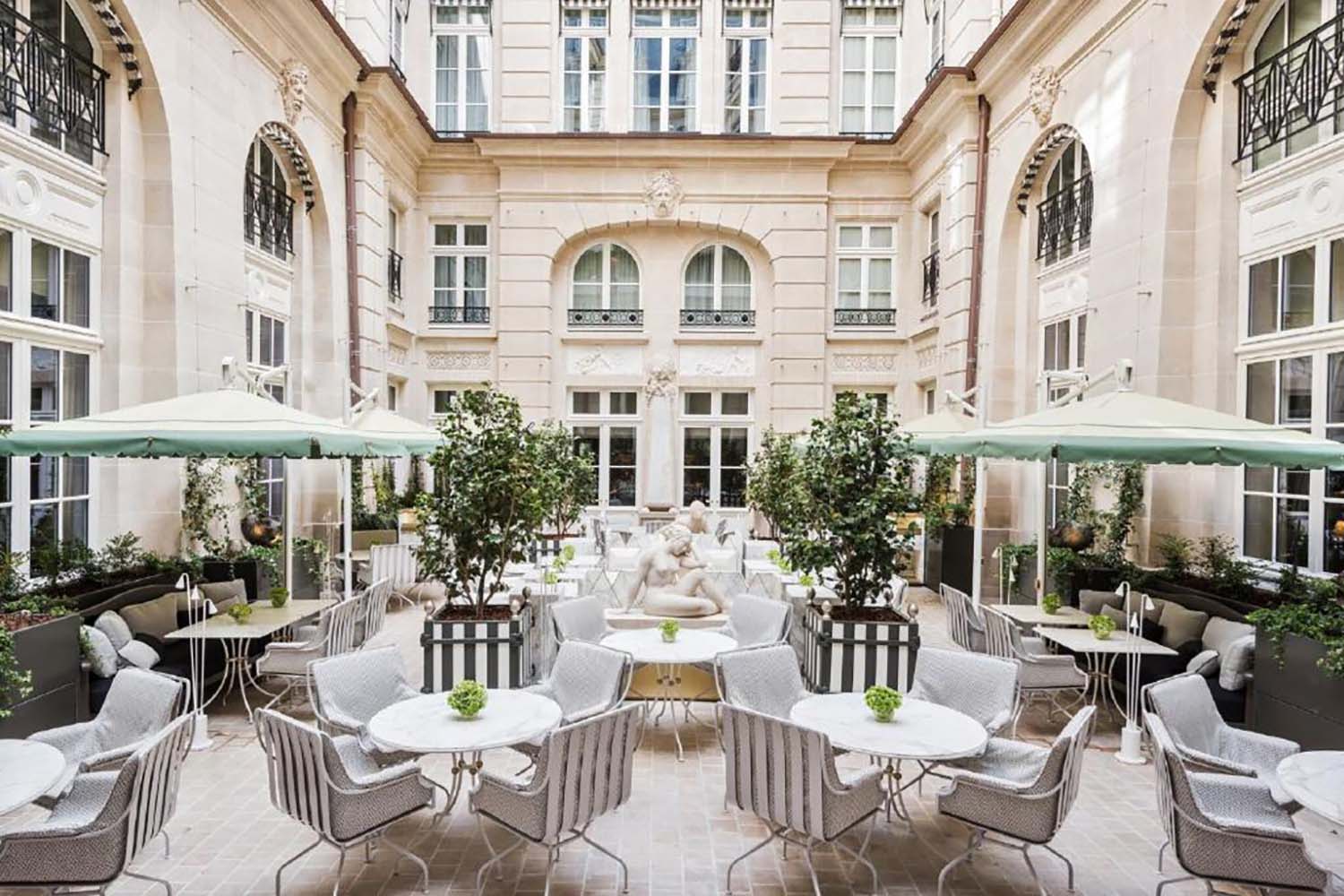 Hôtel De Crillon
Location
8th Arrondissement
Great For
Once-In-a-Lifetime Trip
Once you see Hôtel de Crillon…you may not want to consider anywhere else in Paris!
Crillon is one of the historic "Palace" hotels in Paris and it doesn't disappoint. You can arrange for a round-trip airport transfer to and from the hotel, and the staff is remarkable.
The historic hotel was opened in 1909, but the building dates back to 1758 (holy smokes!). It's located just at the foot of the Champs-Élysées — perfect for morning strolls.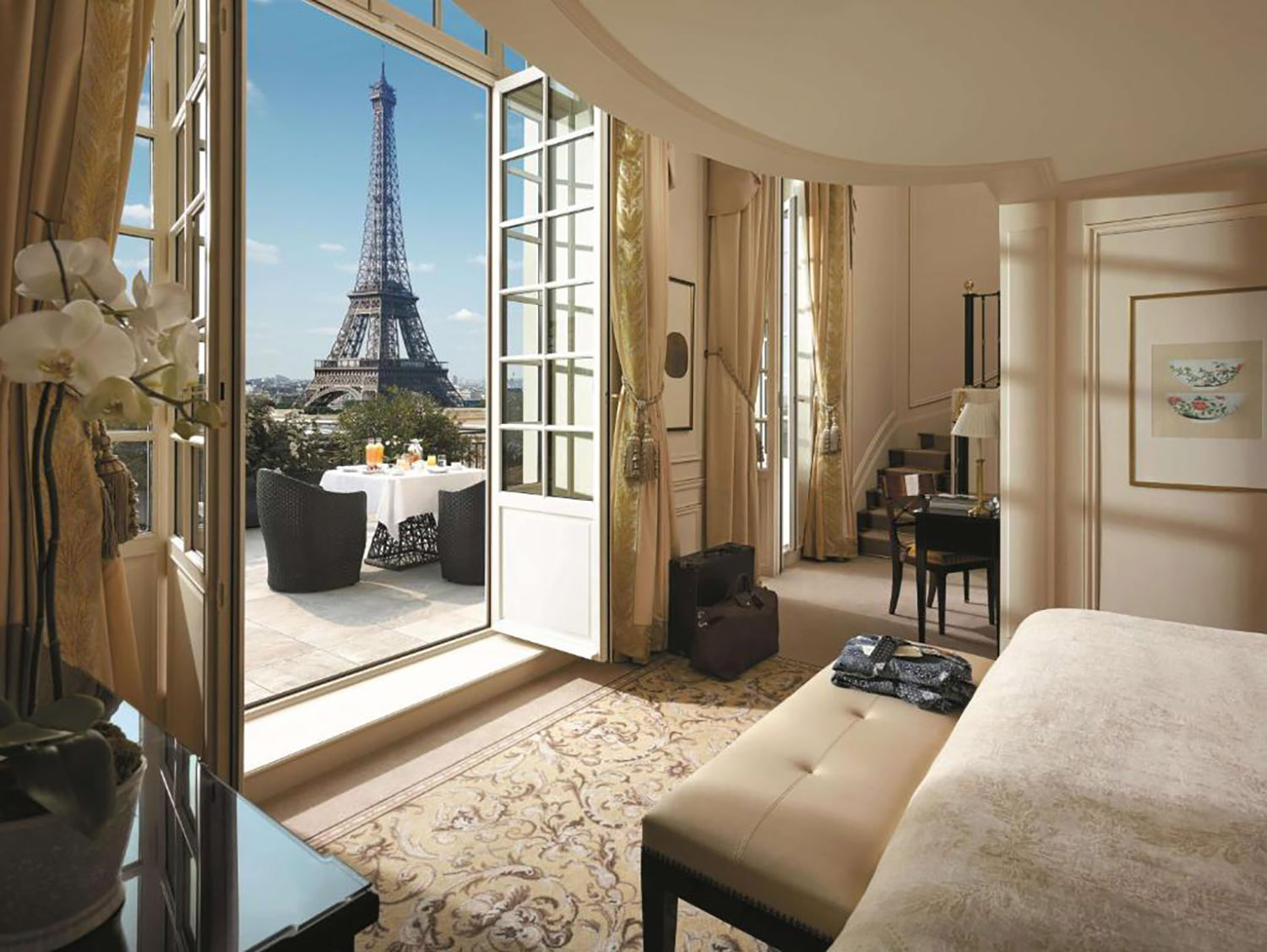 The Shangri-La occupies a former royal home and is situated amongst extremely elegant buildings. It's also just a cool 11-minute walk to the Eiffel Tower (perfect for morning or evening strolls).
It happens to have 1 Michelin star restaurant, to boot. All of the rooms are elegantly decorated with shades of blue, white, and ecru — which plays off the European Empire and Asian aesthetics.
Just wait until you see their indoor swimming pool and fitness room! Guests are also welcome to enjoy the historic billiard room – complete with a fireplace.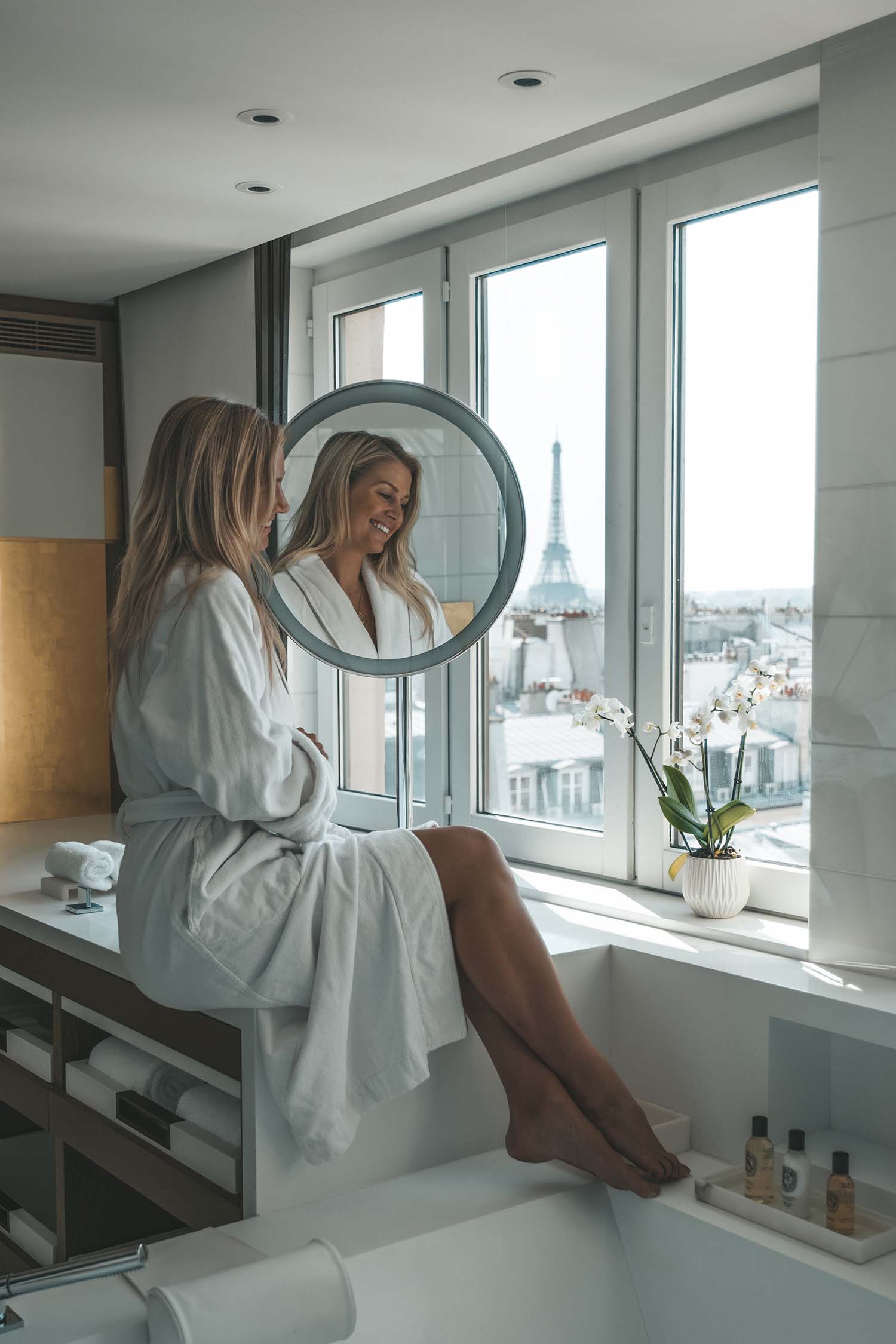 Mandarin Oriental, Paris
Location
1st Arrondissement
The Mandarin Oriental, Paris is a contemporary yet whimsical hotel tucked away in camellia tree gardens, sits right on Rue Saint-Honoré– one of Paris' most upmarket shopping streets.
While the shopping is nothing short of chic, the area itself is a bit quieter than other spots in Paris. Yet you will still be able to find many things extremely close like the River Seine, Musée d'Orsay, and even the Louvre, one of Paris' most well-known attractions.
If you're looking for a family-friendly option, look no further. There is a dedicated children's concierge, mini bathrobes, and video games to keep the little ones entertained.
If you're looking for a more romantic adult-geared experience, there's also an indoor swimming pool and a spa with private spa suites for two and steam showers. Upon arrival, expect a glass of champagne waiting for you, as a warm welcome to the city.
While there are many hotels throughout Paris, it's not often that you find one with a two-star Michelin restaurant.

Mid-Range Hotels in Paris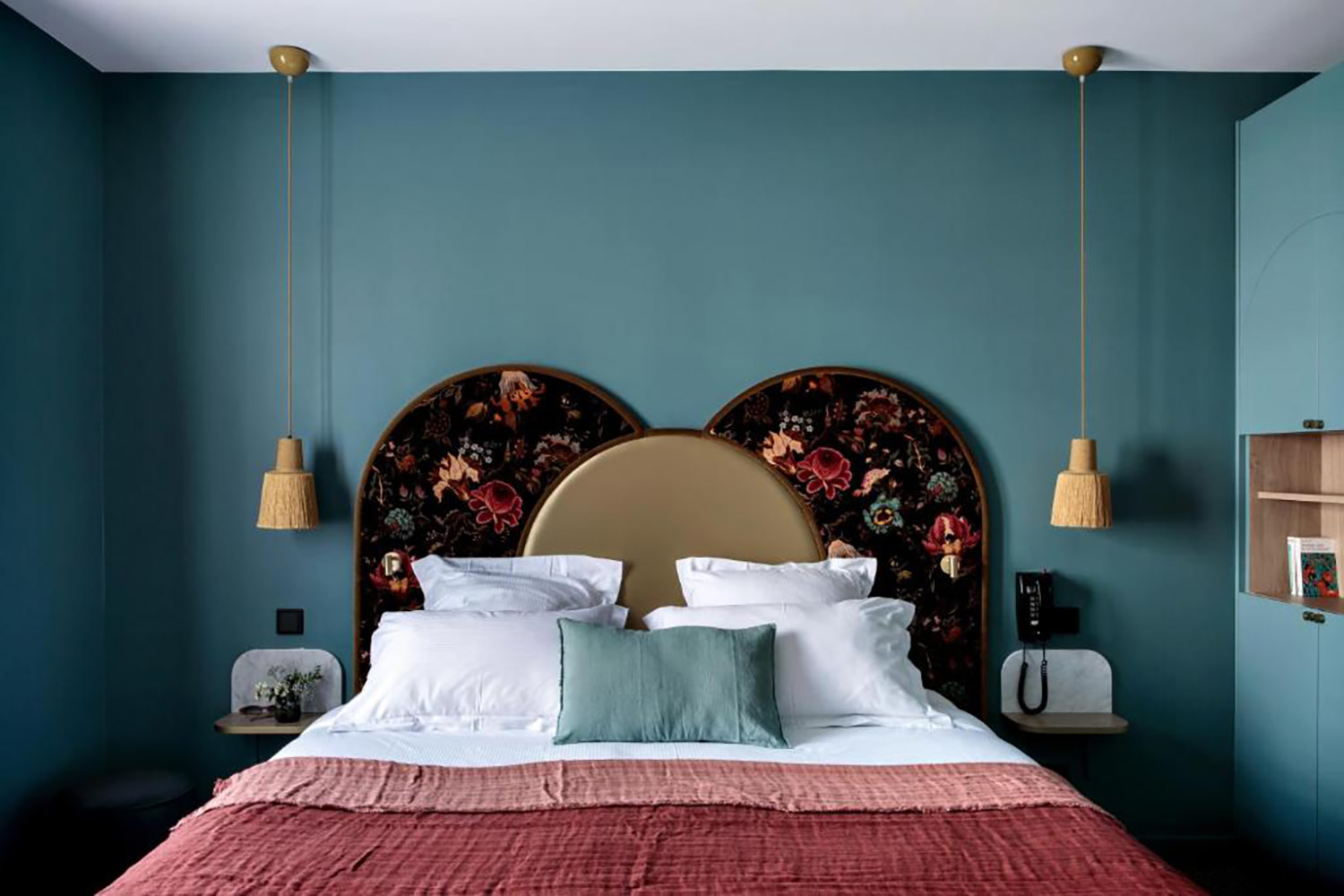 Hotel Leopold
Location
14th Arrondissement
Great For
Families with Young Children
Hotel Leopold is located in the heart of Paris and is just a short walk to the Montparnasse train station and many of Paris's main attractions.
The area has long been known to welcome artists and musicians, which is no wonder why the hotel is decorated so stylishly. The rooms are spacious and elegant, with warm and inviting colors and decorations.
After a long day of exploring, guests can enjoy a book from the hotel's library or grab a cocktail at the lounge bar.
The Hotel Leopold is the perfect stay for families with young children.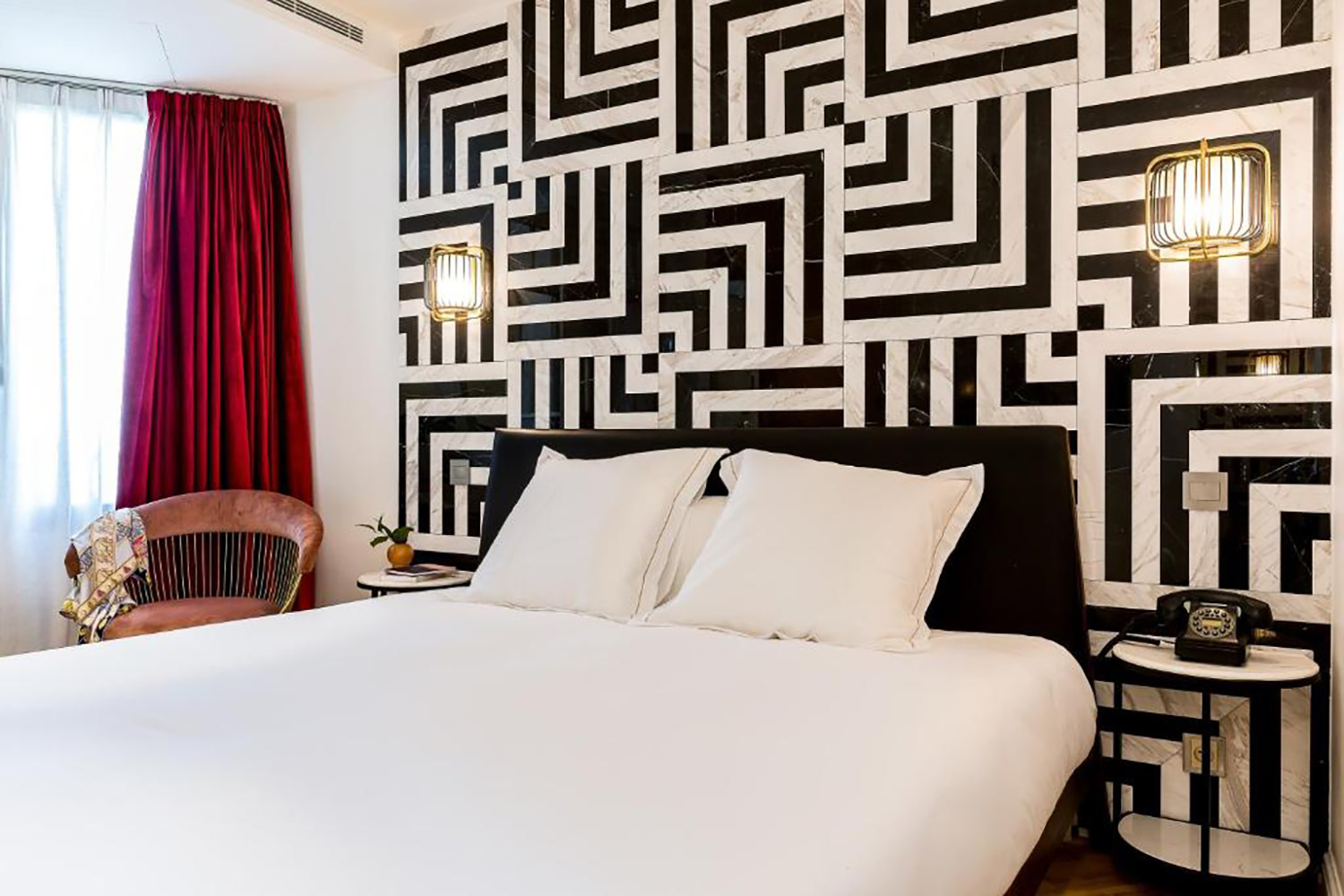 Hotel Rose Bourbon
Location
15th Arrondissement
Great For
Solo Travelers or Couples
Art Deco meets contemporary design at Hotel Rose Bourbon. This Parisian boutique hotel offers 39 guest rooms that are unique and stylish.
Guests can enjoy a complimentary breakfast each morning before exploring nearby attractions. Hotel Rose Bourbon is perfect for solo travelers or couples.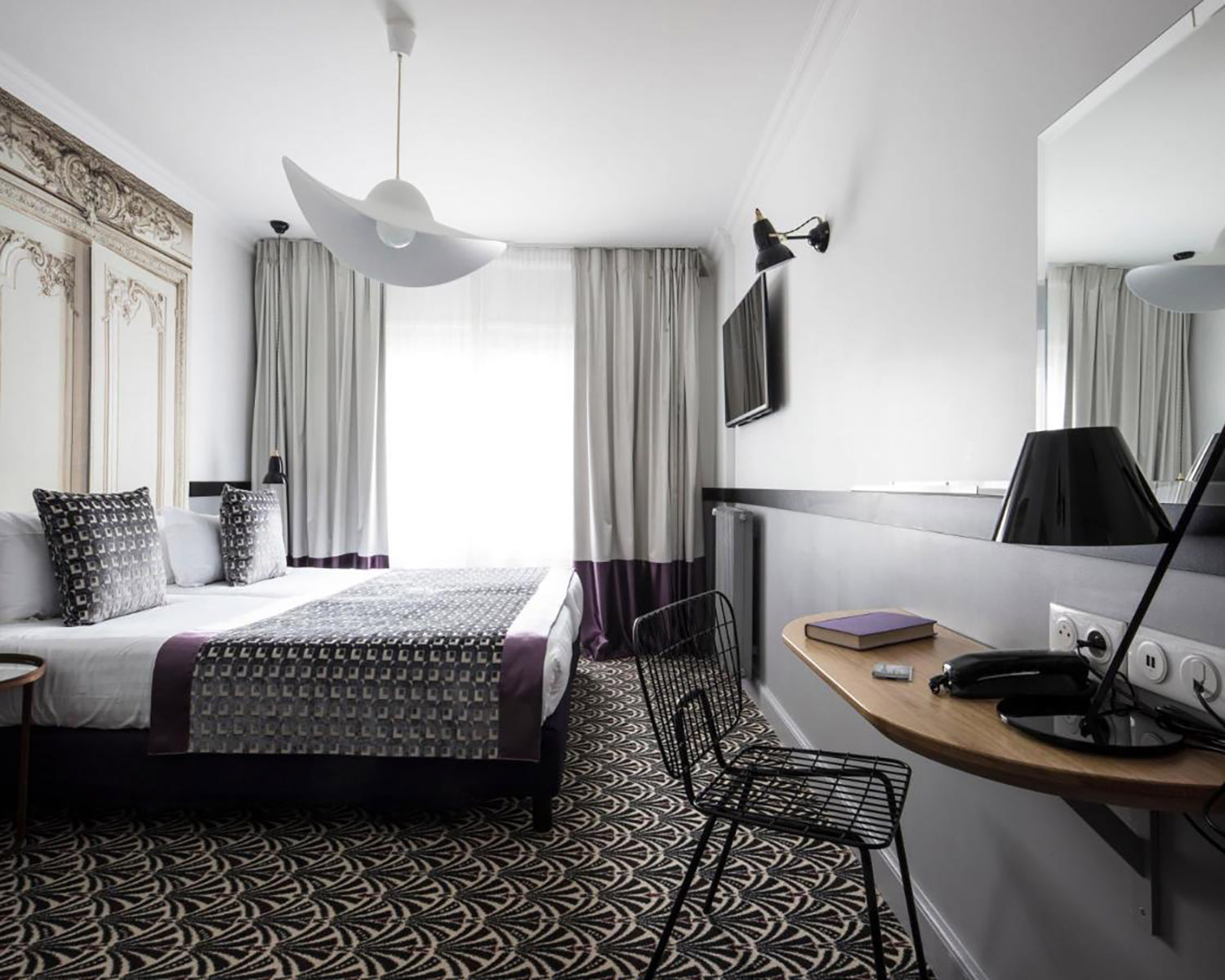 Hotel Malte
Location
2nd Arrondissement
Great For
Families with Children
Hotel Malte is a 4-star hotel in a prime location. Next to many of Paris' attractions like the Louvre and Place des Victories, Hotel Malte is the perfect hotel for those wanting to explore all that Paris has to offer.
Hotel Malte is a contemporary hotel hidden behind a façade from the 17th century. Guests can enjoy a buffet breakfast each morning in the breakfast room or courtyard.
At the end of each day, guests can relax in the lounge next to the fireplace or have the kids play in the children's area.
The Hotel Malte is the perfect hotel for families with children.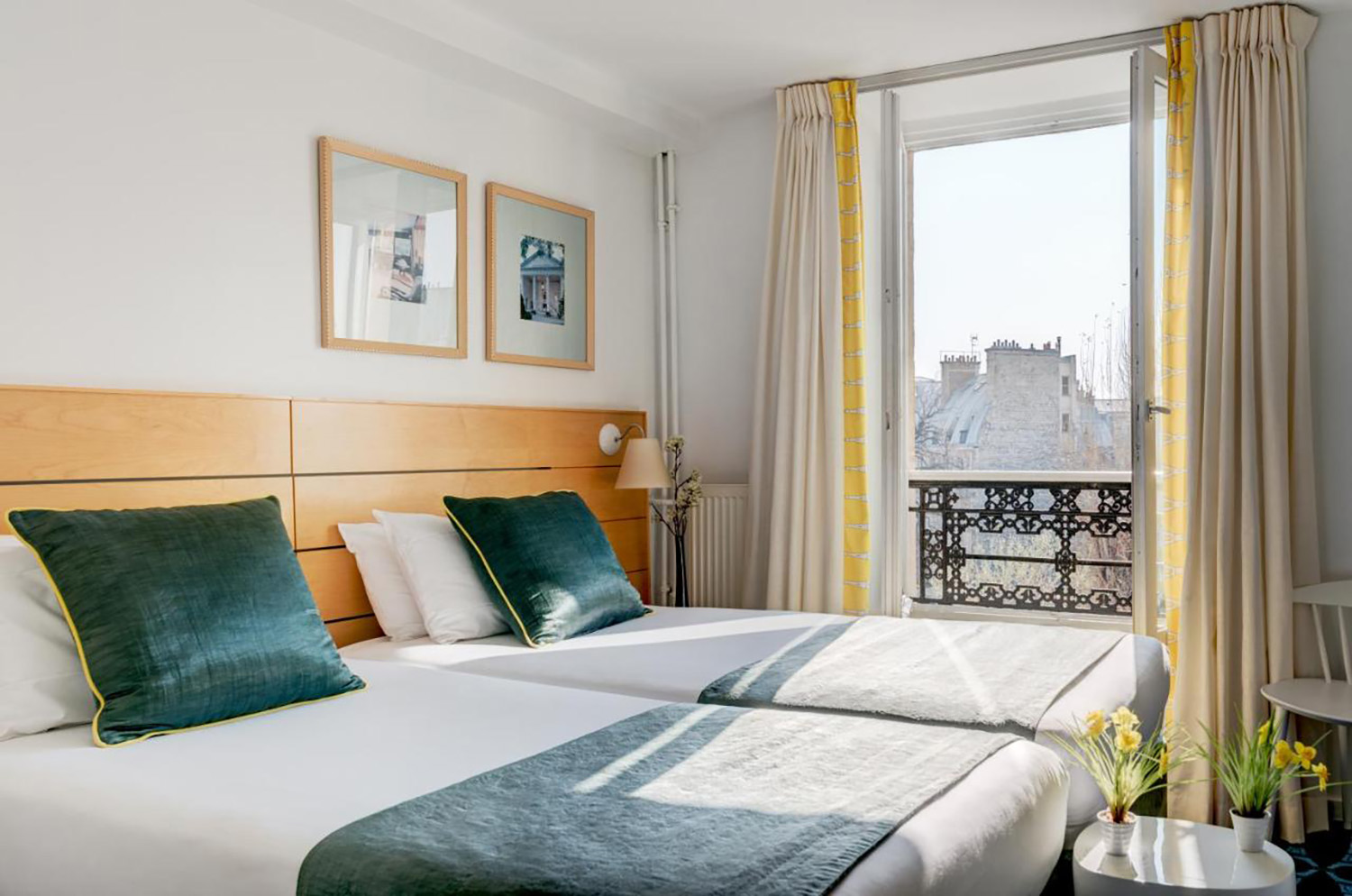 Hotel Lorette
Location
9th Arrondissement
Hotel Lorette is just a short walk to Montmartre and the Sacre Coeur Basilica. This contemporary hotel offers rooms that are spacious and decorated in a minimalist style.
Each morning guests can enjoy a buffet-style breakfast, and each evening non-alcoholic drinks and snacks. The hotel is just a few feet away from the metro, which can take guests to almost anywhere in the city in just a few minutes.
Hotel Lorette is a great stay for couples.

Budget Hotels in Paris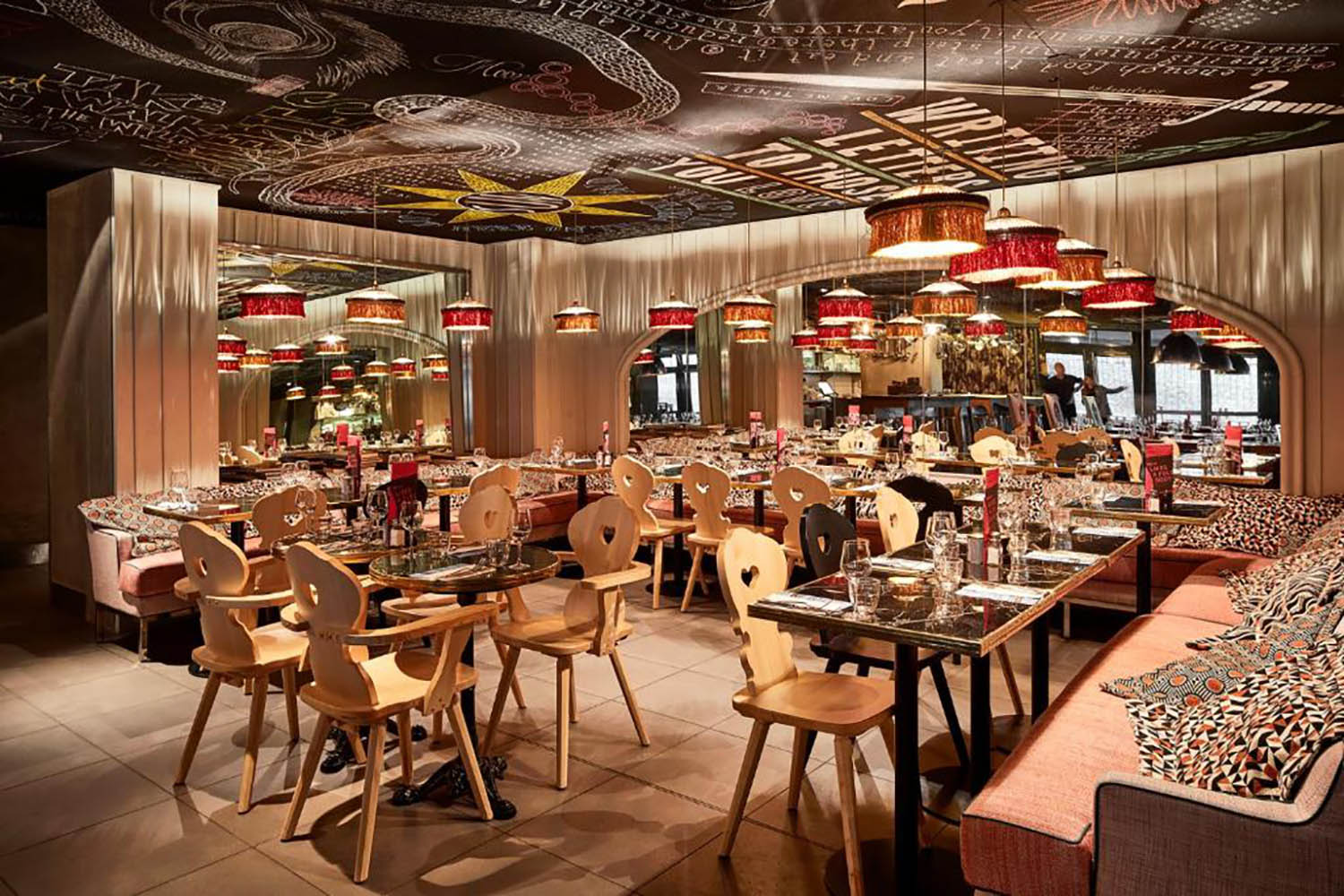 Mama Shelter
Location
20th Arrondissement
Great For
Younger Couples and Solo Travelers
Mama Shelter is a hip and modern hotel in the 20th district of Paris. Rooms are stylish and playful with private bathrooms.
Guests can enjoy many great amenities such as game areas, photo booths, and luxury bedding. The hotel has both a pizzeria and an on-site restaurant that serves French cuisine.
Mama Shelter is the perfect stay for younger couples and solo travelers.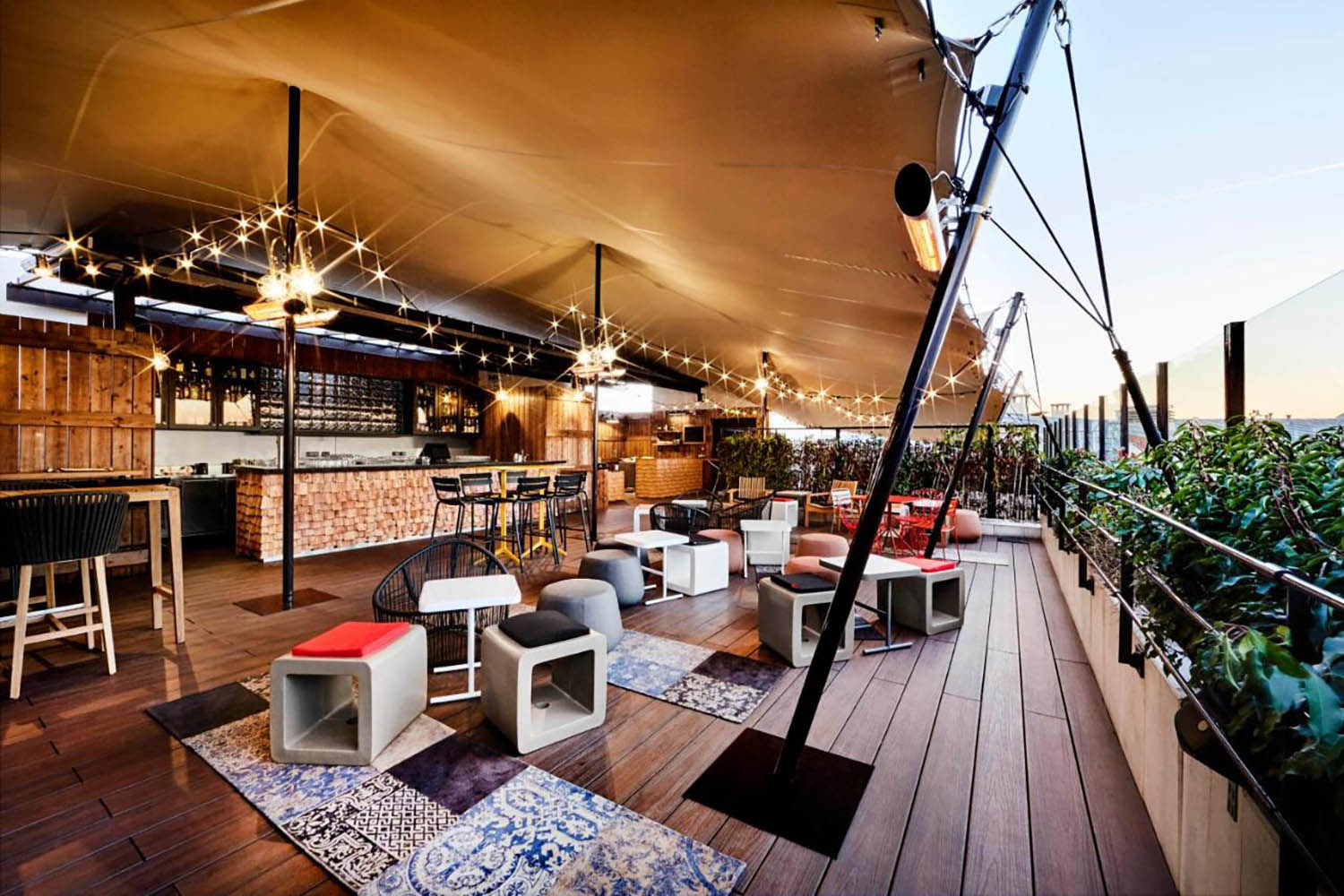 Generator Paris
Location
10th Arrondissement
Great For
Families and Solo Travelers
Generator Paris is a fun and eclectic hostel that offers its guests a fun atmosphere. Café Fabien is onsite and serves local cuisine.
At night, guests can enjoy the bar which serves up cocktails and has upbeat DJ music. Each morning guests are welcome to a complimentary buffet-style breakfast.
Generator Paris offers private and shared rooms. The Generator Paris is the perfect stay for both families and solo travelers.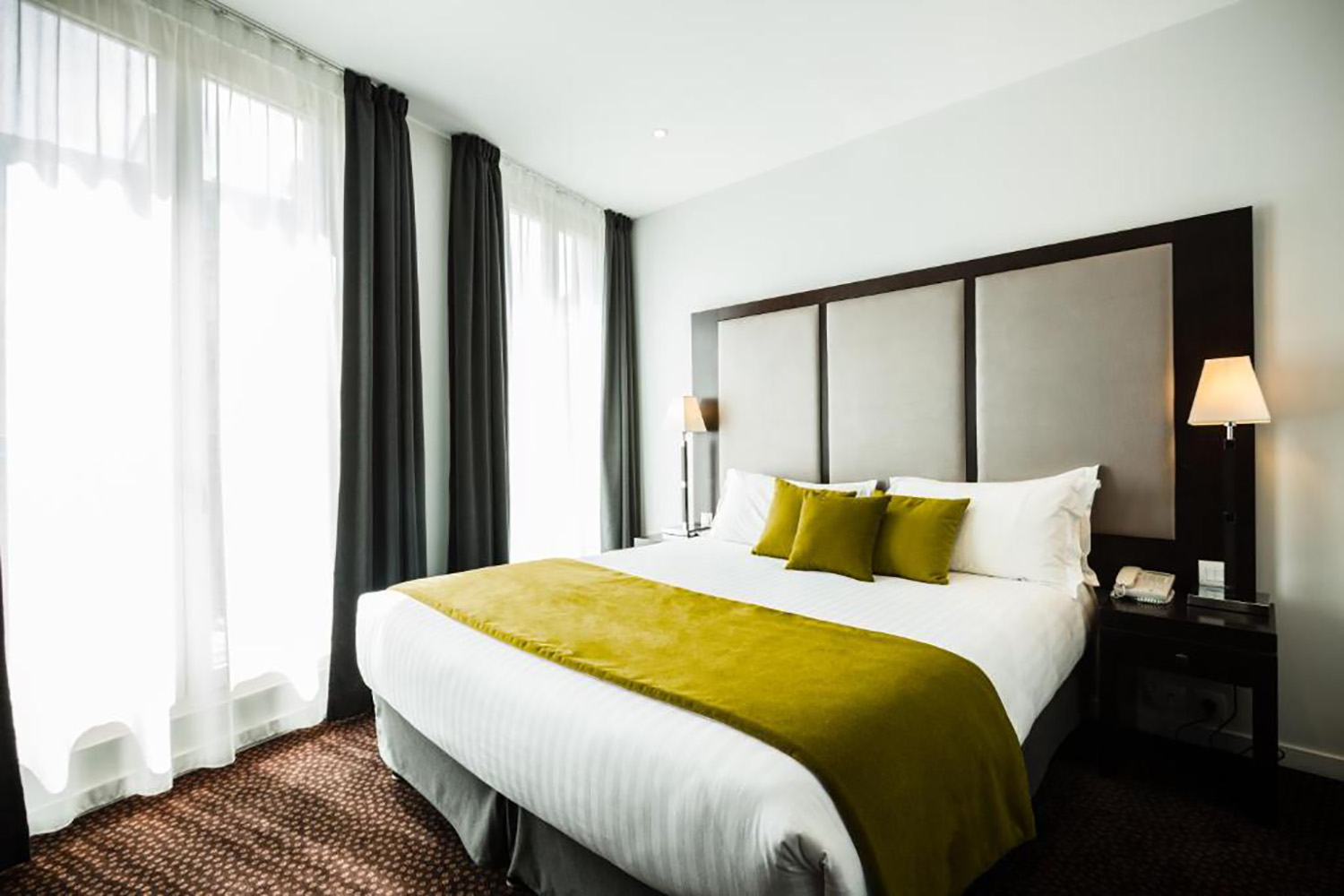 Hotel Park Lane Paris
Location
8th Arrondissement
Great For
Couples and Families
Hotel Park Lane Paris is a 4-star boutique hotel situated close to the Galeries Lafayette Department Store.
Rooms are modern and spacious with private bathrooms. Guests can start their mornings off with a complimentary breakfast before exploring the nearby attractions.
Hotel Park Lane Paris is not only close to many Paris attractions but is also steps away from a metro station which can take visitors to anywhere in Paris they wish.
Hotel Park Lane Paris is a great stay for couples and families.

Do you have a favorite hotel in Paris? Let me know in the comments below!