I ended up in Belgium (from Fuertevetura in the Canary Islands) after deciding to book my next adventure based on the least expensive flight available. It was one of the best travel decisions I've ever made.
Oh the joys of spontaneous travel!
Between the melt-in-your-mouth chocolate, salty frites, sweet waffles, and world-famous beer selection, it was an easy sell. I planned on spending a week in Belgium between Brussels, Brugge, and Ghent.
My main goal? Try as many beers as possible.
Little did I know that while I was busy undertaking a food and drink expedition, Belgium would come to be one of my favorite destinations in all of my travels. Let's begin with a tour through some of my favorite beers, bars, and breweries that I stumbled upon during my stay in Belgium.

Brussels, Belgium
I only had a couple of days to spend in Brussels and spent about 85% of my time in The Délirium Café. Literally. I left around 4 am and returned the next day at noon. Then came back that night around 10 pm to repeat the process.
The Délirium Café
There are over 2,000 types of beer at the Délirium Café so, needless to say, I had a hard time convincing myself to leave. The beer-tenders are incredibly knowledgable so it was a great first stop in Belgium

First Course: Delirium Tremens
When in Rome… err Brussels… be sure to try a Delirium Tremens. The backstory of this beer alone is reason enough to try it! The delerium tremens (latin for "shaking trembles") was a phrase used to describe a condition where, as a result of excessive alcohol consumption, one would hallucinate and see pink elephants (hence the pink elephant logo on the beer).
Not to worry though! The beer has a whopping 8.5% abv (alcohol by volume) and it was named Best Beer in the World in 2008 (and not for hallucinagenic properties).

Second Course: Pucker up
One of my favorite types of beer that I was recently introduced to in my hometown of San Diego… sour beer! They're tart and refreshing! Oude Geuze is just one type of sour that I tried but I loved it. Don´t be shy, give a sour a try!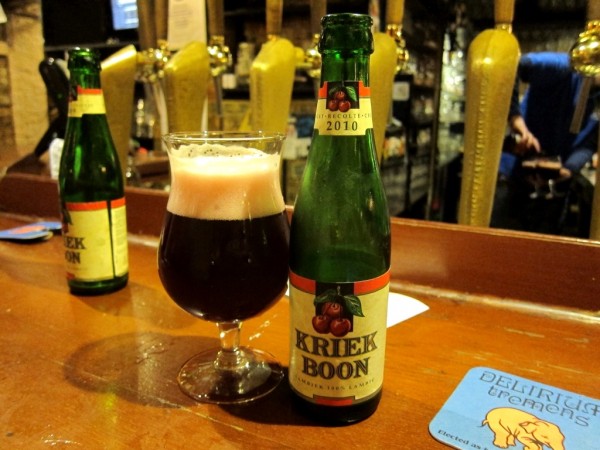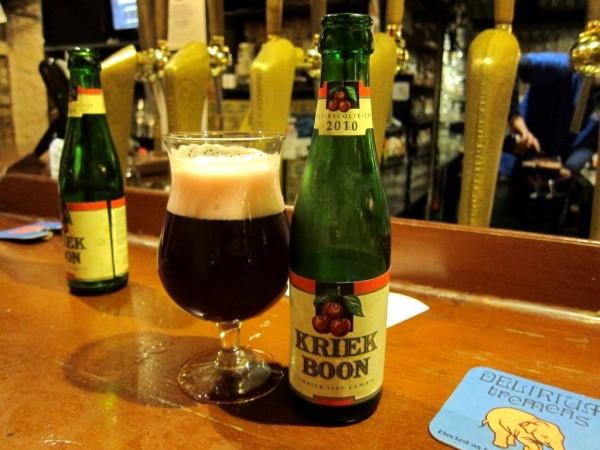 Third Course: Battle of the Cherries
A classic lambic cherry beer cannot be missed. But which one to try? They can range from super sweet to having just the slightest essence of cherry. The price can range just as widely. An authentic cherry beer made with real cherry juice will run you some big bucks, but you don´t need to splurge.
There are still plenty of economically friendly cherry beers to indulge in. I tried two of the more popular types and, just as I was told, they tasted completely different. I preferred the Kasteel Rouge because it wasn't as sweet as Kriek Boon. But, as with all beer, it's entirely a matter of preference.

Dessert: Cookies!
Yes, it´s true. Not only is there such a thing as cookie beer but there is also a chocolate beer and plenty of fruit-based beers. The Cookie Beer was served with a traditional Belgian Speculoos cookie. You are supposed to take small bites of the cookie as you sip the beer. Sort of like how you would nibble on chocolate while tasting port wine.
And yes, the beer actually tasted like a spice cookie!

Blondes on Blondes on Blondes: Tripel Blondes
Belgians love blondes! And by that, I mean Tripel Blonde beers like Tripel Karmeliet. They pack some serious strength (some over 10% abv) and, like all blondes, are fantastic! You can find them at every bar but be sure to try this one in particular. It is one of my favorites.

Brugge, Belgium
Brugge is like a small village straight out of a Fairytale. But even better than the romantic canals and majestic swans… there's amazing beer.
De Halve Maan Brewery
De Halve Maan is the last remaining family-owned brewery in Bruges. They have a tour for only 6,50€ which includes a beer afterward.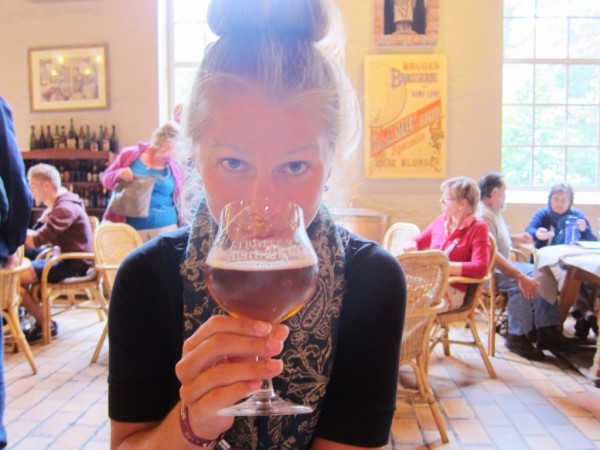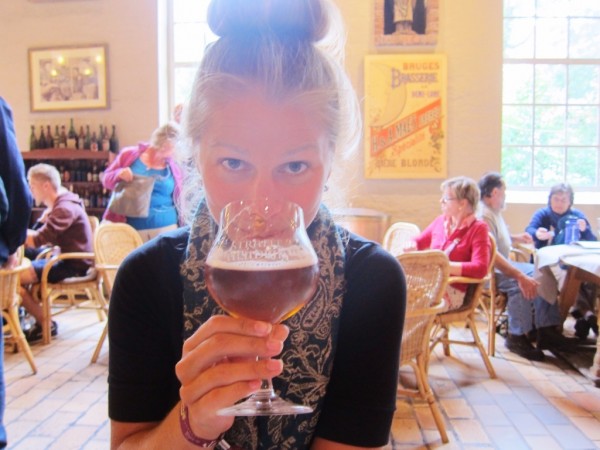 All in the Family: Brugse Zot & Straffe Hendrick
You will have the opportunity to try the Brugse Zot, a goldenblond beer, after the tour but be sure to try their Straffe Hendrick, a bitter Tripel Ale of 9% abv. Along with the rich history of the brewery (dating back to the 1500s) the Straffe is also the last authentic Tripel Ale of Bruges.
Staminee De Garre
It might take a minute, but look hard and you'll find this little treasure down a small alcove near the Markt. This intimate pub is well worth a visit.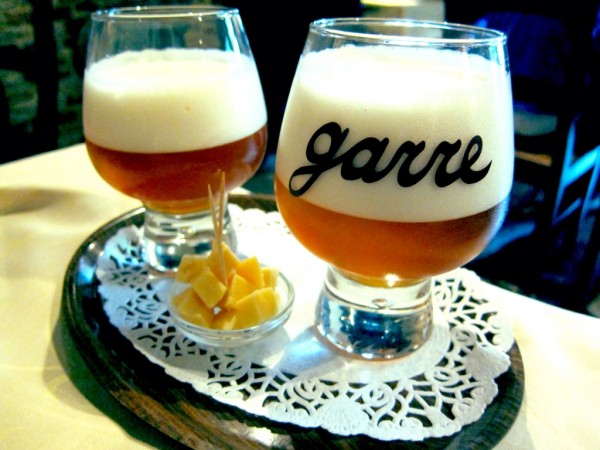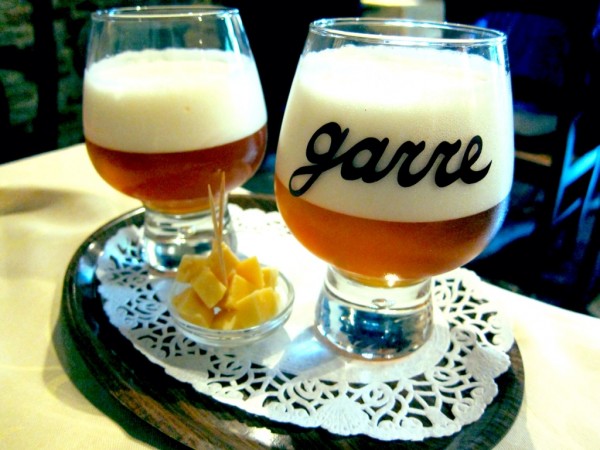 One beer two beer three beer floor: Tripel van De Garre
There is a three beer limit on the 11.5% abv Tripel van De Garre. Each glass is served with little bite size pieces of cheese that compliment the beer perfectly. I sipped down two beers far more quickly than I had anticipated and practically fell out of the bar. Enjoy with caution!
Charlie Rockets Hostel Bar
There's nothing better than staying at a hostel with a built in bar in Belgium, which is why I stayed at Charlie Rockets. I could get some work done and sip an ice cold Belgian beer all within a few steps of my dorm room.

Tried and True: Chimay
Chimay, while available worldwide, is not only a traditional Belgian beer but also an authentic Trappist beer. That means is it brewed in a monestary under the responsibility of monks. There are a few Chimay beers to mention but I personally prefer Chimay Blue.

Ghent, Belgium
Where to start with Ghent. Personally, Ghent has trumped almost every European city and stands as one of my all-time favorite travel destinations. Between the medieval buildings, the huge jazz music scene and beer gardens galore, I absolutely fell in love with this city!
Jazz Festivals
Ghent loves jazz. I love jazz. Ghent loves beer. I love beer. We were made for each other. If you time your visit you can go to one of the many jazz fests and see what I mean. Love at first sight.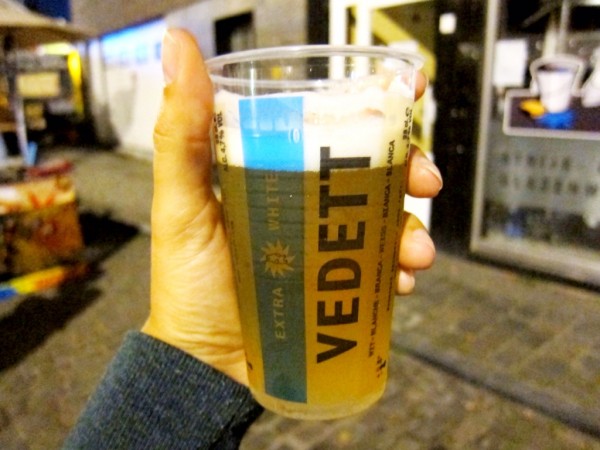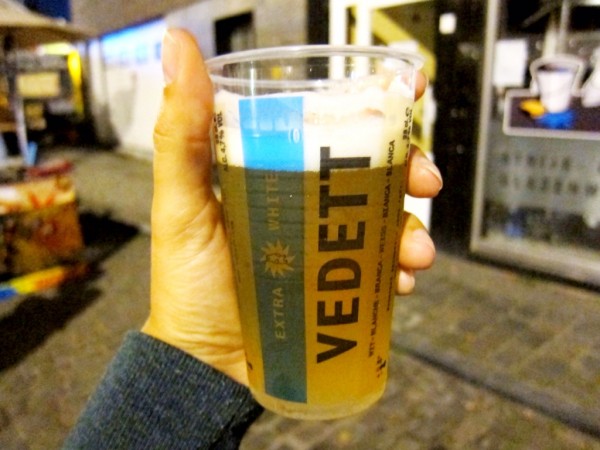 White Delight: Belgian Extra Whites
There are plenty of Belgian Whites to try, but enjoying a "to-go-sie" during a jazz fest makes it that much better. Grab a Belgian White beer like Vedett and hit the streets for an all Ghent experience.
De Trollekelder
This pub sits just across from St. Jacobs church. Trolls look out from the windows onto the city streets and the cozy atmosphere inside is lit by candlelight. It has a very authentic Flemish feel and an impressive offering of beer

Exclusive Beer: Gulden Draak
In every city there are beers only found in a single bar, or at least just in that city. I'm not sure if the Gulden Draak is available outside of Ghent but it is surely 100% Ghent (and 10.5% abv)! The golden dragon of the beer is symbolic of the same famous dragon statue that sits at the top of the Ghent Belfry (or bell tower).
Du Dulle Griet
You'll find this bar on the cobblestone street of the Vrijdagmarkt. Grab a seat on the front patio or cozy up inside at one of the unique table settings.
Overall winner: Tripel Kanunnik
If I order the same beer twice, it's good. Thrice, it's nice. If I end up staying out all night drinking the same beer, it's the best. I discovered this little beauty after asking the beer-tender for a recommendation.
One of my favorite things about bars in Belgium is that the beer-tenders will fully profile you based on simple answers to their questions about your preference and know exactly which beer you'll like. The Tripel Kanunnik took the cake!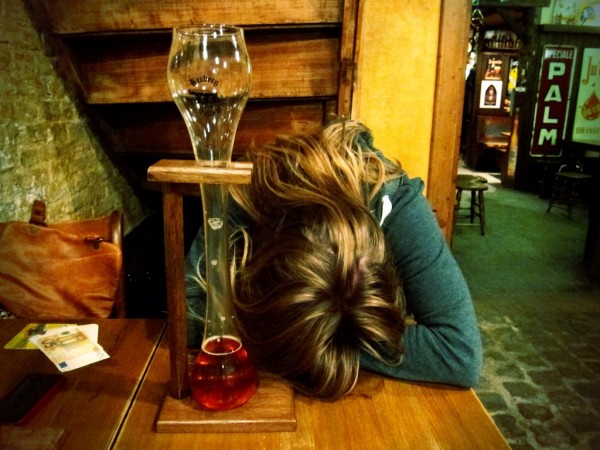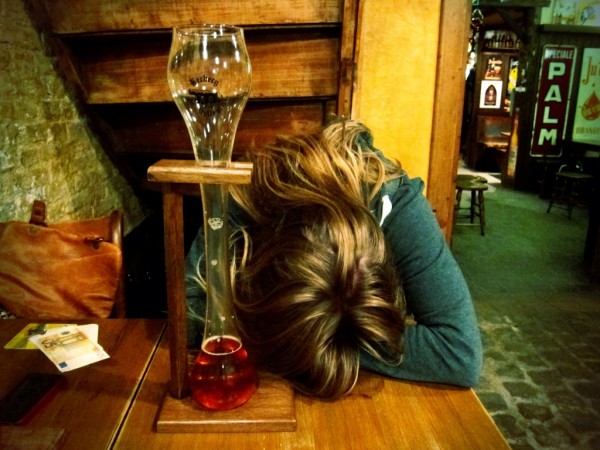 The Grand Finale: A Shoe for a Beer
For the bravest of beer drinkers, order a Bosteel's Pauwel Kwak at Du Dulle Griet. In exchange for the enormous yard sized beer you need to leave a deposit: one shoe. If that's not strange enough, your shoe is placed in a wicker basket and hauled up to the top of the rafters.
Shoeless and most definitely tipsy after consuming your brew, I'm sure you'll agree it's a one-of-a-kind Belgian beer experience not to be missed!

This is just a "taste" of what Belgium has to offer. My stay in Belgium, while short, was good to the last drop and has left me longing for more!
 What's your favorite Belgian beer?