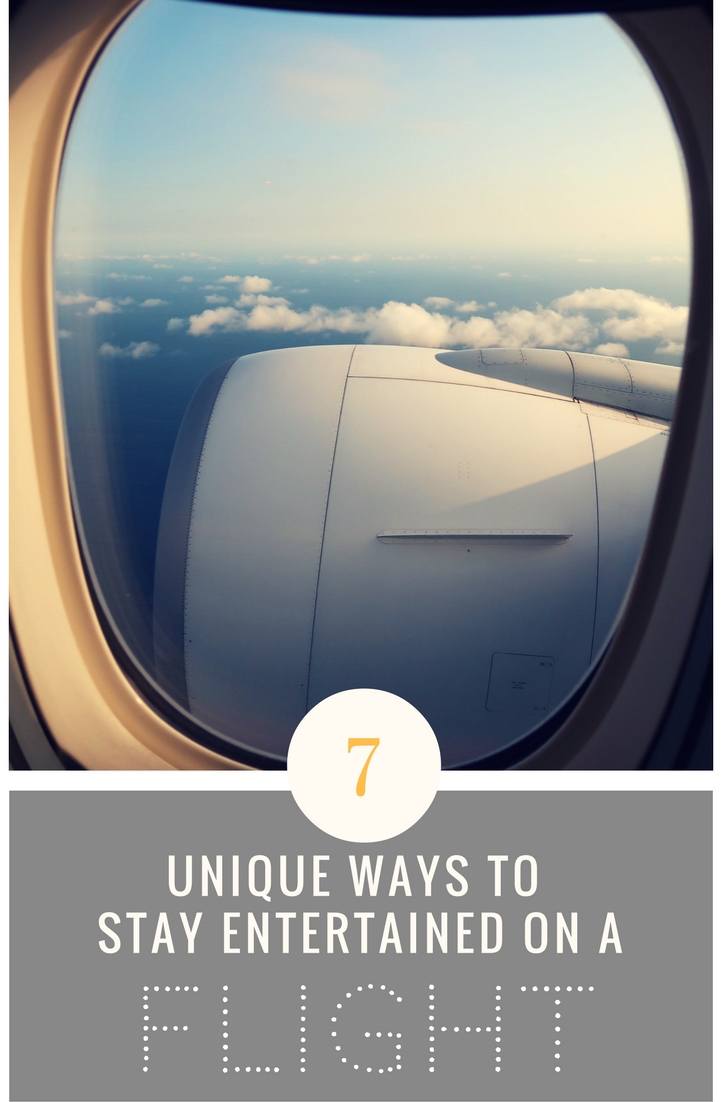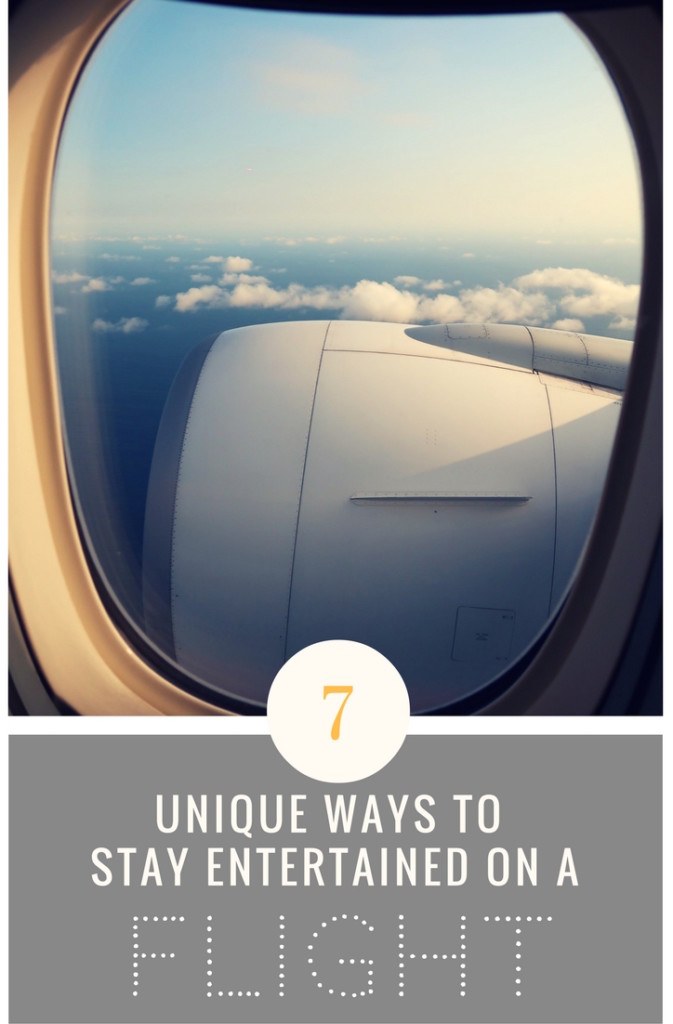 Traveling doesn't have to be downtime, but long travel days can be excruciating without some entertainment. I've learned a ton of skills and found a lot of ways to stay busy on planes, trains, and automobiles around the world. Got a flight coming up?
Check out these seven unique ways to stay entertained on a flight!

Enhance Your Skills
Flights are a perfect opportunity to focus on things you've been wanting to learn. I've been working on mastering Plotagraph Pro, Adobe Lightroom and a few video editing programs.
I'm always amazed at how much I can accomplish in transit. With just a few hours of my dedicated attention, I can work my way through a ton of info.
Feeling inspired? Just be sure to download any tutorials beforehand so you've got everything you need.

Coloring and Workbooks
Coloring is for any age! I love the adult coloring trend, and it's the perfect way to unwind. For those times when I have too much energy and just want to keep my hands busy, coloring books are the way to go. They're also great to help you relax after a crazy day of travel.
My friend, Rachel, actually created these amazing coloring books– Botanical Wonderland: A Blissful Coloring Retreat and the Desert Wonderland: A Serene Coloring Retreat— and I would highly recommend. They are both gorgeous books and full of low-tech fun.
Who says handwriting is a dying art?
I've been passionate about learning calligraphy and hand lettering. From invitations to wall hangings, you can make gorgeous creations when you have beautiful penmanship. If you want to create your own art from scratch, check out Creative Lettering and Beyond to master a new skill on your next flight.

Get Multilingual
It's really handy to know the basics of the local language. Even just mastering simple things like "hello" and "thank you" can make your trip a lot easier. If you can, try to learn how to ask for directions and understand simple replies.
Before I go, I always download the Duolingo app in offline mode.
While a lot of people feel intimidated by the idea of learning a new language, you can really learn a lot during a flight. Just memorize some essential phrases and put them out with confidence! The locals are always impressed by the extra effort, so don't be shy.

Listen to Podcasts or Audiobooks
I love binge listening to podcasts! I'm crazy about Freakonomics, Stuff You Should Know, and Serial. Download whatever series interests you, and the time will fly by. This is also really handy for bus and train trips if you get motion sick and can't read on the go.
Just be sure to download each podcast or audiobook for offline access. If you've never used it offline before, test out the access in airplane mode before you go.

Catch Up on Reading
I can't spare any luggage space for reading materials so I love the Pocket App. You can save online articles to read them offline.
Catch up on all those articles you see in your Facebook feed that you just don't have time to peruse in day-to-day life. Having shorter reading material is handy for layovers and other times when you know you'll have a lot of interruptions.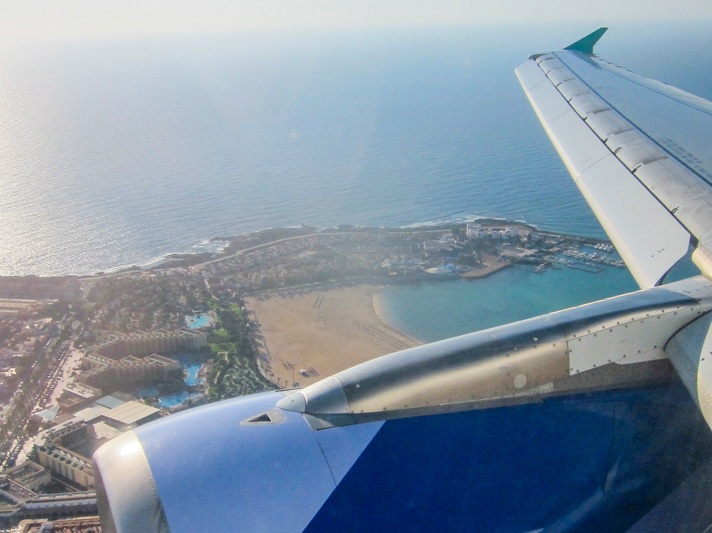 Rock Out
I create playlists before every trip and save the playlists offline on Spotify so I can listen to all sorts of music regardless of my Internet connection.
It's good to keep adding new songs so you don't get bored with your library.

Plan It Out
Attention, last minute planners: grab a travel guide at the bookstore, and plan your trip out on the flight. It might be the old fashioned way but it's nice to have something tactile that you can highlight and dog ear.
Make a list of the highlights you want to hit, so you can start exploring the minute you arrive!
HELPFUL TIP: If you have been looking to get a travel reward credit card, I recommend applying for one before a big trip or purchase. Some of the biggest benefits are earning points to use for free flights and hotels. Plus, many cards offer additional points when making travel-related purchases. Some cards also offer travel protection when you pay for a trip with the card.
My personal favorite is the Chase Sapphire Reserve (for frequent travelers) or the Chase Sapphire Preferred (if you're just starting out)! Check out my favorite travel reward credit cards!