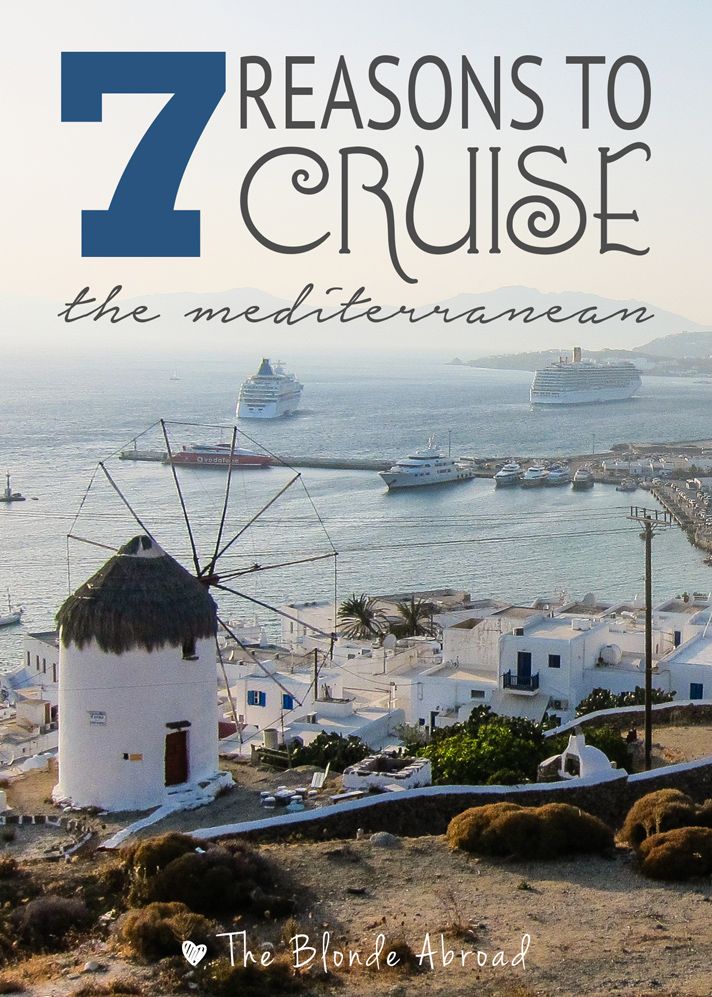 If you are thinking of taking a cruise, then look no further than the Mediterranean!
There are plenty of different types of cruises in the Mediterranean for nearly every type of traveler. If you're looking for a romantic getaway, a sightseeing adventure or a family vacation, the Mediterranean is the perfect destination!
Here are 7 reasons to cruise the Mediterranean!

1. Great Value
Cruises in the Mediterranean offer great value for your money because the fares include almost everything needed for a fantastic trip: accommodation, food, entertainment, and transportation between intended destinations.
On some cruises, kids are allowed to sail for free or at discounted rates when sharing a cabin with two or more adults.
2. You Can Visit Multiple Destinations
In the Mediterranean, cruises offer the ultimate in city breaks by allowing you to visit lots of islands and cities on one holiday without having to pack and unpack as you go.
On one cruise alone, you might visit Lisbon, Florence, Rome, Athens, and Venice.
It's an understated luxury to be able to unpack your bags and arrive at each destination without countless planes, trains and hotels.
3. Easy to Plan
Due to the fact that cruises package together accommodation, food, and transportation, they are easy to plan. They eliminate the need to travel on a cramped tour bus, drive a rented car and check in and out of hotels.
You just need to book your cruise and wait for your departure date. You don't have to waste time searching for hotels in your price range or thinking of how to coordinate between cities.
4. Variety
More than 30 cruise lines have numerous vessels in the Mediterranean, with each offering everything from luxurious yachts to resort-style family-friendly vessels packed with pools and educational clubs. There are also adult-only ships, food & wine cruises and smaller luxury cruises which host less than 800 people.
Cruises are not just for families and senior citizens!
There are also many itineraries to choose from. You can cruise for days or weeks and visit lesser-known towns or world-famous cities. Days in port allow plenty of free time to explore one your own.
Eastern Mediterranean itineraries focus on Corfu, Montenegro, Croatia and Venice while Western Mediterranean itineraries focus on Spain, France, and Italy.
5. Floating Cities
While on a cruise ship, you don't need to worry about being stranded in the middle of the ocean with cell phone or Internet connection problems.
The vessels are equipped with state-of-the-art amenities such as high-speed Internet access, cell services, and satellite televisions to enable you to stay in touch (if need be) during your cruise.
Onboard, there are shops selling toiletries, medical centers and laundry facilities to wash your clothes. There are other facilities like restaurants, gyms, swimming pools, theaters, spas and even casinos!
6. Countless World-Class Attractions
With everything from Roman and Greek remains to historical museums, a cruise around the Mediterranean is set to give you unforgettable experiences.
The Coliseum, Pantheon, Vatican, and the Ruins of Pompeii are some of the most famous attractions that you can visit on a cruise. Other attractions worth mentioning include the Uffizi Gallery, Galleria dell'Academia, and La Ramla.
7. Wonderful Cuisine
The Mediterranean offers some of the finest cuisines in the world. One and off the boat, you can taste Italy's pasta, Spain's tapas, France's cheese and seafood, and Greece's yogurt-based dips. You also have to try the local wines from Italy and France!