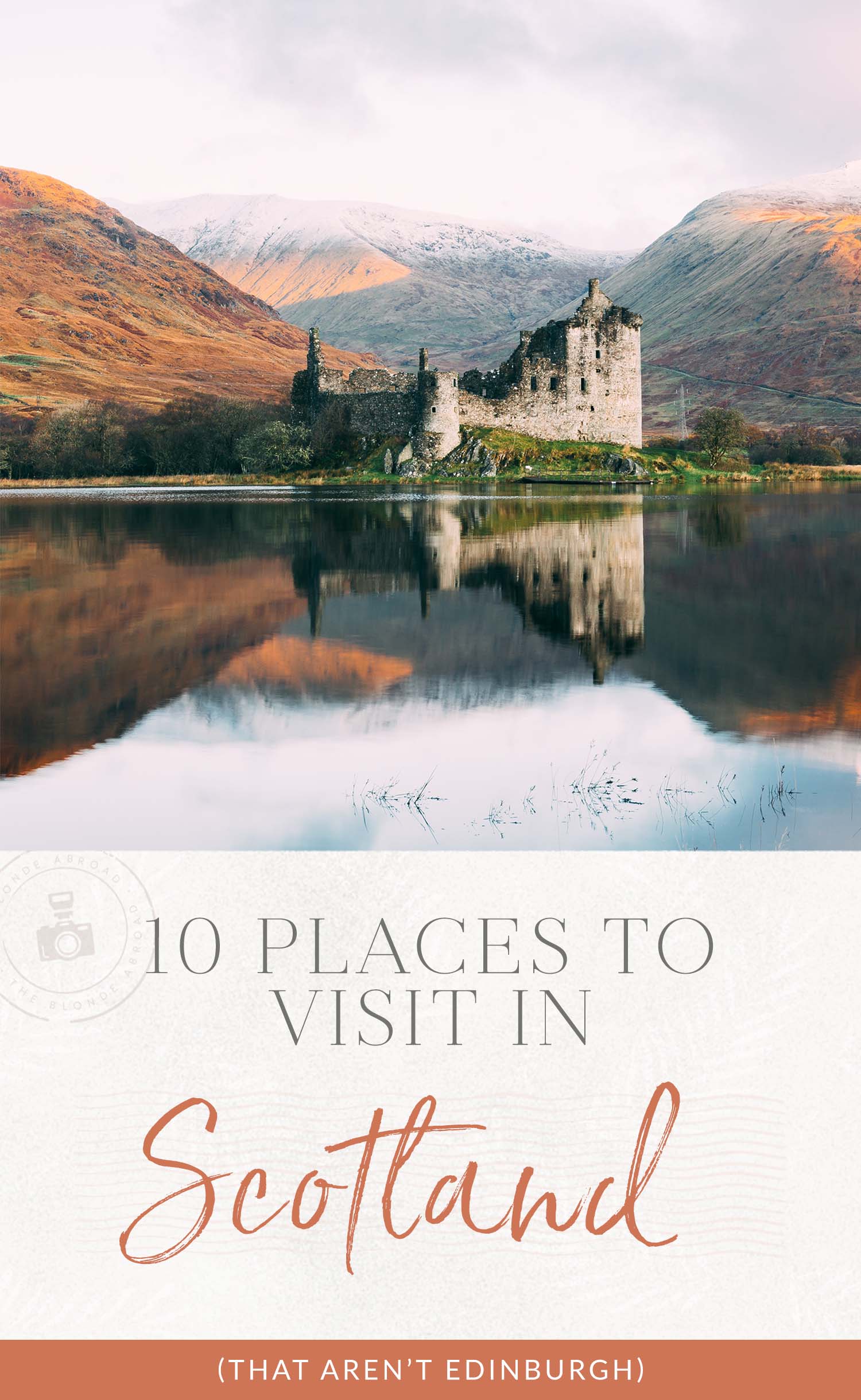 While Edinburgh has a lot going for it, there are so many other places you should visit on your trip to Scotland. Not only does the country have an incredible history but there's no limit to the stunning scenery and the cultural attractions.
Now there's nothing wrong with spending some of your Scottish holiday in Edinburgh' the city has a lot going for it, especially during August. That's when the famous Edinburgh Fringe Festival takes place and you can read my guide to experiencing it here.
But you'll be missing so much beauty if you stick to Edinburgh. From the Highlands to the mystical Isle of Skye, you've simply got to add these places to your itinerary!
Ready for some of the most gorgeous green spaces and tons of castles (like the above Kilchurn Castle)?
Here are the ten best places to visit in Scotland (that aren't Edinburgh).

Scottish Highlands
Not only are they relatively untouched by tourism, but the Scottish Highlands are great to explore by car. The scenery is gorgeous and rugged, and the roads are not as scary as some coastal highways can be.
The Scottish Highlands are also the biggest whisky-producing region in Scotland with about 47 distilleries operating there so take the opportunity to do a self-guided whisky tour during your trip.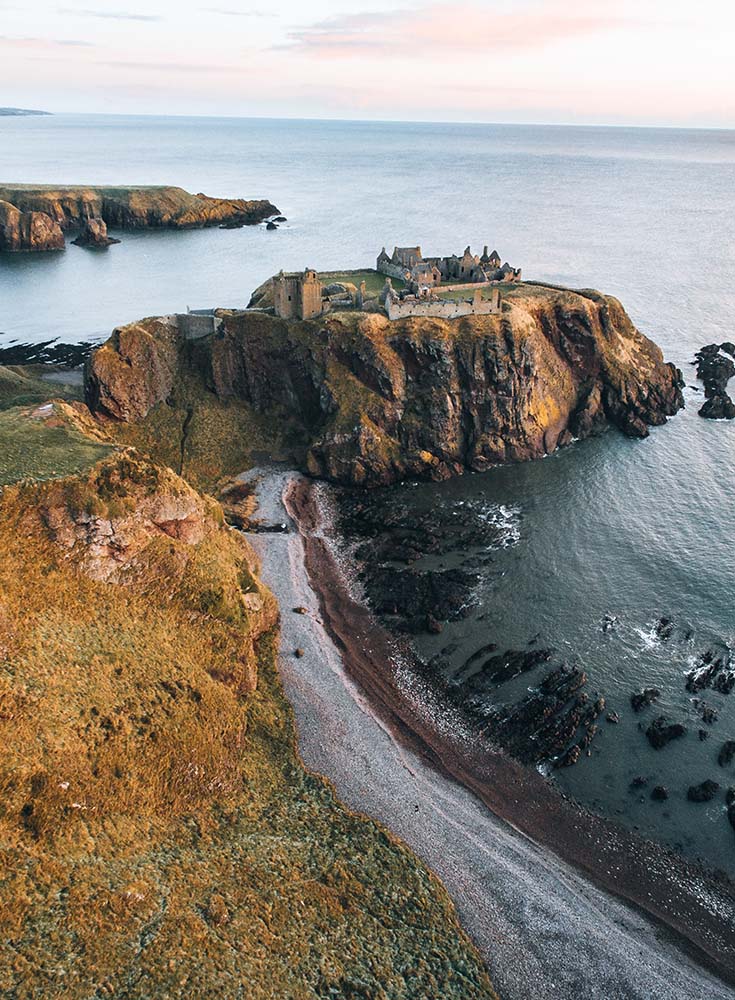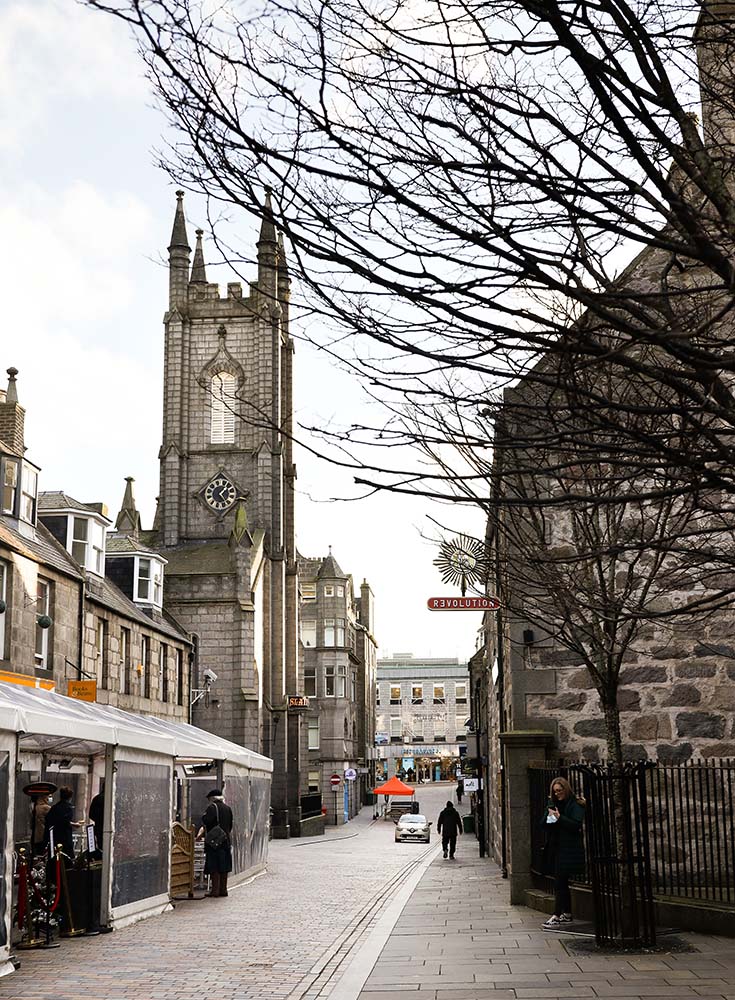 Aberdeen
You might notice something interesting about the color and texture of the buildings in Aberdeen — namely, that many of them match.
This is because many of Aberdeen's buildings are made out of granite from the nearby Rubislaw Quarry. The mica in the stone sometimes sparkles in the sunlight, which is why Aberdeen has the nickname of the "Silver City".
Compared to other Scottish coastal destinations, Aberdeen has a good amount of sun and a thriving beach culture.
If you're up for it, you can even try your hand at surfing…although the waves here aren't really suitable for beginners.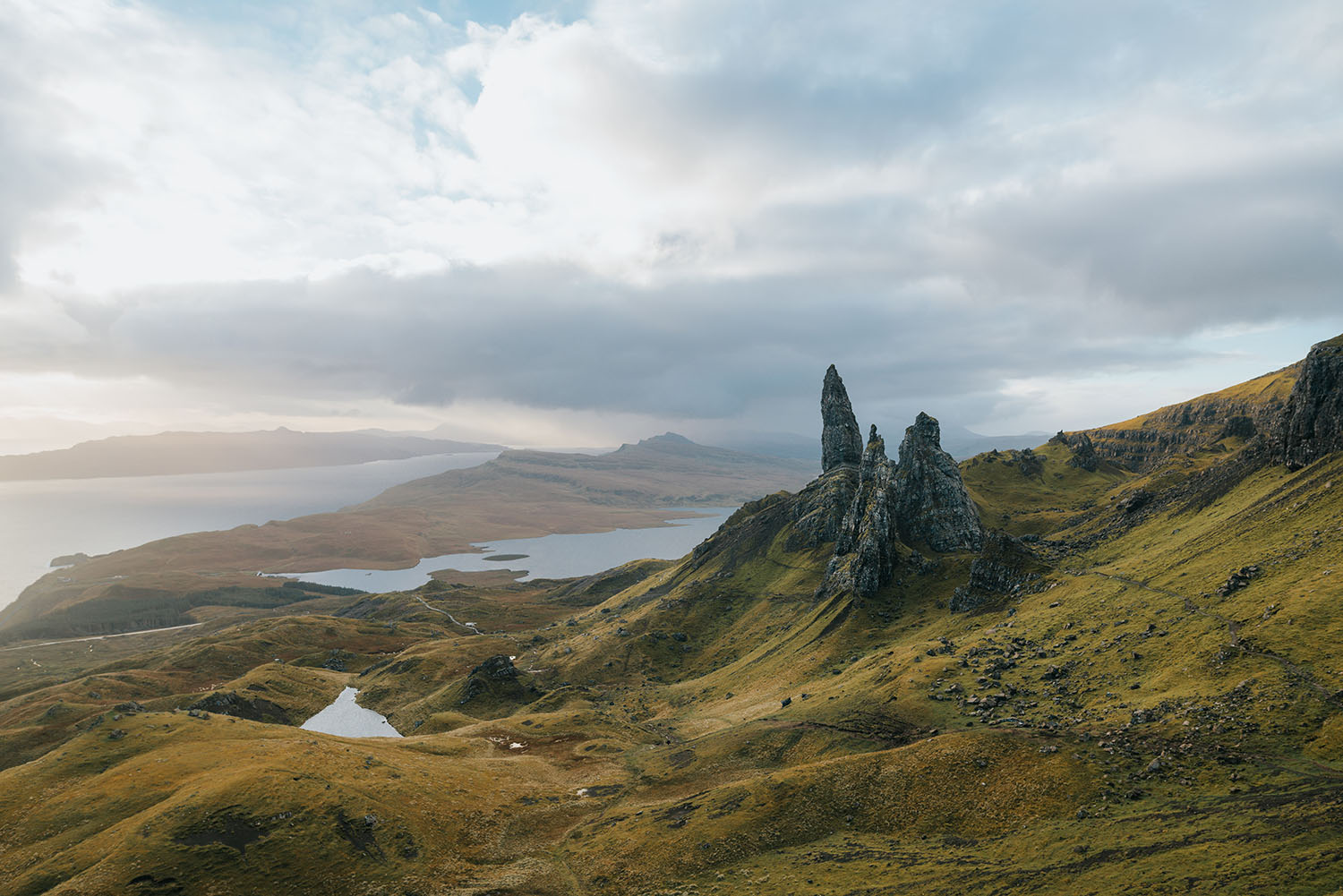 The Old Man of Storr, Isle of Skye, Scotland
Isle of Skye
If you're heading to Scotland to see the great outdoors, the Isle of Skye is the destination for you!
The magical and crystal clear waters of the Fairy Pools are incredible to see in person, and the Dunvegan Castle & Gardens is one of the best historical castles in Scotland.
To this day the castle is the seat of the chief of the Clan McLeod and the family has opened it for tours between April and October.
Tip: One of the best times to travel to Scotland is in the spring or fall. You'll get to experience the best weather the country has to offer which is mild and not have to deal with the cold winters that usually occur.

Glasgow
Glasgow is Scotland's most populated city, and, fun fact: it's also been named the friendliest!
Take a walking tour to experience the food, culture, and history of Glasgow, or simply wander and get to know the city by talking to its residents.
Additionally, Glasgow is a hub for artists of all kinds, and iconic Scottish artists like Chvrches, Belle and Sebastian, and Franz Ferdinand got their start here. Catch a show at the legendary King Tut's Wah Wah Hut to experience the city's music scene for yourself.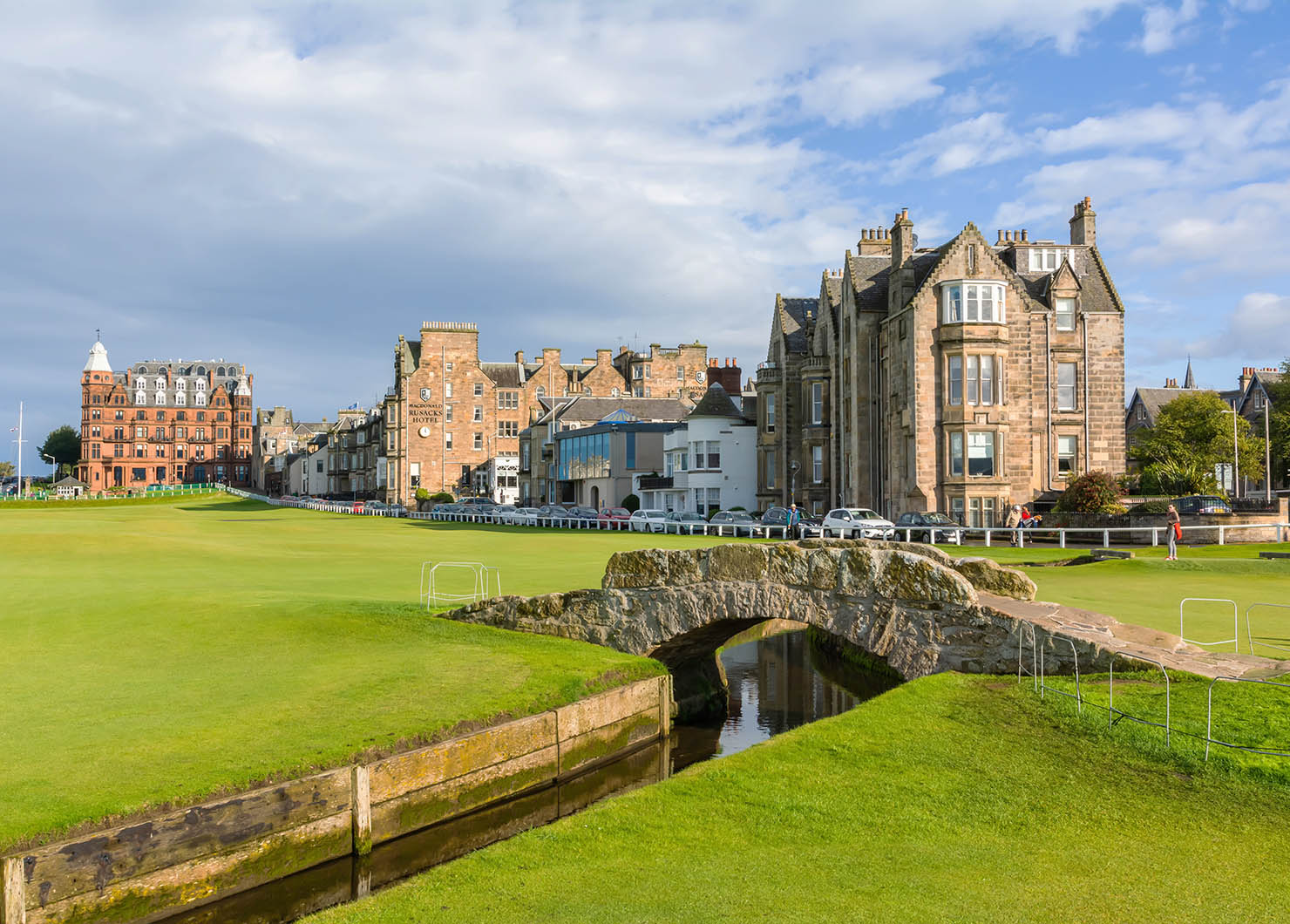 St. Andrews
Ancient ruins, botanical gardens, and historic architecture are just a few of the reasons to visit the northeastern seaside Scottish town of St. Andrews.
If you're a fan of golf, St. Andrews is definitely a bucket list destination.
The famous Old Course at St Andrews is considered to be the oldest golf course in the world and golfer Jack Nicklaus once said, "if a golfer is going to be remembered, he must win at St Andrews."
St. Andrews is also home to St. Andrews University, a prestigious school that has hundreds of notable alumni. You might know it as the school where Prince William met and fell in love with Catherine Middleton, the future Duchess of Cambridge.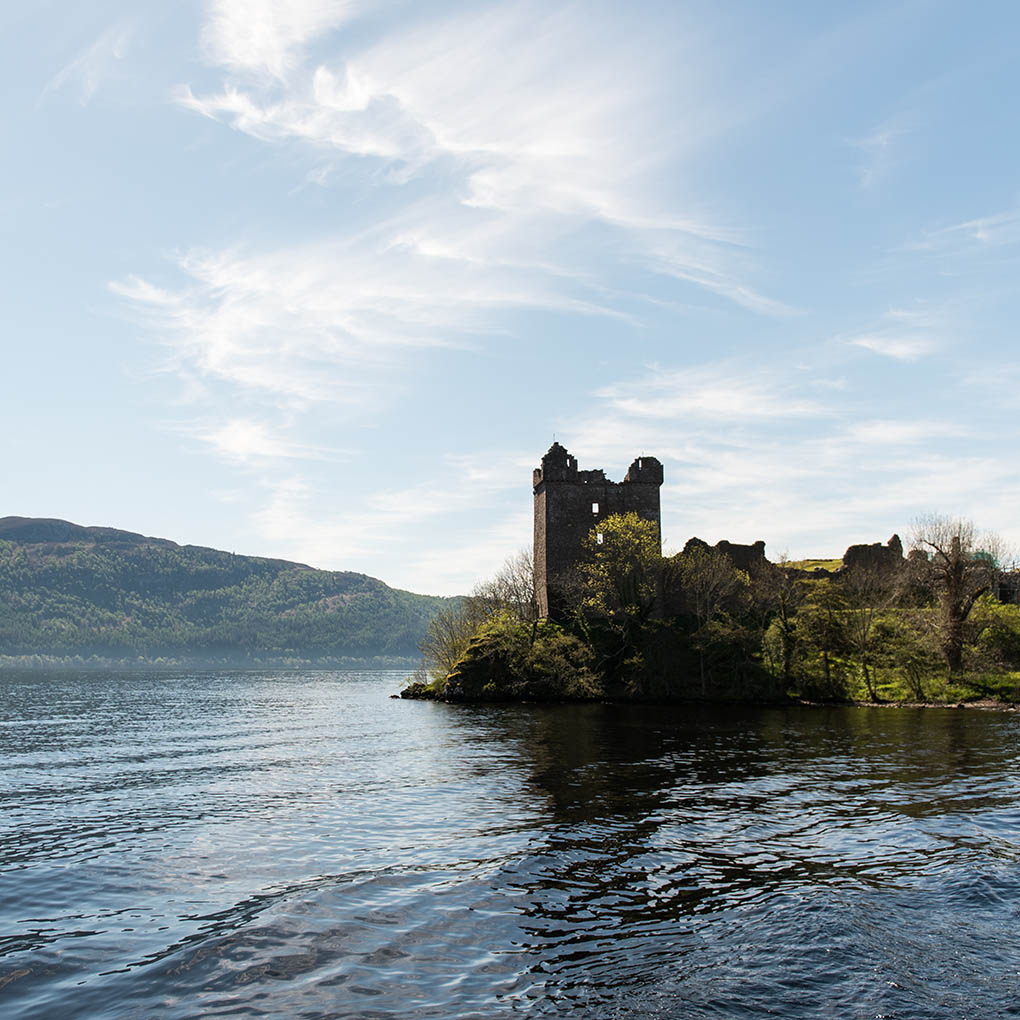 Loch Ness
Loch Ness is a large freshwater lake in the Scottish Highlands that's probably best known for the 1930s sighting of the Loch Ness Monster.
Affectionately known as Nessie, this mysterious creature's existence has never been proven, but that doesn't stop people from flocking to the area to try to catch a glimpse of her for themselves.
Even if you're not interested in searching for Nessie, there's a lot to do at Loch Ness. You can take a boat tour and see a lot of the nearby attractions in one go such as the ruins of the Urquhart Castle.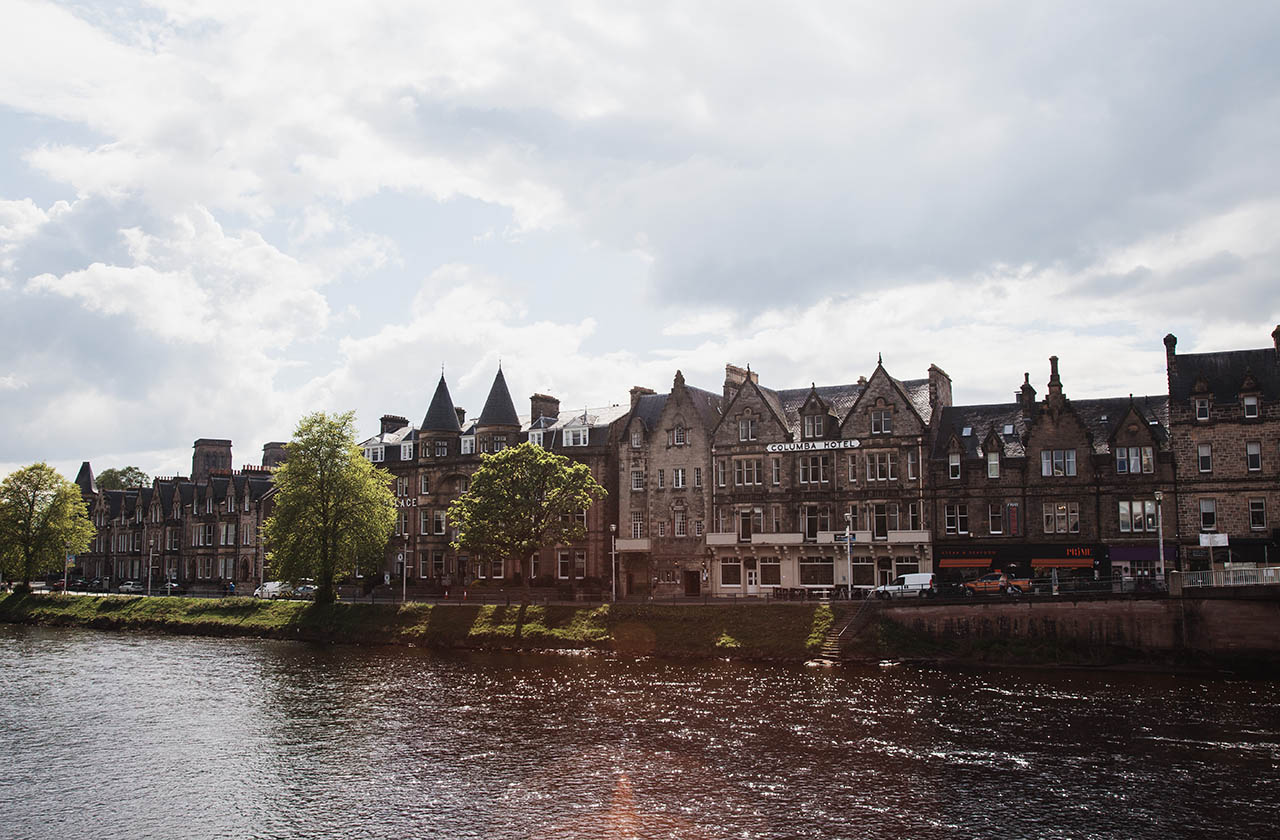 Inverness
The name "Inverness" literally means "Mouth of the River Ness" and the river runs through the city making for a truly gorgeous setting.
Highlights include the historic Inverness Castle, which is made out of red sandstone, and the Inverness Botanic Gardens, where you can walk through the Tropical House to see a variety of plants you might not expect to see in Scotland!
Outlander fans will especially love Inverness as it has many ties to the series. For example, Mrs. Baird's Bed and Breakfast where Claire and Frank Randall spent their honeymoon in 1946.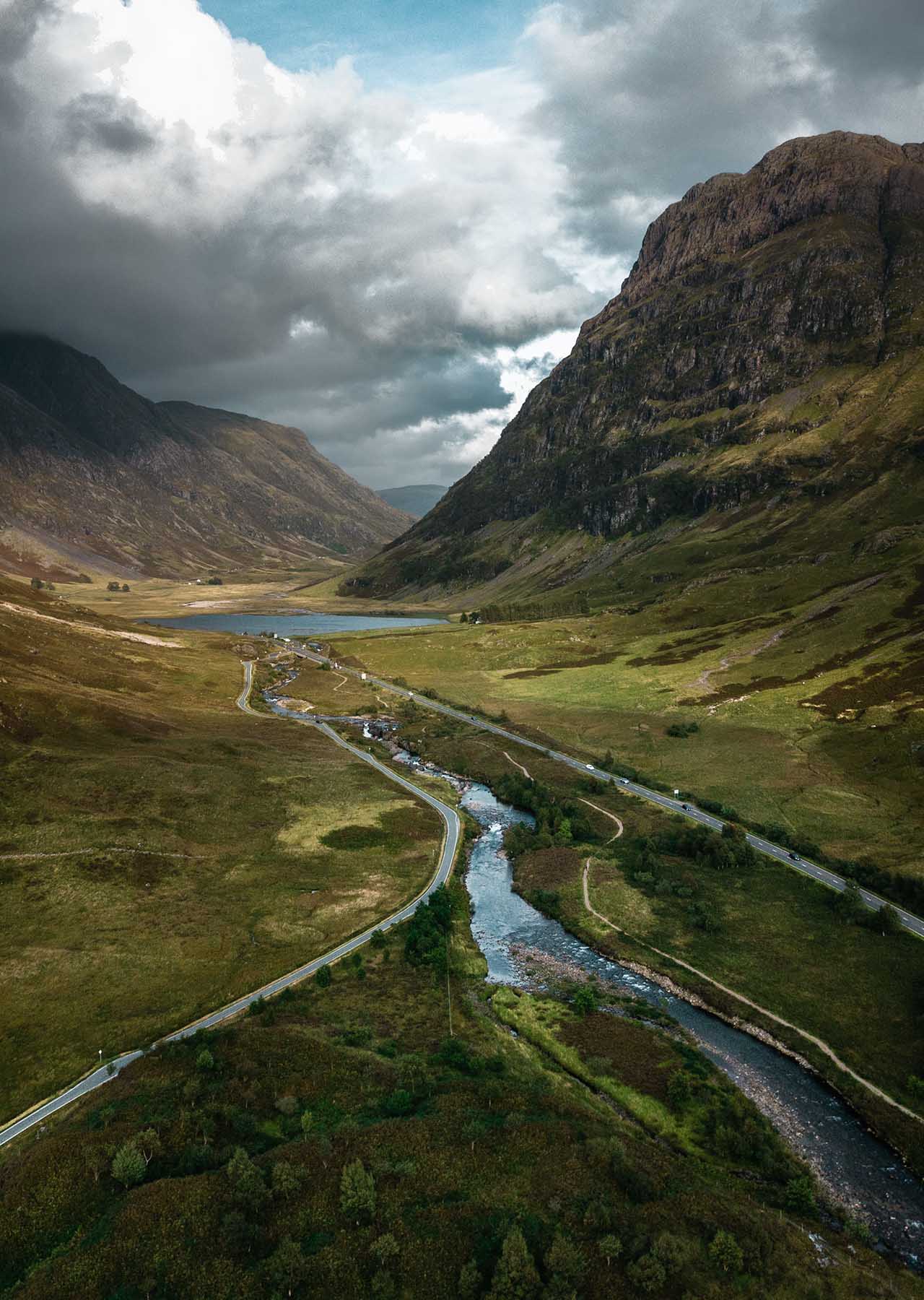 Glencoe Valley
The gorgeous Glencoe Valley is part of the Glen Coe National Nature Reserve, which is owned by the National Trust for Scotland.
If you visit Glencoe Valley during the winter months, you might be able to experience skiing or snowboarding on Glencoe Mountain. The summer is also a great time to visit and if you visit when there's no snow, you can hike, bike, and explore the outdoors.
Glencoe also has a connection to the world of Harry Potter as the exterior shots for Hagrid's Hut were filmed here!

Isle of Arran
The beautiful Isle of Arran is a rugged island off Scotland's west coast, and it's perfect for experiencing a taste of the region's coastal life. You can climb incredible mountains, visit historic castles, and see the impressive Machrie Moor Standing Stones up close.
The Isle of Arran is also a criminally underrated foodie destination!
From handcrafted chocolates and expertly made cheese to breweries and smoked meats, you can find some world-class foods and drinks when you visit.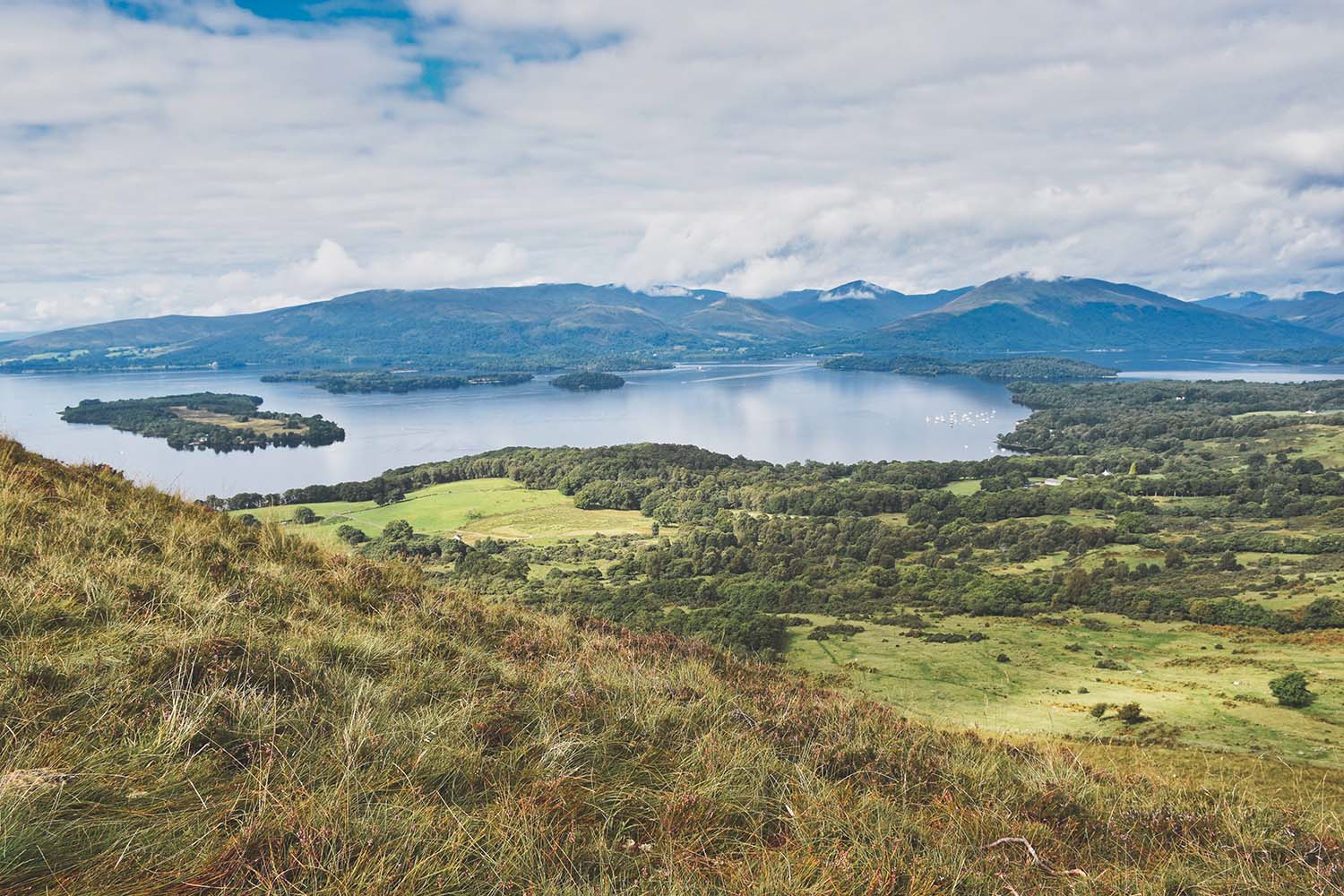 Loch Lomond and the Trossachs
And rounding off the list is Loch Lomond and the gorgeous Trossachs National Park.
It's most popular with hikers, but you can participate in other activities like canoeing, swimming, waterskiing, and wakeboarding. You can also camp here, but you'll have to stick to the designated camping areas and get a permit to help preserve the landscape and the local wildlife.
There are also several towns and villages within the park you can visit.
One example is Aberfoyle, which has connections to many historical figures like Mary, Queen of Scots.
And…slightly different note, but it's also home to the U.K.'s longest zipline.

Scotland is a diverse country with a wide selection of destinations for your next vacation!
Whether you're interested in pop culture, natural beauty, historic castles, or incredible food and drink, Scotland has something for you to enjoy.