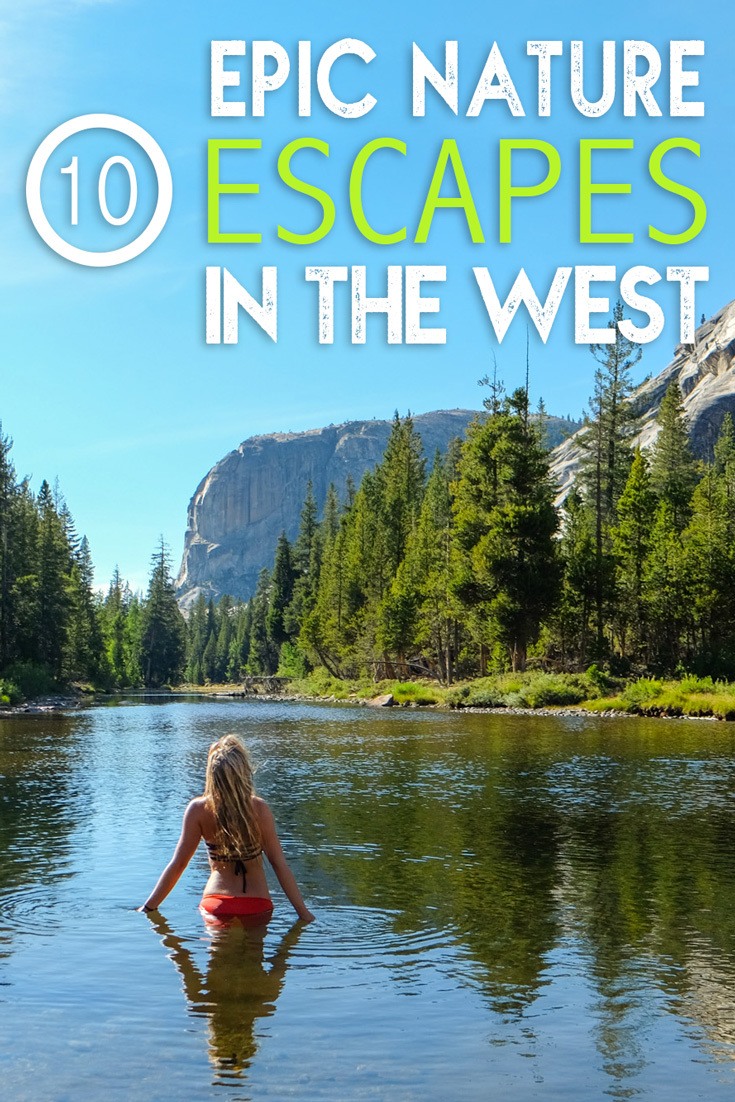 Ready for an adventure in the Wild West? From the deepest caves of New Mexico to the highest peaks of Yellowstone, this region is primed for exploration.
When you are bored with city breaks and lazy beach getaways, it's time to the check out these West Coast hot spots.
Here are my favorite epic nature escapes in the West!

Yellowstone
Covering a vast 3,500-square-mile area, Yellowstone is a nature lover's paradise. See Old Faithful, take in the mountain views from Yellowstone Lake, and hike across Lamar Valley. Whether you opt for camping or staying in a five-star lodge… you will fall in love with this incredible National Park.

Grand Canyon
The Grand Canyon deserves a spot on any traveler's bucket list. No photo can do justice to this massive natural wonder. You need at least one weekend to hike, enjoy white water rafting, and gawk at the insane beauty of this place and it's millions of years of history on display.

Carlsbad Caverns
Nestled in the Chihuahuan Desert of southern New Mexico, Carlsbad Caverns National Park features more than one hundred different caves. While you might not get to them all, you have to check out the astonishing stalactites in the Big Room of the namesake Carlsbad Cavern.

Joshua Tree
In the heart of the California desert, two ecosystems come together at Joshua Tree National Park. With a dynamic cultural history, this place is home to a diverse array of rare plants and animals.
The most famous, of course, is the joshua tree. Plan on a long weekend off the grid while you explore Hidden Valley and admire the Cholla Cactus Garden.

Sequoia National Park
In California's Sierra Nevada, you'll find the world-famous sequoia trees of Sequoia National Park. Explore the forest, and stand in awe of the incredibly massive General Sherman Tree.
Be sure to spend the night so you can get up before dawn to summit the Moro Rock! There are stairs and railing, so you don't have to be a climber to get to the top for the view of lifetime.

Yosemite National Park
One of the most stunning stretches of land on the planet, Yosemite is full of waterfalls, grand sequoias, vast meadows, and deep valleys. Whether you want to go hang gliding or a have a quiet picnic, this California National Park is the place to go.

Ojai
Just northwest of Los Angeles, you will find the small city of Ojai. Set in the valley of the Topatopa Mountains, this quaint, little town features impressive galleries and serves as the perfect base for exploring the nearby areas.
Outside of town, you'll find the beautiful Lake Casitas and countless meandering trails.

Big Sur
A mecca for surfers, hikers, and explorers of all kind, this rugged stretch of California coast between Carmel and San Simeon is a breath of fresh air. Far from the crowded cities of Cali, the quiet area of Big Sur has a dramatic landscape that is the perfect place to get away from it all.

Olympic National Park
Located on Washington's Olympic Peninsula, Olympic National Park contains several ecosystems. With the Olympic Mountains and lush forests, this park is perfect for hiking, camping, and climbing. And be sure to visit Hoh Rainforest. One of the biggest temperate rainforests in the United States, this place is absolutely magical.
Bring a good camera and lots of time to spare.

Kings Canyon National Park
Right next to Sequoia National Park, you'll find the Kings Canyon National Park. With skyscraping trees and some of the deepest canyons in the United States, Kings Canyon National Park is a must-see for nature lovers. Be sure to take the time to hike through Zumwalt Meadows and see if you can spot any local wildlife.