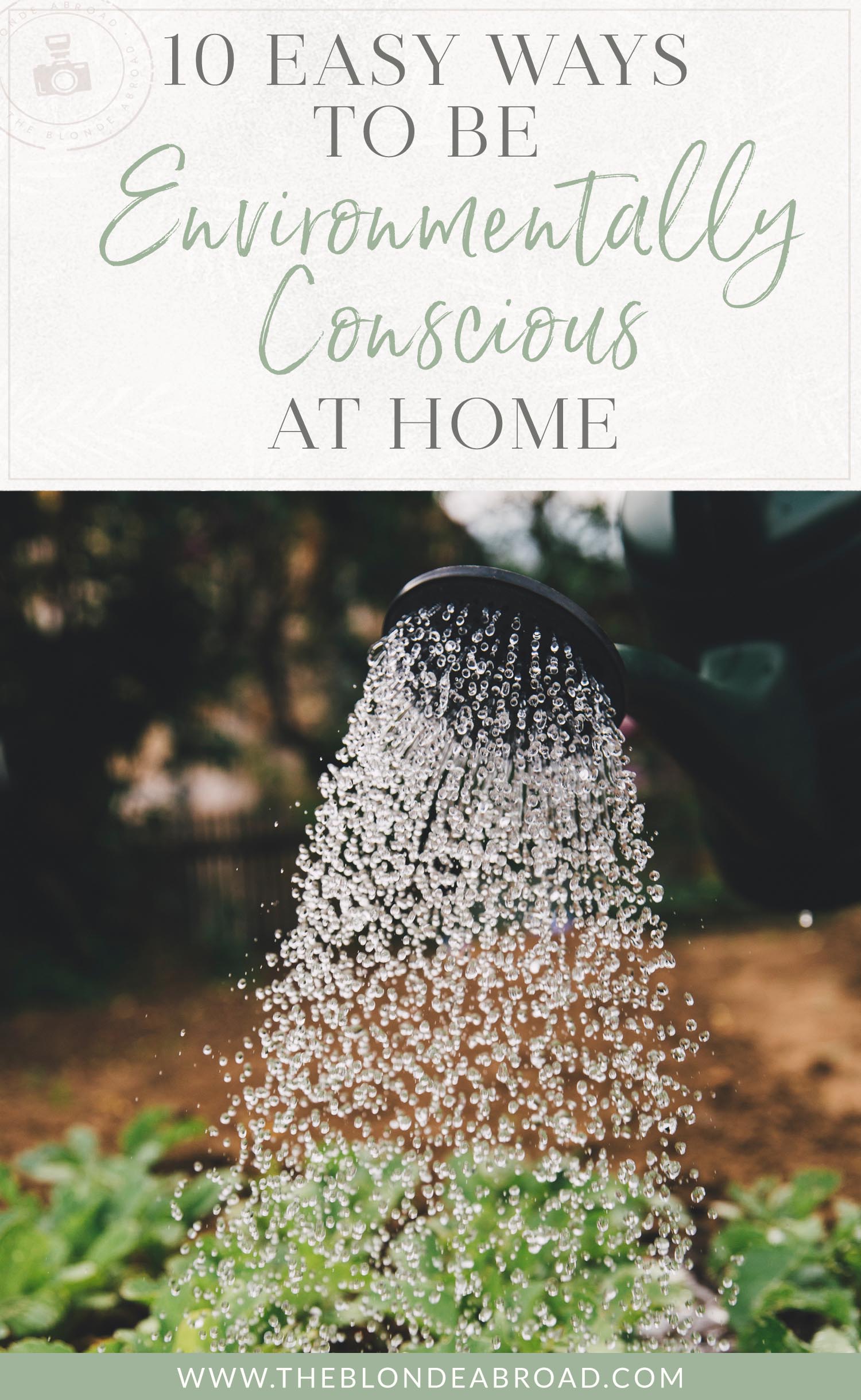 April 22nd is Earth Day!
The environmental movement began in 1970—so this year marks 50 years of Earth Day! And with that, encouraging public participation and consciousness about the state of our planet.
I'm all for taking a day to celebrate this incredible world and encourage environmental action, but in my mind, every day is Earth Day. 🙂 
That said, there are some simple and easy ways to be more environmentally conscious at home!


Reduce Plastic
51 trillion pieces of plastic are in the world's oceans. It's up to use to take responsibility, and switch to products safe for marine life, coral reefs, and the planet.
And reducing your use of plastic is a fantastic way to start!
Instead of Ziploc baggies and plastic wrap, you can switch to beeswax paper, reusable containers, glass jars, etc. I'm a big fan of Stasher Bags in place of Ziploc baggies and use them every day.
If you have to use Ziploc bags, try to wash them, and reuse when possible. If you can't reuse them and you find yourself accumulating a variety of other soft plastics, many grocery stores have drop-offs where you can deposit your soft plastics for recycling — do your research!
Package Free Shop has a ton of great household items without packaging, too!

Review what your city actually recycles so you know—and make sure to clean ALL of your recyclables.
Set Up a Recycle Bin
Putting dirty plastic or styrofoam in the recycle bins can contaminate other items and essentially has the reverse effect of recycling in the first place. Be sure to check what items your city actually has the capability of recycling!

Compost Bin
Does the idea of a compost pile in your backyard scare you? It doesn't have to be that bad! You can actually get a bin specific for compost to put under your sink (with a lid to lock in any unwanted odors).
These compost bins allow you to break down your organic material until it can be used in the garden!

Burlap Market Tote
Net String Shopping Bag
Bring Your Own Produce Bags
When shopping for groceries, bring your own bags! I love picking up canvas bags from various places as a souvenir and using those when I'm at the market.
You can actually ditch the plastic produce bags, too. And just present your fruits and veggies as is (they just need a good wash once you get home!) or get some reusable mesh bags so you can skip the plastic altogether.
I love these reusable produce bags because they're durable, you can throw them in the wash, and they're sheer enough so the register can read the product labels easily through the bag.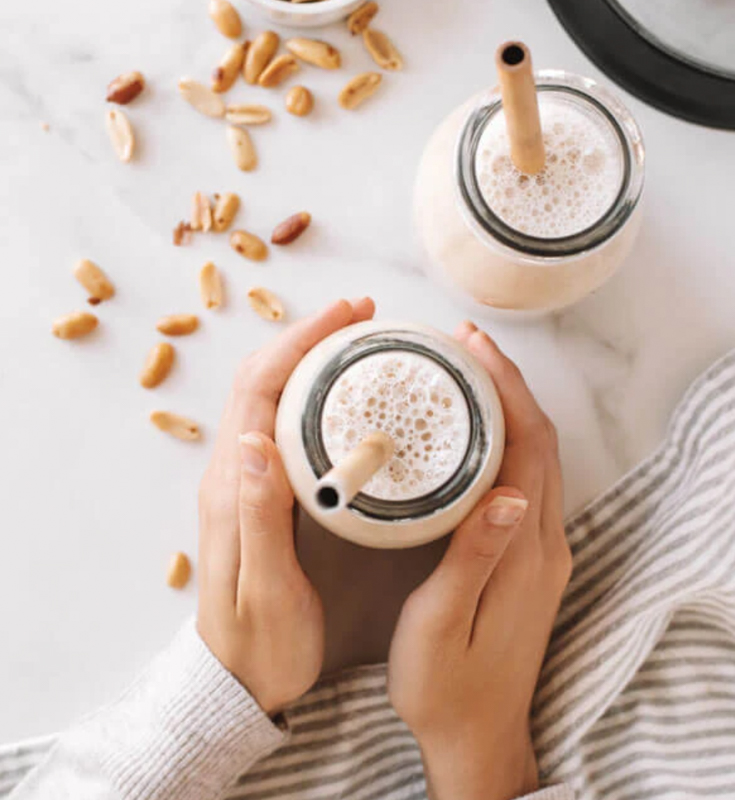 Eat Less Meat + Dairy
In the US, about 30-40% of the total food supply is wasted. By preserving foods and shopping for what you actually need, we can minimize the amount of food we send to landfills.
While you don't need to go full vegetarian, just by replacing meat 1x per week makes a difference! It's easier than ever to find meat alternatives and there are some delicious options like Beyond Meat and Lightlife.
On top of eating less meat, you can make your own nut milks at home!
I purchased my Almond Cow last year to cut down on waste in my house. You can use any nut, seed, or grain to make homemade plant-based milk — it makes 5-6 cups of fresh milk at the touch of a button and with no icky preservatives, chemicals, or waste!
Helpful Tip:
When you're cooking, you can save your veggie scraps in the freezer to make a stock. Or you can take the ends and regrow several of your vegetables and/or herbs in the window sill! (Things like green onions, celery), leeks, onions, basil, mint, and cilantro.)

Cape Town, South Africa
Switch to Energy & Water-Efficient Goods
Water is one of the most precious resources on the planet, and even though it might seem difficult for just one person to make an impact, you truly can. Every step you take to help conserve water matters.
The way that I see the world was forever changed back in early 2018.
I was just starting to get settled into my new home in Cape Town when I heard the announcement: we were counting down to what came to be known as the dreaded "Day Zero,"—meaning that one million homes in Cape Town would not have access to running water.
This opened my eyes, and while we got through it by drastically changing our routine and use of water (timing my showers and collecting greywater from the shower in order to flush the toilet, were just a few of the ways).
There are ways to be more conscious of your water use at home and make your household more water-efficient.
Switch to Water + Energy-Efficient Goods
While upfront, this is a more costly investment, in the long run you'll be saving on both your water and electricity bill when you switch to eco-conscious toilets, washers, dishwashers, and lightbulbs.
When Washing Clothes
When washing your clothes—opt for cold water so you don't waste energy heating the water. This washing bag helps reduce the number of microplastics that go back into the water.



Natural Cleaning Products
Branch Basics is a great company with lots of natural cleaning products (get $10 OFF here). If you can't find them—Trader Joe's has a pretty decent selection of non-toxic cleaning products, too.
Search your city or nearby area to see if there's a bulk "refillery" store that sells home, cleaning products, soaps, detergents, and more in "package-free" bulk. Take your glass jars or reusable bags in, fill up, and go!

Hydro Flask
Reusable Silicone Straws
Switch to Reusable
Wherever you can, switch to sustainable, reusable goods, and ditch the single-use paper products.
I'm all for reusable water bottles (especially Hydro Flasks as they keep things hot or cold!), and reusable silicone straws.
Here are some other reusable goods:
If you're someone who gets a daily latte, consider that the cup you're getting from the coffee shop probably isn't recyclable. Most to-go cups have a plastic lining inside the cup to keep liquids from seeping through the paper — this makes that cup no longer recyclable or biodegradable. For the Bathroom
Don't worry, I'm not going to suggest reusable toilet paper…but you can opt for toilet paper made from recycled goods—Who Gives a Crap is a fantastic brand that offers just the thing.
Also, while these aren't as common in the US—don't knock a bidet until you've tried one! You might be pleasantly surprised. You can easily install a Tushy Bidet to your toilet, thus using less toilet paper.


Buy Local
Search for your local CSA—short for Community Support Agriculture, so you can support small, local farms—and see if they offer a weekly produce box!
The more you buy local—the better! Plus, most of the time when you make a purchase from the farmers' market, it's not wrapped in plastic.

Each and every bit helps and you'll find that many of these things are really easy adjustments to make. 🙂
What tips do you have for being more environmentally-conscious? Let me know in the comments below!