Hotels aren't usually the most eco-friendly part of your vacation. With so many guests throughout the year, valuable resources like electricity and water are used heavily and leave a major environmental impact.
Luckily, more and more hotels have started investing in sustainable practices. Whether it's doing their part to conserve resources or reduce their carbon footprint – it's possible to implement green practices while still delivering on exceptional luxury experiences.
Here are some of the best luxury eco hotels in the world!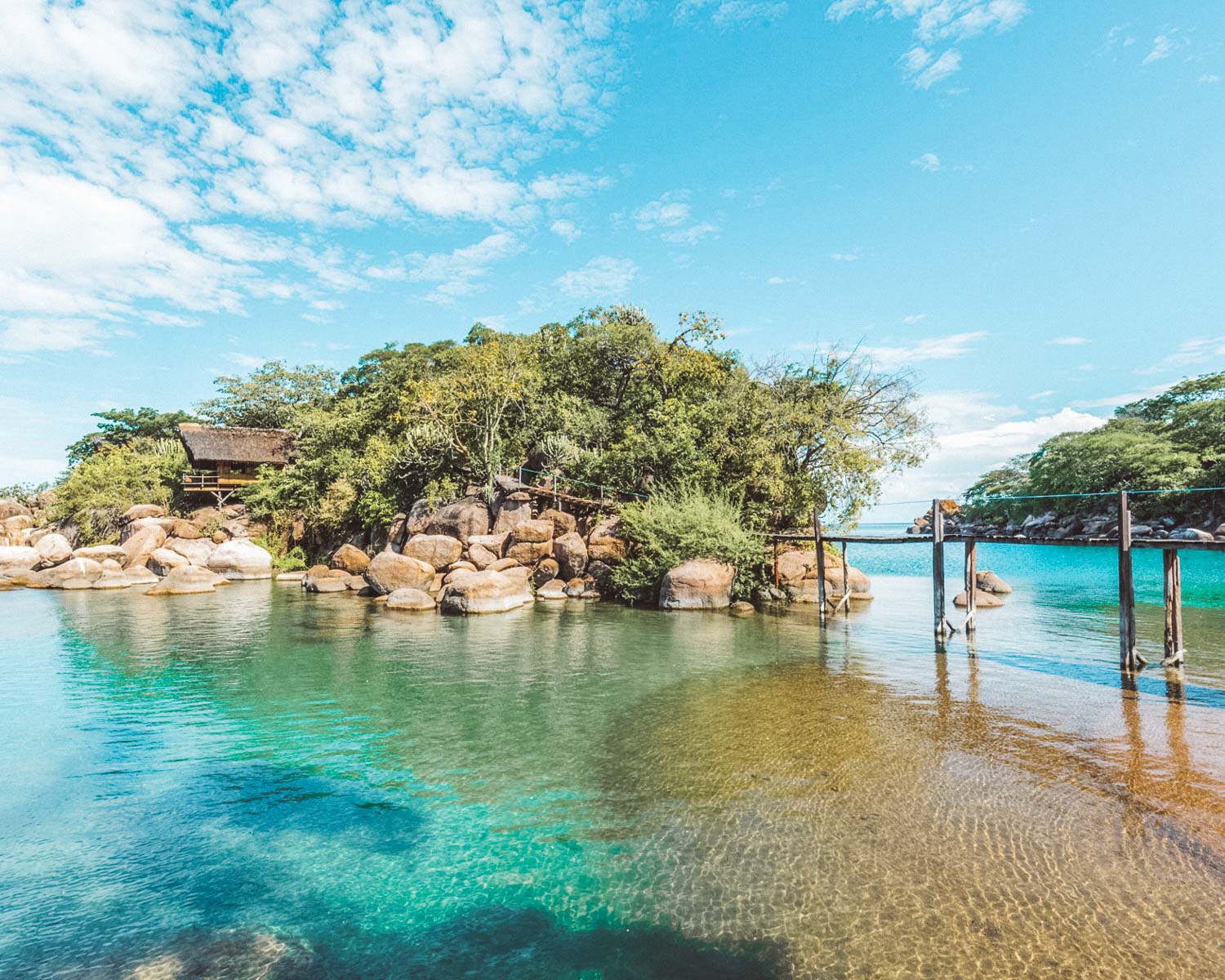 Mumbo Island
Mumbo Island, Malawi
If there is one hotel I'm hoping to cross off my list in 2019, it's Mumbo Island in Malawi. The small rustic luxury eco-hotel sits on the banks of Lake Malawi National Park and is the ultimate digital detox destination.
For your entire stay, you won't have access to WiFi, cell phone service or electricity. Instead, your days will be filled with exceptional scuba diving and snorkeling conditions, delicious food, a sunset cocktail hour, hiking, kayaking and relaxing in your bungalow with a lake view.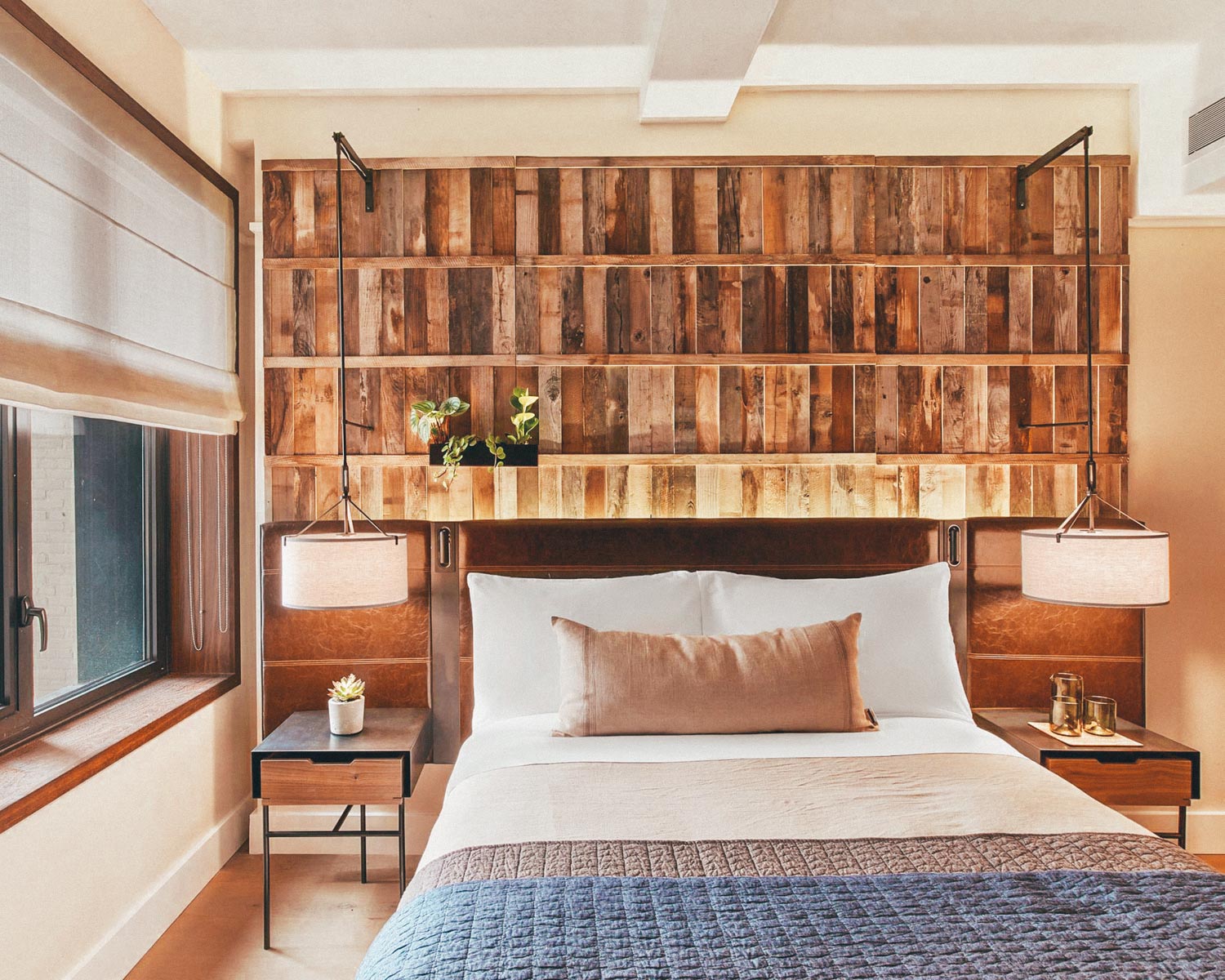 1 Hotel Central Park
1 Hotel Central Park, NYC
1 Hotel Central Park was designed using reclaimed materials and is an urban retreat inspired by nature. The hotel uses wood from New York City water towers or barns, painted brick, steel and copper accents, organic cotton mattresses and sheets, and plenty of live plants.
It's a true luxury eco-hotel in the heart of Manhattan.
The hotel chain's mission is to make the world better by sparking conversations around socially responsible hospitality. The restaurant uses farm-to-fork practices, and each room has LEED-certified lighting.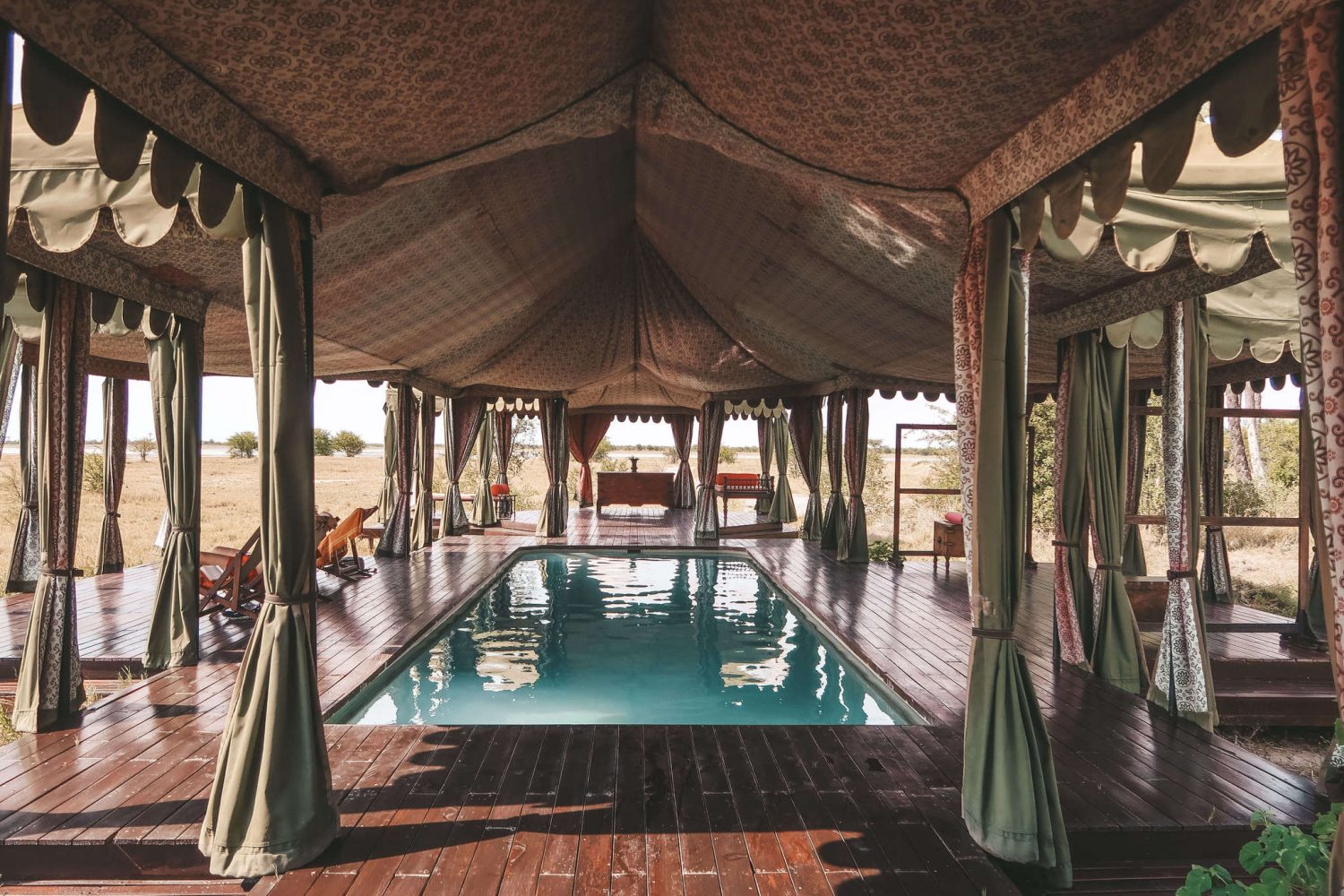 Jack's Camp
Jack's Camp, Botswana
I stayed at Jack's Camp during my 10-day trip to Botswana. The luxury camp is off the grid with no WiFi available and has done their best to minimize their impact on the environment.
Jack's helps to support conservation in the Kalahari area by donating funds to the Makgadikgadi-Nxai Pans Conservation Initiative. The project aims to minimize human-wildlife conflict and ensure the wildlife migration routes are not impacted by growing tourism to the region.

Saffire Freycinet
Saffire Freycinet, Australia
Saffire Freycinet is a luxury eco-hotel in Tasmania, Australia that's located inside magnificent Freycinet National Park. The resort uses energy-efficient insulation, hot water usage, and lighting.
For the past six years, Saffire has been voted Best Luxury Hotel in Australia by Trip Advisor as well as the World's Best Luxury Hotel. With 20 private suites, a luxurious day spa and an on-site fine dining restaurant headed up by Executive Chef Iain Todd.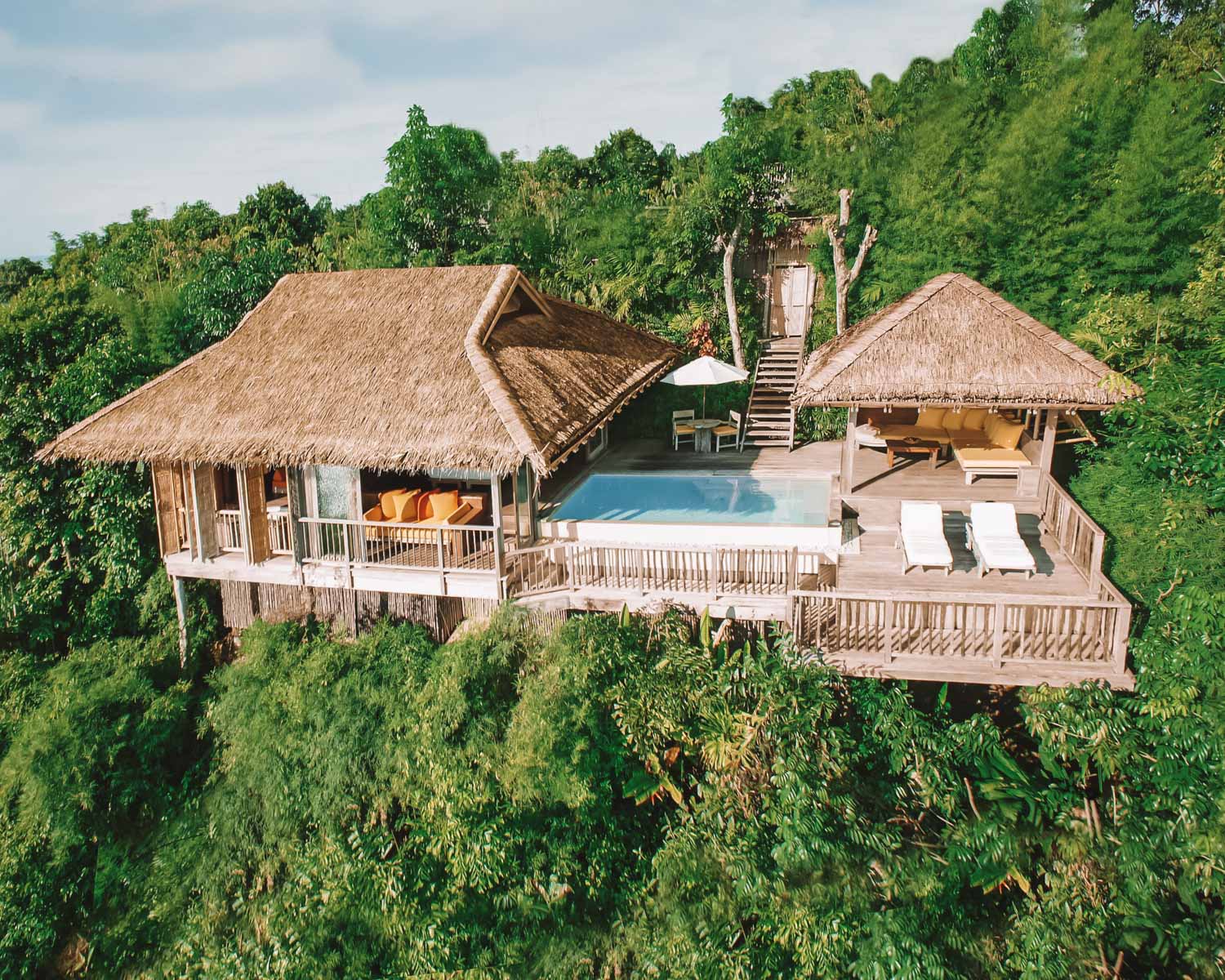 Six Senses Yao Noi
Six Senses Yao Noi, Thailand
Six Senses Yai Nai is one of Thailand's top luxury eco-hotels. The property has created their own water supply through reverse osmosis and bottles it with reusable glass bottles.
Proceeds from the water sales are donated to two nearby schools as well as to disadvantaged communities who don't have access to clean drinking water. The restaurant at Six Senses also grows its own organic vegetables and sources other ingredients from local suppliers.
Plus, Six Senses probably has one of the best infinity pools in Southeast Asia!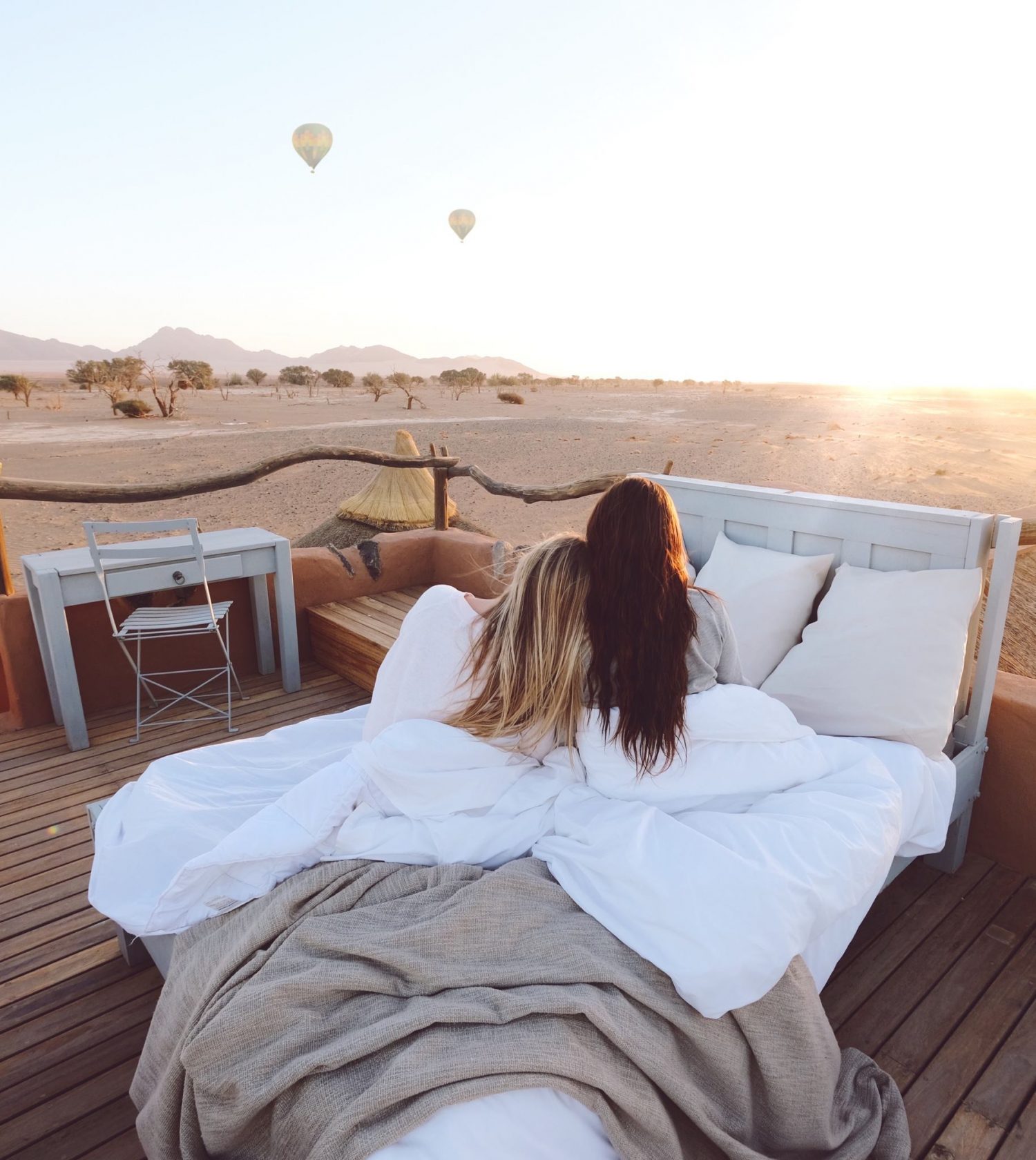 Little Kulala
Little Kulala, Namibia
Little Kulala is one of my favorite luxury eco-hotels. It's a desert oasis in the heart of Namibia and the land used to have very little indigenous wildlife until the camp stepped in and supported rehabilitation efforts.
Due to the camp being in a highly water-distressed area, there's a lot of focus on conserving water. Little Kulala uses water-saving devices and reverse osmosis filtration to provide staff and guests with high-quality drinking water.
Each room has inverter air-conditioning units to help the camp consume less power as well as energy-efficient lights and appliances. The camp also adheres to strict in-house environmental standards and only uses approved eco-friendly chemicals and detergents.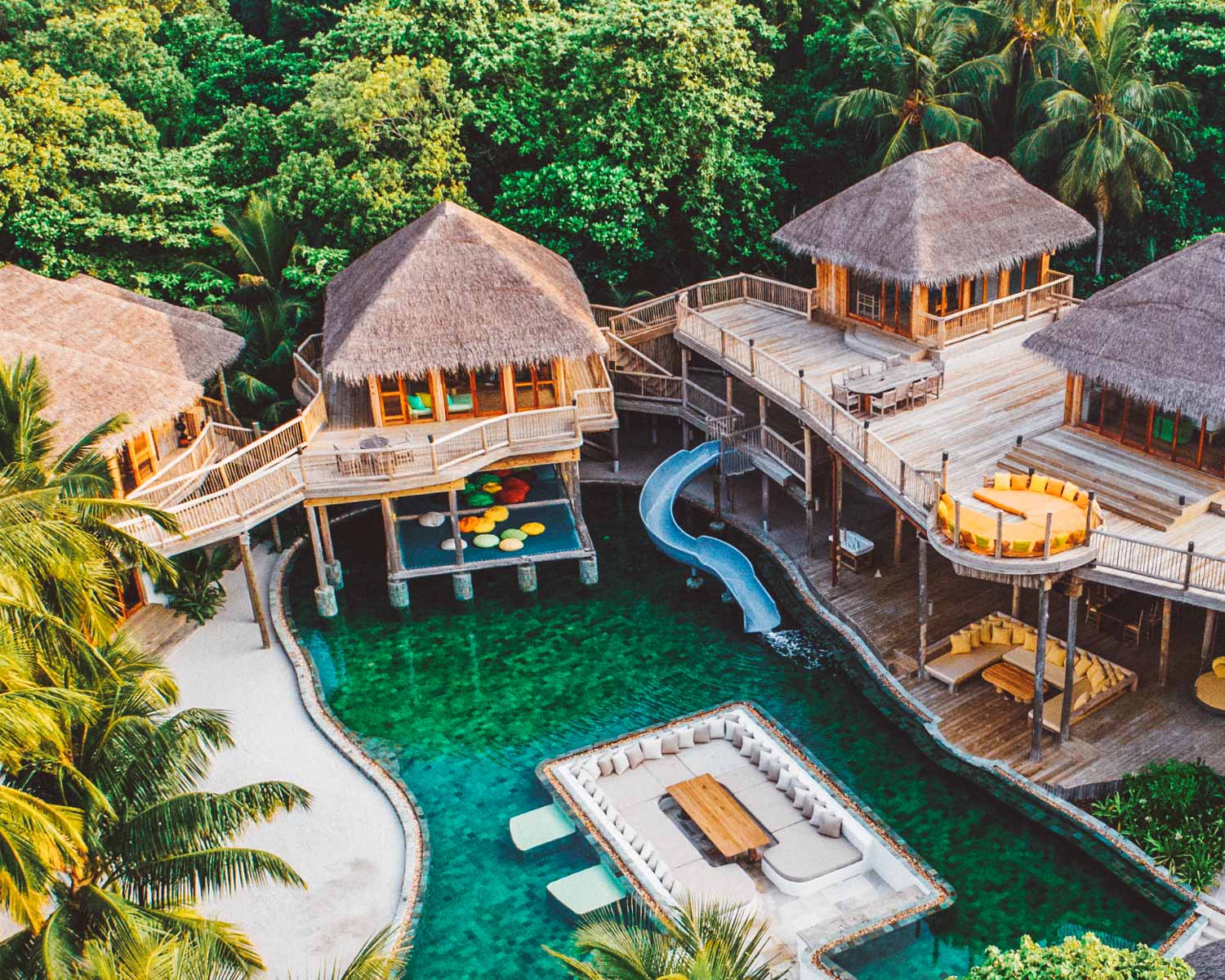 Soneva Fushi
Soneva Fushi, Maldives
Soneva Fushi is located on a private island known as Baa Atoll, a UNESCO World Biosphere Reserve that's home to endangered sea turtles. The hotel has put eco-luxury on the map for the Maldives.
The luxurious villas are hidden among dense forest, and each suite opens up to their own private white sand beach. But besides the hotel's luxurious amenities, it also boasts the largest solar plant on the islands and all its food is grown and locally sourced.

Tongabezi, Zambia
Tongabezi, Zambia
Tongabezi in Zambia is a luxury eco-hotel straight out of a Mark Twain story. You'll fall asleep to hippos grunting in the distance, monkeys swing on the trees outside of your chalet, and you can watch the sun go down while drifting along the river on a rustic raft.
The lodge is powered by solar energy and is entirely off the grid. All shampoos and cleaning products are biodegradable, and all wood supplies are ordered from sustainable forests in Zambia.
Tongabezi also uses a bottling system that saves the lodge from using 20,000 plastic water bottles a year.

Constance Belle Mare Plage
Constance Belle Mare Plage, Mauritius
Located 1,200 miles off the southeastern coast of Africa, Mauritius is an incredible island destination. Constance Belle Mare Plage is situated in a private bay with a flawless white sand beach and a five-star experience.
Each room, suite or villa has oversized marble bathtubs!
Constance Belle Mare Plage and its sister hotel, Constance Prince Maurice, both have a strong sustainability focus. The hotel chain has an environmental policy that focuses on reducing electricity consumption, raising environmental awareness in the local community, and using eco-friendly products.

Overall
Hopefully, these luxury eco-hotels have inspired you to take a sustainable vacation. While travel isn't the most environmentally-friendly activity, we can also lessen our impact by making greener choices when we go abroad.

What's your favorite luxury eco-hotel in the world? Let me know in the comments!
Want to earn points for your hotel stays and earn miles toward your next adventure?