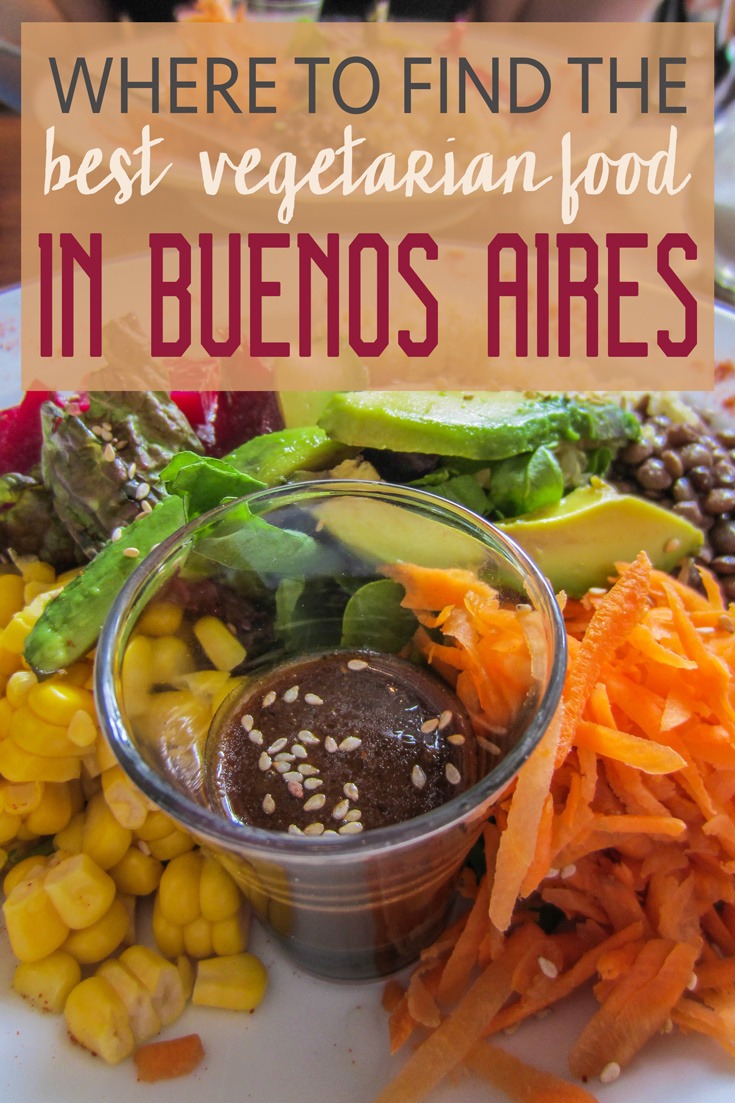 Of all the fascinating places in Latin America, Buenos Aires is one of the most eclectic, vibrant and exciting cities in this region.  It's also the most European, which is likely one of the main reasons why there is an endless supply of restaurants and cafes to be found here.
When people think of Buenos Aires a few things usually come to mind; at the top of the list tends to be red wine (yes, you should definitely drink all of the Malbec you can get your hands on), late nights (there are more hidden speakeasies, bars and clubs than you can count and you should aim get to as many as you can).
And of course, steak that draws people from all over the world- if you're a meat eater, BA has this in abundance and overdosing is probably the move.  
If you look deeper though, there is something else.  Everyone thinks you can't survive in Buenos Aires if you are a vegetarian; in fact, just the thought of it is a little taboo.  
This is not only a total falsity, but it overlooks the fact that there is actually a thriving vegetarian scene here, as well as plenty of more traditional Argentinean restaurants that offer a ton of options other than only the assumed bistek.  These days, even parrillas (traditional steakhouses) come with non-meat options.  
The Williamsburg, NY, Silver Lake, CA or Shoreditch, London (ie: hipster areas) equivalent in Buenos Aires is Palermo (split into the aptly named Palermo Hollywood and Palermo Soho).  It's no surprise that here is where the highest abundance of veggie friendly spots reside.  Yes, there are still steakhouses on every block, but there's also tofu, and plenty of it.
Take a look at some of the best vegetarian food in Buenos Aires!

– Coco Marie Cafe –
All things cute and casual, Coco Marie Cafe is hidden in a courtyard at the back of a bathing suit boutique store.  There is ivy climbing the walls and catchy music streaming throughout.
Here you'll find small sandwiches, salads, teas, pastries and of course, bikinis. 

– El Obrero –
El Obrero is located right near the famous La Boca football stadium, in a somewhat rough around the edges part of town by night (hop a taxi here, and the staff will call you a car again on the way out). This is home to both locals and tourists alike, which is always a sign of true culinary greatness.  
Great food, an old school Italian feel, pictures of musicians and football players on the walls and a little old man playing his guitar as you feast is what you should expect.  The provoleta cheese (bubbling, hot, delicious and fried) is a can't miss.

– Olsen –
If you're doing a brunch session, you should do it right.  And that means you should do it at Olsen.  Olsen serves brunch until 8pm, and is a Buenos Aires institution.  
The space is reminiscent of a lovely, modern garden, and ascents of it's Swedish descent are prominent throughout.  Grab yourself a platter of eggs, salmon and potatoes, and don't forget the bloody mary for your side.  

– Artemisia –
Another definite. There is an enticing, quirky feel when you walk in, opening up to more seating and a garden in the back.  The Greek bruschetta, piled high with grilled veggies and cheese,  is comprised of a very grainy bread that somehow seems to melt right there in your mouth.  
Do yourself a favor and grab some garlic hummus, too.

– Bio –
Bio is a vegetarian, organic cafe located on the corner of a quaint street in Palermo Hollywood.  Start your meal off with their tangy tahini dip and homebread, and follow that up with a huge, satisfying salad.

– Oui Oui –
This is an absolutely adorable little French cafe, complete with a cute plaid shirt wearing guys behind the coffee bar and on the floor.  
There are tons of daily sandwich options written on a blackboard on the wall, multiple salads, eggs reveltos (translation; scrambled) that were excellent, cakes and more.  Oui Oui is a definite must. You can sit there for hours and watch the Argentine world go by.

– Miranda –
Miranda is one of these above mentioned parrillas that offers a wide variety of food.  The stuffed ravioli was a stand out, as was the warm apple crumble for dessert.  And if anyone in your crew is insistent on eating nothing but steak well then, that's an option, too.  

– Osaka –
Everyone has a craving for sushi now and again, and if you're having this in Buenos Aires, Osaka is your best bet.  Sure, they put cream cheese in some of their rolls which can be a bit awkward, but overall it proved for a tasty experience and one that'll satisfy those persistent needs.  

–  La Fabrica del Taco –
If you want a local, neighborhood find, this is it. La Fabrica is a super casual Mexican spot, with a neon "taco" sign out front, brightly colored chairs, tables, graffiti, decorations and everything else.  Get bowls of guacamole, pitchers of margs, and start your night out on a high note.

Read more of Kate's adventures in Buenos Aires!
Read More

Shop Buenos Aires travel style essentials!