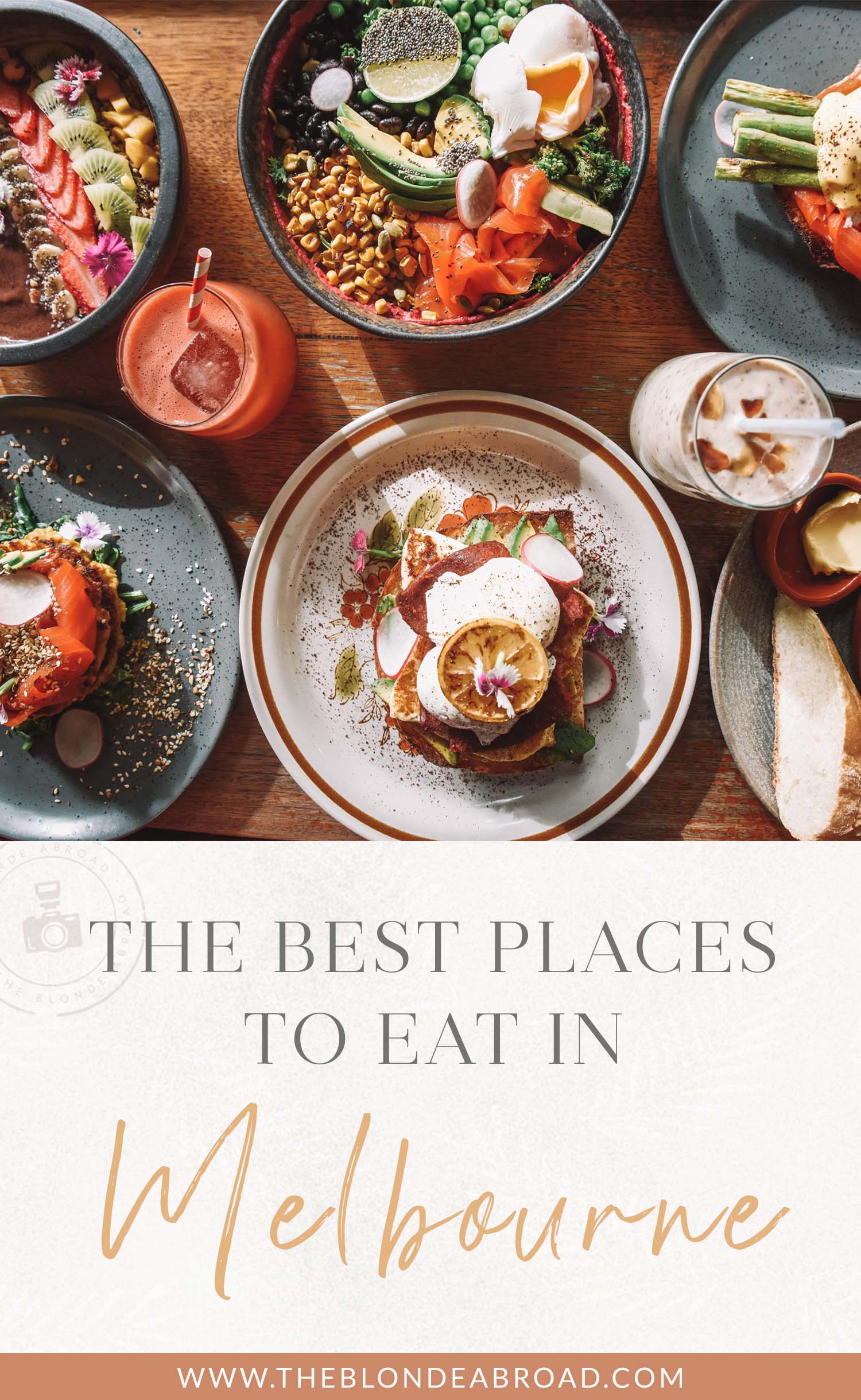 Updated: June 2020
This Australian city boasts some unbelievable cafe culture! I ate my way through the lanes of the CBD (Central Business District), satisfied my sweet tooth on the beach of St. Kilda, nurtured my inner Italian in the DOC, and sipped my way through cocktails in the "Bohemian Quarter" of Fitzroy.
There are so many foodie destinations in Melbourne…and a serious brunch scene!
Melbourne is an international playground with culture on every corner and delicious food is just as abundant and diverse. So while there are certainly a lot of sites to see, there are even more places to sample—through food! This guide on where to eat in Melbourne will have you "om nom nomming" all over the city.
Ready to chow down? Here's a look at the best places to eat in Melbourne!


Best Breakfast, Brunch, + Coffee in Melbourne
The brunch scene in Melbourne is poppin'. For some of these places, you can walk right in, but in other places you'll definitely want a reservation or be prepared to wait (though some places don't take reservations…so try to get there before prime brunch time). Don't worry—the food is ALWAYS worth it.
Melbourne is quite proud of its coffee, too, and the city is brimming with cafés with some serious coffee. While I find that sometimes it's a bit darker than standard "American" coffee, flat whites (similar to a latte, but stronger and usually less milk) hold a special place in my heart.
Want to learn about coffee culture around the world? You'll have to sample all of these delights and report back with your findings. 😉
Helpful Tip:
As a note: if you're trying to order an "iced latte" (as in iced coffee with a bit of milk), you'll need to clarify with the café as an Iced Latte in Australia is made with ice cream. Definitely delicious and a happy mistake—but quite rich, too!
29th Apartment: The retro-tastic café is such a gem and a great spot for cheap coffee ($2.50) and breakfast that's served until 4pm. Yes, please!
Degraves Street: Snag a seat while you can! There are a ton of fantastic cafés in this alleyway—so take your pick. While it may seem counterintuitive that the best cafés and restaurants are located in the "laneways" or alleyways, this is the case for Melbourne! so many of the old buildings were factories and have since transformed into cool eateries.
The Hardware Société: This cozy, chic breakfast stop offers a mix of reimagined Spanish and French fare along with other sweet delights. The baked eggs and French Toast are beloved staples here!
The Kettle Black: Chilli scrambled eggs lured me in, but goodness—it doesn't get better than house-made coconut yogurt topped with a serious sprinkling of goodies: gluten-free grains, nuts, citrus powder, dried strawberries, and even petals!
Industry Beans: Located in a former warehouse, this is a hip café with some of the most innovative (and gorgeous) brunch options.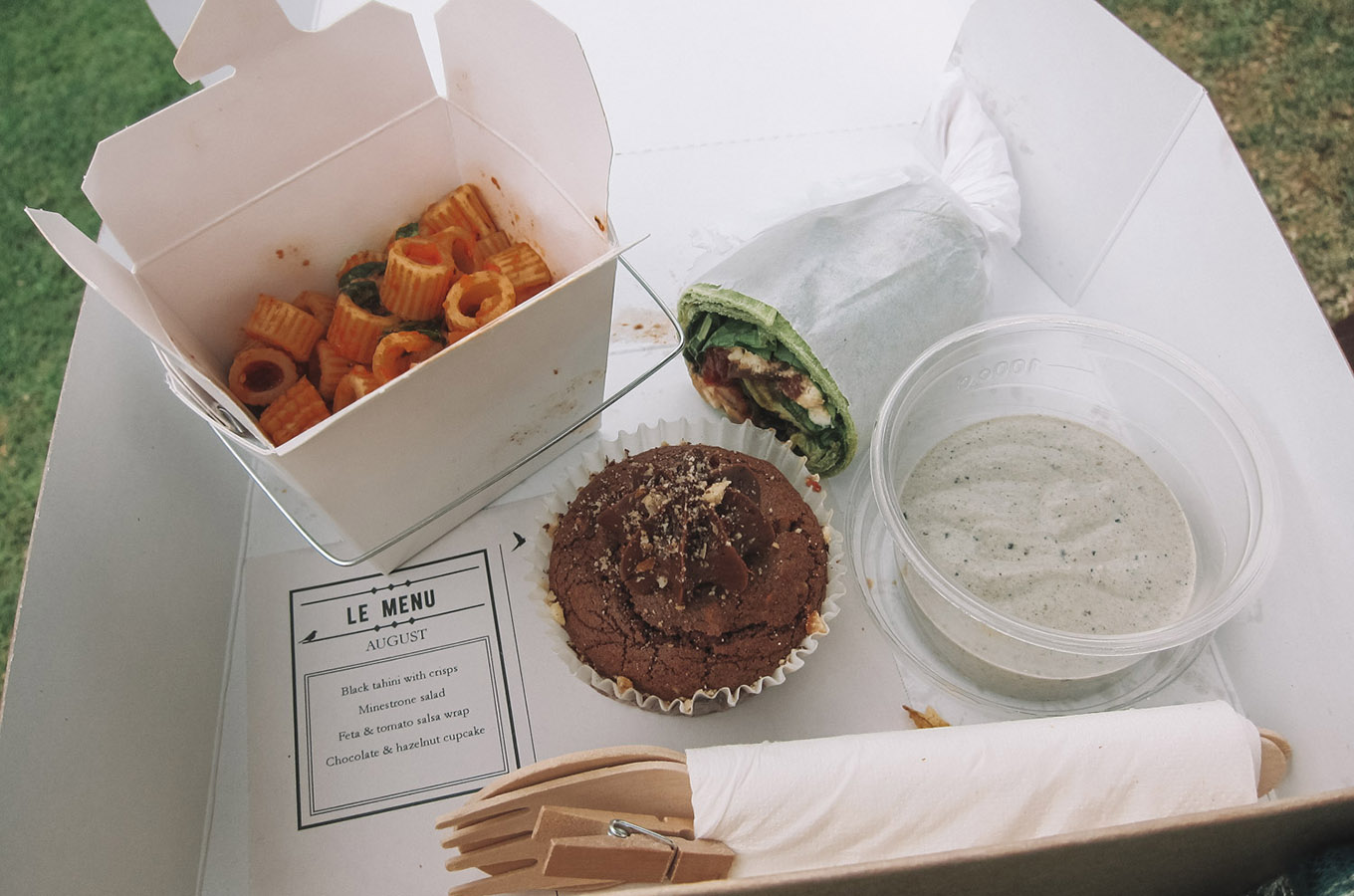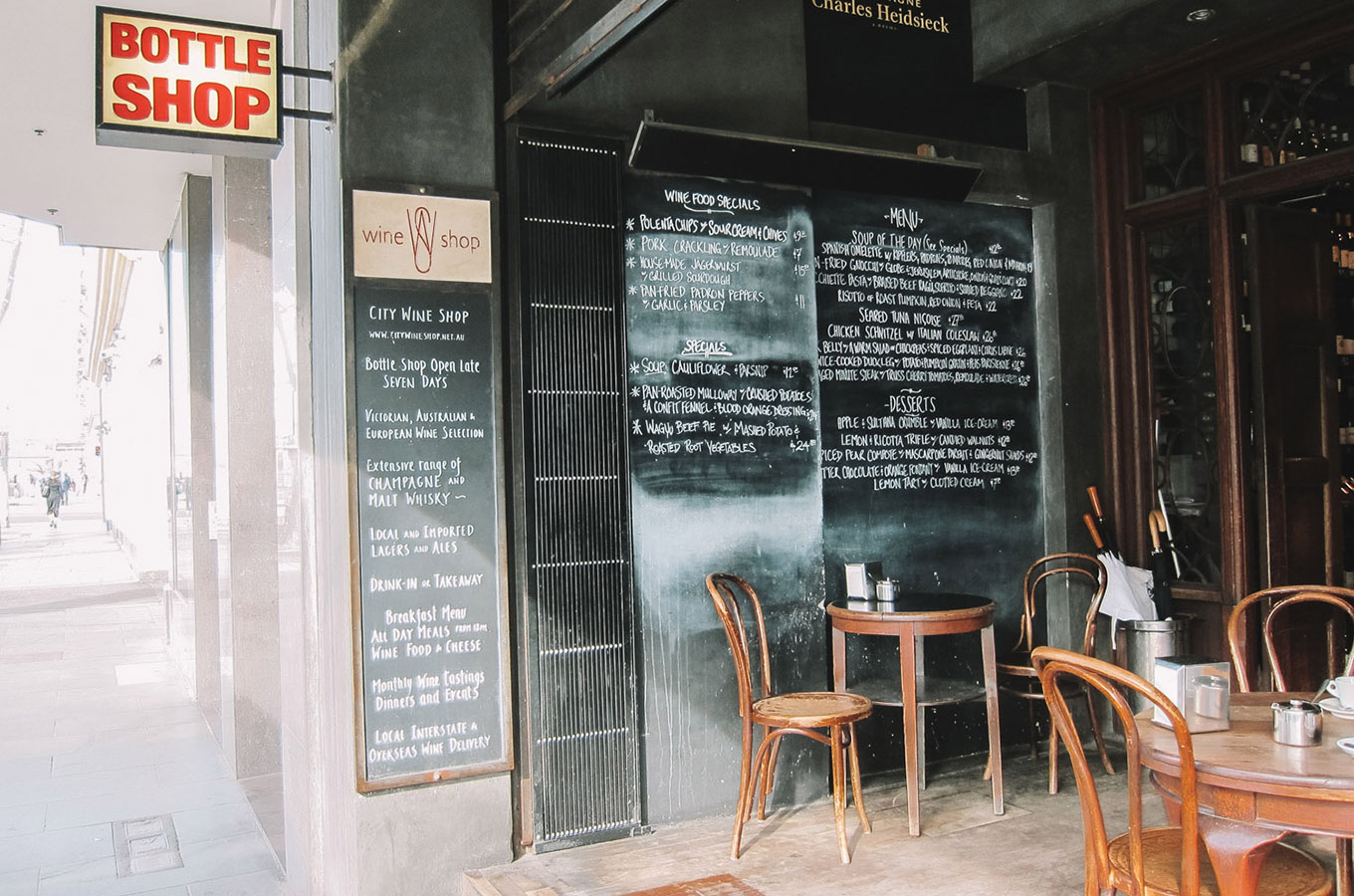 Best Places for Lunch + Snacks in Melbourne
Café Vue: When I visited this place, I was able to pick up a vegetarian lunchbox and take it for a picnic in the Royal Botanic Gardens. I would definitely suggest doing this!
City Wine Shop: Okay, okay, so wine is literally in the name but there are so many delicious brekkie and lunch offerings here! And hey, a glass of wine can't hurt while you're there, too. Right? Located right across from the State Parliament House, you'll find everything from perfect wine pairings to decadent meals at the counter like gnocchi, beef bourguignon, chicken schnitzel, and cheese plates.
D.O.C Gastronomia Italiana: This place might have the best Italian food in the city! Focusing on the Italian concept of D.O.C (which is the Denominazione di Origine Controllata, essentially the controlled regions certain foods are produced for tradition and authenticity), this place features traditional Italian recipes with a cool, contemporary flair.
From the most beautiful pizzas you will ever taste to proper espresso and more—you'll definitely want to spend an afternoon or evening here!
Pie Face: When in Australia, you've got to have an Aussie pie, mate! From classic pies to sausage rolls, these are a great snack or a quick lunch when you're out exploring!
Centre Place: Another alleyway or laneway that's extremely popular as it has tons of lunch options. The downfall? So many choices!!
A Must:
The Queen Victoria Market is a major landmark in Melbourne and worth spending several hours touring and tasting all the delights! The market has been operating since 1878 and offers so many different treats, from cheeses to donuts to fresh fruits and dried meats.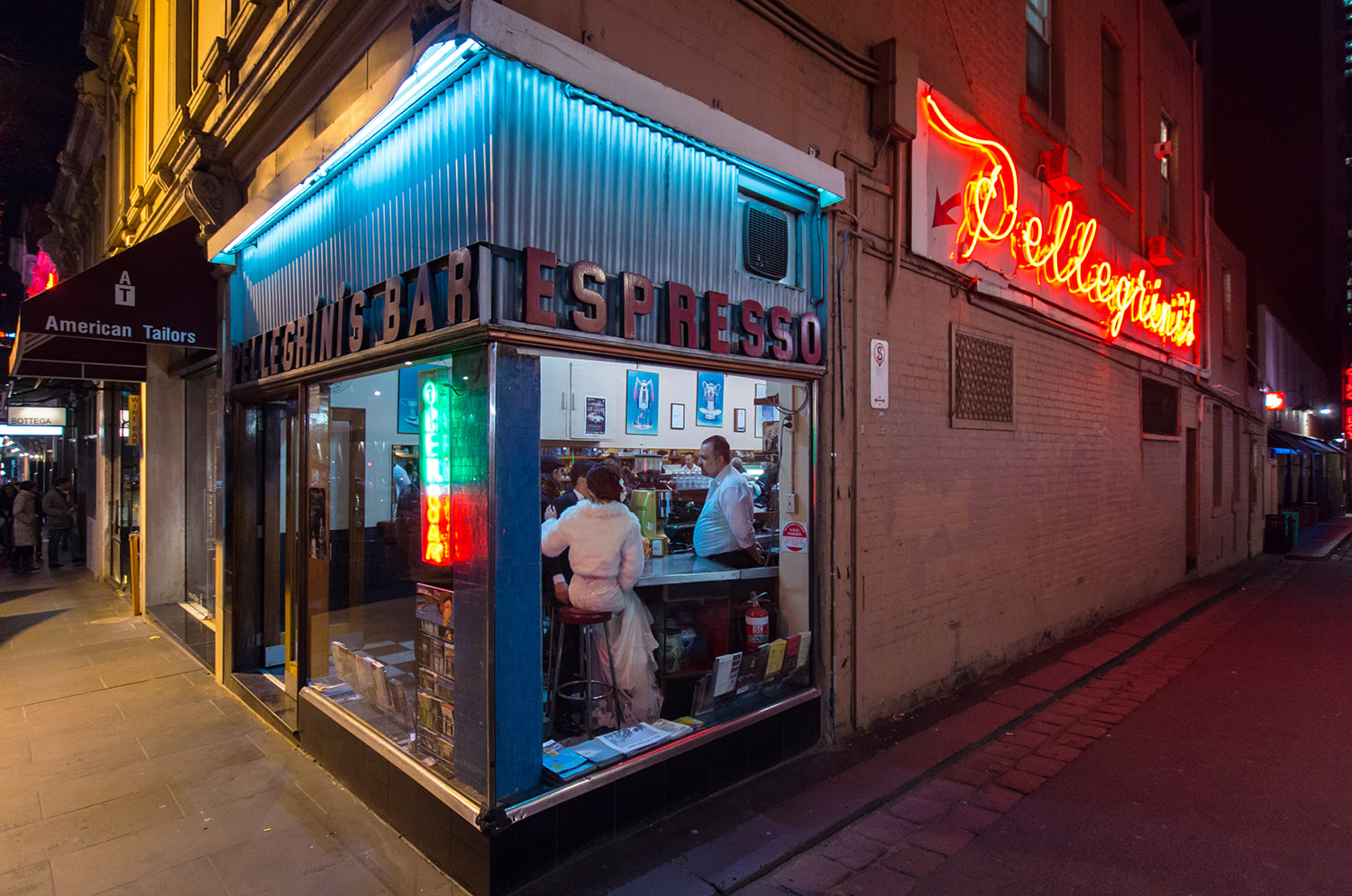 Pellegrini's, 66 Bourke St, Melbourne
Best Places for Dinner in Melbourne
Pellegrini's: This iconic place in Melbourne is one of the original Italian restaurants and as such, it holds on to its retro roots. This place is all about character with its red vinyl stools and checkerboard floor. The menu delivers classic Italian fare like spaghetti bolognese and cheesy lasagna.
It's said that the first espresso machine in Melbourne arrived at this very place in 1954!
Cookie: Looking for delicious and modern Thai food? Cookie is a true hidden treasure! Oh, and did I mention it's also a beer hall and disco? In addition to zesty Thai dishes, you can sample eclectic cocktails and cold beers all within the bustling atmosphere with artsy murals on the walls.
MoVida Aqui: Sister to MoVida on Hosier Lane, MoVida Aqui, offers Spanish fare and shouldn't be missed! From delicious rustic paella to meat grilled to perfection over charcoal, I'd highly recommend coming here.



Best Places for Drinks + Cocktails in Melbourne
MoVida: The OG location on Hosier Lane, you'll want to sample all the tapas and vino here. Plus, Hosier Lane is known for some of the coolest street artwork!
Madame Brussels: Say hello to the refreshing cocktails, here! Plus, there's a balcony with a view. I highly recommend ordering a Pimm's Cup.
1806: Named for the year that defined the cocktail, this swanky cocktail bar has a menu sorted by eras with drinks shaken up from 1650 until now!

Best Places for Sweets + Desserts in Melbourne
Shocolate: Satisfy your sweet tooth and pop into this place for award-winning macarons!
Brunetti: For another sweet spot, stop by Brunetti for their heavenly millefoglie and a cappuccino.

Now go! Eat your heart out! Enjoy all that Melbourne has to offer and remember, if you leave hungry, you didn't do it right! 😉
Where's your favorite place to eat in Melbourne?