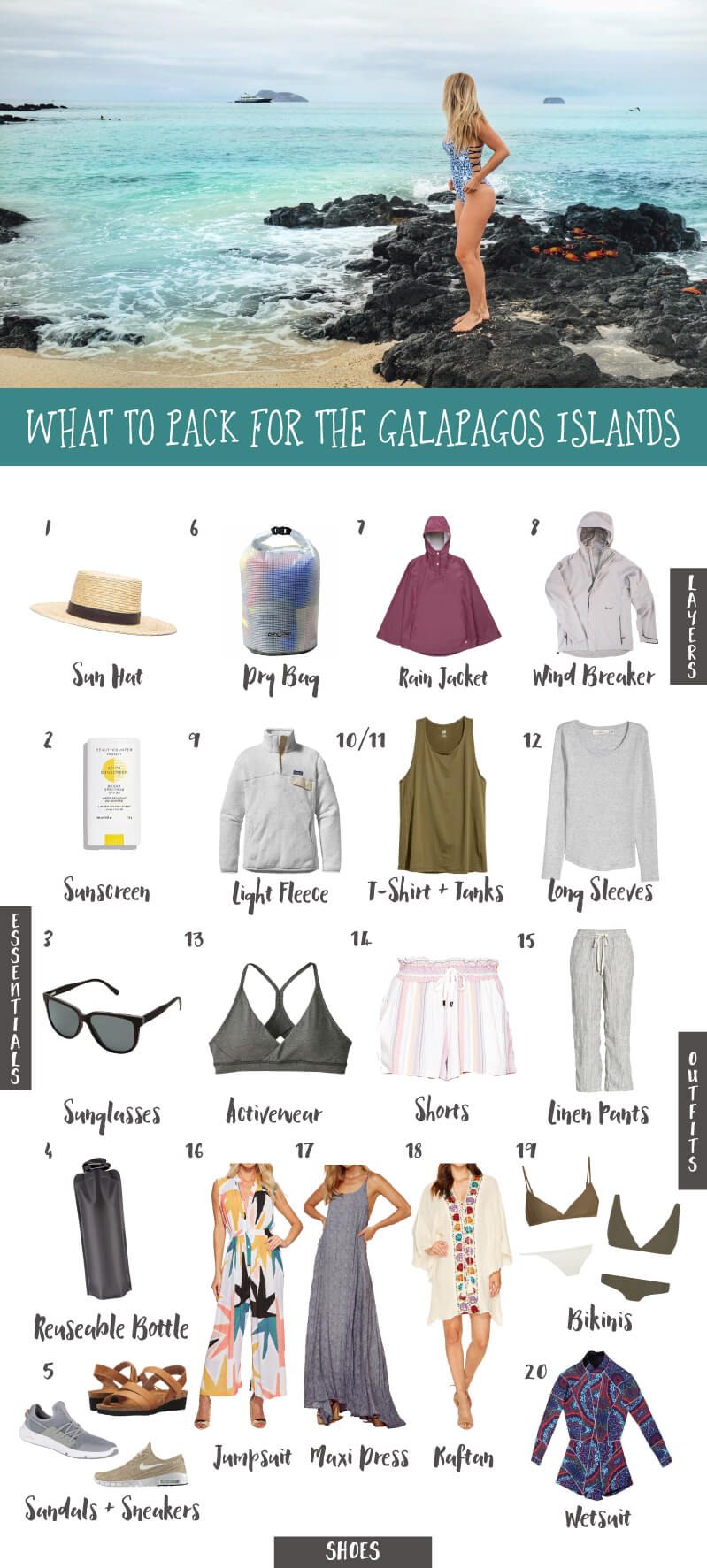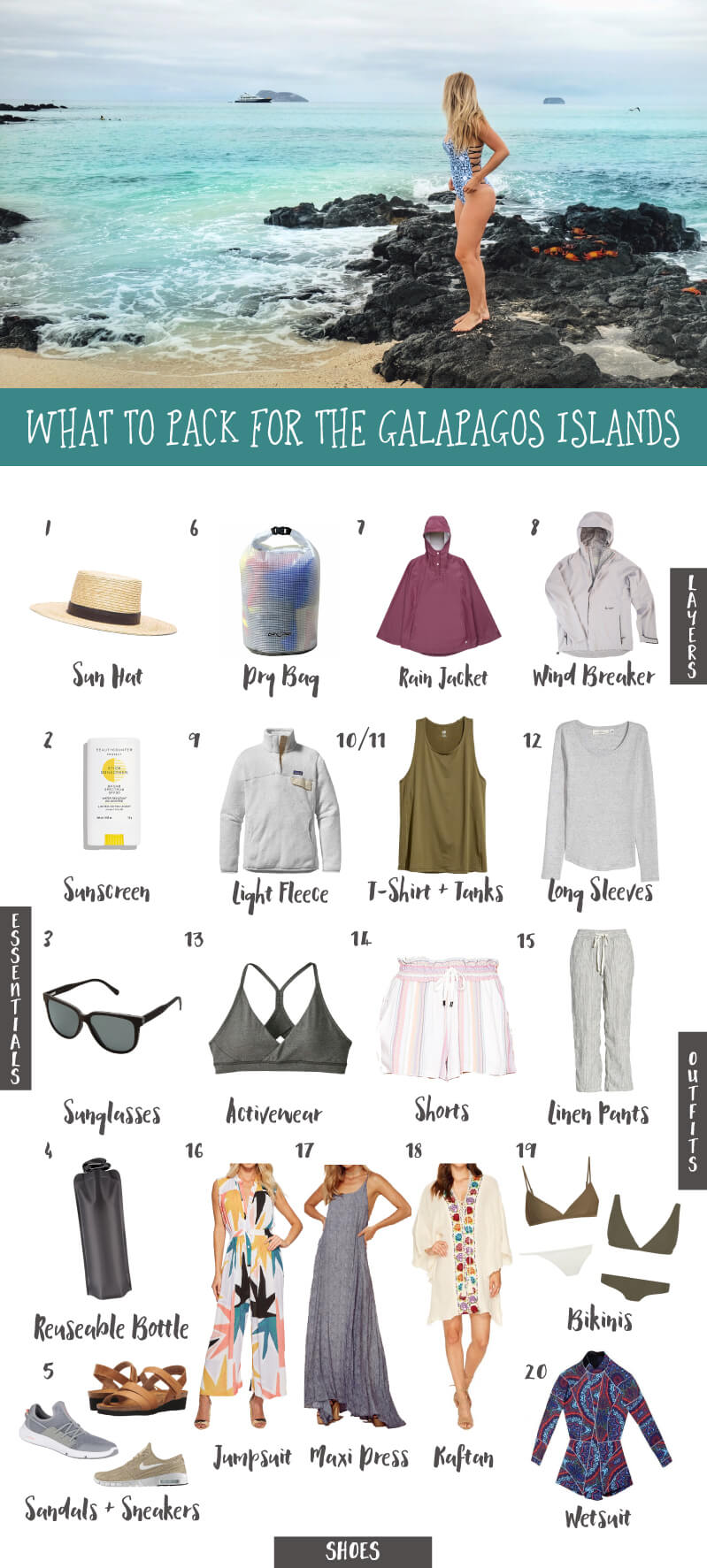 I traveled to the Galápagos Islands in 2016, and it was my favorite "back to nature" trip to date! The beauty of the Galápagos Islands is that they are miles away from the rest of the world, and full of the most serene landscapes and insane marine and wildlife. I spent eight days on Ecoventura's luxury MV Origin cruising through the Galapagos and exploring the islands.
I planned out a range of outfits while figuring out what to pack for the Galápagos Islands, and ended up wishing I had brought some other essential items (specifically- water shoes!).
If you're headed to the Galápagos Islands, you'll most likely be spending long days hiking, boating or in the water, so it's important to be comfortable first and foremost– I opted for bikinis, breathable fabrics, and sturdy shoes!
Use my packing ideas below, but revise as needed based on the weather and season of your own trip to the Galápagos Islands!

My Galápagos Trip Details
Location: The Galápagos! Rábida Island, Fernandina Island, Genovesa Island, Tagus Cove
Travel Dates: November
Season: Dry Season. I don't know why, but I imagined the Galápagos Islands to be tropical and full of vegetation. During the dry season, the islands are barren, and the water is cold.
Weather: The weather in the Galápagos during November is relatively cool and dry. I was wearing a T-shirt and shorts most days and found it to be sunny with a few overcast days. However, you'll want to be prepared because we did have one day of slight showers! Be sure to check out my post on the best time to travel to the Galapagos for complete details!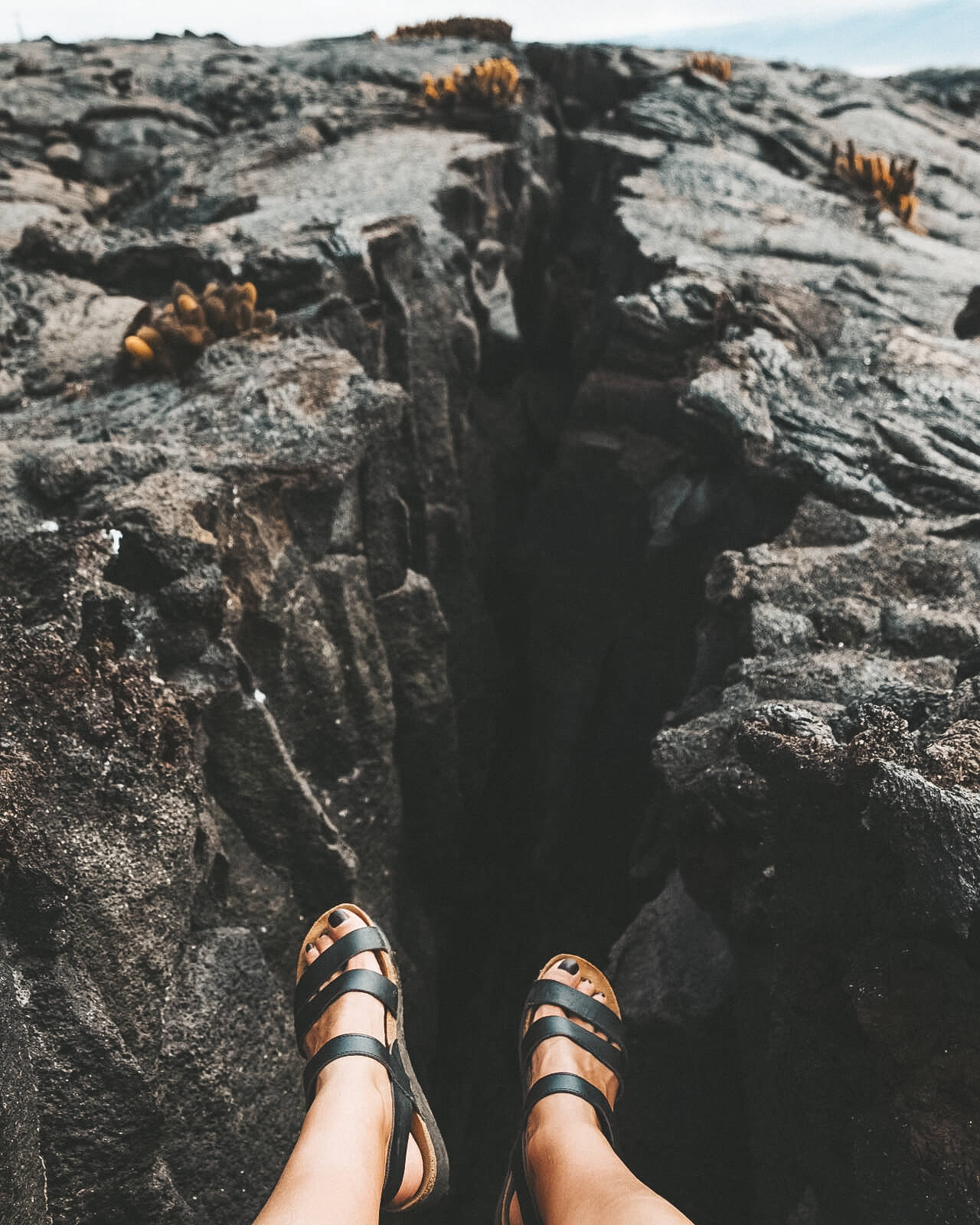 Luggage Requirements and Baggage Allowance in the Galápagos
Triple-check your luggage requirements and baggage allowance for your flights to the Galápagos. If you're traveling on your own or with a tour company, odds are you'll be taking a speedboat or water taxi between islands, and you won't want to lug heavy bags around, so I recommend packing as light as possible.
Plus, if you're doing a Galápagos cruise, the cabins can be very small, and you don't want to take up your precious space with tons of luggage! My tip: pack light and efficiently!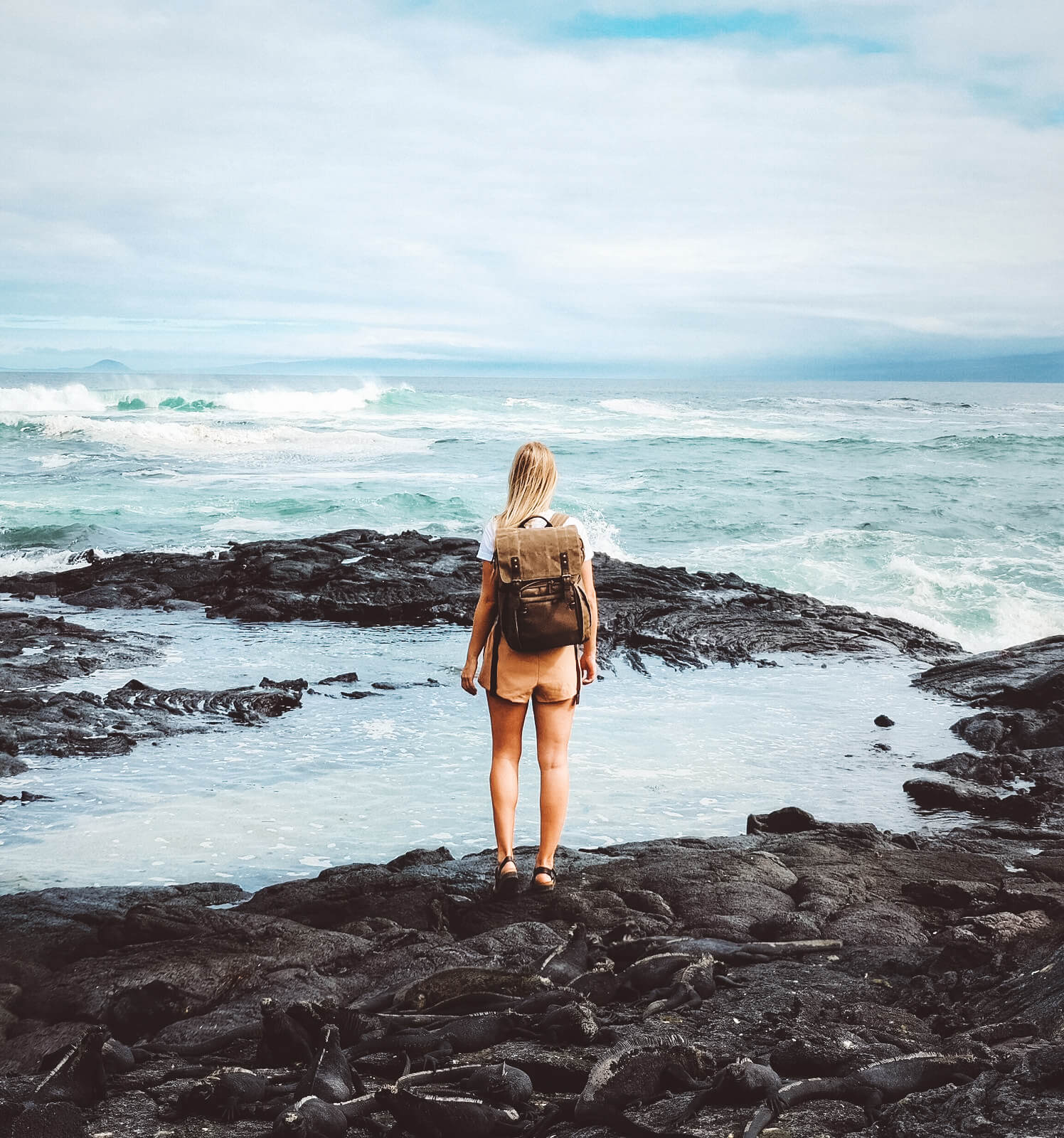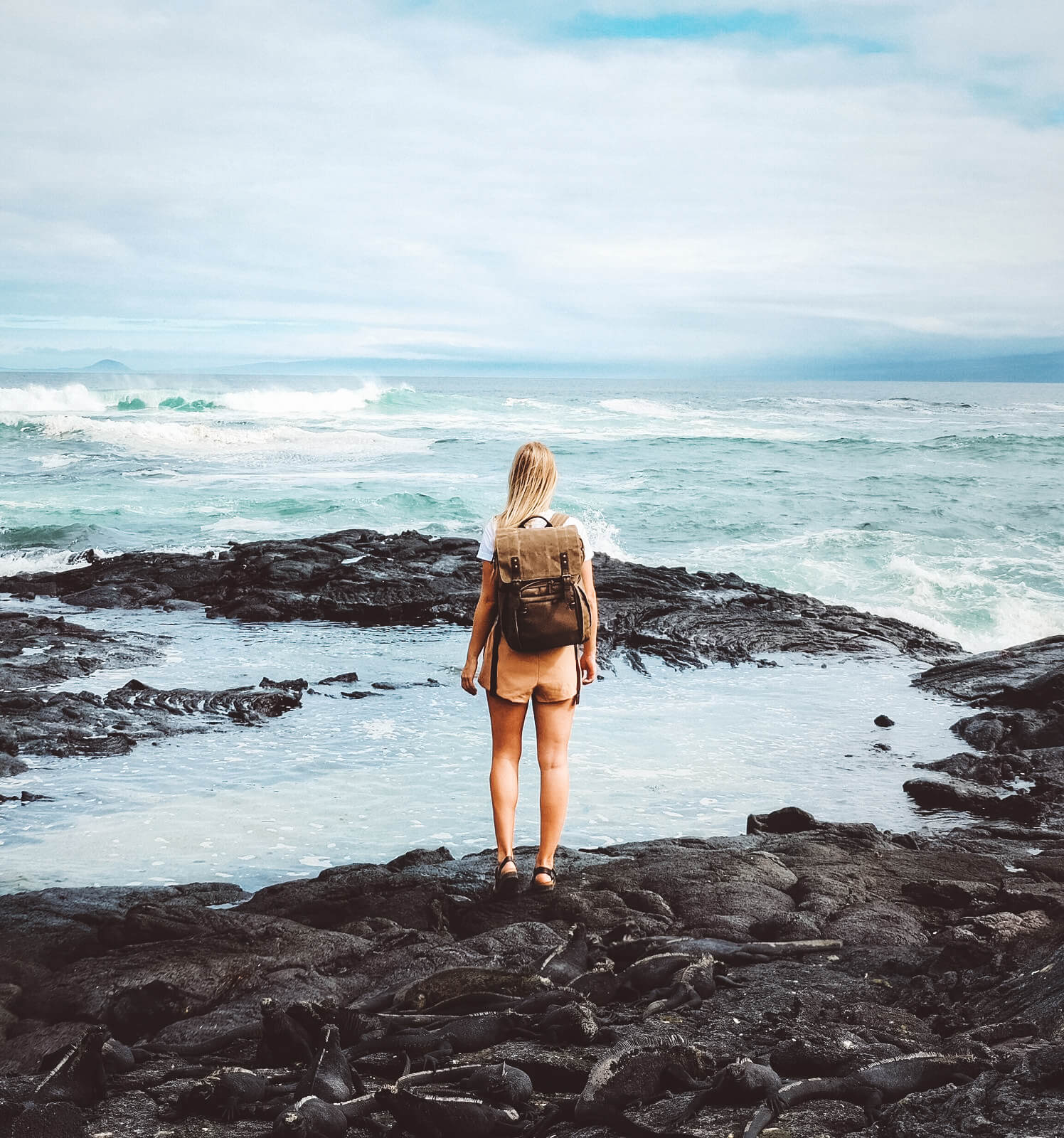 What to Pack for a Trip to the Galápagos Islands
Essentials
1. Sun Hat // You'll definitely need a wide-brim hat to protect you from the rays. Pack 1 or 2 to be safe, and make sure they aren't made of thick material that will make you sweat!
2. Sunscreen // I can't stress enough that you will need a LOT of sunscreen. Ecuador is near the equator, and even though it might not feel hot, you will burn if you aren't reapplying 4-5 times a day. Plus, it's expensive to purchase there!
3. Sun Glasses // You'll want polarized glasses for this trip! They will help you spot marine life in the gorgeous waters.
4. Reusable Water Bottle // You'll need to drink a ton of water. Bring a reusable bottle you can fill from your boat, hotel or a larger water container.
5. Sandals + Sneakers // You'll spend lots of time walking, so I highly recommend investing in a comfortable pair of supportive (and cute!) sandals that strap around the foot and a pair of sneakers. I also HIGHLY recommend bringing comfortable water shoes — you'll be walking on beaches and rocks, so they're a lifesaver. Hiking in the Galápagos is not typically hard, but you'll be walking on uneven and rocky places, so plan accordingly.
6. Dry Bag // You'll want something durable and waterproof to carry your gear while hiking, on boat rides, and while exploring the beaches. I always keep my belongings and camera gear in a larger dry bag to be safe!


Pack Versatile Items!
A trip to the Galápagos will involve multiple flights, boat rides, and lots of nature walks. I try to stretch my outfit options by packing versatile pieces—like this set from lululemon!
Running shorts and a lightweight jacket are great for the islands—and a belt bag is so handy for keeping your hands free!
lululemon is my go-to for cute, comfy, and high-quality activewear. Shop lululemon.com for your next trip—whether it's comfy joggers or high-performance athletic wear for hiking.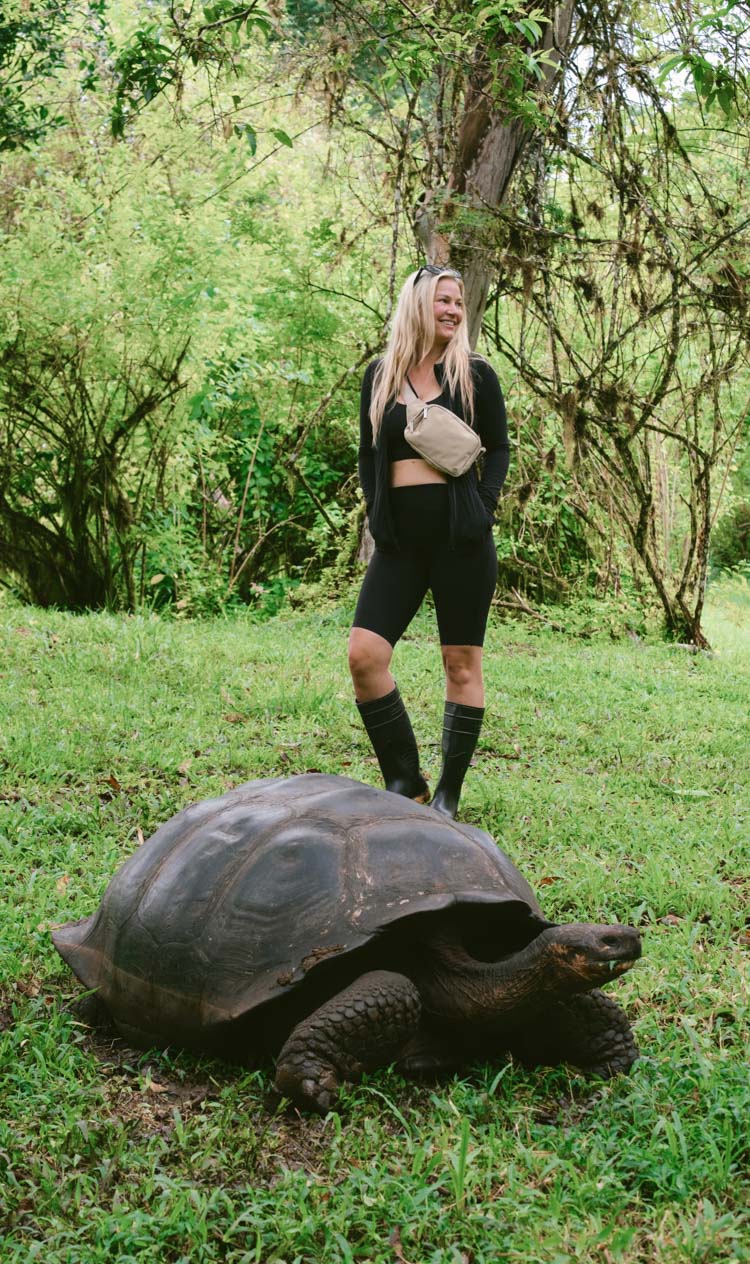 – Shop the Look! –

Outerwear
7. Rain Jacket // Depending on the time of year you're going, I'd definitely recommend a comfortable, hooded rain jacket or poncho. I'd probably recommend bringing one year-round, just in case!
8. Windbreaker // Sometimes your rain jacket can double as a windbreaker too!
9. Light Fleece Jacket or Lightweight Jacket // The Galápagos Islands don't get too cold, but depending on the time of year you're visiting, you'll want some form of a jacket.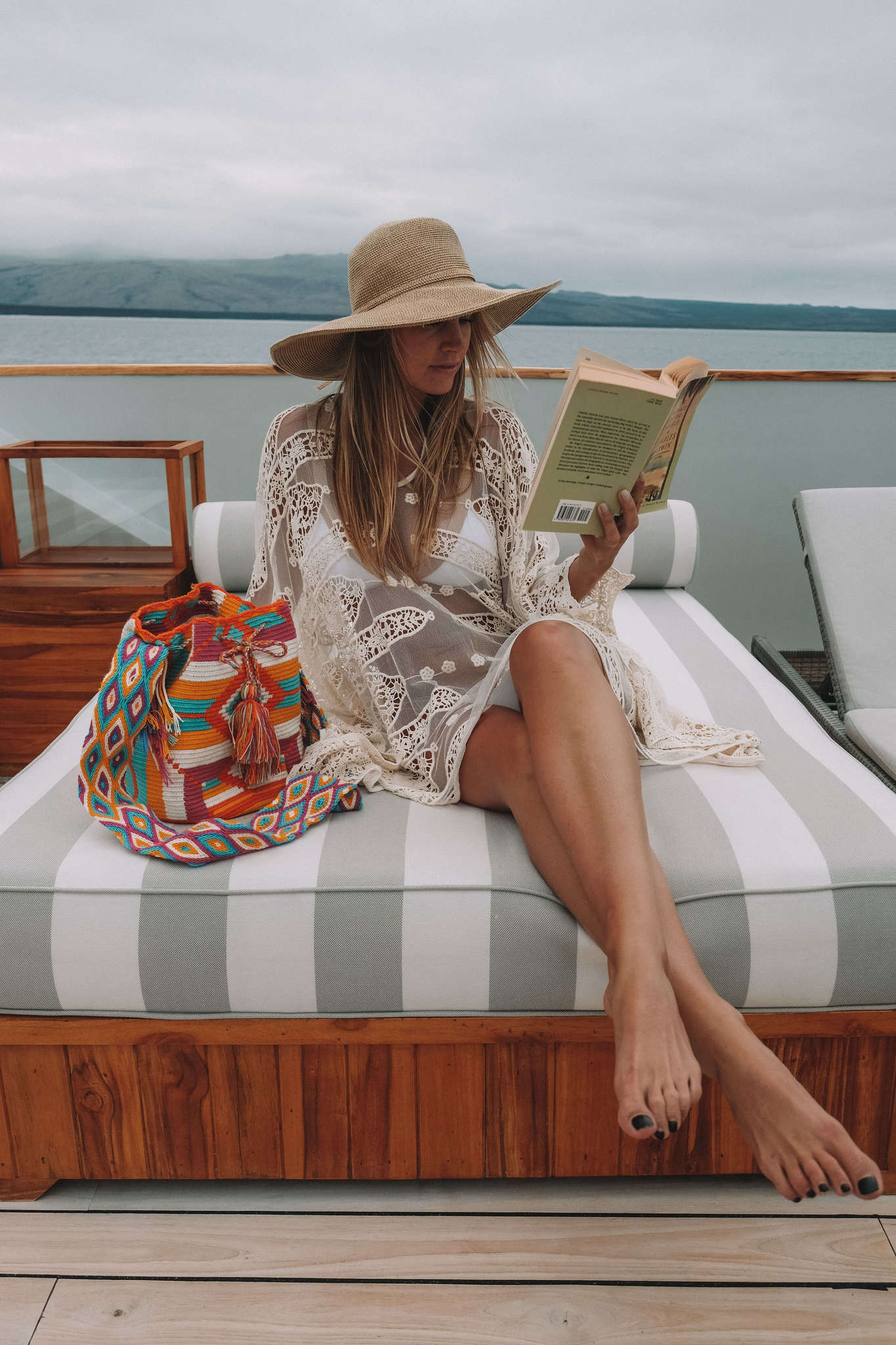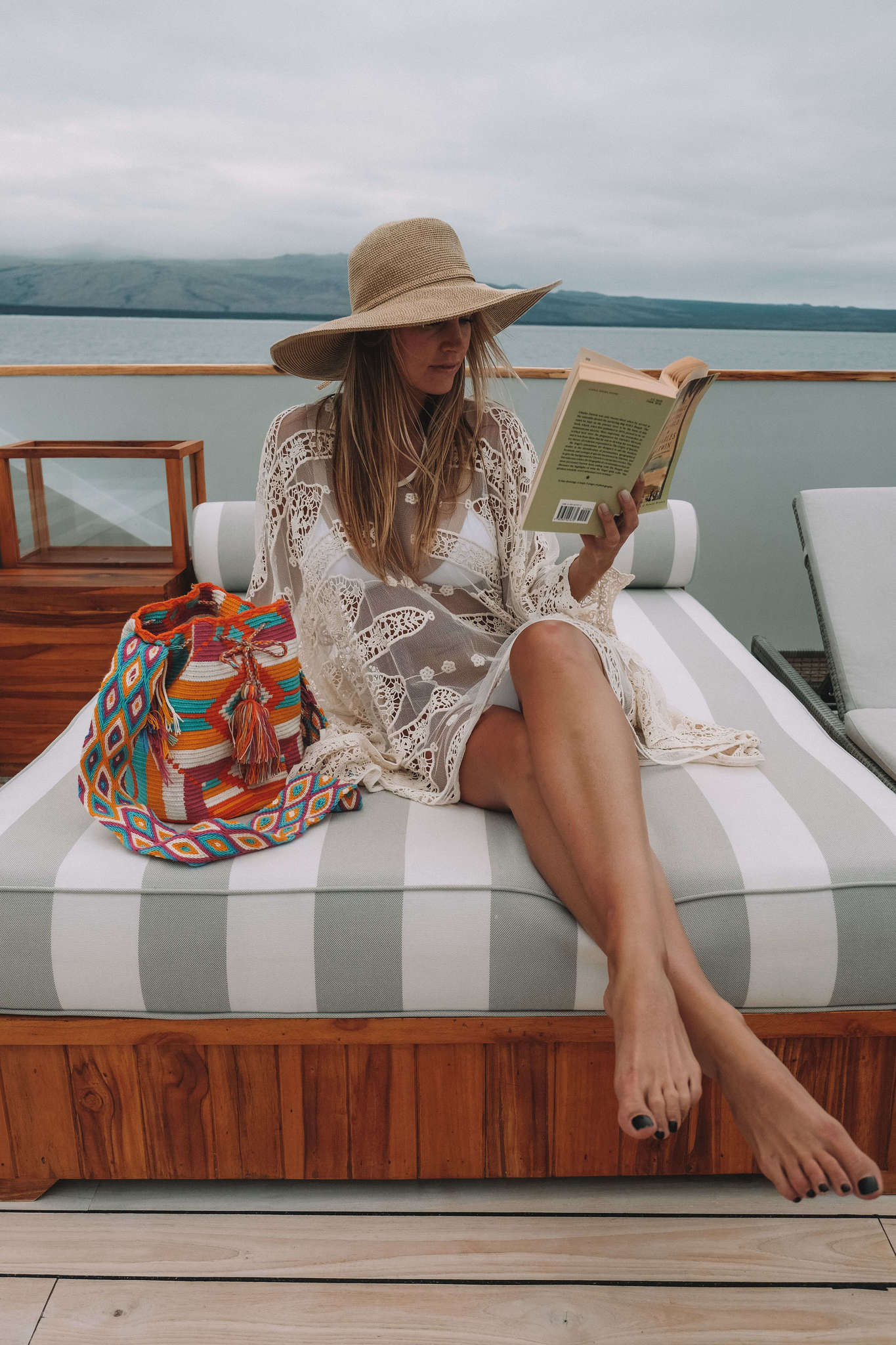 Tops + Layers
10/11. T-Shirts and Tank Tops // You'll want comfortable fabrics and a few options to mix and match with bottoms. Plus, tank tops are great for layering.
12. Lightweight Long Sleeves // Pick thin, breathable material for your blouses — they're great for layering and offer sun protection. Keep in mind that cotton doesn't dry quickly!
13. Activewear // Bring some sports bras and activewear tops to wear while hiking or on day excursions. I also rocked leggings a few times on my trip. They were perfect for active days, lounging, and layering under tunics.

Bottoms
14. Shorts //I wore shorts the most during my October trip. I opted for some comfortable fabric shorts rather than denim shorts! But I also love running/cycling shorts for this trip.
15. Linen Pants // A lightweight pair of pants that are comfortable enough to explore in.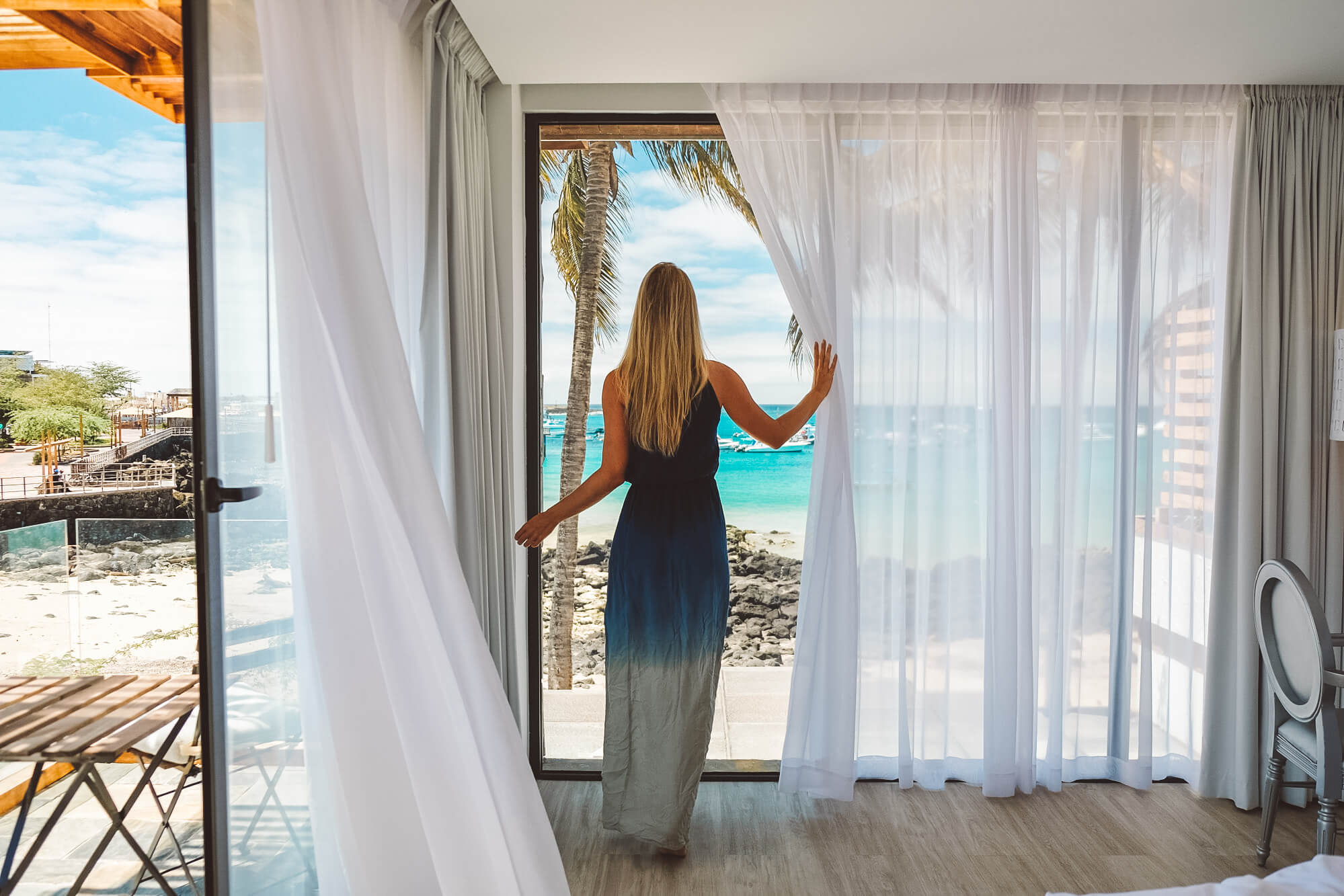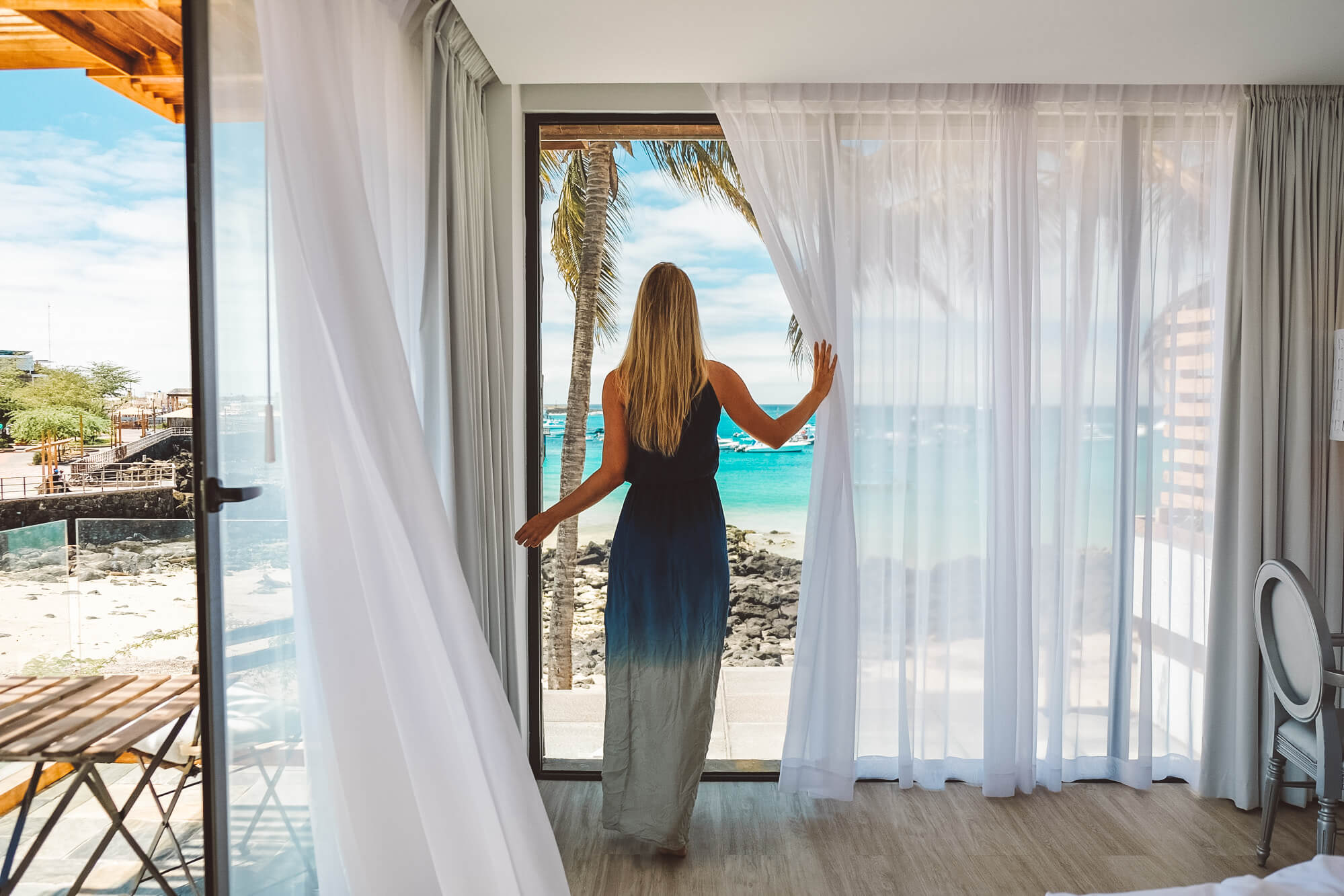 Outfits
16. Jumpsuit // A comfortable jumpsuit can be an easy outfit for excursions or strolling around town.
17. Maxi Dress // The perfect option for a warm day, post-shower lounging, or dinner onboard a cruise. If you're spending some time in Quito or other cities in Ecuador, you'll want to have some clothes you can dress up in too!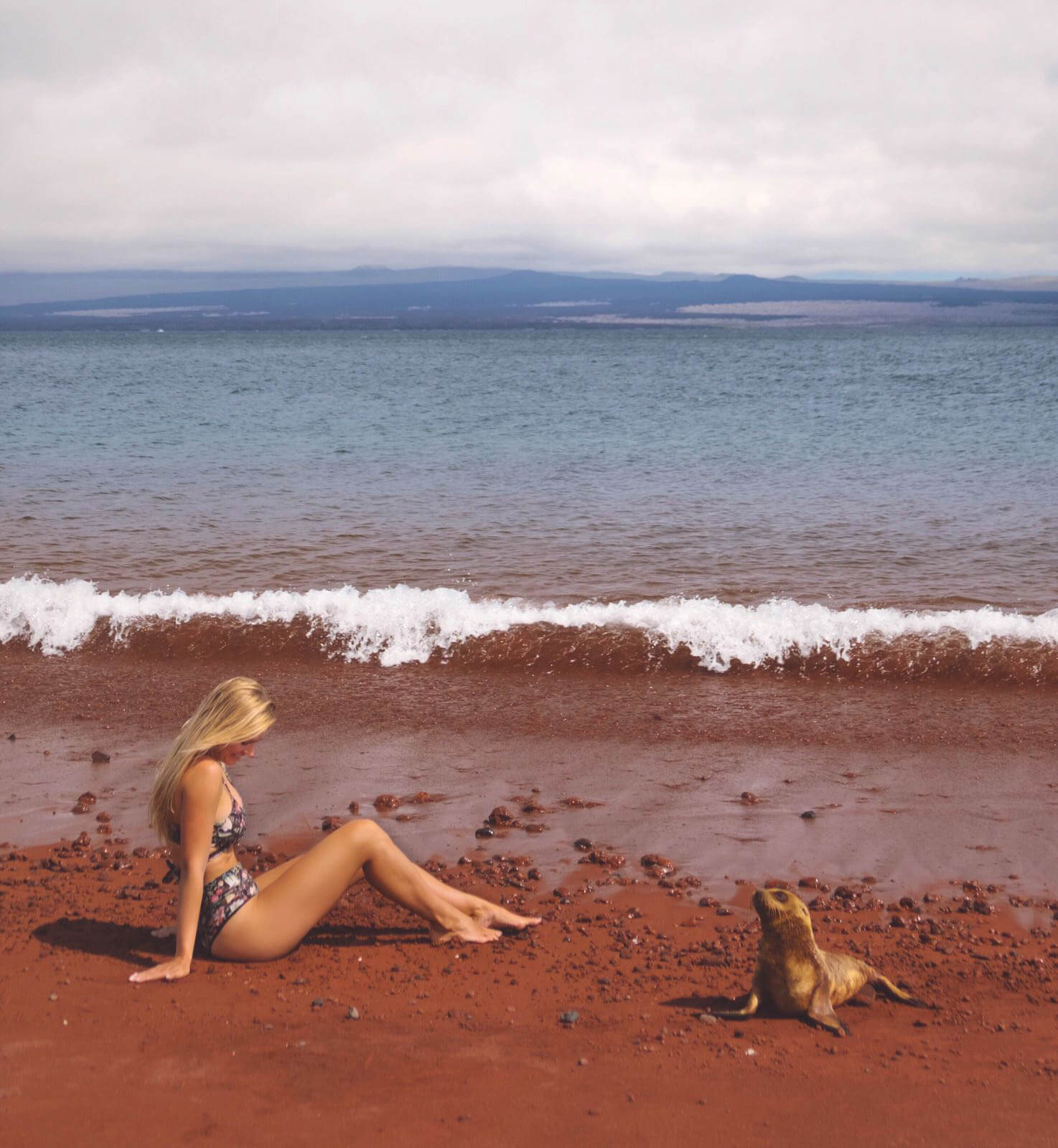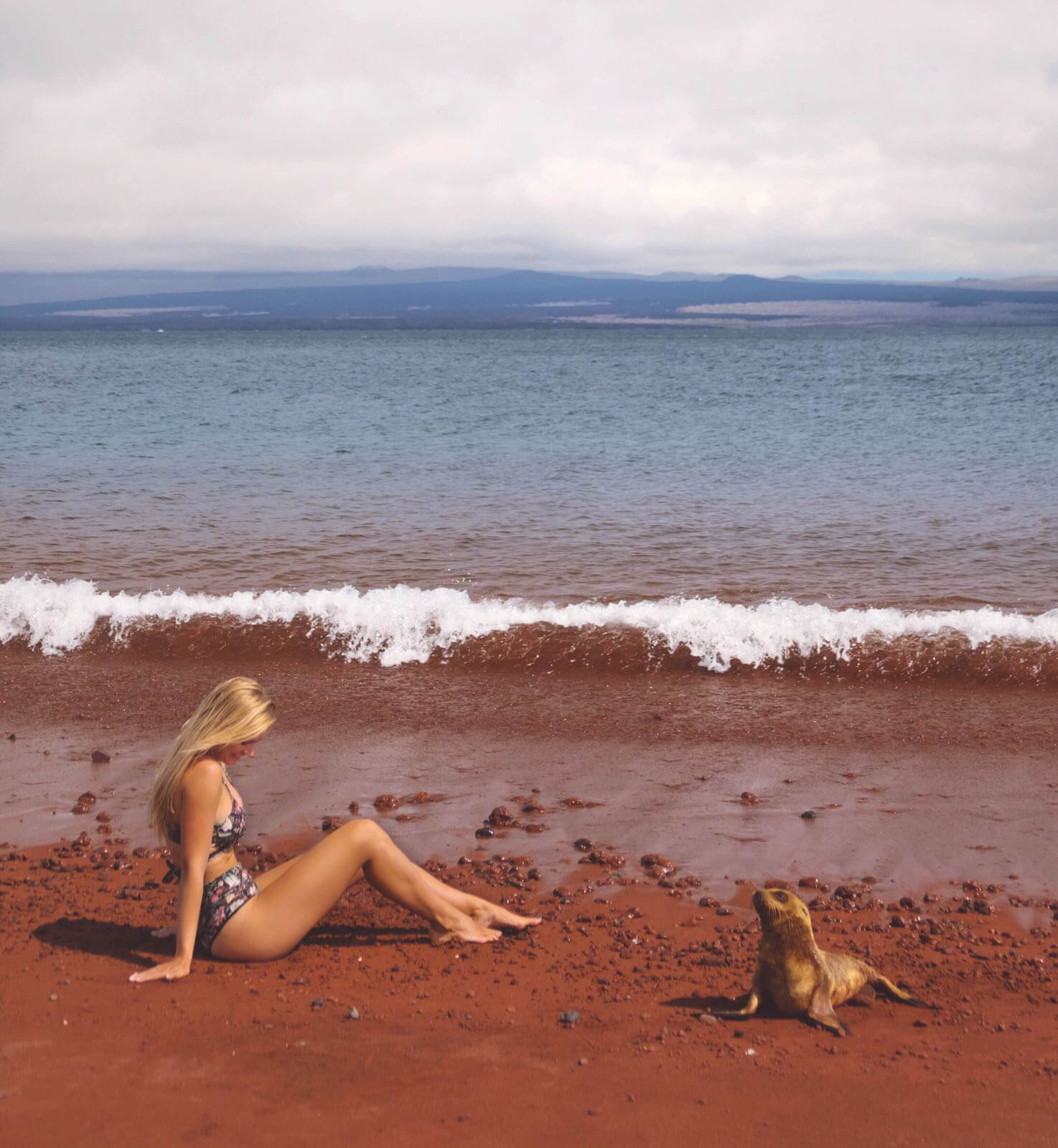 Swim
18. Kaftan // A kaftan for lounging onboard your Galápagos cruise or as a bathing suit cover-up (I even wore mine with leggings for a cute outfit!).
19. Bikinis // I'd recommend bringing 3-5 swimsuits, especially if you plan on being in the water a lot. Snorkeling and diving in the Galápagos is absolutely amazing!
20. Wetsuit // I always bring my own shorty wetsuit when I plan on snorkeling or diving, however, some tours and cruises offer them for you, so they don't have to take up space in your bag! Double-check before you go to save some money and bring your own.


Don't Forget: Photography Gear
The Galápagos has some of the most pristine wildlife and landscapes in the world– you'll need SOME way to capture the moment. HELPFUL TIP: The Galápagos Islands are a no drone zone so leave it behind!

Please note that some of the links above are affiliate links, and at no additional cost to you, I earn a small commission if you make a purchase. That income goes to supporting and keeping this website free for you and everyone else! As always, the ideas and opinions expressed in this post are entirely my own.