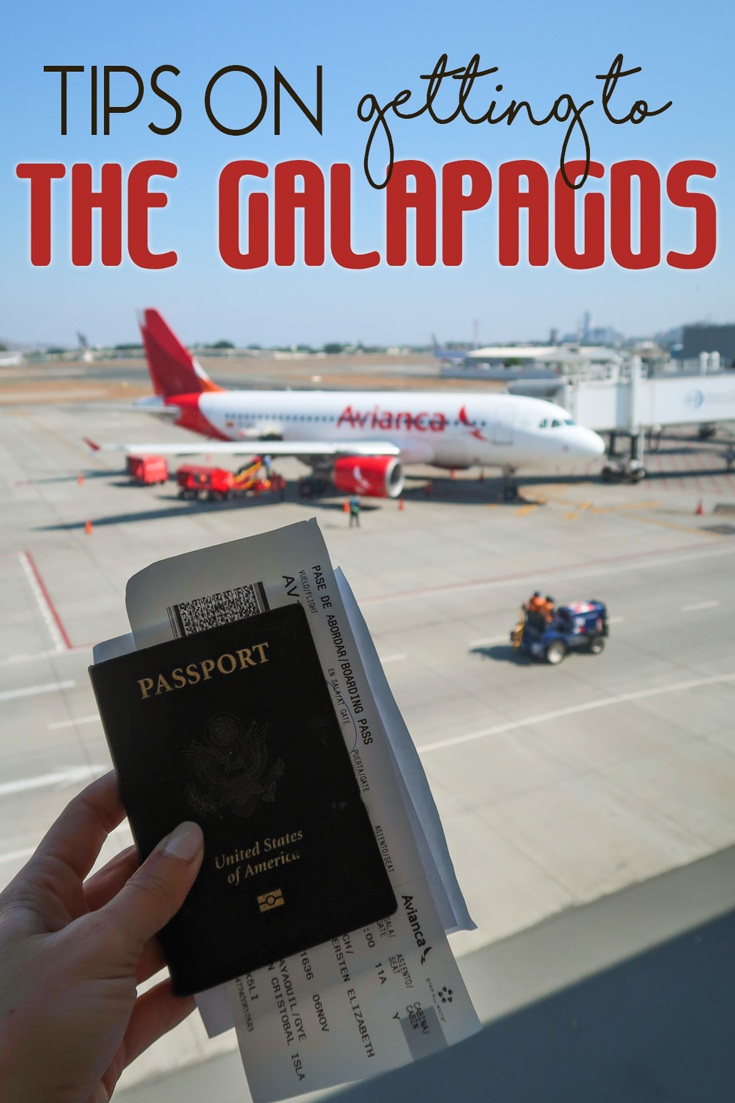 The beauty of the Galápagos Islands is that they are miles away from the rest of the world. Far from the noise and chaos of city life, this is the perfect place to get away.
The problem with getting to the Galápagos Islands is that they are in the middle of nowhere. 600 miles off of the coast of Ecuador, these islands are truly remote. Fortunately, it isn't that hard to get there and it's well worth it.
Here are some helpful tips on getting to the Galápagos and island hopping!

Flying to the Galápagos
There are two airports in the Galápagos– you can fly into San Cristóbal Island or Baltra Island. Baltra is located just north of Santa Cruz. Baltra and Santa Cruz are accessible by ferries, so it's easy to get back and forth.
You'll often hear the Baltra airport being referred to as the Santa Cruz airport, so keep that in mind if you see the two island names being used interchangeably.
Since you won't find international flights to the islands, you'll typically connect through Quito or Guayaquil. Both of these cities that are worth exploring, so plan on a little extra time to see the sights before you head away from the mainland.
I flew from LAX to Guayaquil to San Cristobal on Avianca Airlines.
As soon as you've got your dates set, you'll want to book your flights. The fights from Guayaquil to San Cristobal are nonstop and just under two hours long. They book up really quickly with tourists and islanders traveling to and from mainland.
Summer is high season in the Galápagos, and it's also a popular route from mid-December to mid-January. If you're traveling during these times, be sure to have everything booked far in advance.

Cruising the Galápagos Islands
The Galápagos are made up of thirteen large islands and seven small islands. To get between the islands, you either travel by air or sea. I recommend taking a cruise around the islands to see everything.
I went on a cruise onboard the new MV Origin and loved it. The company, Ecoventura, has received awards from Travel+Leisure, Conde Nast Traveler, and other top travel pros. You can totally customize your experience, and the company's guides are incredibly knowledgeable.
With so much to take in, the Galápagos is a place where I knew I wanted to have an expert showing me around. The pros and conservationists abroad MV Origin completely exceeded my expectations.
I learned so much about the unique ecosystem of the islands and what makes this place so special.
Not only do the staff members at Ecoventura know the local environment, they respect it. As a leader in the world of sustainable travel, this company helps people see the amazing natural wonders of the Galápagos without leaving a footprint.

Traveling from Island to Island
Traveling without a tour is totally doable too, as there are speedboats, ferries and water taxis available, depending on where you are!
There are a few different companies offering speedboat trips. One of the most common routes is between Puerto Ayora, Santa Cruz, and Puerto Villamil, Isabela Island. The boat leaves daily from Isabela at six a.m. and from Puerto Ayora at two p.m.
It'll take you under three hours to get from one port to the other.
If you are traveling between San Cristobal and Puerto Ayora, you can take the daily ferry from San Cristobal at seven a.m. and from Puerto Ayora at two p.m. Again, it'll take you under three hours, but the waters can be a bit rough here, so I'd recommend bringing some motion sickness pills if you're prone to getting woozy.
There are also water taxis in some spots. They are a popular way to get from one end of Santa Cruz to the other. They are very cheap and just take a few minutes.
You'll want to remember that water taxis are just small boats that take you to the local sites.
When you want to get to another island, you'll need a ferry or a speedboat. These work on a set schedule and can't be hailed like a water taxi.

Traveling on the Islands
The system of taxis is pretty straightforward, and you really can't get lost. You can flag down taxis easily. Keep your eyes open for white pickup trucks with taxi signs.
They are incredibly cheap and very handy if you are traveling with luggage.
I stayed a few days following my cruise on San Cristóbal in Puerto Baquerizo Moreno, and found that I could walk anywhere in town within 10 minutes, so all I needed to worry about was booking a taxi to the airport– which only cost me about $2.


Thanks to Avianca for hosting me on the flight out of LA. As always, thoughts and opinions expressed here are entirely my own.