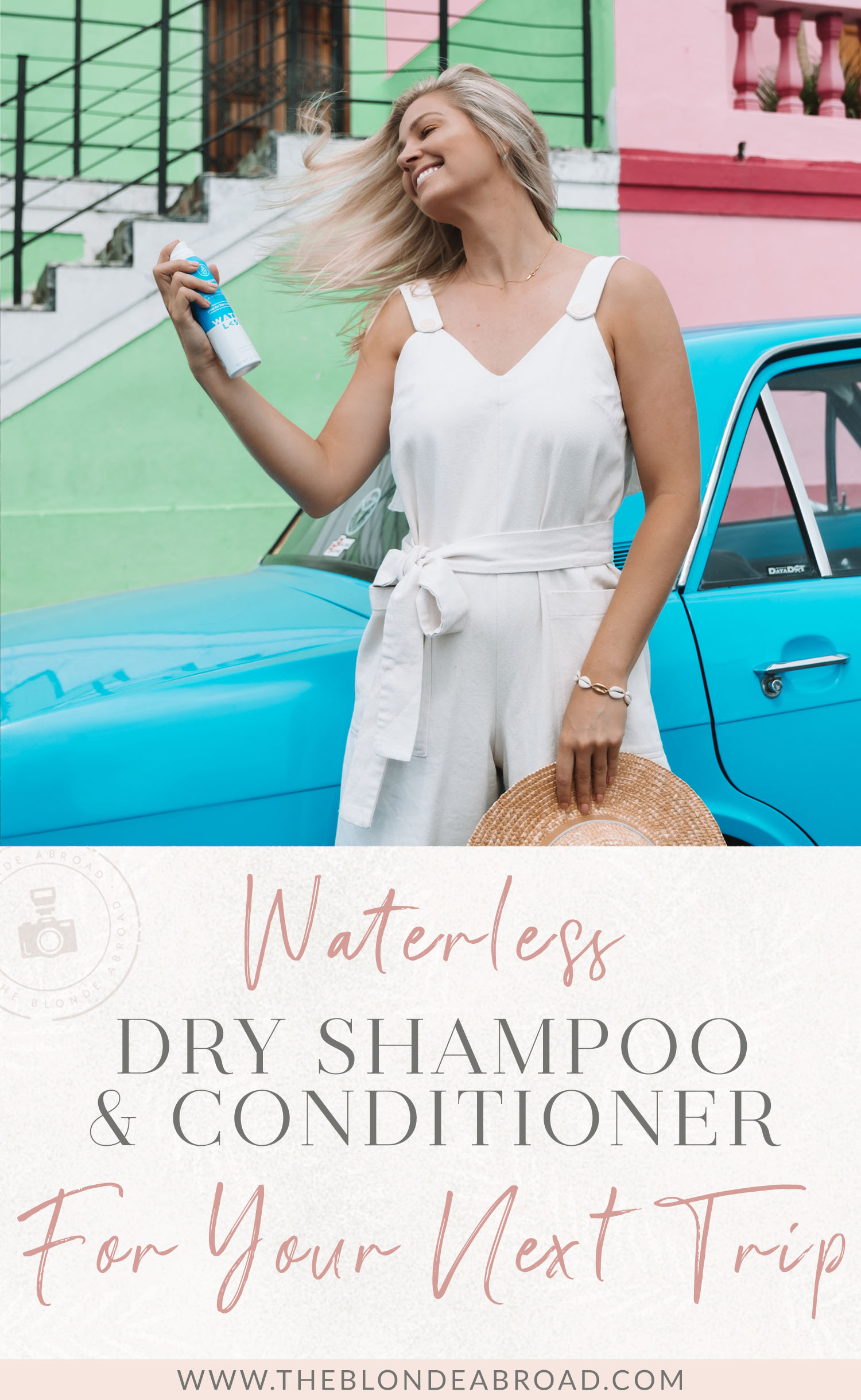 This post was written in partnership with Waterl<ss. As always, thoughts and opinions expressed here are entirely my own and based on my own experiences.
If there is one thing I absolutely can't live without, it is dry shampoo and conditioner. Whether I'm on a long flight, staying in a place with limited access to water, or just plain too busy to be bothered, this stuff is magic in a bottle.
Beyond simply being convenient, dry shampoo and conditioner help me with one of my biggest beauty dilemmas: greasy, lifeless hair.
With my baby fine hair texture, daily washing leaves my strands completely dull. At the same time, going more than 24 hours without washing gives my hair an oily and weighed down feeling.
Not a good look!
Dry shampoo and conditioners are a dream for my hair type because I can keep my roots clean while hydrating my dry ends. Like I said, magic in a bottle!
I'm excited to introduce you to a BRAND NEW dry shampoo + conditioner by Waterl<ss—a brand born in Cape Town that's on a mission to change the way we consume water.
While I was originally turned onto dry shampoo + conditioners for beauty reasons, there is an even better reason to opt for these washing alternatives: water conservation. Since living in Cape Town, I have experienced the lack of this resource firsthand (more on that below).
Waterl<ss offers an essential, travel-friendly beauty fix that allows you to stay fresh and "wash," without wasting precious water. Yes, please!

Cape Town, South Africa
About Waterl<ss
More than just a smart travel beauty hack, Waterl<ss represents something bigger. While I used to just think of dry shampoo as a handy product to keep my hair healthy and looking good, my whole perspective has changed since living through the Cape Town drought.
Before moving to South Africa, I'd never considered how privileged I was to be able to turn on a faucet and see clean water come out.
Since basing myself in Cape Town over three years ago, I've experienced the severity of the Cape Town drought firsthand. My adopted hometown was on its way to becoming the first international city to "run out of water."
It was scary…yet extremely beautiful and eye-opening as I learned so much about the impact of community and how little changes can make a big difference.
I watched the people of Cape Town come together. I learned both the value of community and the importance of water. It blew my mind how much water I'd been wasting. I was timing my showers and collecting greywater from the shower in order to flush the toilet.
I'll never forget going to buy drinking water in bulk to store in the case that "day zero" actually came. I called every filtered water service and went to every warehouse and everyone was completely sold out.
It was terrifying.
When you live through something like that, you start to realize the value of each drop.
In the end, while it got close, Cape Town never totally ran out of water. It was a major wake-up call for me and so many others around the world. From reducing showers to opting for drought-tolerant gardens, a lot of good lessons came from the drought—including dry shampoo!
Waterl<ess was born from the Cape Town drought and as such, it's a brand very near and dear to my heart.

Waterl<ss Products
Forget about trying to make it work with just a basic bottle of dry shampoo! Waterl<ss has a massive range of products to cleanse, condition, style, and leave your locks looking and smelling fresh.
Dry Shampoo
When you need a cleanse, Waterl<ss has two different options for dry shampoo: Dry Shampoo No Residue and Dry Shampoo Foam.
I love the Dry Shampoo No Residue aerosol for my hair type. It completely zaps up the oil and leaves my strands voluminous. If you have thick or curly hair, the foam is likely to be the better pick for you.
Fragrance Mist
The Waterl<ss Fragrance Mists come in Rose & Peach Fragrance Mist and Apple & Berry Fragrance Mist. They work to keep frizz at bay.
And, given my love affair with camping and the campfires that come with it, keeping my hair smelling fresh is now a bit higher on my to-do list.
This is a quick fix when you just need to feel a bit fresher.
Dry Conditioner
Out of everything in the Waterl<ss collection, the dry conditioners are my personal fave and work the best for me.
The dry conditioner works SO well and comes in three variations based on different hair types: Dry Conditioner Weightless Smooth, Dry Conditioner Instant Moisture, and Hair Styling Balm Condition & Style.
For fine hair like mine, the Dry Conditioner Weightless Smooth was a dream. The smell was amazing. It had a lovely candy-like smell without being sickly sweet.
Re-Style & Refresh
Last but not least, there are Re-Style & Refresh products! These include the Curl Milk Refresh & Redefine along with the Heat Shield Protect & Re-Style. This is another cool option because it protects from heat styling products that run up to 450 degrees, yet it's free of parabens, sulfates, and alcohol.


NAME:

Dry Conditioner Weightless Smooth
Prep For Your Next Trip
As someone who packs a carry-on bag with military precision, I'm not in the business of just tossing any old thing in my suitcase.
Products like Waterl<ss that can replace a shower when you don't have access to water are worth their weight in gold.
On any flight, it's essential to plan for which beauty products you want to pack and which you are going to carry on the plane. Waterl<ss was very much made with travelers in mind and has you covered on the sizing front.
The products come in an array of different sizes so you can bring a bigger bottle on long trips or keep it at home, then stash a smaller size in your carry-on.
In the US, Waterl<ss products are available in the US at Target, Walmart, Sally Beauty and CVS. Before you take off your next trip, check out my comprehensive array of guides to packing for all kinds of adventures. From tropical getaways to icy escapes, I've been keeping a long list of field notes to make packing a breeze.