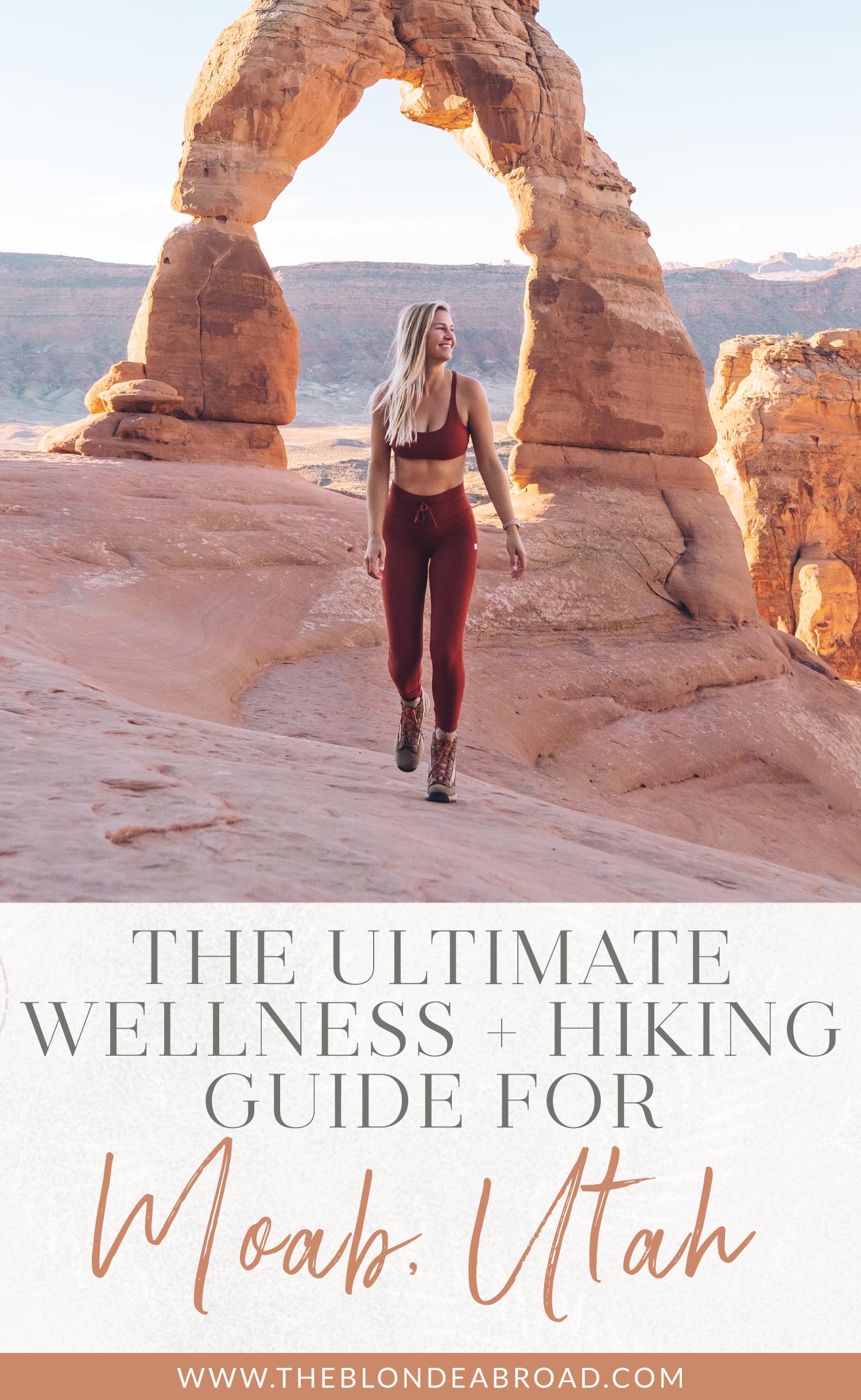 Located in southeastern Utah, Moab is known for its gorgeous Mars-like scenery. It's the perfect place for those who love serious adventures—from hiking to biking to jeeping to climbing.
Because of all the impressive nature and endless possibilities when it comes to outdoor activities, it's a wonderful place to get away from it all…and an ideal place for a wellness retreat!
My friend, Misha, of Farm Luxe, invited me and 3 other gals for the ultimate wellness retreat out in Moab and it was so incredibly refreshing. We hiked, we ate clean, we had deep conversations, we relaxed, and we really got in tune with ourselves and nature.
It was a true breath of fresh air.
If you're wanting to explore all the beauty of Moab and the surrounding area, this is for you!
Here's the ultimate wellness and hiking guide for Moab, Utah!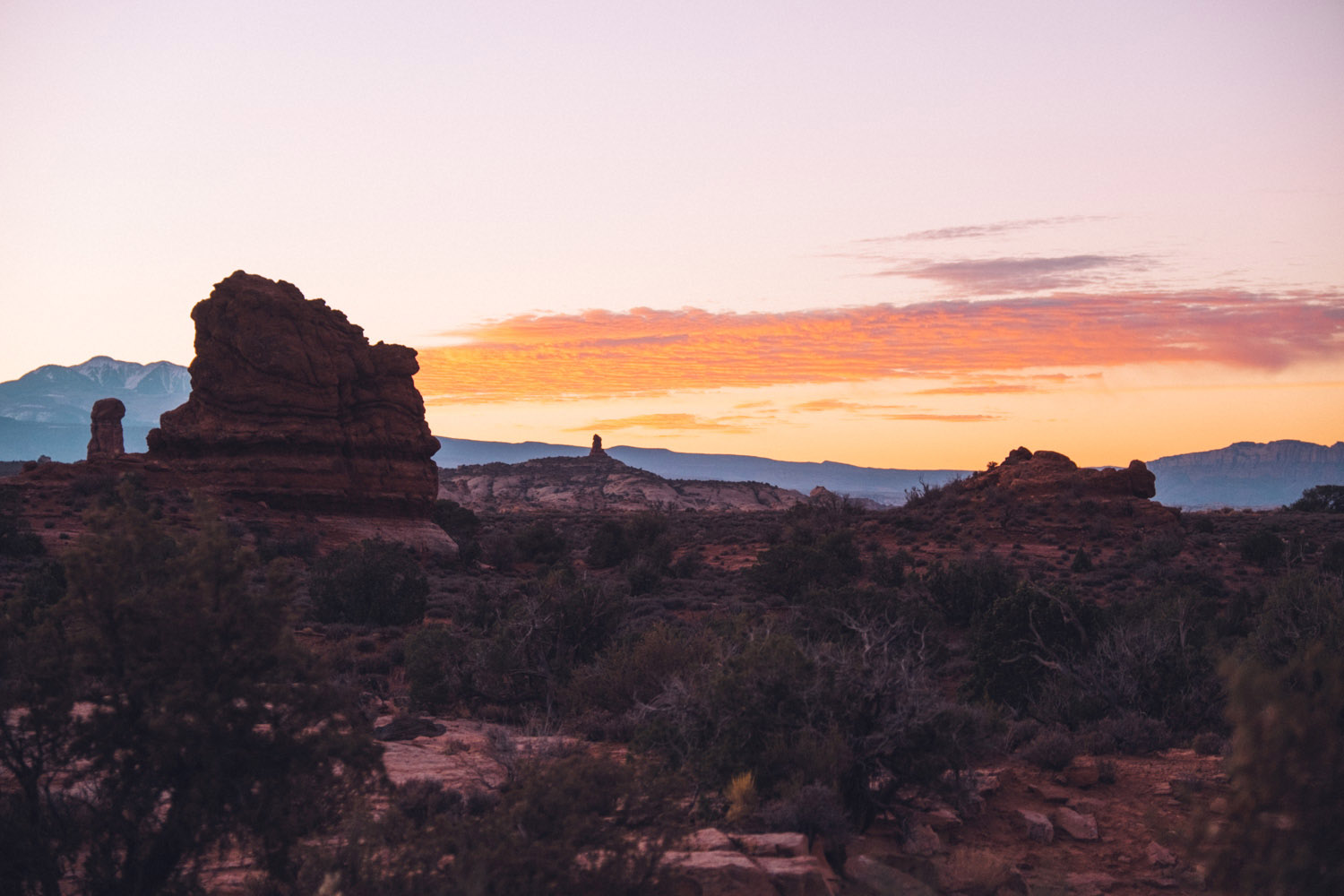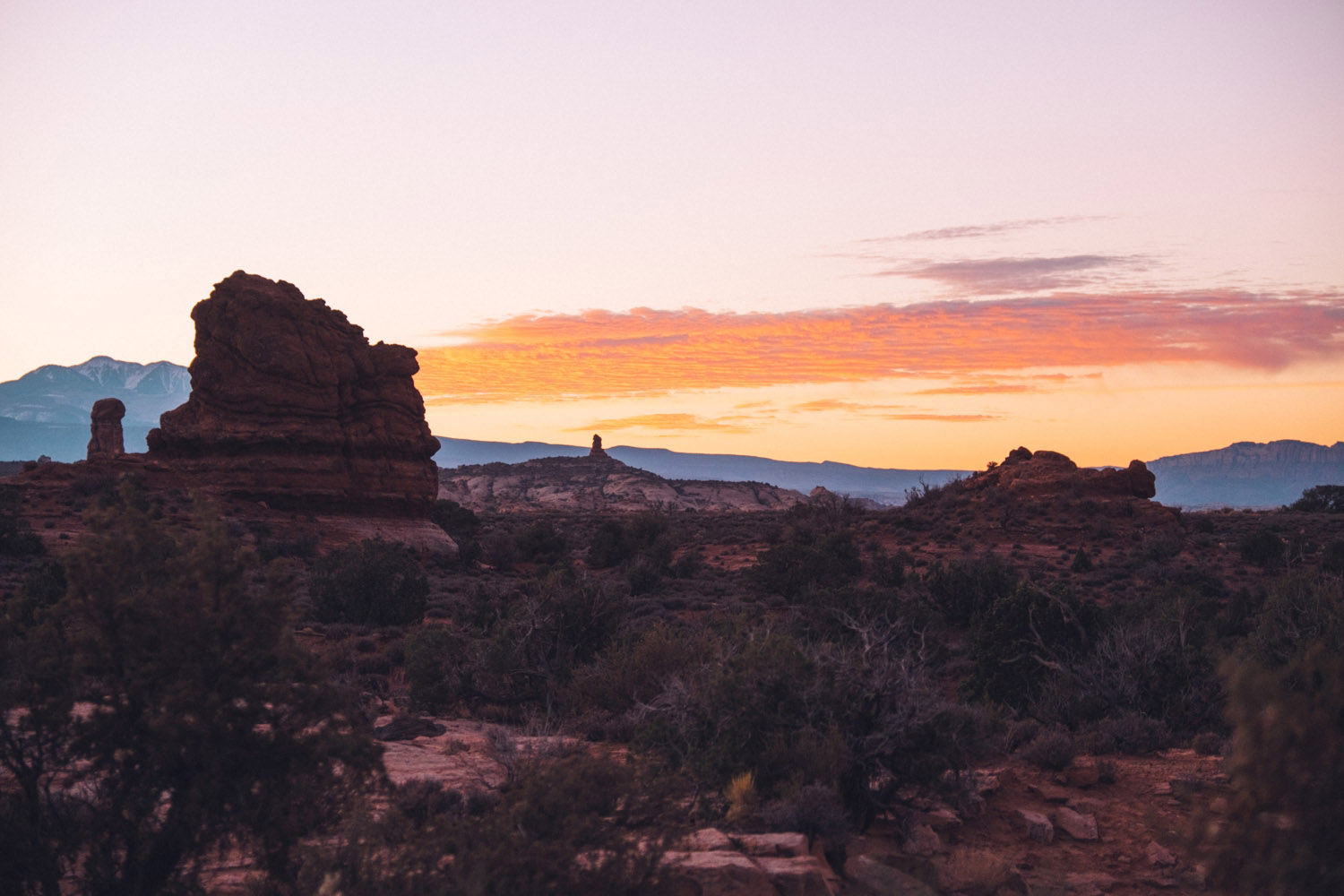 Where to Stay
We stayed at this Airbnb: The Petroglyph House. It was one of the biggest houses available to stay at near the area and was perfect for 5 girls. We each had our own room and there was a laundry room, a movie room, and a huge kitchen.
The downsides were that it didn't feel like the cleanest place I've ever stayed or the most well-appointed in terms of amenities, but it was ideal for what we needed. It was also a bit outside of downtown Moab (which is small anyway), so if you end up booking this place, just be mindful of that!
Here are some other places to stay in and around Moab: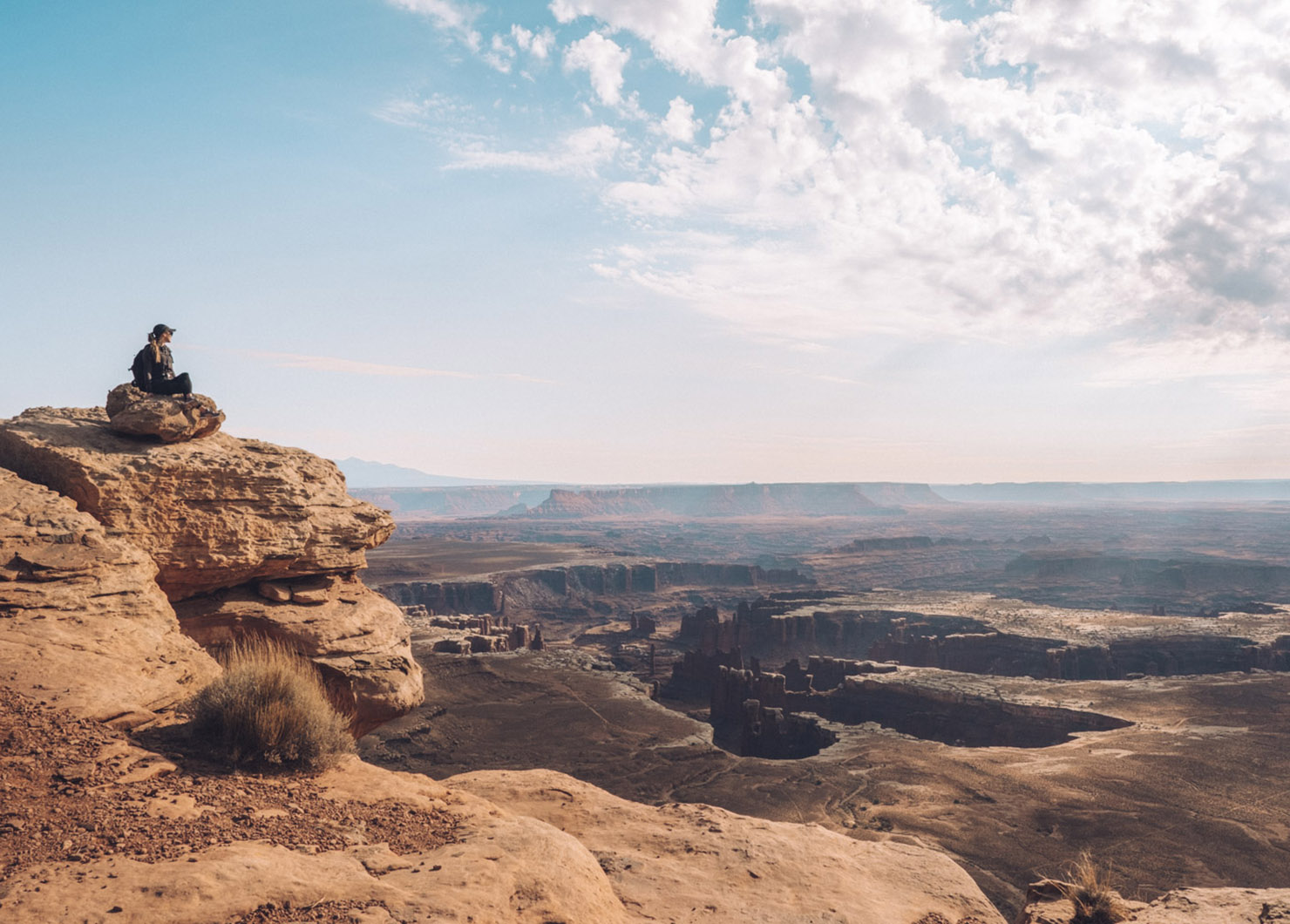 What  to Pack
Layers (if you're going in the winter it can be very cold but you'll warm up once you start hiking)
Boots with Grip: Hiking boots are essential if you're doing more advanced trails. You can slip.
Sunglasses, cap, sunscreen, SPF lip balm
Blister prevention/wool hiking socks
Snacks
Lots of Water (Camelback backpack recommended)
Supplements like electrolytes
Helpful Tip:
Our trip was from November 1st until November 6th–we were blessed with lovely, sunny weather in the 60s. But the next week, the weather shifted and Moab got a layer of snow.

Make sure to pay attention to weather conditions and advisories when planning your trip and modify your packing guide to fit whatever is coming your way!

Day 1: Arrival and Preparation
First things first, fly into the CNY Airport and pick up a rental car. We arrived around mid-day, which was perfect as it gave us time to grocery shop and stock up the house.
We went to Moonflower Community Cooperative grocery story that had lots of organic and vegan options, so it was great to be able to get healthy snacks and lots of produce.
Stop by Doughbird Donut Shop and pick up a coffee for the road!
That evening, we cooked a super healthy dinner together loaded with fresh veggies. This is completely optional, but on top of eating well, we wanted to work on personal growth and journaling during this trip. Dinner was followed by the following:
30 minutes of wellness journaling on personal growth
45-60 minute personal growth group discussion
Game night
Looking to get together with your girlfriends? Even if it's just a weekend at home or a mini-break in the next town over, it can do you some serious good.
Read More


Day 2: Arches National Park
The second day we started off early and left the house around 5:30am to do a sunrise hike at Delicate Arch.
We pretty much drove in the dark and arrived just when there was some light coming through (enough to see that we didn't need the headlamps), but if you're starting early—you may want to bring headlamps.
Travel Tip:
Arches and Canyonlands are generally open 24 hours a day, though there usually isn't anyone manning the toll booths until about 8am. So, if you're doing early mornings, you don't have to pay a park fee if you arrive before then. Because of this, we opted to do a donation when we were leaving—all for supporting the national parks!

So keep this in mind: you are allowed to enter, don't just stop and freak out that no one is at the station (which is what we did the first day lol).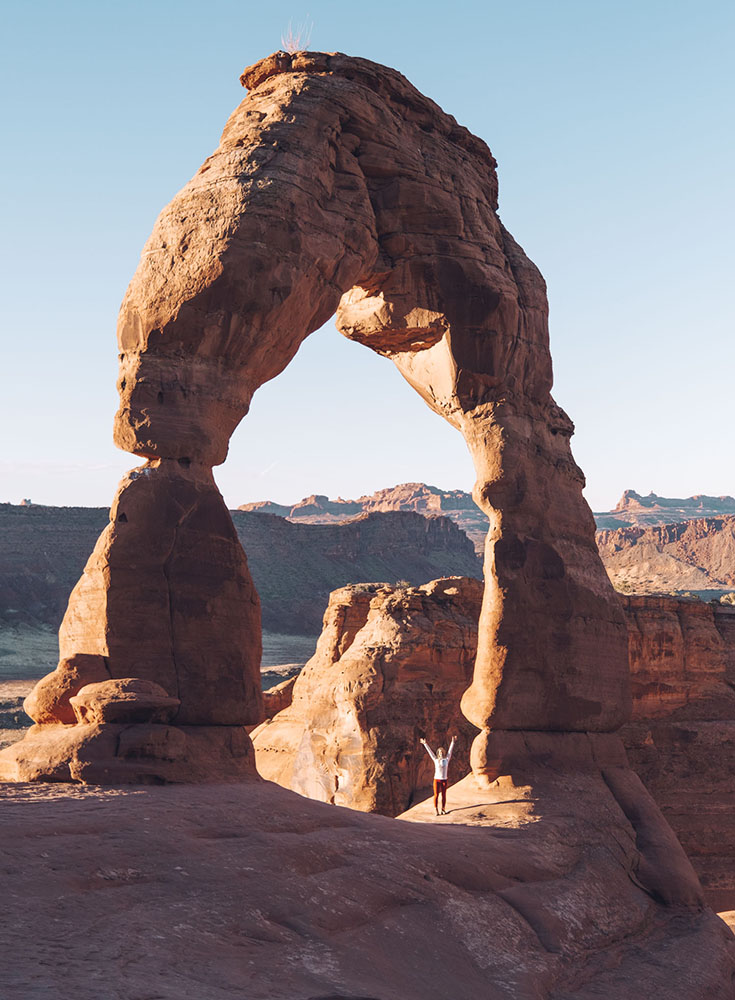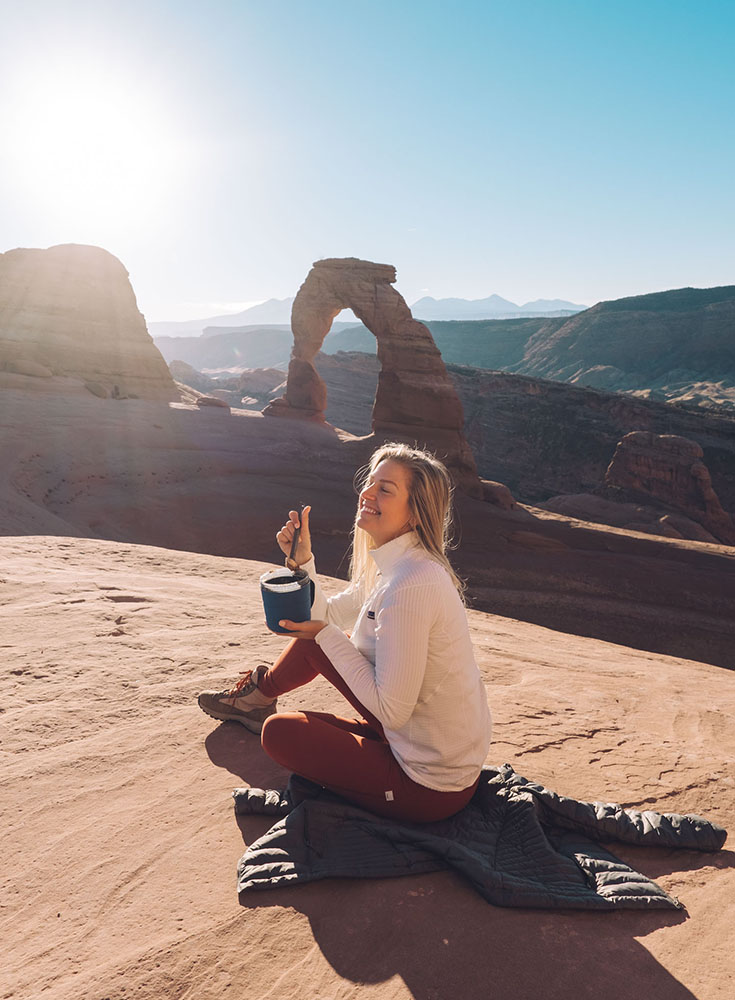 As for the hike, it's an easy to moderate one to start with. I will say that this is a better sunset spot, so if you're looking to do photos, the sunrise here is not the most impressive. But there are fewer people at sunrise!
Due to Corona, we didn't want to go at sunset when we knew there would be a lot more people there. If you are going for sunset, remember to bring your headlamp to go down during the dark.
For Lunch
For lunch, we went to Sorrel River Ranch and dined on the outdoor patio. The restaurant was about an hour from Arches and it's right on the river.
You can get a table outside and they have a super cute cocktail bar and a beautiful menu. We were able to get fully vegan and gluten-free foods, so they should be able to accommodate any dietary restrictions.
For the Rest of the Day
We organized for in-house massage therapists to come to the house every day, which was amazing! It helped so much with jet lag and with muscle soreness from after the hikes.
They were amazing and I would highly recommend them!
That evening, we cooked at home and played board games. For the most part, we didn't do that much in the afternoons, so you could fill your itinerary with more activities if you want. Dinner was followed by 30 minutes of wellness journaling on overcoming anxieties.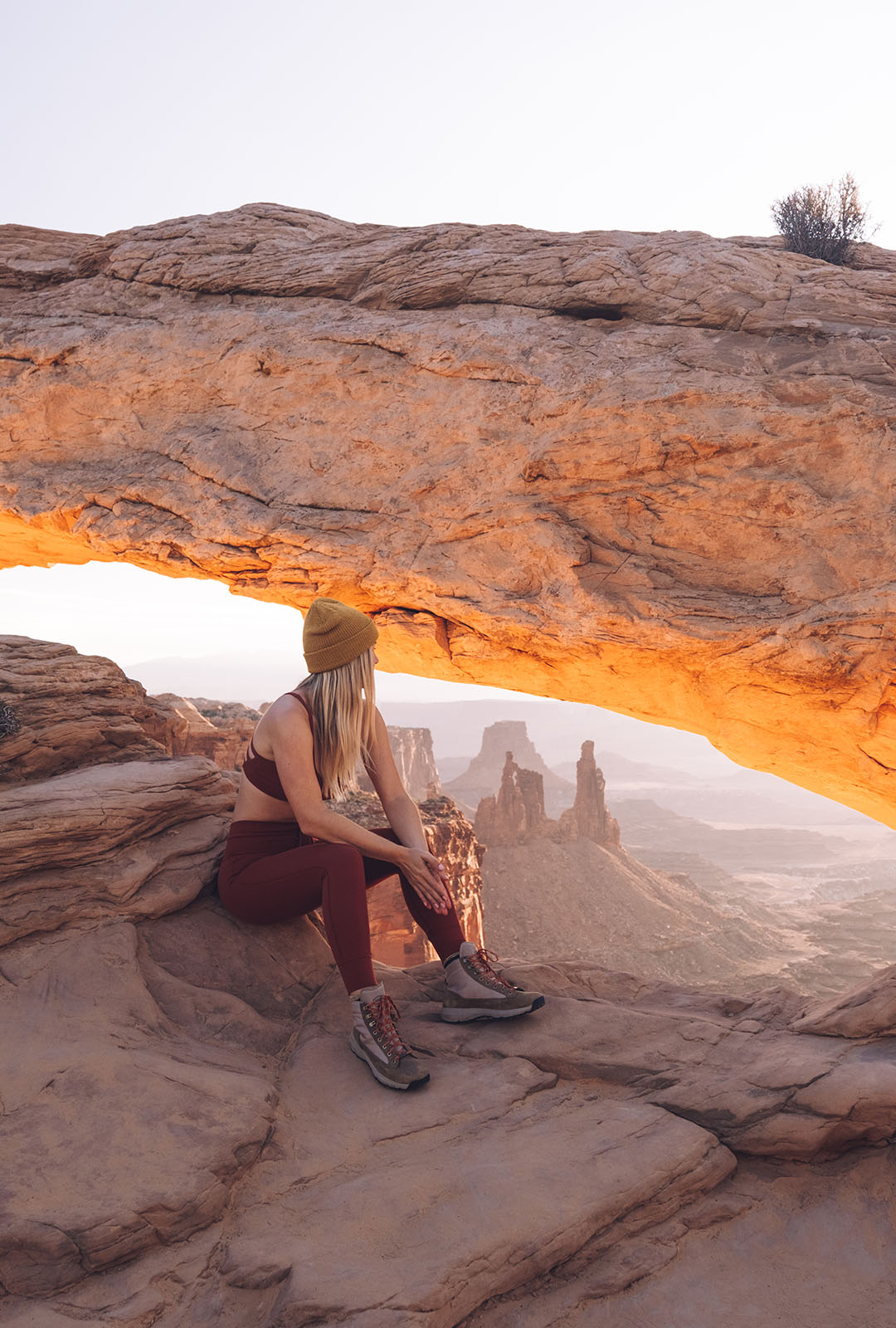 Here's a pro tip: you absolutely want to stay until after sunrise (about 30 minutes to an hour)—that's when the sun makes the spot truly glow.
Day 3: Canyonlands National Park
On the third day, we left super early again but didn't end up needing our headlamps. We parked right as the sun was peeking in Canyonlands National Park as we made our way to Mesa Arch.
Mesa Arch is a sunrise spot—so expect more crowds.
For Mesa Arch, the appeal is that the sun rises right in the middle of the arch. It's neat, but in my opinion, it's not *that* cool. Especially because EVERYONE comes to see this at sunrise, there are tons of people and it gets quite crowded.
I actually preferred it just after the sun had started rising so the rays made it look like the arch was on fire.
Plus, about 90% of the people had left by this point and we pretty much had the place to ourselves. I thought it made for better photos, too 🙂
Mesa Arch is not really a hike, it's more of a walk from the parking lot — about 10 minutes. It's very accessible for most mobility and age.
Following Mesa Arch, we went to Grandview Point Trail, which is a really easy flat trail with epic views.
I think most folks could do this hike, too!
After that, we did another awesome hike: Upheaval Dome.
For this, we had already food, so we were sort of snacking the whole time. Upheaval Dome is more moderate, steeper, and further.
If you're doing this hike, you probably want to pack a lunch to eat. We did the full thing and it took a lot longer than we planned.
However, it was really cool and different from the other hikes we had done!
For the Rest of the Day
We got home and had massages with the same ladies from the day before. I was really, really tired by then, so a nap was probably in order. However, we hired a yoga instructor to lead a class. This was really lovely, but again, I was exhausted.
This was followed by dinner and a movie! We watched the documentary Free Solo, along with Thelma and Loise.
Some of the shots were from the area, which is really cool to see! If you can find other movies shot in Moab/Utah, I would recommend doing this!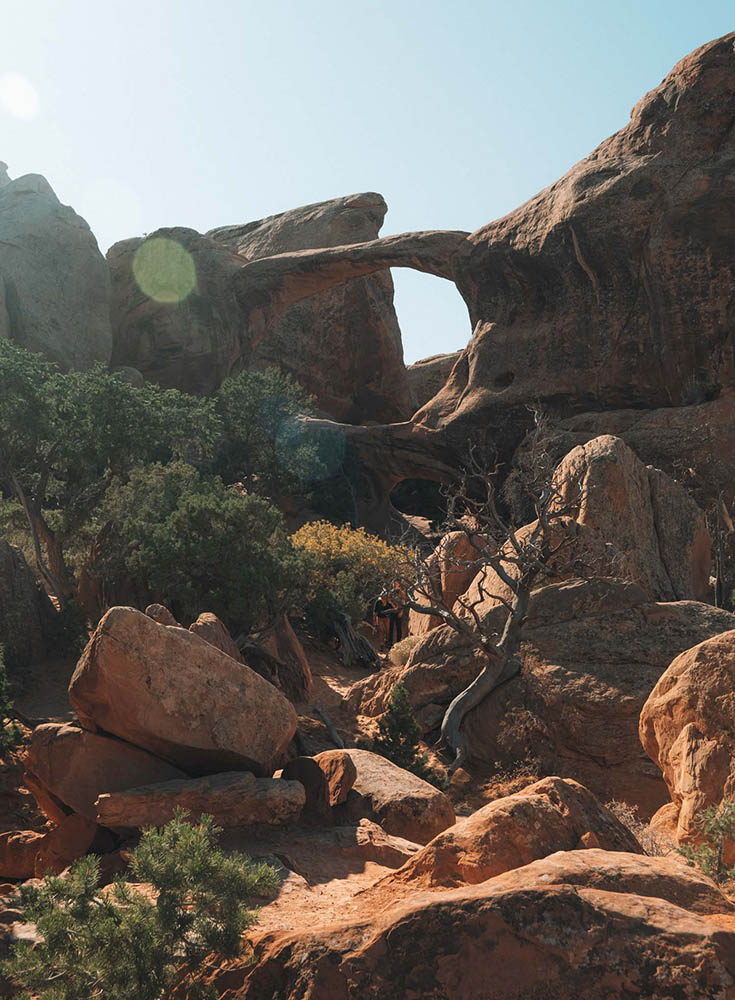 Day 4: Arches National Park & Devil's Garden
To do the Devil's Garden Loop, you 100% need to download the AllTrails App. Make sure to download maps for offline use. The trailhead is very poorly marked and we got lost and were confused multiple times. We bumped into a number of other groups who were also lost.
The hike itself quite long, the loop trail is about 7.8 miles and we kept a good pace and lined up pretty much with what AllTrails said in terms of time.
For lunch, we stopped at 98 Center Moab. It was delicious Vietnamese food with tons of healthy and vegan options, delicious pho and it's overall just a satiating meal. There was lots of outdoor seating, too!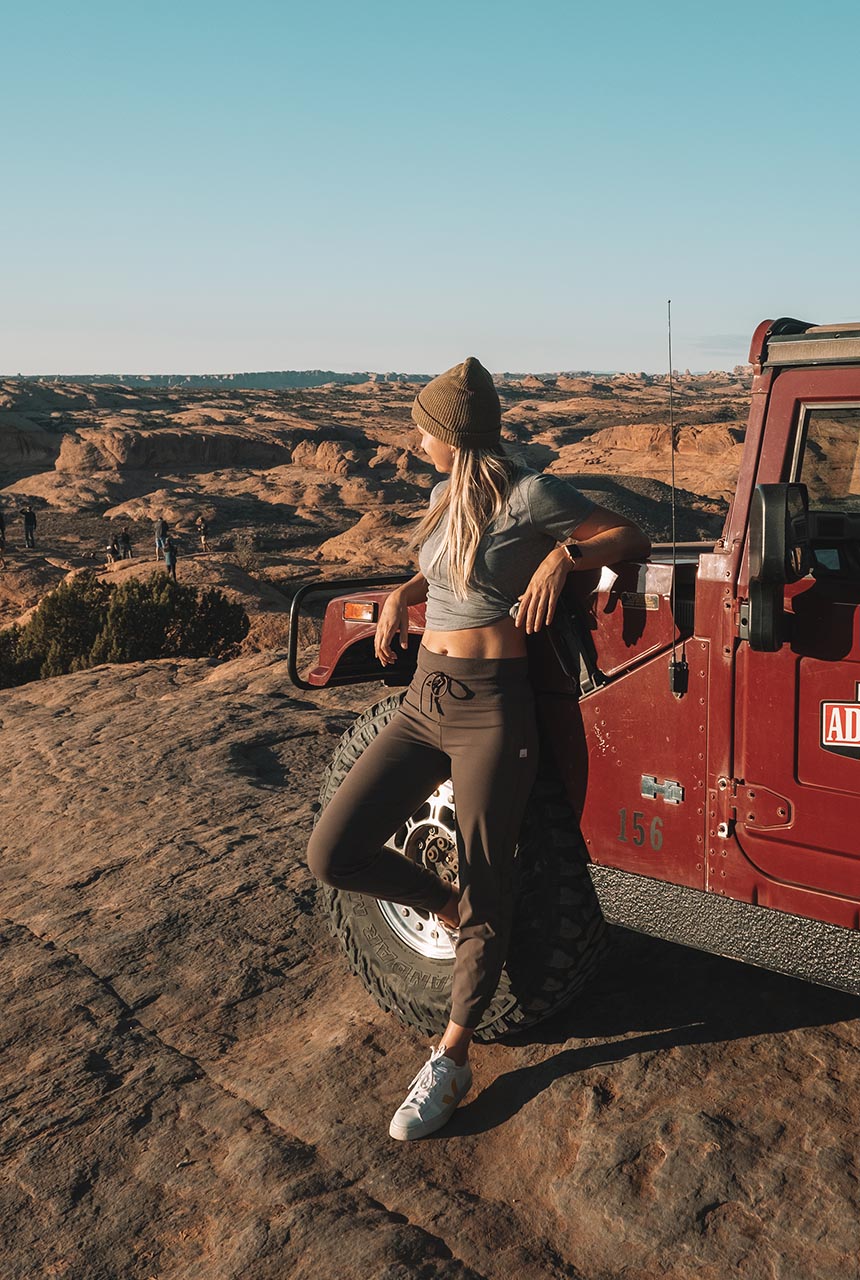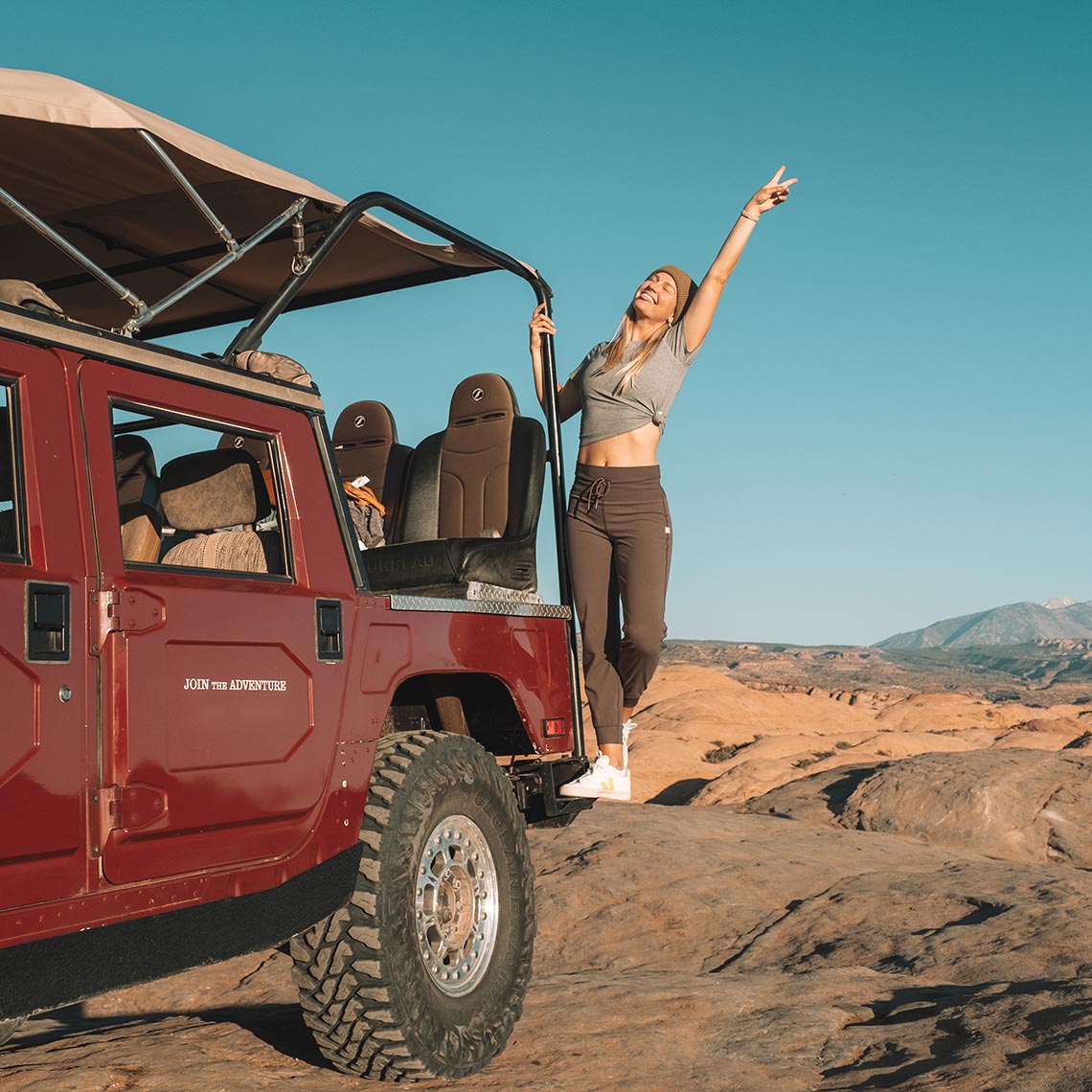 Offroad Safari
I would 12/10 recommend doing the Offroad Safari with Adventure Center! Don't look into what you do, just book it!
It's the craziest thing and I've never done anything like it. I've done tons of 4×4 activities before but this was super fun, scary, cool…and just overall amazing.
We did the rock crawling adventure with all 5 girls and were able to book a private tour.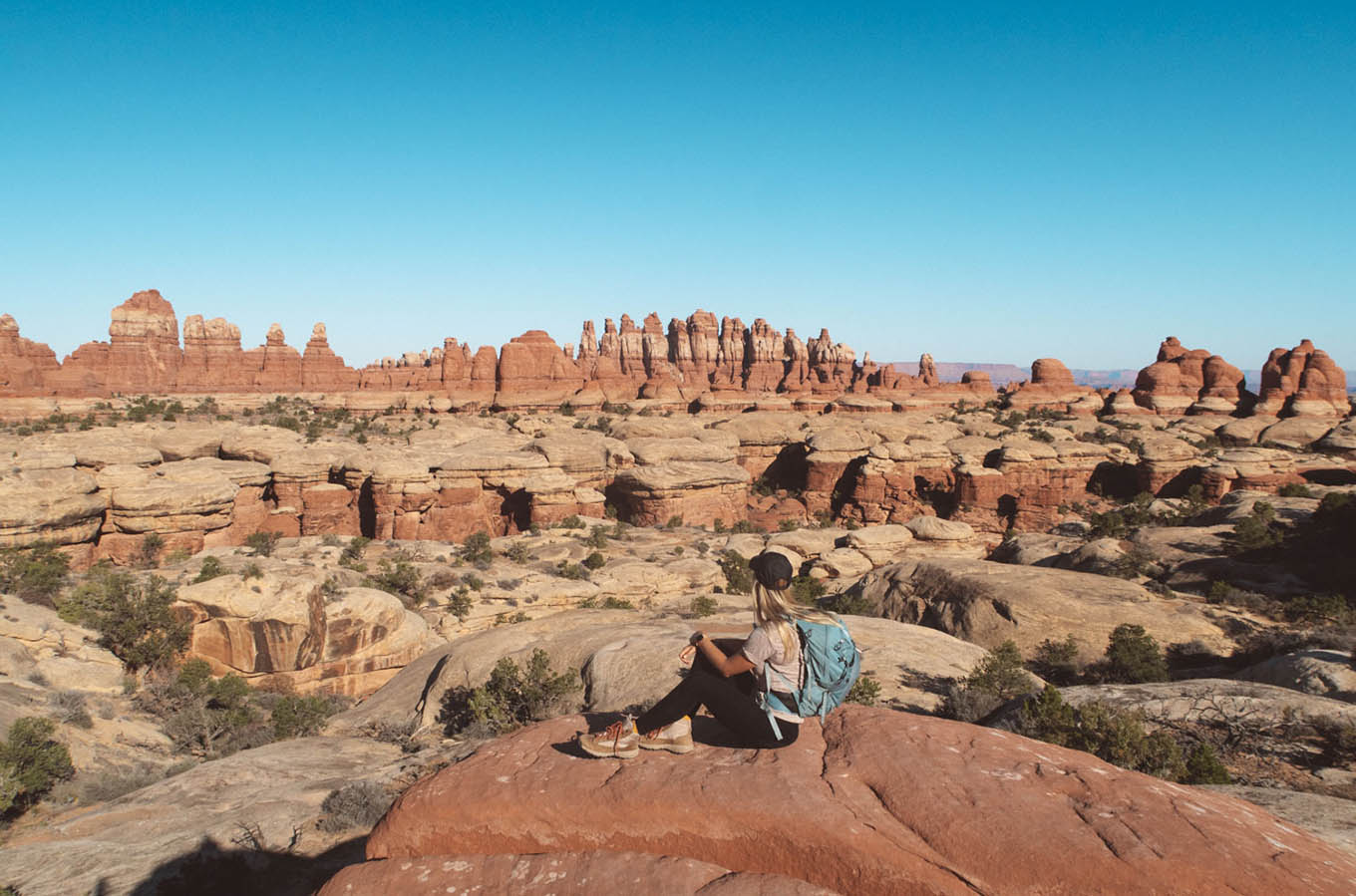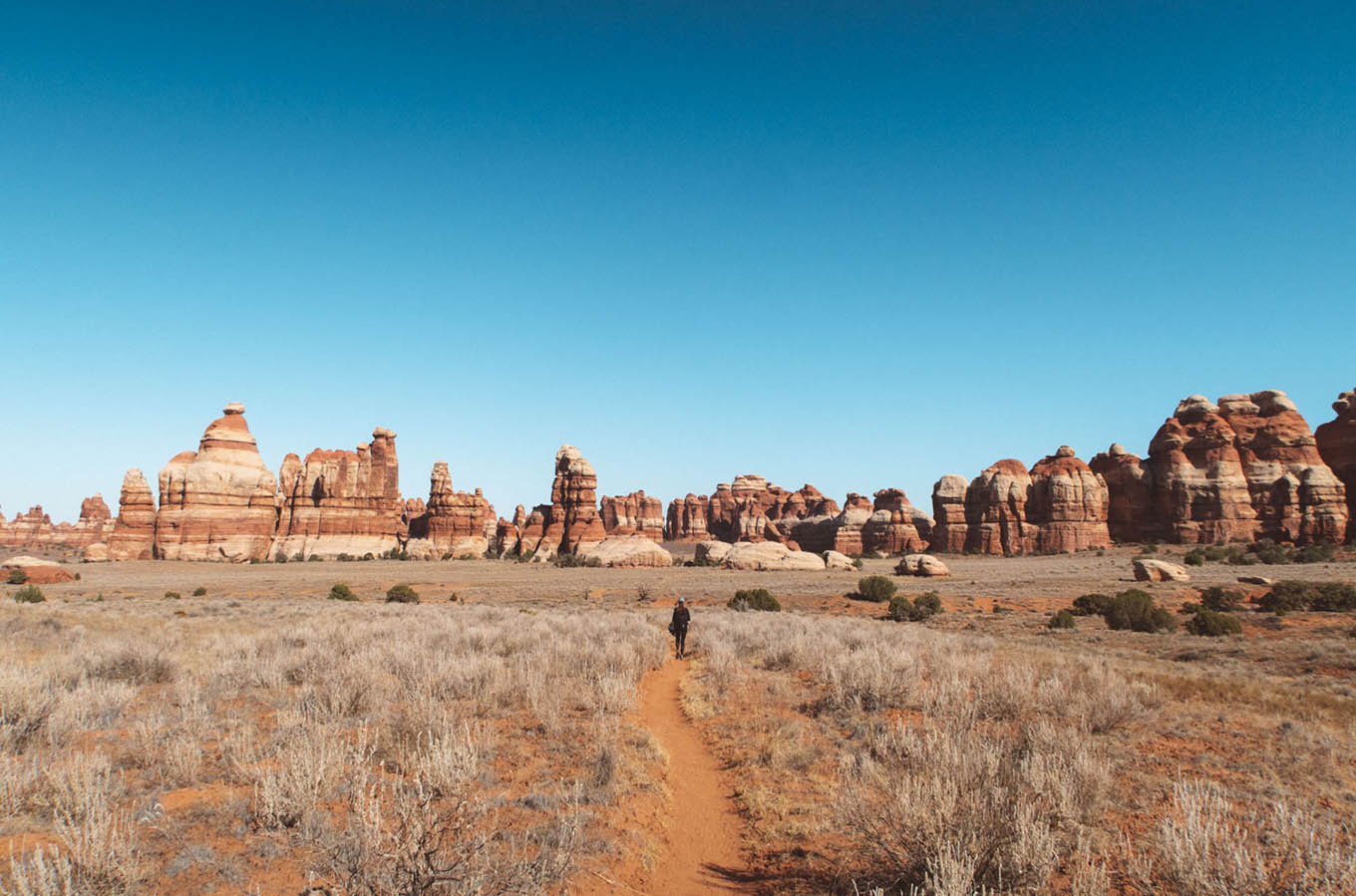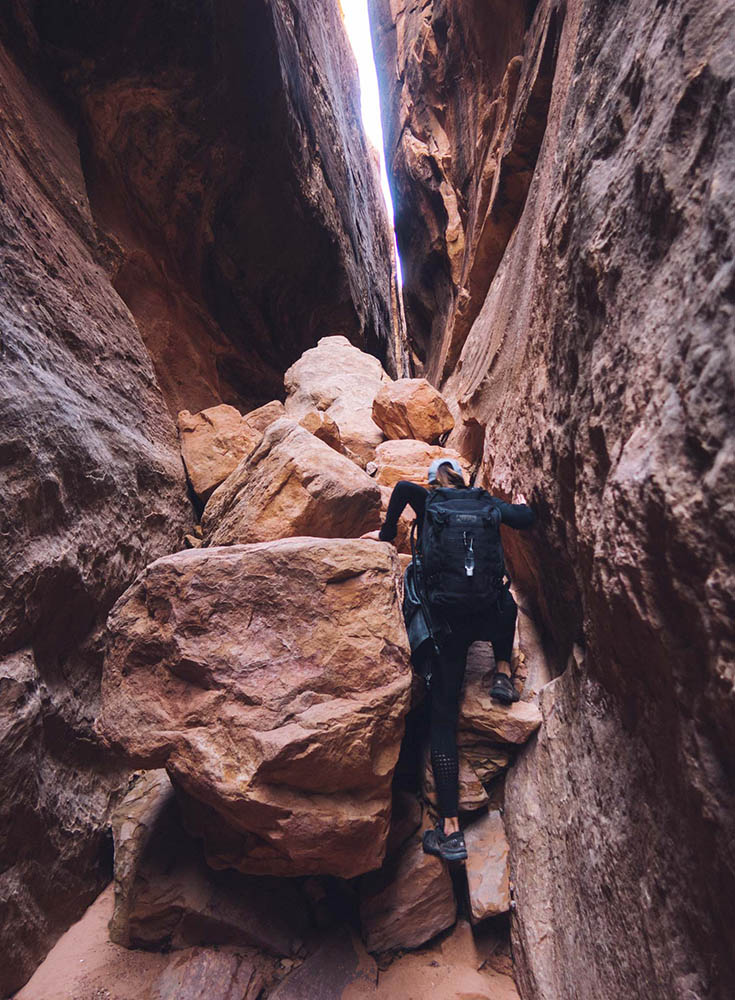 Day 5: Canyonlands National Park
On the final full day, we did a sunrise hike at Chesler Park Loop Trail. It was 10.4 miles altogether.
It's a long drive in both directions and overall a VERY long day. For this, you also need the AllTrails App, and make sure to download the offline map because there are no markers.
Again, it's very out there. It's a long hike, make sure to bring food, bandages, and stuff for blisters.
That said, it was the COOLEST hike and I'm glad we saved it for the last day. It was just very long and you won't really know where you're going without AllTrails.
Make sure to get started early because we barely finished and got home after dark…and we started when it was still dark in the morning. 
We finished that night with massages (which we pushed until 5pm because the hike took longer than we anticipated).

Final Thoughts
On the final day, check out of the house, return your car rental, and drive to the airport. And that's it!
Make sure to pack layers for your trip, stuff for blisters, and talk with whoever you're going with about the vibe of the trip.
Is everyone willing to get up early and be a trooper for the hikes? Do you want to balance more rest days or other activities? Are you drinking any alcohol or sticking to water and tea? All of these things will be factors into the smoothness of the trip…and play into getting up early (or not).
Have you been to Moab before? What things would you recommend for a wellness and rejuvenation trip?