Zhanna, the storyteller behind Roads and Destinations is sharing the ultimate weekend in Alaska road trip itinerary!
Alaska has been on my bucket list for as long as I can remember. Unfortunately, succumbing to popular belief, I thought I would need at least a week to visit the Last Frontier.
For a full-time accounting assistant with just two weeks of vacation a year, it didn't look like this dream could become a reality. But with a few days set aside for a long weekend, I thought to myself, why not? We had been traveling in the US on weekends and holidays before. Why couldn't we make Alaska happen?
For our weekend Alaska road trip itinerary, we focused on the southcentral region of the state. With many direct flights from Los Angeles to Anchorage, we spent most of our 3.5 days exploring this part of Alaska, rather than waiting at airports.
Although Anchorage is the largest city in the state, it's a perfect destination to start your weekend road trip in Alaska. Its vast parks and nature centers give you a chance to immerse yourself in the natural beauty of the region, without driving too far away.
Nearby towns and dramatic landscapes such as Kenai Fjords National Park introduce you to rural and unspoiled Alaska, so you really get to experience a lot in a short amount of time.
Here's the ultimate weekend in Alaska road trip itinerary!


The Best  Time to Visit
Since the weather in Alaska is unpredictable and winters are harsh, the best time to go on a road trip in Southern Alaska is from April until mid-September. Even though the temperatures are still low in spring, the state—including its wildlife—slowly begins to wake up. At this time the roads are pretty clear from snow.
From the middle of March, ship cruises start resuming their operations—which is great news for those who plan to explore Resurrection Bay and Kenai Fjords National Park.
Visiting Alaska in winter has its own charm. Certainly, not all destinations in this weekend Alaska road trip itinerary are accessible during the snowy season. However, winter festivals in Anchorage and other outdoor activities are quite lovely!
On top of that, it becomes easier to reach Exit Glacier in Kenai Fjords and Portage Glacier in Turnagain Arm once lakes freeze solid.
You can find more information on the best time to travel to Alaska here.


Where to Stay
Since Anchorage is the biggest and most populous city in Alaska, it offers accommodations for all tastes and preferences. From big chains such as Hilton and Marriott to small and inexpensive bed and breakfasts like Deal's Bed & Breakfast, the city suits budget and luxury travelers alike.
It's also the best option for those who despise changing accommodations every night. They can base themselves in Anchorage for the weekend and take two-day trips to Whittier and Seward.
The drive time to these small cities is approximately 1.5 to 2.5 hours, respectively. If this wasn't a good thing already, long summer days allow for a few extra stops along the way to add to this Alaska road trip itinerary!
Those who prefer to travel at a slower pace can spend one or two nights in hotels and B&Bs in and near Whittier.
Campers usually stay at Portage Valley Cabins and RV Park or Williwaw Campground. Most of these places require calling and checking the availability of the rooms and camping spots in advance.

Weekend Alaska Road Trip Highlights
Anchorage
Turnagain Gallery and Gifts of Alaska, Bird Creek
The Alaska Wildlife Conservation Center
Williwaw Campground
Portage Lake
Whittier
Seward


Day One: Early Arrival in Anchorage
Things to do in Anchorage depend on the time of your travel. While in winter you choose to spend more time indoors and visit the Alaska Native Heritage Center and the Anchorage Museum, spring and summer are all about outdoor adventures.
Tony Knowles Coastal Trail
Upon your early arrival in Anchorage, you can't think of a better activity than hitting the Tony Knowles Coastal Trail. The 11-mile hiking and biking path spreads from Second Avenue in downtown Anchorage to Kincaid Park.
It ensures a great way to stretch your legs after a long flight while admiring scenic views of the city and its surrounding.
Kincaid Park
To save time by not going back and forth, you can continue your hike or bike ride in Kincaid Park. Although the park has its own beautiful vistas, trails, and designated sports grounds, Alaska's wildlife attracts the visitors in the first place. If you're lucky, you can see moose and black bears roaming freely here.
Potter Marsh
Potter Marsh is another great destination in Anchorage to encounter wildlife—mostly birds. Located at the southern end of the Anchorage Coastal Wildlife Refuge, it's home to migratory and nesting birds such as eagles, gulls, Arctic terns, and northern pintails.
Moose, beavers, and muskrats also frequent the marsh. Occasionally, brown and black bears wander nearby.
Flattop Mountain
To the east of downtown Anchorage, Flattop Mountain allures locals and visitors with a steep 1.5-mile trail. The hike can be tiresome, but the views from the top are worth every effort of climbing this famed mountain.

Day Two: Anchorage to Whittier
The best way to make the most out of the weekend road trip in Alaska is by getting off the beaten path and exploring lesser-known places in between.
I'd recommend starting your second day early, so you can catch sunrise right outside Anchorage. Pullover anywhere along the Seward Highway and watch how the sky turns from purple to yellow and finally blue.
Once done, get back on the road and head to Whittier, exploring a few other places along the way.
Turnagain Gallery Alaska Art and Gifts
At mile marker 100 of the Seward Highway, about 20-minute drive south of Anchorage is located Turnagain Gallery Alaskan Arts and Gifts. The place features wood sculptures, handmade jewelry, paintings, and glass art made by local artists.
Everything in the gallery is available for sale. Be sure to check its operation hours before your visit.
The Bake Shop
For breakfast or brunch, stop at The Bake Shop in Girdwood to enjoy homemade sourdough pancakes, sweet rolls, hot or cold sandwiches, and signature soups. The place also caters to vegans and vegetarians and offers veggie pizza, vegan soup, and fresh salads to dig into.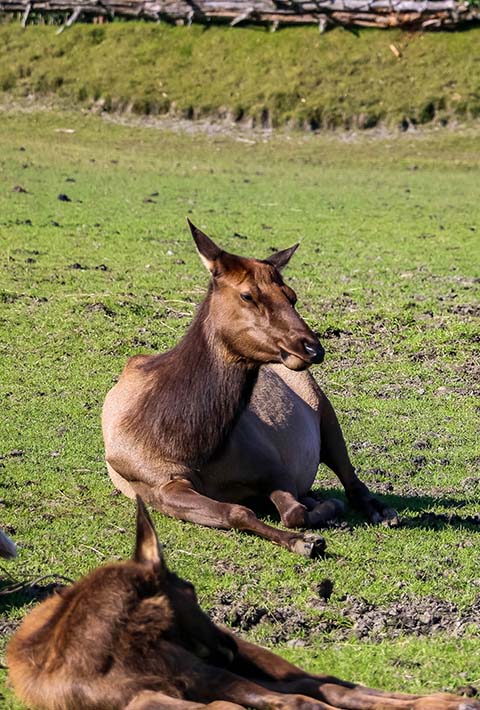 The Alaska Wildlife Conservation Center
Once back on the road, check out the Alaska Wildlife Conservation Center. Located about one hour away from Anchorage, this non- profit organization focuses on providing quality care and the best environment for injured and orphaned animals.
Among its famous residents, you can see the black and brown bears, moose, reindeer, and wood bison.
Willow Campground
For a chance to view spawning salmon in fall and hike to a glacier, be sure to visit the Williwaw Campground in Portage Valley.
With the towing glaciers and snowy massifs, the place has, arguably, some of the best views in Alaska. Hikers can't get enough of the Blue Ice Trail winding through woods and near scenic lakes and ponds.
How gorgeous is Portage Lake?
Portage Lake
You can get a better look at Portage Glacier from Portage Lake, which is located about 8 minutes away from the campground. The lake freezes in winter, usually around February, allowing for a safe 3-mile hike all the way to the glacier.
Portage Glacier Cafe
Before finally heading to Whittier, visit Portage Glacier Cafe to enjoy the filling and inexpensive hot sandwiches and pies.

Spend the Rest of the Day in Whittier
Whittier is one of the smallest cities in Alaska. Its population barely exceeds 200 people. Though the city is small, it offers plenty of things to do in one day! From boat cruises to hiking and waterfalls chasing, Whittier keeps adding stunning places and outdoor activities to your Alaska road trip itinerary.
Heads up: There is only one land access to the city through the Anton Anderson Memorial Tunnel, the longest (2.5 miles) highway tunnel in North America.
Top Things to Do in Whittier
Portage Pass Trail
Regardless of whether you choose to conquer the waters of Resurrection Bay and Prince William Sound or not, be sure to hit the Portage Pass Trail. This moderate 2-mile hike allows for the stunning views of Portage Glacier and Portage Lake at the end of the trail.
Horsetail Falls
You don't want to miss Horsetail Falls! Lost in lush summer greenery, a waterfall cascades off the mountain from a height of 330 feet and empties into the Lowe River.
Boat Tours
The majority of the travelers visit Whittier with one purpose in mind: to embark on a cruise ship that takes them to Kenai Fjords National Park or Prince William Sound. On the downside, the city's options are limited compared to nearby Seward.
Top Places to Eat and Drink in Whittier
Oceanfront Cafe
Oceanfront Cafe is one of the newest places to eat in Whittier. The cafe is famous for two things: specialty coffees and a gorgeous view over Passage Canal.
Other things to try here are fish tacos, reindeer sausage dogs, and salmon chowder served in sourdough bread bowls.
Wild Catch Cafe
Wild Catch Cafe is another popular destination to grab a salmon burger or order fresh clam chowder.
Cafe's menu doesn't include many choices, but whatever is on it promises to be satisfying and delicious. Though we didn't dine here, based on my research, the place claims to have vegetarian and vegan options as well.



Day Three: Whittier – Seward – Anchorage
Seward is located about 1 hour and 50 minutes away from Whittier. Gateway to Kenai Fjords National Park, it entices the adventurous travelers with dozens of glaciers, scenic hikes, such water activities as paddling, and gorgeous views.
Top Things to Do in Seward
Boat Tours
Just like Whittier, Seward attracts the visitors with ample bout tours to see and explore some of famous Alaska's glaciers. You can find different tour operators as well as tours, varying it their itineraries and duration.
For half of the day, we cruised across Kenai Fjords National Park — reserve your spot on a boat tour here!
Helpful Tip:
While booking your tour, check to see if it includes lunch or not. Some companies allow you to add in the option of having lunch on the boat. If not, be sure to bring your own lunch and snacks as the water excursions last on average five hours.
Two Lakes Park
Change the scenery at Two Lakes Park. While the blue waters and mountains caught your attention before, now it's time to focus on Alaska's temperate rainforest! The highlight of the park is a short, less than a mile loop through the woods full of spruce trees and small waterfalls.
Lowell Creek Waterfall
On the southern edge of Seward, Lowell Creek Waterfall unveils its presence with the loud sound of pounding water. The waterfall is set near a country road and can be reached by car. No hiking is needed.
Kenai Mountains - Turnagain Arm National Heritage Area
Kenai Mountains – Turnagain Arm National Heritage Area
On your way back to Anchorage, stop at Kenai Mountains – Turnagain Arm National Heritage Area for a quick photoshoot during golden hour. Recognized for its compelling historic and cultural heritage and distinctive landscape, the place deserves at least one full day.
Considering that you have only one weekend this time, this destination can be a valid reason to go on another road trip in Alaska in the future.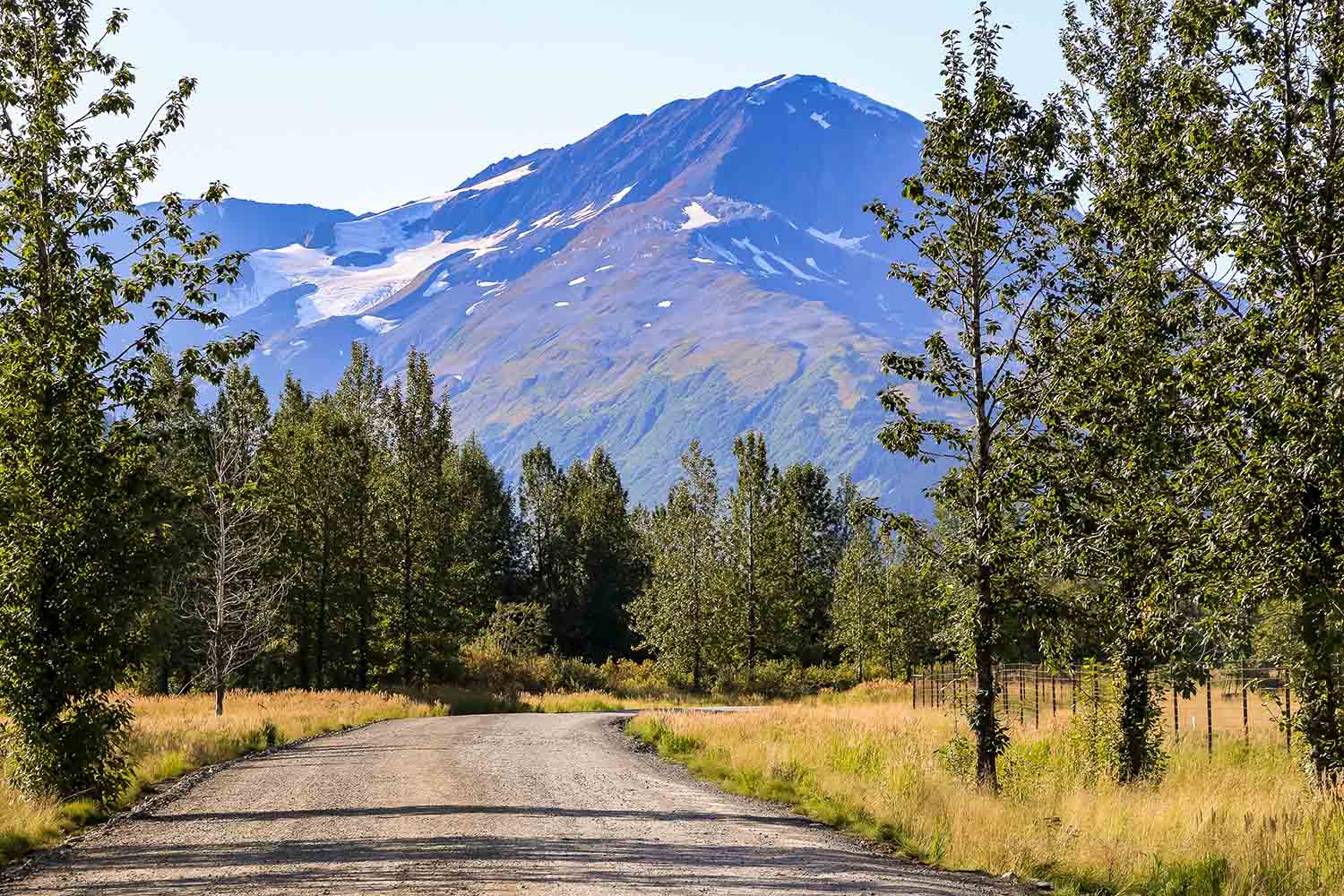 Final  Thoughts
Alaska is a wonderful place for scenic road trips. While traveling to northern parts of the state might ask for a longer vacation, you don't need more than three days to hit all the best spots in Southcentral Alaska.
Check out these guides to see more things to do on your Alaska road trip: