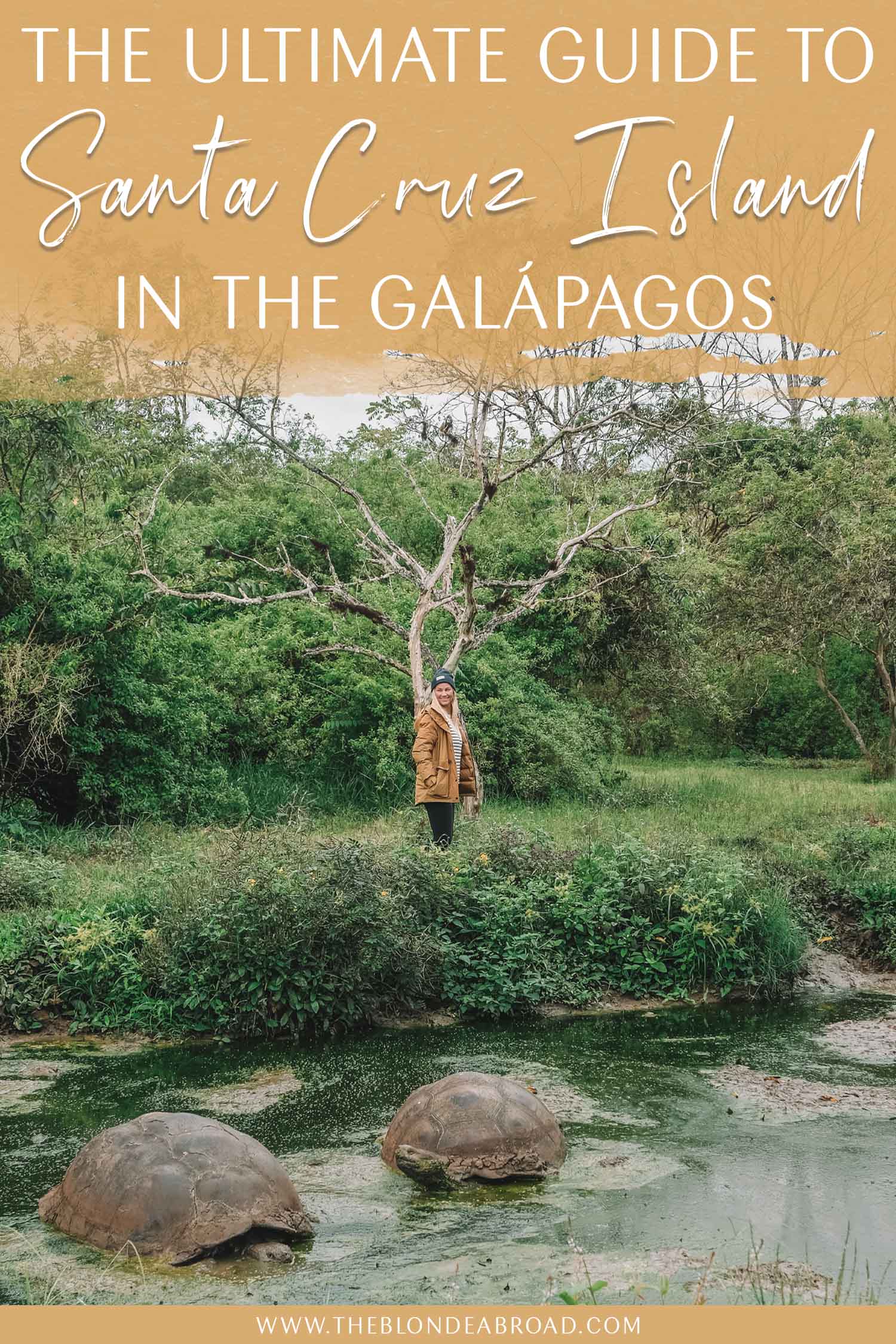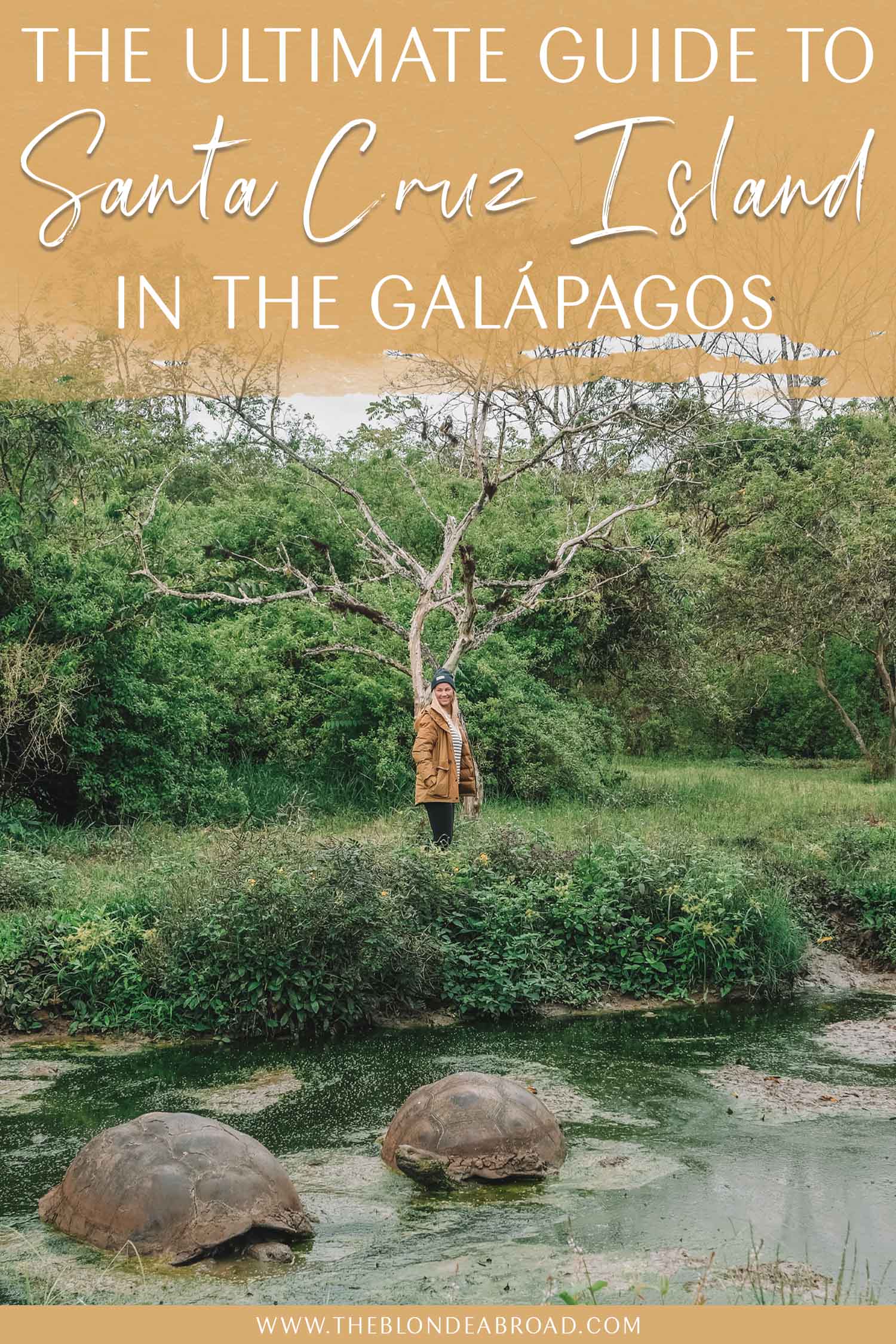 Home to the largest town in the Galápagos—Puerto Ayora—Santa Cruz Island is one of the most popular islands to visit while traveling to the Galápagos.
Here you'll find giant tortoises, beautiful hikes, beaches as far as the eye can see, the Charles Darwin Research Center, pit craters, and World War II remnants; it's an island that truly has it all.
Because Ecuador uses the dollar, getting around the island is super simple. Plus there are lots of ATMs about so you'll never have to worry about not having cash on hand for activities. And trust me, there are plenty of activities!
Here is my guide to visiting Santa Cruz Island in the Galápagos!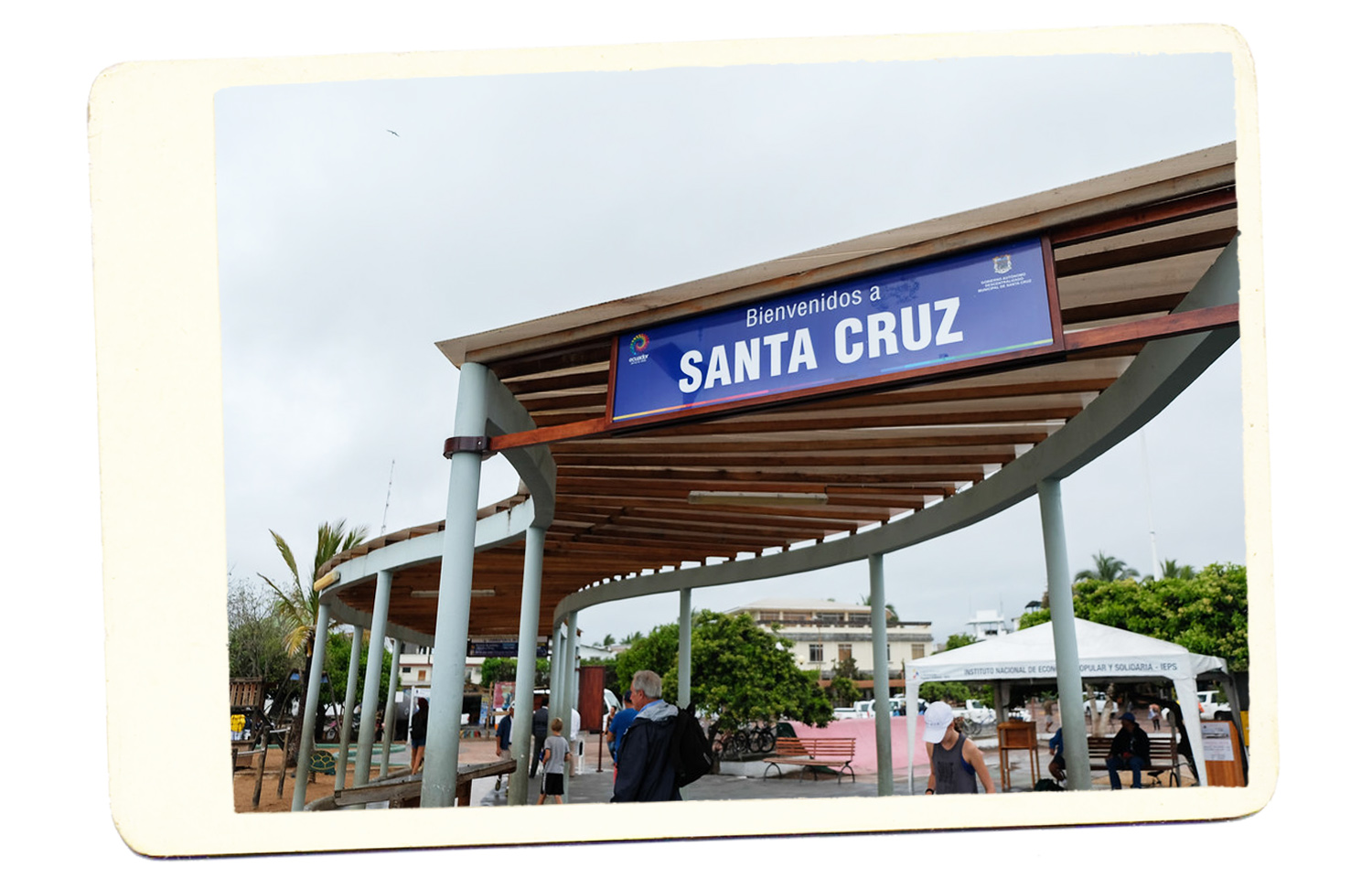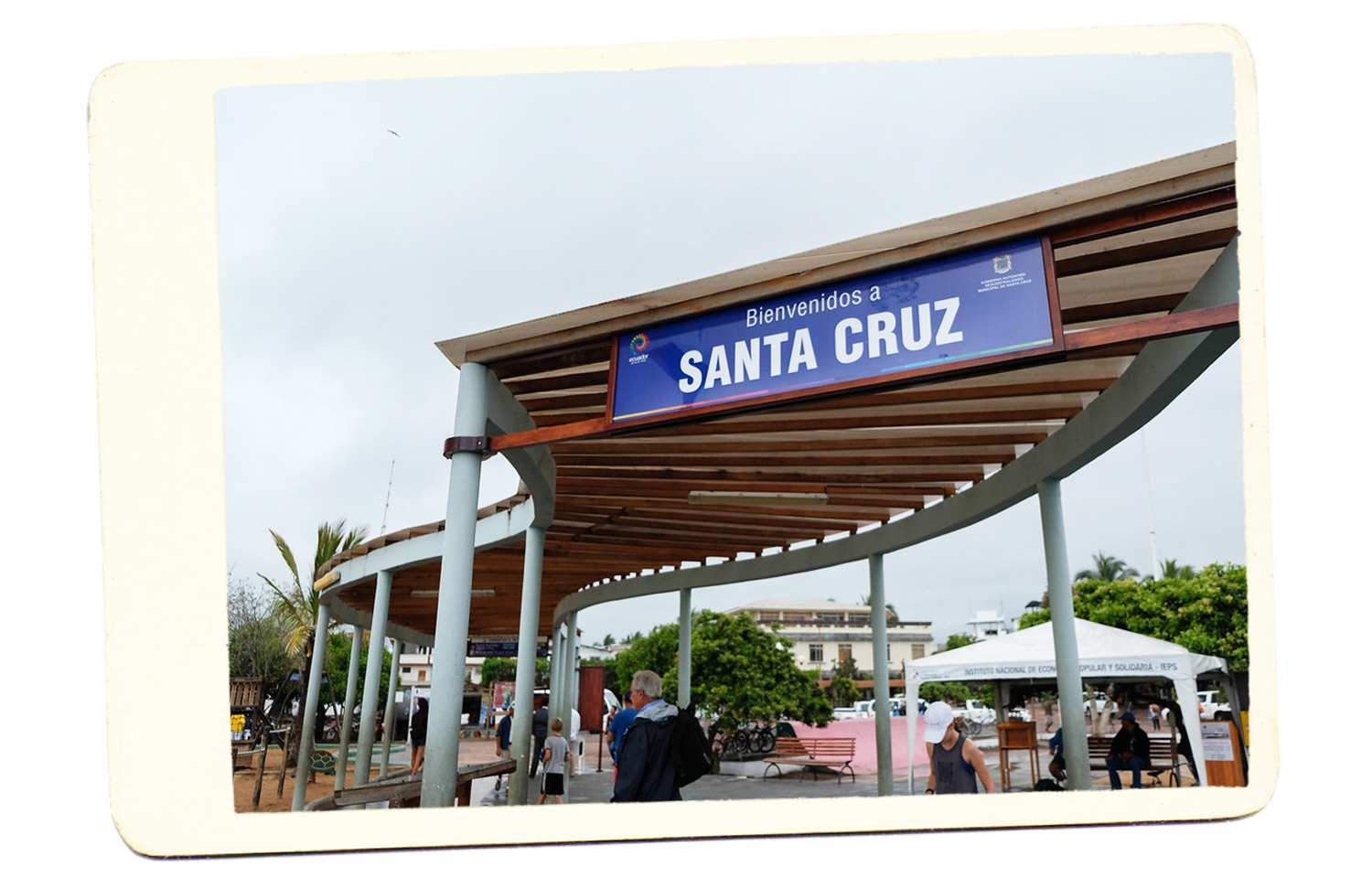 Getting to Santa Cruz Island
One of the easiest and cheapest options is to take a ferry from another island—like San Cristobal.
You'll want to keep in mind that these ferries are not like traditional ferries. They're small boats that fit up to 20-30 people with very limited space. They can be very cramped and they're not ideal for those who get motion sickness as the seas can get quite rocky…however, they are a great way to save money.
If you'd rather skip the rough waters, you can fly into Seymour Airport on the island of Baltra.
You'll fly into the airport, take a bus ($5 USD) to a ferry ($1 USD for the public boats or $2 for private) and that'll take you right across the channel to Santa Cruz Island. From there you'll be able to find plenty of taxis and buses. A private taxi is $25 into the Puerto Ayora and can fit up to 4 people!
One thing to remember when taking a taxi is that the ride takes anywhere from 35-40 minutes so if you're flying out of Baltra, you will want to give yourself at least 2 hours to get from Puerto Ayora to the airport.
Things run on Galápagos time on the islands!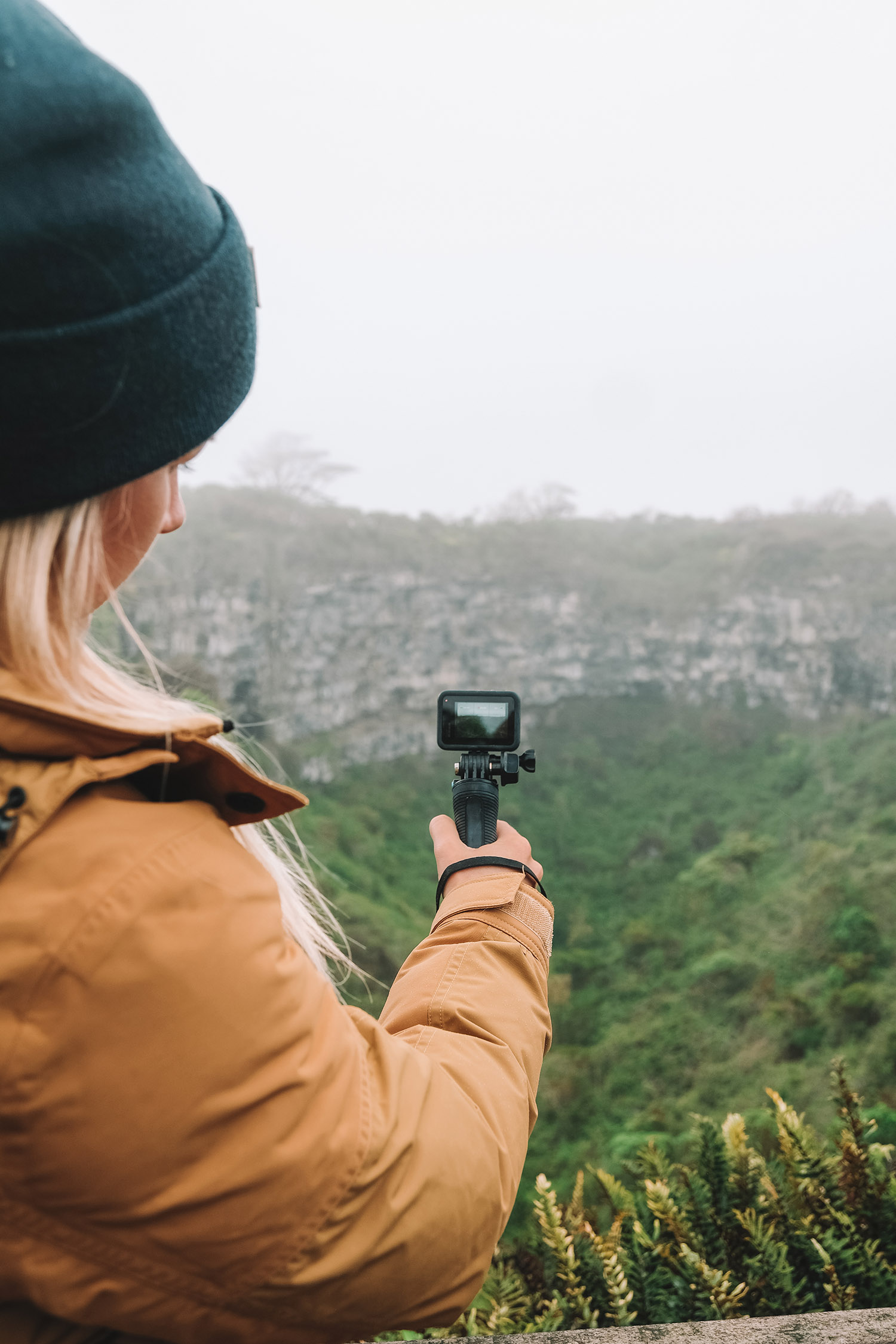 Santa Cruz Island
Where to Stay on Santa Cruz Island
Aves Charles is the main strip with shops, restaurants, and the port. Any hotel you find near that area is a great option! These are some fantastic options if the idea of finding the perfect spot in Santa Cruz overwhelms you.
This is the hotel that I stayed in during my most recent trip and I absolutely loved it. Located in the center of it all, everything is super nearby and walkable. Plus it has great mid-range rooms and the property has free bicycles that you can use to get around!
If you're looking for a higher-end, eco-friendly option, Finch Bay is right up your alley. Named one of the most unique lodges in the world by National Geographic, this hotel is not located in the main town so you will have to take a water taxi everywhere. Luckily the water taxi is included in your stay.
This Mediterranean-style 4-star hotel is located right on Pelican Bay, in the heart of Puerto Ayora. The rooms feature private balconies with ocean views. Relax after a day of hiking at the outdoor pool that overlooks the sea.
The Galápagos Dreams is a budget-friendly hostel that is located right in the center of it all, making everything relatively walkable.
If visiting the Darwin Research Center is high on your Galápagos bucket list, staying at this 3-star spot is perfect for you. It's super close to the visitor center and rooms start as low as $65 a night!
If you're looking for a hostel setting, Hostal Galápagos Morning Glory is your best option. Just a short 15-minute walk will bring you to restaurants, shops, and beaches. Plus you have access to free Wi-Fi and a lounge area complete with hammocks and a TV.
This family-run boutique hotel is super charming and has tons of character. It's right on the water, and there's even boat room.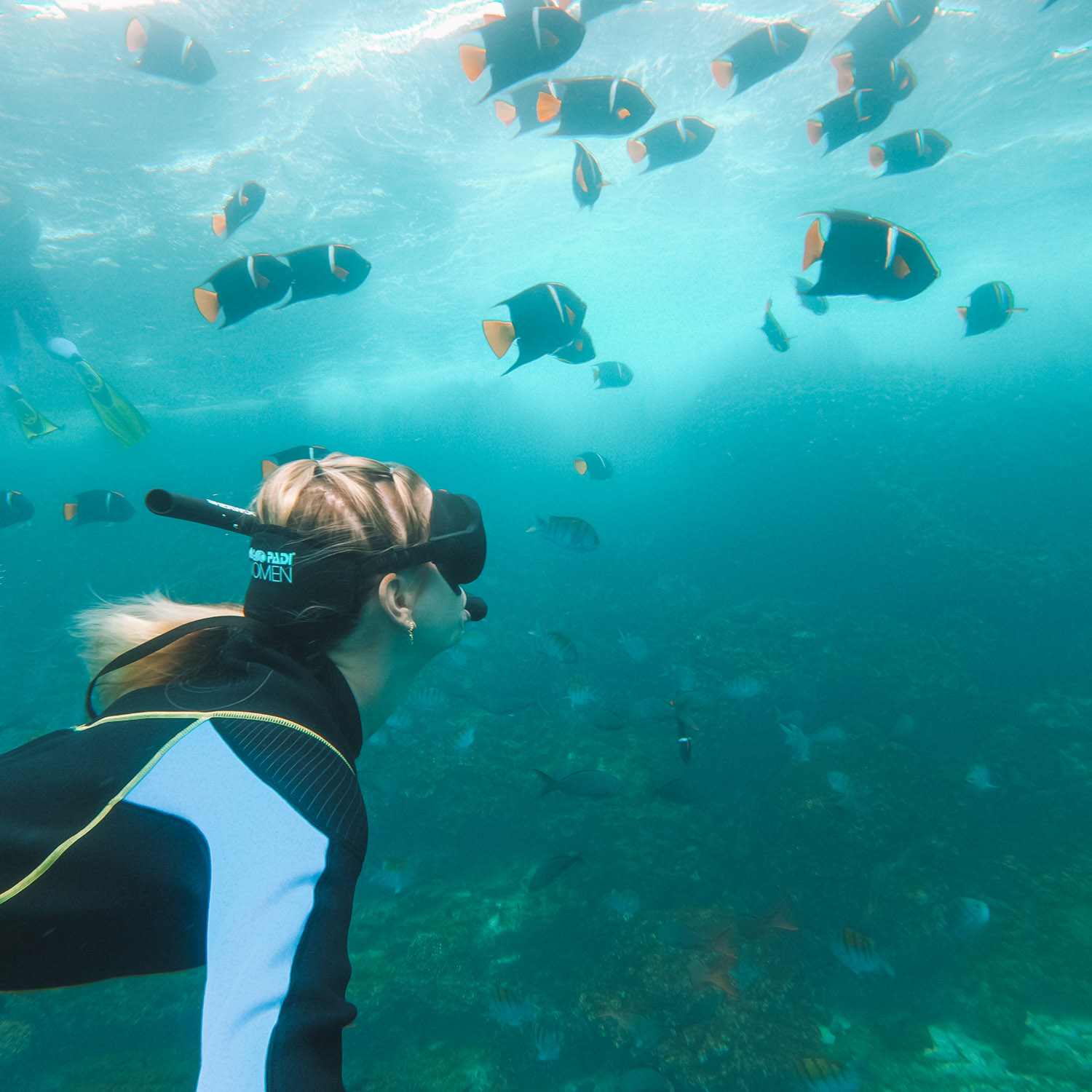 What to Do on Santa Cruz Island
Scuba Diving
What would a trip to the Galápagos be without a scuba diving adventure? Santa Cruz is one of the best spots to scuba dive. I highly recommend going with Scuba Iguana Dive Shop! You'll have the chance to see hammerhead sharks, sea lions, turtles, large schools of fish, and so much more.
Visit the Charles Darwin Research Station
Founded in 1959, the Charles Darwin Research Station is dedicated to the preservation and conservation of the Galápagos Islands. This includes watching over all of the plants and animals that call the islands home. At the Research Station, you can see the last remaining Pinta Island giant tortoise, land iguanas, and more.
Visit Tortuga Bay
Tortuga Bay gets its name from the black sea turtles that come onto the shore and lay their eggs. Along with the turtles, you can also see white-tip sharks, iguanas, and flamingos.
Day Trip to Bartolome Island
Bartolome Island is a volcanic island just off the coast of Santiago Island and it makes for a great day trip. Once there you can snorkel, swim, and hike to some of the best views of the Galápagos. There are many companies that offer these day-trips so it's hard to recommend just one!
Snorkeling Day Trip
Along with the day trip to Bartolome, many companies also offer snorkeling trips to nearby locations such as Los Tuneles, Isabela Island, and Pinzon Island (just to name a few!).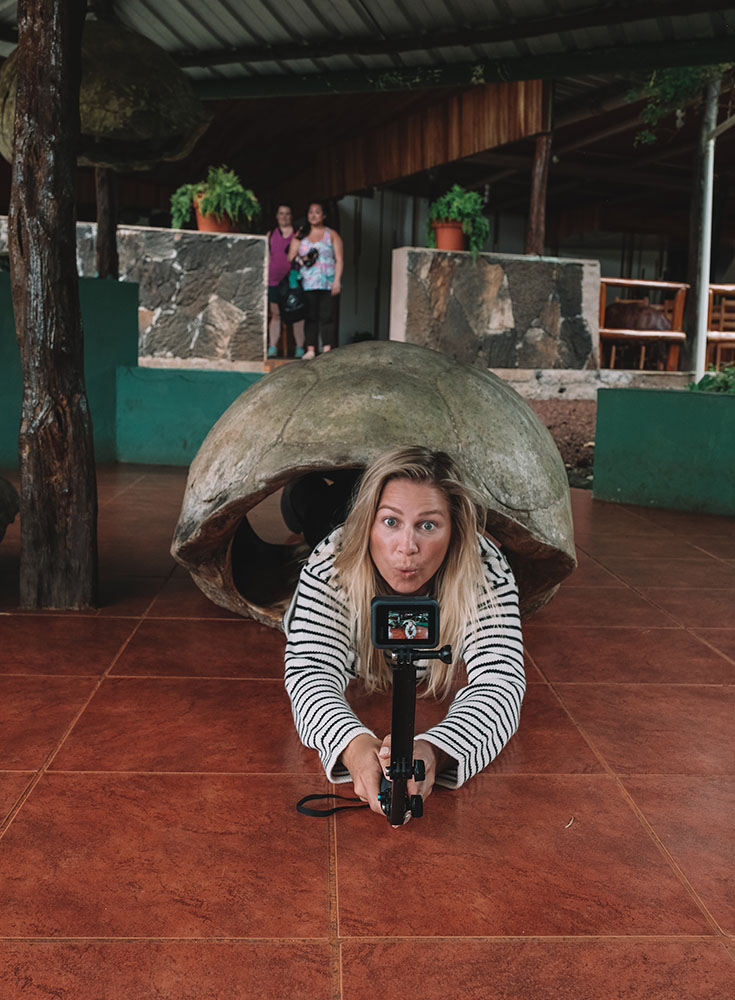 Visit Reserva El Chato
El Chato is a reserve located in Santa Cruz's highlands and is home to giant tortoises. The tortoises cross the reserve during their migration, making it one of the only places to see these giant animals in their natural habitat. Along with the tortoises, the reserve is also home to thousands of forests and plants.
Shop
There are so many little shops along Ave Charles Darwin Road, perfect to pick up some souvenirs from your trip!
Visit Las Bachas Beach with a Guide
Located at the northern end of Santa Cruz, Las Bachas got its name from the Americans after WWII when their barges washed up onshore.
Locals could not pronounce "barge" correctly, therefore, resulting in "Las Bachas." Here you can see flamingos, crabs, sea turtles, and remnants of WWII.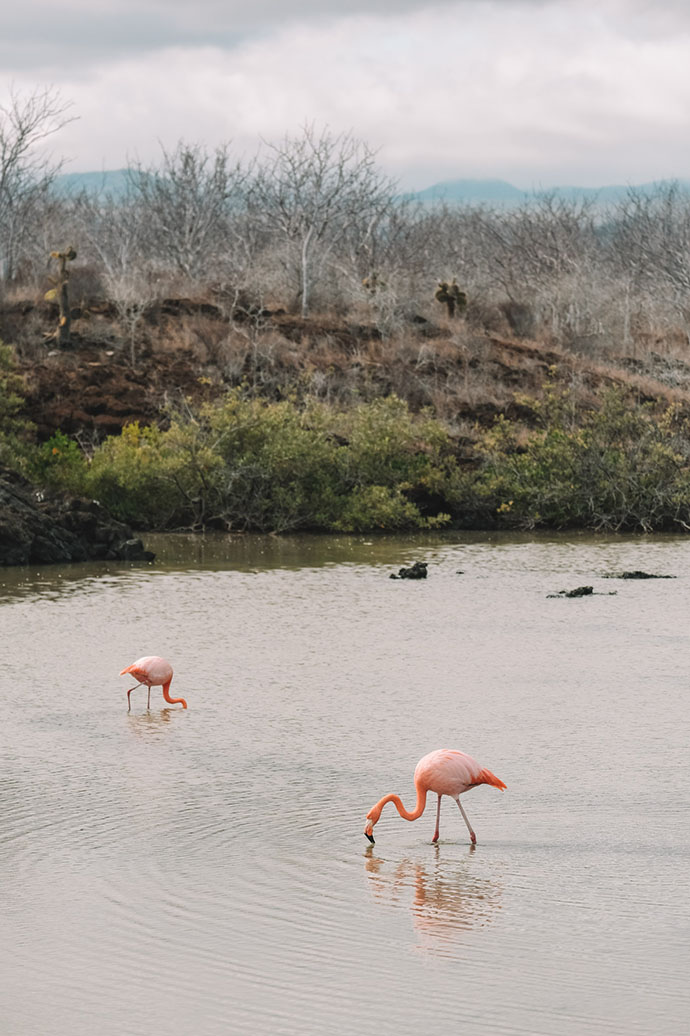 Where to Eat on Santa Cruz Island
Keep in mind that prices in the Galápagos are not comparable to other "South American" destinations. The Galápagos are expensive and the food/beverage prices are the same that you would probably pay back home!
1835 Coffee Lab is by far my favorite spot to grab a coffee or tea on the island. Not only is it a great cup of joe, but they also focus on sustainability and the promotion and distribution of coffee culture in the Galápagos Islands and Ecuador.
Can you tell I like coffee shops? De Sal y Dulce is a great spot for coffee and dessert. They've got delicious cappuccinos and brownies if you need a little afternoon pick me up.
ANKER offers local Galápagos cuisine, using flavors based on seasonal produce from the island. You can experience a 5-course meal or à-la-carte options paired with cheap cocktails. If you like seafood, you'll love their dishes.
To get the authentic Galápagos Islands experience, dine at La Garrapata, a local favorite. It was one of the first open-sided and relaxed restaurants on the island and offers a myriad of seafood dishes.
Located right on the ocean, Bahia Mar specializes in Ecuadorian cuisine while also including other international dishes as well. There's nothing better than sitting right on the water while enjoying some lobster.
If you want a fine dining experience during your visit, Finch Bay Restaurant is a great option. They offer breakfast, lunch, dinner, cocktails, and also have a wine cellar with a wide variety of vino.
If you'd rather enjoy a casual meal with a bunch of food options, Isla Grill is the spot for you. They have everything from sushi to steak to vegetarian options, all reasonably priced. It's also a cool spot to grab a drink.
Craft beer drinkers will love Santa Cruz Brewery. Not only is the beer delicious but they also have light bites, live music, and games that you can play. It's not something you'd expect to find in the Galápagos but it makes for a fun evening!
Ukku serves beautiful açaí bowls in large wooden pineapple-shaped bowls, complete with fresh fruit. They're the perfect light snack while you're out wandering around and shopping.

Have you ever been to Santa Cruz Island? What were your favorites?