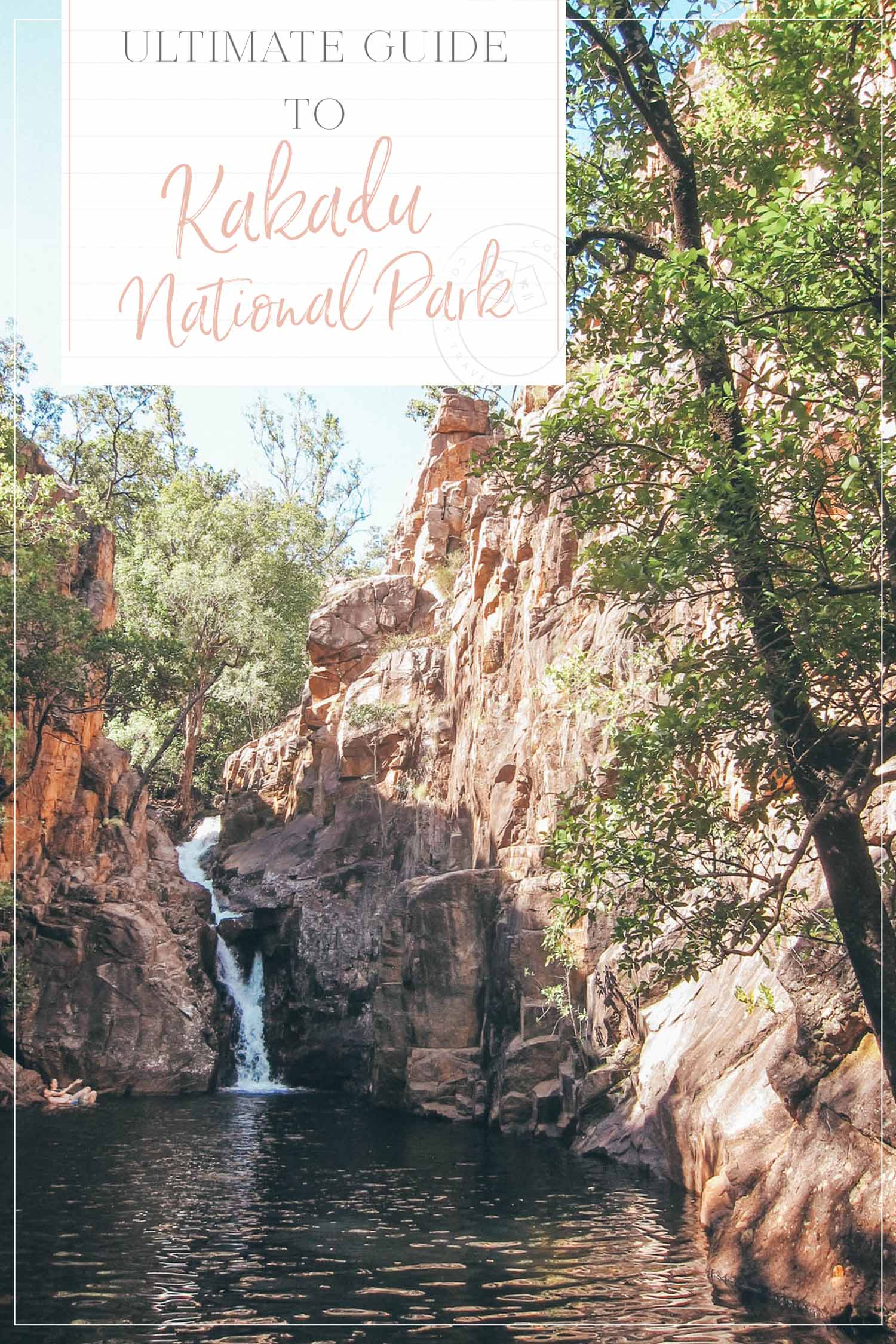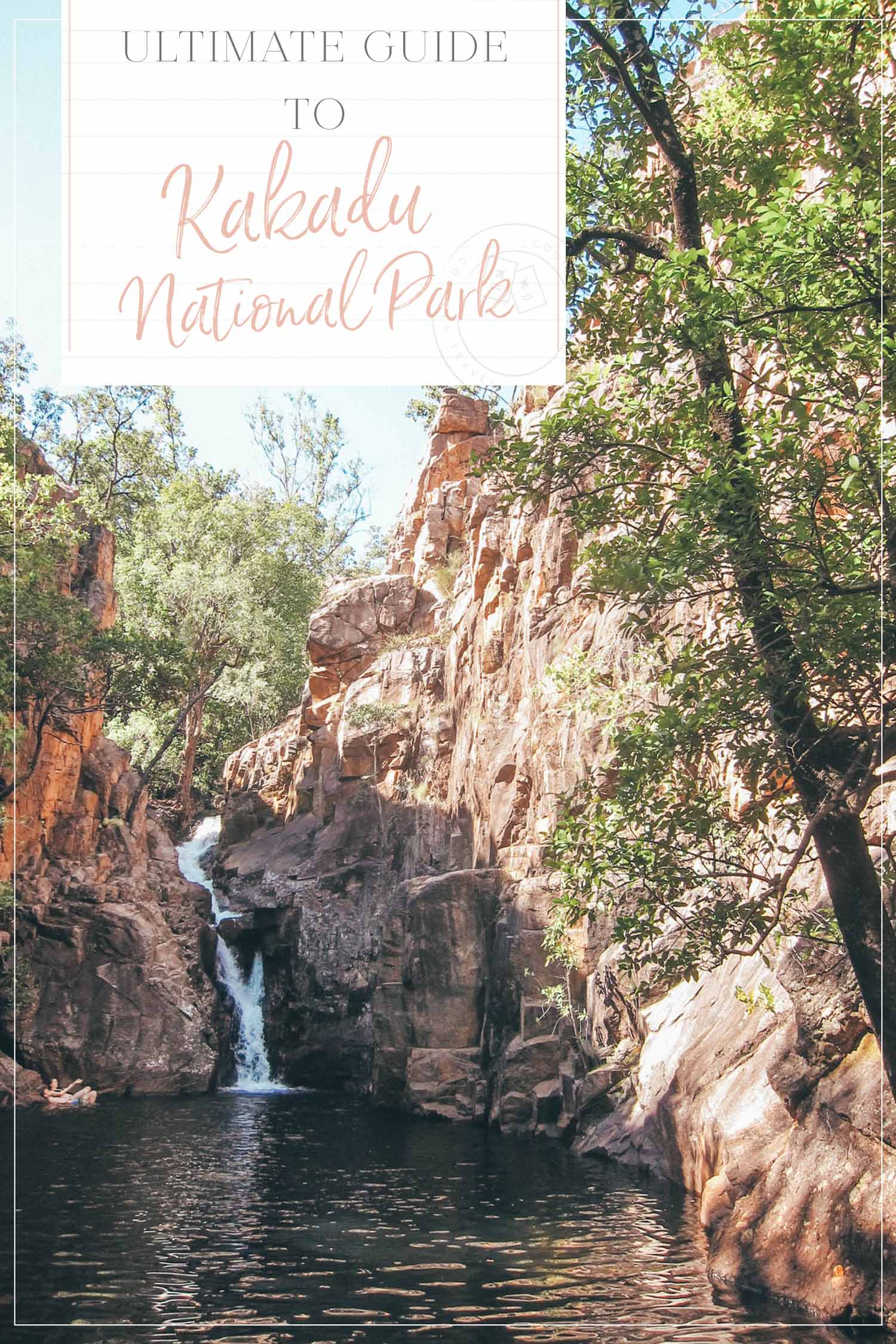 Covering nearly 20,000 square km, the Kakadu National Park is unlike anything you've ever seen before. With its exotic wildlife and landscapes and aboriginal rock art, it's one of Australia's top UNESCO World Heritage Sites.
Here is my ultimate guide to Kakadu National Park!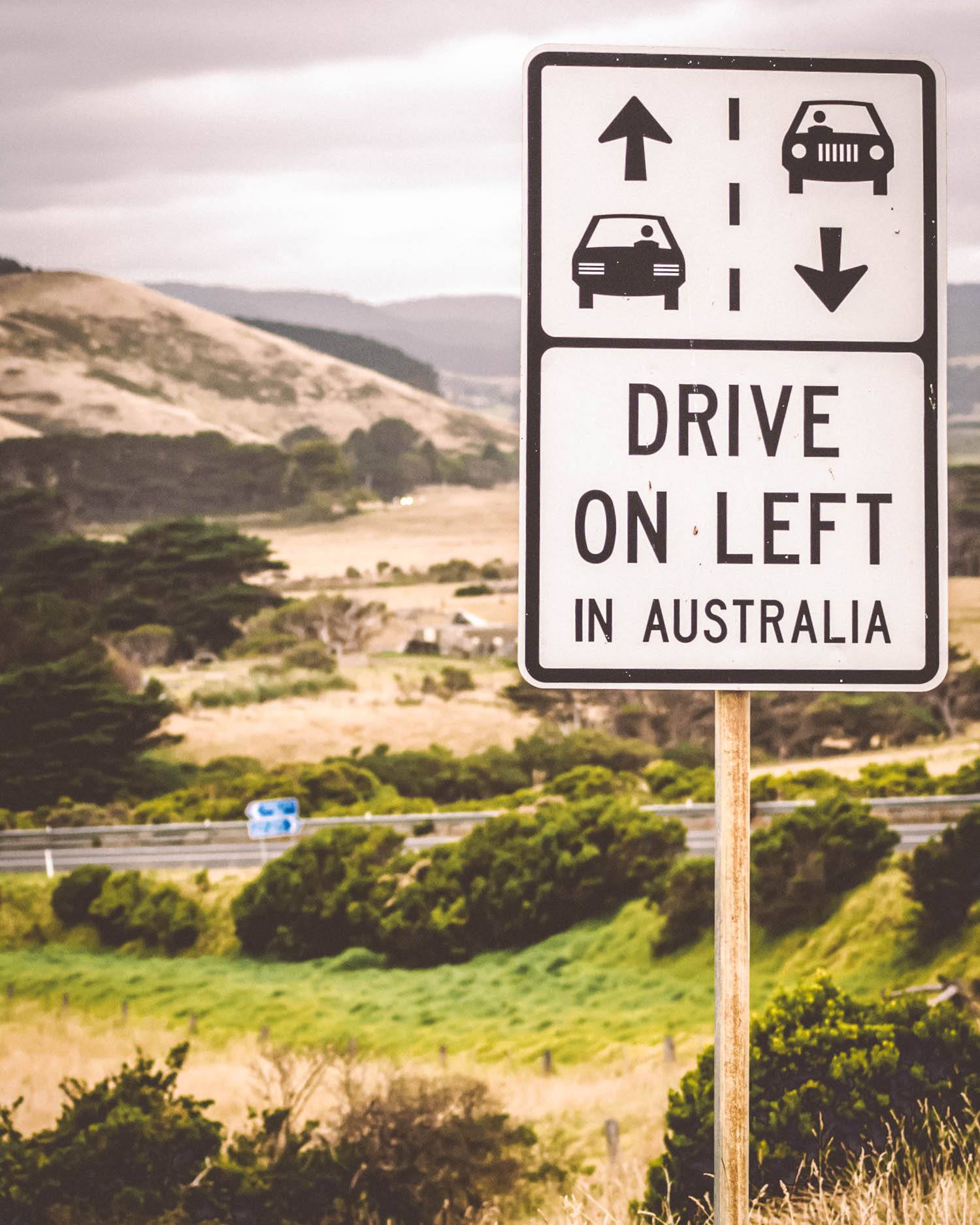 Getting There
The easiest way to get to Kakadu National Park is to fly into Darwin or Alice Springs. Once you land, you can rent a car and drive the rest of the way to the park.
If you want to combine it with a mini road trip, take the Red Centre Way from Alice Springs. It's up to you how many stops you want to make along the way, but the incredible desert scenery is worth it!
Just be sure to refuel as much as possible!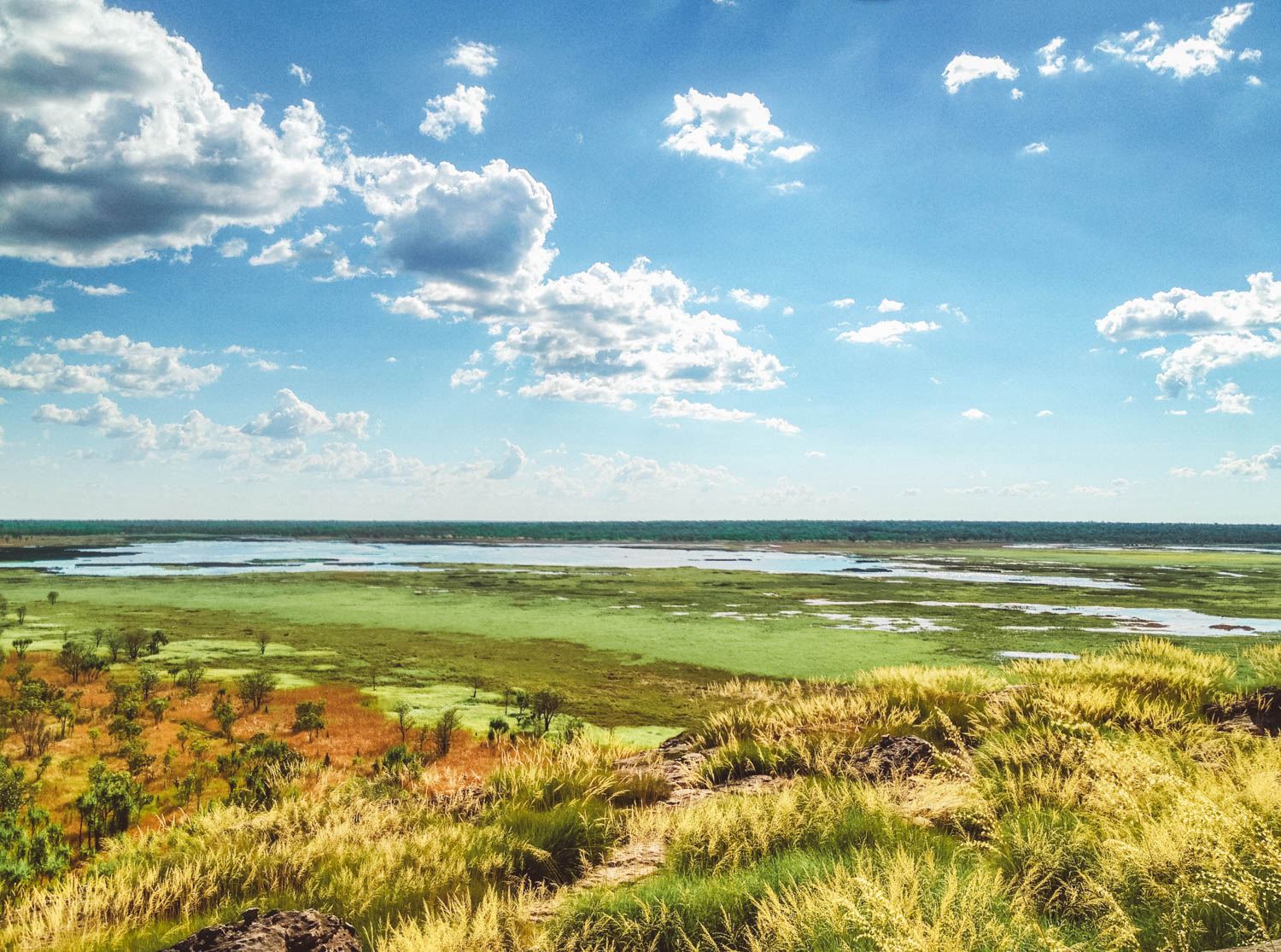 Getting Around
Kakadu National Park is a massive place. It's going to take you a while to get around, and you'll need a 4WD for some of the unpaved roads.
I recommend splurging and getting a 4WD so you'll have more control over your itinerary!
If you don't want to hire a car while you're in Australia, you can join a tour. The only downside is that you won't have as much time as you might want at the different attractions.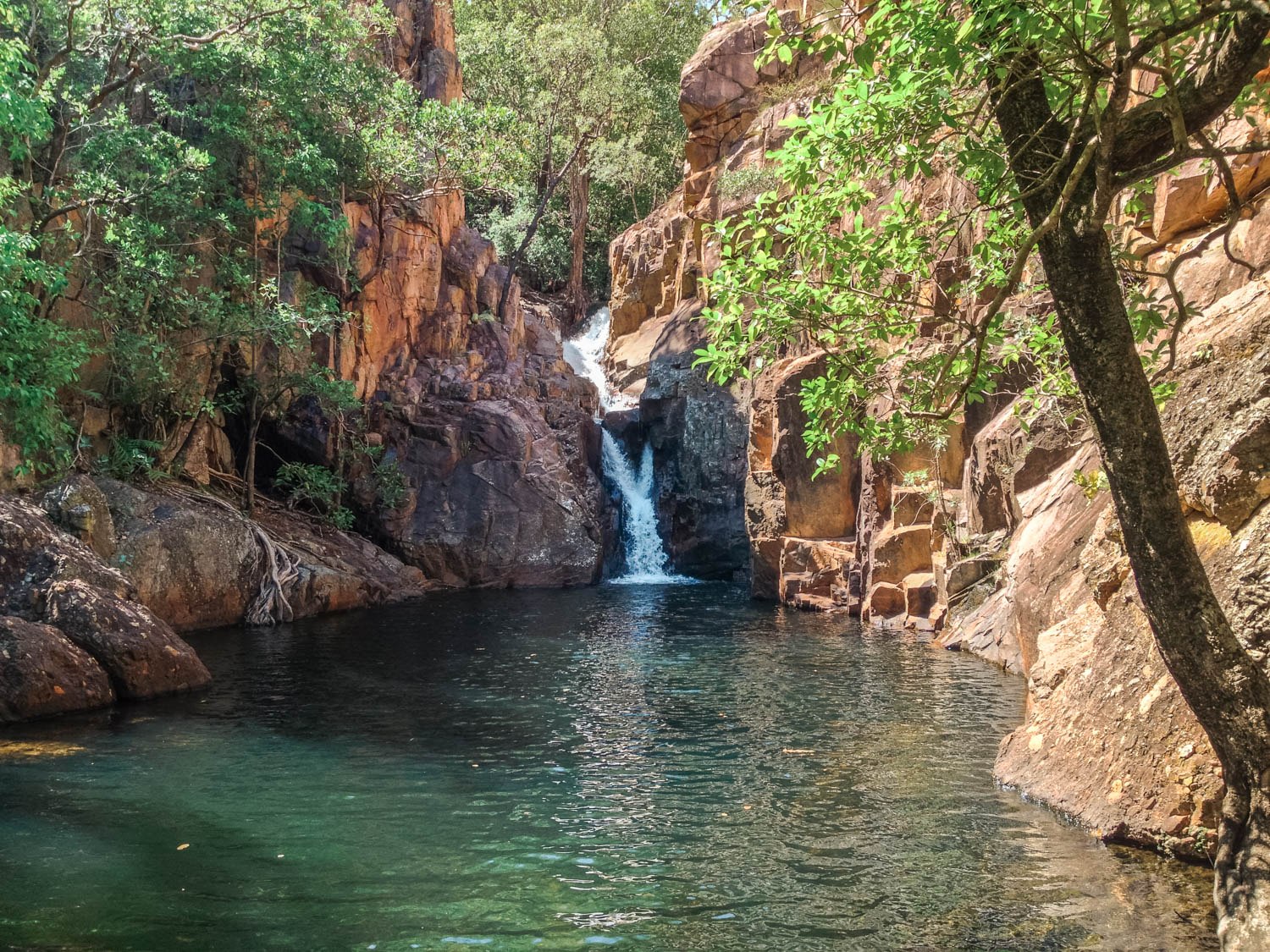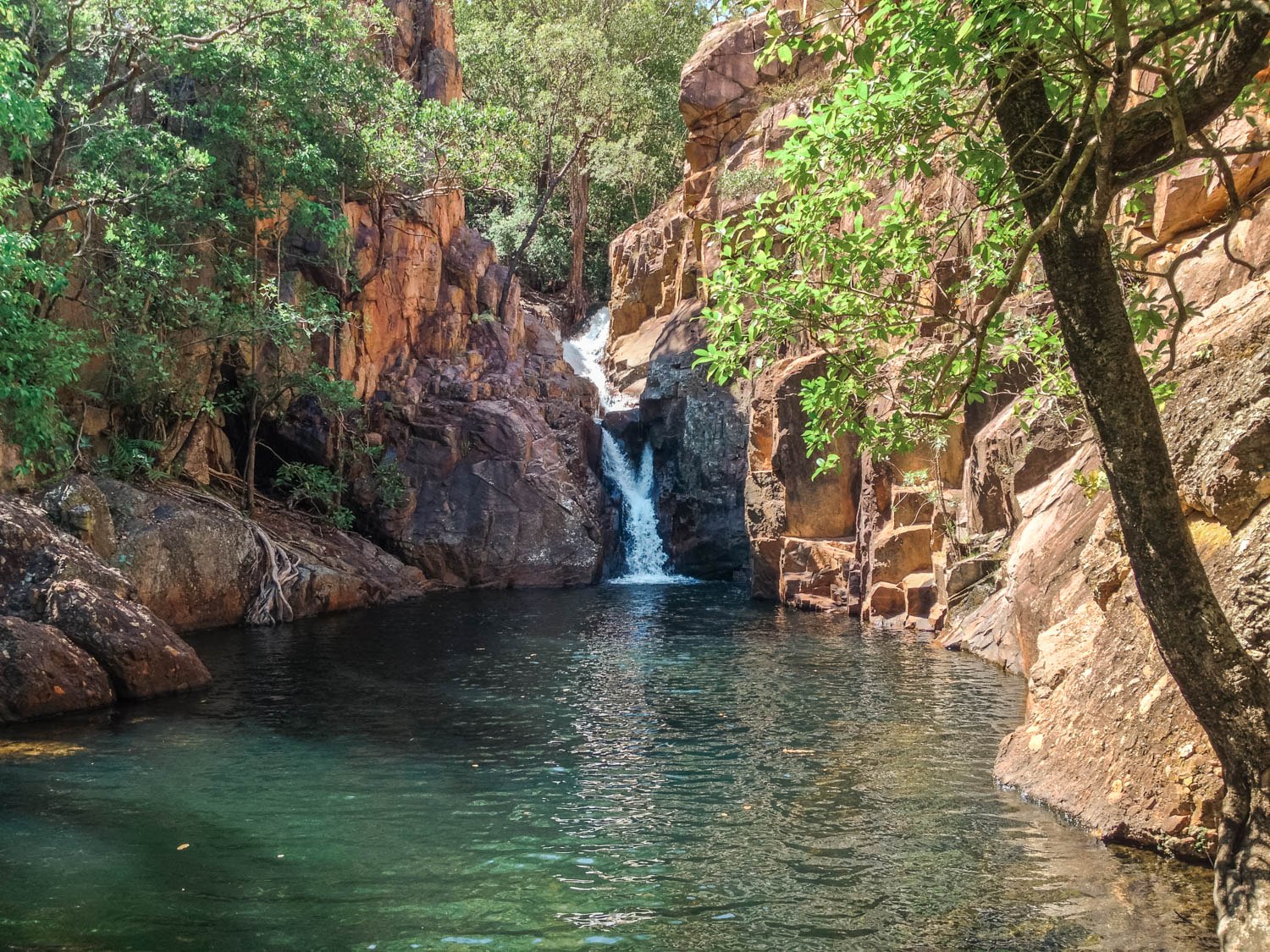 What to Know Before You Go
To get into Kakadu National Park, you'll have to pay an entrance fee. It's $25 AUD for adults and $12.50 AUD for children between the ages of 5 to 15.
If you're traveling with your family, you can get a group pass for $65 AUD. It's good for two adults and two children and is valid for an entire week.
You can purchase your tickets online or at the gate when you arrive.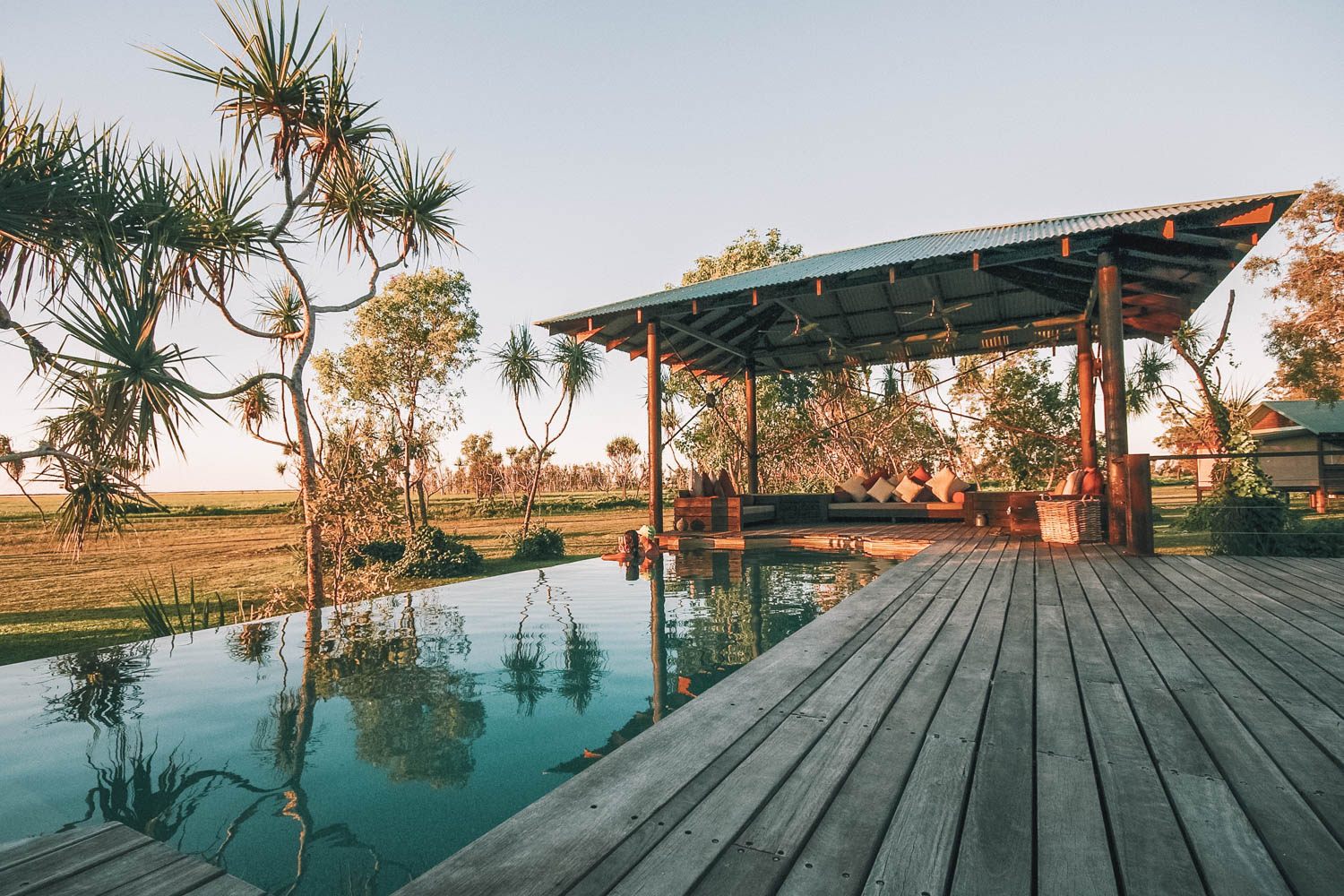 Where to Stay
Kakadu National Park has a range of accommodations for every kind of traveler. Whether you're planning a romantic getaway into the Australian wilderness or you're on a tight budget, there are plenty of spots to choose from.
Bamarru Plains: Located in the middle of the park's wilderness is the Bamarru Plains. The hotel is home to one of the largest crocodile populations in the world. Book a night or two here and watch the hundreds of birds make their way across the landscape as you unwind in the infinity-edge pool. With only ten safari-style bungalows, it's an intimate getaway that's perfect for nature-loving couples.
Kakadu Lodge: Kakadu Lodge has a range of accommodation options. Choose from the self-catering cabins or bring along your tent and spend a night camping underneath the stars. The lodge also organizes tours, making it a great option for solo travelers. Once you're back from exploring the park, you can relax at the lagoon style pool or wander around the manicured gardens. There's also a bar and bistro and a few spots where you can barbeque.
Cooinda Lodge: Cooinda Lodge is a great option for families or groups of friends visiting Kakadu National Park. It offers 48 spacious, air-conditioned rooms that can accommodate up to four people. There's also a large swimming pool, a gift shop, and a general store. It's perfect for picking up some last-minute supplies or a few souvenirs.
If you're really looking to splurge, you can head to the private airstrip to charter a plane!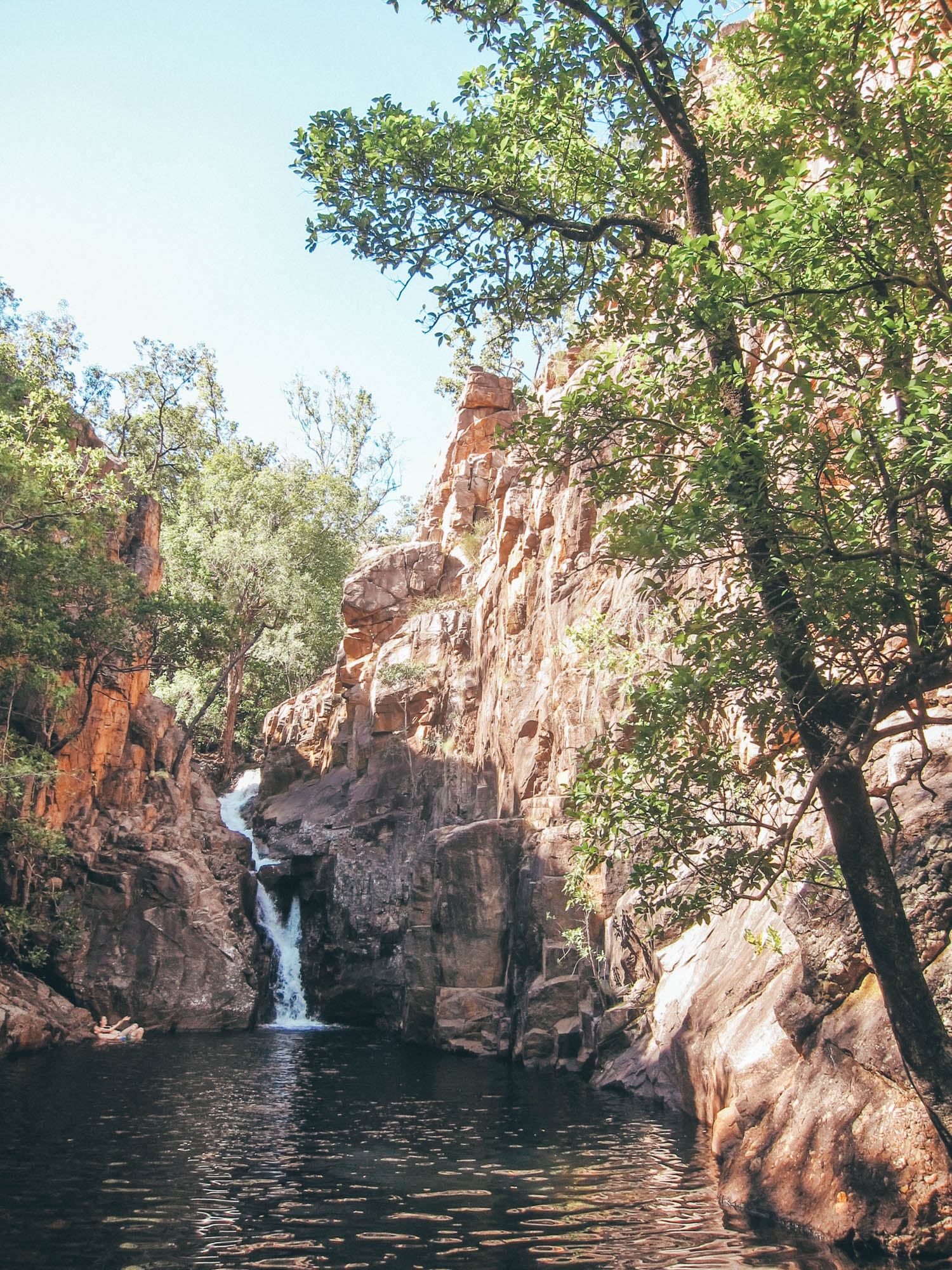 Things to Do
Sunset/Sunrise at Nourlangie Rock Viewpoint: Pack a light breakfast or bring along a bottle of wine and head up to the Nourlangie Rock Viewpoint. It's one of the best spots inside Kakadu National Park for incredible views over the landscape. Plus, you'll pass ancient rock art sites your way up to the top.
Aboriginal Art at Ubirr: Ubirr is one of the main rock art galleries inside the park. Stop by for a visit, and you can see paintings that are over 20,000 years old. It makes the artwork here one of the longest historical records kept by a group of people on Earth.
Swim at the Gunlom Plunge Pool: Made famous by the 1986 movie Crocodile Dundee, the infinity-edge pool at the top of the falls boasts some of the best views in Australia. At the top, you'll find shaded picnic areas and campgrounds with solar-powered showers.
Moline Falls: Moline Falls is off the beaten path, and it's another beautiful swimming spot in the national park. The water is incredibly clear at the base of the falls, but the water is freezing.
Jim Jim Falls and Twin Falls: No trip to Kakadu would be complete without a visit to these two spectacular waterfalls. Jim Jim only flows after the wet season, but the Twins gush over a 220-meter drop throughout the year. These falls aren't the easiest to get to but the views are definitely worth it!
Hiking Trails: Kakadu is home to more than 30 established walking trails. You can find short, easy strolls or challenging multi-day treks. Roam past the rock art galleries, walk past multiple waterfalls and pools, and bring plenty of water and sunscreen.
Yellow Waters Cruise: The sunset cruise on the Yellow Waters Billabong is by far one of the most popular activities in Kakadu. You're almost guaranteed to see crocodiles, around 280 species of birds, wallabies, horses, buffalo, snakes, and other critters.
Helicopter Tour: During peak season (and wet season), many of the areas of the park are closed off. Jim Jim Falls (the tallest falls in the park) closed to tourists when it's at its peak and during the wet season before it has been checked for crocodiles. The only way to see it during peak season is with a helicopter tour.
Not only does it give you a unique perspective but it also gives you access to one of the best spots of the park.

Overall
Visiting the Australian Outback is an unforgettable experience that you'll want to share with everyone you know. Between the wildlife, the rock art, the waterfalls, and the overall richness of the culture, Kakadu National Park has so much to offer.

Do you have any tips for visiting Kakadu National Park?