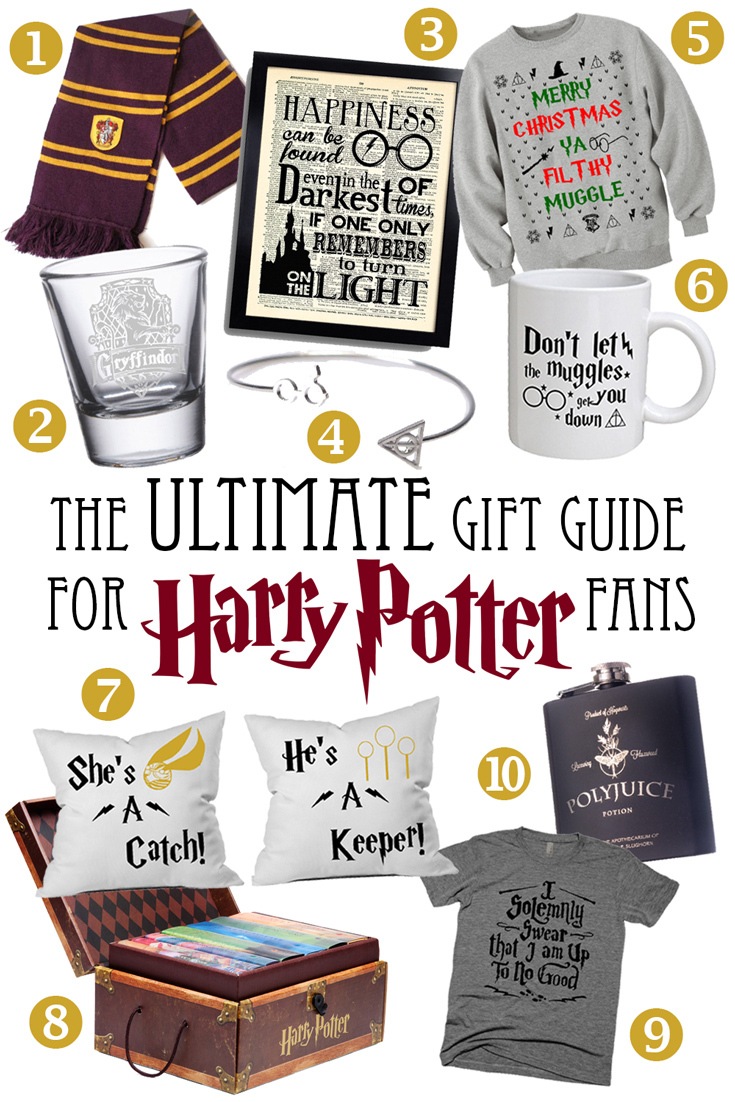 As a Harry Potter fan, I geek-out hard over all Harry Potter themed products. I've collected my absolute favorites to share with you!
Here is the ultimate gift guide for Harry Potter fans in your life!

For the Gryffindor enthusiast, this scarf is perfect for keeping warm and showing some spirit this season. The scarf is an Officially Licensed Harry Potter product and features a patch of the Gryffindor crest.

These handmade Harry Potter inspired shot glasses are have the Hogwarts' house crests-Gryffindor, Slytherin, Hufflepuff, and Ravenclaw- etched into the side. They are very sturdy, and make a great gift for the college student, young professional, or any Harry Potter lover at that!

This timeless Dumbledore quote is printed on pages of re-purposed antique dictionary books! Perfect for room or office decor, and there are a number of quotes and prints to choose from.

The bracelet comes in silver, copper, or gold, and features the Deathly Hallows and Harry's signature glasses. It can easily be mix and matched with other bracelets and bangles, and add a little "magic" into everyday outfits.

Not only humorous, this Harry Potter themed ugly Christmas sweater is sure to be a hit year round. It is made of cotton- extra comfy- and made of high quality material and ink. This is on my wishlist this year for sure!

"Don't let the Muggles get you down!" Add some inspiration to your morning coffee- treat yourself or someone special to this adorable mug! It is made of high quality ceramic, and is microwave and dishwasher safe. 

For the newlyweds or Harry Potter couple in your life, these pillows are the perfect gift! Featuring a Quidditch-themed sayings, the set is machine washable and dryable. Love it!

This decorative box and complete series is a great gift for those who already have Harry Potter collectibles and are looking to add all the books to their collection! If they already have the series, I highly recommend The Hogwarts Library, which includes other books by J.K. Rowling- Quidditch Through the Ages, Fantastic Beasts and Where to Find Them, and The Tales of Beedle the Bard. The books have been completely redesigned to form an elegant boxed set with colorful boards, headbands, footbands, and foil stamping.

These t-shirt are perfect for PJ's or a casual day, and are made of a super soft tri-blend material. You can choose different t-shirt styles and quotes as well!

These flasks come in either a 6oz or 8oz size and are made of Stainless Steel, featuring the Polyjuice Potion emblem on the front. You have an option of a Gift Box Set that includes a 2pc black gift box, flask and funnel as well!