For nearly two years, I've documented some of my most personal stories on this blog. 2013 was a year full of sailing, bikinis, festivals and countless other adventures. And for that I am grateful.
While I like to keep my posts exciting and positive, that's not to say there weren't also hard times for me just like anyone else. I dealt with the loss of a loved one and even questioned the future of this blog. It's been a year of ups, downs, and a LOT of hard work, but nobody said following my dreams would be easy.
"The biggest adventure you can take is to live the life of your dreams." -Oprah Winfrey
I have some exciting plans up my sleeve for 2014, so stay tuned! I also wanted to give a big THANK YOU to each and every one of my readers for the growing support of my blog. None of this would be possible without you.
Now, let's recap the best of 2013!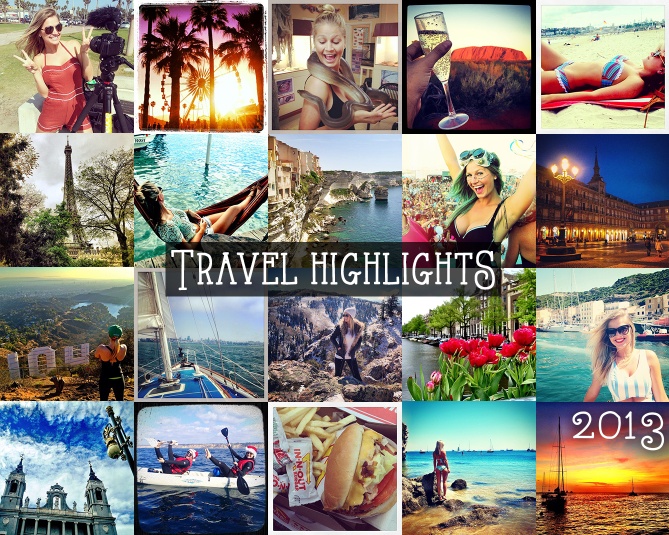 A breakdown of my travel highlights this year:
[counters_box] [counter_box value="10″]Countries Traveled[/counter_box] [counter_box value="8″]Festivals Attended[/counter_box] [counter_box value="35″]In N Out Burgers Eaten[/counter_box] [/counters_box]
Countries Traveled: Panama, British Virgin Islands, Australia, Portugal, Spain, Belgium, The Netherlands, Germany, Sardinia, Corsica
Festivals Attended: Sundance Film Festival, SXSW Music Festival, Coachella Music Festival, Stagecoach Music Festival, Electric Daisy Carnival, Burning Man, Life is Beautiful Festival, San Diego Wine & Food Fest

Sexiest Sunrise
Electric Daisy Carnival, Las Vegas
While the Electric Daisy Carnival was a bit too "electronic" for my taste, I have to applaud the insanely beautiful sunrises that I watched from the festival. Around 5 am on the last day of the festival, we begged the carnival operators for one last ride. We spun and twirled with a backdrop of vivid pinks, oranges and electric daisies.
Favorite Festival
Burning Man, Black Rock City, Nevada
I think I went to more festivals this year than ever before. 8 in total! And that's not counting the concerts I went to- just major festivals. While Coachella has become an annual tradition and the inaugural Life is Beautiful Festival blew my mind, my first ever Burning Man experience stands as the most unforgettable.
Read more about My Burning Man Experience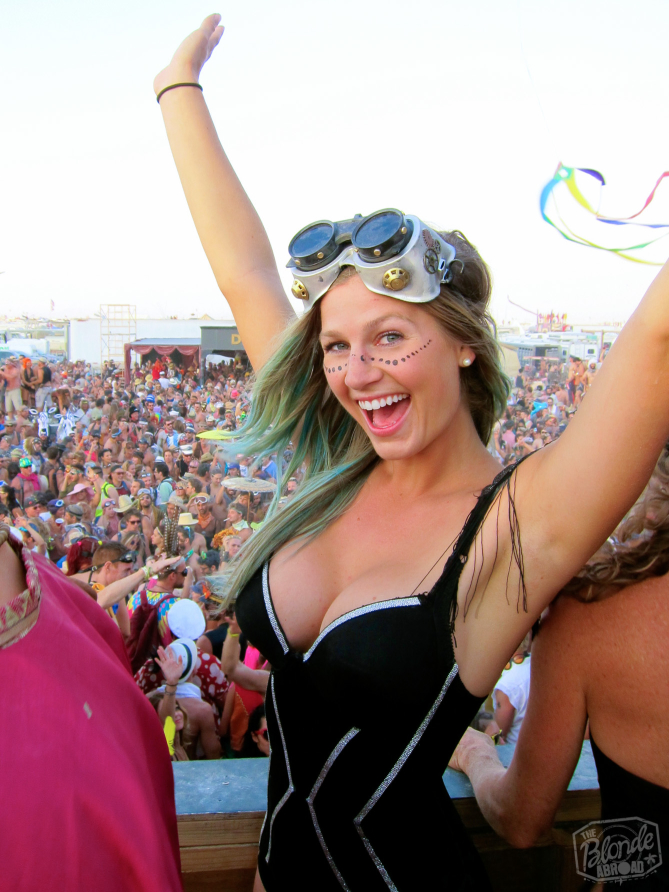 Best Bikini Destination
British Virgin Islands
It's no secret that I'm a big fan of bikini destinations. I took one of the most fun trips in all of my travels this year with 8 of my girl friends on The Yacht Week British Virgin Islands. We sipped tropical cocktails, dined on fresh lobster and watched vibrant sunsets from the deck of our catamaran.
I even ended up on Richard Branson's private island!
Read more about The Yacht Week
[youtube id="tvAM9x7Ix1U" width="70%" height="40%"]
Most Luxurious Lodging
La Loma Lodge, Bocas del Toro, Panama
Imagine a treetop bungalow retreat where breakfast is delivered to your doorstep each morning and you sip your coffee while monkeys swing from the canopies all around you. This is what awaits you at La Loma!
In Bocas del Toro, I stayed at La Loma in an incredible open-air luxury bungalow with views of jungle canopies from my bed. Aside from the insane accommodation, this eco-lodge treats its guests to delicious meals, all prepared using local ingredients. I had the pleasure of spending Valentine's Day here and was not sad about being single (in the slightest).
My dinner included a perfectly spiced pumpkin soup, freshly-caught Snapper, yams & potatoes dressed in a homemade almond pesto, and beet roots drizzled in a balsamic reduction. To finish: tres chocolates- a chocolate & ginger shortbread, a dark chocolate truffle and a chocolate rum shot.
Read more about Bocas del Toro
The Ultimate Adventure
Northern Territory, Australia
The biggest adventure I had this year was through Australia's Outback! After spending a week catching up with friends in Sydney, I joined G Adventures' Rock, Rail and Kakadu tour through Northern Territory. I rode the famous Ghan Train from the Red Centre to the tropical North End, swam in waterfalls, encountered jumping crocodiles and even took a bite of an Aboriginal delicacy.
Read more about Australia's Great Big Outback
[youtube id="vNsCpRZXq68″ width="70%" height="40%"]
Most Memorable Meal
U Castille, Bonifacio, Corsica
In August, I went on a sailing trip with some of my Swedish and South African friends that I met on The Yacht Week in Croatia. We sailed around Sardinia and Corsica, soaked up the sun on the beautiful Mediterranean and ate our hearts out. Literally.
While docked in Bonifacio, Corsica, my friends Bella, Åsa and I indulged in an incredible lunch with an even more incredible view. At U Castille, you are treated to a breathtaking balcony view overlooking the Mediterranean. We nibbled on yummy French cheeses, savory salads and sipped on Corsica's very own brand of Coca Cola.
Read more about Shipwrecked in Sardinia
Coolest Charity
Nurtured by Nature, San Diego, California
I visited a local San Diego non-profit, Nurtured by Nature, for a one-of-a-kind experience animal encounter. I met a slow-moving sloth, a big eared fox and even swam with otters! While anyone can visit Nurtured by Nature, they also work with organizations like as Make a Wish foundation to provide special nature experiences for terminally-ill children.
Read more about Swimming with Otters
Most Traveled Trip
Lisbon | Madrid | Paris | Brussels | Amsterdam | Berlin
I joined my friend Matt on my first all-train adventure through Europe; visiting 6 countries in just over two weeks! I ended up with bed bugs in Madrid, the flu in Paris and a serious hangover in Berlin. But, I also attended a Real Madrid game, visited my favorite bar in Brussels and got a local's perspective of Amsterdam. It was a busy and unforgettable trip!
Read more about Traveling Europe by Train
Most Scenic Sunset
Summit Series, Eden, Utah
I was able to knock off another bucketlist item and attend a Summit Series weekend retreat in Eden, Utah. I met some incredibly inspiring people and got to see an unforgettable sunset overlooking the first snow of the season.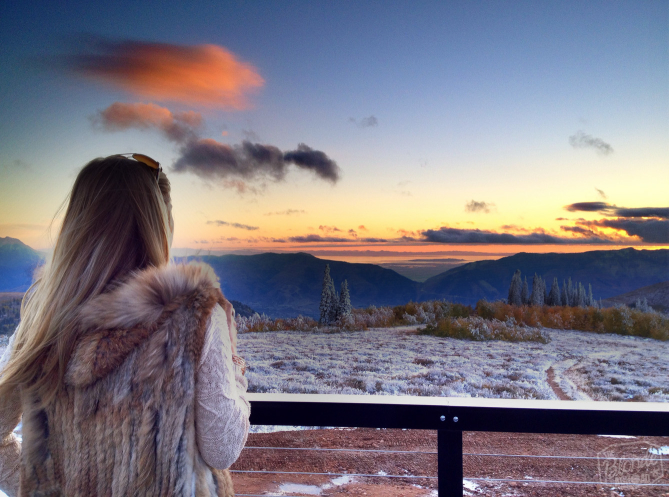 Biggest Challenge
Jauntaroo Chief World Explorer Contest
I took a chance on luck and entered a Jauntaroo travel contest at the very last minute. The winner would be selected from thousands of entries to become their Chief World Explorer- traveling the world as their brand ambassador and a $100,000 salary. It wasn't easy, but I made it to the top 50!
After another series of challenges, I was eliminated from the top 5. While I was bummed not to advance in the contest, it was still a great experience. I will never forget the love and support I received from my friends and readers around the world.
[youtube id="x4CuQc-_D0k" width="70%" height="40%"]
Most Awesome Accomplishment
I made some big plans when I turned 25 in June and put together my 25 at 25 Bucketlist. It helped me regain my motivation to try new things. I flew a plane, wrote my first eBook, shopped on SkyMall and still have the next six months to take down as much of the list as possible.
My biggest accomplishment though would have to be my complete website redesign. I spent months developing a new website concept and I'm still so impressed with how it turned out. My final goal of the year was to open a travel shop on my site, but I took it a step further by designing my first official annual Wanderlust Travel Calendar.
*Pats self on back*

No matter where life takes you in 2014, may your destination always be happiness!
Happy New Year!
For giveaways, travel tips and all sorts of global goodies, sign up for my free newsletter!