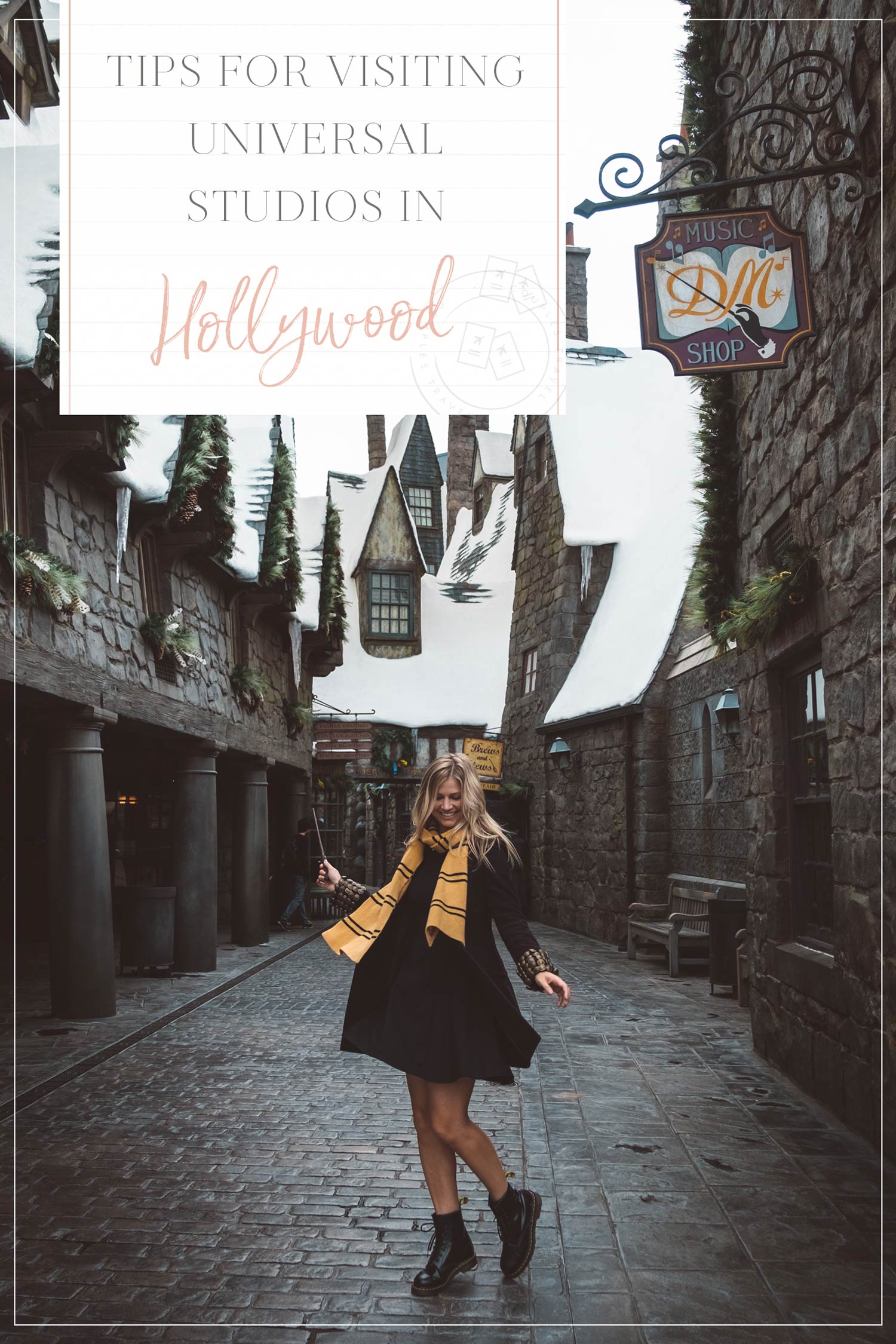 If you've been reading my blog for a while, you know I'm a MASSIVE Harry Potter fan. One of my first YouTube videos, "Visiting the Wizarding World of Harry Potter" went viral on Facebook. Before the WWoHP opened in Hollywood, I flew to Universal Orlando (by myself) to spend two days at the theme park and consume my weight in Chocolate Frogs and Butterbeer.
Hufflepuff 4 life.
So, when I returned to Southern California for the holidays, I FINALLY got the chance to spend the day with my family at the Wizarding World of Harry Potter at Universal Studios Hollywood. Armed with my wand and Hufflepuff scarf, I spent the day reliving my childhood fantasies and watching my nieces discover the world of magic for the first time.
Here's a guide to visiting Universal Studios Hollywood during the holidays!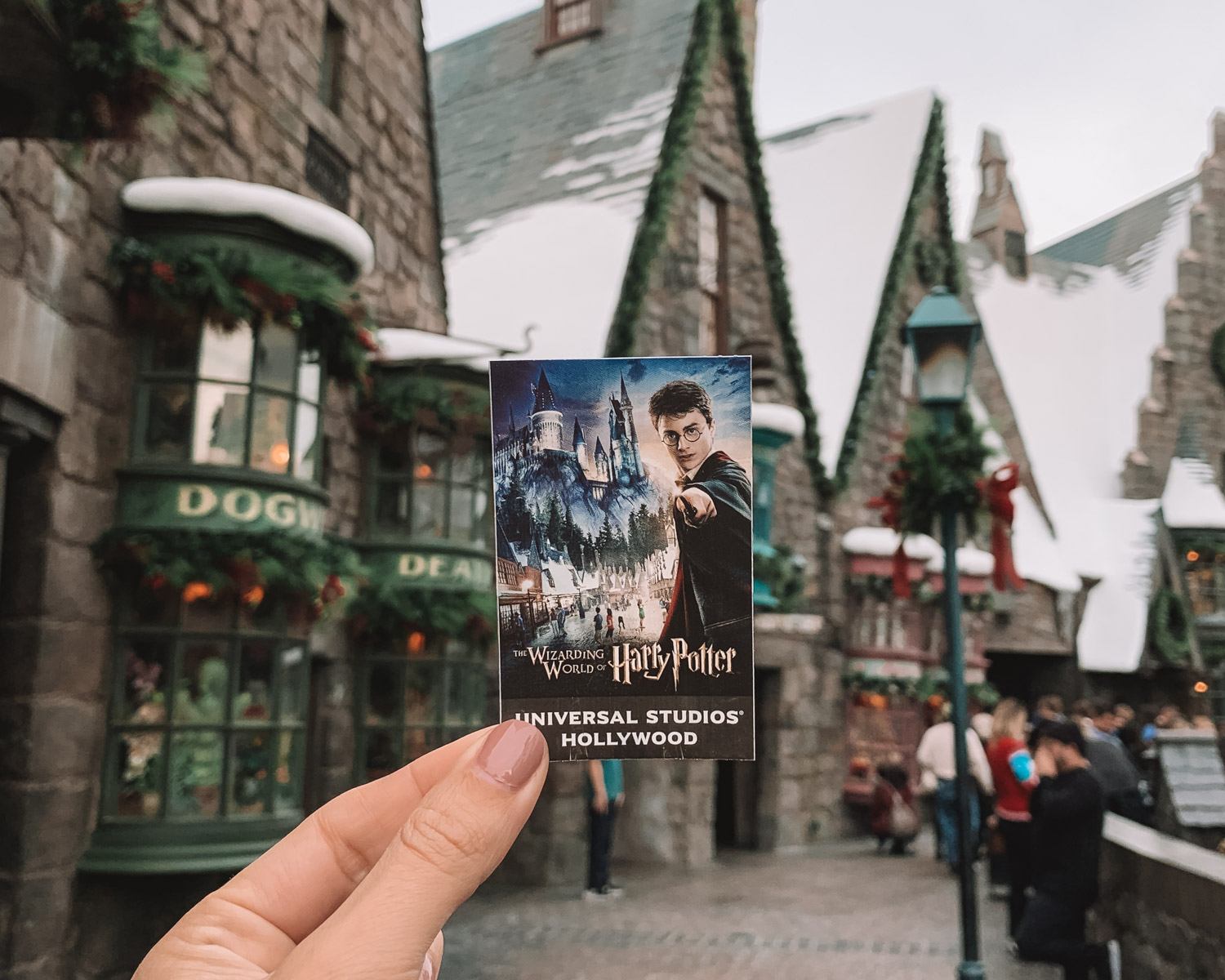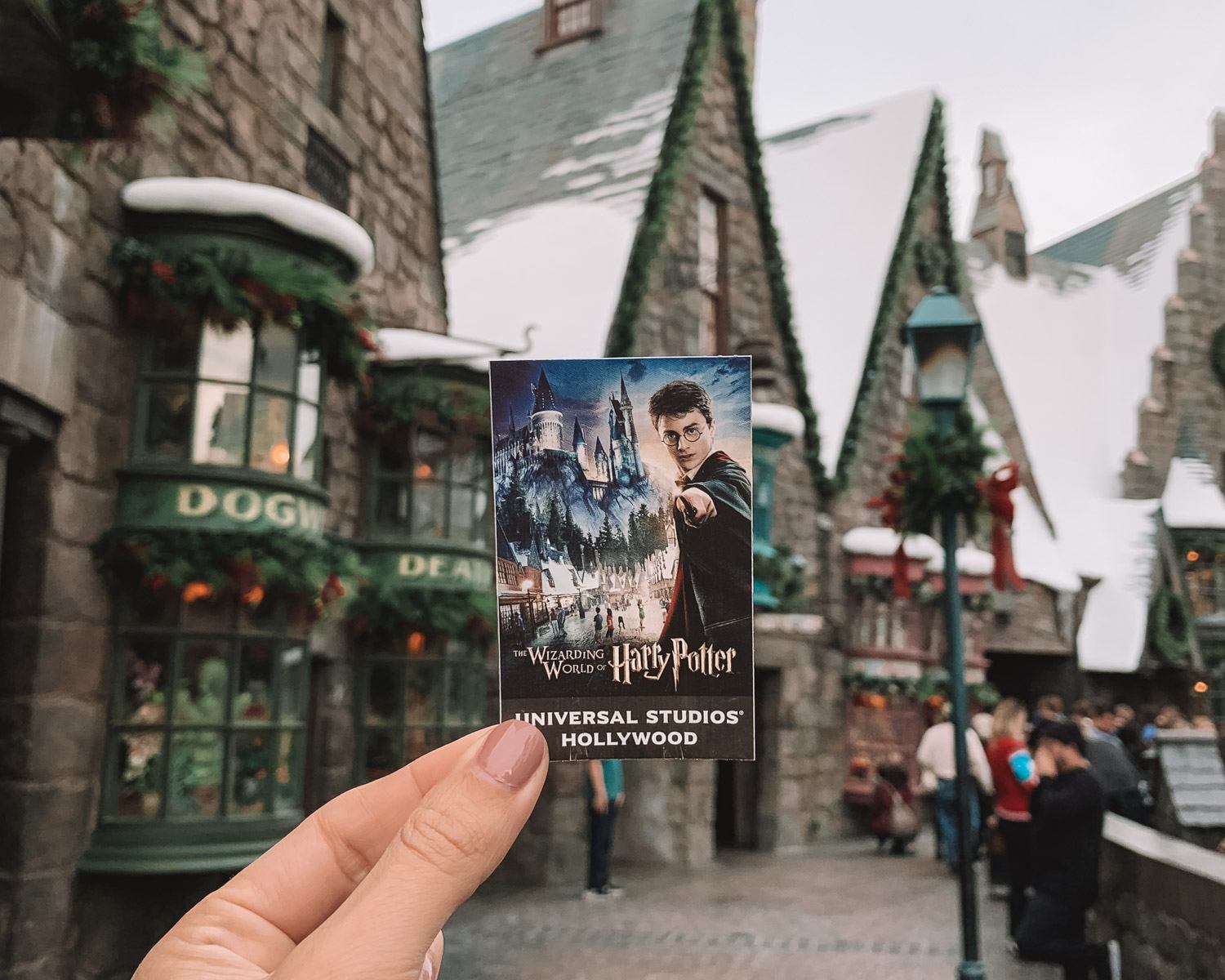 Universal Studios Hollywood During the Holidays
If you can, visit the Universal Hollywood on a weekday before the 15th of December. You'll miss the crowds as most kids are still in school.
But, if weekends are the only time you can make it, or if you can't visit until the 15th of December or later, you'll get to experience Grinchmas (running each weekend in December, then daily from Dec 14-30th)! The "Whos" and The Grinch will be around for photos, and you can watch the tree lighting ceremony for the massive 60-ft Christmas tree.
The entire park is completely decked out for the season, with special holiday decor, food, and merchandise!
Another thing not to miss is the nightly snowfall in Hogsmeade. After dark and just before the Magic of Christmas at Hogwarts Castle, Hogsmeade Village gets a dusting of snow!
The light show on Hogwarts Castle is absolutely amazing and will definitely get you into the holiday spirit! The snowfall starts just after dark (and just before and after each light show. And, there are multiple light shows until the park closes! Ask a staff member for the exact times of the snow and light show when you visit!
Helpful tip: Get to Universal Studios as soon as it opens and run straight to Hogsmeade Village if you want a photo without anyone in the background! There's a little back alley with less foot traffic (where I snapped my photo).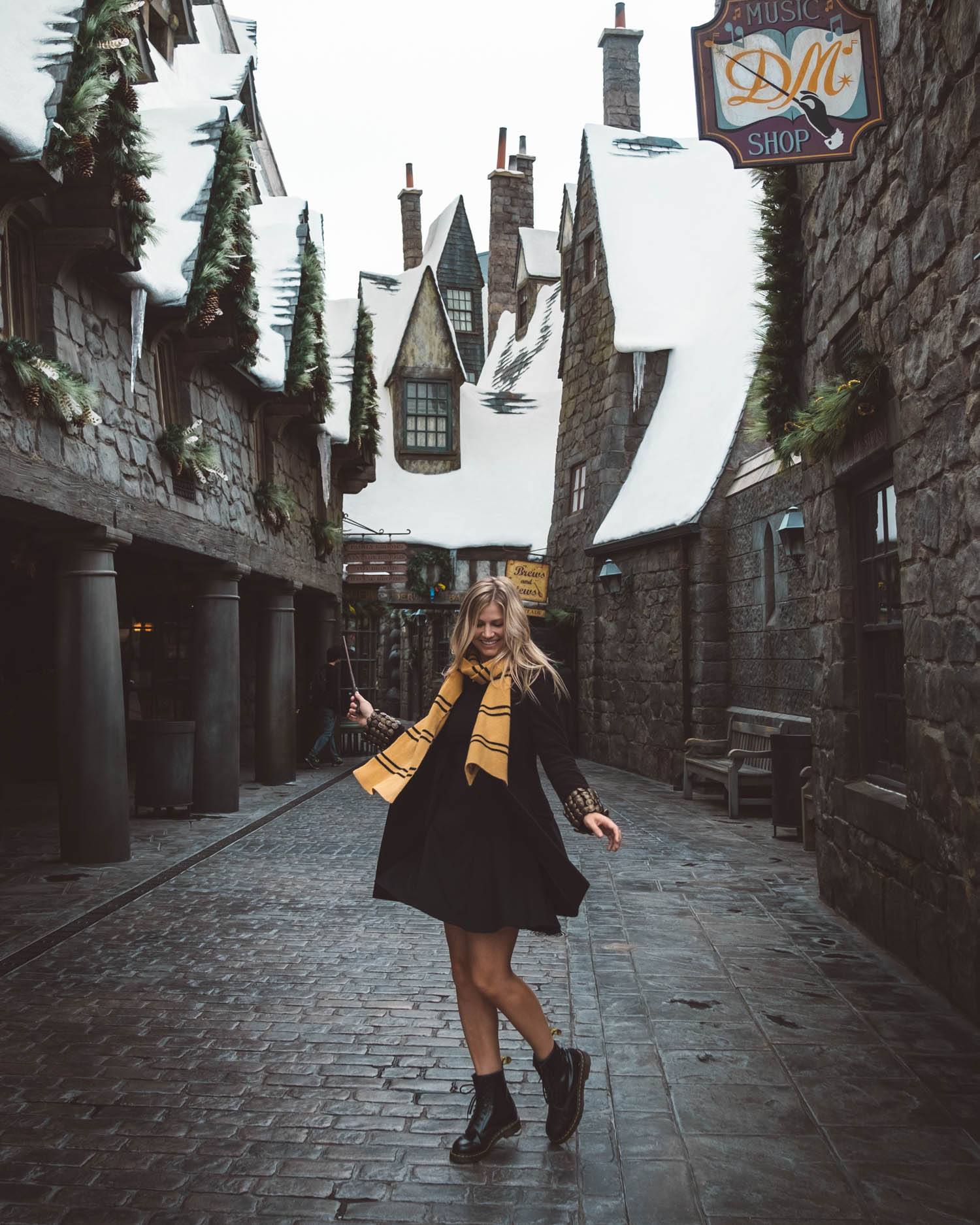 Tickets for Universal Studios Hollywood
The holidays are the best time of year to splurge on passes to amusement parks. With bigger crowds, waiting times are longer, and you won't have enough time to see and do everything.
I highly recommend buying the Express Pass. It lets you skip to the front of the line once per ride as well as for attractions and seated shows. We had Express Passes, and I was super impressed with how quickly you darted through the crowds!
Other great deals on tickets include the "Buy a Day, Get a Second Day Free" and VIP Experience. The VIP Experience includes a gourmet meal, unlimited express access to rides and shows, and a special VIP Studio Tour. Check for up to date pricing for Universal Studios Hollywood here!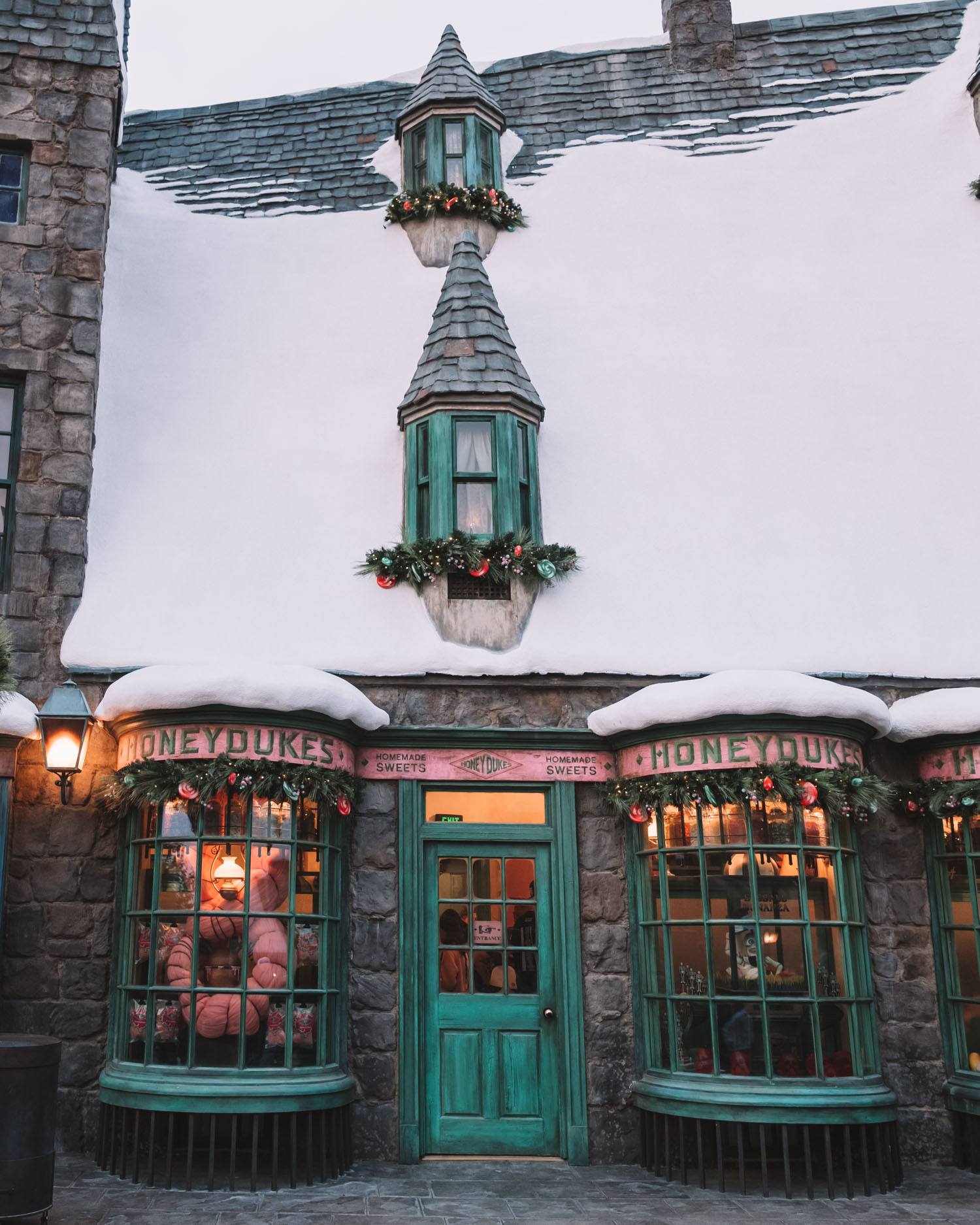 The Wizarding World of Harry Potter
Step into Harry Potter's magical world and pretend you really did receive your Hogwarts letter in the mail. Head to Hogsmeade Village and start your day at Ollivanders to pick out the wand of your dreams.
While the wands are a little pricey, they're more than just souvenirs!
You'll get a map to Hogsmeade Village labeling different magical spots. Find the brass spell markers on the ground, follow the instructions on how to wave your wand and, just like magic, you can activate all sorts of enchanted objects!
NOTE: For anyone wondering what the difference is between WWoHP Universal Hollywood and Orlando, Orlando has a bigger park. You'll find both Diagon Alley and Hogsmeade in Florida, while the California park is centered around Hogsmeade Village.
Once you're fully equipped for some magical mischief, head to one of the Harry Potter-themed rides.
If you love roller coasters, hop on board the Flight of the Hippogriff. You'll whiz past Hagrid's hut, and he will school you on the proper etiquette to approach this magical beast. It's a kid-friendly ride so even little ones can enjoy.
Next, head to Hogwarts for a one-of-a-kind ride, Harry Potter and the Forbidden Journey, that will take you past the Defense Against the Dark Arts classroom, the Gryffindor common room, the Room of Requirement and more!
Of course, don't forget to try some Butterbeer! You can try all three kinds (cold, frozen and hot) at Hog's Head.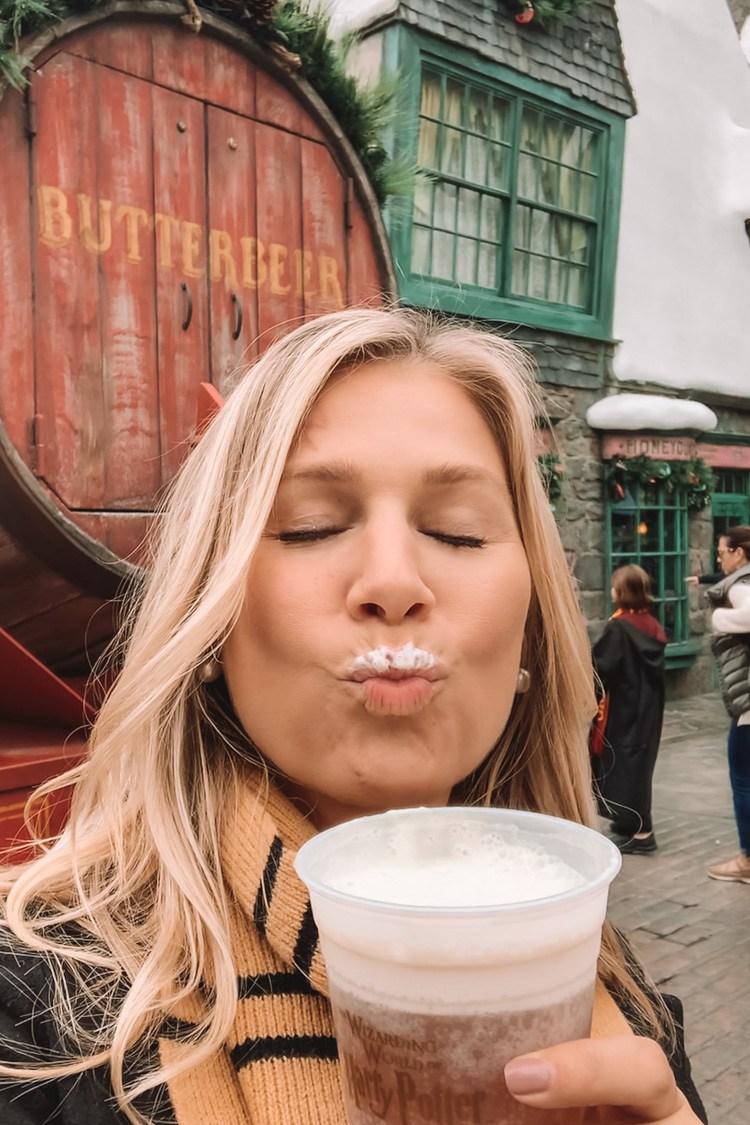 If you want something more substantial than a light snack, grab a meal at The Three Broomsticks. You can pick up delicious family-style platters.
There are tons of cool shops to explore and treats to try– so if you're into the magical world of Harry Potter, plan to spend a good amount of time in Hogsmeade!

The World Famous Studio Tour
The Studio Tour is one of Universal Studios top attractions. The hour-long tour will take you behind the scenes of Hollywood Blockbusters.
You'll get a crash course in set design, visit a working lot where filming is continuously happening, check-in at the Bates Motel, come face-to-face with King Kong and more!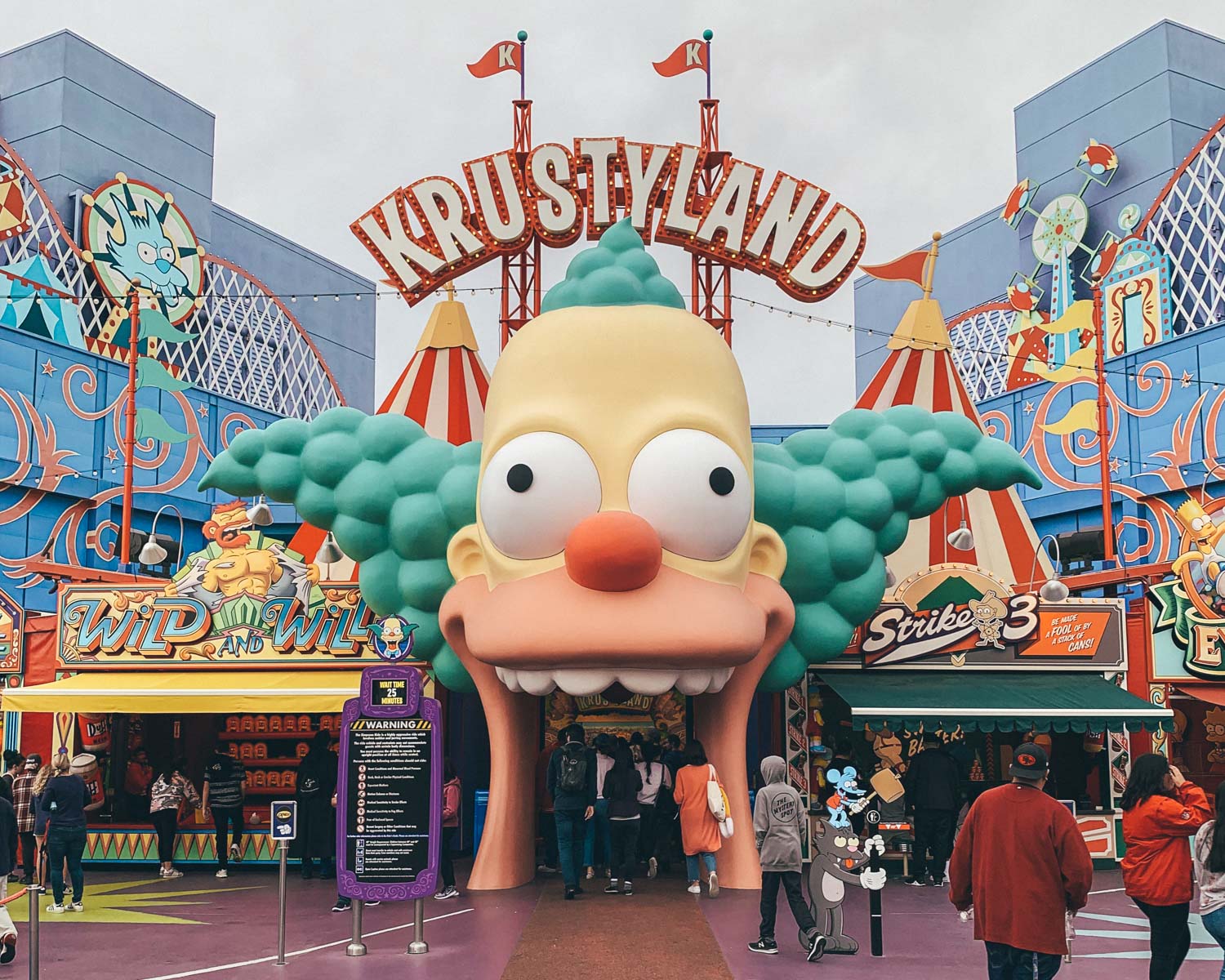 Other Rides and Attractions
My favorite rides at Universal Hollywood are Revenge of the Mummy and Transformers: The 3D Ride! They're super fun and will get your heart racing! For little ones, Super Silly Funland, (a play zone modeled after the theme park from Despicable Me), features lots of rides, carnival games, and even a Wet Zone.
While it was too cold to splash around on our visit, LA has plenty of hot days all winter long, so bring your little one's swimsuit just in case!

Wander Around Universal Studios
The decor around Universal Studios during the holidays is amazing. Even if you've only come to wander around, there is plenty to see. You'll find studio quality sets of Paris, New York and more!
The theme park takes Hollywood attention to detail to the next level!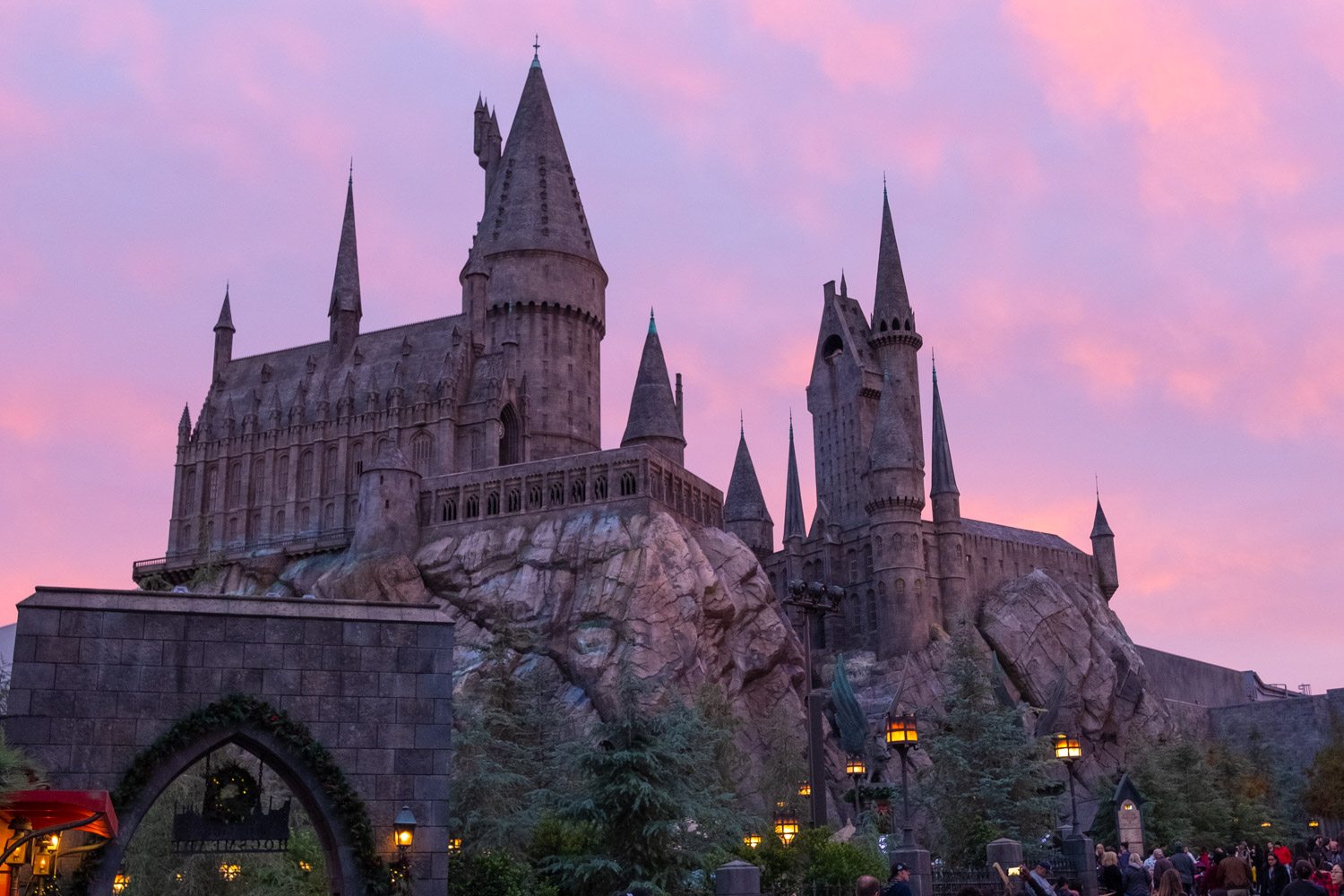 Overall
If you're in California over the holidays, visit Universal Studios Hollywood! It's a magical experience for the whole family and Potterheads will get to geek out hard.

Do you have any tips for visiting Universal Studios over the holidays? Drop me a comment down below!