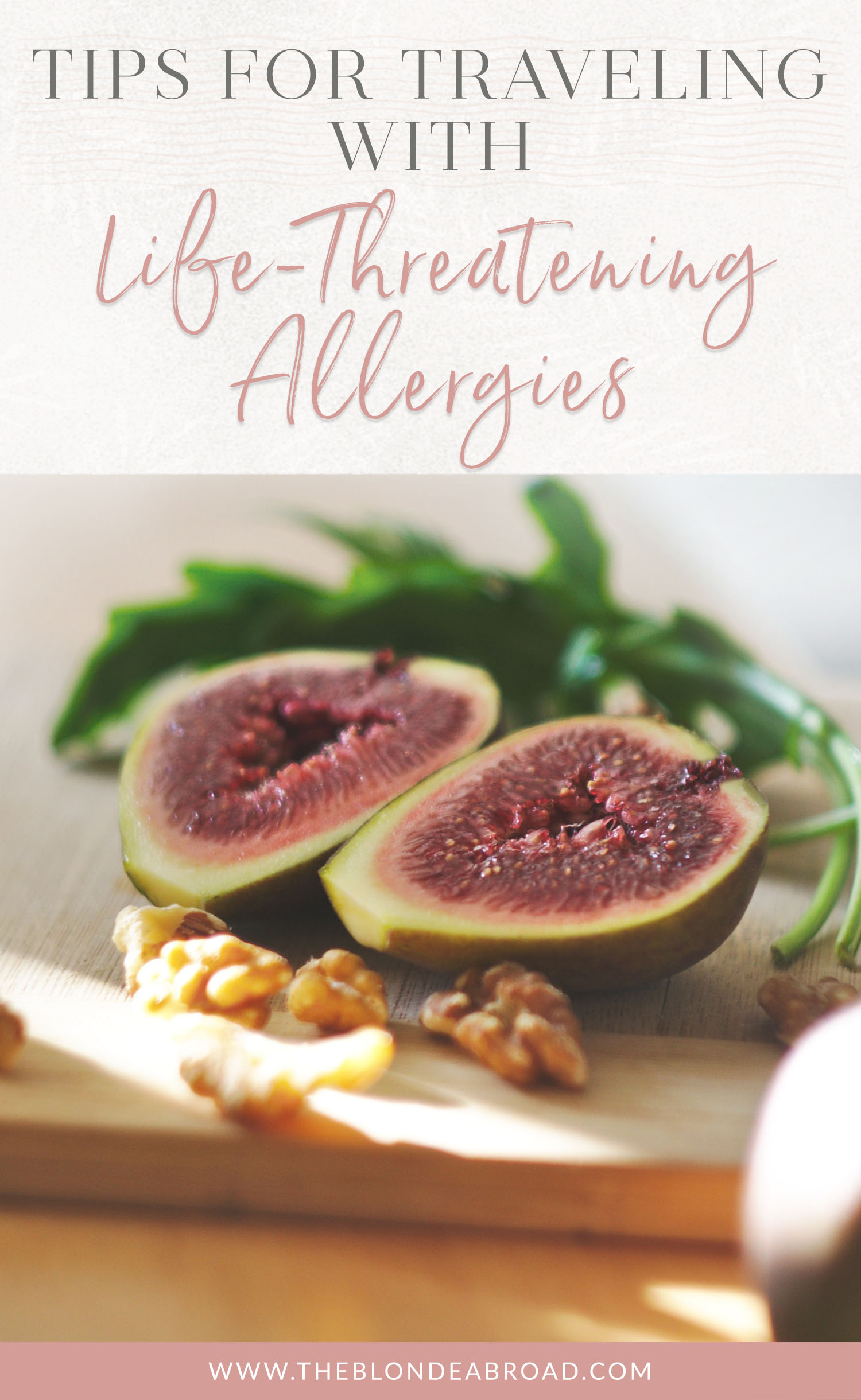 For most people, allergies are a slight inconvenience—when they bring on seasonal sniffles, induce an itch, or cause you to break out in a minor rash. For others though, allergies can be life-threatening.
A simple pack of peanuts on a plane can send someone with a peanut allergy into a serious allergic reaction, which is why it's so important for airlines to stop using peanuts as their go-to snack.
Allie of Miss Allergic Reactor is here today to share more about life-threatening allergies and tips on how to travel with them!


Meet Allie
What allergies do you have?
My severe food allergies include four of the top eight most common allergens which are peanuts, tree nuts, fish, and most shellfish. Other allergies include potatoes, some legumes, banana, kiwi, mango, and a few others. I also have environmental allergies.
My food allergies were first discovered when I was only ten months old!
What's your favorite food that you've had abroad?
I am always elated by any opportunity to experience true local flavors. I am definitely a foodie and love trying new foods when possible. I had empanadas for the first time when I was in Patagonia. It was a true highlight of my trip!
My best friend was with me and she did an excellent job researching restaurants ahead of our trip. It is a bit more challenging to try local dishes when I am traveling independently and know I am fully responsible for myself in an emergency situation.
Do you tend to travel solo or with a partner?
In recent years, I've done a lot more solo travel. I like traveling solo for the freedom of making decisions based on what I want to see and do, but I also enjoy a good travel buddy! When I am dating someone, I will often travel with him and have done so on some big trips abroad in the past.

Copenhagen, Denmark
My Experience Traveling with Allergies
When and where did you take your first international trip?
I went on a few island vacations and to Canada with my family, but my first big international trip was when I was 16. I spent the summer on a teen trip to Prague, Cyprus, and Israel. It was a life-changing summer and a catalyst for my desire to travel abroad.
My parents raised me to be very independent and make decisions for myself, but that summer certainly built my confidence. I was on a trip with adult counselors and other teens, however, it was my first time navigating my food allergies in a foreign country independently and making my own safety decisions.
It was my responsibility to ask all of the questions, communicate effectively and decide if a certain food was safe to eat. I knew I could travel safely in countries where I didn't speak the language and be resourceful after this trip. My love of travel only increased after that experience.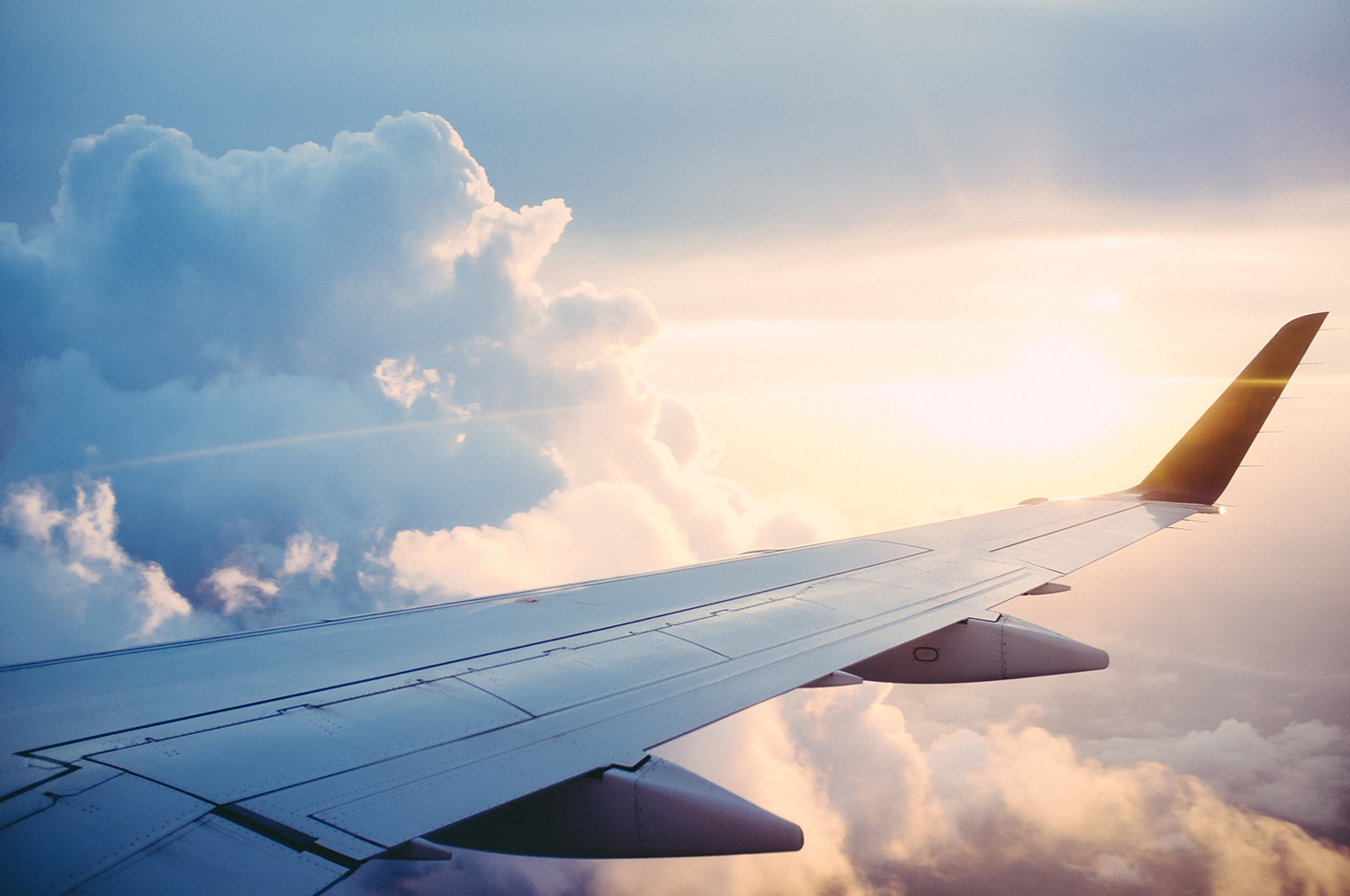 Have you ever had a scary experience traveling with allergies?
A few years ago, I was flying an airline that was known for passing out bags of peanuts to its customers. It was the only flight I could take and I knew this airline wouldn't serve them if I alerted them of my severe nut allergies. They did not serve peanuts on the flight, however, they probably had served them all day long since this was an evening flight.
I ended up with some pretty scary breathing issues and took my inhaler which thankfully relieved my symptoms.
I have asthma and allergen dust can trigger it. I don't know if it was peanut dust or if there was something else, however knowing I was in the air and far from medical attention was a scary experience.
Now I pack a mask in my travel bag. I've never had to use it however it is nice to know it is there. I believe in being proactive and taking control of everything that I can. I can't change other people or how they react, however, I can have control over what I say, do, eat, and touch. I try to remember that during any scary situations.
On a trip to Madrid, Spain, we went to an Italian restaurant and I used my chef card that explained my severe food allergies. I ordered a simple pasta dish and ended up finding a whole walnut!
I didn't think that I had consumed any of it, however, I took an antihistamine and went to the emergency room in case I had a reaction. I ended up being fine thankfully, but it wasn't a fun way to spend a night of vacation and could have ended a lot worse.

Traveling to New Destinations
Are you ever scared to travel to a new destination?
I'm not scared to travel to new destinations. Over time I've continued to gain greater confidence in my own abilities to handle uncertain situations and navigate them safely. I was always told to avoid Asia because of my nut and fish allergies, but I don't believe anywhere needs to be avoided with the right planning and research.
I just had a successful trip to Thailand and Vietnam a few months ago. Although my trip there was focused on different experiences rather than food, I was able to find ways to eat safely. I figure if I can get through that trip safely, I should feel pretty confident in my abilities to navigate other countries where my allergens are prevalent in the cuisine.
As someone traveling with food allergies, are there any experiences that are more typical for you than the average traveler?
Yes, I am a grocery store connoisseur! I've been to a grocery store in probably every country I've ever visited. If I have trouble finding restaurants that can safely accommodate my food allergies, I will make what I can find safety in the grocery store.
I often stay in apartments for this reason. It's easier to know that I have access to a refrigerator and stove in case I need to cook. By staying more often in apartments and by experiencing the local markets, I think I get a better feel for the culture and way of life than someone staying in a hotel and eating every meal out.
It's just a different way to travel and I've made it work for me!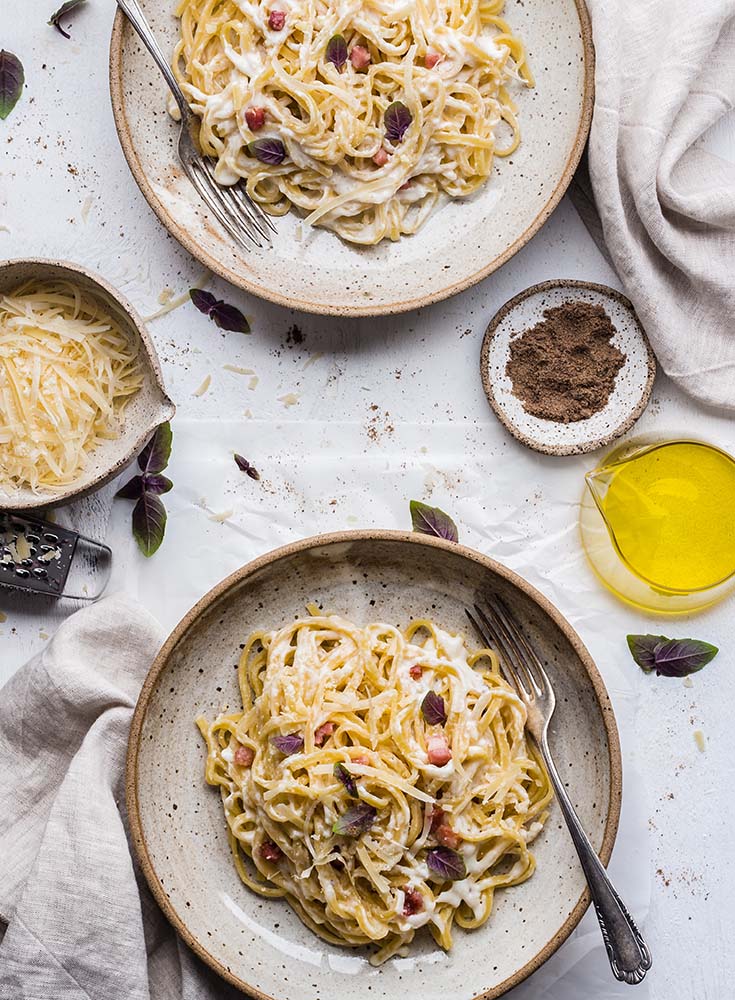 How to Prepare for a Trip
For countries that I have never traveled to, research is required. I look up the types of local cuisine, how medical facilities rate and what the emergency numbers are. If the country speaks a language that isn't English, I make sure to have "chef cards" translated into that language.
If food may be challenging there, I try to stick to a U.S. brand hotel or an Airbnb so that I can go to the grocery store and cook. I also pack lots of safe snacks that I can eat when I have trouble finding food.
Are there certain medications you bring?
Anyone with food allergies should always carry at least two epinephrine auto-injectors at all times. It is basically adrenaline that helps reverse the effects of a severe allergic reaction. It is not magic though and immediate emergency care is necessary.
I also carry an inhaler for my asthma and antihistamine. I bring copies of prescriptions, however, it is difficult to rely on locating medications around the world.

Communicating About Allergies
Do you find it difficult to communicate your allergies in foreign places?
Communication can definitely be challenging when traveling to countries where English is not the first language. Since it's essential for those of us with food allergies when dining out, I've learned to get creative.
I translate my allergens into the other languages and put photos of food with a red line through it to indicate those foods are not safe for me.
Technology has come far and smartphones are a game-changer. Instead of relying on a pocket dictionary for translation I can use the Google Translate camera to read through ingredients and menu items. It's amazing!
I do have to avoid even trace amounts of allergens, which means any kind of cross-contact or contamination is dangerous. This is the case for anyone with severe food allergies. It basically means that a chef needs to understand that clean utensils, pans, and surface space needs to be used to make our meals safe.
I know it can be more time-consuming and I am so appreciative of anyone who is willing to safely accommodate my food allergies.

Tips For Those with Allergies
What tips do you have for those traveling with allergies (life-threatening and not)?
There are many travel tips that I have for those with food allergies. A few of my favorite tips though are these:
Use a translated "chef card" and give the chef some safe ideas and suggestions
Having trouble finding a safe restaurant? Go to the store and make a picnic!
Focus on what you can control and try not to stress about the rest (like bringing snacks, wiping down your area on a plane, etc.)
Eat ahead, pack snacks and avoid dining at the airport where there are very limited safe options.
For more tips, head over to Allie's Instagram! 

Final  Thoughts
It's important for others to recognize that severe food allergies are not a choice. There is no cure for them and they are different from food intolerances. Typically, those of us who have grown up with severe food allergies often feel like an inconvenience because we can't eat just anything or anywhere.
Having empathy and making your friends with food allergies feel accepted is huge. This is not a dietary preference we chose and it is a life-threatening condition. That said, it does not mean those of us with food allergies should be prohibited from exploring the world and experiencing as much as possible.
We just have to plan by bringing snacks and be more flexible about what we eat. There are always ways to make travel safe with food allergies!