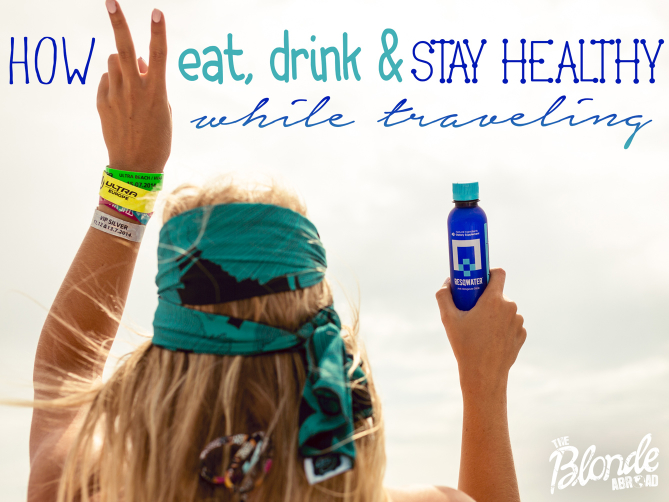 There is no doubt that one of the most difficult aspects of traveling regularly is that it can really take a toll on your body and mind, and staying fit and healthy while being on the road isn't always easy. However, it isn't as difficult to fit into your travel itinerary as you might think.
Here are ten great tips to stay healthy while traveling!

Choose A Routine To Suit You: The perfect trip can be different for every individual, so when it comes to eating habits and exercise, make sure you choose a routine that fits your trip and your own preferences on how to stay healthy.
Staying Hydrated: Whether you keep a handy reusable water bottle with you or pick up a water bottle as you travel, staying hydrated will not only help you feel better as you get on with your activities, but will keep your skin looking healthy too.
Walk Everywhere You Can: You don't have to head out on the trail to get a good day's walking in. Skip the metro and see the sights by foot! There are also plenty of walking sightseeing tours that can give you a great insight into the best attractions of many of the world's major cities.
Recover Quickly From Your Hangover: Some of us like to enjoy a few drinks while we're away from home, but a hangover the next day can lead to a whole day wasted. Pack some RESQWATER to have on hand so you can seize every day of your trip.
Adventure Sports Experiences: Taking on new challenges is a great part of traveling and being able to combine a good workout with a new experience is the ideal way to exercise and have fun on the road. Get your adrenaline going with mountain biking, white water rafting, skiing or other adventure sports!
Yoga: Yoga is a great way to stay fit, healthy and flexible, and to connect with the local community. Apps like Lululemon's Om Finder can help you search for a studio wherever you are in the world. You can also practice on your own for an easy way to stay healthy as you explore the world.
Public Gyms and Parks: If your favorite way to stay active is to hit the machines, then check for local gyms that offer guest passes or find a park with outdoor gym machines. Dropping in on a friendly soccer match or basketball game with the locals is also a great way to get in a workout and meet some new people.
Seeing The Sights While Staying Active: Some people think of a sightseeing tour as a few hours spent sitting on a bus, but there are plenty of tours that will provide a form of exercise, from the kayaking tours of San Diego to walking tours in Italy.
Eat Light And Often: Indulging in the tasty delicacies of a new destination can be very tempting, but it is usually best to eat small bites throughout the day to avoid overeating. This way, you'll never feel hungry and it will give you a chance to try a "little bit" of everything.
Running: The simplest form of exercise! All you have to do is remember to pack your running shoes and any destination can become your gymnasium, from jogging on the beaches of Rio to running through Central Park in New York.
How do you stay healthy when you travel?

In partnership with

"What to Drink When You Drink"