If there is anything that we learned in 2020, it's that you can't always predict the future. As you start thinking about COVID-era travel, keep a very open mind. Understand that restrictions are constantly in flux. Certain things might be closed and you've got to be adaptable.
I talked before about What the Future of Travel Will Look Like with COVID-19, and there's definitely a lot to unpack.
Before you commit to any destination, do your research. Check out App in the Air and visit the government or official tourism site for the destination. Every single location is different. They might require negative tests or require quarantining upon arrival. Know exactly what to go before you go.
Globally, there are borders opening and closing, and restrictions keep fluctuating.
From my personal experience, the rules and requirements are very confusing, so whether or not you're open to traveling right now, this post is meant to provide insight into what travel might look like for the foreseeable future.
If you are planning a trip, there are a few things to consider before you book. Here are tips for traveling with COVID-19 testing requirements!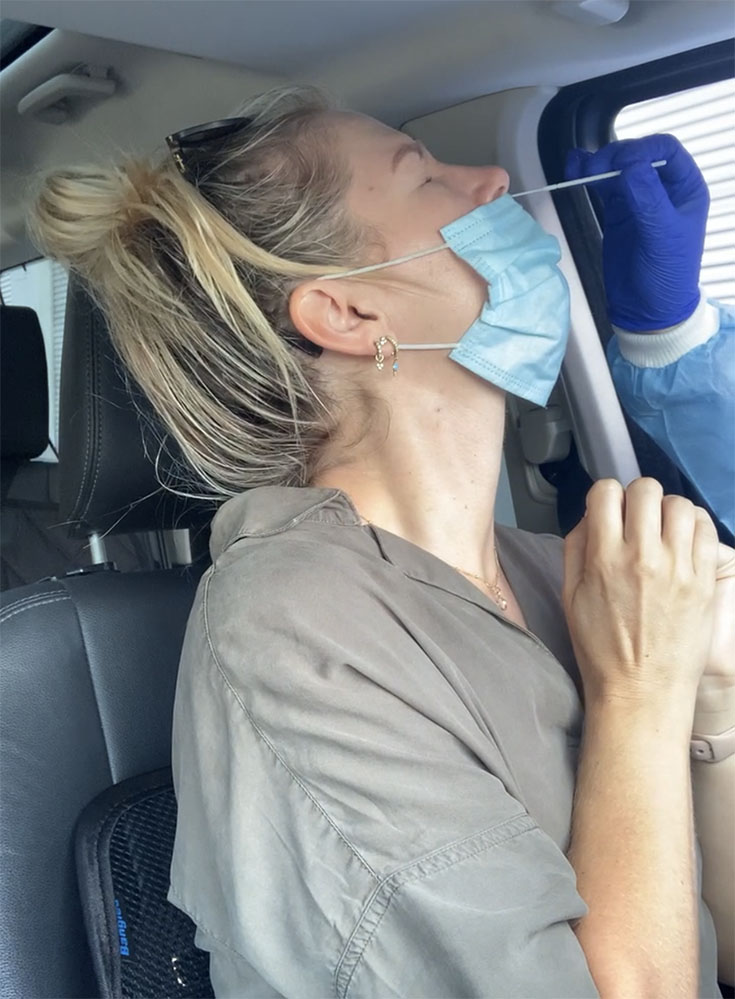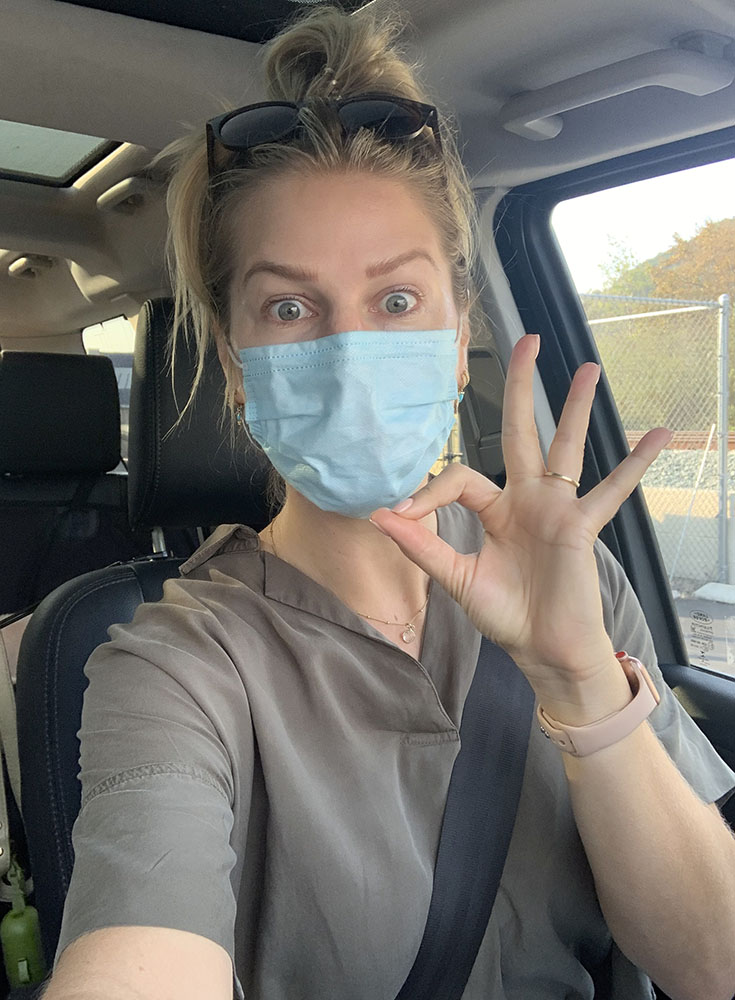 Getting the COVID Test for Travel
Mo'orea in French Polynesia was my first international trip since COVID came into the picture and it was a learning experience for me.
Like many places with borders "open," French Polynesia requires a negative COVID test to travel to the country.
However, not all tests are the same and it's VERY important that you read the exact requirements for the destination you're traveling to! I checked the entry requirements and got my hands on the complete list of test manufacturers French Polynesia accepts.
For countries and destinations that allow travel with a negative COVID test, there are usually explicit requirements stated on the government tourism website.
For example, French Polynesia requires a PCR test within 72 hours of travel AND only accepts PCR tests made by certain manufacturers. Other places accept rapid/antigen tests. And then others need something else…
Hawaii requires a NAAT or Nucleic Acid Amplification Test — which I learned is also an rt-PCR test, HOWEVER, Hawaii is only accepting tests from specific providers. Essentially this means I couldn't get a test done for Hawaii at the same place I went to for the approved French Polynesia one.
WHAT?
Don't panic! Here's a brief explanation of the differences:
Rapid Testing: Sometimes referred to as an Antigen Test. It can detect protein fragments specific to COVID-19 and give you test results in 15 minutes. However, these typically work better if you're already showing symptoms of COVID, and may not be as these are not always as accurate, so a lot of places don't accept these.
PCR Test: This tends to be the "gold standard" when it comes to testing and can be done in a clinic, at a doctor's office, or in your car—but it may take a day or up to three days to get your answer. This test detects the genetic material (or RNA) specific to the COVID virus and can detect it even if you're not showing symptoms.
For Mo'orea, I needed an rt-PCR test (not to be confused with the above Rapid Test, but rather a PCR test done in a rapid timeframe).
I then needed to find a testing center that would not only do a PCR test but get it done within the required timeframe.
Helpful Tip:
Different countries have different lists of test manufactures that they accept results from. If your results are from the wrong brand of test, they're no good. Avoid the airport meltdown and know before you go.

Choose Your Day to Fly Wisely
In my case, we needed to have a test done within 72 hours of flying. We booked our tickets for Tuesday…which created a challenge that I hadn't anticipated.
Most testing centers are closed during the weekend.
Wwe needed to find a place that could offer same-day test results and score a Monday appointment. We were lucky that we were able to make it work but I'd highly advise saving yourself the stress.
I'll be honest, I got really lucky that we were able to get the Monday appointment. I was definitely freaking out that we weren't going to get the test done in time.
Traveling between Wednesday to Friday will give you the easiest time frame for arranging your test. Test results can take days and there is always the possibility for unexpected delays so keep it as flexible as possible.
That said, be prepared for the possibility if you find out you're positive for COVID and can no longer travel.



What My Experience Was Like
Before I left for my trip, I went to Specialty Labs in San Diego. On their website, I was able to check the list of manufacturers and confirm that they provide results for traveling within less than 48 hours.
To avoid any surprises, I called them and read through all of the requirements from the French Polynesian government. By the time I was there for the test, I felt confident I had done my research.
This is one of those times where you want to triple-check that you are completely clear on everything. 
Remember how I said above that different places require different things? The lab that did my testing for Mo'orea couldn't do a test for Hawaii.
Do your research and carefully review everything with the clinic.
The test itself was around $150. I've heard in some places it can cost around $400. I think it really depends on the availability, what certifications you need, and possibly if you need a rush processing.
The most stressful part of this whole thing was finding a place that does the non-rapid PCR testing within 24-48 hours.
Side Note:
Carefully research your clinic too. Since it's a voluntary test at the minute, you're working with a third-party private medical/lab center and simply trusting that they are legit. I had a good experience with Specialty Labs but you will need to find the best option in your area.
As far as the test, I can confirm that it's weird. They jam a wand-like swab up your nose and circle it around. You all of a sudden start to tear up and need to sneeze at the same time.
Uncomfortable, yes, but not painful.
When it's all said and done, you need a printed copy of your results. Depending on where you are going, you might need to get tested again upon your arrival.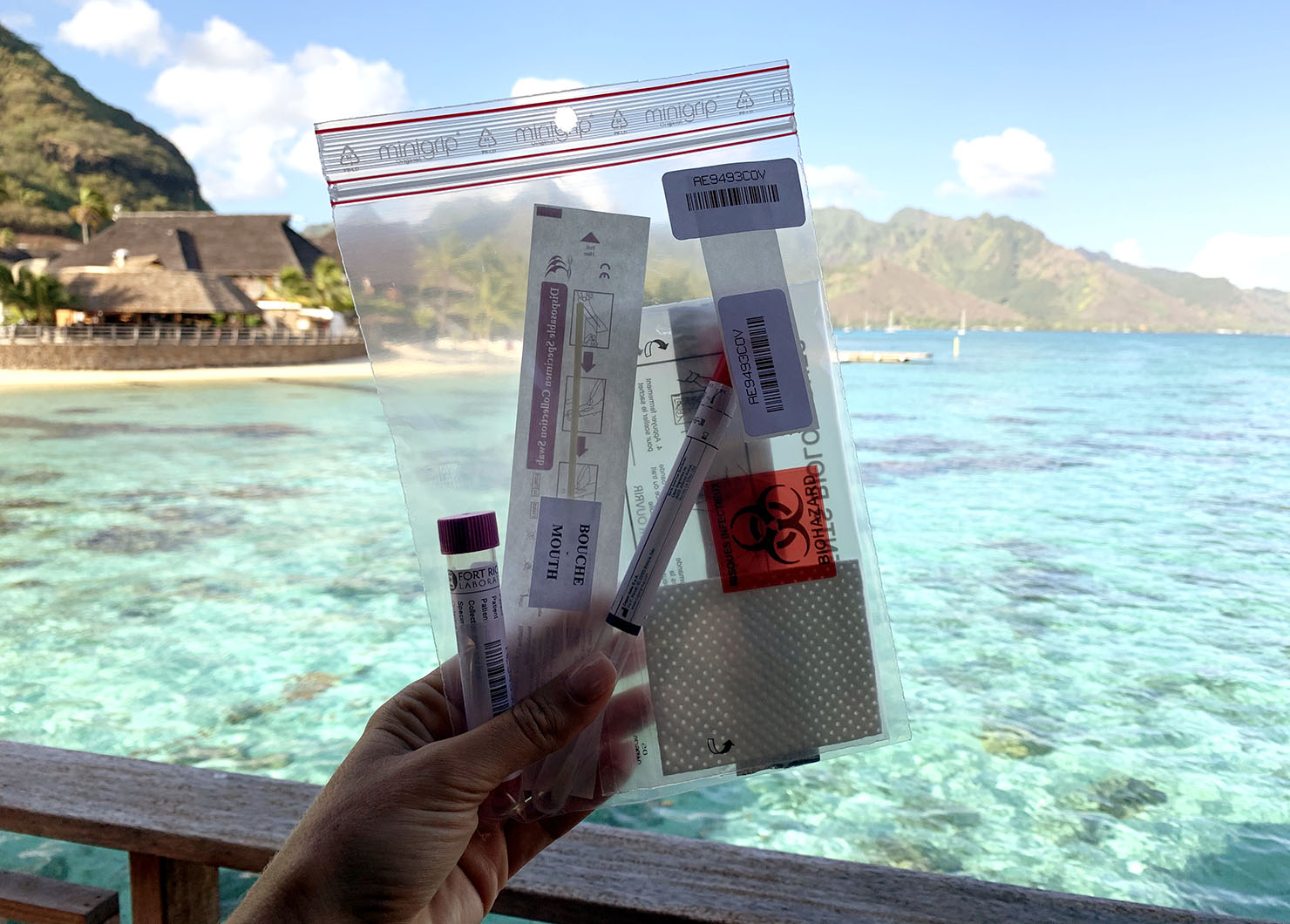 Traveling with a Negative COVID Test
In French Polynesia, I was given a testing kit on arrival and instructed to do the self-testing kit on day four of my trip. The hotel where I was staying already had a procedure in place for collecting the kit so it was straightforward.
Tip: If you are staying in an Airbnb or other self-catering option, there are a range of drop off points where you can take your test. Just let the staff know at the airport. Keeping It In Perspective
As complicated, stressful, and expensive as the testing process is, it's a sobering reminder of the privilege of travel. Being married to a South African has completely opened my eyes to how easy my American passport has made travel for me.
I can literally count on one hand the number of times that I've had to do any serious planning before arriving in a country. For a lot of people, however, jumping through the kinds of hoops is the norm.
Traveling to Europe as a South African means planning two months in advance and paying for all of your bookings (yep, you're paying for those bookings whether your visa is approved or not). On top of that, you've got to pay $200 for a visa and attend an in-person interview.
So, keep things in perspective. While this process might feel overwhelming, we are truly privileged to travel.



Travel Insurance
I always recommend World Nomads when it comes to travel insurance and they're one of the few travel insurance companies that provide some COVID coverage. Be mindful that it doesn't cover the fear of traveling to a place or you want to change your trip because you're worried.
It does cover if you can't go on a trip because you contracted COVID before your trip or during.
Here's what their site says:
"World Nomads travel Protection Plan purchased by U.S. residents may provide coverage for specified benefits if you test positive for the COVID-19 virus.
These benefits may include emergency medical, emergency medical evacuation, trip delay and trip interruption coverage if you contract COVID-19 while traveling.
You may also be eligible for trip cancellation coverage for pre-paid non-refundable travel expenses such as flights, hotels and excursions covered by your Travel Protection Plan as part of your covered trip, if after you purchase your Travel Protection Plan, your doctor advises you that you are unfit to travel on your scheduled departure date due to being diagnosed with COVID-19."
Heads Up:
Mo'orea requires you have proof of travel insurance. Other countries may also require travel insurance — make sure to check to see if there's specific insurance they require before purchasing World Nomads.

TBA  Takeaways
So, before you go, here's a quick overview of what to expect:
Tests average 150 dollars, though you can find them anywhere from 60 to 400, depending on a range of factors
You've got to know the exact specifics of the requirements (the type of test, manufacturer)
Be aware of the timeframe for travel after your test
Keep in mind that you might have to be tested or quarantine upon arrival
Some places require travel insurance