While you won't be traveling in the next month or two, that doesn't mean you should stop the travel inspiration from coming! When you begin to plan a trip and map out what you're going to see it do, it keeps you positive. Having something to look forward to is a great way to fight off the blues.
As Samantha Brown, travel TV host, said, "Travel comes back. A little fact I love is that simply the act of PLANNING travel puts us in the same psychological happy place as BEING in a destination."
You might not be able to book that flight now, but you can lay the groundwork for where you want to go, where you want to stay, and all sorts of things. Take time to read reviews of restaurants and sites—plan your dream trip!
Here are tips for curing wanderlust during the COVID-19 isolation!


Use Pinterest  to Dream
Create a dream board!
Pinterest is one of my go-to sites to get inspired. It has everything from outfits to photos to experiences.
Think of it as your virtual dream board, just like the ones you used to make out of cut up magazines! Plan your dream trip using the site. Where you want to stay, the outfits you're going to wear, the pictures you're going to take—all of it.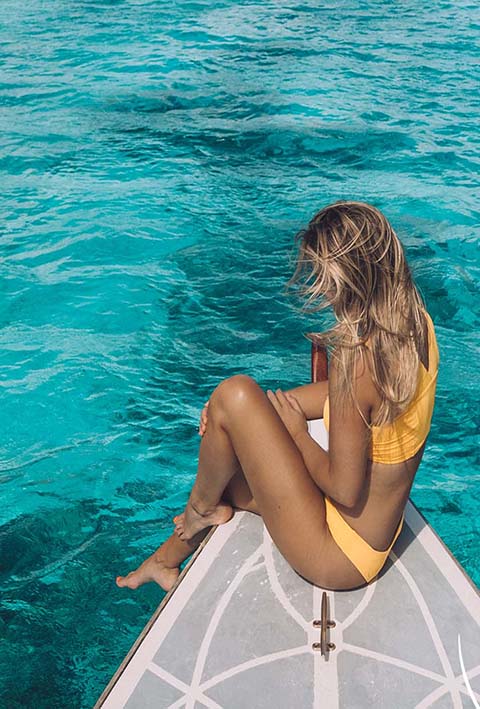 Plan Ahead
What kind of trip do you want to take in the future?
There are so many different types of vacations. Think about what is going to curb that wanderlust you're feeling right now. Is it going to be a tropical holiday on one of the islands of Hawaii? Or maybe you want to go on a safari in Africa! Or maybe you want to get your scuba diving certification and head to Australia!
Maybe it's something even smaller, like a destination that you just haven't been to before. The options are endless.
This is also a great time to buckle down and save money for your future travels since we're not out social spending. Explore Flight Paths
Use Skyscanner to see possible routes to anywhere in the world. While you may not be traveling right this second, it's fun to see what's out there and possible flights you can take in the future.
Think of it as "window shopping" for your future vacation!

Go on (an Online) Museum Tour
Because many museums have closed down, so many of them are offering virtual tours!
In fact, Google has teamed up with over 2,500 museums and galleries to bring you online exhibits. From the British Museum in London to the Guggenheim Museum in New York to the Musée d'Orsay in Paris—you can find it all on Google Arts & Culture.
You can also take to the internet and streaming platforms to watch history documentaries and informational shows like Planet Earth.

Do Something with Your Travel Photos
If you're anything like me, you have a ton of travel photos just sitting on your computer or your phone, waiting to be printed. Yet they never actually get printed.
Now is the time to get those printed and used for something creative.
Whether it be a scrapbook of a trip, a travel journal, hanging them on your wall, or creating a cool display for your room—get creative! There's something special about looking back on photos of past trips and walking down memory lane.
Consider going back through your photos and making that album or just getting the prints you've always said you wanted! Plus you can use code 'BLONDEABROAD15' for 15% off photo books and more! 

Overall
How are you curing wanderlust from the comfort of your home? Let me know in the comments below!
Looking for more? Here are my tips for managing stress during COVID-19 isolation!