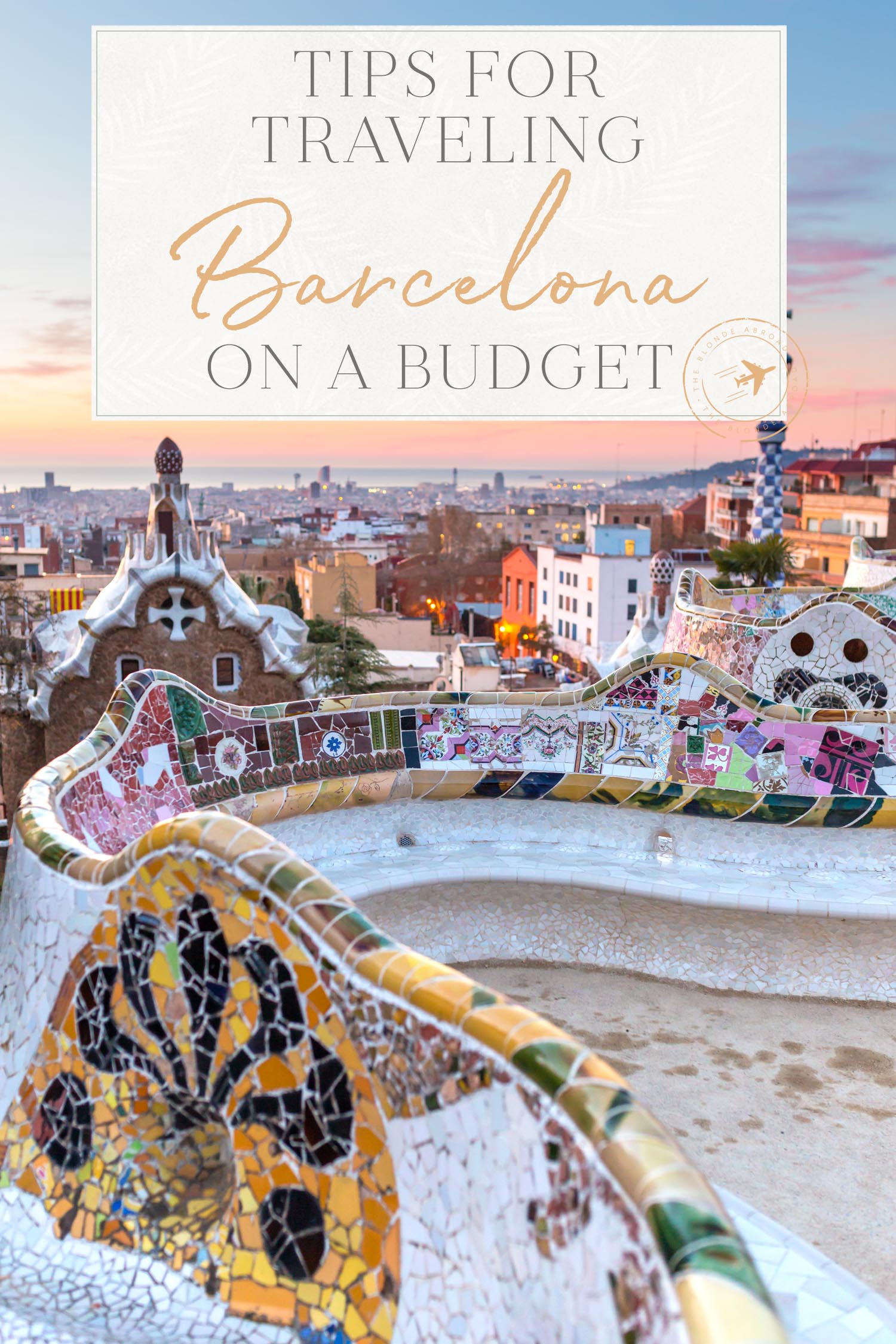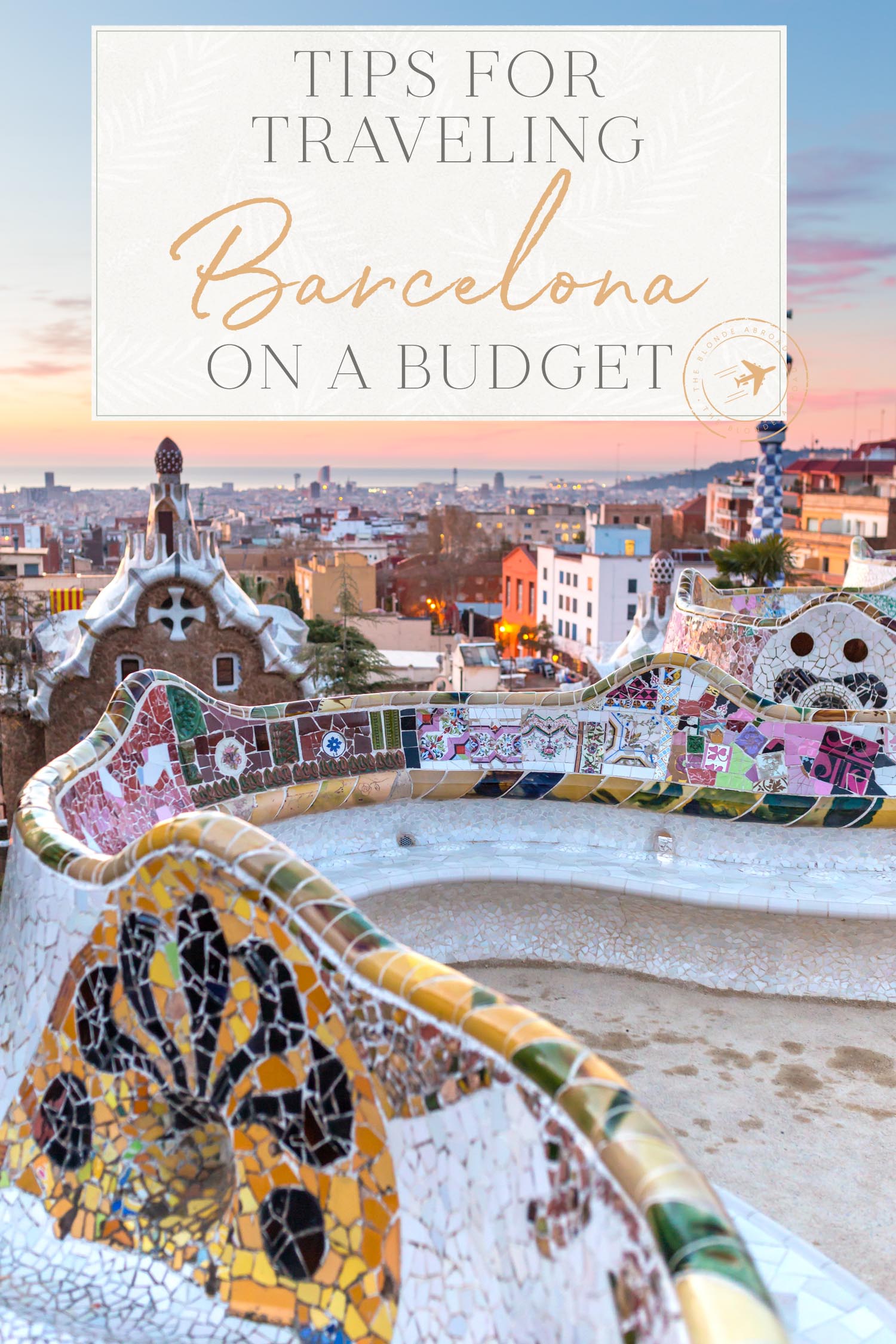 One of the most vibrant cities of Europe, the Catalan capital is amongst the Mediterranean's best destinations—and everybody knows it! Barcelona has become a tourist hotspot in recent years.
While it's still a city well worth visiting, you've got to plan ahead to avoid the tourist traps and keep on a budget.
Fortunately, like many of the cities in Southern Europe, Barcelona is relatively affordable. If you're coming from a major American city, you'll find that the prices that locals pay in Barcelona can be quite a bit lower. You've just got to know where to find those local deals!
Here are a few essential tips for traveling Barcelona on a budget.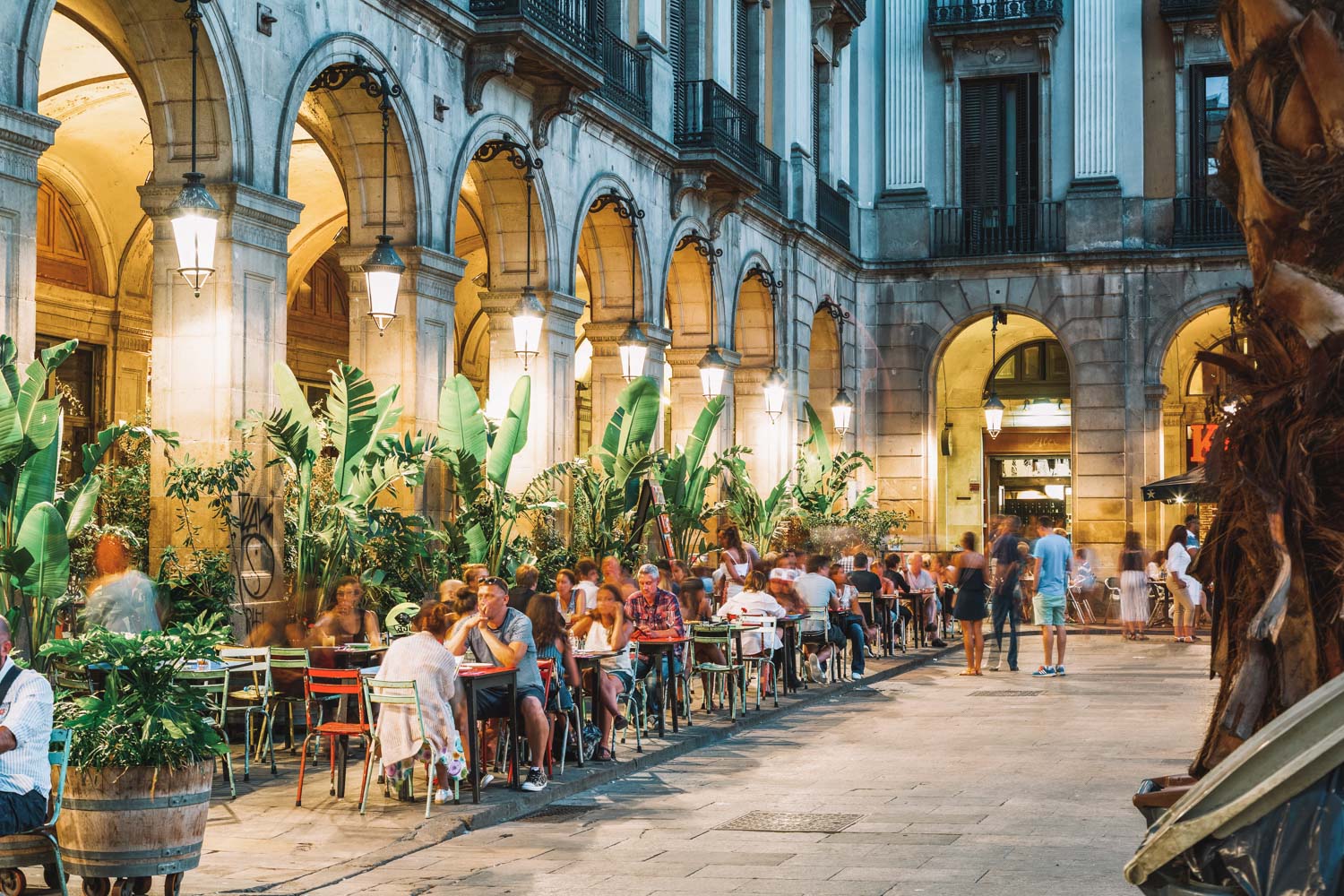 Placa Reial (Royal Square), Barcelona
Where to Stay
First off, forget about La Rambla! While this popular pedestrian street is worth a stroll, it's not a good place to stay or eat. It's overly crowded, expensive, and generally a bit generic.
Likewise, the Gothic Quarter comes at a major premium. While you can find a few bargains in these central spots, they are few and far between. Luckily, there's no need to stay in the absolute center of the city. Barcelona has an extensive public transport network so it's easy to get around from pretty much anywhere in the city.
Here are a few affordable places to stay in Barcelona that I love:
Hostel One Sants
If you're looking for a place to meet other travels, go for Hostel One Sants. They have an impressive range of activities, including bar crawls and a FREE dinner every night of the week. It's less than a 15-minute walk to the Sants metro station, which gives easy access to the airport and everywhere else around the city.
Hotel Curious
One place in the center of the city that actually offers a great price is Hotel Curious. This affordable little spot is two minutes off La Rambla and will have you at Mercado de La Boqueria in five minutes. With free breakfast, clean and comfy rooms, and friendly staff, it's an easy winner.
Jam Hostel Barcelona
Another area I love is the bohemian Gràcia neighborhood. For a relaxing space, go for the Jam Hostel Barcelona. They offer a choice of private and dorm rooms, morning yoga, and are only a 15-minute walk from La Sagrada Familia, Park Güell and Paseo de Gràcia.
Sant Jordi Gràcia
Another good space in Gràcia is the modern and cool Sant Jordi Gràcia. The place is spotless and air-conditioned (an important thing to look for in Spain in the summer!). There are tons of common spaces to spread out and meet other people so it's another good pick for solo travelers.
Safestay Barcelona Gothic
Just beside the Gothic neighborhood, you'll find the trendy El Born area. In the heart of it all and not far from the beach, this is a good base. The Safestay Barcelona Gothic here gives you a good bang for your buck with the massive roof terrace and cozy living room.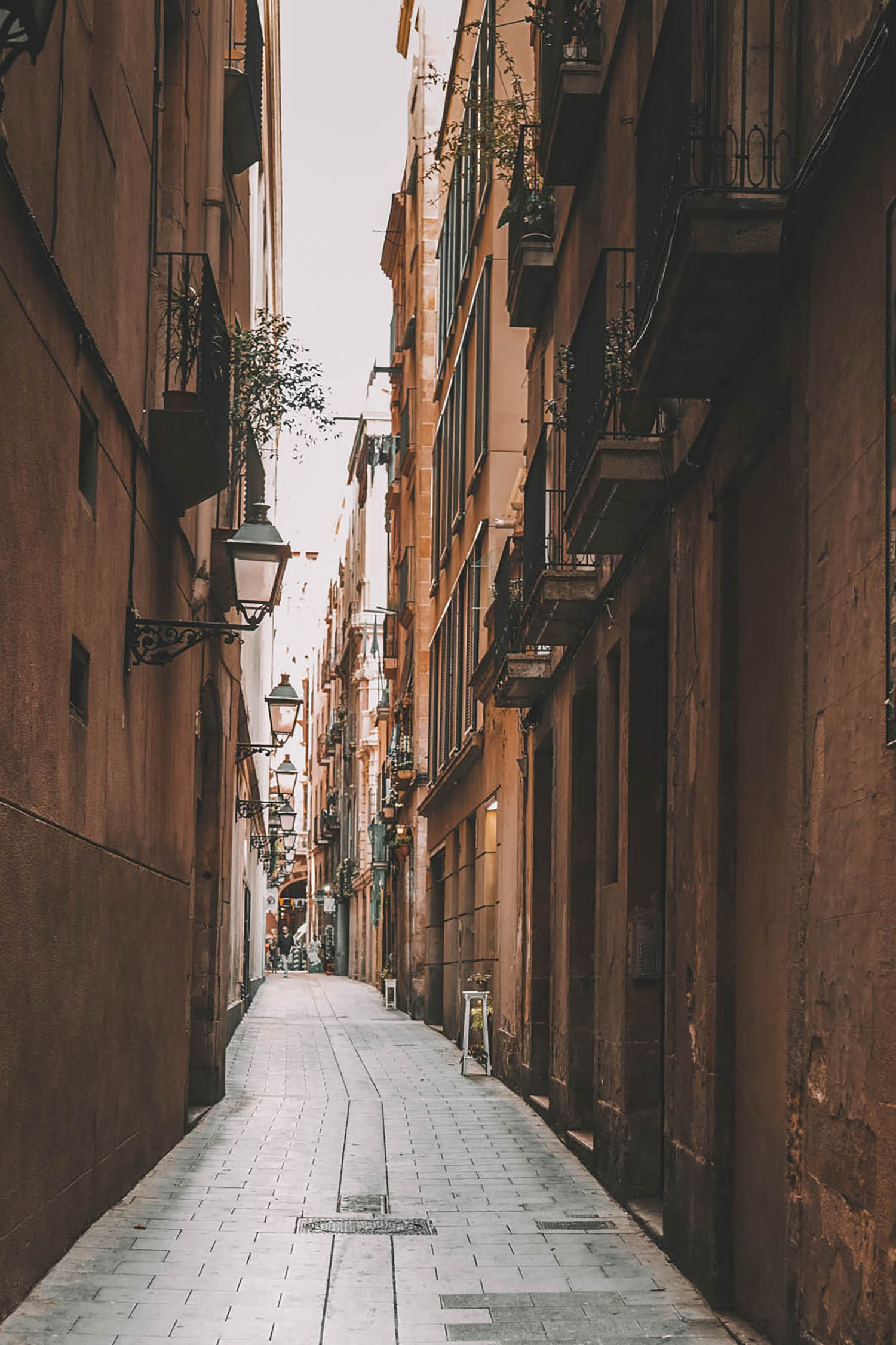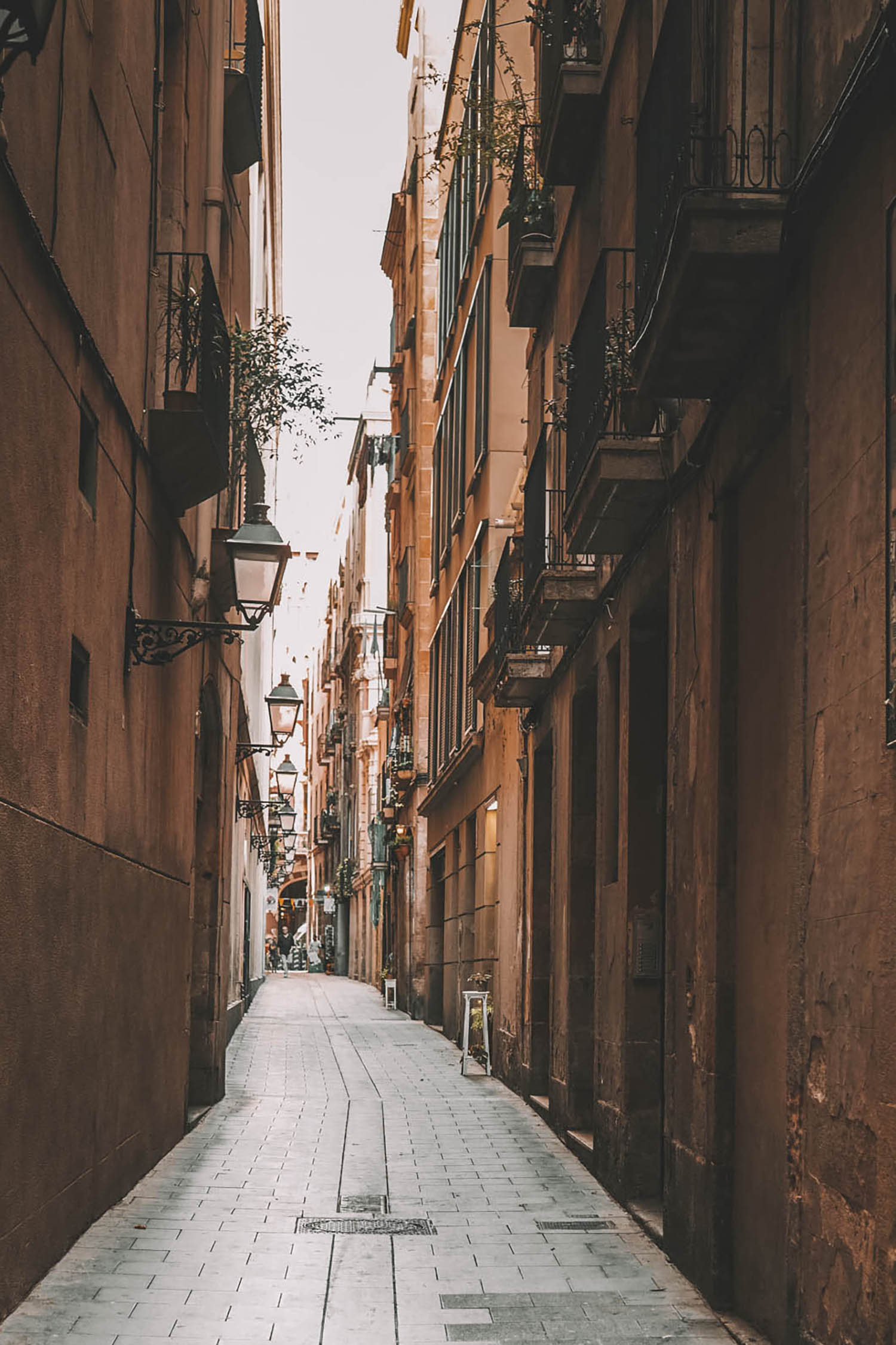 Visit During the Shoulder Season
Europe is jam-packed with travelers in the summer. Particularly in July and August, the crowds in Barcelona are huge and the prices are sky-high. While a lot of travelers come to Barcelona in the summer to enjoy the fab weather, you can get good weather throughout much of the year.
Just be aware that winter does get cold. During the coldest months, nights drop to a chilly 7 degrees C (44 degrees F).
Being on the coast, Barcelona also sees its share of heavy downpours. Since the city is so focused on the outdoors (hello, sun-soaked plazas!), it is best to enjoy it during the warmer times of the year. Starting in April, afternoons get up to 20 degrees C (68 degrees F) and they stay there until well into October.
To maximize the weather while minimizing prices and crowds, opt for the couple of months on either side of summer. You'll save some serious cash and have a better time across the board.

Public Transportation
An Hola Barcelona Travel Card is the solution for getting around. It entitles you to unlimited travel across the city's metro and bus network, as well as the RENFE suburban trains network.
You can get these cards for 48, 72, 96 or 120 hours, and they'll give you the freedom of the city.
You can use this card to get to the airport even. It's a major cost-cutter over buying individual cards or taking airport taxis.

Barcelona Tourist Card
If it's your first time visiting Barcelona, I'd highly recommend checking out the Barcelona Tourist Card. You can free unlimited public transit (including airport trips) and entry into museums.
It'll give you discounts on tours, shopping, and restaurants, along with the coveted ability to jump to the front of the line.
Note: The standard tickets don't include La Sagrada Familia, Park Güell, or other Gaudí attractions, but you can add-on separate tickets to save some cash.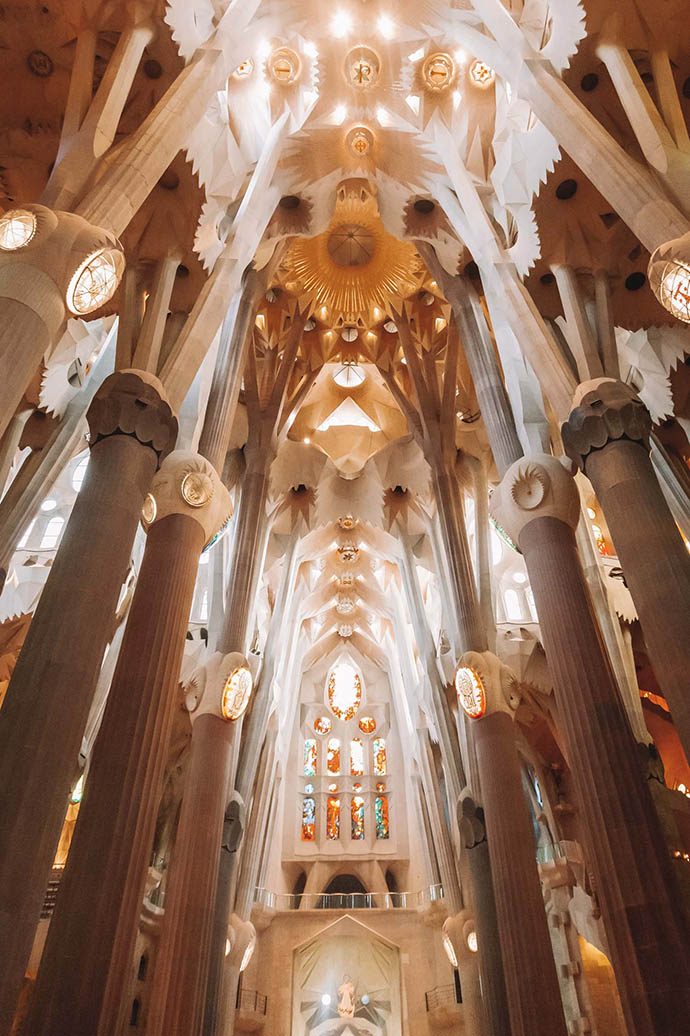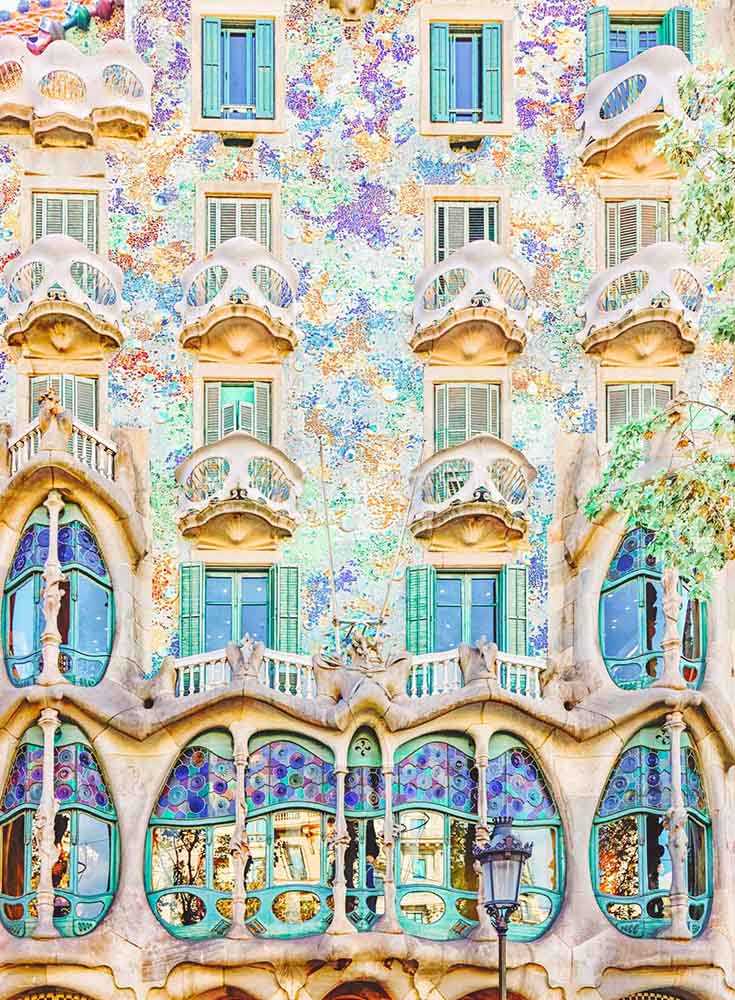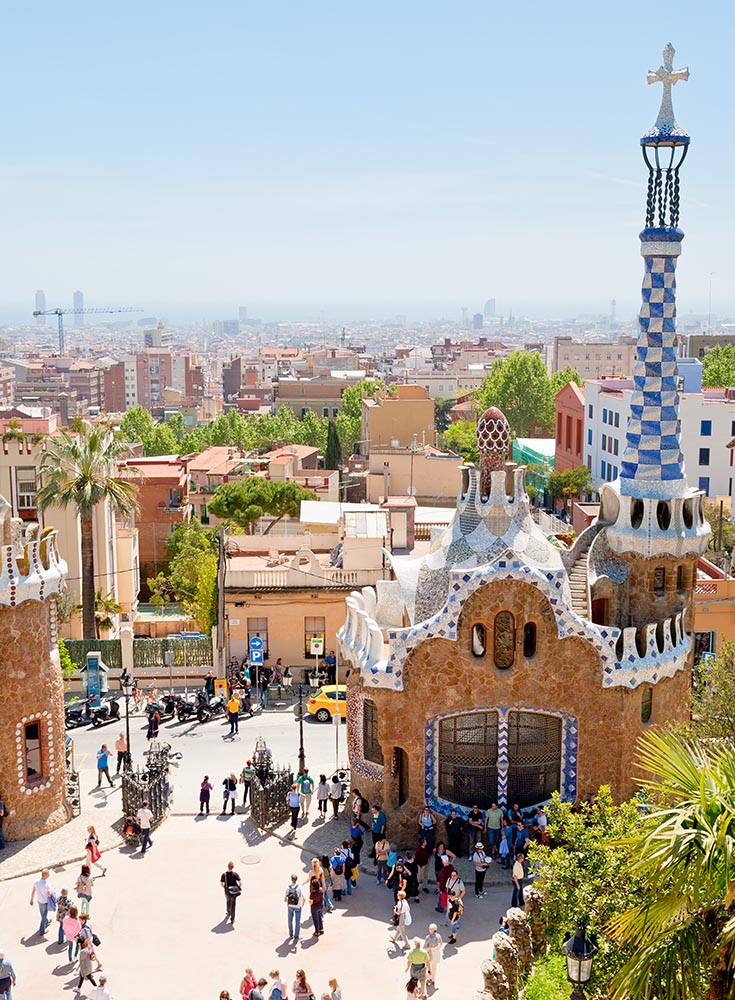 Gaudi for Less
Barcelona is all about Gaudí! While his attractions are impressive, most of them come at a price. If you just want to check out what all of the buzz is about but don't want to invest too much time or cash, you can just have a walk by.
Places like Sagrada Familia, Casa Batlló, and Parc Güell are picture-perfect from the exterior. And, honestly, if you're not really into architecture, this is a good way to just have a look then move on.
If you do opt to go inside, I'd suggest buying your tickets online!
You'll get a discount for Sagrada Familia, Casa Batlló, and Parc Güell while saving a lot of time waiting at the ticket counter and potentially facing sold out tickets.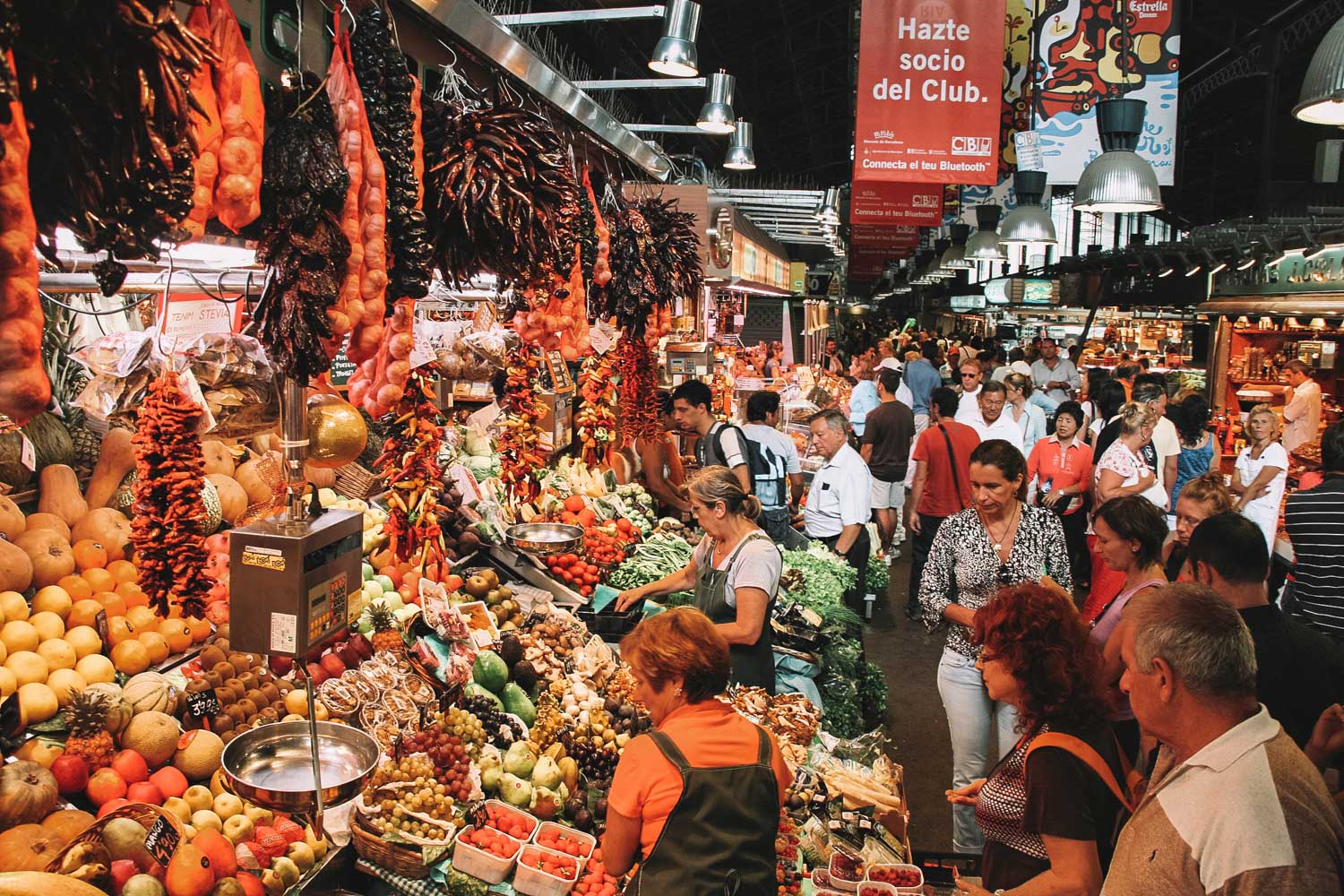 Mercado de La Boqueria
Take Advantage of the Free Things
There are so many amazing things in Barcelona that are 100% gratis!
Museums
If you're there on a Sunday, hit the museums. All-day on the first Sunday of each month, and every Sunday between 3-8 pm, the majority of the city-operated museums are free.
La Boqueria
Wander through the Mercado de La Boqueria and snap pictures for free. It's the perfect place to find inexpensive local veg, fruits, cheese, and ready-made snacks to pack for a picnic. Once you are all stocked up, head over to one of the stunning local parks.
Parks
Parks like Ciutadella, Cervantes, and Palau Reial are must-visits. Walk down the beach then make your way up through the Gothic Quarter. You can wander through Parc Güell for free (it's just the monument zone that's paid).
Free Walking Tour
I always love a free walking tour and Barcelona has one of the best! There are tons of them all day and night. Led by a local, you will get an insider view of the city and see all of the best spots. While tips are typically given at the end, it's a smart way to ensure you're only paying for the quality of experience you feel you've had.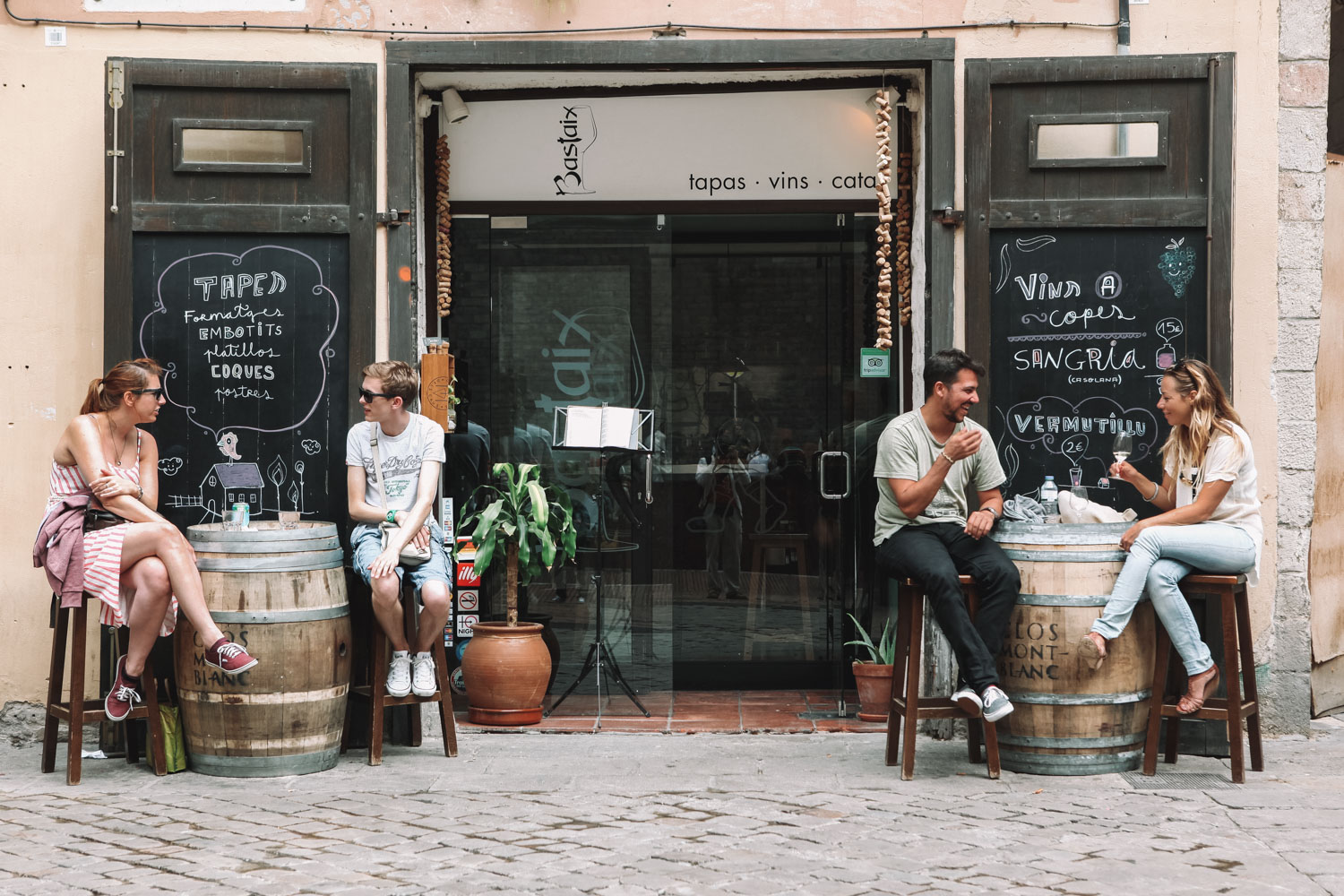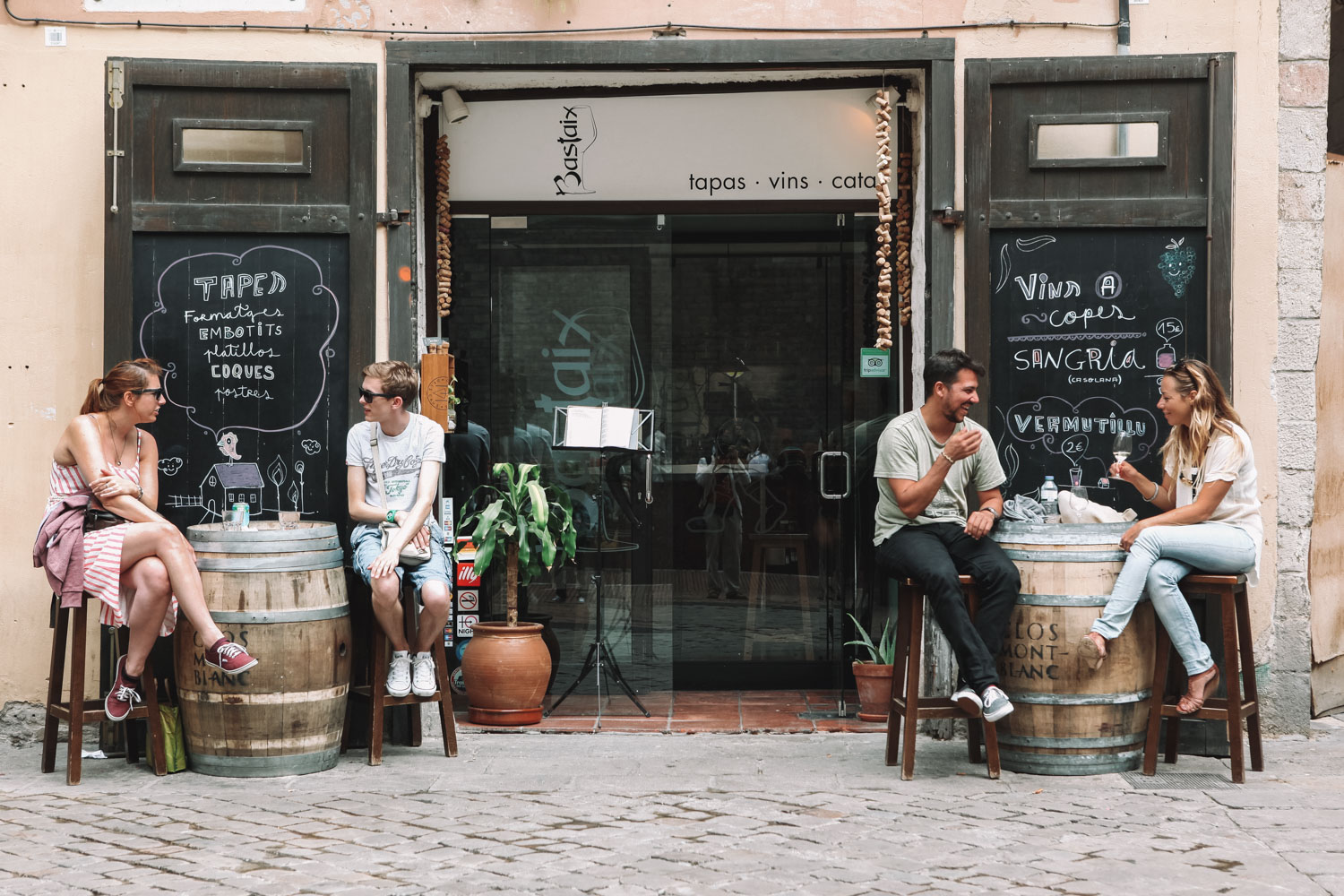 Cheap Eats
Restaurants
Spain has some of the greatest food on the planet—you've just got to know where to look! Mercado de La Boqueria is one of the top spots to grab a bit on the go. I'd highly recommend getting over to Mercat de Santa Caterina or Mercat de Sant Antoni as well to shop like a local.
Tip: Some of the stalls are cash only or have a surcharge for using cards. Be sure to arrive with at least a few euros in your pocket.
Generally speaking, you don't have to look far to find a great place to see. Just avoid La Rambla, where almost all the food is overpriced and disappointing.
When you go for lunch, check for the menu del dia. Every day from 1 to 4 pm, you'll find deals from 10-14 euros. And we're not talking about a light lunch here!
Lunch is traditionally the biggest meal of the day in Spain so you are probably looking at a three-course meal with wine.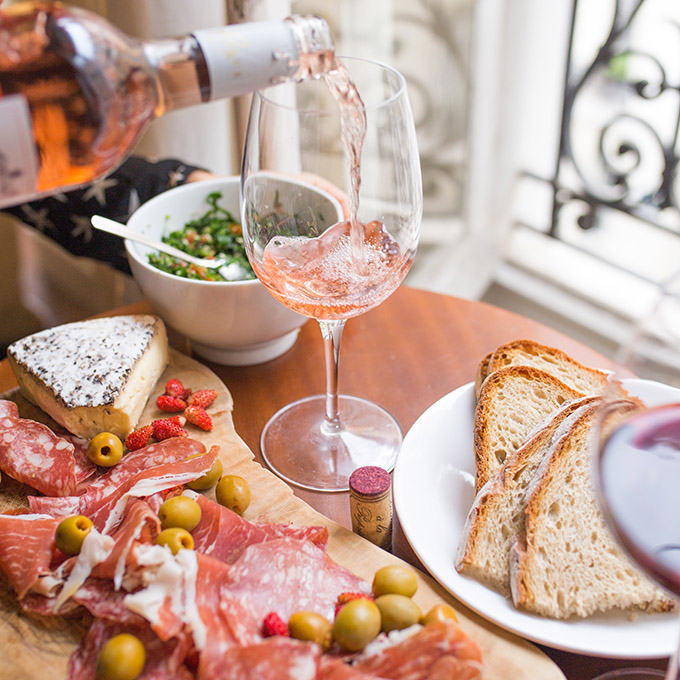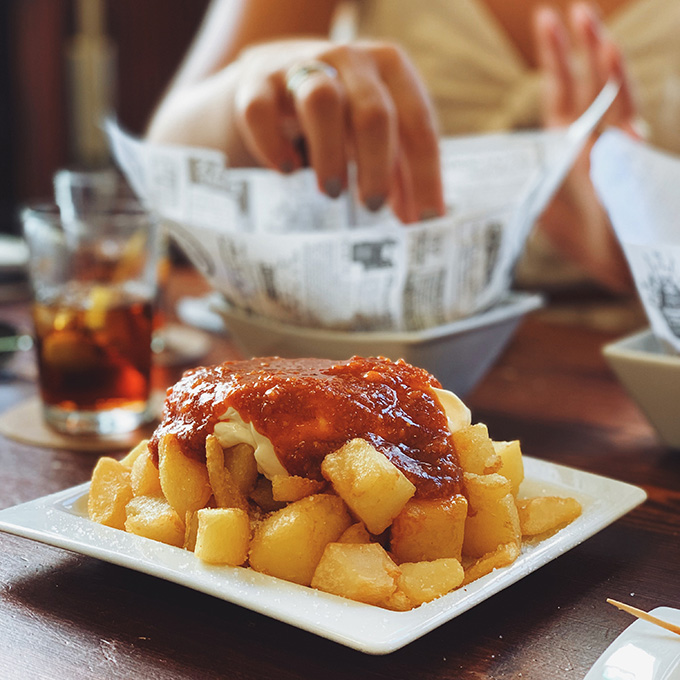 10 Tapas to Try
Order Up!
Spanish Food
As you explore the city, you'll find tapas on every corner. Generally, Spanish people see these as a between-meal snack, but you can order two or three to make a meal out of it. They're generally affordable but you'll find some extravagant options.
Another must-try is pinchos. While tapas tend to come in small dishes, pinchos (or you'll often see it as "pintxo") are served on a stick. The Basque answer to tapas, these are typically just a bite or two.
For the ultimate pincho experience, head to Blai Street in Poble Sec. You can do a slow pub crawl and sample a new pincho or two in each spot.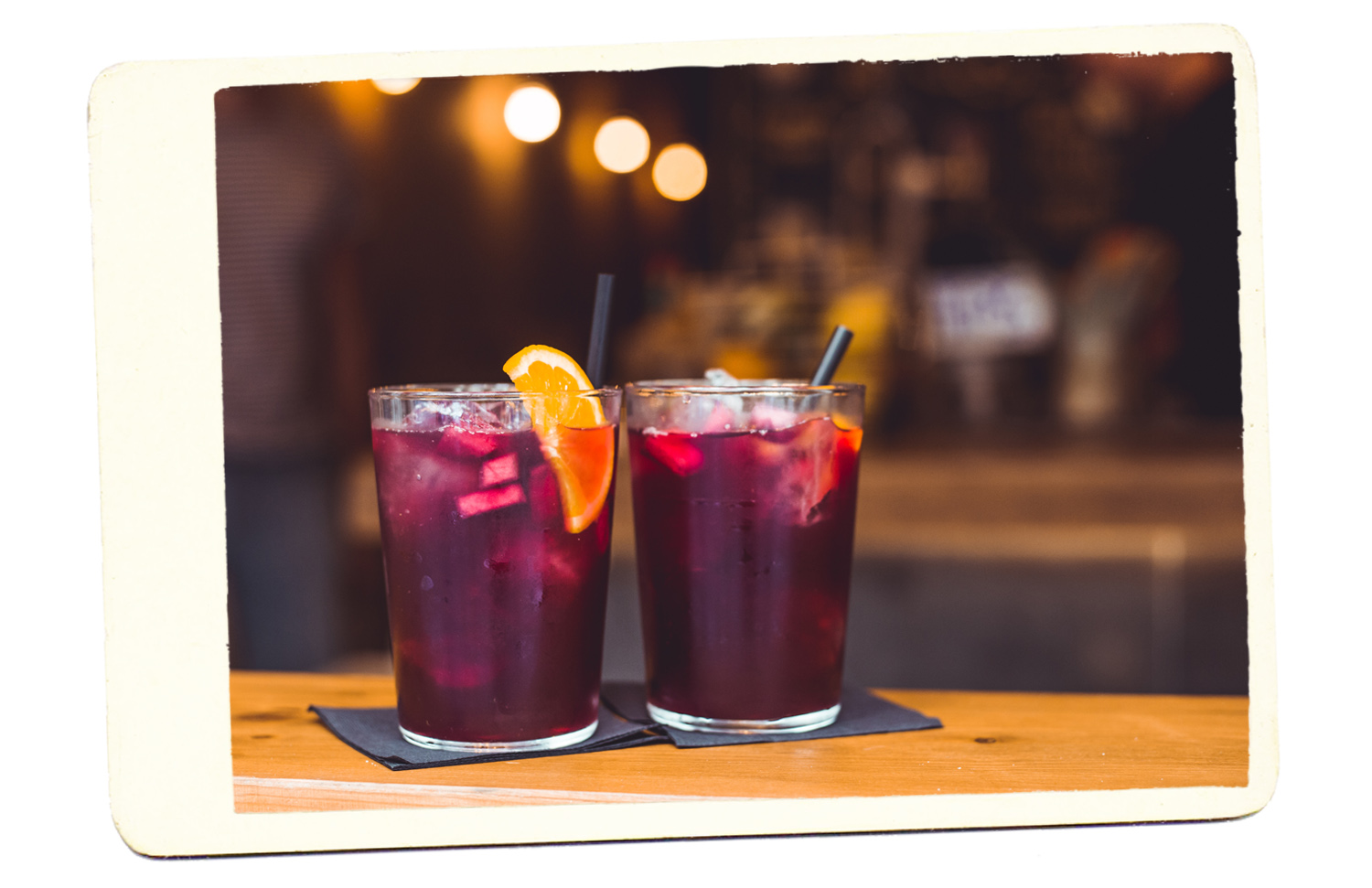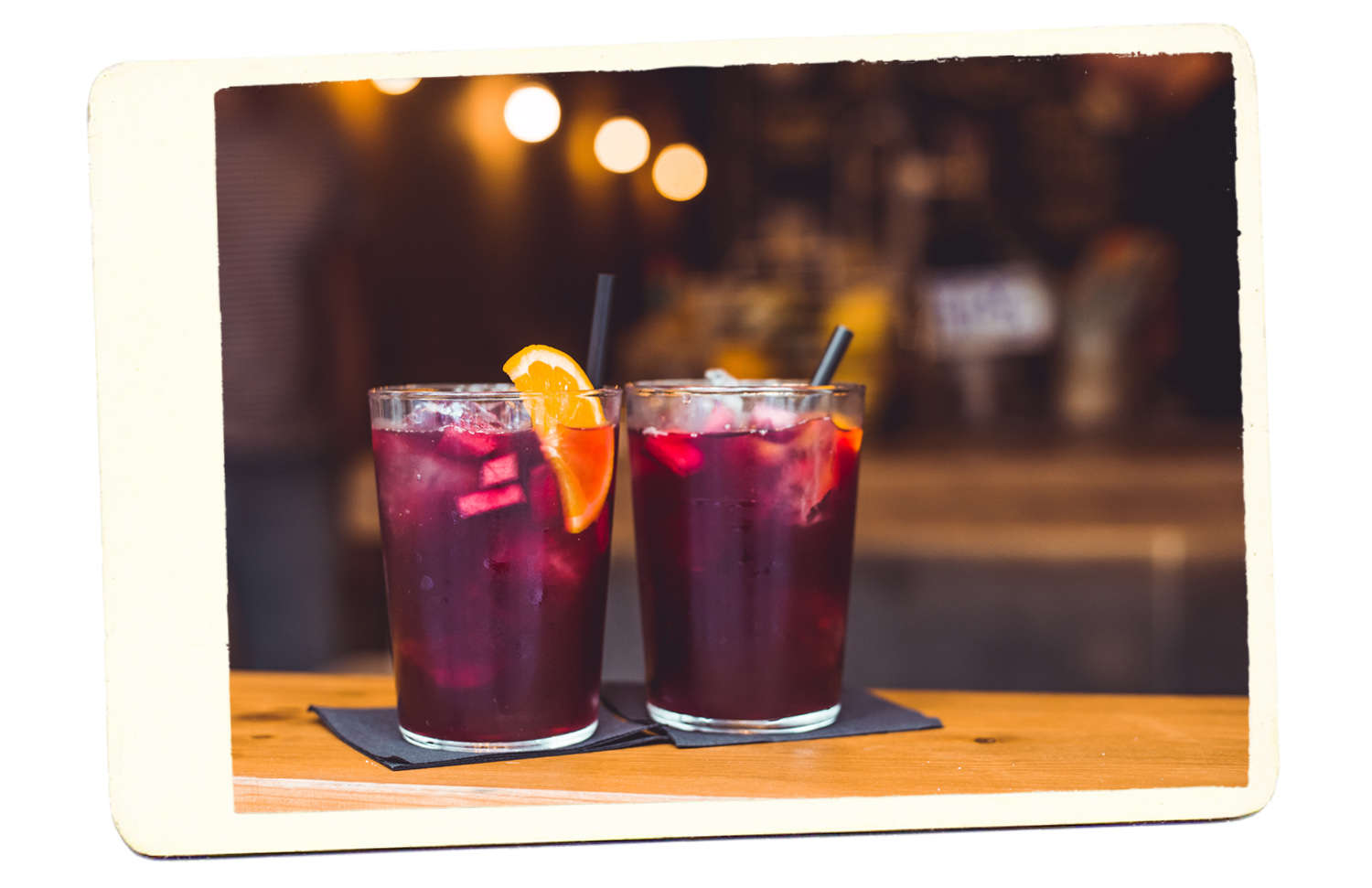 Drinks in Barcelona
Cava and vermut are the typical drinks of choice. While you will find sangria, it's considered a thing for tourists. Sangria is more popular amongst locals in southern Spain and generally not made very well in Barcelona…though if you're wanting to sample it, by all means, do!
Spain is one of the biggest wine-producing countries on earth. That means the wine is not only world-class but cheap! You will find bodegas all over the city where you can fill up a jug for pocket change.
You can bring along an empty water bottle (they charge by the liter so make sure it's at least that size) or you can grab a refillable bottle for a small price. More often than not, they are happy to give you samples directly from the barrel so you can get an ultra-affordable wine tasting on the fly.