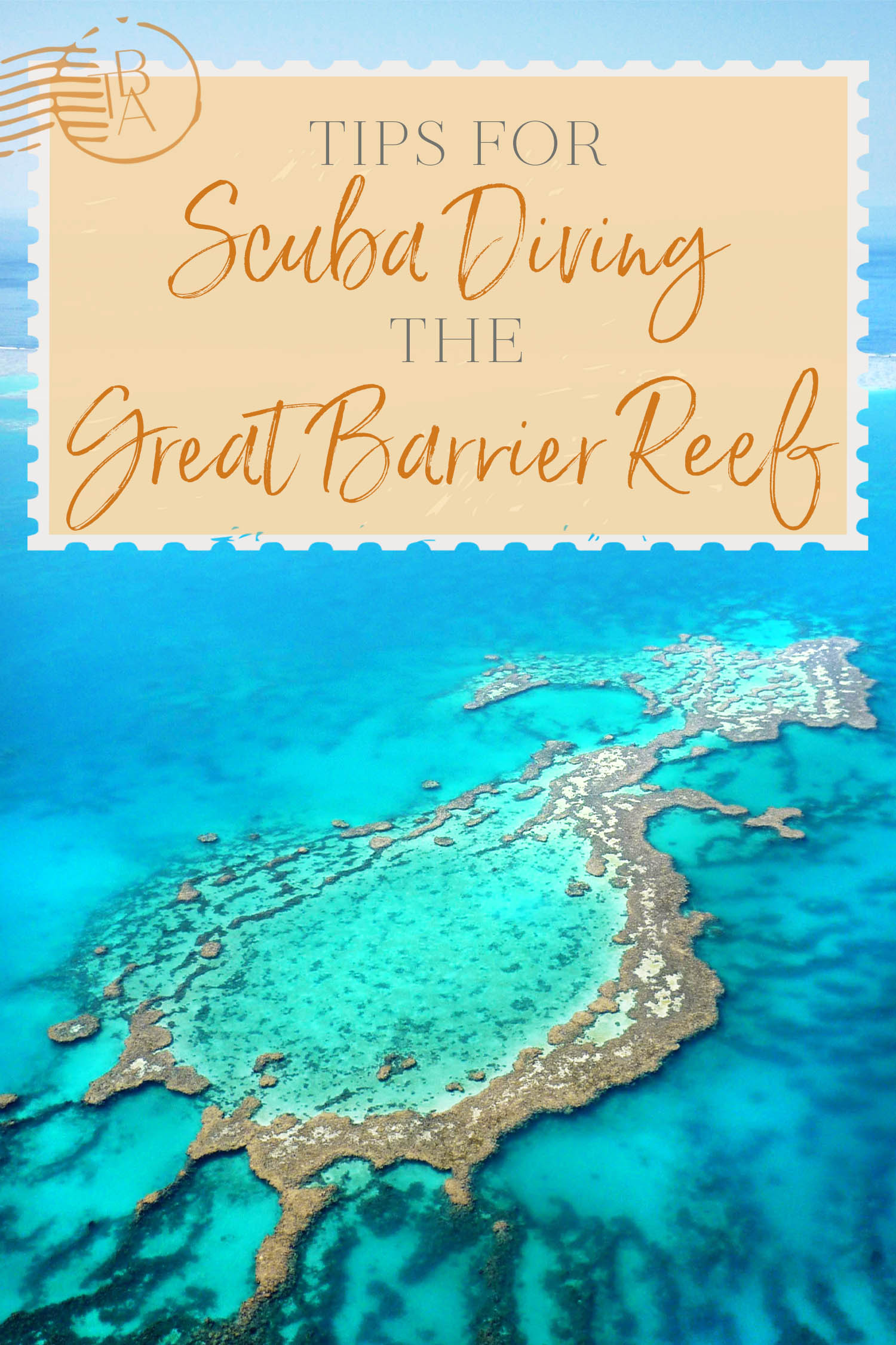 Updated: June 2020
Do you dream of diving at the Great Barrier Reef in Cairns, Australia? Located in the northern top of Queensland, the Great Barrier Reef is an iconic destination and one of the best places to scuba dive in the world.
On my first trip to Australia, back in 2011, I hadn't experienced my first dive yet but I knew that I had to see the Great Barrier Reef while I was there! Because I wasn't scuba certified yet, I opted to do a discovery dive. I wrote this blog post to be informational and to share what I did wrong during my visit, and help you have the best experience possible!
If you're interested in marine life, I would highly recommend adding it to your to-do list while in Australia.
Granted Australia as a whole is humongous—relatively similar in size to the US, so make plans accordingly. It's definitely not a quick drive up from Sydney to Cairns, rather you might want to book a flight or make a long road trip out of it. Here are my 10 tips for your first trip to Australia!
Some folks dream of getting their PADI open water scuba diving certification here—because what better place? Find out all the ins and outs of getting scuba certified before you go, as it does take several days and a bit of prep work.
Ready to dive in? Here are my tips for scuba diving (or snorkeling) at the Great Barrier Reef!

There are particular chemicals that hurt the reefs and they can also be toxic for marine life.
Wear Reef-Safe Sunscreen
First things first, you need to wear sun protection and reef-safe sunscreen is essential. You've likely heard things about how the Great Barrier Reef is dying—and a major impact to the coral reef there are the harsh chemicals in some sunscreens.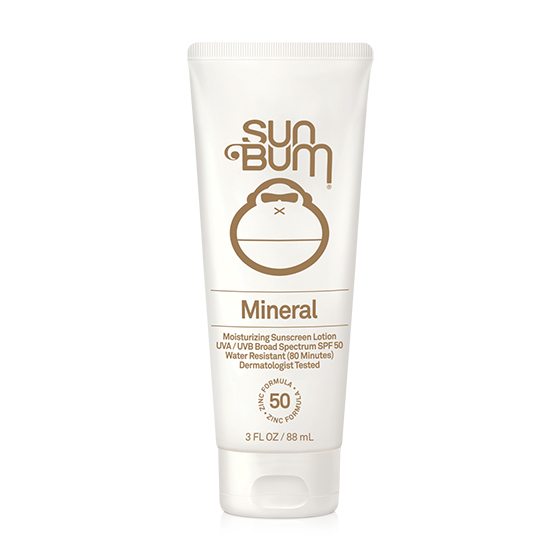 Reef-safe, oxybenzone & octinoxate free
Try This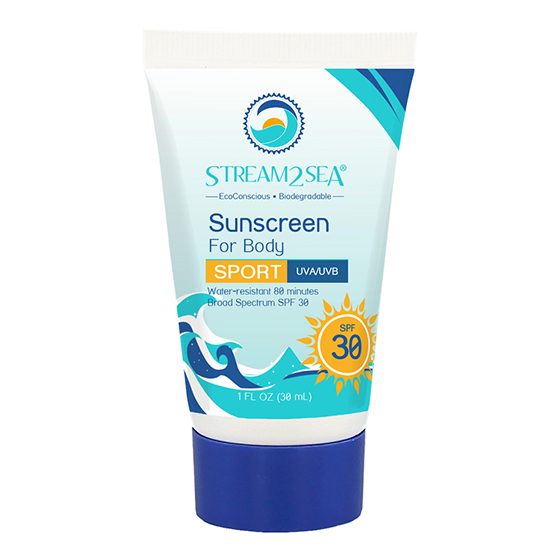 Tested and proven reef-safe, biodegradable sport sunscreen
Try This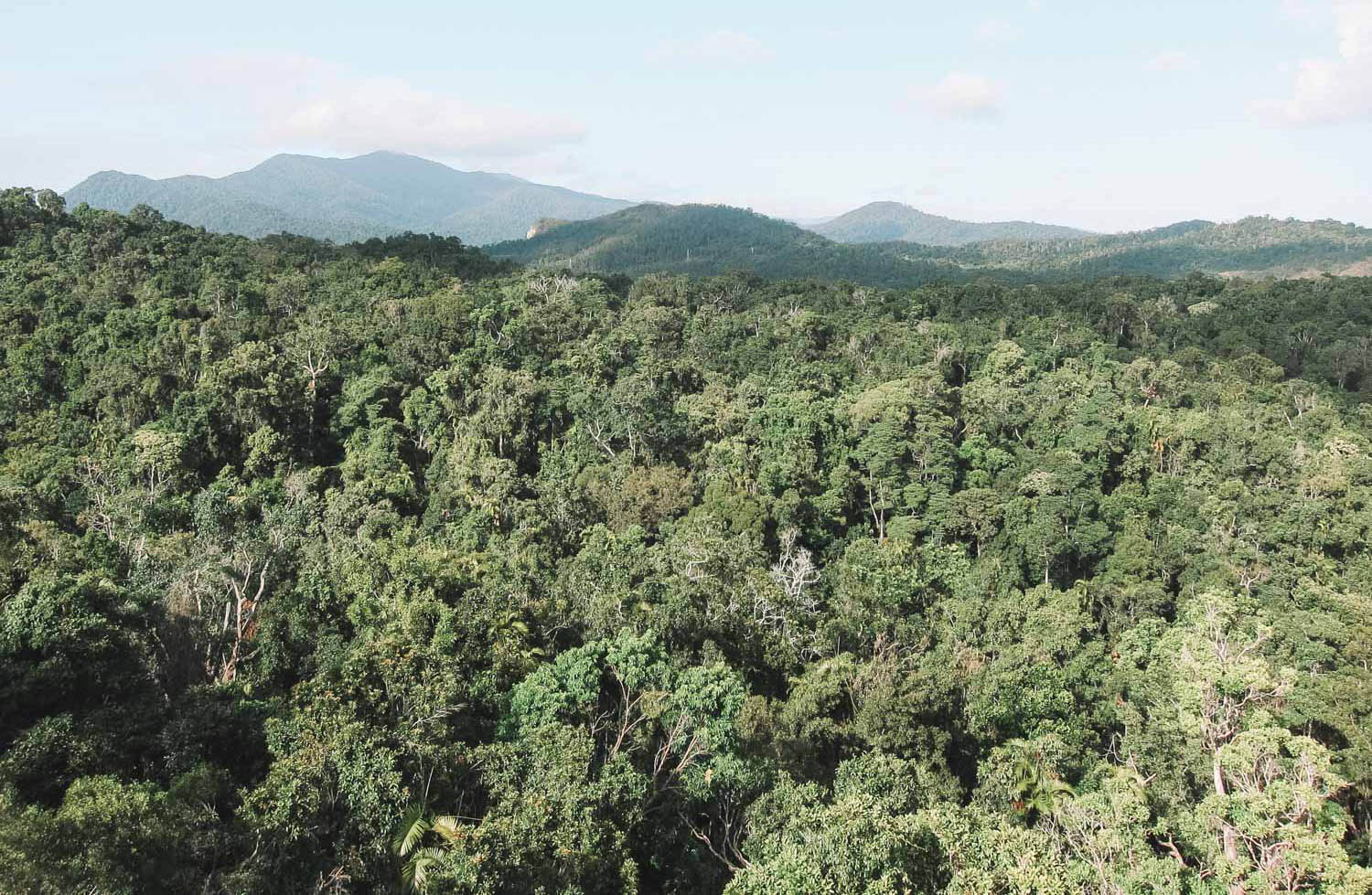 The area around Cairns is extremely tropical.
Pick a Reputable Company
You'll want to pick a company that has a myriad of diving permits that allow them to pick and choose from some of the best spots in the reef depending on the conditions of the day. I always look for a PADI 5-Star Dive Shop because I know they uphold high safety practices.
While Cairns is a common hub for setting sail, there are a number of other great places to leave from to explore the reef that tends to be less touristy. Consider looking into Port Douglas, Townsville, or Cape York.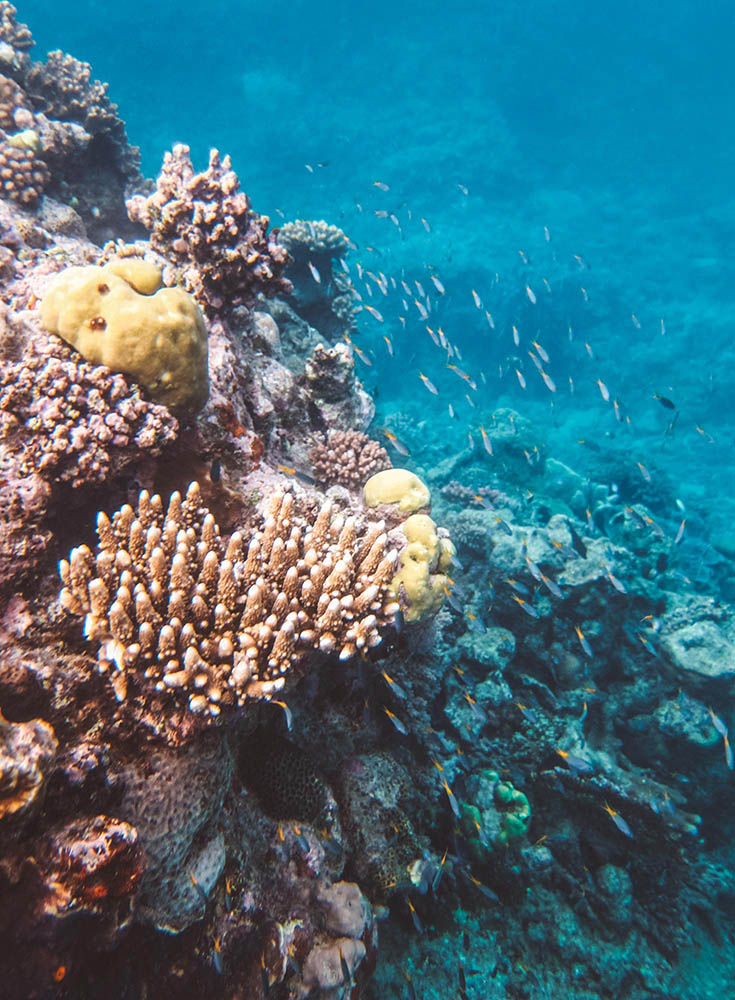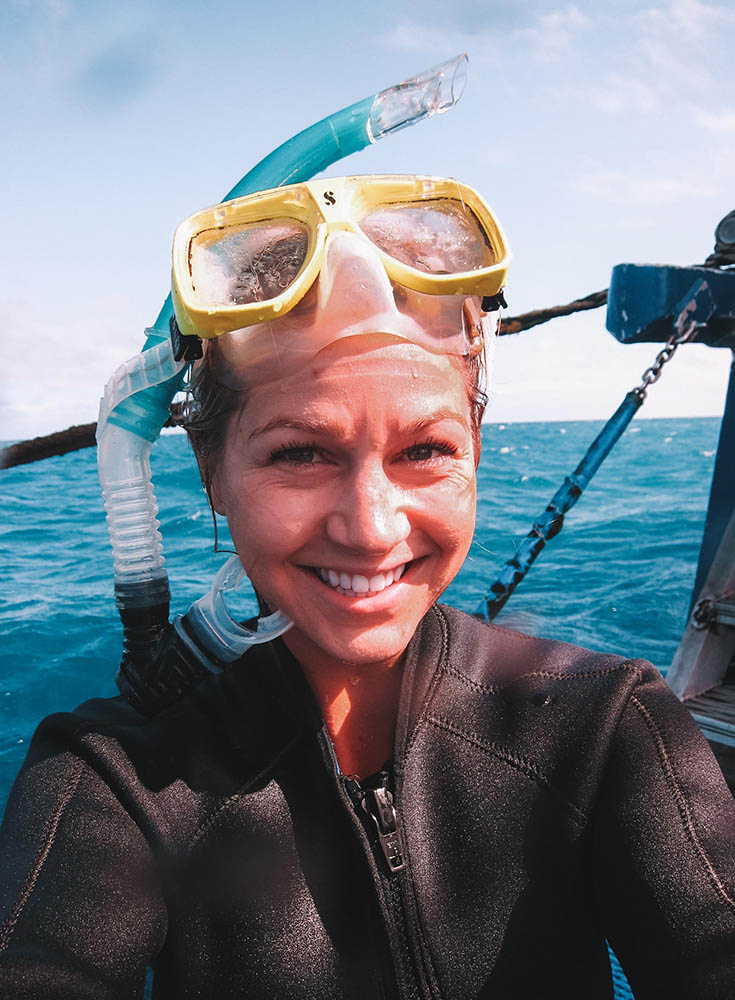 What's Included in the Price?
Most snorkeling or diving trips are all-inclusive and include breakfast, lunch, coffee, and other refreshments—make sure you know what's included in the price! Generally, all the gear is included, too, but do check, just in case.
To get an idea of pricing, my reef-experience cost $185 AUD for the day (approximately $160 USD).
Consider Renting an Underwater Camera
If you don't have an underwater camera or GoPro, most of the bigger boats have cameras you can rent for diving. Rentals don't come super cheap though, so explore your options and if diving is going to be a frequent activity, you might want to look into investing in some camera gear.

Always Bring Your Confirmation
If you're booking your trip last-minute, be sure to bring your booking confirmation on your phone or printed out.
Learn from my mistake — I received a confirmation email on my phone, however, I didn't bring my phone for fear of it ending up in the water. The company I dove with never received my booking and 15 nail-biting minutes of "Will I or won't I get to dive today?" ensued. Fortunately, they allowed me to stay on board, and, thankfully, no tears were involved.
Essentially, do as I say, not as I do: bring proof of your booking confirmation!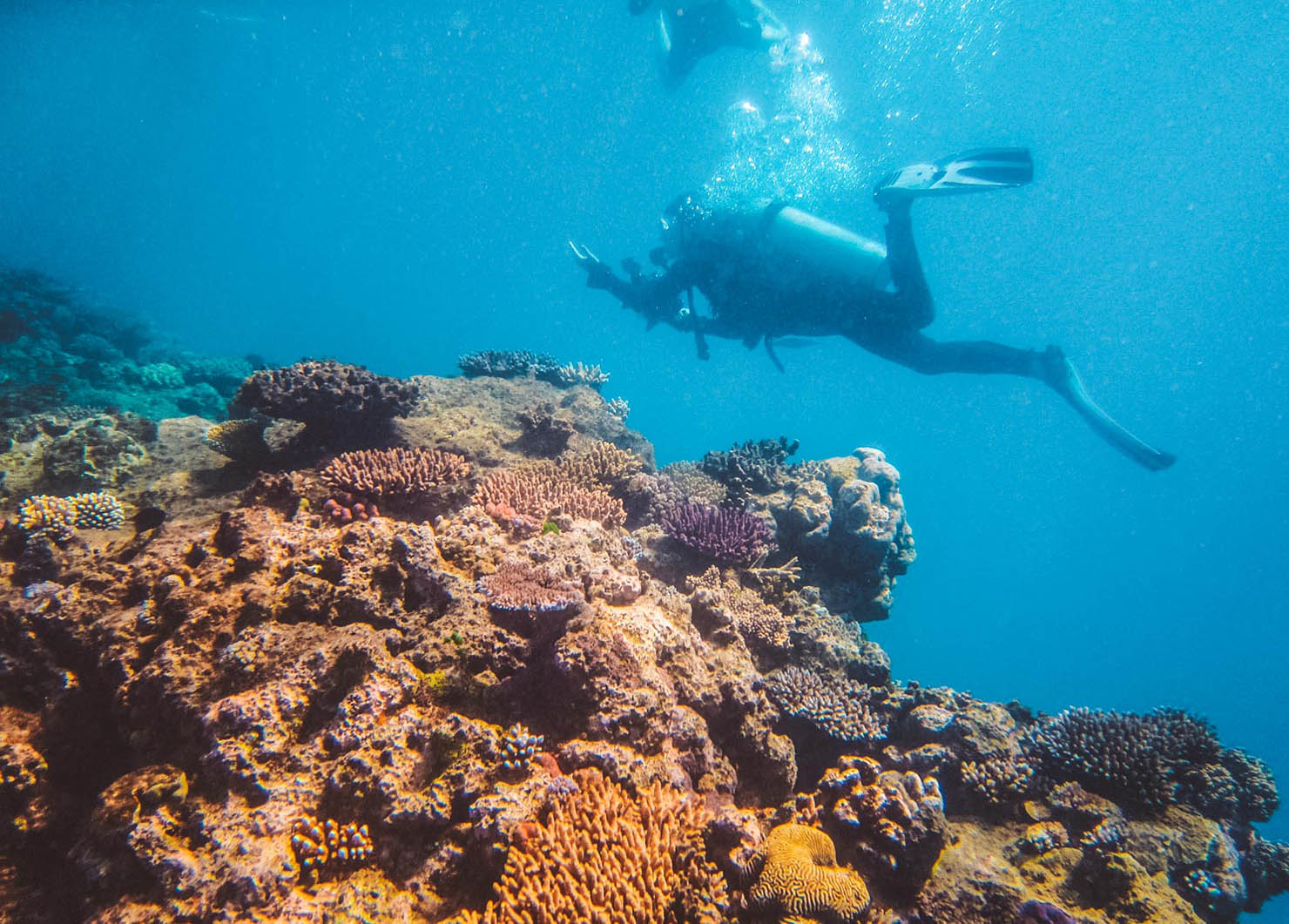 Do Your Research
You'll get some much more out of your trip and experience if you can do a little research beforehand. Because I was brand-new to diving and extremely excited, I was also quite nervous and asking the staff a million questions because it was my first time: "What should I expect? Will I see a shark? What should I do if I see a shark?"
While I'm sure they get questions like this all the time, if I had done a bit of reading beforehand to ease my fears, I could've been more in the moment instead of quietly freaking out about the what-if.
I crossed paths with a Humphead Maori Wrasse, a few giant clams, and hundreds of other species of sea critters. I even got up close and personal with a reef shark! Many of the species were later identified in photos, but I wished I had a better idea of what I was looking at while I was in the water.

Plan Accordingly
This ties into doing your research: Don't dive and fly on the same day.
If your an experienced diver, you already know that you should wait at least 18 hours after diving to fly. There are health risks involved when diving and flying on the same day due to changing pressures and could lead to decompression sickness, also known as DCS, the bends, or caisson disease.
I was a newbie and had no idea at the time, so I had planned to scuba dive and then fly… so let's just say, I had to book another night in town before leaving the next morning!
This PADI guide highlights some of the things you shouldn't do immediately after diving.
That said, you can snorkel and fly on the same day!
Helpful Tip:
Ensure your travel insurance covers scuba diving before you go—and if it doesn't—find another plan that suits your needs!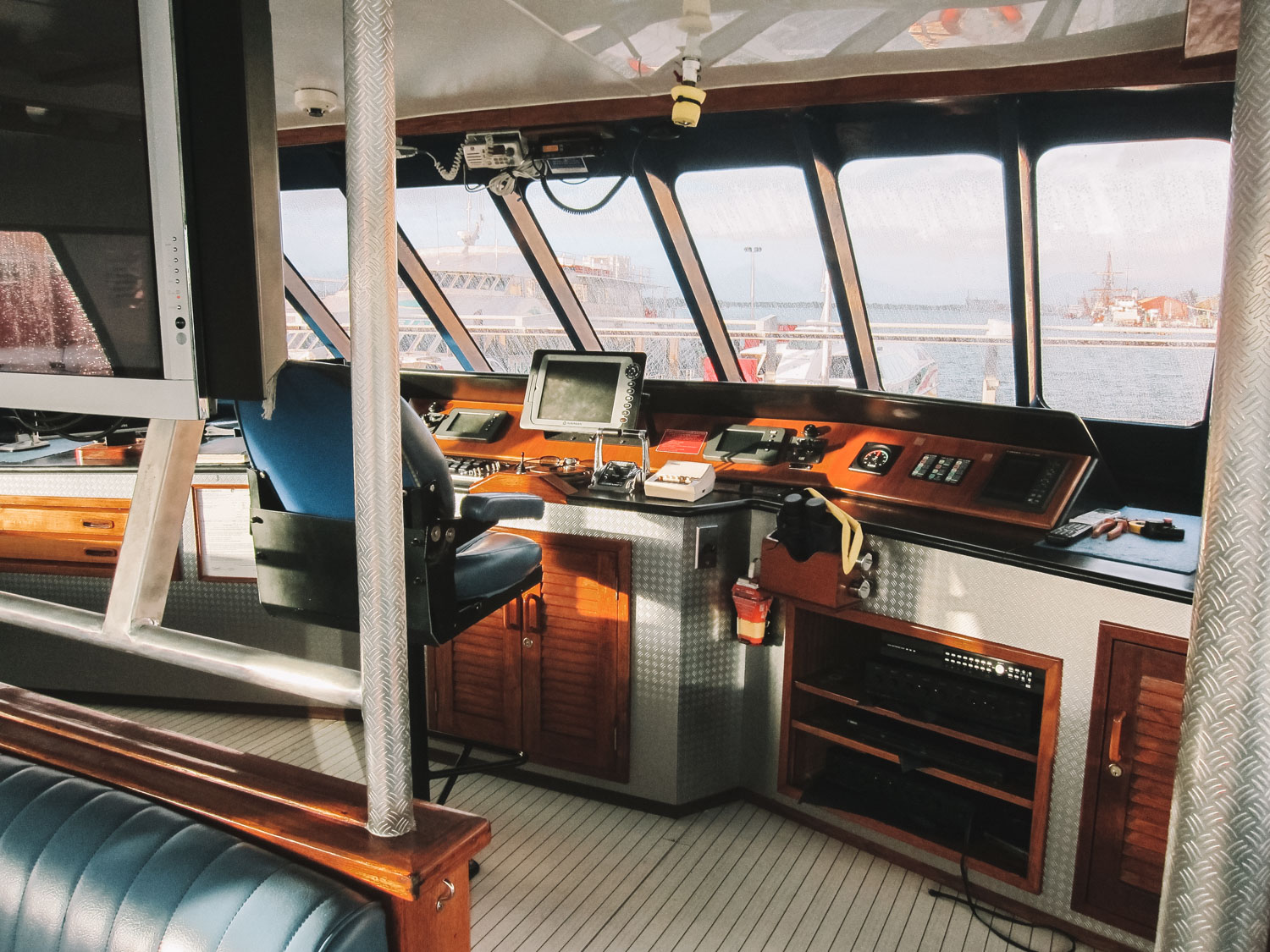 Diving Usually Requires a Bit of Boating
Unless you're diving from the shore, typically all diving requires some time in a boat to get out to your dive sites.
For my first dive, it took about 1.5 hours to reach the dive site. I was expecting our boat to show up to a beautiful, tropical, deserted island where we would swim through crystal clear water and endless amounts of colorful reefs off the shoreline.
To my surprise, most of the reefs are in the middle of the ocean with no land in sight.
I'm not one to fear the big blue, but jumping off a huge boat into the middle of the dark depths of the ocean (not to mention in the pouring rain) feels like something out of one of those horror movies.
So while it was a bit terrifying to jump out into the middle of the ocean at the first dive spot, as soon as I made it under the surface, it was breathtaking.
Helpful Tip:
If you suffer from seasickness, definitely look into medication beforehand! Some work better when you take them the night before—so be clear on the instructions. Make Sure You're on the Passenger List
While I was taking a break from diving and doing some snorkeling along one of our stops, I was so mesmerized by the underwater world that I completely lost track of time. I peeked my head up above the water and, while the boat was still off in the distance, I realized there wasn't anyone else out in the reef near me.
Panic struck me as the rain continued to pour down, and the rough surface of the ocean carried me further away from the boat. I started to swim back, for what felt like an eternity before reaching the boat.
As soon as I set foot on the back of the boat, the engines roared and the boat started in the direction back to shore.
I came to learn that, because the company never received my confirmation email, I was never listed as a passenger on the boat. I was in the bathroom after the first dive site when the company took roll. I had no idea it even happened. That means they could have left me behind without ever knowing… obviously, I freaked out!
I went up to the staff member to let them know the situation with my confirmation and how I paid cash to join the day trip that morning. They also realized I wasn't on the list.
It didn't occur to me that they wouldn't be looking for me out at sea! I am not 100% sure the boat started up because it was waiting for me, the last passenger, or if they would have left me out at sea while I was still out hanging with Nemo.
Ensure that you are on the passenger list and make sure the company you dive with checks for all passengers before moving on to the next diving spot.

Extend Your Trip
My one regret is that I didn't have more time to explore! If you are able to and have the funds, I would highly recommend looking into trips that span across several days where you spend a few nights out at sea.
There truly is so much to see!

Overall
Diving (or snorkeling) at the Great Barrier Reef is an incredible experience. Even if you're a bit apprehensive like I was (hello, nerves!), I would still recommend looking into options!
Whether you're a seasoned diver or looking to get your PADI open water scuba diving certification, visiting the Great Barrier Reef should not be missed while in Australia!

Have you been to the Great Barrier Reef? I'd love to hear about your experience in the comments below!