First off, let me just say that this hotel is absolutely stunning. I mean, a pink hotel? Sign me up!
It's the perfect stay — for relaxing, for dining, for finding an adventure…and, as an added bonus, when you book through Hotels.com app, as a member you can save an average of 15% on select hotels (this being one of them!).
From the moment I arrived, I was blown away by the beautiful architecture, the lush gardens, and the sparkling waters of the harbor. And the inside of the hotel is just as impressive, with elegant decor and modern amenities that make you feel right at home.

Getting There
One of my favorite things about the Hamilton Princess is the location. It's situated right in the heart of Hamilton, which is the capital city of Bermuda.
This means that you're just steps away from all the best shops, restaurants, and attractions in the area. Plus, the hotel offers complimentary ferry service to the private beach club, so you can easily spend your days lounging in the sun and swimming in the crystal-clear waters of the Atlantic Ocean.
To get there, you Fly into the L.F. Wade International Airport. From there, you can take a taxi or rent a car to get to the hotel. It's only a 30-minute drive from the airport to the Hamilton Princess.
Once you arrive, you'll be greeted by the hotel's iconic pink exterior and beautiful architecture. Prepare to be in awe!


About the Property
Having personally stayed at Fairmont hotels around the world, including the Fairmont Whistler, Dubai, and Monte Carlo, it goes without saying that the Hamilton Princess Hotel & Beach Club offers unsurpassed hospitality, luxury, and comfort.
The hotel is one of Bermuda's oldest and most iconic hotels. Originally opened in 1885, the hotel is the first of the Fairmont hotel collection and has been providing exceptional hospitality for Bermuda's visitors for over a century.
The Hamilton Princess & Beach Club has had many faces over the years and in the last few years, underwent a $90 million renovation.
 The refreshed resort showcases traditional Bermudian elements and history with luxury and modern touches. Spend your afternoon soaking up the sun at the infinity-edge resort pool and hot tub.
With 130 years of history, tropical beaches, and delicious food, this "Pink Paradise" provides the ultimate luxury experience fit for a Princess. 😉



The Rooms
To start off, the rooms at this hotel are absolutely gorgeous. They're spacious, bright, and have a sophisticated and modern vibe that perfectly complements the beauty of Bermuda. From the moment you step inside, you'll feel like you've entered your own private sanctuary.
The beds are super comfy, with plush bedding and pillows that make it hard to get up in the morning.
And speaking of mornings, the views from the rooms are breathtaking! Whether you're looking out over the harbor or the lush greenery of the island, you'll be greeted with a stunning vista that will leave you feeling relaxed and inspired.
But the rooms at the Hamilton Princess are more than just beautiful — they're also designed with your comfort in mind.
The bathrooms are luxurious, with spacious showers and deep soaking tubs that are perfect for relaxing after a day of exploring the island. And the amenities are top-notch, with high-speed internet access, flat-screen TVs, and plenty of storage space for all your belongings.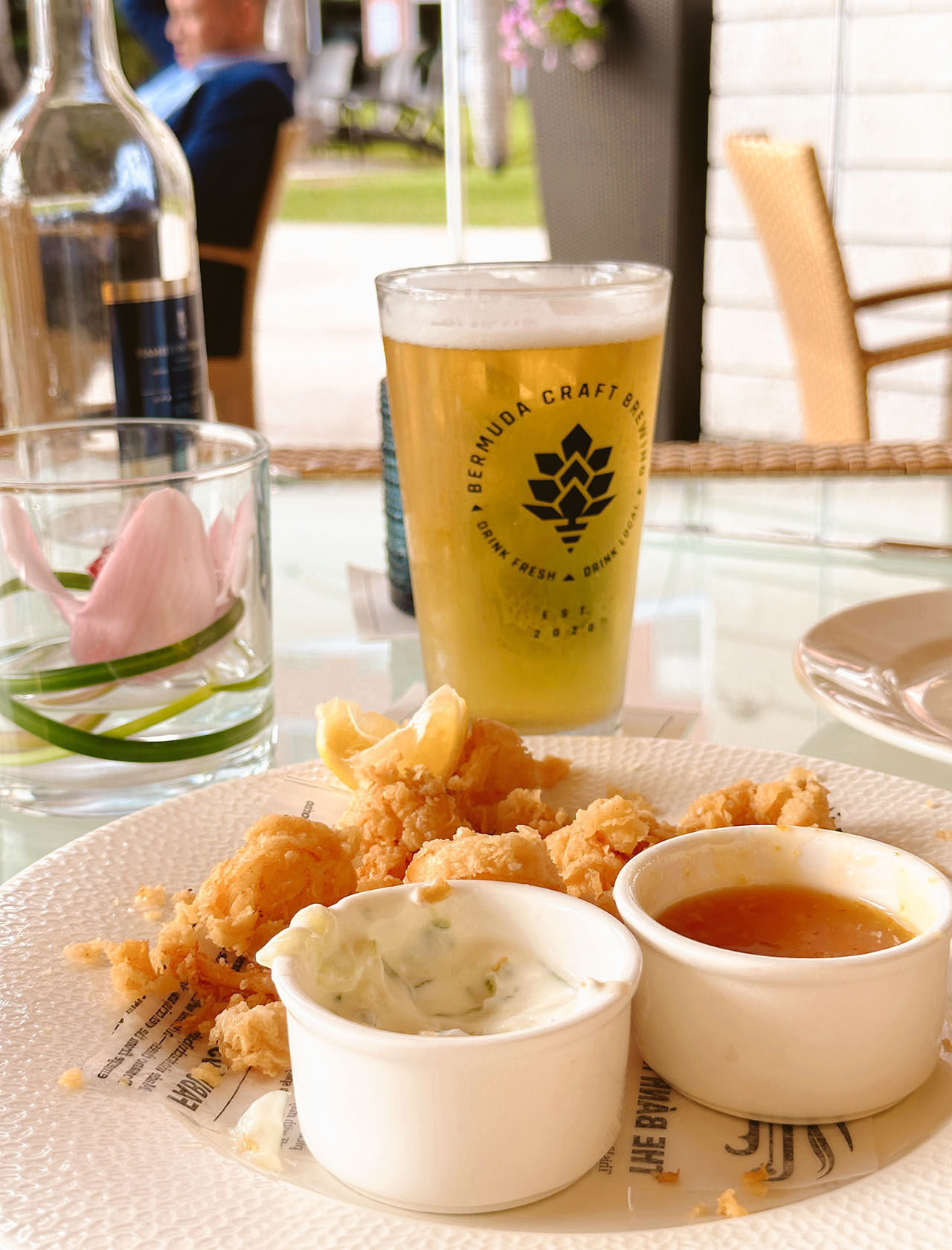 Dining
The
Hamilton Princess
has a wide range of dining options, from the elegant Crown & Anchor restaurant to Caribbean-inspired cuisine to a café. Here are the highlights:
Bring on the steak, seafood, and raw bar items at this contemporary restaurant that fuses classic American grill with a refined dining experience.
I loved this spot for a sunset cocktail and the food was really good. It's best to make a reservation as it's very popular and tends to book up.
This is only open seasonally…so take that into consideration when you're booking your perfect somewhere — your perfect somewhere for select months out of the year. 😉
The menu is inspired by the sea-going spirit of Bermuda's early days and features fresh local catch prepared with an island twist and Latin flavors…think ceviche sashimi, golden fried shrimp, and a wide selection of tacos.
The cocktail menu also features classic Bermuda staples like a Rum Swizzle and a Dark & Stormy. Though you may want to sample the Tropical White Wine pitchers of Sangria (yes, please!).
1609 Restaurant is the perfect place to spend the evening and watch the sun set over the Hamilton Harbour.
This is the hotel's main restaurant and the ideal spot for having breakfast…or lunch…or dinner. Basically, it's open for all meals and does not disappoint. The bar is also open quite late as an added bonus!
They also serve afternoon tea if you're looking for a little something.
Reallllly good coffee on site is a huge bonus!
I'm quite picky about my coffee and am always happy to find a place that serves a good cup of joe. We got iced lattes every day and there are lots of grab-and-go options.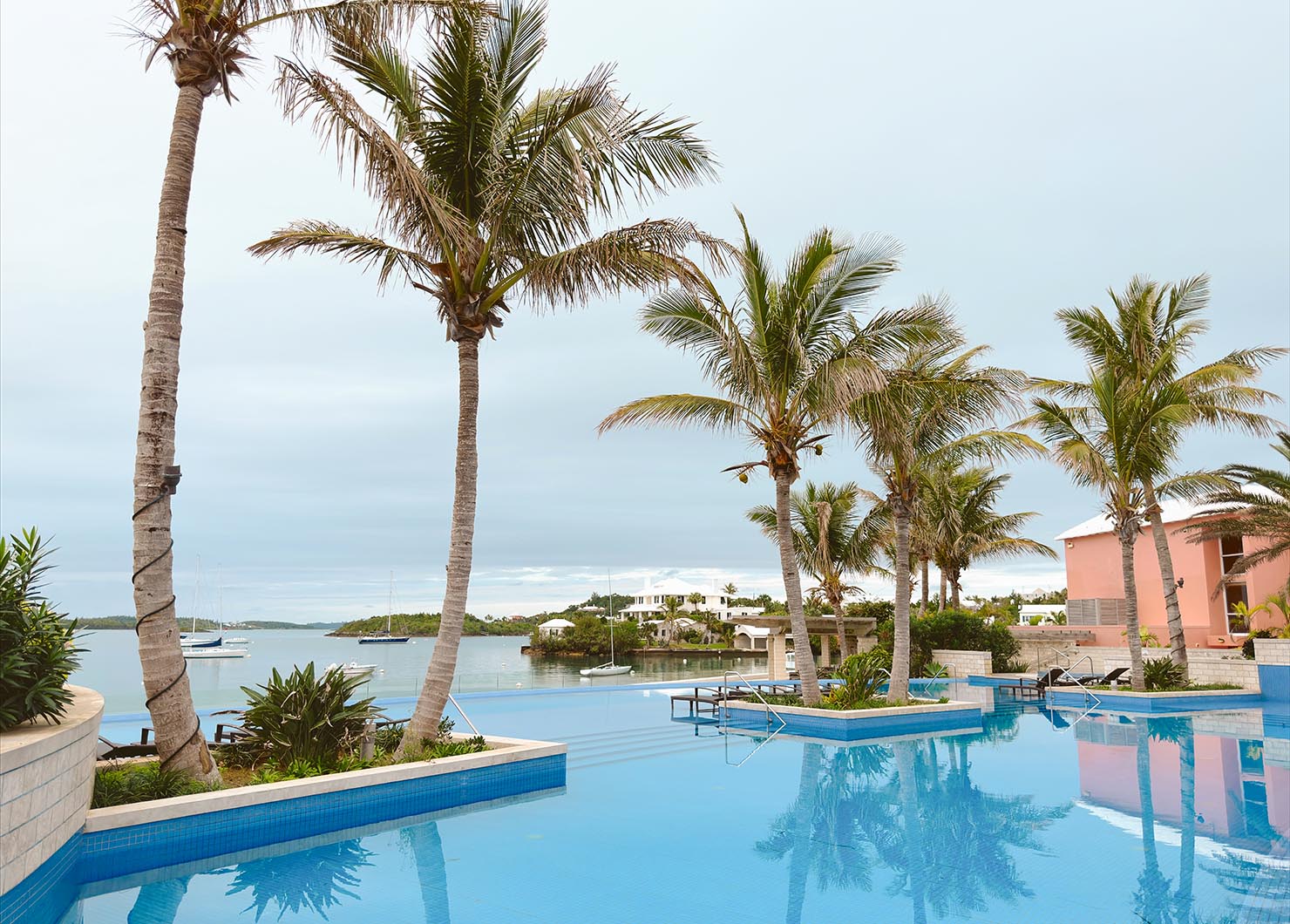 Activities
Located in the heart of Hamilton city, the Hamilton Princess & Beach Club offers amenities and activities for all travelers. With a beautiful resort pool and hot tub, new dining experiences, and weekly activities on their new marina, your next stay will be one to be remembered.
Activities & Services on Offer:
Beach Club:  The Beach Club is located on the South Shore on a private beach exclusive to hotel guests.
Fitness Center: Open 24 hours, the Fitness Center at Hamilton Princess & Beach Club can be accessed via your keycard and overlooks the hotel gardens.
Golfing: Guests of the hotel can also play golf at Turtle Hill Golf Club. Bermuda is famed for having more golf courses per capita than anywhere else in the world.
Diving: Visitors to Bermuda can enjoy underwater adventures of all kinds thanks to the island's abundant coral reefs and diverse ecosystem. Wrecks, Snappers, Spiny Lobster, Parrotfish, and stunning Queen Angelfish await you!

In My Opinion
Overall, I would highly recommend the Hamilton Princess to anyone looking for a luxurious and memorable stay in Bermuda.
Whether you're visiting for a romantic getaway or a fun-filled family vacation, this hotel has everything you need to make your stay comfortable, enjoyable, and unforgettable.
What really sets the Hamilton Princess apart is the level of service. From the moment I checked in, the staff went out of their way to make sure I had everything I needed to enjoy my stay. They were friendly, knowledgeable, and always willing to help with any questions or requests I had.
The Hamilton Princess & Beach Club is the ultimate luxury destination for travelers looking for a tropical getaway!
So what are you waiting for? Book your stay at the Hamilton Princess today, and get ready to experience the beauty and hospitality of Bermuda in style!


More Information
Hotel: Hamilton Princess & Beach Club
Location: Pembroke, Bermuda
Accommodation: Boutique, Luxury
Price Range: $$$


This post was written in partnership with Expedia Group. As always, all thoughts and opinions expressed in this post are entirely my own.