Dubai never ceases to inspire me. With man-made islands, epic buildings, and world-renowned restaurants, this city has it all. It's like a city designed by a kid with an incredible imagination. Being here taps into the childlike wonder in me. It takes a certain magic to build the best and the biggest.
I always jump at a chance to visit Dubai and, on my latest visit, I laid my head to rest and relax at Raffles Dubai.
A quick five-minute trip from the airport, this is an especially handy spot for anyone traveling on business. It's also just about 10 to 15 minutes from the new development at Creek Harbour and a quick trip into Downtown Dubai.
Best of all, from Raffles Dubai, the view of the city skyline will absolutely take your breath away every time you look out the window. It is almost otherworldly in its beauty.
Looking for the ultimate luxury Dubai hotel?
Here's my review of staying at Raffles Dubai!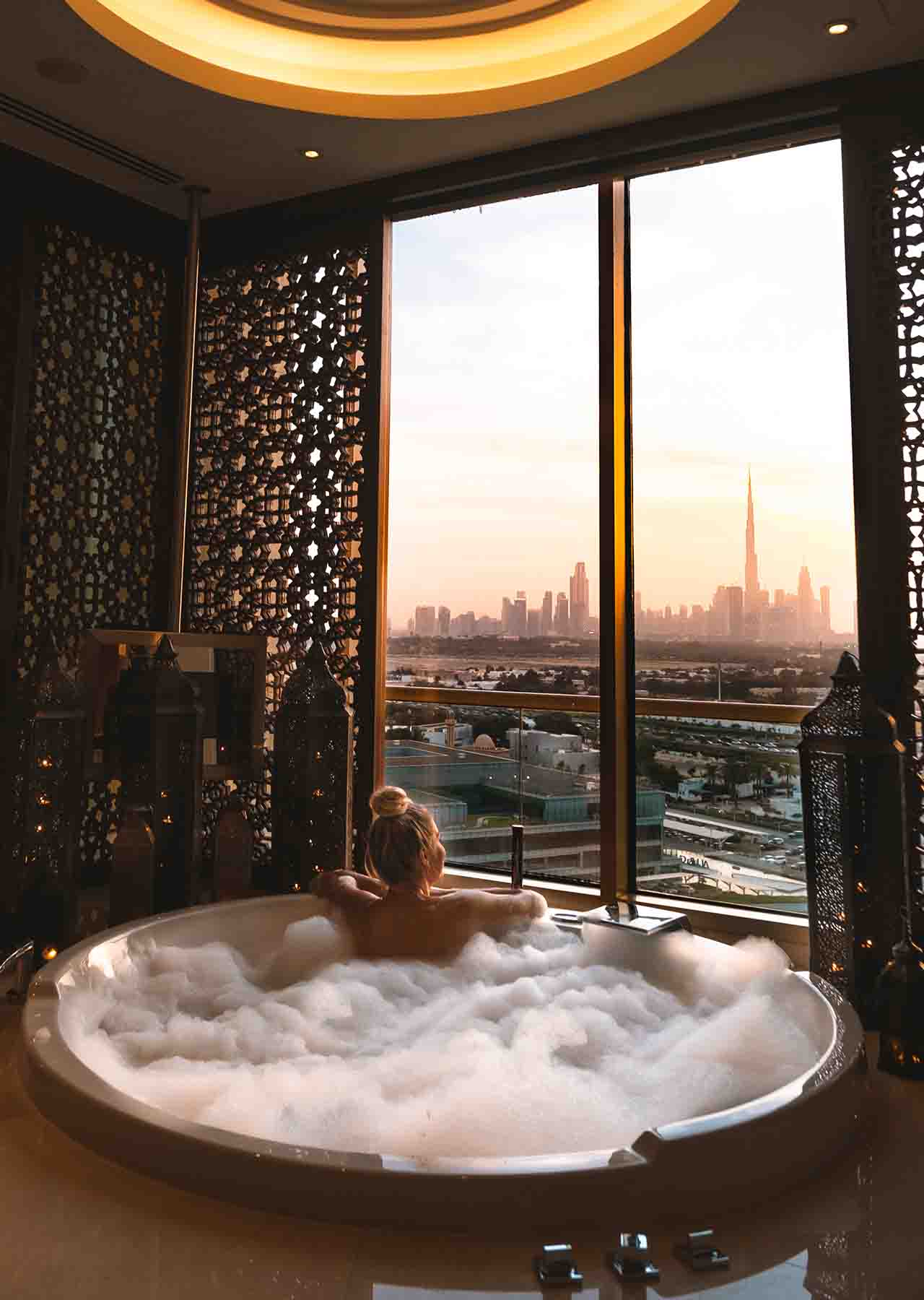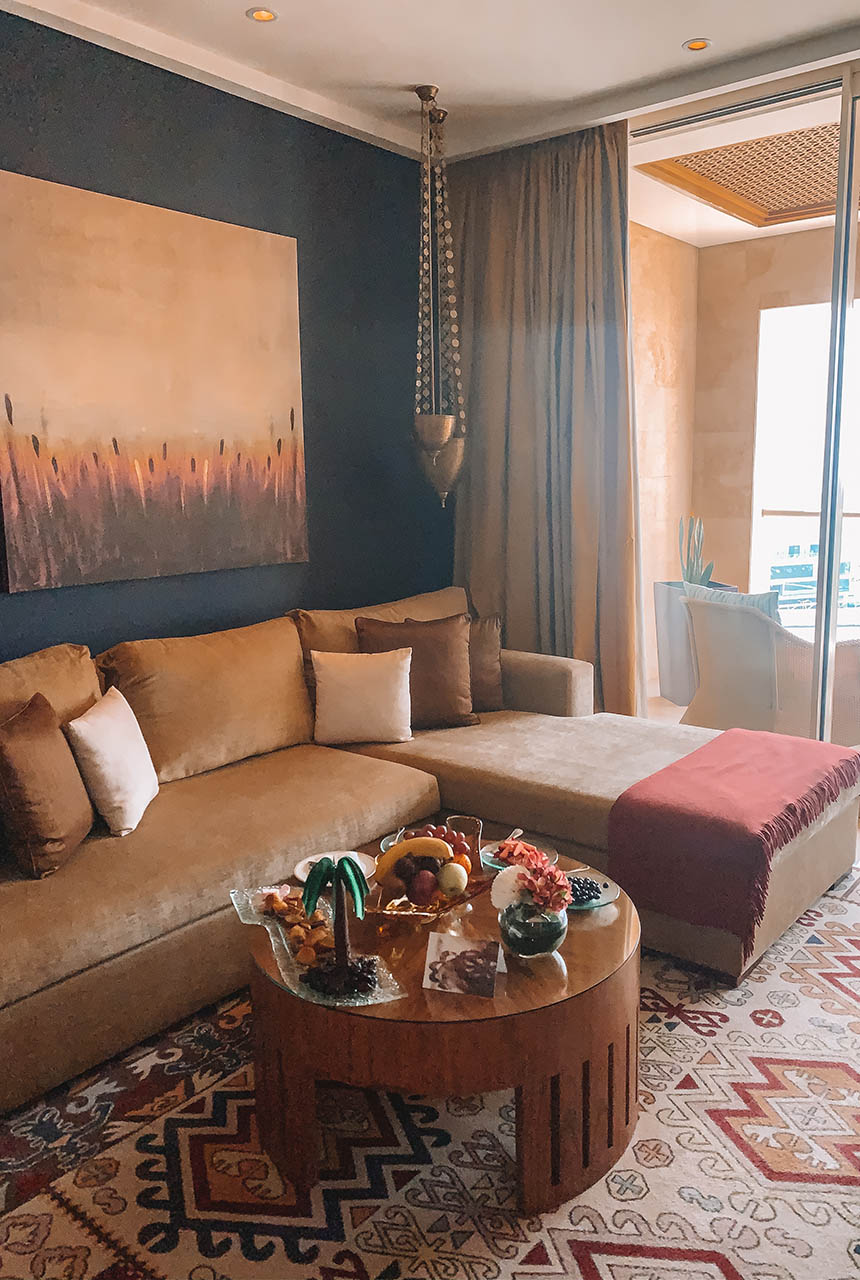 The Rooms
We stayed in a Signature Room and, at 753 square feet in size, it felt absolutely massive.
The ultra-luxe setup made it feel like a suite. The bathroom felt like a full-on spa experience. An oversized space with a double sink, massive bathtub and waterfall shower, the shutters let you open up the room to watch the sunset from the bath. Meanwhile, the bed was so comfortable I could hardly drag myself out of it.
If you go for the Signature Room, you can opt for a king or two twin beds.
Complimentary Wi-Fi and water are included. If you upgrade to the Raffles Club Room, you can also enjoy access to the Club Lounge and its privileges. Exclusively for Raffles Club Rooms and Suites, there is VIP check-in; continental breakfast; afternoon tea; evening canapés and cocktails; and they'll even press two clothing items.
If you want to feel pampered while you're traveling, this is the ticket.
The VIP service is fab, especially if you are going to be traveling on business and spending a lot of time at the hotel. When it comes to choosing a room, each and every one has its own level of luxury.
Honestly, you can't go wrong—every room feels fit for a queen.
Options like the Royal Suite offer a whole different level of accommodation. At nearly 7,000 square feet, it is truly one of the most decadent (yet tasteful) rooms I've ever seen.
The view from the bathtub is truly unforgettable!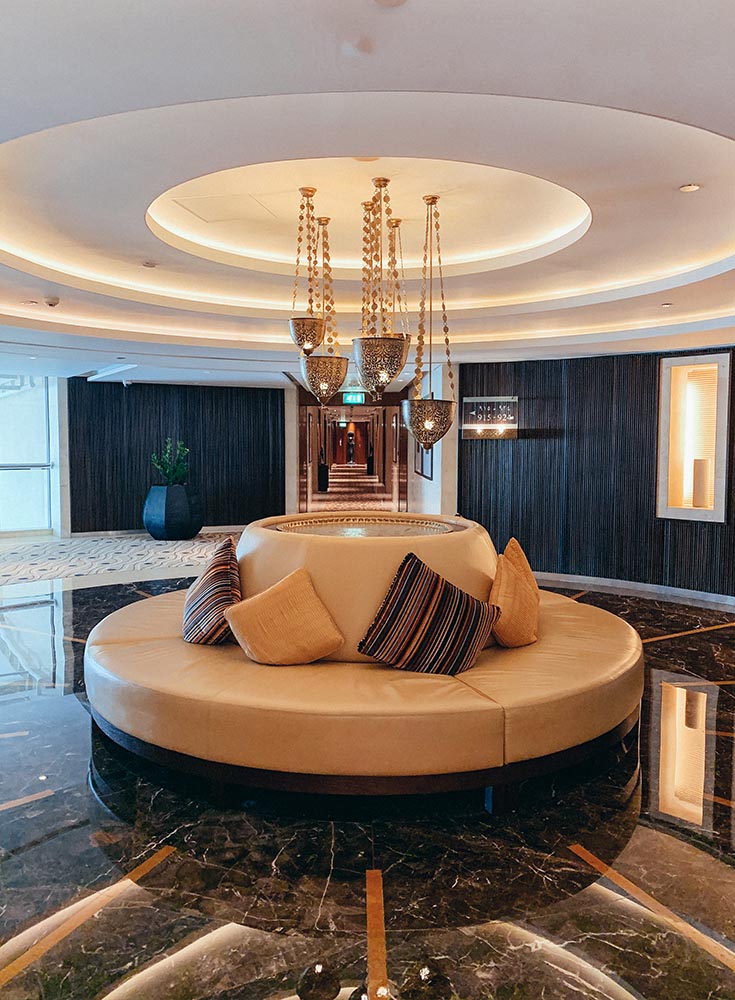 About  the Hotel
Part of the Accor hotel group, Raffles Dubai has won countless awards. It has been rated as the number one "Hotel for Service" in the Middle East while also being recognized as the best luxury and all-around accommodation pick both in the UAE and the wide area of the Middle East.
Within the city of Dubai, locals and travelers alike know it as one of the city's most iconic spots. Its giant pyramid shade will catch your eye immediately.
Another major claim to fame is its recently awarded Green Key Certification—meaning the hotel met ultra-strict criteria for greener living. From water-saving bathrooms to plastic-free kitchens to LED lighting, awarded hotels need to take steps at every stage to show their dedication to sustainable operations.
In an area known for its sometimes over-the-top decadence, it's refreshing to see Raffles Dubai embracing a dedication to sustainability.

Activities at Raffles Dubai
Raffles Dubai is all about treating yourself!
Go for a Victorian-style High Tea every day from 2 to 7 pm. Take an Italian Cooking Masterclass. Lounge at the bar on ladies' night.
Most importantly, go to the spa!
Easily one of the best massages I've ever had in my life, you'll find an extensive range of treatments at Raffles Spa. These aren't a bonus; they are something you need in your life. Seriously. The 90-minute Signature Massage (available in either the spa or pool area) will knock your sandals off!
Once you're ready to get moving, be sure to check out the state-of-the-art gym, then plan ample time for the beautiful pool area and pool bar.
In addition to the lovely pool, Raffles Dubai is just a quick drive from Old Dubai as well as Dubai Creek Harbour—a new development that promises to be pretty darn amazing.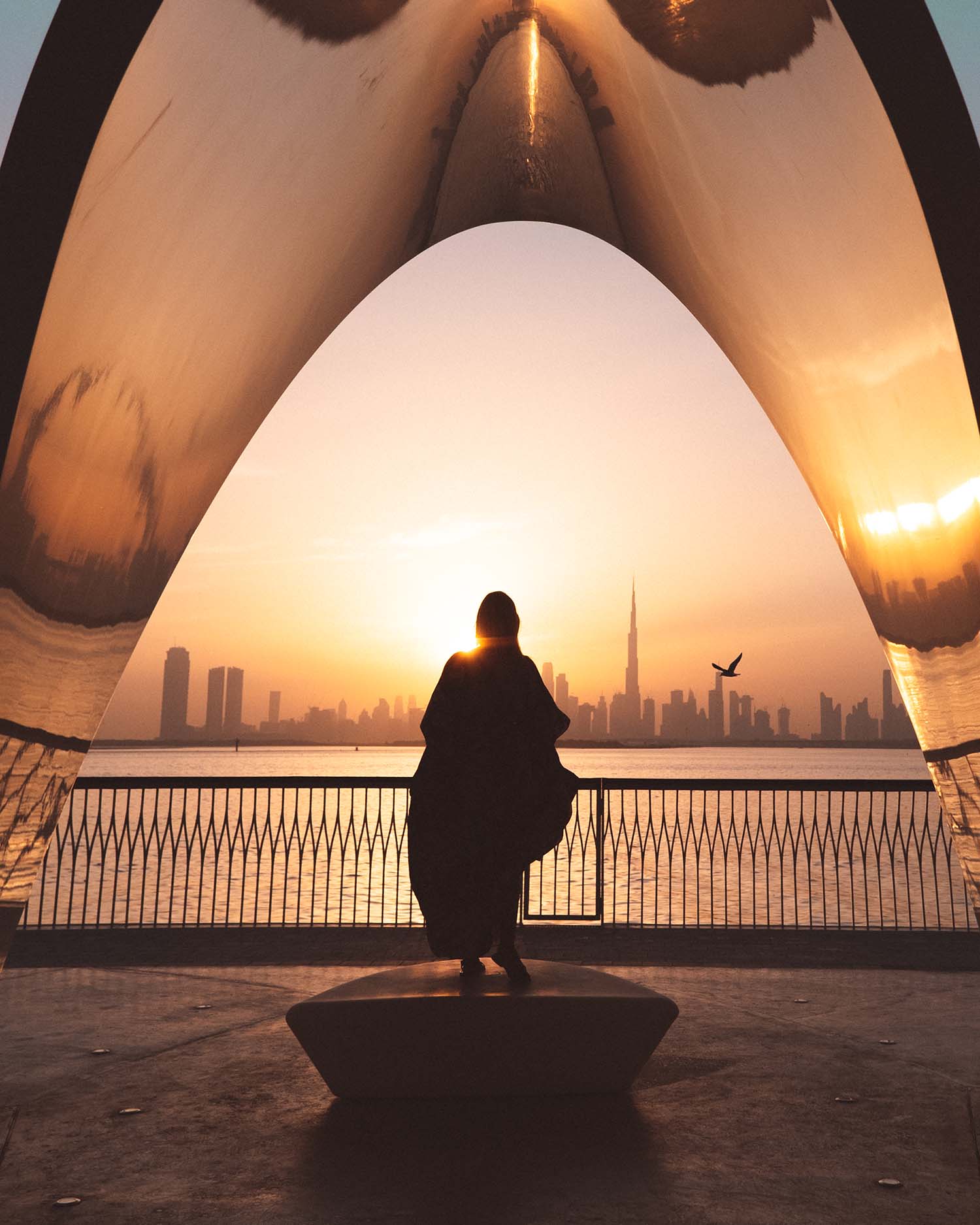 Dubai Creek Harbour Golden Arches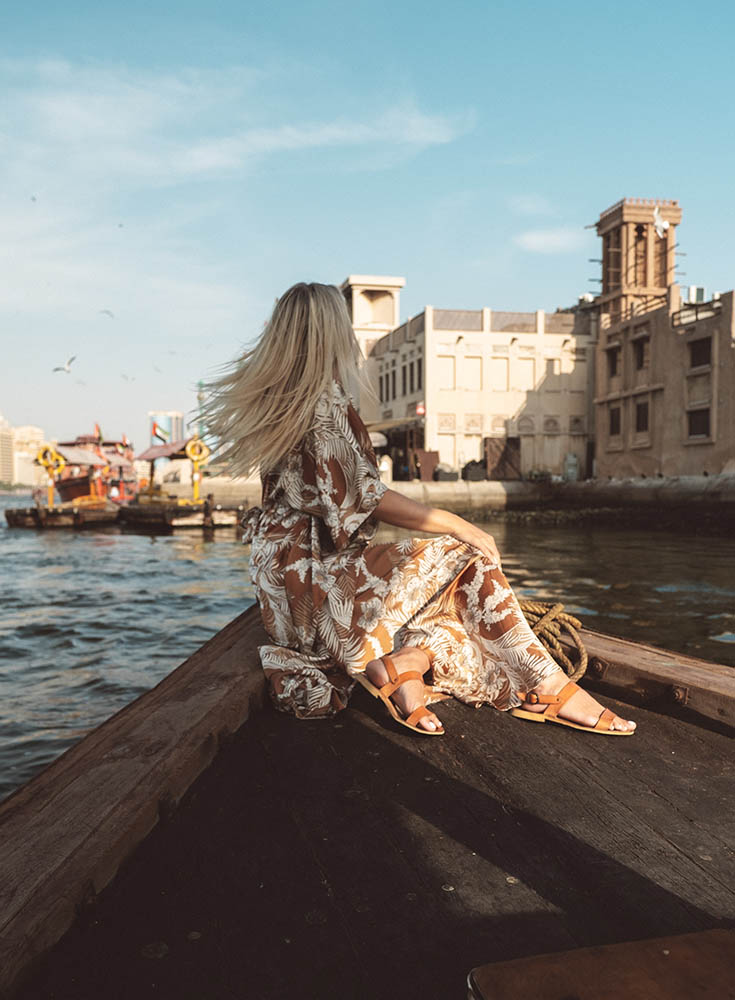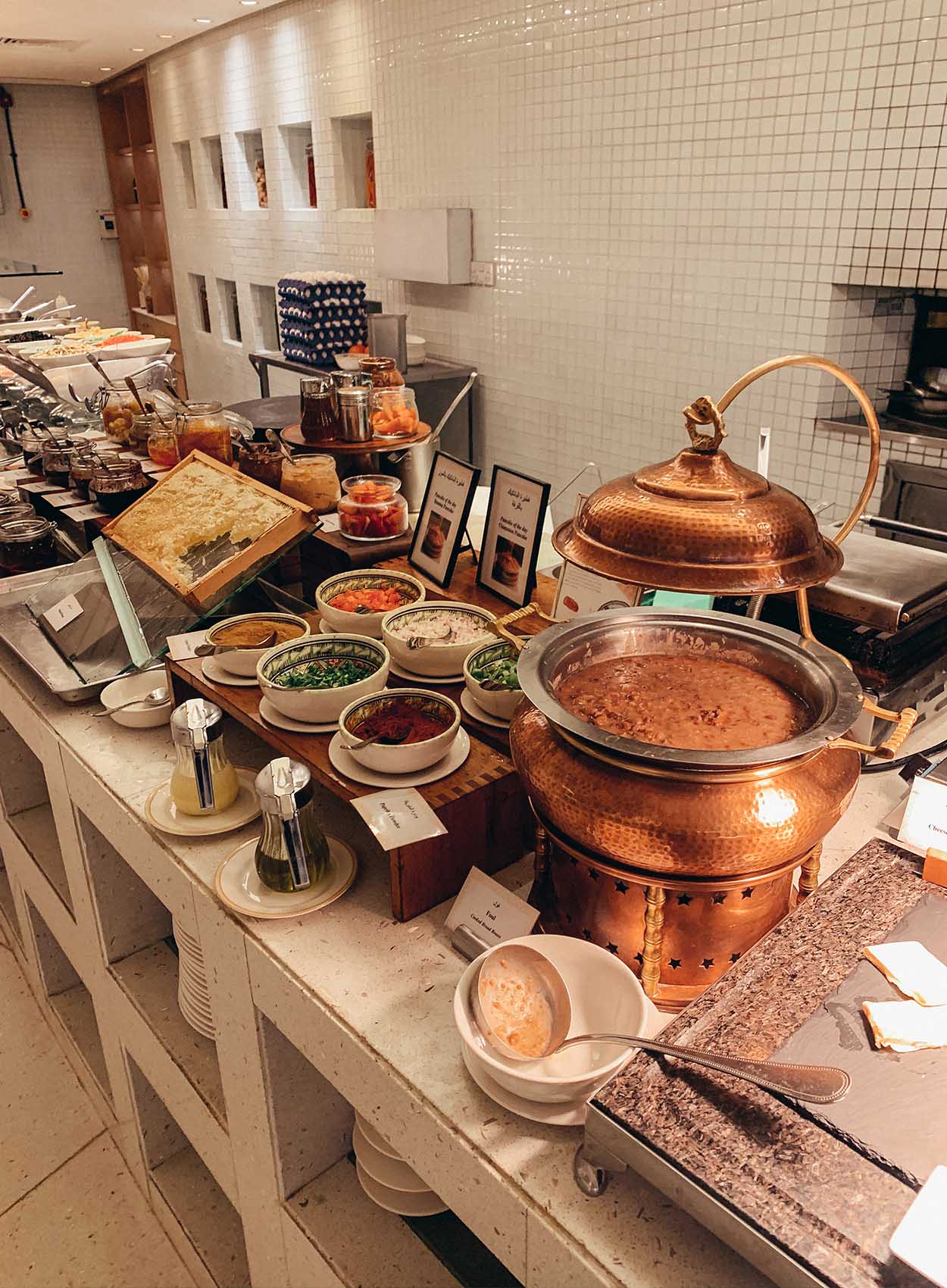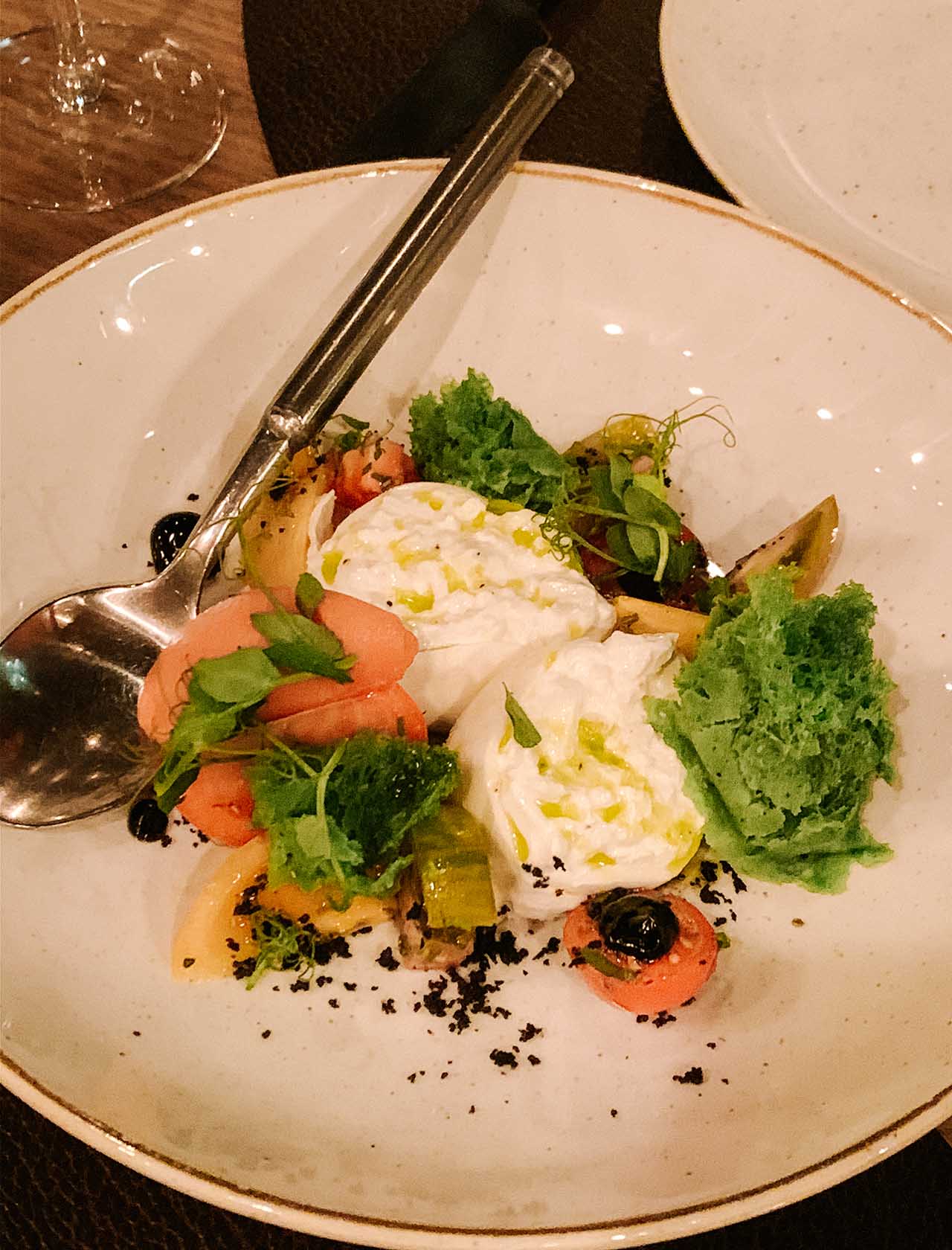 Food + Dining at Raffles Dubai
You'll find an impressive range of dining options.
Have lunch at the bright and airy Azur Restaurants or the poolside bar and restaurants and be sure to save room for afternoon tea at the Raffles Salon. For a romantic dinner, saunter down to Raffles Garden. If you're looking for a more international menu, try the Solo Italian Restaurants and Bar or the delectable Japanese restaurant, TOMO.
Breakfast is included with Club rooms and we went down to the restaurant, Azur, daily.
It was a mix of international options and traditional Arabic breakfast—my fave! If you've never tried an Arabic breakfast, it's an absolute must. I love the blend of fresh flavors with fresh juices. With classic and light picks like hummus, pickled veggies, and mango, it's the perfect way to start the day.
And, most importantly, they served up what is truly the best coffee I have ever had in my life.
I loved it so much that I actually asked for more info on the beans. It turns out that they take their brew very seriously and have their own unique roast. If you love coffee, add this place to your bucket list.
We went for afternoon tea then had dinner at the impressive Italian restaurant and bar. With vintages from all around the world, the wine was incredible. It was a cheese lovers' paradise…and I do love my cheese! I went for the burrata to start, then had pasta tossed with parmesan, along with fave Montepulciano d'Abruzzo wine.
Yum!

In My Opinion
It's easy to see why Raffles Dubai has taken home so many awards for its service. The hospitality was second to none. The staff consistently remembers everyone by name and are so accommodating and friendly at every step.
It's also a superb place for events! With a lovely Mother's Day Afternoon Tea, Easter specials, and events throughout the year, it's a dream destination for any special occasion.

More Information
Hotel: Raffles Dubai
Location: Dubai, UAE
Accommodation: Luxury
Price Range: $$$


Thank you to Raffles Dubai for hosting me during my stay. As always, thoughts and opinions expressed here are entirely my own.
Want to earn points for your hotel stays and earn miles toward your next adventure?