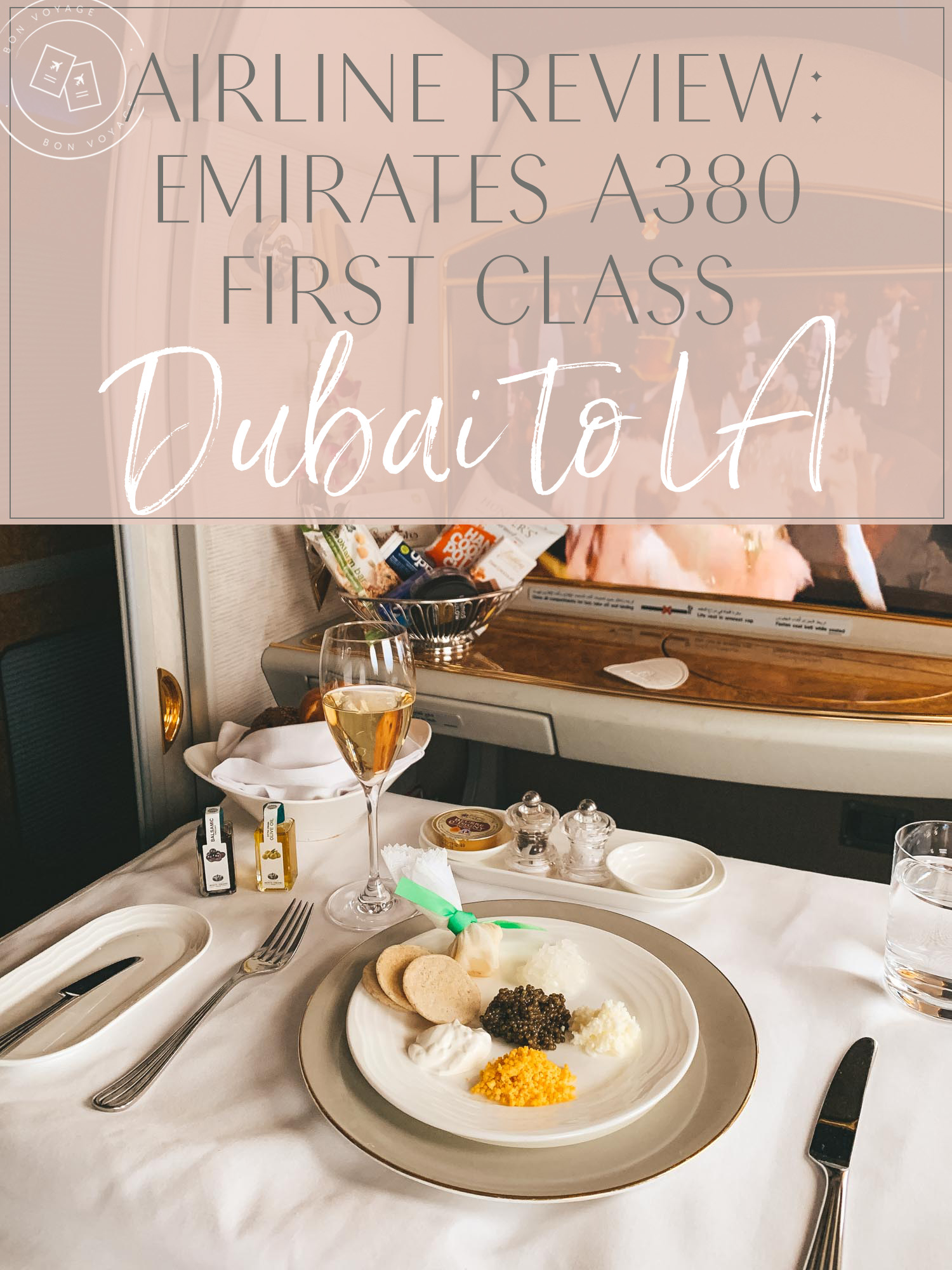 Ah, Emirates, one of my favorite airlines in the world. When I think about the airline, I think about true luxury — something you want when flying for over 16 hours on a single flight. I have previously flown Emirates Business Class on the same Dubai to LAX route but didn't ever think I'd experience First Class.
I decided to do a little research and managed to upgrade my Business Class flight to First Class for free by using credit card points!
Yep, you read that right! It didn't cost me a penny to upgrade to one of the best First Class flights on the market.
When I say my flight was incredible, I mean INCREDIBLE. It exceeded my expectations and then some. Want to sip bottomless glasses of Dom Perignon, nibble on caviar AND take a shower at 35,000 ft? Look no further.
Here is my review of Emirates A380 First Class Flight from Dubai to LA!

Emirates First Class Suites
Unlike Emirates Business Class, First Class passengers get their own suites. That's right. A suite! With 14 suites in a 1-2-1 configuration, no matter where you end up, you'll be sure to love it. The middle seats have partitions that can be lowered in case you are flying with someone else. I opted for a window seat suite!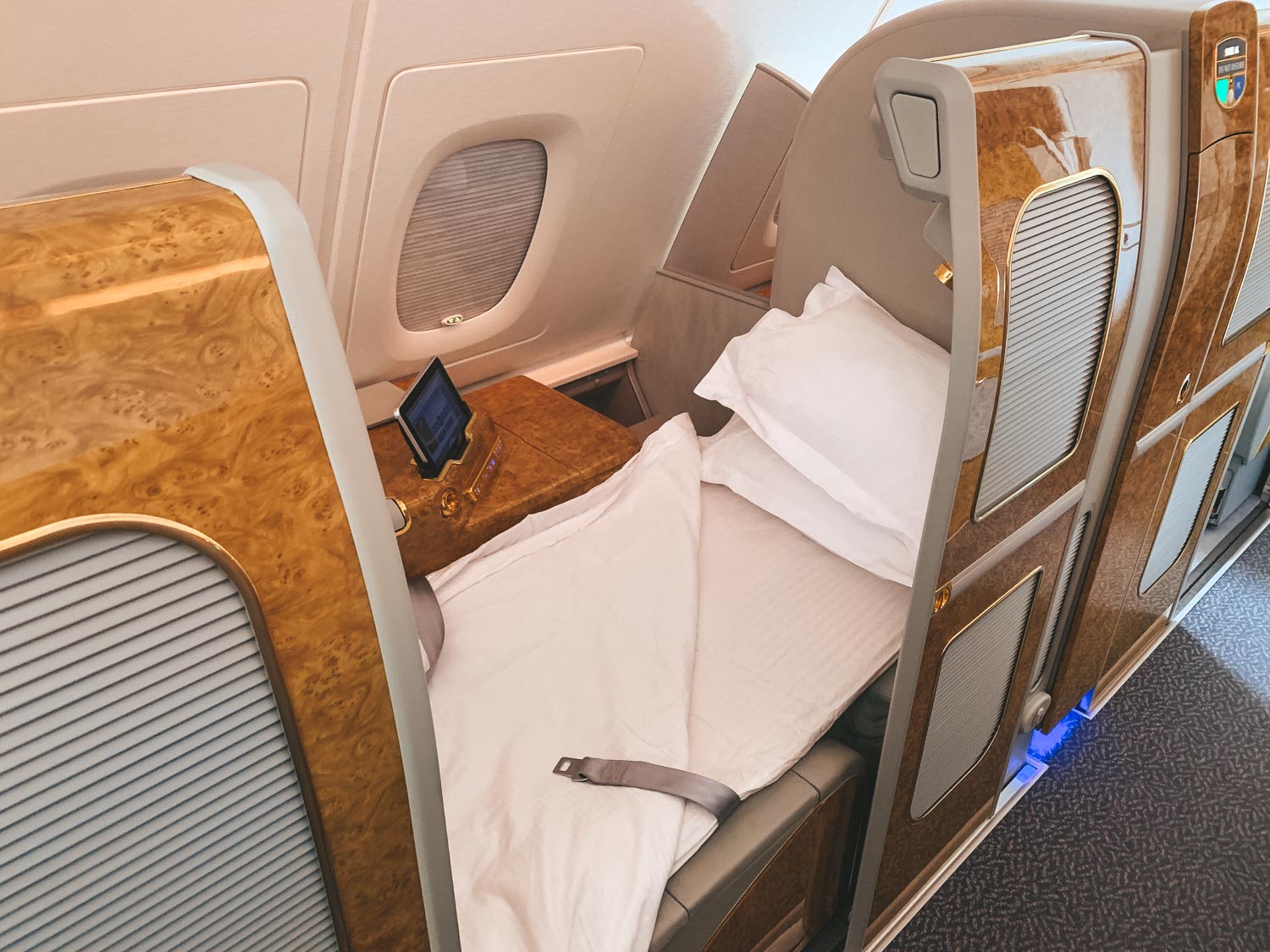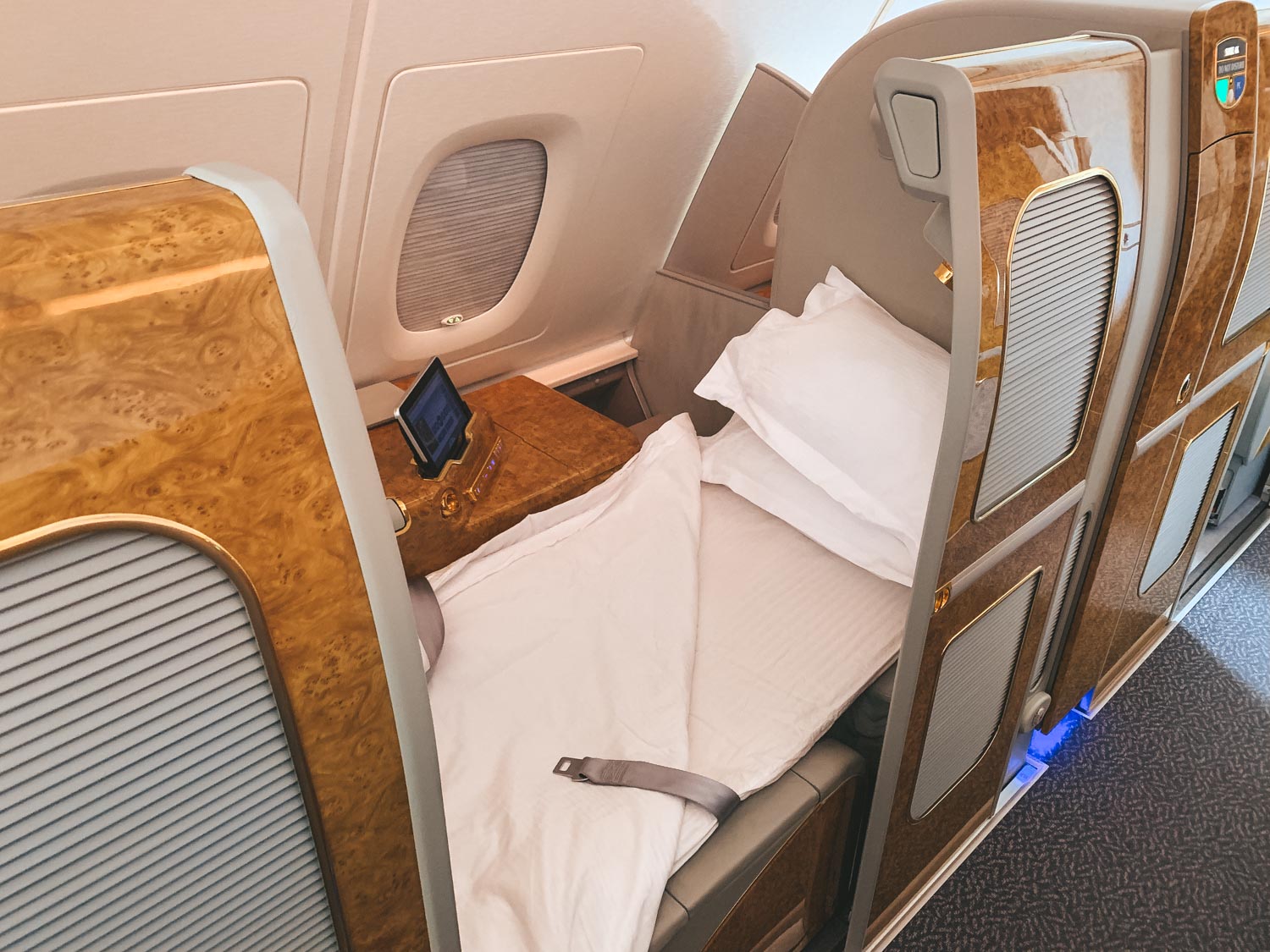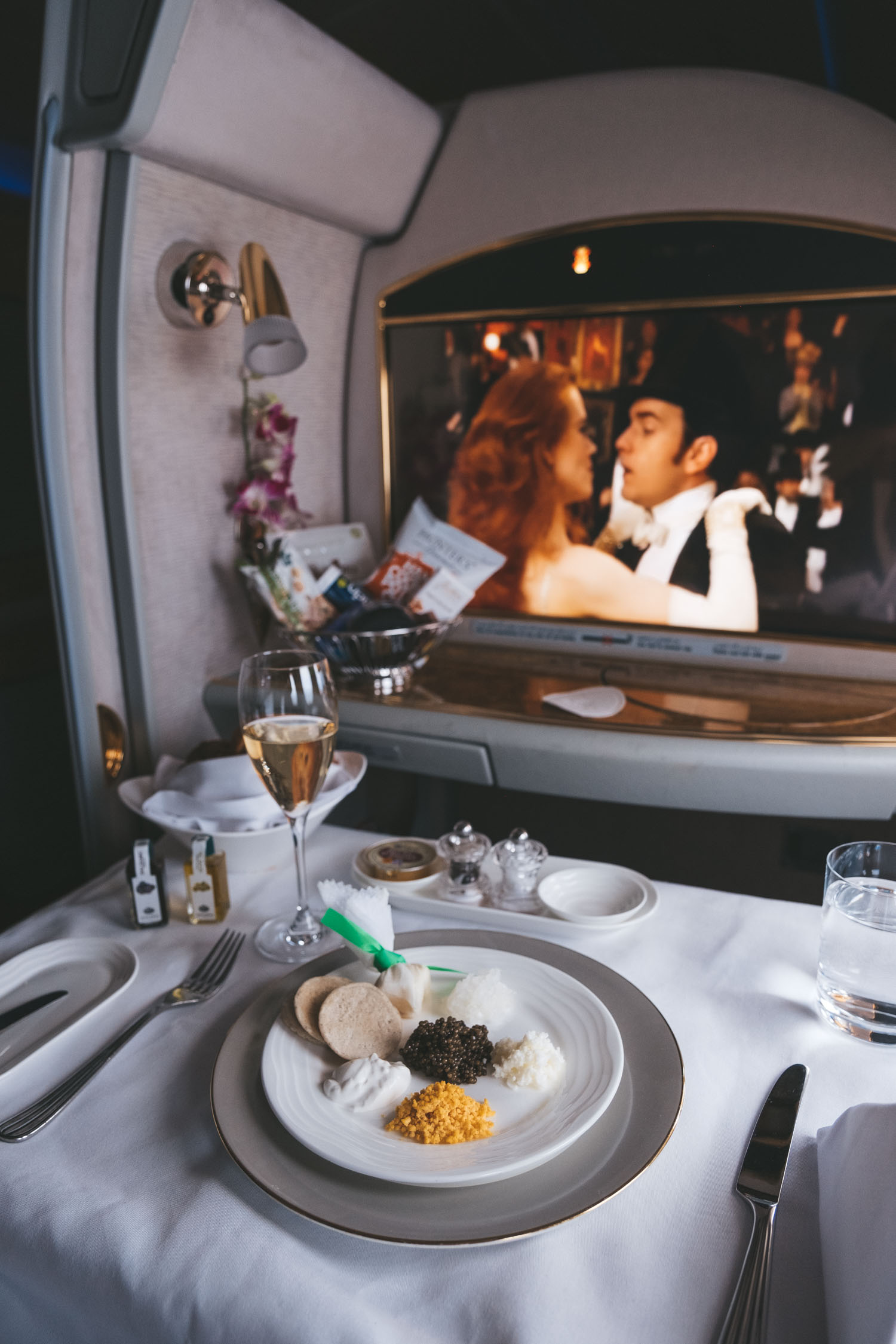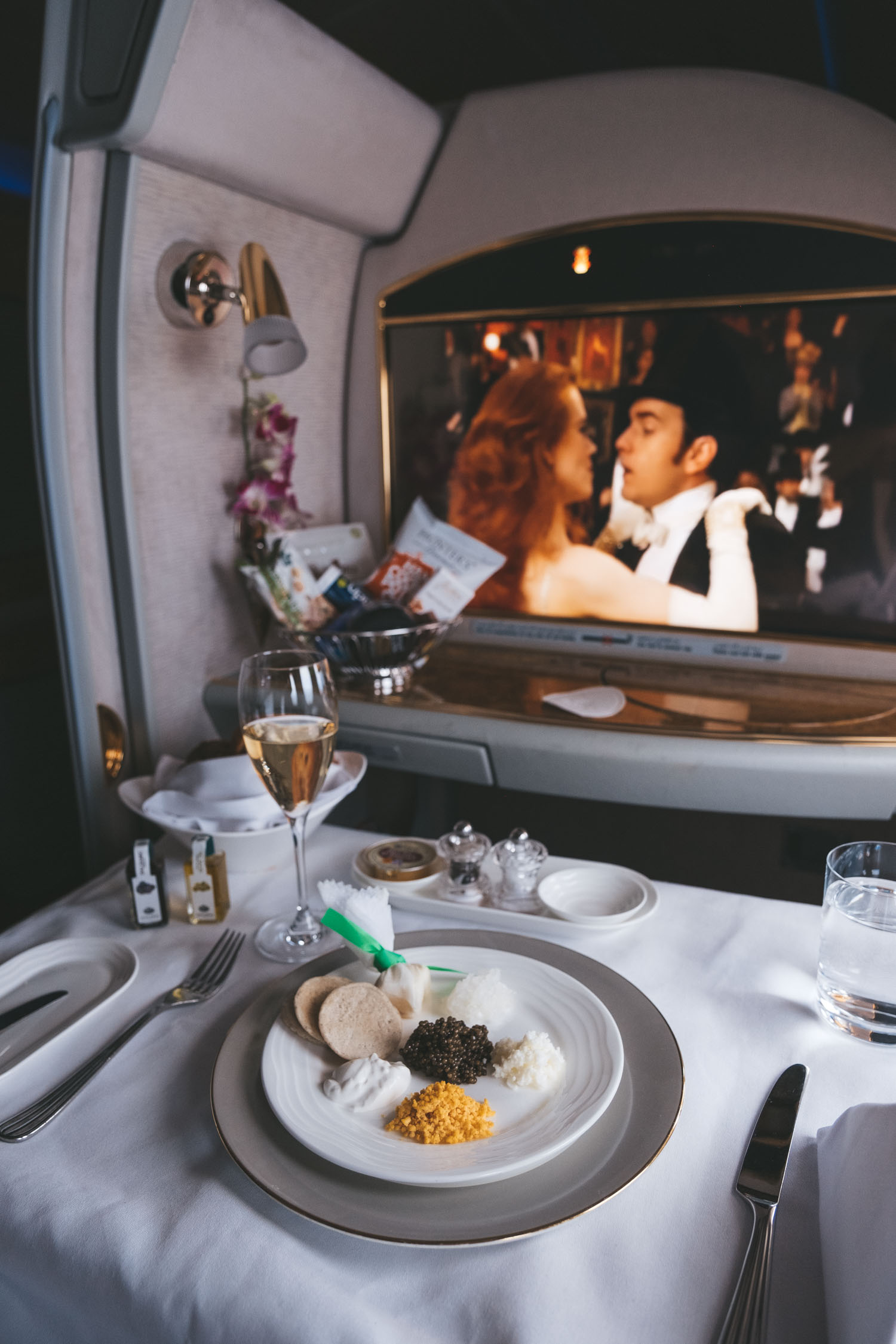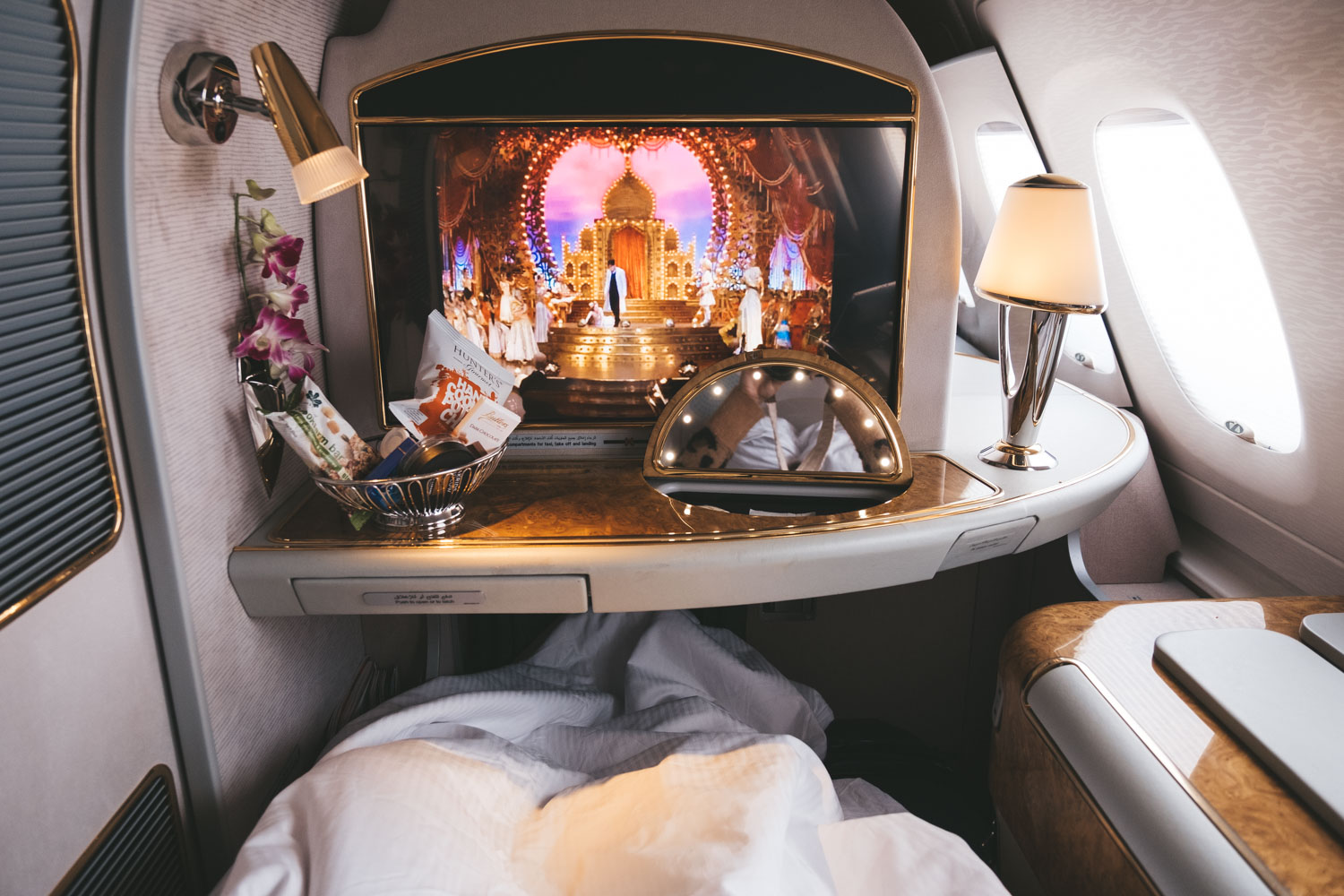 There are no overhead bins in First Class which make your suite feel super open and spacious.
As you board the plane and settle into your own suite, you are greeted with hot towels, Arabic coffee, dates, and champagne (Dom Perignon to be exact!). Once settled, you'll find that the seats fold down into a fully lie-flat bed and they include a mattress topper and full-sized pillow so you'll find no trouble getting comfortable.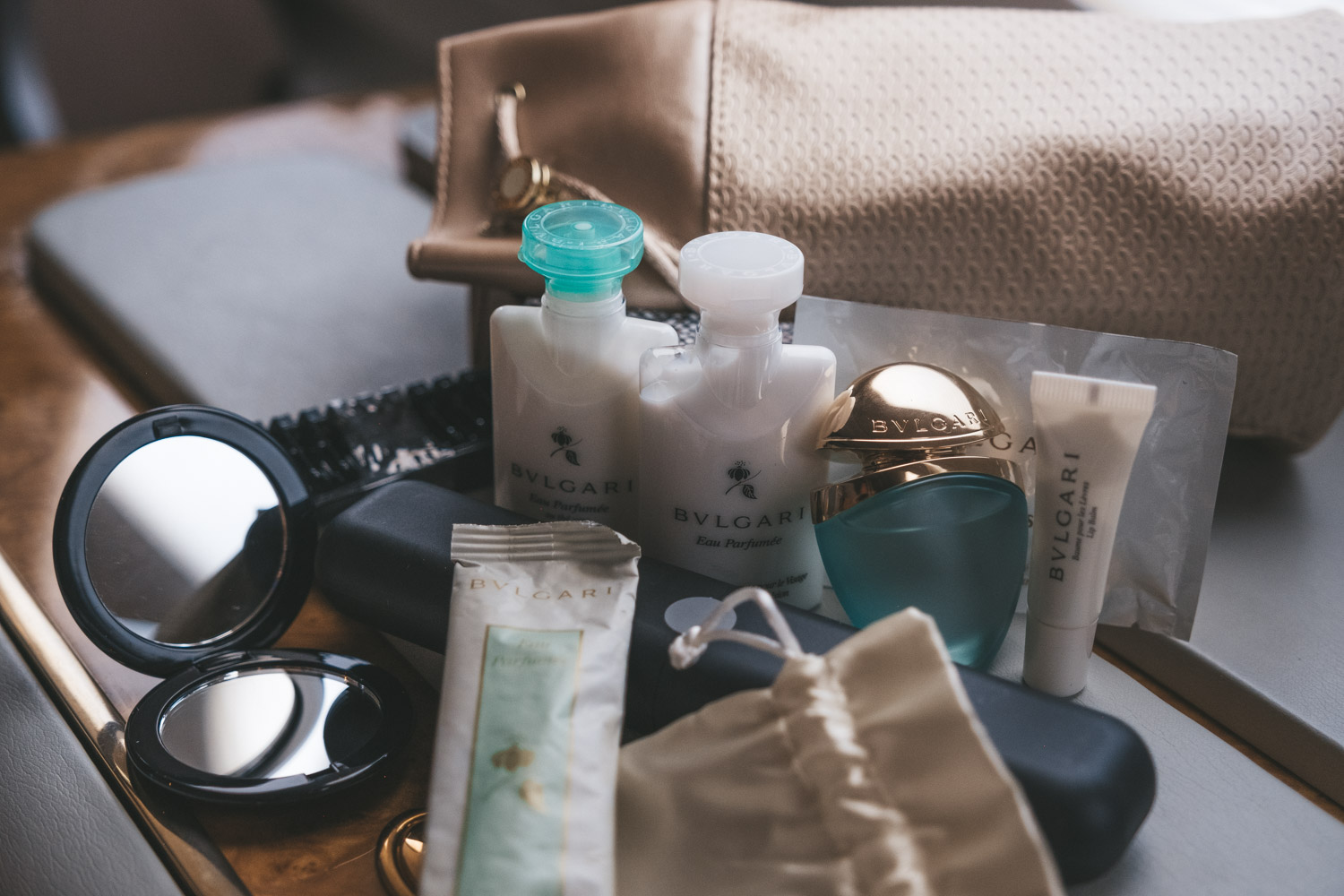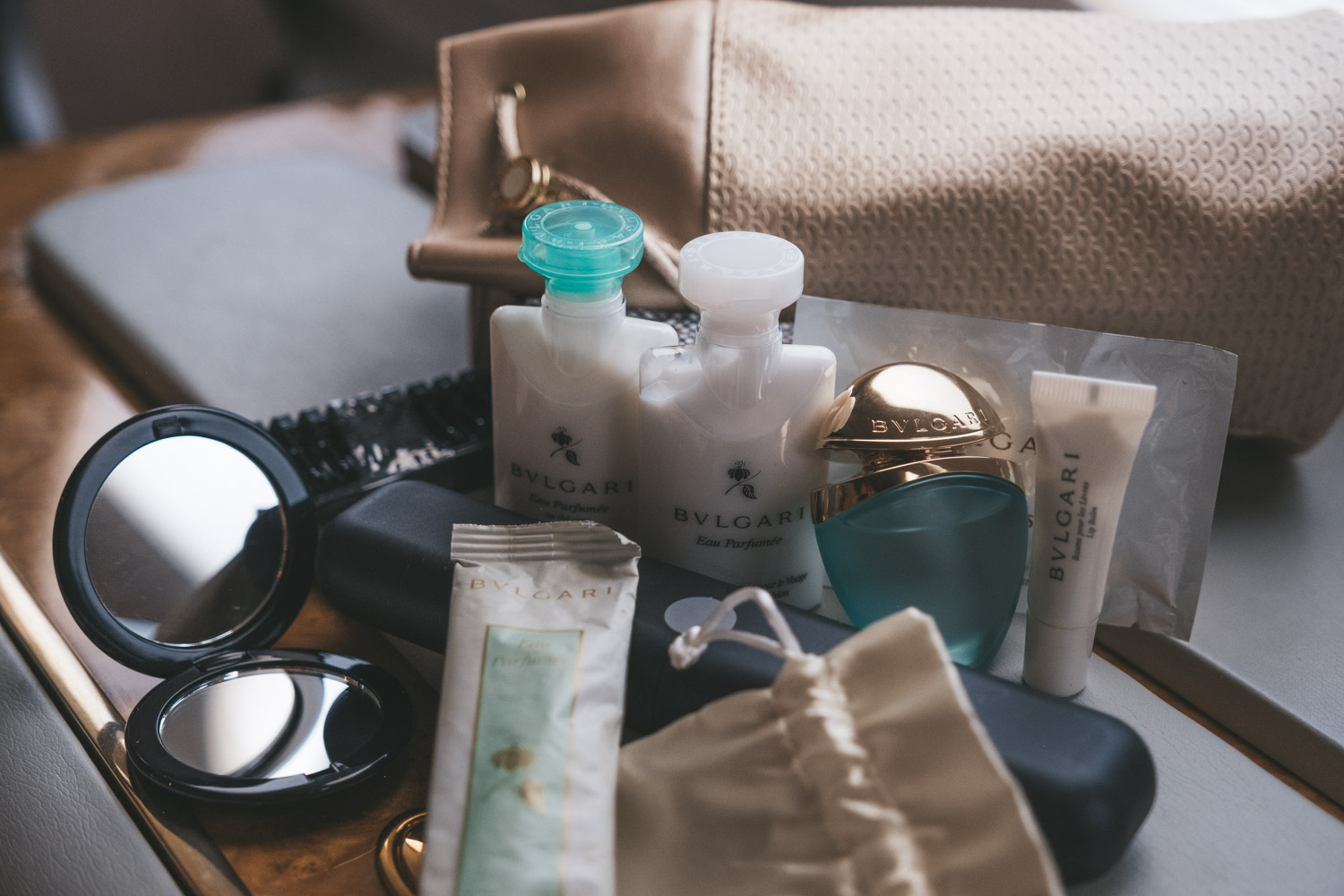 Emirates First Class Amenities
So, you thought the suites were nice, right? Just wait until you hear about all of the amenities included! Guests get a large Emirates bag that includes pajamas, slippers, and a leather Bvlgari amenity kit. The amenity kit is filled to the brim with luxury skincare products and even contains a small bottle of the company's signature fragrance.
It feels like Christmas morning as soon as you sit down!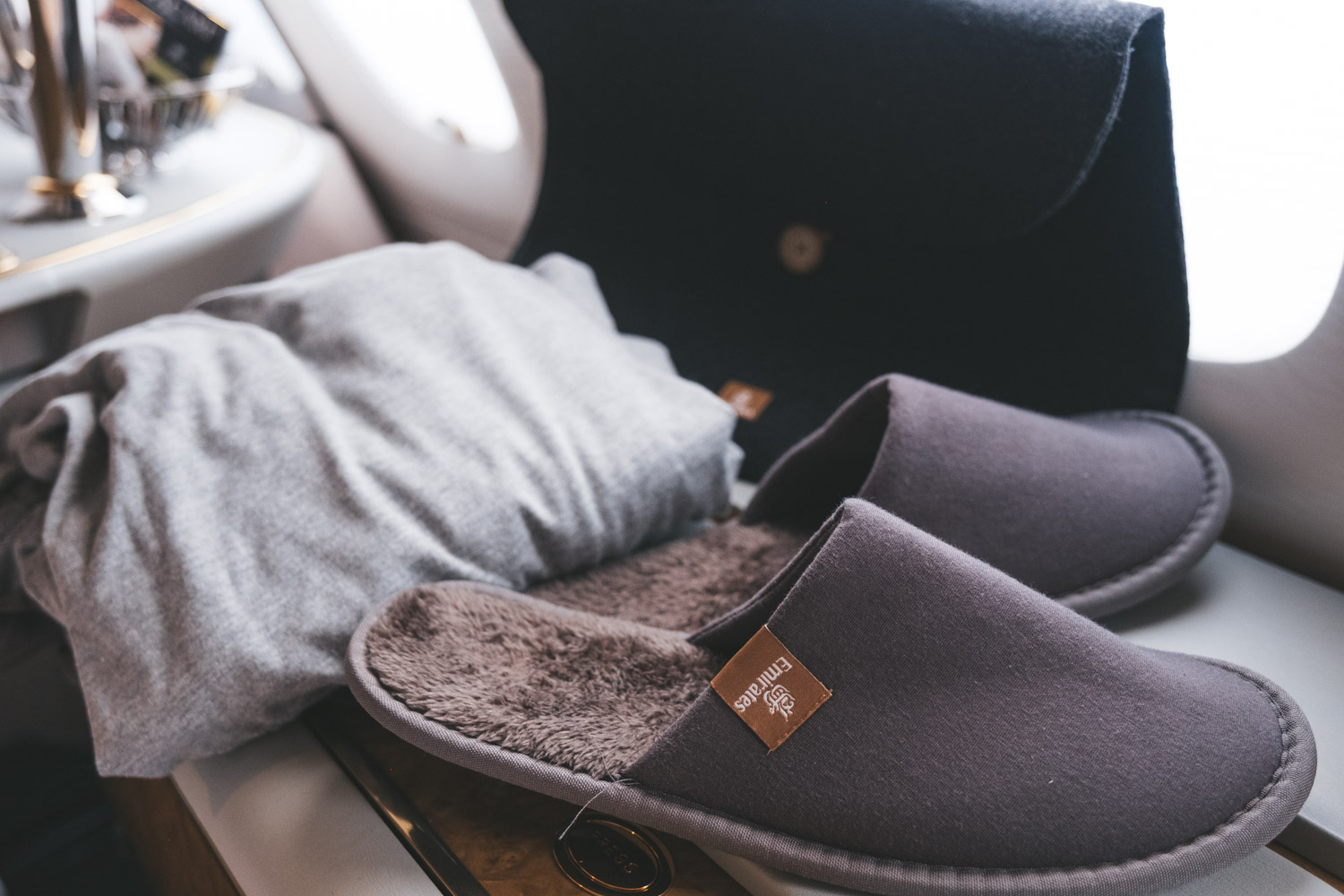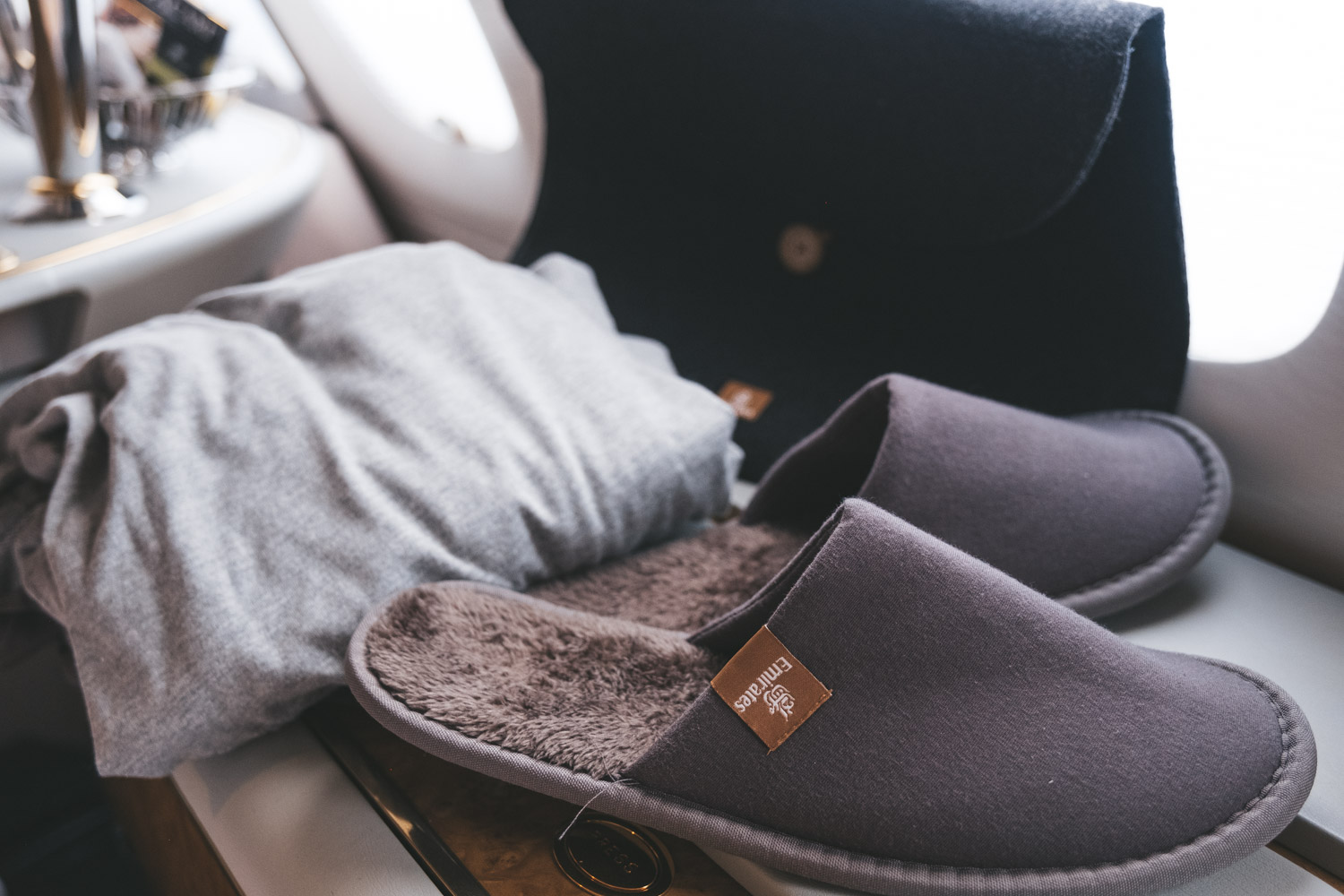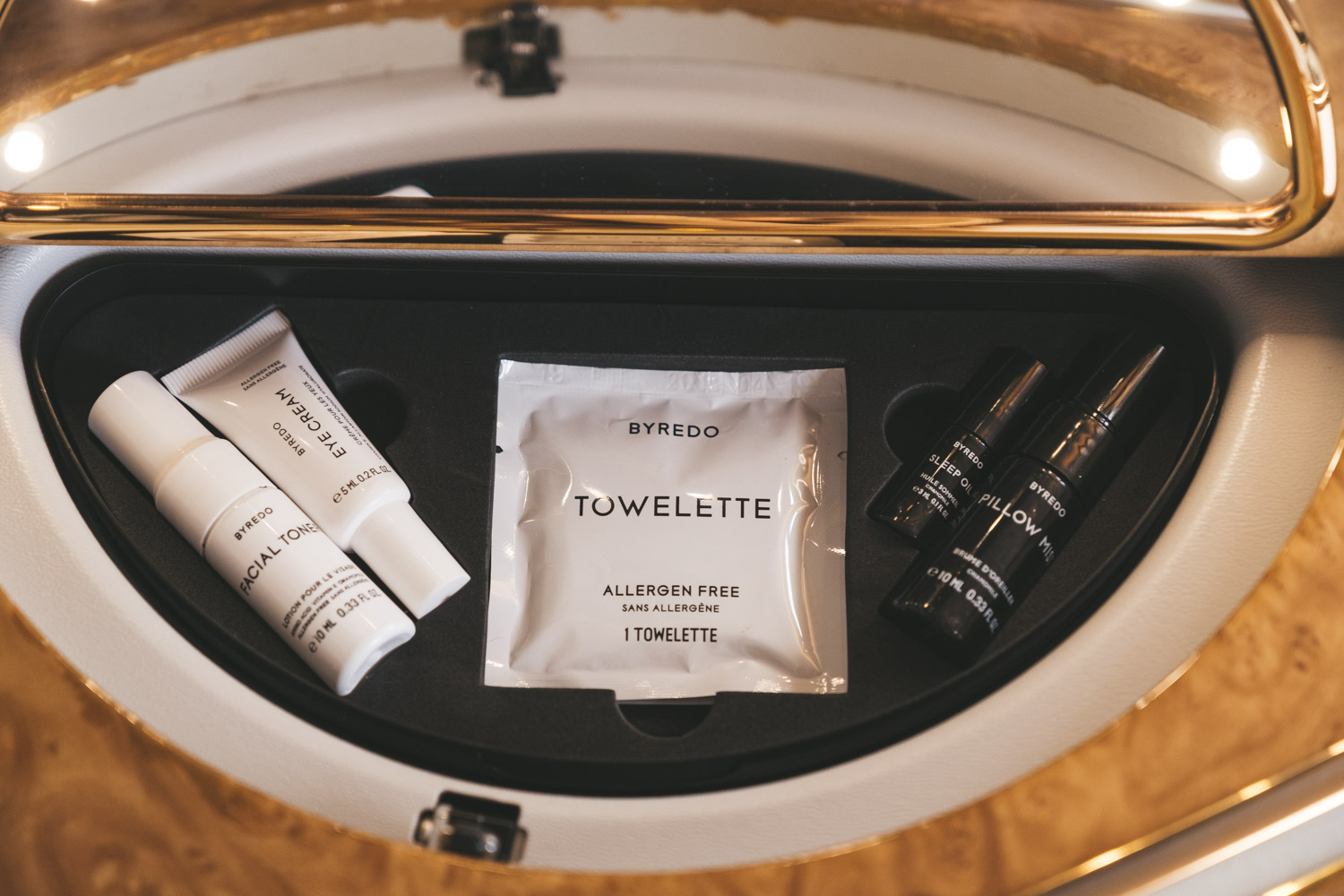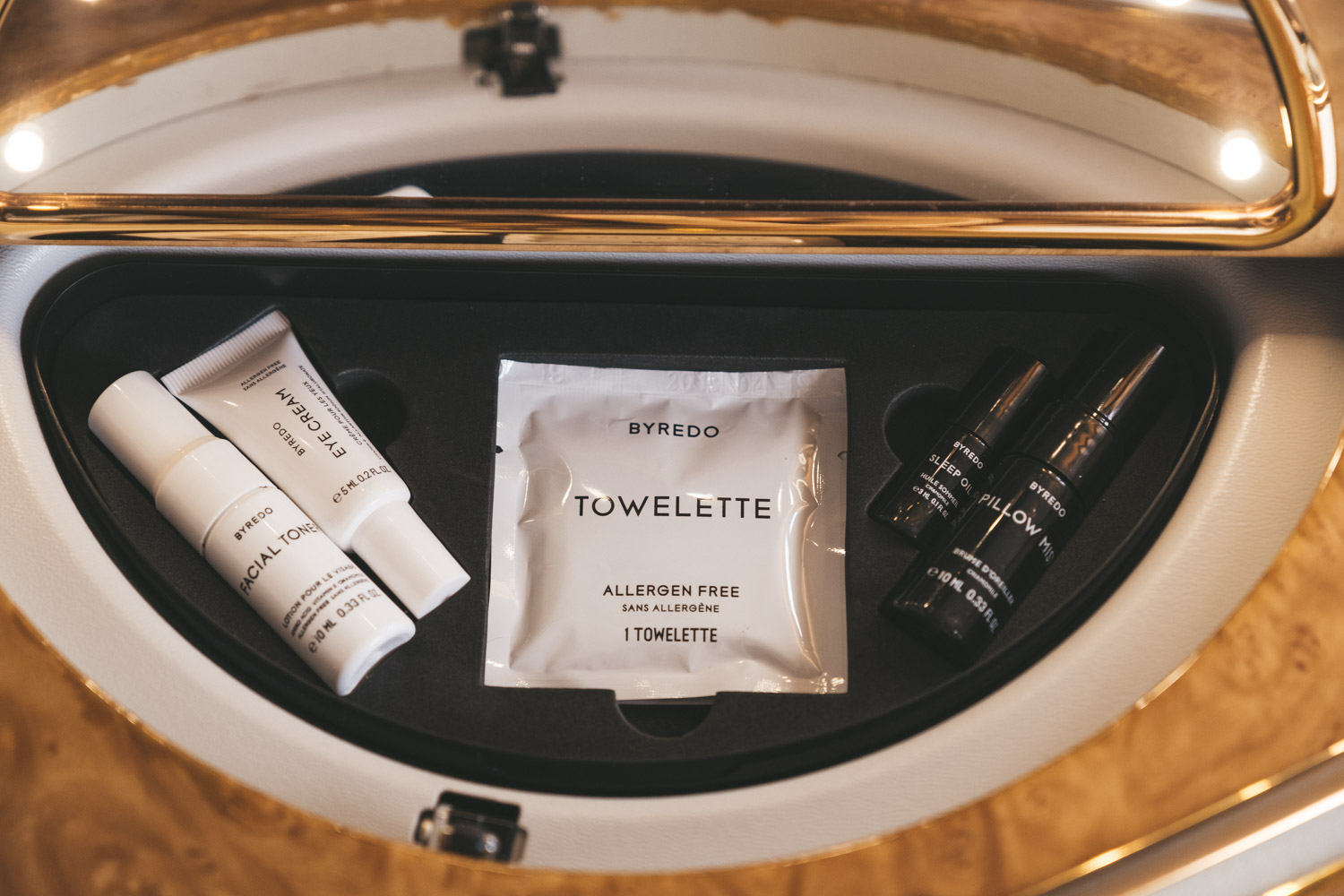 You also have your own personal snack basket filled with savory, sweet and salty snacks. They even give you a tube of rehydration tablets to keep you feeling your best on a long flight.
Other amenities include a minibar built into your suite with refreshments, noise-canceling headphones, and lighted mini vanity with extra toiletries!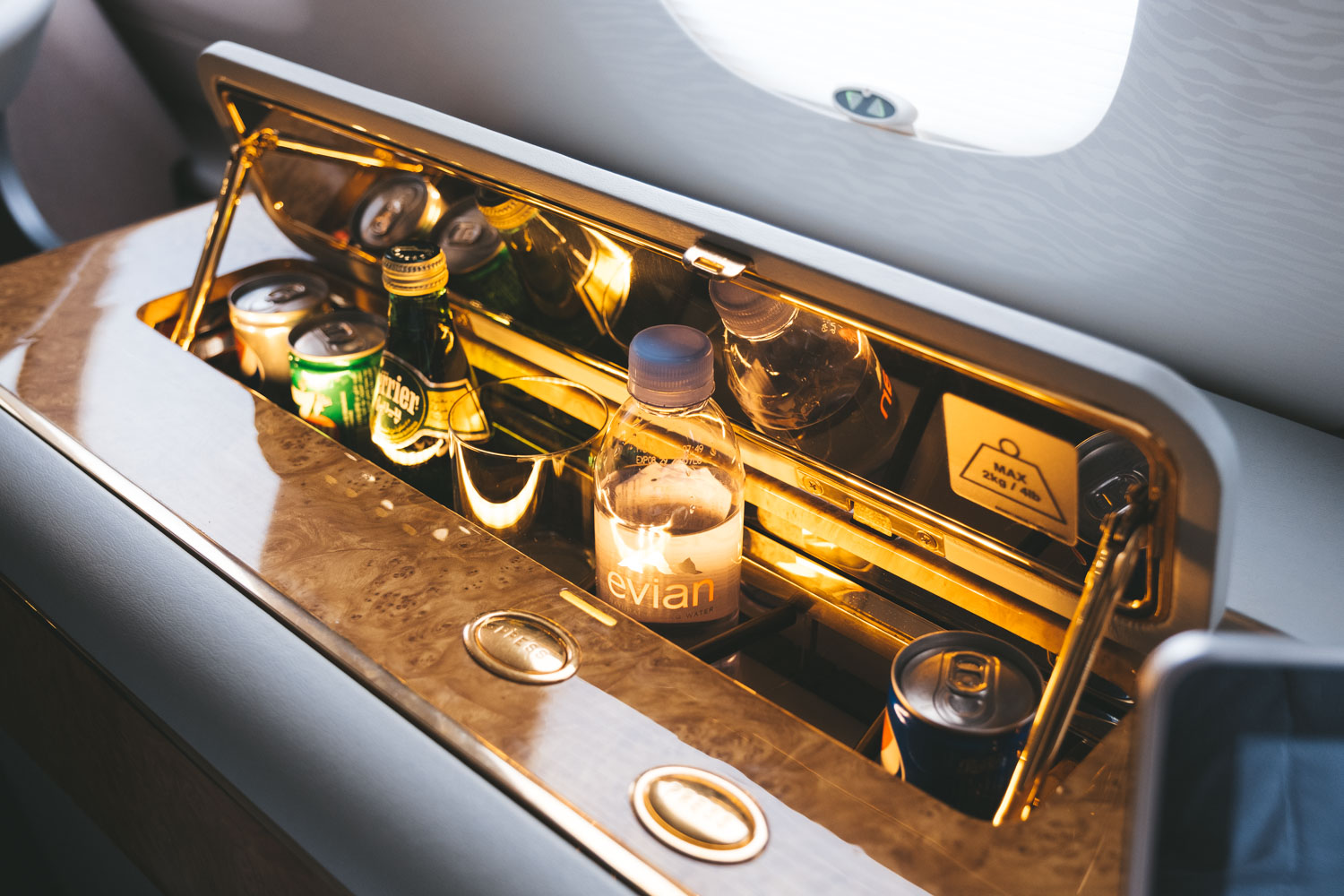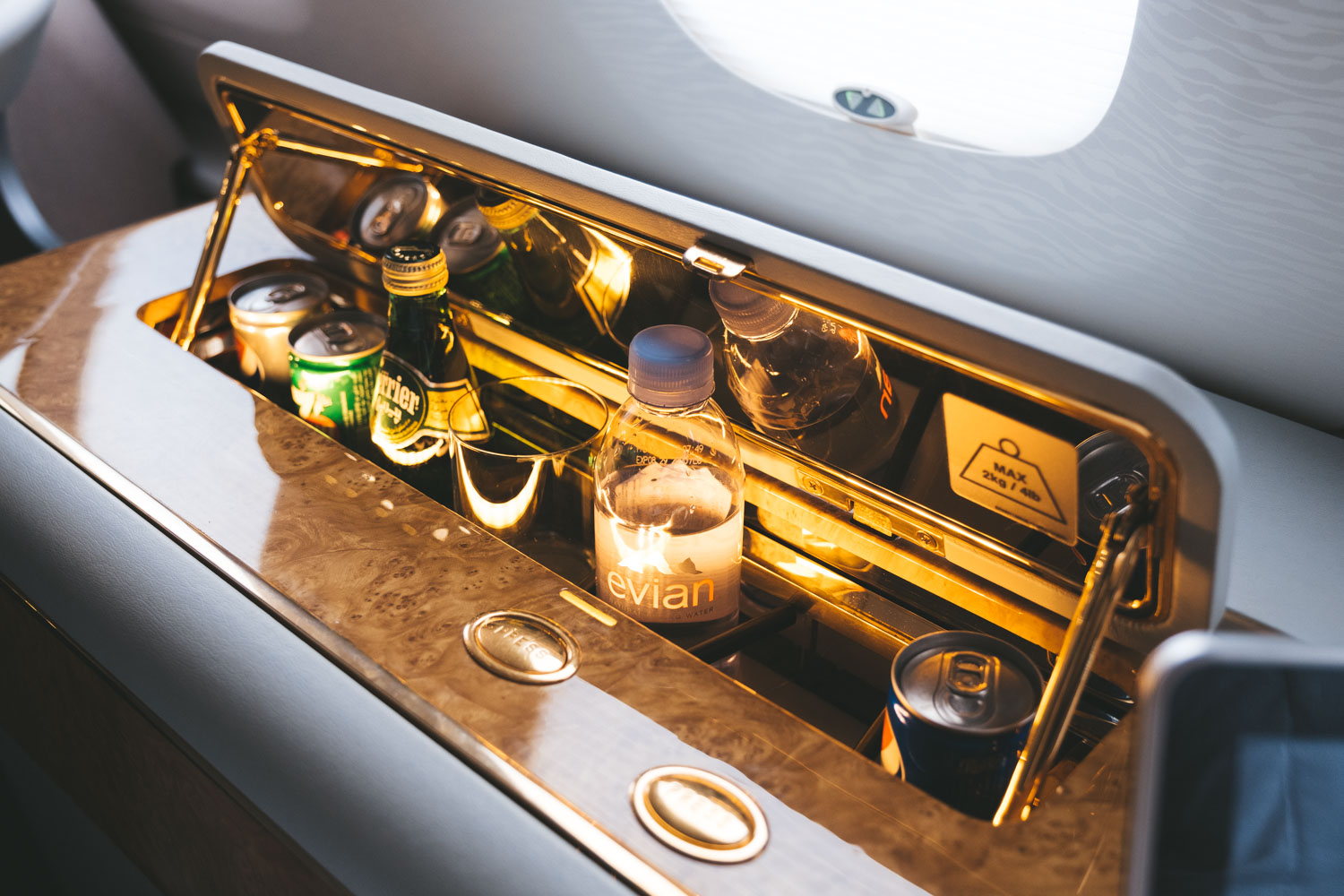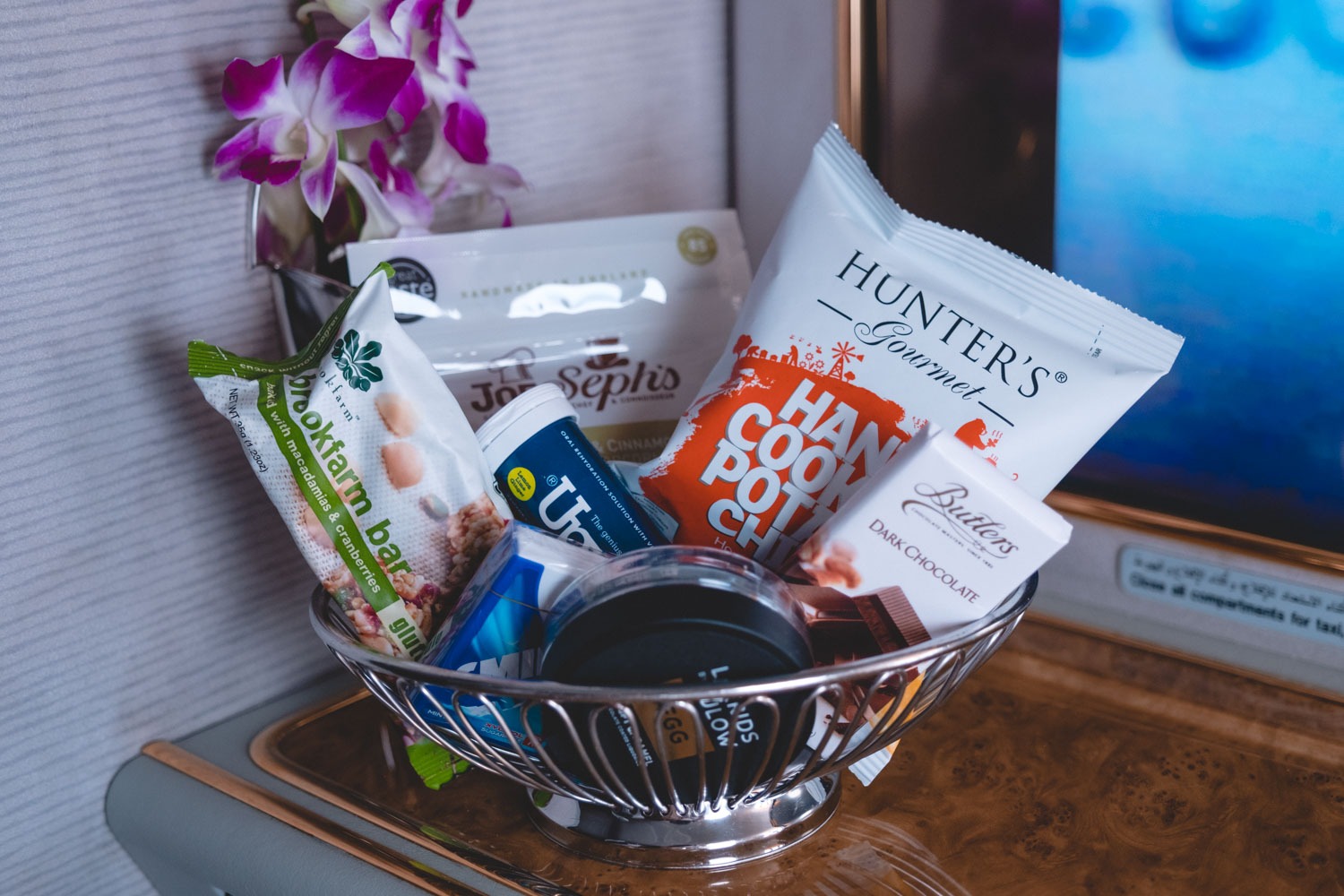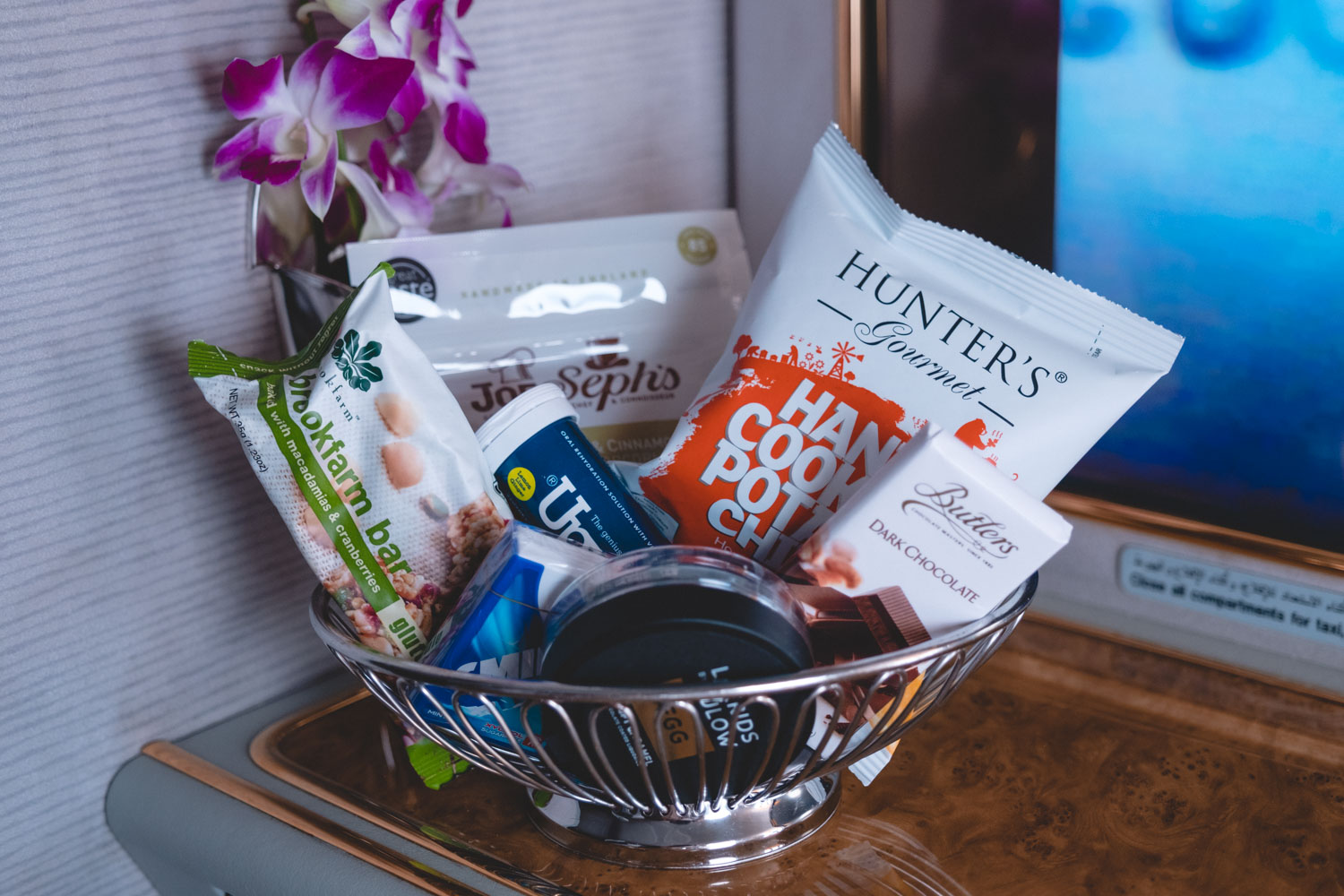 Lastly, let's not forget about the shower. Each First Class guest is allocated a 30-minute window to use the lavatory to shower and get freshened up before landing. You'll get 5 minutes of flowing, high pressure, hot water (that you can pause if you want to stretch the experience).
In the shower area, you'll find every amenity you could need, from soaps to razors to nail kits.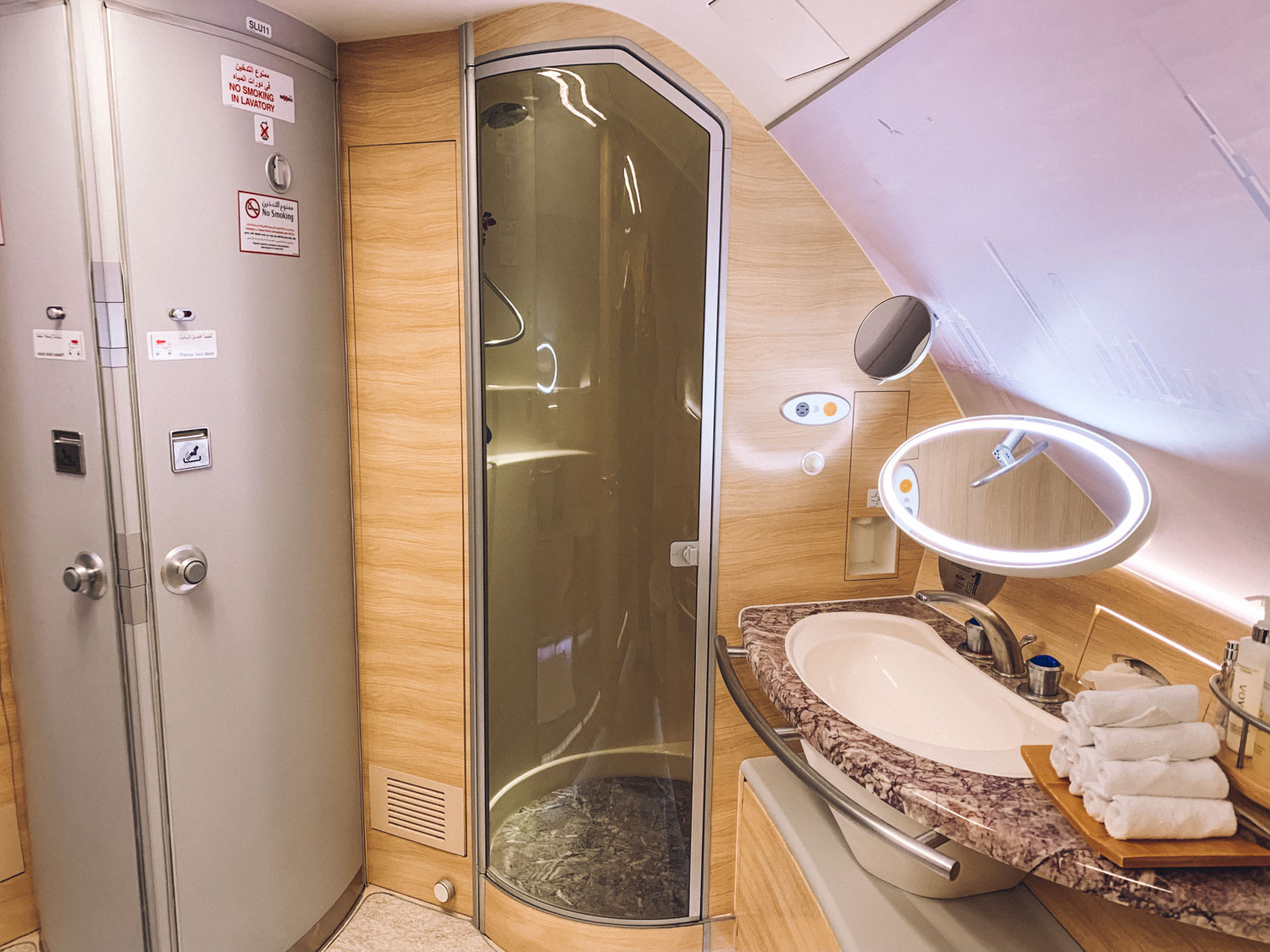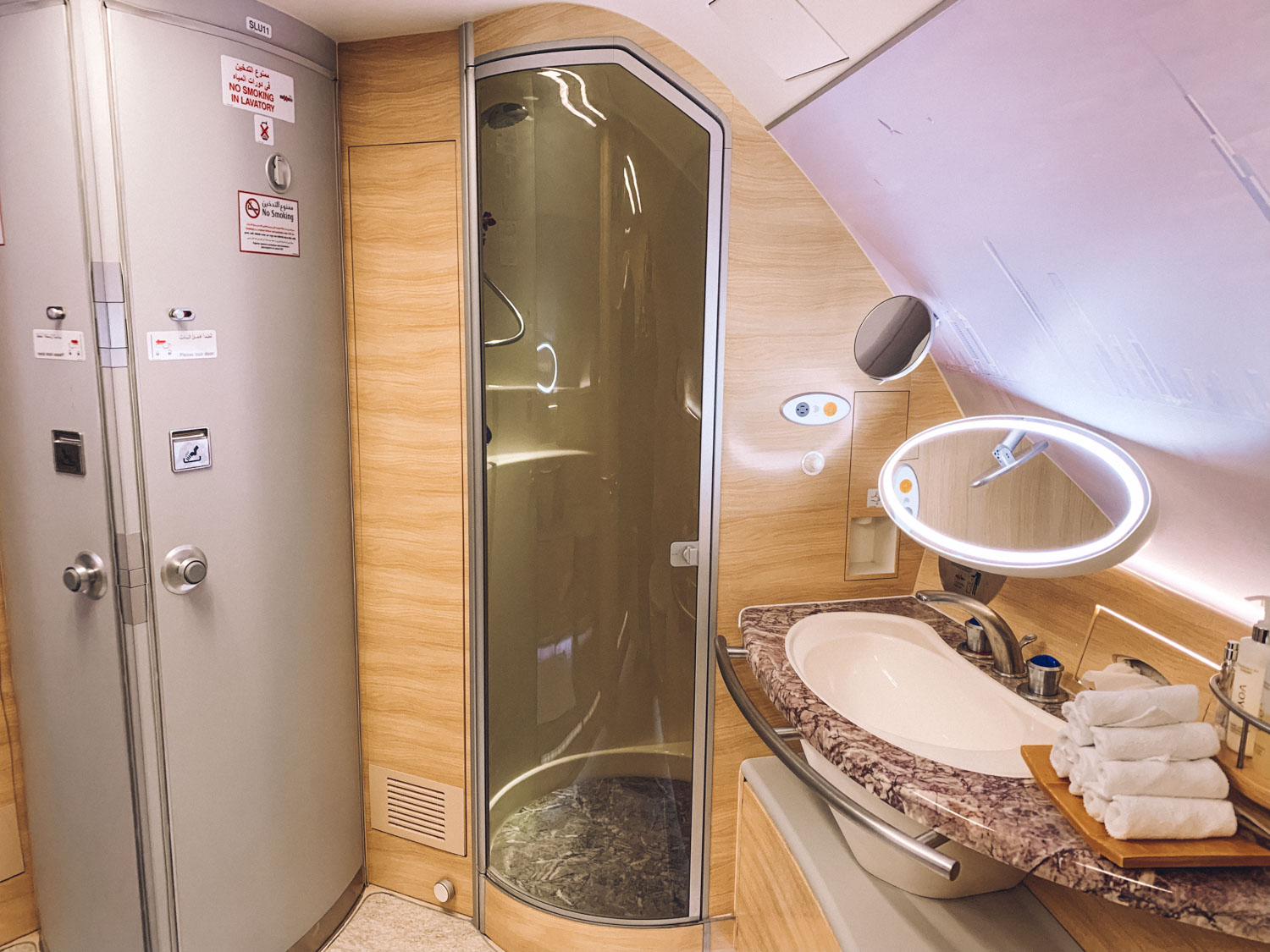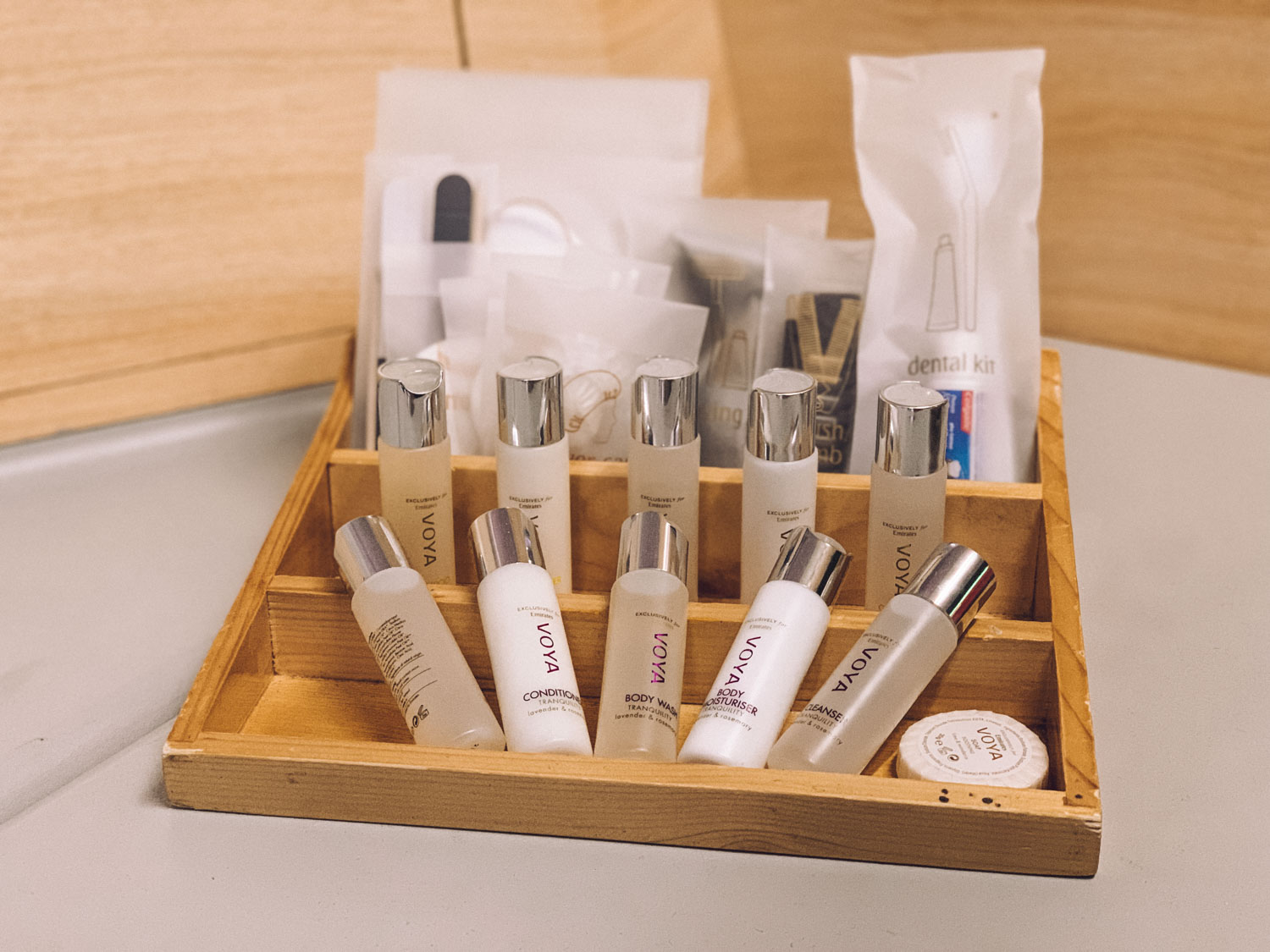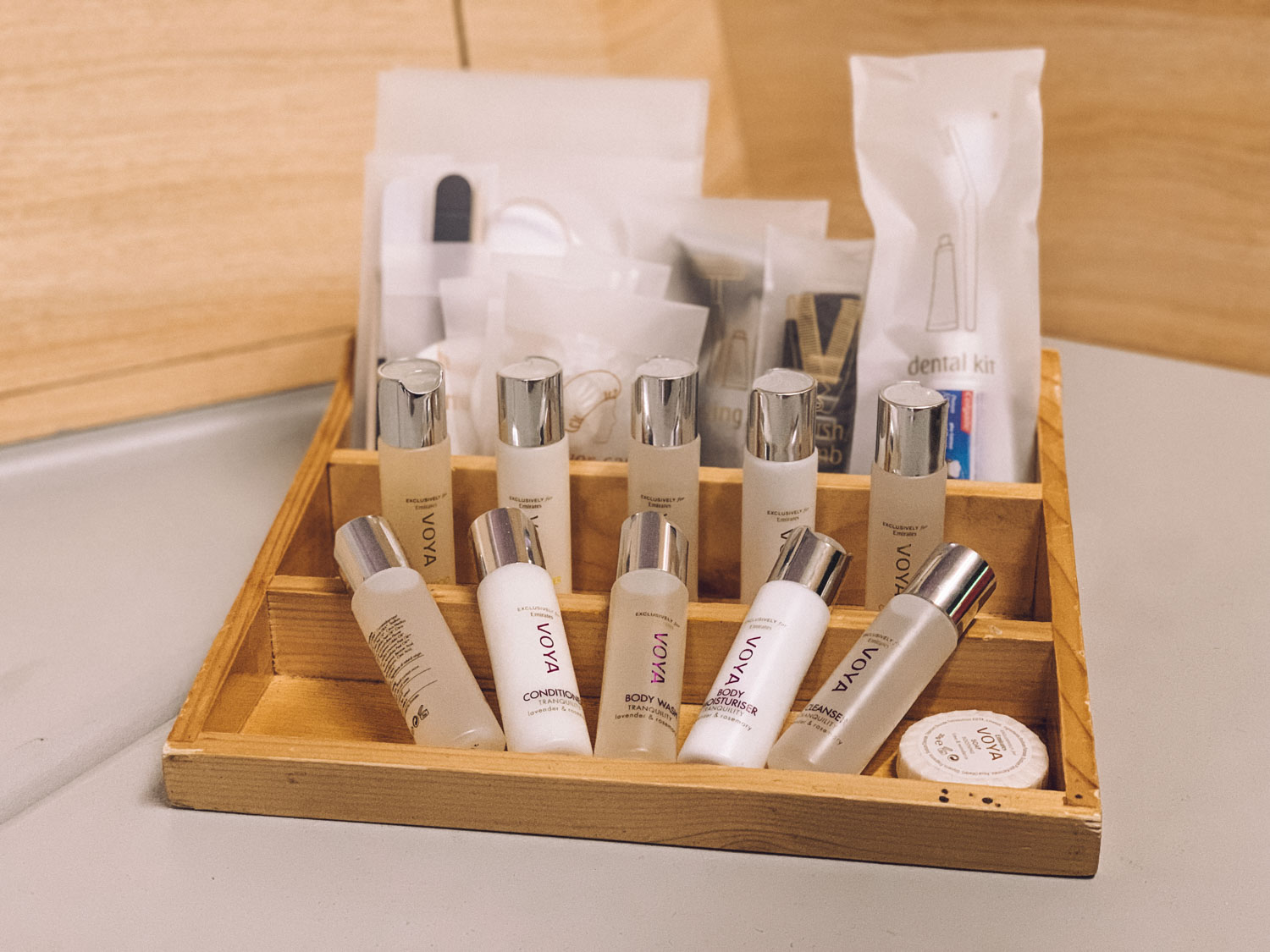 Emirates In-Flight Entertainment
As for entertainment, each suite has a 27" TV with a wireless tablet remote that's very similar to an iPad. When you close the suite doors, it almost feels like you have your own movie theater.
The Dubai to LA leg has free WiFi for the duration of the flight and each suite has a universal plug point and USB port for charging devices, so you can get all the work done your heart desires! One of my favorite little touches was the notepad and pen station so you can doodle or journal!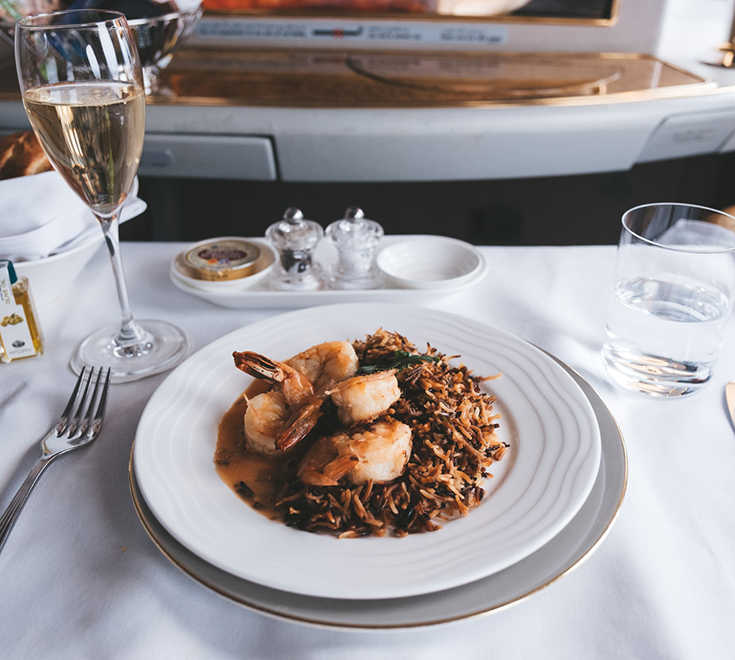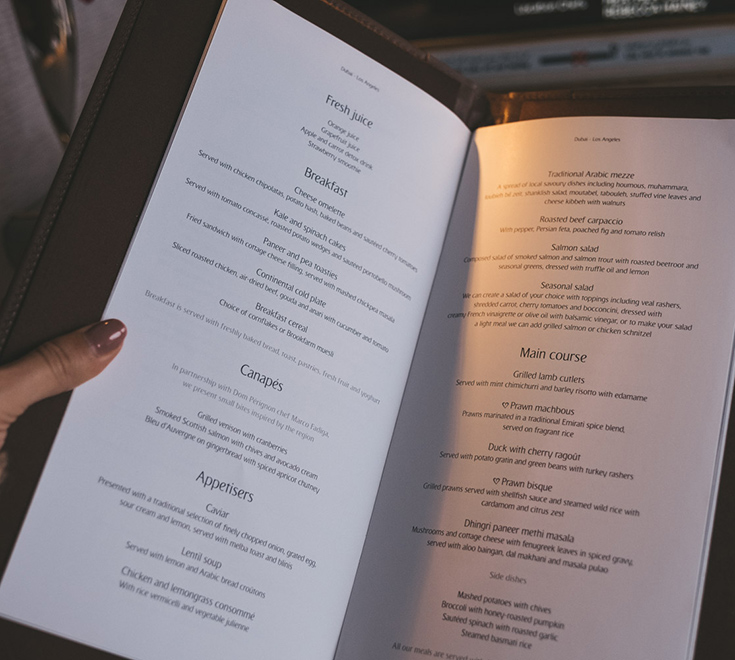 Emirates First Class Food & Drink
Emirates' First Class goes just beyond its amenities. Dining is on-demand with the airline meaning you get whatever you want, whenever you want it. On the menu, you'll find a la carte options, gourmet dishes, snacks, and more. They also start your dining experience with caviar.
Doesn't get any fancier than that!
Some menu options include waffles, eggs Florentine, roasted beef short ribs, Mughlai chicken, chicken and lemongrass consommé, and more. If you have a sweet tooth like me, you have options like lemon cake with pistachio, brownies, fruit, a cheese board, and more.
Depending on your route, the menu will probably differ slightly.
I think one of the biggest highlights of flying with Emirates is their beverage menu. Even if you're flying First Class, it's worth strolling back to the Business Class bar. There's an onboard bar staffed with bartenders and tons of snacks.
You can choose from a list of wines, beer, liquors, mocktails and cocktails!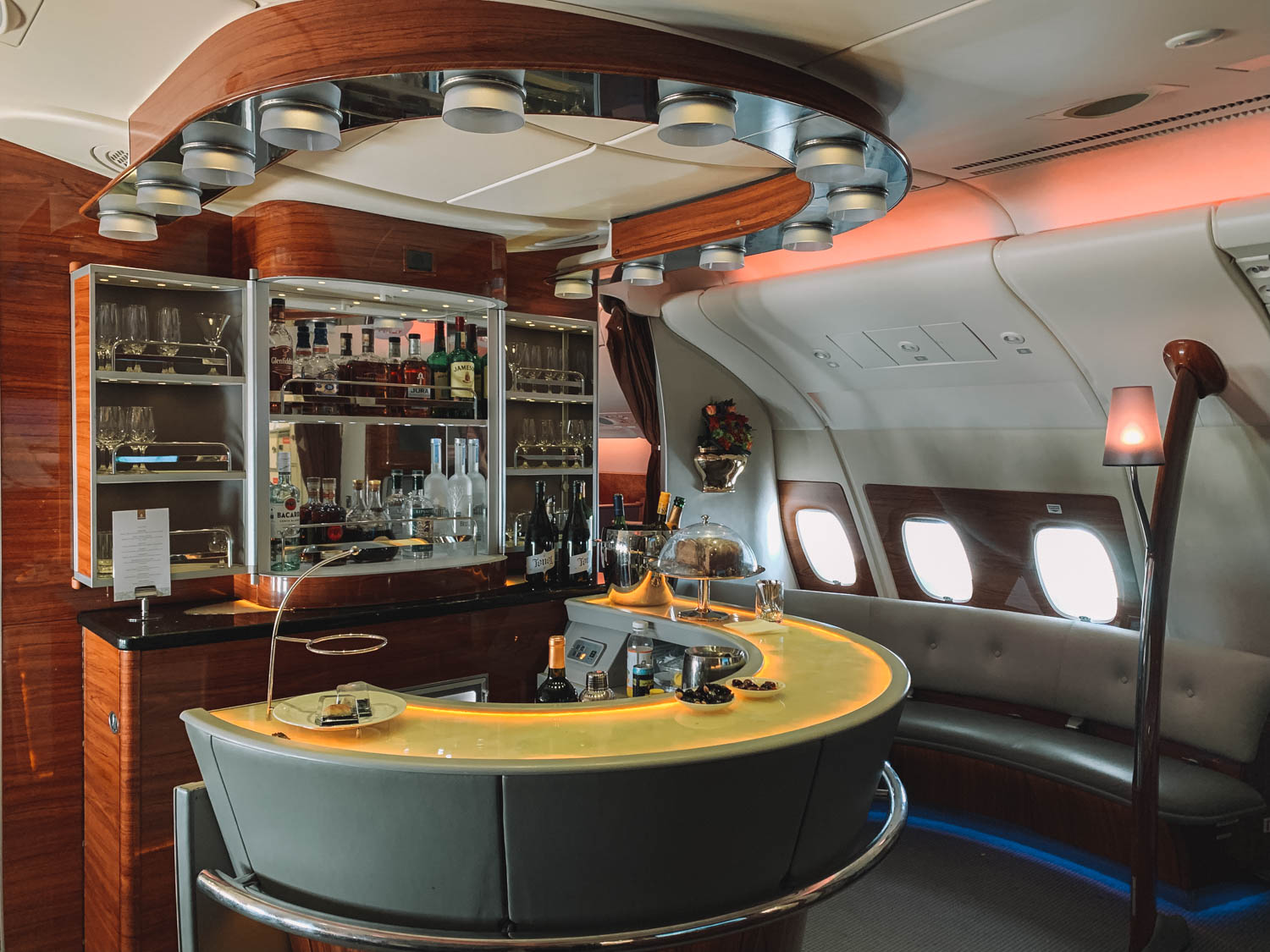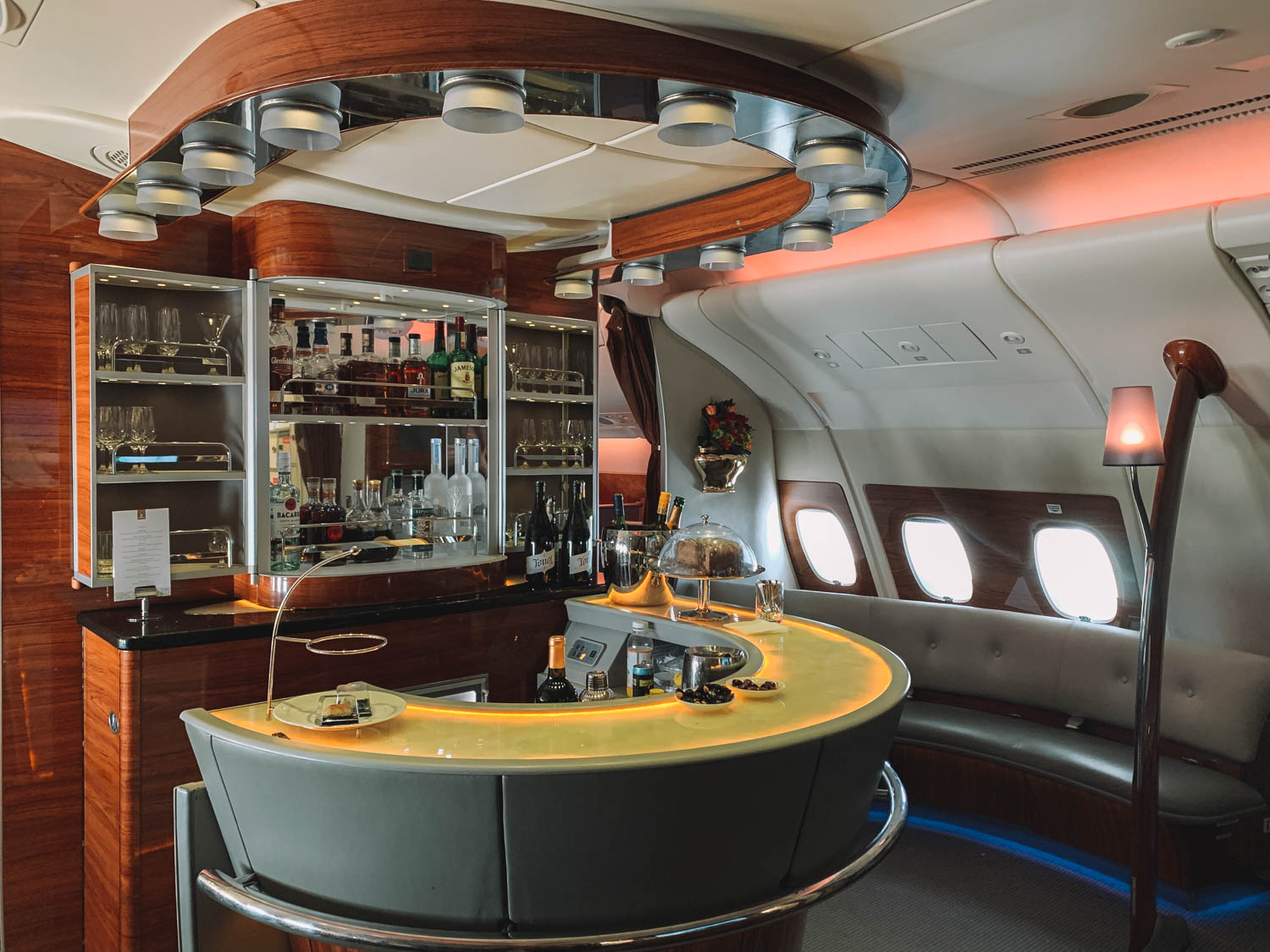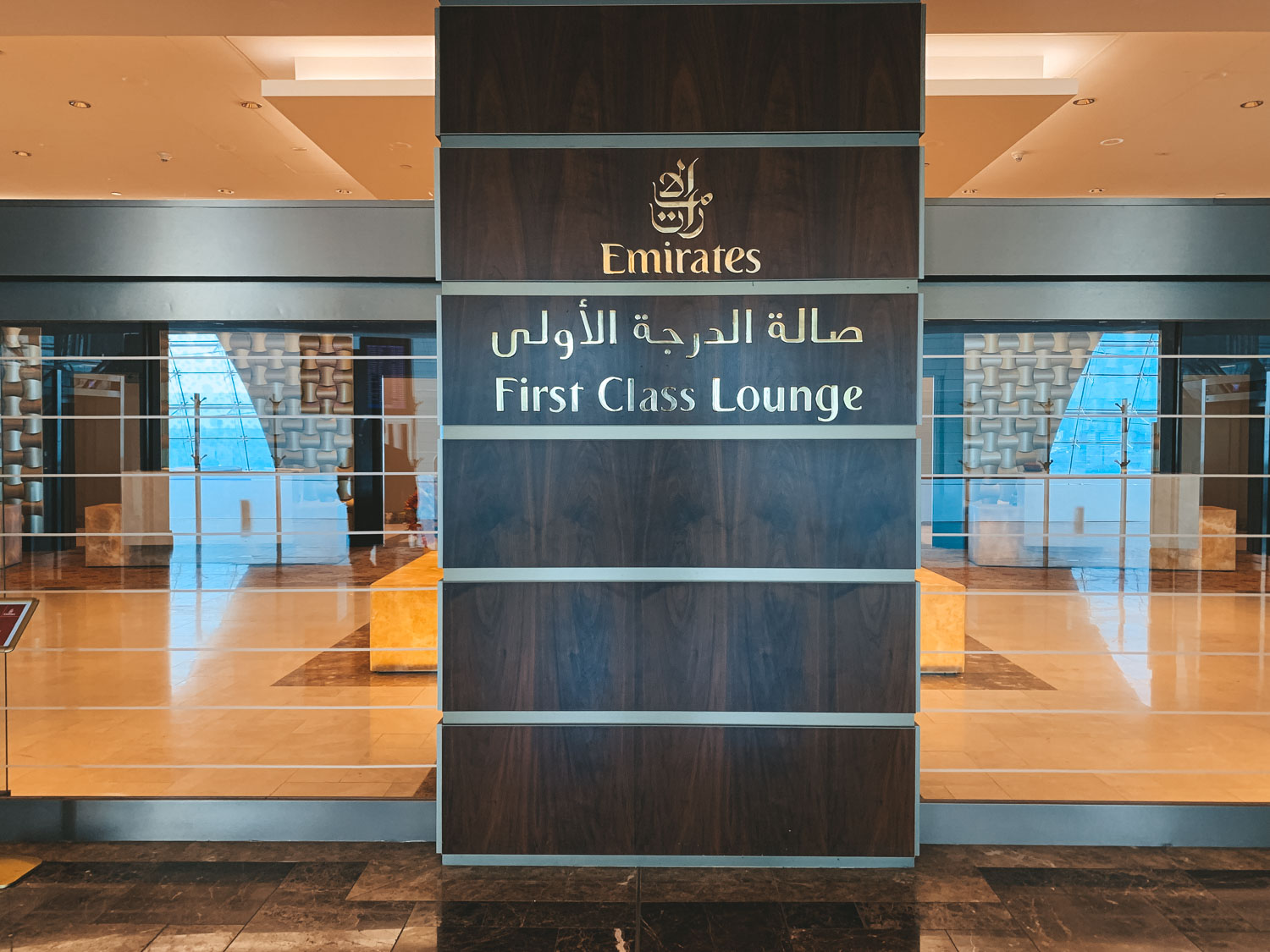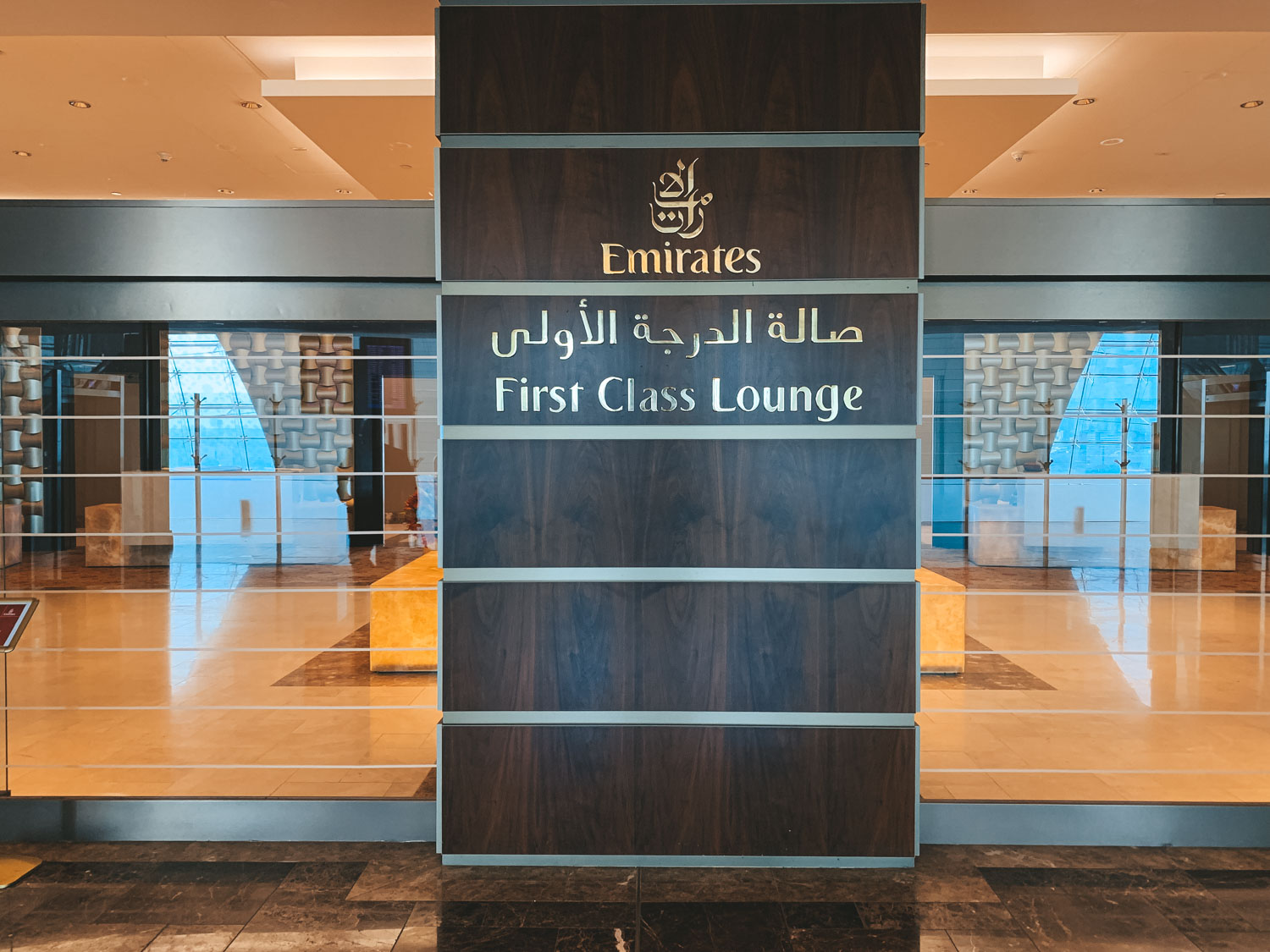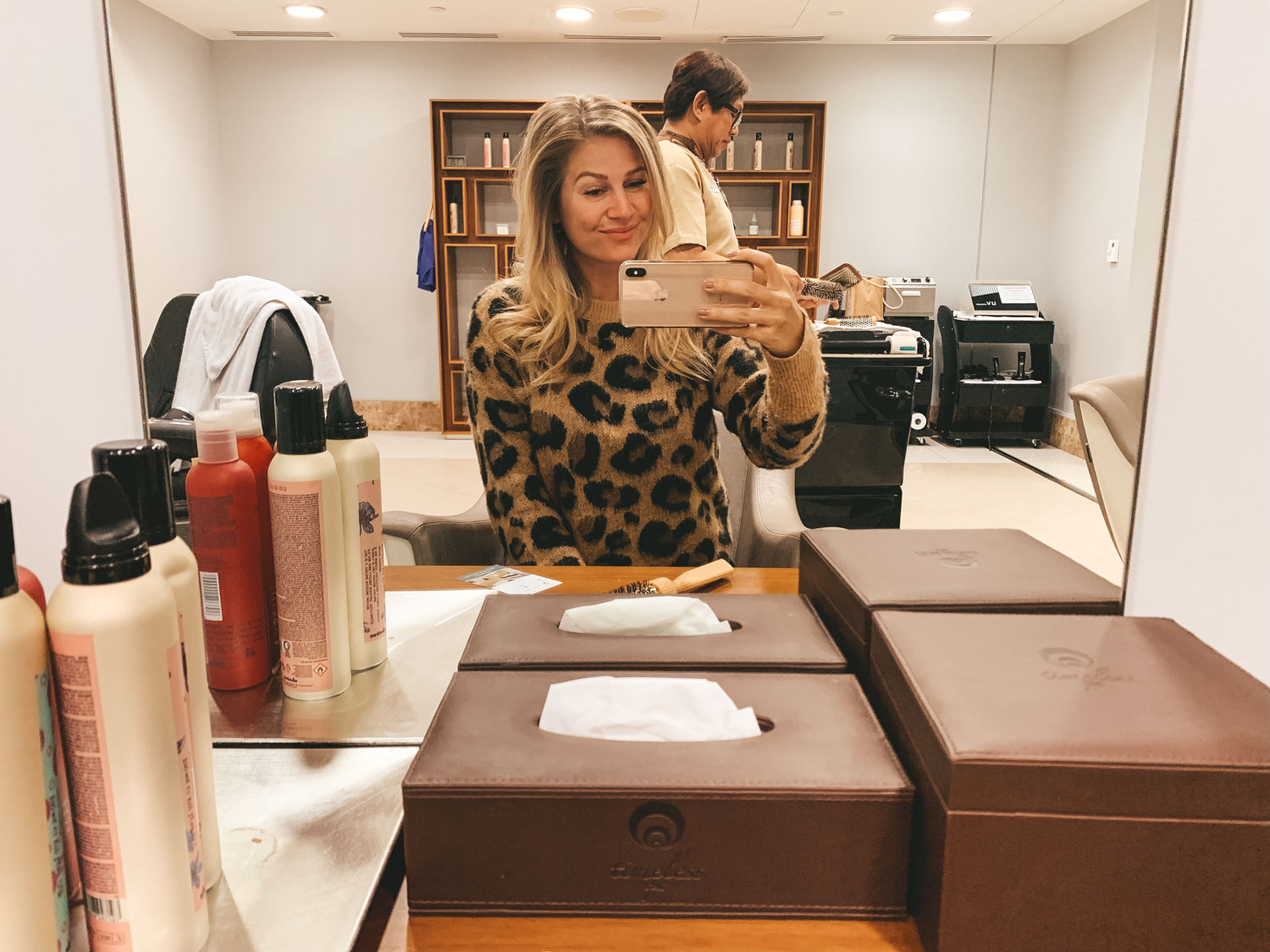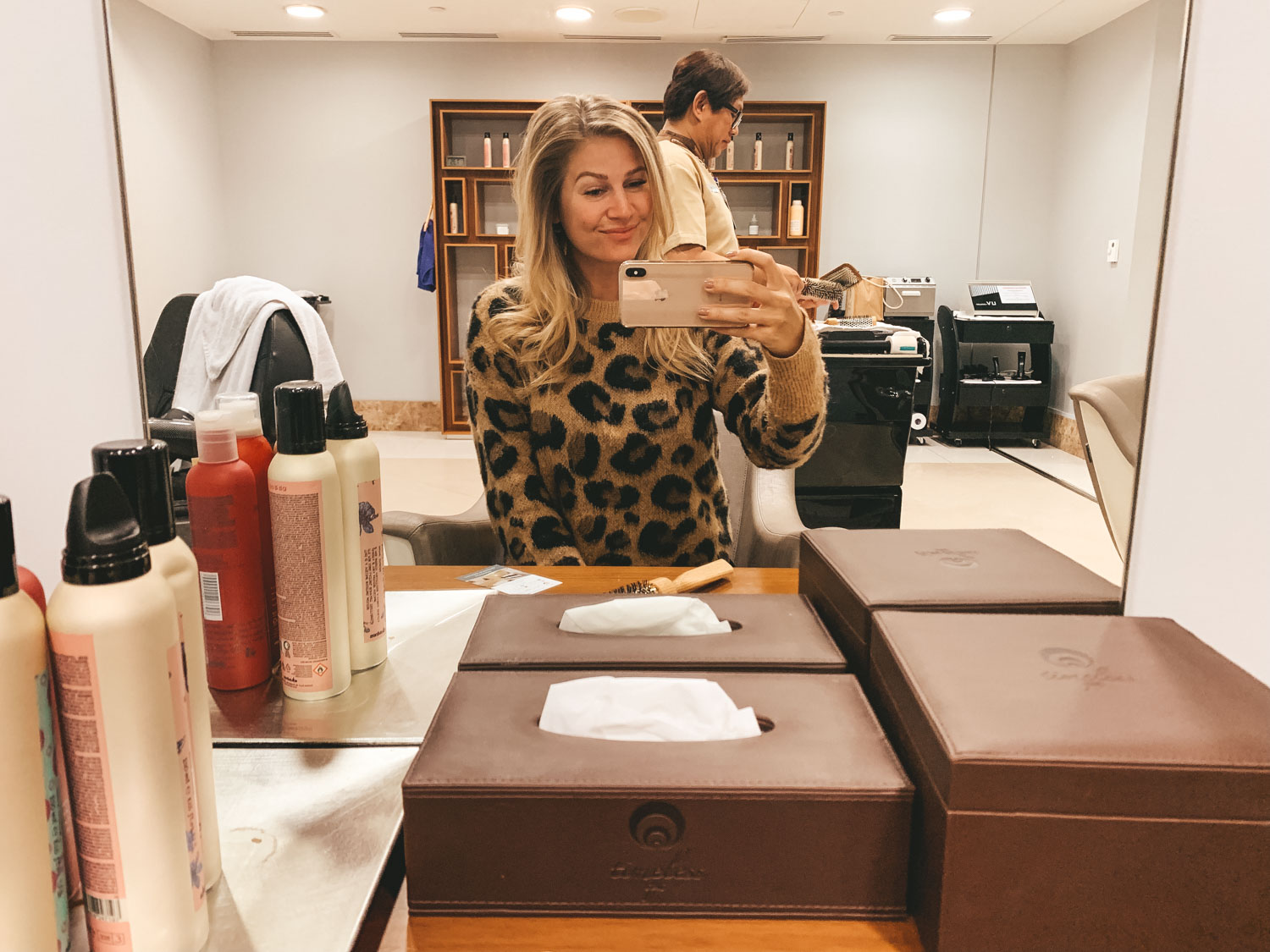 Emirates First Class Lounge in Dubai
One of the reasons I upgraded my leg from Dubai to LA (instead of the other way around), was to experience the Emirates First Class Lounge in Dubai!
When you arrive, you can book a complimentary 15-minute massage at the Emirates First Class Lounge Timeless Spa. Fancy getting your hair and nails done? You can opt for a professional blow dry or a manicure refresh! Now that's the way to begin a long day of travel, right?
The lounge is MASSIVE. There's a buffet restaurant, multiple food and drink stations, a bar, a cigar lounge, a sleeping room, and even its own duty-free shop. It's over-the-top, per First Class standards. Not a fan of overcrowding in lounges? You really don't have to worry about that here—seats are abundant, as well as space.
You even have a special gate to board the plane exclusively through the lounge so you don't have to board with the entire plane at the normal gate.


Overall Impression of Emirates First Class
If not yet obvious, in my eyes, Emirates is one of the best (if not the best) airlines to ever exist. They pay such close attention to detail. From the food and drinks to the hotel-like suites to the impeccable service, I wish I could fly First Class on Emirates every day. It's definitely worth splurging on for long flights!

Have you flown Emirates First Class before? I'd love to hear about your experience in the comments below!