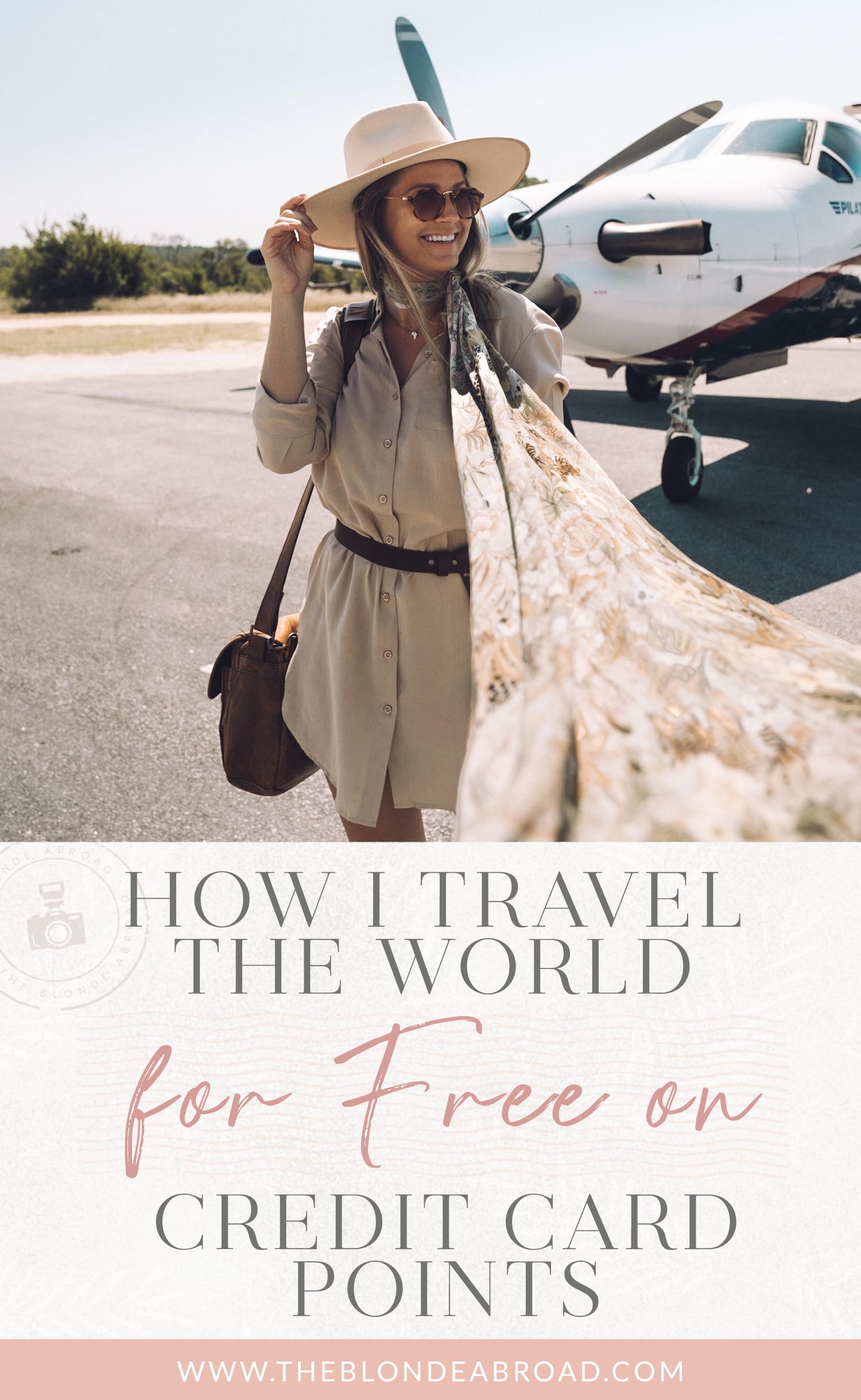 I've partnered with CardRatings to help recommend my favorite travel credit card products. The Blonde Abroad and CardRatings may receive a commission from card issuers if you choose to apply through these links. As always, my recommendations, opinions, and reviews are mine alone and have not been reviewed, endorsed, or approved by any of these entities.
I've flown Emirates First Class (where I ate caviar and took a shower at 40k feet!). I've booked round-trip economy flights across the country and one-way business class flights across the world. I've even booked week-long rental cars for epic road trips right here in the USA.
And I didn't pay for any of it. All of these things were booked for "free" using credit card points.
This isn't to brag—it's a wake-up call. If you aren't using travel reward credit cards it's time to get started!
Travel reward credit card points are a GAME CHANGER.
While the points & miles game can seem extremely mysterious and almost too good to be true, I'm going to break down specific examples of when I've redeemed points, how I did it, and how much it saved me. And, in the case that you are already using travel reward credit cards, I'll give you some insight into my personal favorites!
Here's how I travel the world for free (using credit card points!).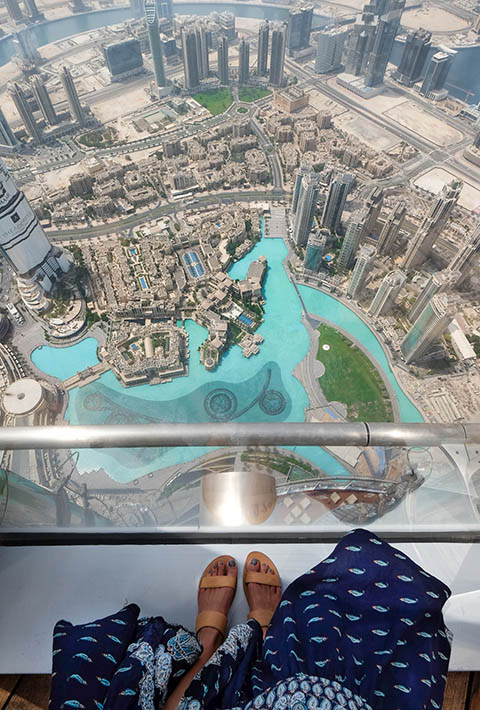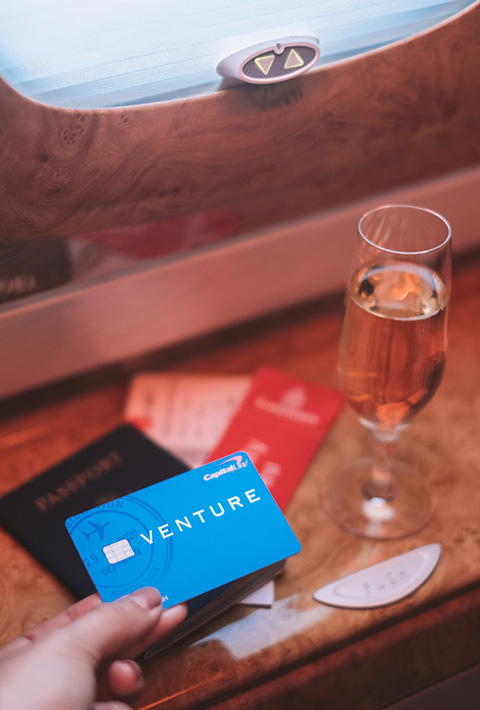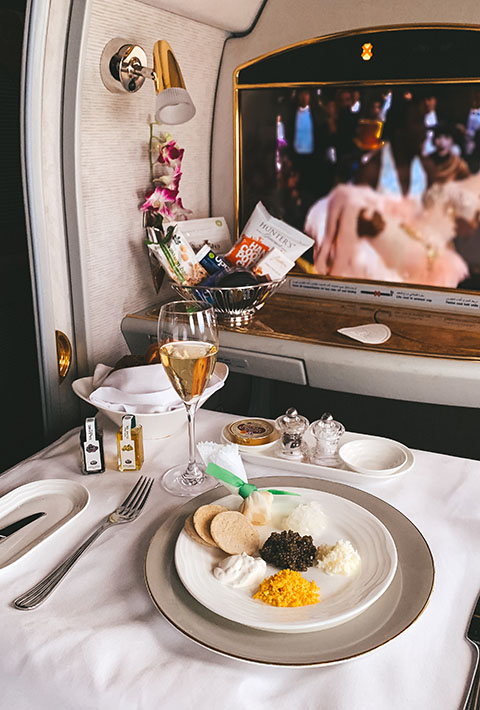 How I Racked Up Over 1,000,000 Points
First things first, I have 5 travel reward credit cards.
Yes, that may seem like a lot, but they all serve a slightly different purpose and I'm getting the most bang for my buck. Or in this case, the most points for different purchases.
Here's what's in my wallet:
Again, I use ALL of them, but for different reasons!
I use my credit cards whenever, and I mean WHENEVER possible. I use my credit cards to pay for everything from my taxes to my car insurance to my everyday expenses.
The key is to pay attention to where reward credit cards earn bonus points.
For example, my AMEX Gold card earns 4x points per dollar spent on groceries and dining out—that's better than my Chase Sapphire credit card. So, I'll always reach for my AMEX whether I'm out to dinner or at Trader Joe's.
Whenever you're booking flights and hotels, you should also use whichever credit card gives the best bonus on travel.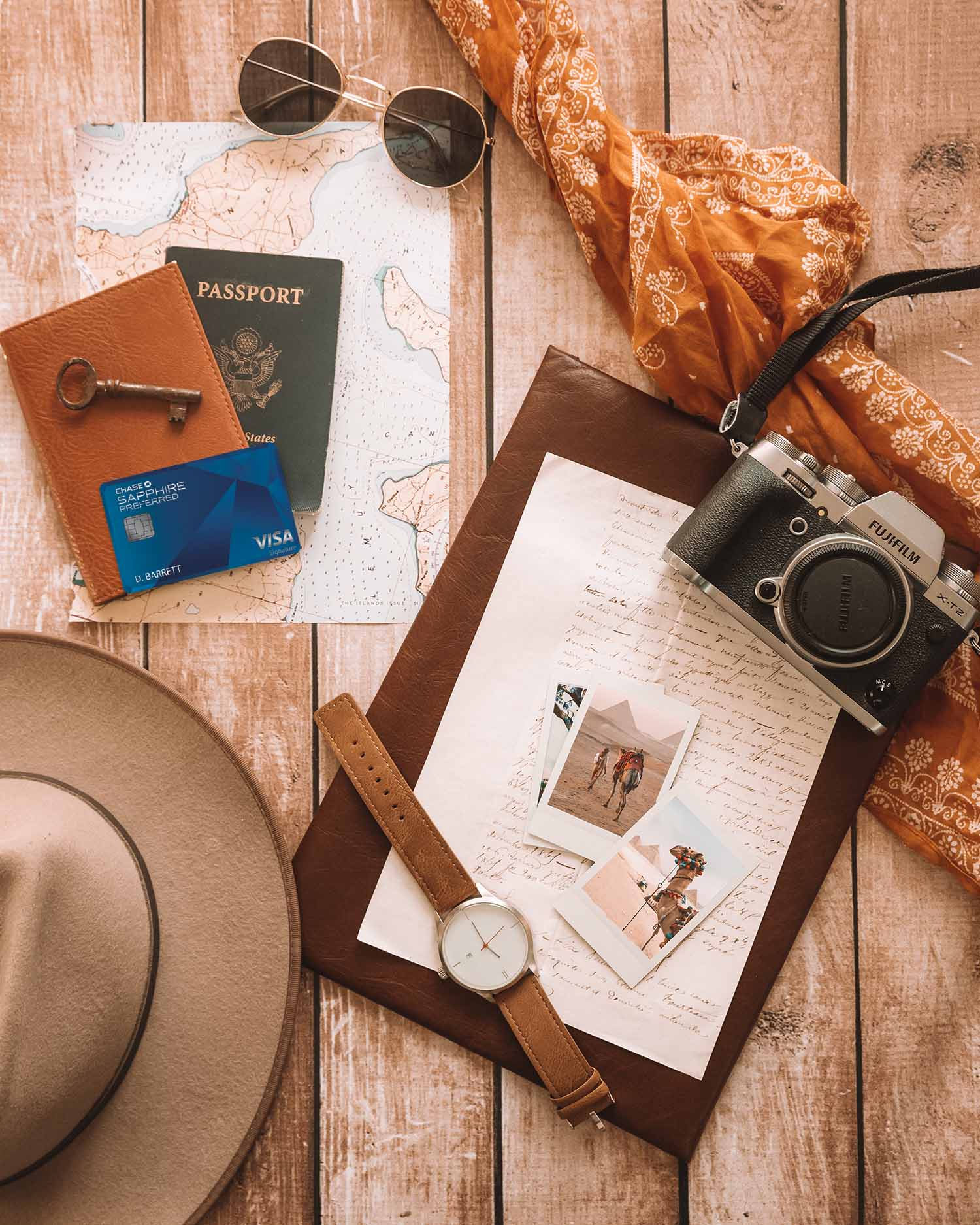 Which Travel Reward Credit Card is Best?
Chase Sapphire Preferred
I predominantly use my Chase Cards because Chase has some of the best redemption values and travel partners.
If you're just starting out or don't have a Chase Sapphire Card in your arsenal, get the Chase Sapphire Preferred Card with the bonus while you can! For every dollar that you spend on travel and dining, you will earn 2 points. The travel category defined by Chase is much broader than you think and offers a lot of flexibility, making it easy to earn points. Along with airline tickets, hotels, and car rentals, you'll also get two points for every dollar you spend on bus tickets, taxis, limos, toll bridges, parking lots, and ride-sharing services like Uber and Lyft (yes, Uber counts!).
Plus, you'll earn 1 point per dollar on ALL other purchases!
This is the BEST bonus in history — you can currently earn 100,000 bonus points if you spend $4,000 in the first 3 months.
You'll get a better idea of just how far 100,000 Chase Points gets you in this post!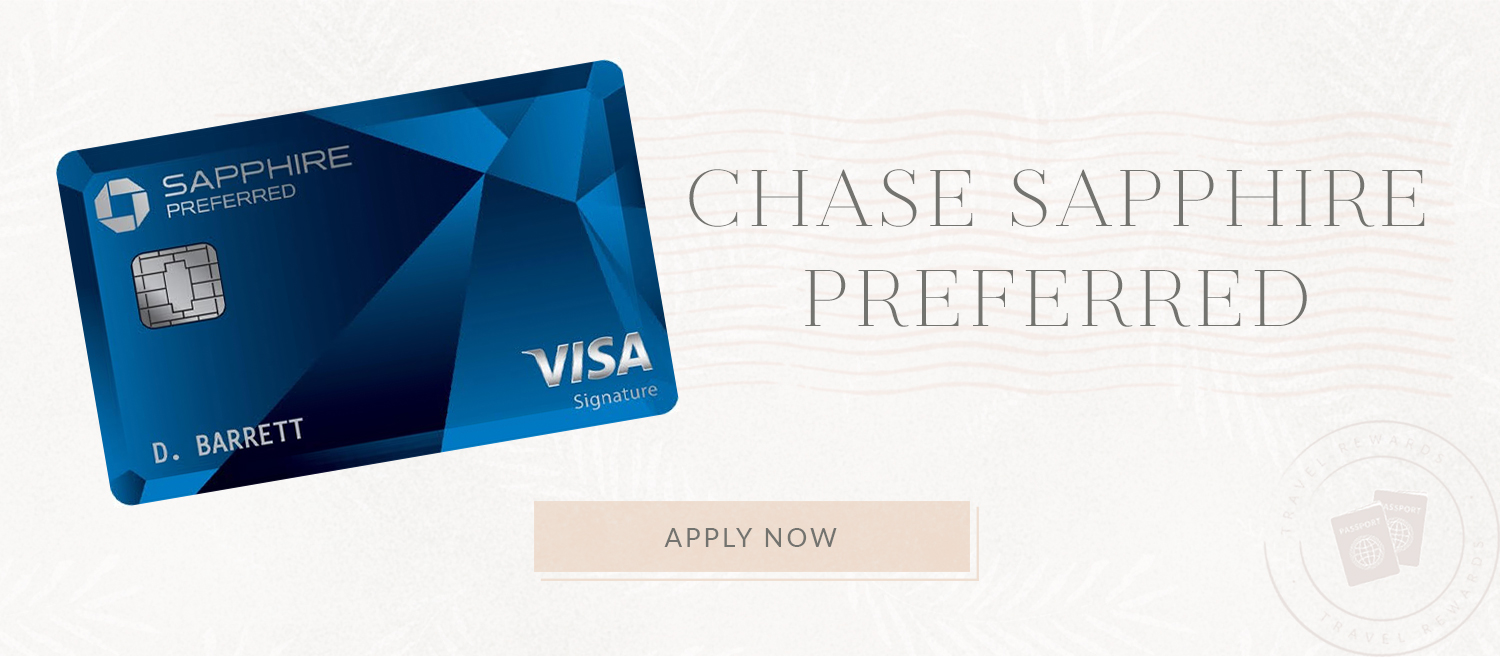 AMEX Gold Card
If you already have a Chase Sapphire card, my second recommendation would be the AMEX Gold Card.
And, not that this is a big deal, but it comes in Rose Gold and it's very pretty. 😉
The Amex Gold (or Rose Gold) Card has great perks for groceries, eating out, and dining. It's got a great 60,000 bonus, plus you get the Amex gold perks.
While it does have a $250 annual fee, you get a really good dollar return on food!
There are also a ton of cash bonuses.
While the point system for the Gold Card from American Express is what initially drew me to it, there are quite a number of other benefits that you can, well, benefit from! Annual Dining Credit: You get up to $120 dining credits per year—which come at $10 monthly statement credits when you use your Gold Card at participating restaurants. Make sure to enroll via the Amex website to snag this perk! Uber Cash: Add your Gold Card to your Uber account and each month automatically get $10 in Uber Cash for Uber Eats orders or Uber rides in the U.S., totaling up to $120 per year. Essentially, if you can make sure to take advantage of those dining and airline credits, you'll almost offset the annual fee. Which, if you think about the other perks you can get, it seems like a steal to me.
Oh, and there are no foreign transaction fees—which is a biggie for me!
This is a great card if you're a foodie like me. You get 4x the points on groceries, dining out, and even coffee!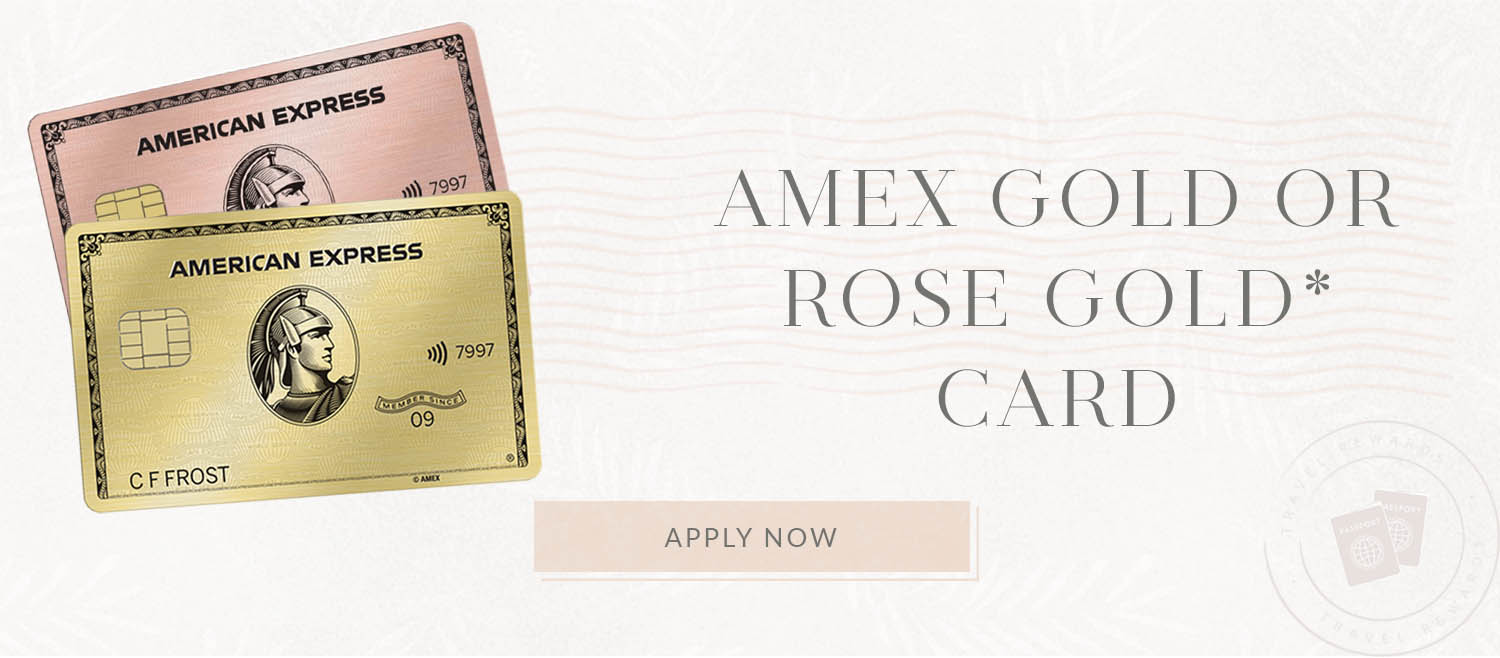 Booking Free Flights Using Points
Here are some examples of how I've used travel reward credit cards to earn points that I redeem for free flights, hotels, and car rentals.
Yes, free.
While I did have to make purchases to accrue points, these are the everyday purchases that I'd be making regardless of points — we're talking groceries, gas, eating at restaurants, and everything in between.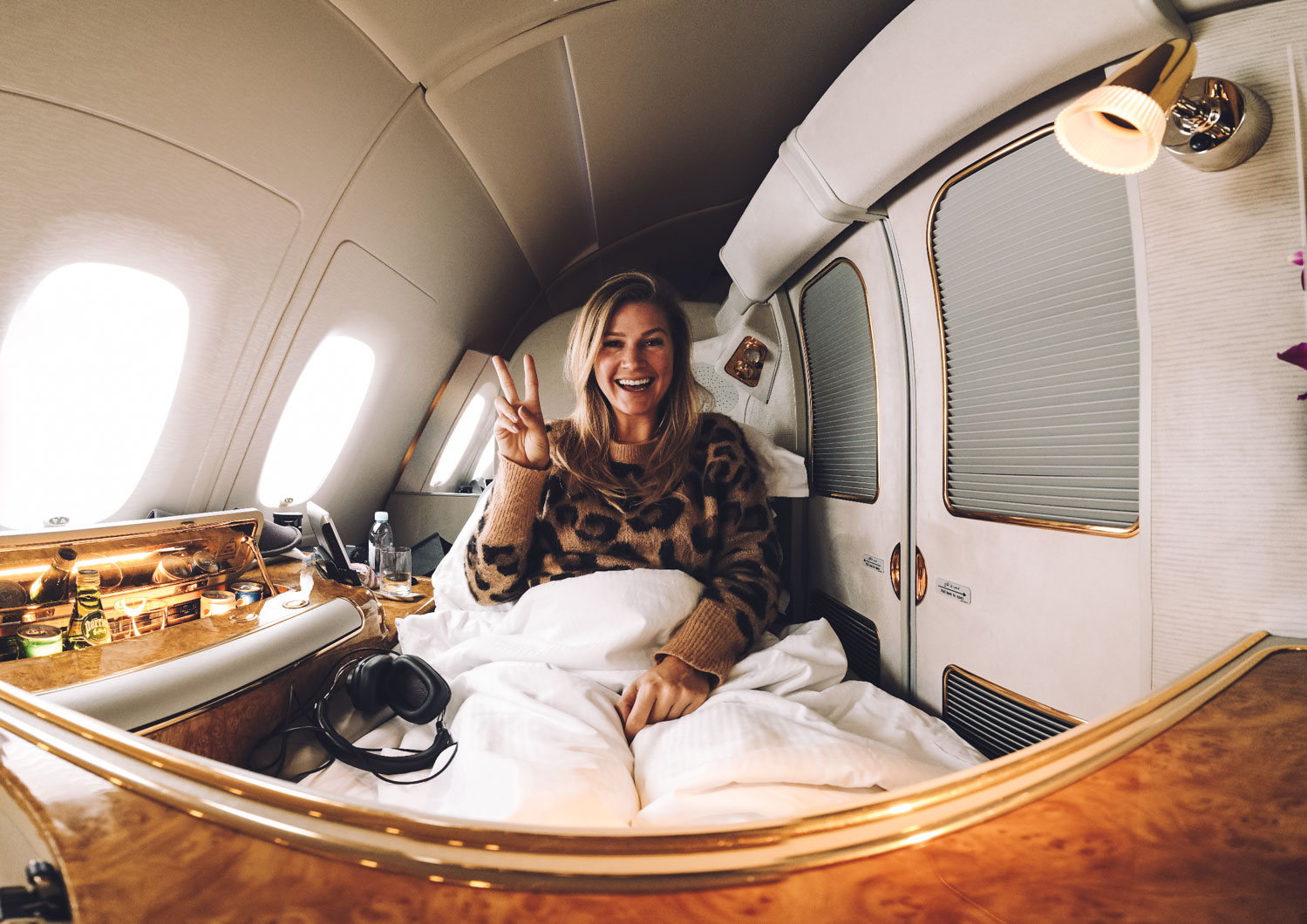 International Long-Haul First Class
Emirates First Class Dubai to Los Angeles
Points Redeemed: 47,250 Skywards Miles
How I Booked: Capital One Venture Points Transferred to Emirates
Value: PRICELESS For this flight, I was already booked on Emirates Business. I love flying Emirates and also Qatar because you can get a really good Business Class flight deal a lot of the time.
I also hold status with these airlines from flying with them so frequently that I can often get upgraded.
In this case, I was already booked on Emirates Business Class from Dubai to Los Angeles. When I logged in to check for an upgrade, there was a limited-time, reduced-rate upgrade.
As a note, this is one of the LONGEST flights in the world — it clocks in at about 15 hours and the upgrade was only 47,250 points.
It was the pinnacle of boujee flying…but ohmygoodness, was it epic (think caviar, Dom Perignon and even a hot shower at 40k feet)!
Emirates is a Capital One Partner, so I used my Capital One Venture points, transferred them to Emirates, and was able to book the First Class flight. This was one of my best uses of points because it was an incredible value. Emirates First Class is insanely expensive and this wouldn't have been possible without points!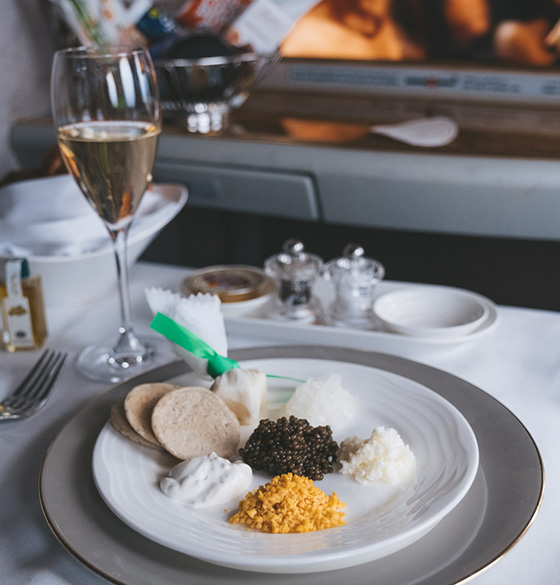 When I say my flight was incredible, I mean INCREDIBLE. It exceeded my expectations and then some. Here is my review of Emirates A380 First Class Flight from Dubai to LA!
Shop Now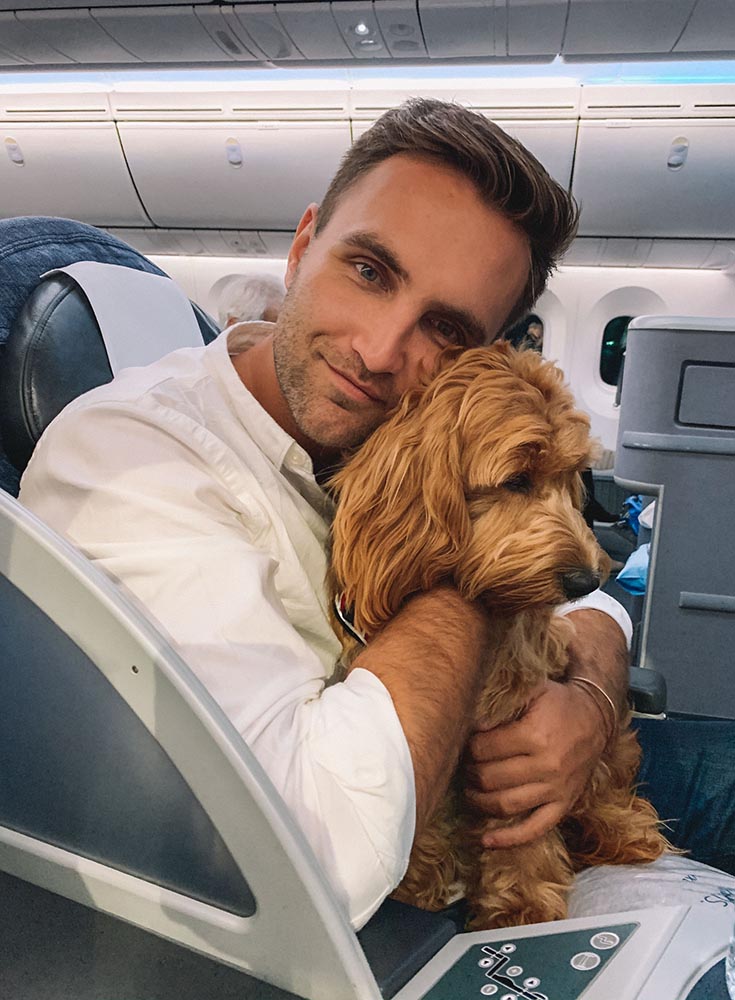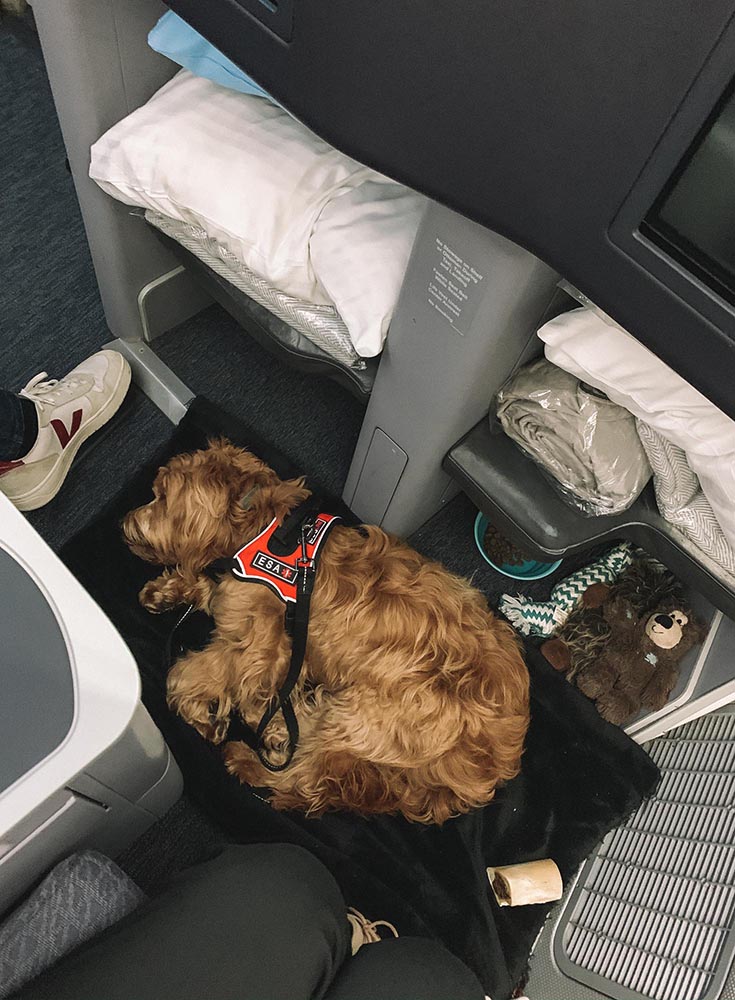 International Long-Haul Business Class
United Polaris Cape Town to Newark
Points Redeemed: 165,500 Points + $49.75 USD How I Booked: Chase Points Transferred to United Value: $4,946 I was based in Cape Town for 4 years, so I got very familiar with the different routes between Southern California and South Africa.
Before they launched the United Polaris Business Class flight direct between Newark and Cape Town, it would take me 25+ hours of flying. That's not including the layovers.
It is a MASSIVE trip and I was flying back and forth 3-4 times per year. I was exhausted every time I did it.
So, when United launched their brand-new direct flight to Cape Town, I couldn't wait to book it.
I used points to book me and my partner in Business Class just before the pandemic hit. We were leaving Cape Town to come to the US and bringing our entire lives with us, including our dog, Bailey.
Note: At the time, ESA (Emotional Support Animals) were still recognized but they aren't any longer.
I would have paid any amount of points to get my family to the US safely. Because we were bringing our dog — we had to fly on a US airline. I also knew we wanted to book Business Class to be comfortable since it's such a long-haul flight. While this is the most amount of points I've ever redeemed for a flight, it got my family home safely and made booking a very expensive business class flight possible.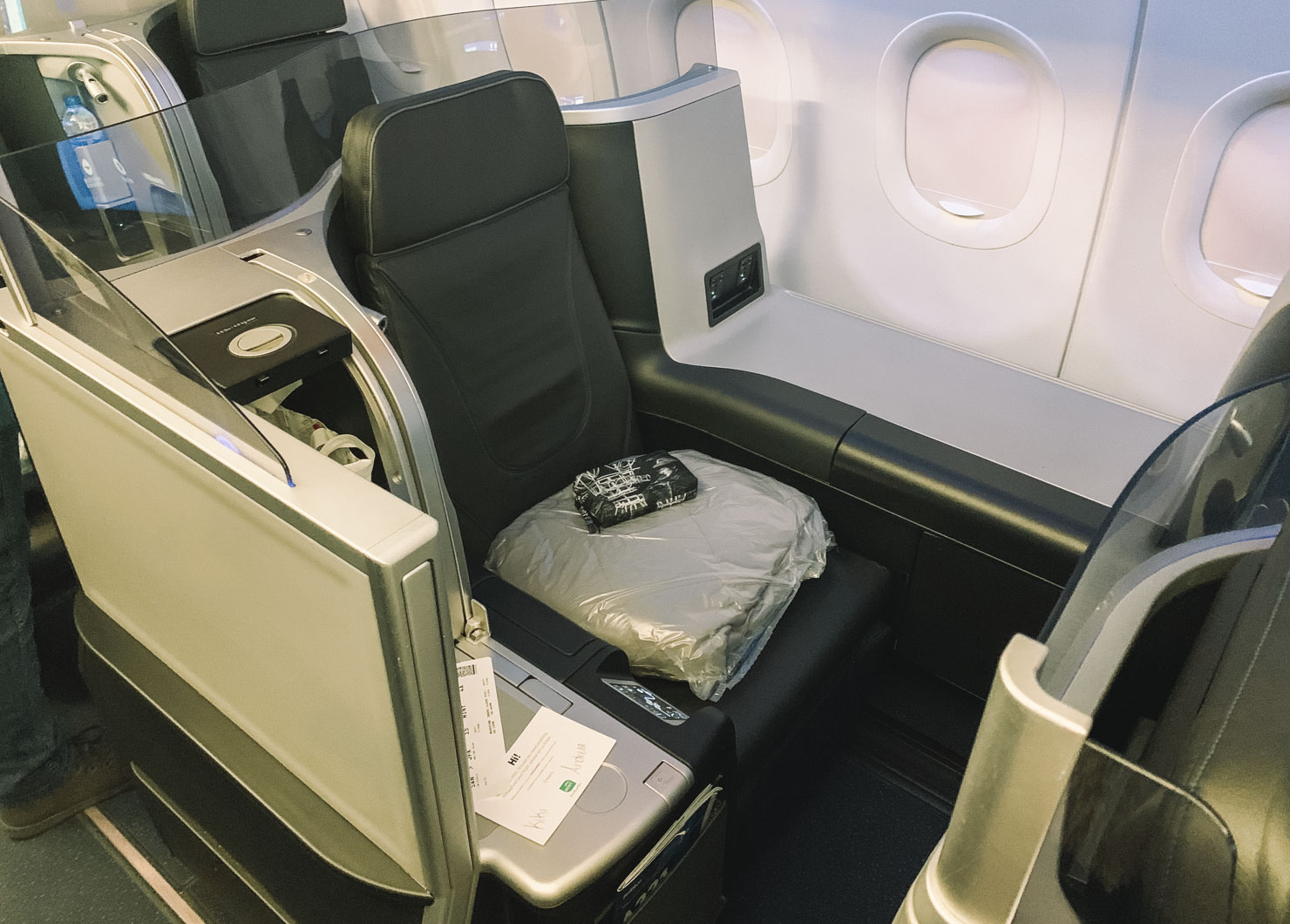 Domestic Transcontinental Business Class
JetBlue Mint JFK to San Diego
Points Redeemed: 62,627 Points How I Booked: Chase Travel Portal Value: $939 I have an upcoming flight where I'm flying from JFK (New York) to San Diego. JetBlue Mint has one of the best Business Class offerings in the domestic US. While this was pretty hefty in terms of how many points I spent (62,000) — the value was definitely there. The flight would have cost me around $1,000, but I didn't spend a penny because I used points.
With Chase, you can book directly in the Chase Travel Portal or you can transfer your points directly to partner airlines. In this case, it was less points to book this flight within the Chase Travel Portal than on the JetBlue website.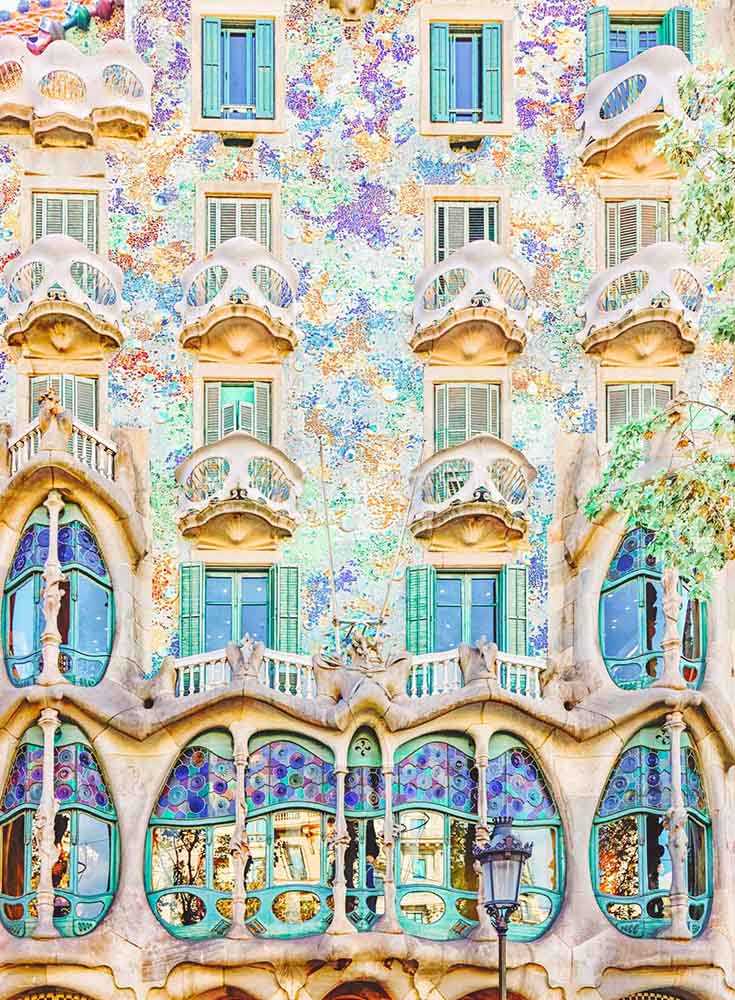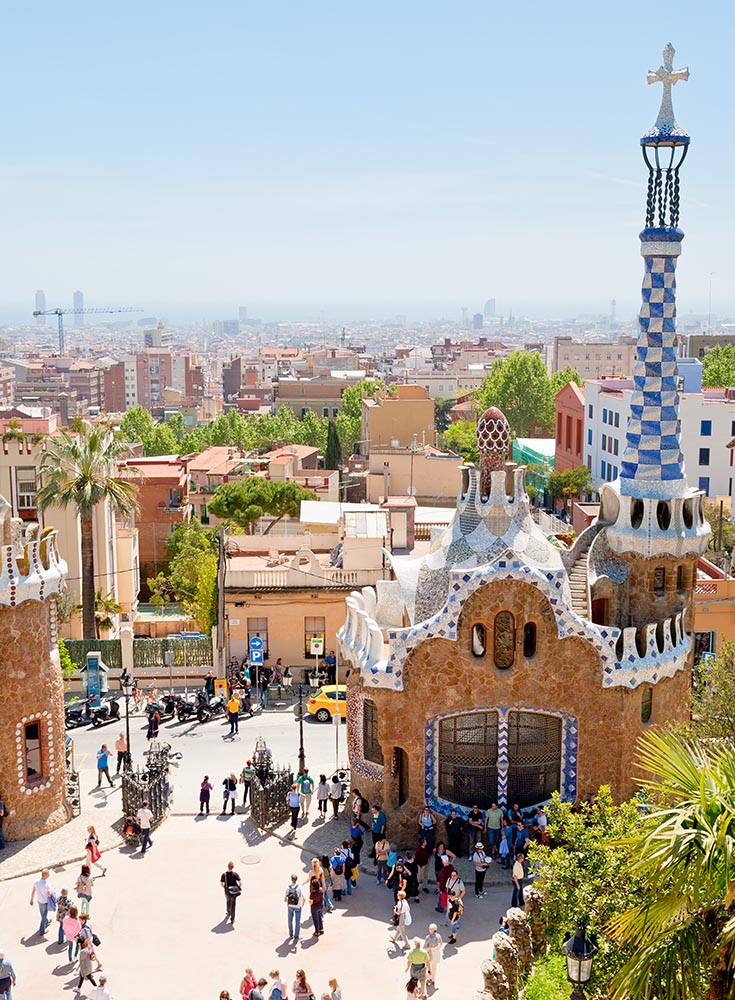 International Multi-City Economy Round-Trip
Delta Economy San Diego to Athens — Barcelona to San Diego
Points Redeemed: 67,787 Points How I Booked: Chase Travel Portal Value: $1,016
As a note, your points go a lot further if you fly Economy (the same way it's less expensive if you fly Economy instead of Business Class).
I recently booked an upcoming multi-city trip to Europe where I'm flying from San Diego to Athens, and then Barcelona to San Diego for just 67,787 points.
That's just about the same "price" in points as my one-way Business Class flight from New York to San Diego.
This flight was a really good value for points. This round-trip flight would have been nearly $1,000 dollars.
If the opportunity presents itself, I typically will pay cash to upgrade OR use points to upgrade closer to my date of travel. In this case, the point redemption to book Business Class on this flight was astronomical and I'm more than happy to fly Economy.
International EU Economy
Iberia Economy Athens, Greece to Palma, Mallorca
Points Redeemed: 21,500 Points + $62.24 How I Booked: British Airways Avios Transferred to Iberia Value: $300 I wanted to share this example because I didn't use my credit card points directly. However, I used the Avios I earned with my British Airways Avios Reward Credit Card to book with a partner airline.
Many airlines allow you to use points to book with partner airlines!
While I no longer have the British Airways Avios Reward Credit Card, you should definitely consider applying for a credit card with an airline you fly frequently. I used to fly British Airways constantly because it's one of the few airlines that flies direct to Europe from San Diego via London.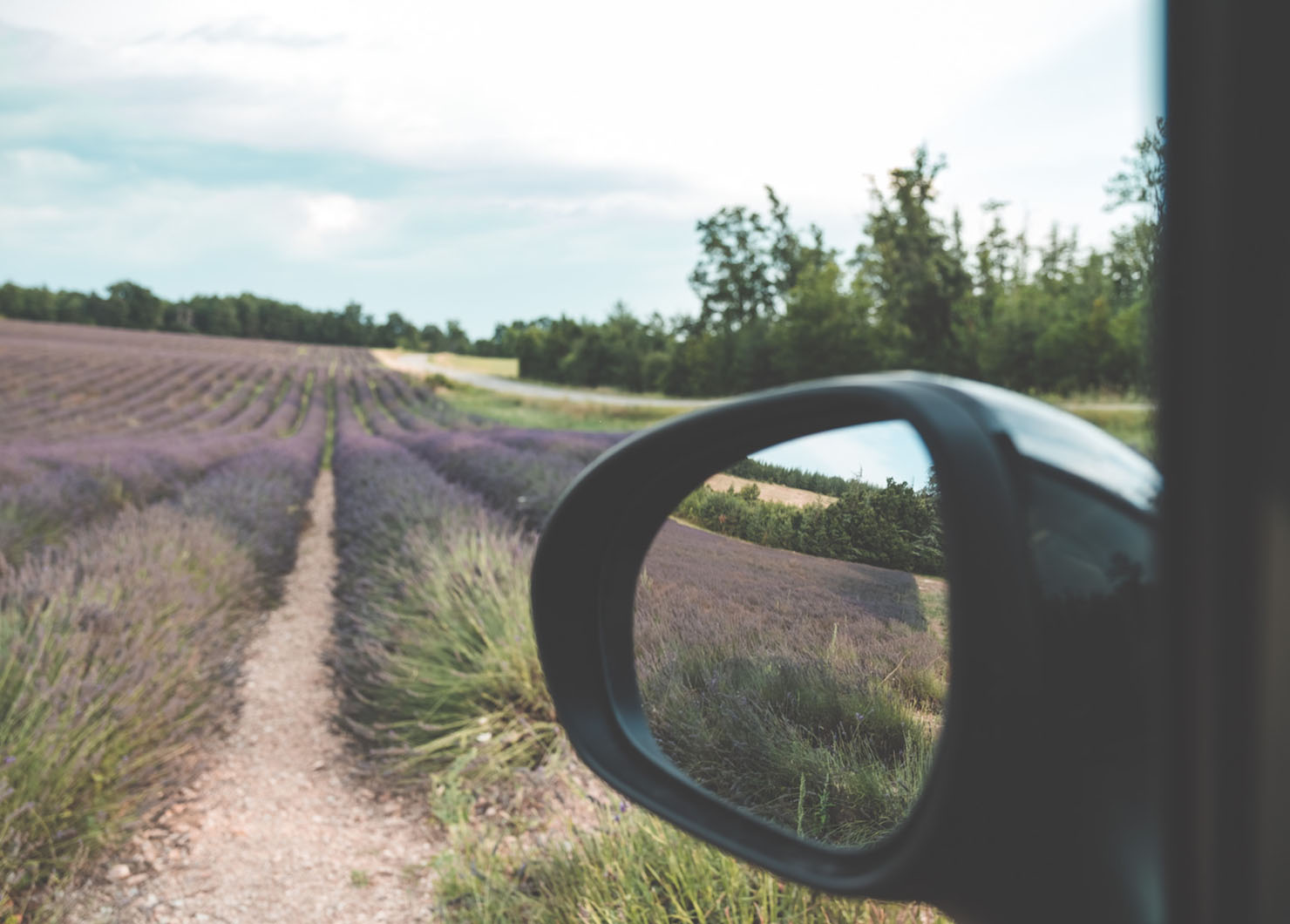 Booking Free Rental Cars with Points
East Coast USA Road Trip (9 Day Rental)
Points Redeemed: 51,214 Points How I Booked: Chase Travel Portal Value: $786.21 Because of the pandemic, renting a car right now is INSANE. There are a lot of people traveling domestically, so when I went to book a car for an East Coast road trip, it was going to be over $100 per day. I decided to look into using my points and it turns out the point value was better than what I would have spent in cash.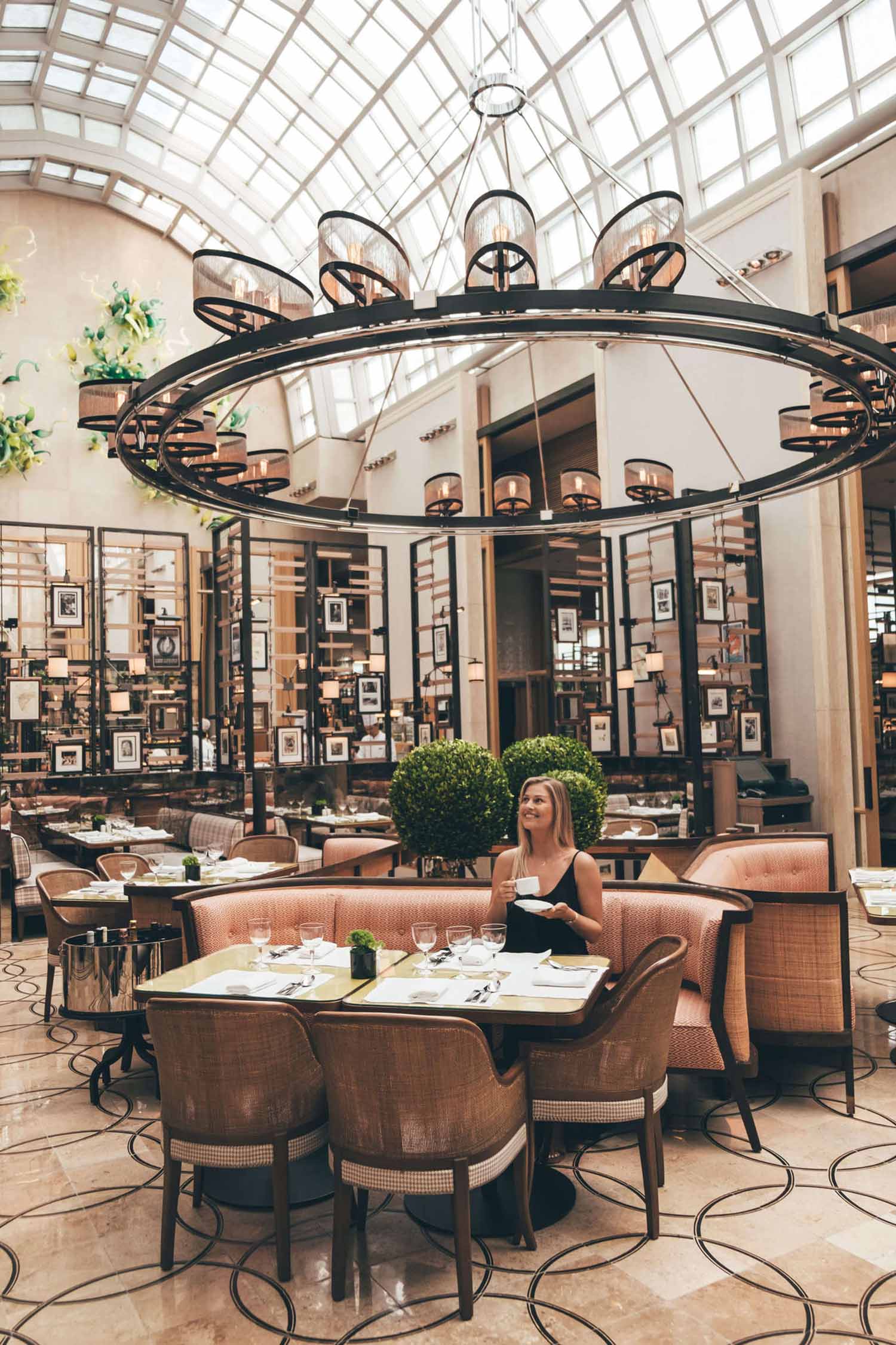 RITZ-CARLTON MILLENIA SINGAPORE
Consider the Sign-Up Bonus Points
So many cards out there offer INCREDIBLE bonus points if you spend a certain amount in the first few months.
Consider what your normal spending habits are and compare that with what the offer is.
For example, some cards require you to spend $4,000 in the first three months to earn 60,000 bonus points. If you're already swiping a credit or debit card for $1,500 each month, you'll easily meet the minimum. I would not recommend spending wildly just to get bonus points, but if you're already paying for groceries, gas, transportation, and other things and can easily meet the minimum spending requirement…
Why not earn points on them?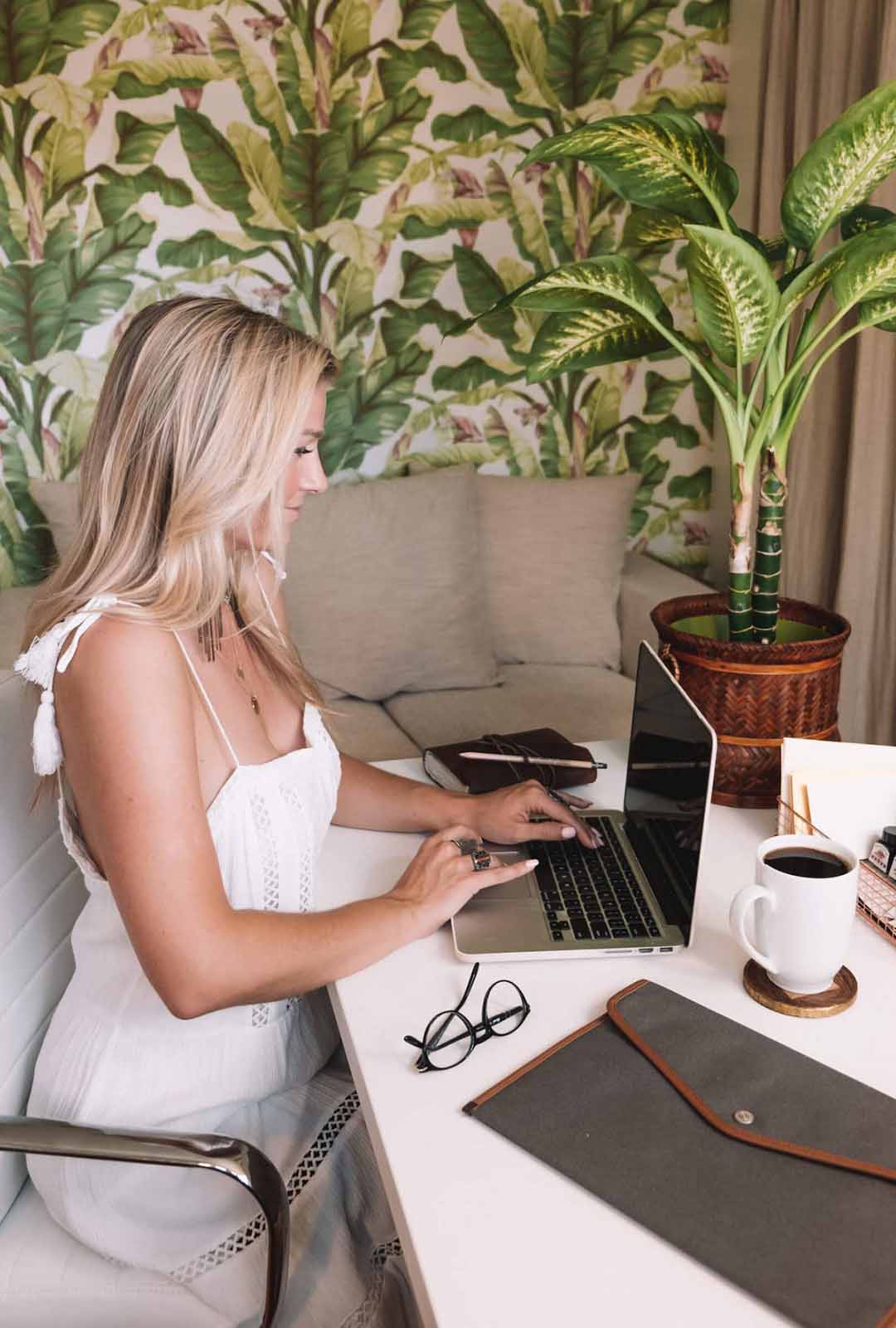 A good rule of thumb is to aim for at least $.01 per point value.
When Am I Getting Good Value for Points?
I don't always book using points when it's a great deal—even though I do always try!
For me, the whole "point" of points is to not spend money.
At the end of the day, it's personal. As I described above, booking our flights from Cape Town to the USA was the most important use of points I've ever used.
Everything else I've ever booked has been for leisure.
I've also used points to book DREAM experiences like Emirates First Class and Domestic Business Class when the price to book these flights are typically astronomical.
Flexibility is key for getting really good deals, especially with points.
A good rule of thumb is to aim for a one-cent ($.01) per point value. So if a flight is $1,000, you should try to redeem less than 100,000 points. In most cases, like I broke down above, you can get $1,000 flights for 60,000 points or even less. Sometimes you'll also find limited windows in which your points are worth more (or less). Keep in mind that reward flights aren't offered every day or on every flight, so being flexible with your dates is necessary.

New to Travel Rewards Credit Cards?
If you're new to the travel rewards credit card space, definitely check out my beginner's guide to get a better grasp on things. I know it may seem confusing at first, but there are so many ways to make points work for you!
If you're looking for a new card, check out the best travel reward credit cards that I recommend.

Final Note
It's important to not treat a credit card like play money — only spend what you are capable of paying off each month.
Interest rates are where "travel hacking" loses its value.
The most important factor of strategic and responsible earning is to ALWAYS pay off your credit card each month.
I have never spent a single dollar on interest. Earn those points but use those cards wisely.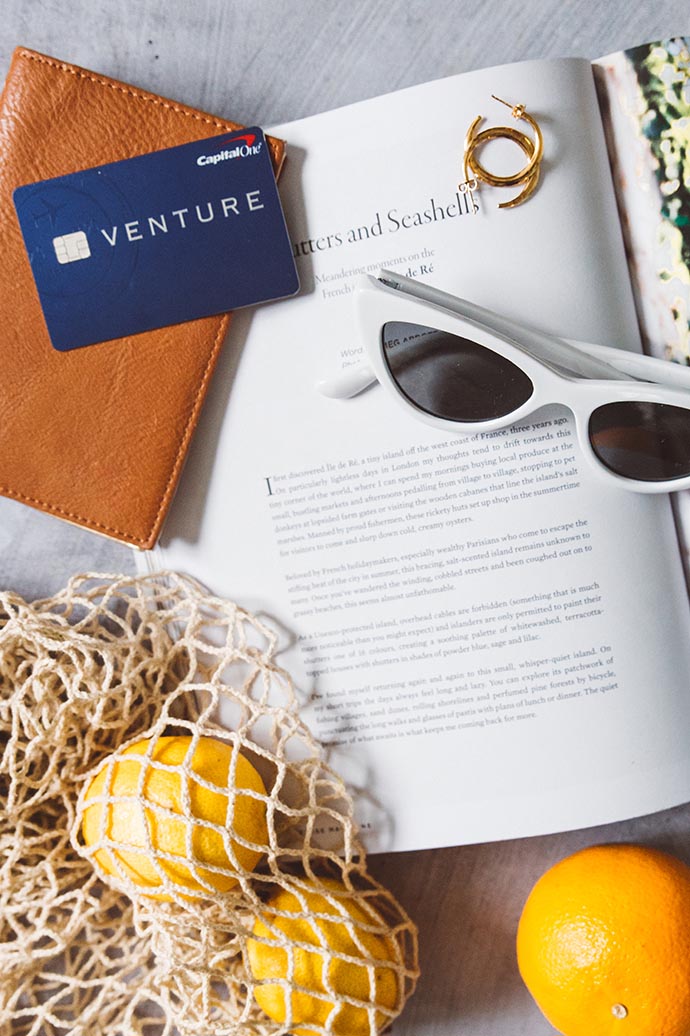 Have you ever booked a getaway with credit card points? Do you have a preferred card? Or are you still confused about how to get the most bang for your buck?
Let me know in the comments below!

I've partnered with CardRatings to help recommend my favorite travel credit card products. The Blonde Abroad and CardRatings may receive a commission from card issuers if you choose to apply through these links. As always, my recommendations, opinions, and reviews are mine alone and have not been reviewed, endorsed, or approved by any of these entities.