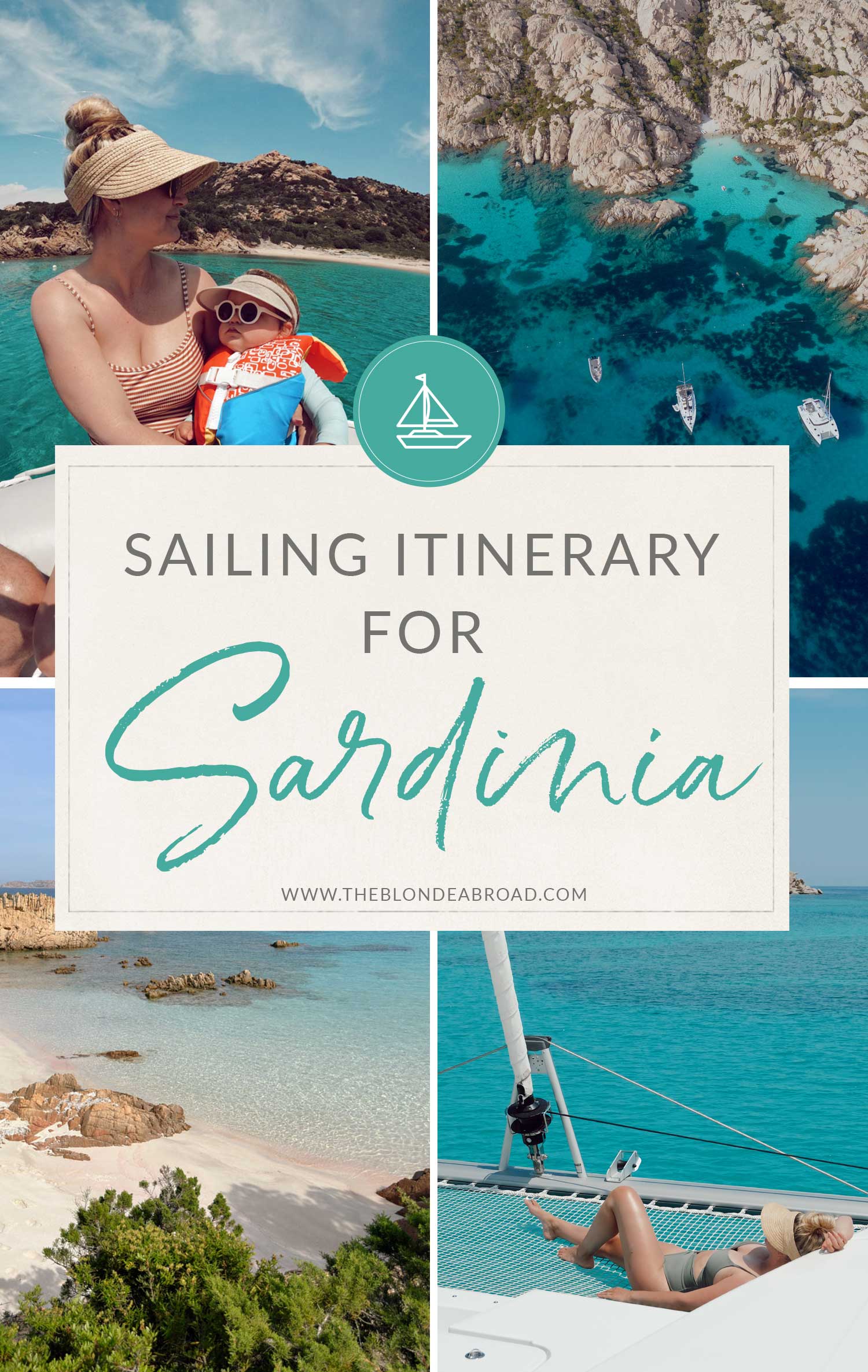 I first sailed Sardinia with friends in 2013, so it felt full circle to return in 2023 and charter a catamaran with Dream Yacht Charter for a family vacation!
The unique islands and turquoise waters make Sardinia the perfect sailing destination.
We chartered a 42' catamaran and hired a skipper which made the trip so comfortable. The only thing I'd have done differently on our trip is opting to also hire a hostess so someone else could shop, cook, and clean for us.
My son was 11 months old on this trip and it would have been nice to fully relax and enjoy the sailing without any other responsibilities. Otherwise, I wouldn't change a thing!
Our week at sea included stops at different beaches and islands in the La Maddalena Archipelago (where we often were the only boat anchored overnight) and we also crossed over to Corsica for a night in Bonifacio (where we celebrated my birthday)!
Here are my tips and itinerary for sailing Sardinia's Maddalena Archipelago!
***
Note:
This itinerary is not the "only" or "best" itinerary for sailing Sardinia—there are countless destinations to see and explore!

I hope that sharing my itinerary helps you plan your own trip and gives you inspiration for your own adventure!

Yacht Charter Details:
Fountaine Pajot Astrea 42′ Catamaran
Booked with: Dream Yacht Charter
Saturday to Saturday: May 27-June 3, 2023
Base: Olbia, Sardinia
Skippered (next time we'll also hire a hostess!)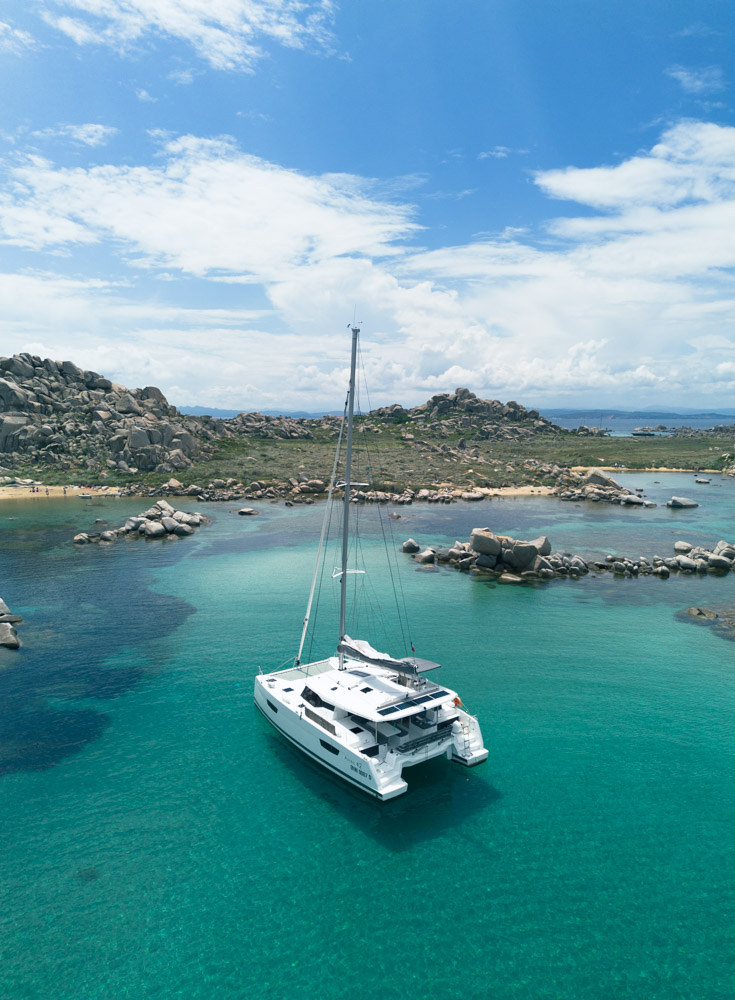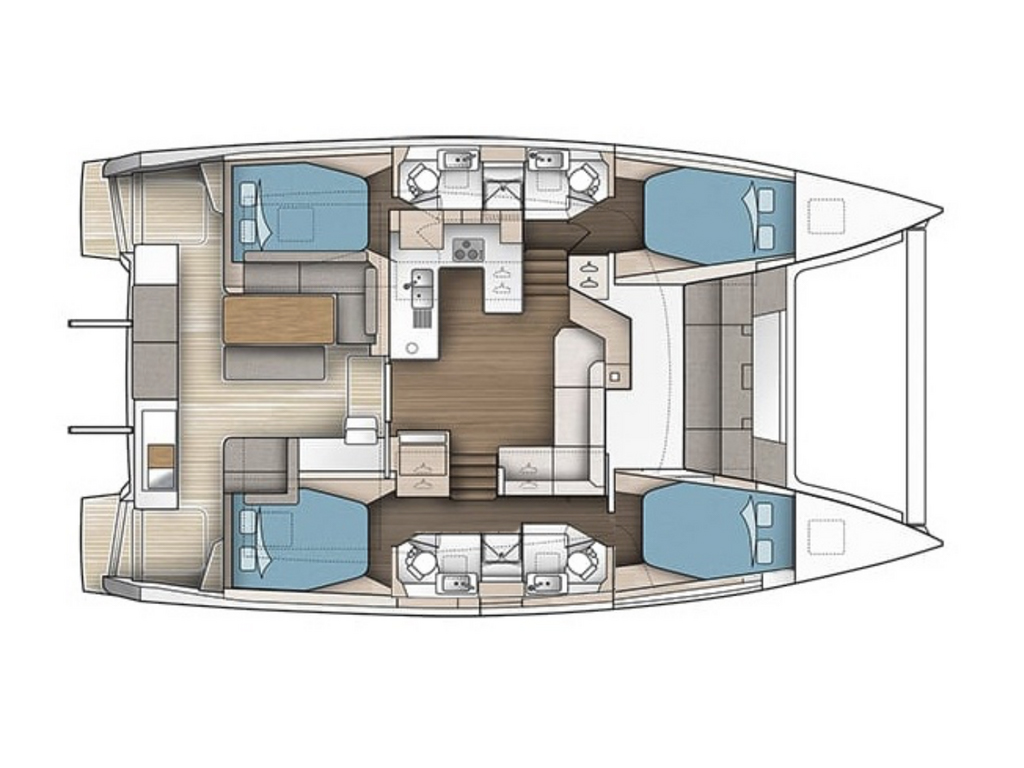 Catamaran Layout
Fountaine Pajot Astrea 42 Catamaran
I highly recommend a catamaran for a sailing charter (especially with kids). They offer way more deck space for lounging and are more stable, so there is much less rocking than with a monohull.
The Fountaine Pajot Astrea 42 Catamaran was the perfect yacht for our family.
It features four (nearly identical) internal cabins with ensuite bathrooms + two additional v-berths. If you hire a skipper and a hostess, they can sleep in the v-berths leaving the 4 internal cabins for your crew.
We traveled as 3 adults and a baby, but there was plenty of space to sleep 8 comfortably.
Check out the full details of the catamaran here!
***
Helpful Tip:
Some of the most important features to look for in a charter are an inverter (so you have power even when you aren't motoring), lots of fridge space (for storing food and drinks), and sufficient space and berths for your crew! Though not an essential, a desalinator is also very useful—especially when sailing with a large crew.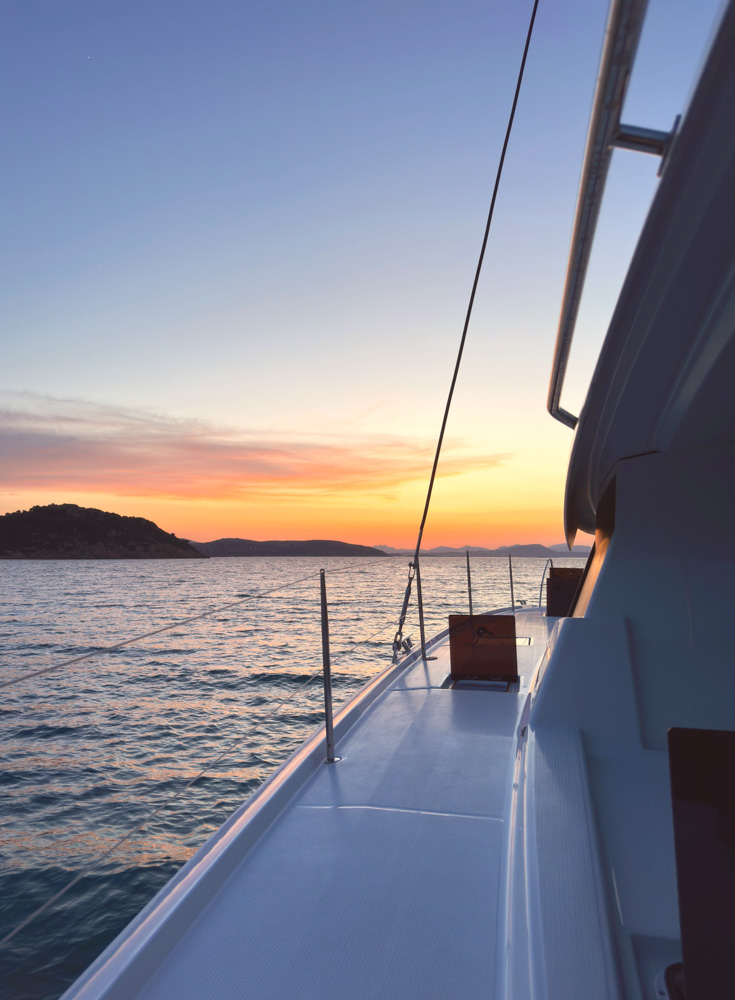 Early Check-In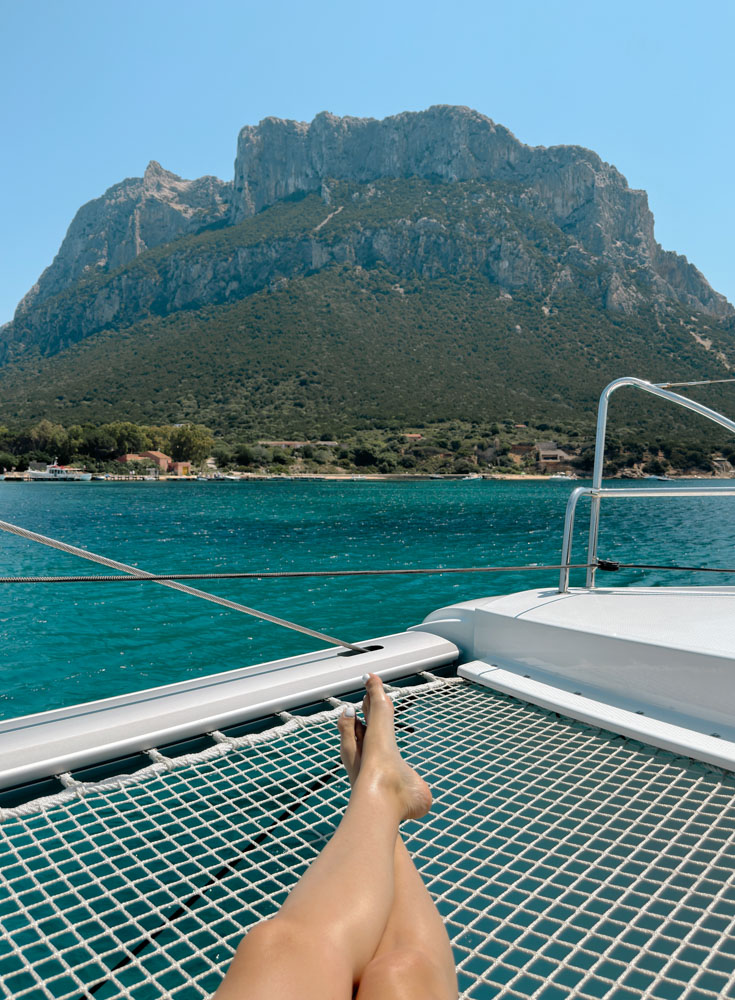 Isola Tavolara
Day 1: Check-In Day
Early check-in (extra cost) at the Olbia marina — it's the only way to set sail the same day as check-in (and totally worth it)!
***
Sail to Isola Tavolara.
This small but captivating island is located on the northeastern coast of Sardinia, Italy. With its rugged beauty, crystal-clear waters, and unique natural formations, Isola Tavolara is a haven for sailors and nature enthusiasts alike.
The island's centerpiece is the imposing Tavolara Mountain, which rises dramatically from the sea, creating a stunning backdrop for your sailing adventure.
You can enjoy dinner on the island but be aware the prices are pretty steep!
***
Overnight anchorage.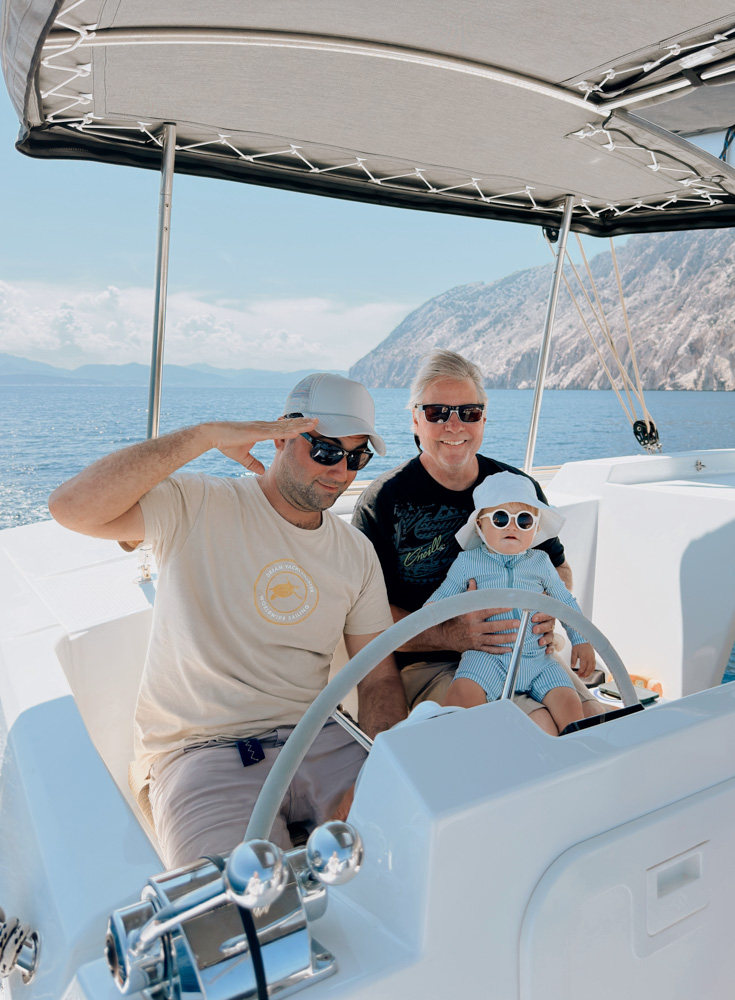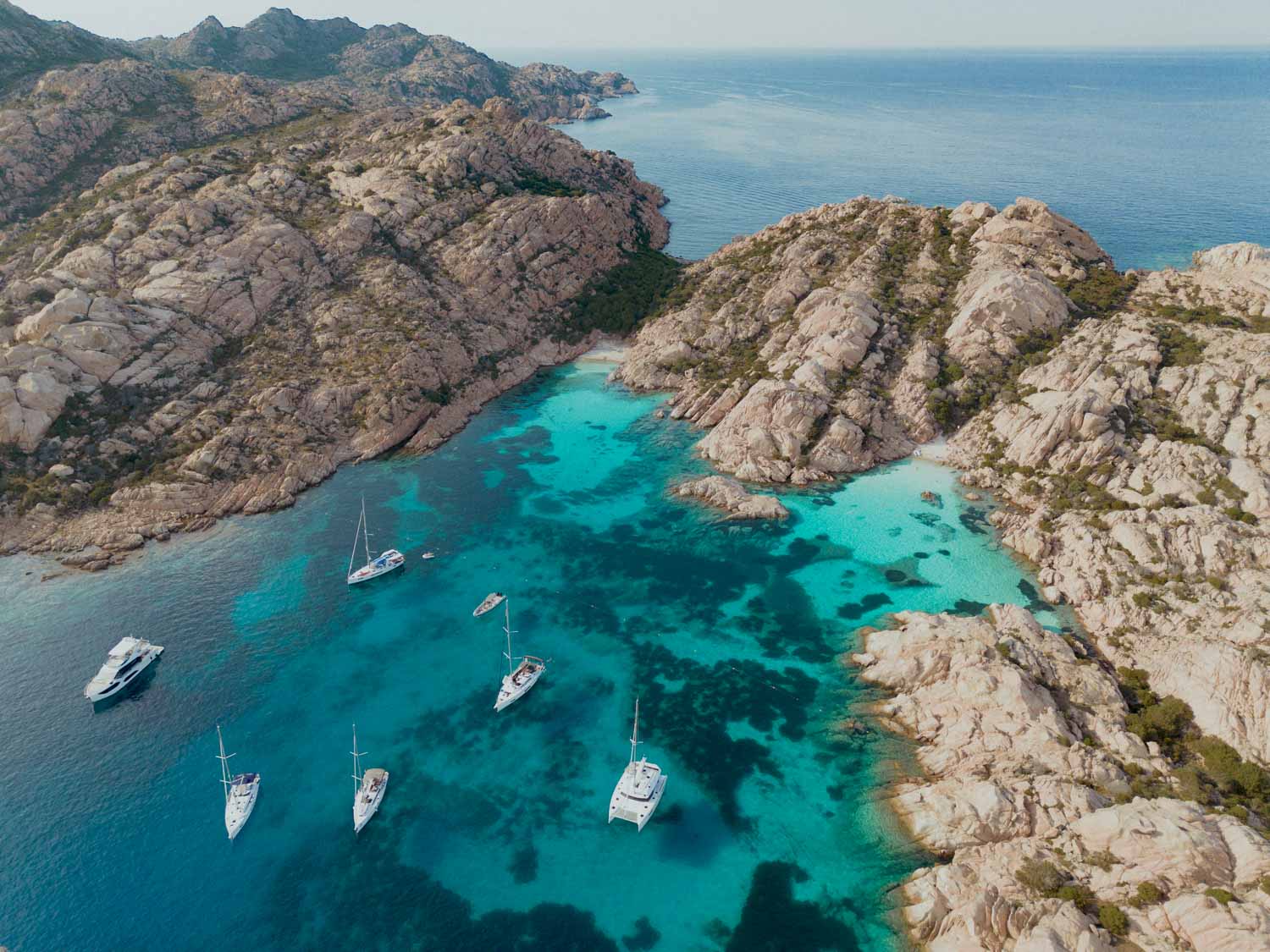 Spiaggi di Cala Coticcio
Day 2: Spiaggi di Cala Coticcio
Enjoy a slow start to your day and head to the beach at Isola Tavolara. If you're feeling adventurous, you can pre-book a guided hike to the summit. Hikes meet at 6:00 a.m. and take 6-7 hours.
***
Sail to Spiaggi di Cala Coticcio on Caprera Island.
Located on the uninhabited island of Caprera, this secluded beach is renowned for its breathtaking beauty and pristine surroundings. As you approach the cove with its turquoise waters and soft, white sand, the vibrant Mediterranean flora frames the shoreline.
This bay can get extremely crowded but it clears out in the evening. This was one of our favorite spots of the entire trip!
***
Overnight anchorage.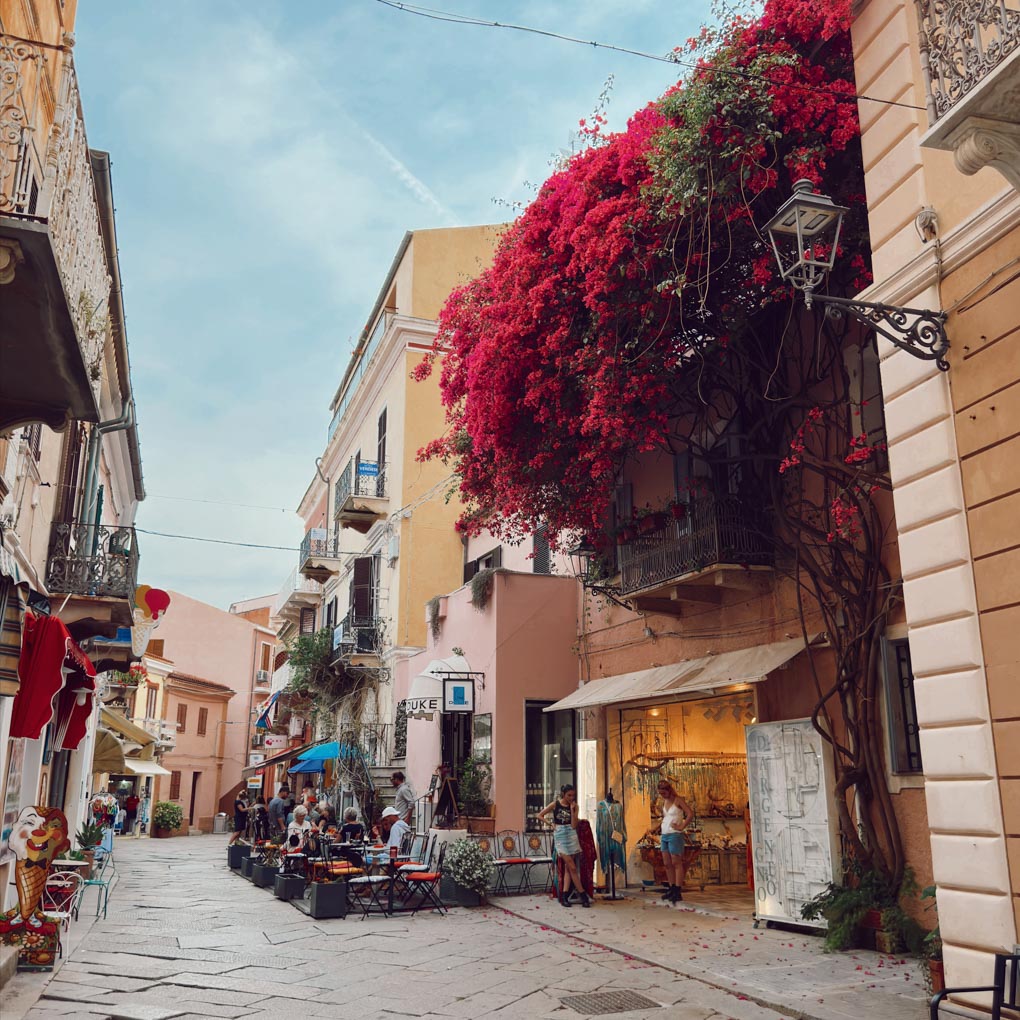 Day 3: La Maddalena
Sail to Cala Napoletana, a secluded cove characterized by its clear azure waters and pristine white sands. Enjoy the beach and swim off the boat.
***
Next, sail to Capocchia d'u Purpu on Maddalena Island.
Capocchia d'u Purpu translates to "octopus head" in the local dialect, named after a small rocky outcrop that resembles an octopus head. We took the dinghy to the beach for a swim, and then had lunch back on the boat.
***
Finally, sail to the town of La Maddalena.
There are two marinas here:
Cala Gavetta is right in the center of town, so it's popular and louder. If you want to be in the middle of the action, choose this marina.
We opted for Marina di Cala Mangiovolpe which is on the opposite end of town but still within walking distance of everything. If you prefer a calm and quiet atmosphere, choose this marina.
Stroll the town, do some shopping, enjoy a local, freshly caught seafood dinner, and end the night with a stroll along the waterfront with gelato in hand!
***
Overnight in marina.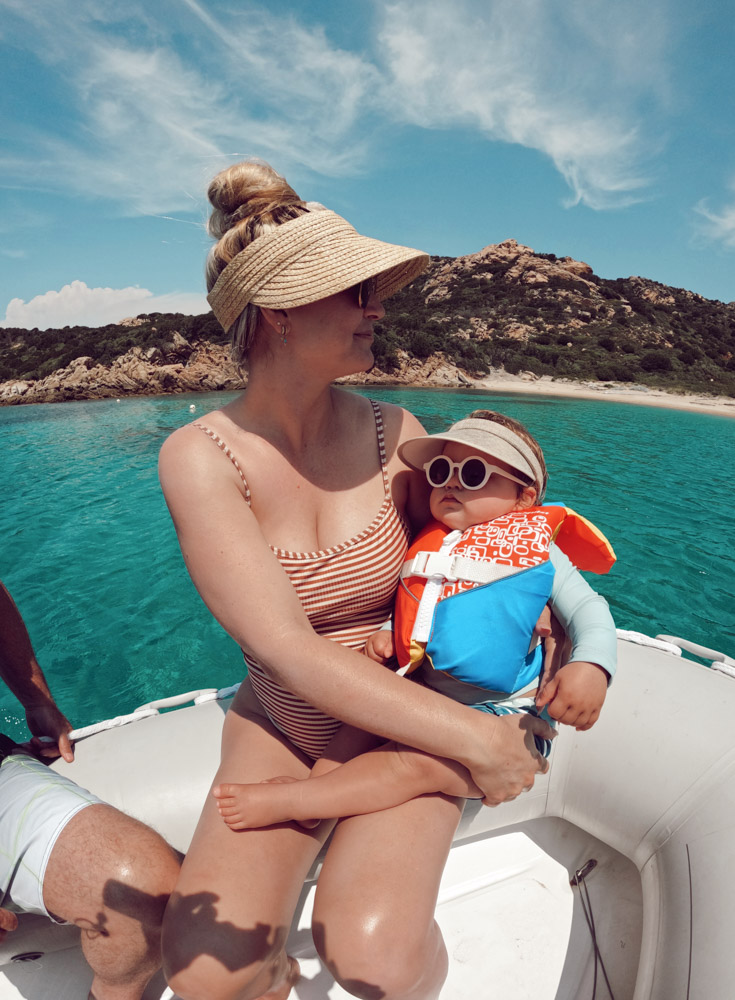 Cala Corsara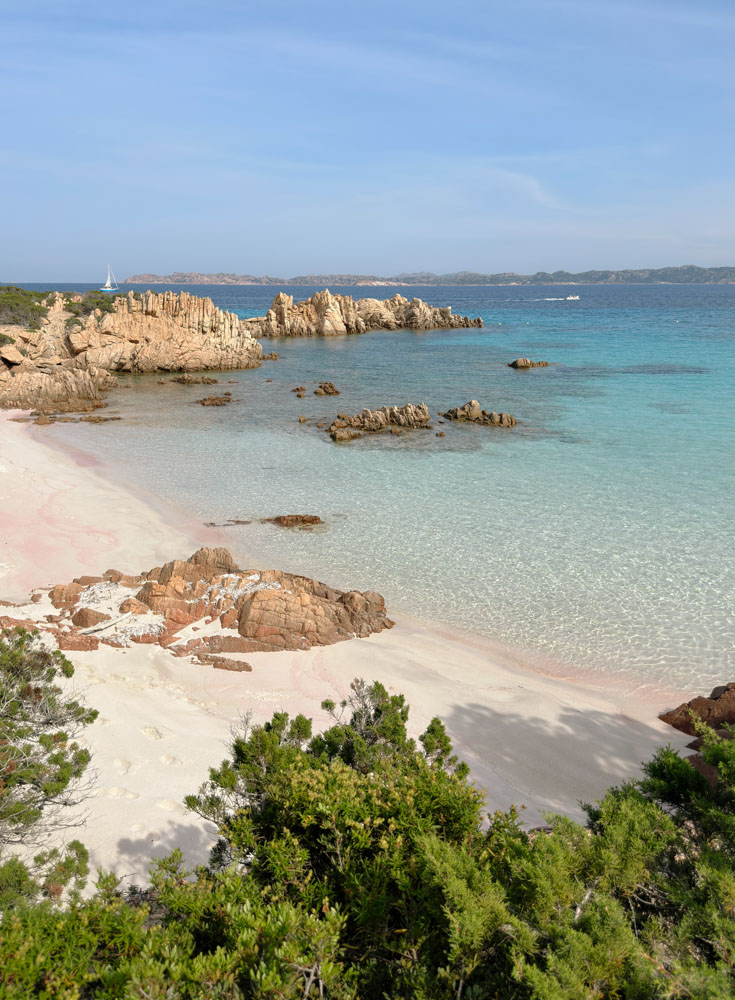 Spiaggia Rosa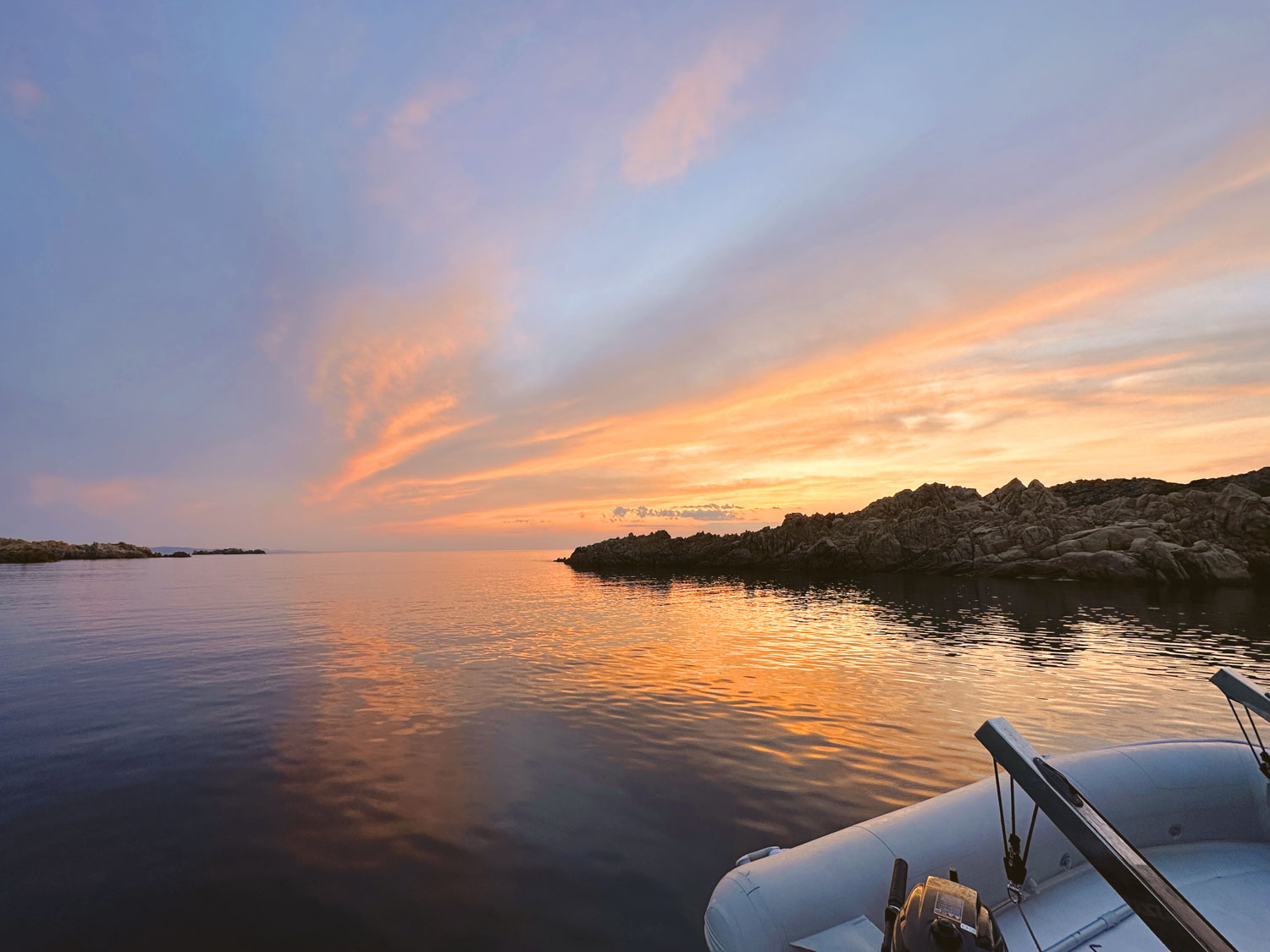 Cala Lunga
Day 4: Pink Beach
Explore the town of La Maddalena in the morning. There are some cute cafes and markets so you can enjoy a coffee and restock your food & supplies for the next few days.
I recommend visiting the fish market to get some fresh seafood to cook on the boat for dinner!
***
Sail to Cala Corsara on Spargi Island.
Cala Corsara, nestled on the enchanting Spargi Island in Sardinia, is a true slice of paradise. This secluded cove boasts powdery white sand that meets the crystal-clear turquoise waters of the Mediterranean Sea.
In peak season, this bay will be PACKED so you might not be able to anchor (we went in early summer and still opted against staying long because of how many boats were in the area).
***
Sail to Spiaggia Rosa (Pink Beach) on Budelli Island.
Spiaggia Rosa, or "Pink Beach," is a remarkable natural wonder located on Budelli Island. What makes this beach truly unique is its pale pink sand, which derives its distinctive hue from the presence of microscopic fragments of pink coral, shells, and granite.
This beach is a protected area, and its rare beauty has led to regulations that prohibit direct access to the sand in order to preserve its delicate ecosystem. You can dinghy to the trailhead for a short nature walk that follows the shoreline.
Though you can't walk on the beach, you still get amazing views of the pink sand and turquoise sea!
***
Sail to Cala Lunga on Razzoli Island.
This protected bay graces Razzoli Island's west coast, a pristine haven where nature truly shows off. It boasts white sands and crystal clear waters, all framed by striking orange-hued granite formations.
We dropped anchor and raised a glass of Aperol Spritz just before the sun set—the best sunset of our trip!
***
Overnight anchorage.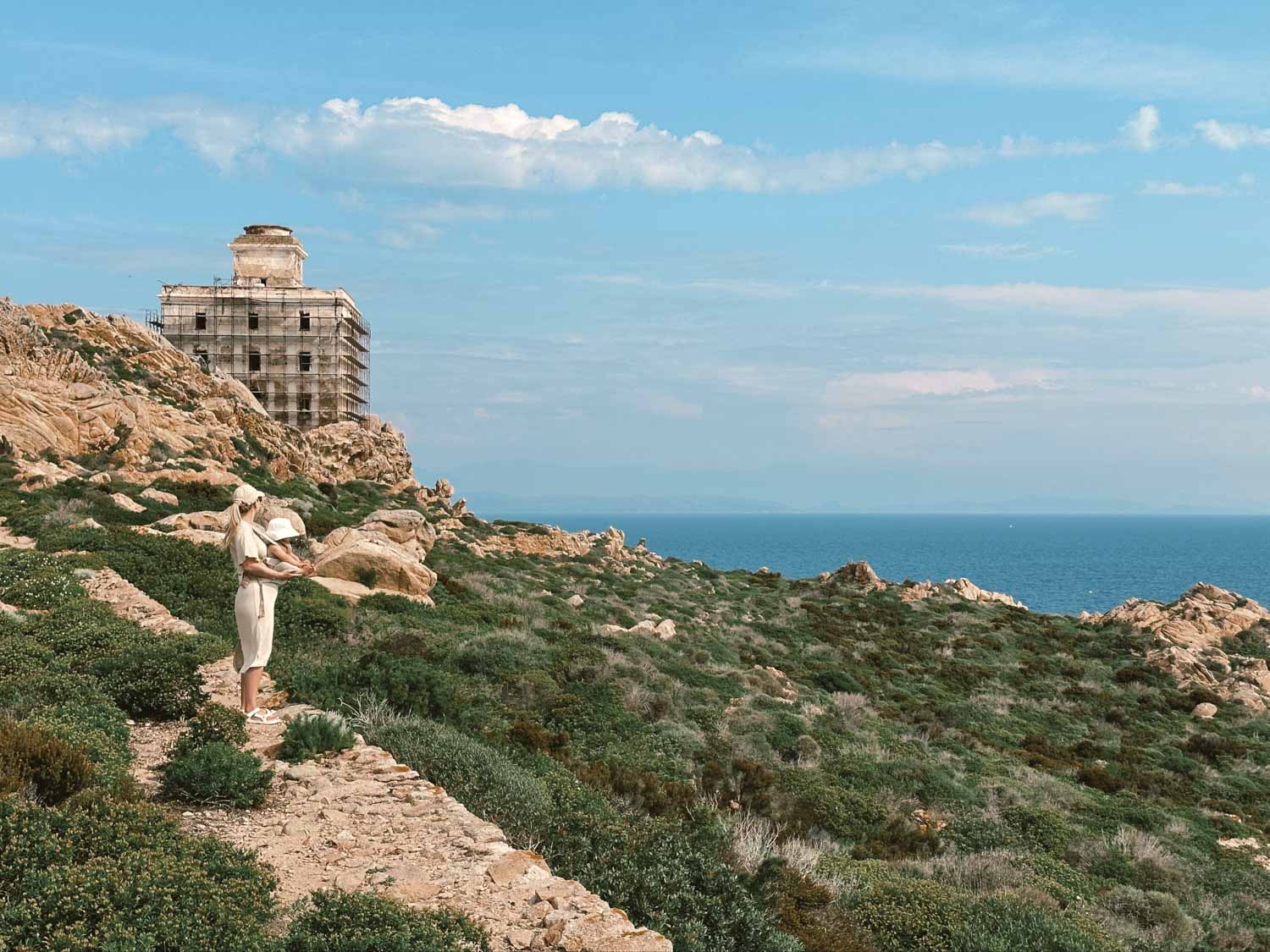 Razzoli Lighthouse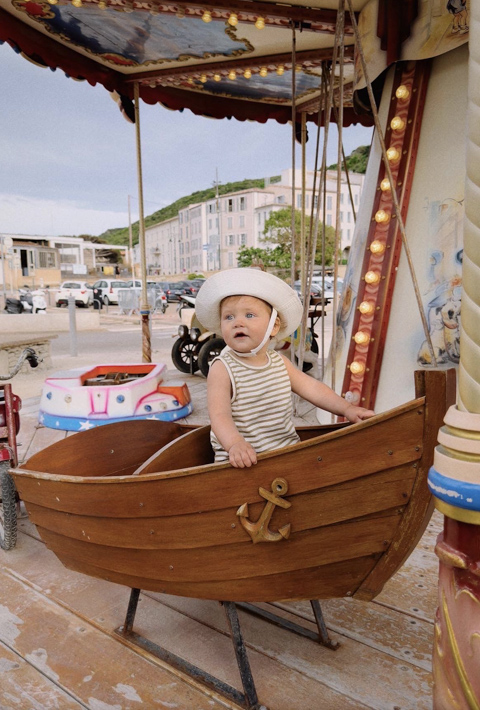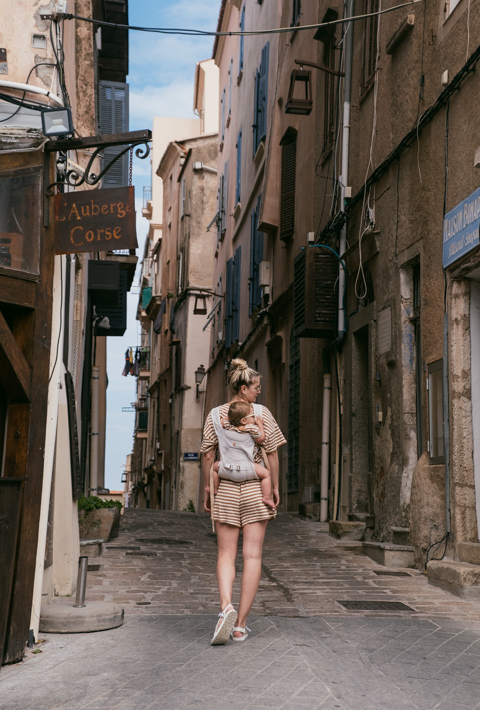 Day 5: Bonifacio, Corsica
Start the morning with a nature walk on Razzoli Island to the old lighthouse. Once you dinghy to shore, it is an easy, mostly flat walk of about 1km. The walk is scenic and definitely worth doing!
***
Sail to Bonifacio, Corsica.
Sailing into Bonifacio is one of the most impressive sights I've ever seen—little colorful Lego-like buildings dot the edge of the cliff top. You get the feeling that the slightest breeze could topple them over the edge and into the turquoise sea below.
Bonifacio is split into 2 parts: the seaside port town and the medieval citadel perched high upon the cliffs overlooking the Mediterranean.
I had sailed to Bonifacio ten years earlier during a much different era of my life. On that trip with friends, we explored the citadel all day and partied all night at B52. This trip, with my 11-month-old baby, gave me an entirely new perspective on the destination.
The afternoon we arrived in port, we did a little shopping in the marina. Then, we took the little tourist train for a scenic loop up and back down the citadel, Then, we rode the carousel. We enjoyed dinner in the marina at Del Ferro (it was great I definitely recommend!). And, we finished the evening with a stroll along the waterfront—gelato in hand.
***
Overnight in marina.
Note:
It is nearly impossible to get a spot in the Bonifacio marina in peak summer season. We sailed at the end of May before the craze. Even then, I honestly have no idea how to book a spot in the marina in Bonifacio because our skipper handled it, but it is quieter and cheaper if you can get a spot closer to the ferry (where the super yachts are).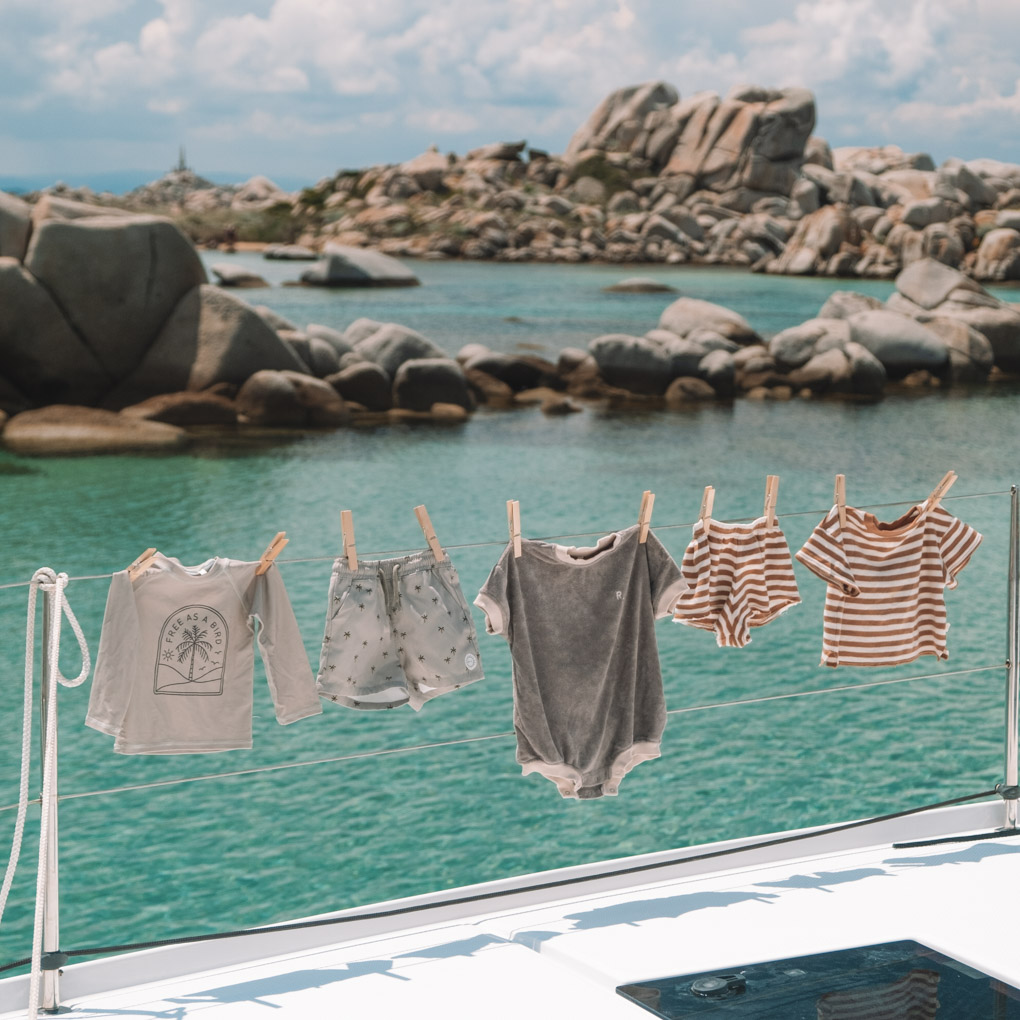 Day 6: Cala della Chiesa
Spend the morning enjoying Bonifacio.
We were up early with the baby so we decided to trek up to the citadel by foot. It's a steep path, but the views from the top are well worth it!
Spend 1-2 hours winding the narrow walkways and explore the old cemetery. Most restaurants and shops in the citadel don't open until 9 a.m. or later, so keep that in mind as you plan your journey to the top.
Make your way back down and do some final shopping in the marina.
There are two Spars (chain grocer) and Chez Lucerne Yacht Services (a specialty provision service with gourmet products) on opposite ends of the marina.
For freshly baked French pastries and bread, check out Pâtisserie Sorba (traditional baked goods) and Anthony Barralon x Ciccio (gourmet pastries and specialty gelato).
***
Sail to Cala della Chiesa in the Lavezzi Islands.
This was my favorite anchorage of the whole trip (and we happened to be there on my birthday!). The bay is protected and the water is SO blue. It's also one of the best spots for snorkeling—there were so many fish!
Enjoy lunch on the boat, then head to the beach or take a hike around the island. There are lots of well-marked hiking paths and the terrain is mostly flat. Note that there isn't much shade, so wear protection and bring water!
***
Finally, sail to Cala Ferrigno on Spargi Island.
The allure of Cala Ferrigno lies in its exclusivity, accessible solely by boat. There's a pier so you're able to moor overnight and have direct access to the beach.
The unique amber-sand beach is unique to the other destinations we visited along our trip.
You can also take a walk of about 45 minutes to the fortifications of Petrajaccio and Punta Zanotto (old military batteries) embedded and camouflaged in granite rock.
***
Overnight mooring on pier.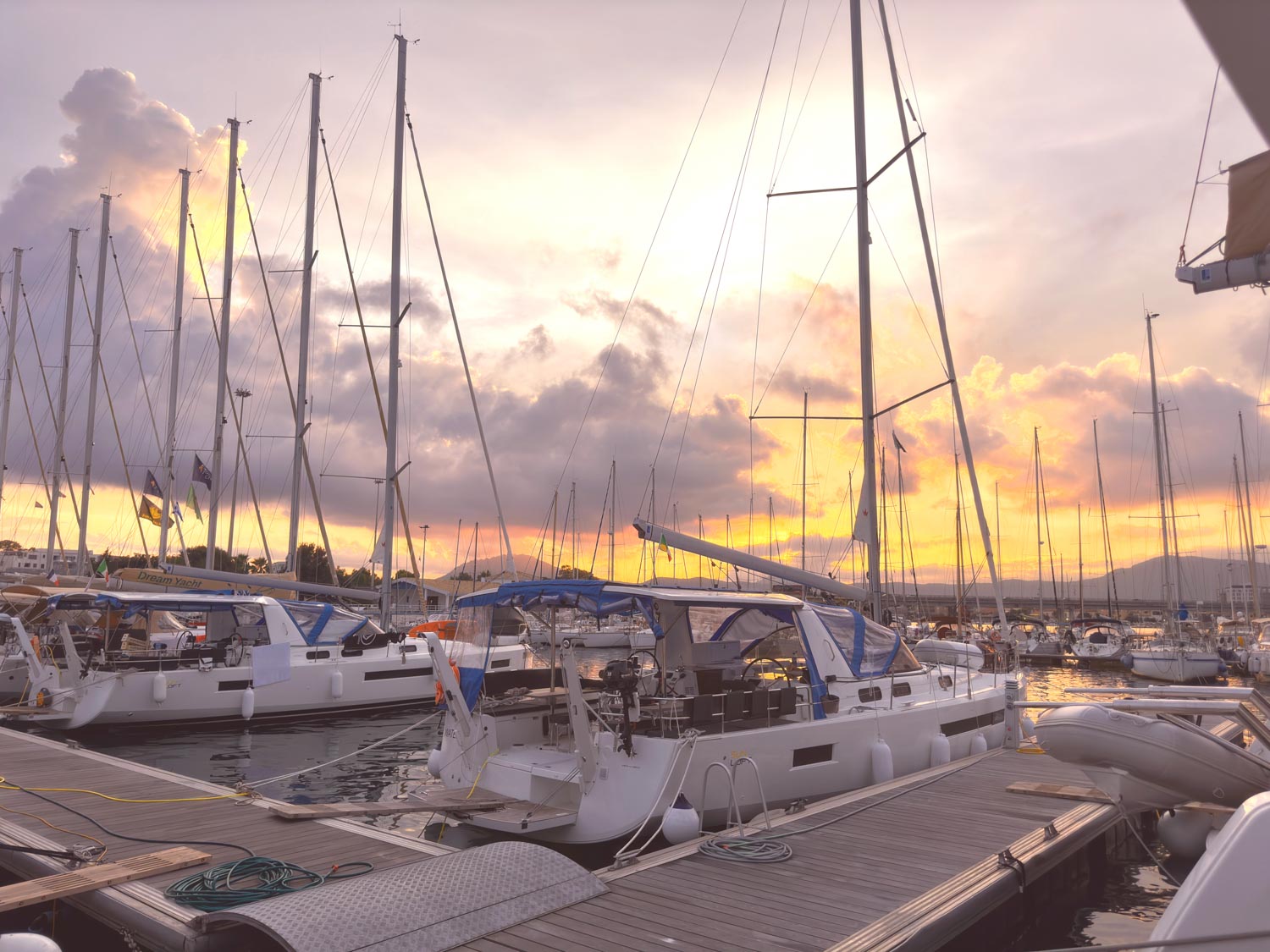 Dream Yacht Base in Olbia
Day 7: Return to Base Marina
Enjoy a slow morning on the beach at Cala Ferrigno before sailing back to the marina in Olbia for your last night!
Head out and explore the town of Olbia—you'll find shops and restaurants along Corso Umberto and in Piazza Regina Margherita.
***
Night in marina. Day 8: Bon Voyage
Disembark in the morning!

Final Tips!
As mentioned at the beginning of the post, there is no single way to sail Sardinia! Some days you may need to improvise due to weather or crowds, or you may opt to sail to completely different destinations.
I hope that sharing our itinerary helps you plan your own trip and gives you inspiration for your own adventure!